The one thing that affects your return on investment more than anything else when you get a digital asset management system: How widely your teammates and collaborators use the software (a.k.a. Salespeople, marketers, franchisees, distributors, partners, or anybody who accesses or uses the brand assets you store in your DAM).
If your DAM solution isn't set up correctly, or it's difficult to use, or your teams and stakeholders don't want to use it, you won't get as much value from the software. In fact, 70% of DAM implementations fail because of one of these reasons. So (properly) planning for the transition and onboarding process is critical to getting all of your users successfully on board with and using your brand's DAM.
It's helpful to look for a DAM vendor with features or services to aid in that adoption process. Although it's possible for some teams to navigate DAM implementation internally, you're more likely to succeed when you have an industry pro to provide guidance and act as another set of eyes to prevent hiccups.
At Brandfolder, we've helped a variety of teams — from nonprofits moving from cloud storage tools to enterprise companies that have decades of assets scattered across dozens of libraries — work through this transition successfully.
So in this post, we've outlined five DAM best practices you need to know during the game-planning process to guarantee smooth, organization-wide adoption. We'll also talk about what you need to do post-implementation to keep your DAM working for you. Throughout, we'll explain what this process looks like in Brandfolder and how to take the first steps to get started with the transition.
Want to see the Brandfolder platform and learn more about how it can be tailored to support your teams and business processes? Get in touch with our customer experience team for a free consultation and demo.
---
5 Steps to Prepare for Successful Implementation
Before moving your organization to a digital asset management system, you should:
Define your goals
Perform an asset audit
Determine the best organization structure for your assets
Consider who will be using your DAM
Make a list of all of the tools you need your DAM to integrate with
We'll explain these more in-depth in the next sections.
1. Define Your Goals for Your DAM System: What Problems Are You Hoping to Solve?
This first step is pretty straightforward — Ask yourself why you're interested in DAM software in the first place.
What pains are you currently experiencing?
How do you want digital asset management software to solve those pains?
What business processes will your DAM platform improve/support?
Understanding exactly why you need digital asset management software and what you're looking for in a DAM tool can help you find the right solution for your organization.
It's important to note that not all DAM tools are built the same. Although there are plenty of DAM providers, every DAM is different — and different solutions are recommended for different users. You can learn more about the best DAM software in our other guide.
2. Consider the State of Your Current Storage Drive and Asset Organization
After you understand what you're looking for in a DAM system and you choose the right digital asset management tool for your teams, it's time to take a look at what's currently going on with your assets.
How many assets has your team accumulated?
What type of assets does your team have?
Do you have assets stored in one storage drive or are you working out of several asset libraries?
How are assets currently organized in those storage drives? Do you have a clear folder/subfolder structure or is everything scattered?
Do you have a lot of old or outdated assets? How about duplicate assets?
Set realistic goals and expectations for the transition based upon what you're working with, otherwise, you can get overwhelmed or discouraged if things don't move as quickly as you hoped — it's unrealistic to expect an overnight migration if you have thousands of assets scattered around multiple locations. These transitions can take a couple of weeks up to a few months.
But you can make the transition smoother by dedicating a handful of people in your organization to manage it. Having too many cooks in the kitchen can cause disorder and disorganization, but a few tech-savvy individuals can collaborate on the next steps to keep you on a set timeline.
What This Looks like in Brandfolder: Our customer experience teams are here to help you gameplan through steps 1 and 2. During your free consultation, you can discuss your current pains and what you're hoping to accomplish by moving to a digital asset management system, and our team can assist you with tailoring Brandfolder to fit your specific needs. Once you get started with our dedicated onboarding team, we'll work with your DAM team to plan asset migration, set realistic timelines, and get your digital content moved over efficiently.
We have a 98% retention rate because we emphasize customization and don't push a one-size-fits-all DAM. We offer different tiers of onboarding and support services so you can tell us exactly what you need for success, and we'll work alongside you to get your teams up and rolling. We're always here to help ensure that Brandfolder is supporting you how you need it to. To learn more about what's available to you in these onboarding and support services, schedule a call with our team.
3. Map Your Assets & Catalog Assets Across Libraries
Next, it's time to start asset clean-up. This is the most important step in guaranteeing that your DAM's organization is clear and user-friendly and that your DAM's search and discovery can work best for your users. However, this step is arguably the most challenging.
But you can make this easier by following these six steps:
List out all of the places where assets are stored. It's OK to have assets stored in different drives, but you should take note of every place your brand assets live so you can make sure that all of the content you need is moved over into your DAM.
Map out the asset taxonomy for your DAM system. How do you want to organize your assets? Some teams can work off of their current folder structure, others may want a completely fresh start. Think about the usability and searchability of your DAM, as well as the ability to discover new assets when browsing content. When determining the best organization for assets, you'll also want to map the appropriate metadata, tags, and custom fields, and digital rights management information you want to attribute to different types of assets.
Define and implement file naming conventions. Keep asset names concise, clear, consistent, and descriptive to improve search and discovery.
Think about your end-users and their needs to identify priority content. What assets do your teams use? (Most frequently?) What's important to have available in your DAM for your users immediately, and what content can you trickle in after?
Determine what content is current and what content you'll want to archive. What assets do your teams no longer use or need?
Keeping your asset taxonomy in mind, review folder names and update them if they're incorrect or outdated. Also, check the content within and make sure that file names are accurate. When reviewing, look to see if there is anything you can delete, also take note of where your current/important assets live, and which folders contain old content. This helps you determine how to break up ingestion and plan which content to move when.
What This Looks like in Brandfolder: We offer professional services to walk you through each of these steps: We can help you organize digital assets in the most logical way, plan metadata with Metasheets, assign digital rights management (DRM) information to assets, draft clear naming conventions, and determine priority vs. archival content.
Once it's time to move assets over, our team can help you connect all of your existing storage drives to push assets into Brandfolder seamlessly. We'll move all of your priority content first and put together a schedule to get the rest of your content uploaded.
We can even configure Brandfolder to auto-organize your assets based on your outlined taxonomy. Our Brand Intelligence AI will also automatically assign metadata and tags, ID assets that need watermarks or photo releases associated with them, and detect duplicate files during ingestion, too, so our software does all of that heavy lifting to make sure your digital content is stored how you want it.
Thanks to our proprietary artificial intelligence, Brandfolder has super-fast upload speeds and is one of the few DAMs that can handle bulk ingestion, so you can move as much content as you want over without having to wait on us to catch up. *Other DAMs will limit how much you can push into the software, slowing down the transition process. *
You can enjoy better organization once assets are moved to Brandfolder because we ditch the folder/subfolder structure and let users organize assets in Brandfolders, Collections, and Portals (for different brands, use cases, and end-users), and quickly search across their entire library for the content they need.
Our platform accepts all asset types and digital file formats, including images, documents, templates, Photoshop files, spreadsheets, social media graphics like animations and GIFs, 3D assets, marketing materials and sales decks, rich media assets like video and audio files, so you don't need to store assets in different places and can keep everything in one hub.
It also has a user-friendly interface and requires close to no training, most users can learn the software themselves in an afternoon; external users who just have to pop in and view assets can do that without any background on the software. On that note...
4. Map Out Stakeholders & The Teams That Will Use Your DAM System
Once you have your digital assets mapped out and under control, think about 1) all of the different teams who will be using your DAM, and 2) how you can make sure they have access to the files they need.
You can share content and dictate exactly how other internal users interact with your DAM system by assigning user permissions. Most DAMs offer external sharing options, too, so you can get assets to people outside of your organization without a hassle.
Pro Tip: When comparing digital asset management software, look at the available sharing options — some DAM brands charge extra to send share links, and some brands have really limited sharing methods that don't allow you to track assets once they're sent. A good digital asset management software will offer free external sharing and provide more advanced options to share digital assets.
What This Looks like in Brandfolder: Brandfolder lets you share assets with other team members via user permissions and create custom share links to send assets to external stakeholders. We provide free unlimited guest seats so you can share assets and collaborate with non-Brandfolder users without worrying about extra fees.
Our custom share links give you a lot of control over outside sharing. Beyond the basics like assigning the link a name and setting the link to expire, you can do advanced things like:
Require an email address to access assets
Watermark assets
Disable the downloading functionality
Add or remove assets
Set notifications to receive alerts when people view or download assets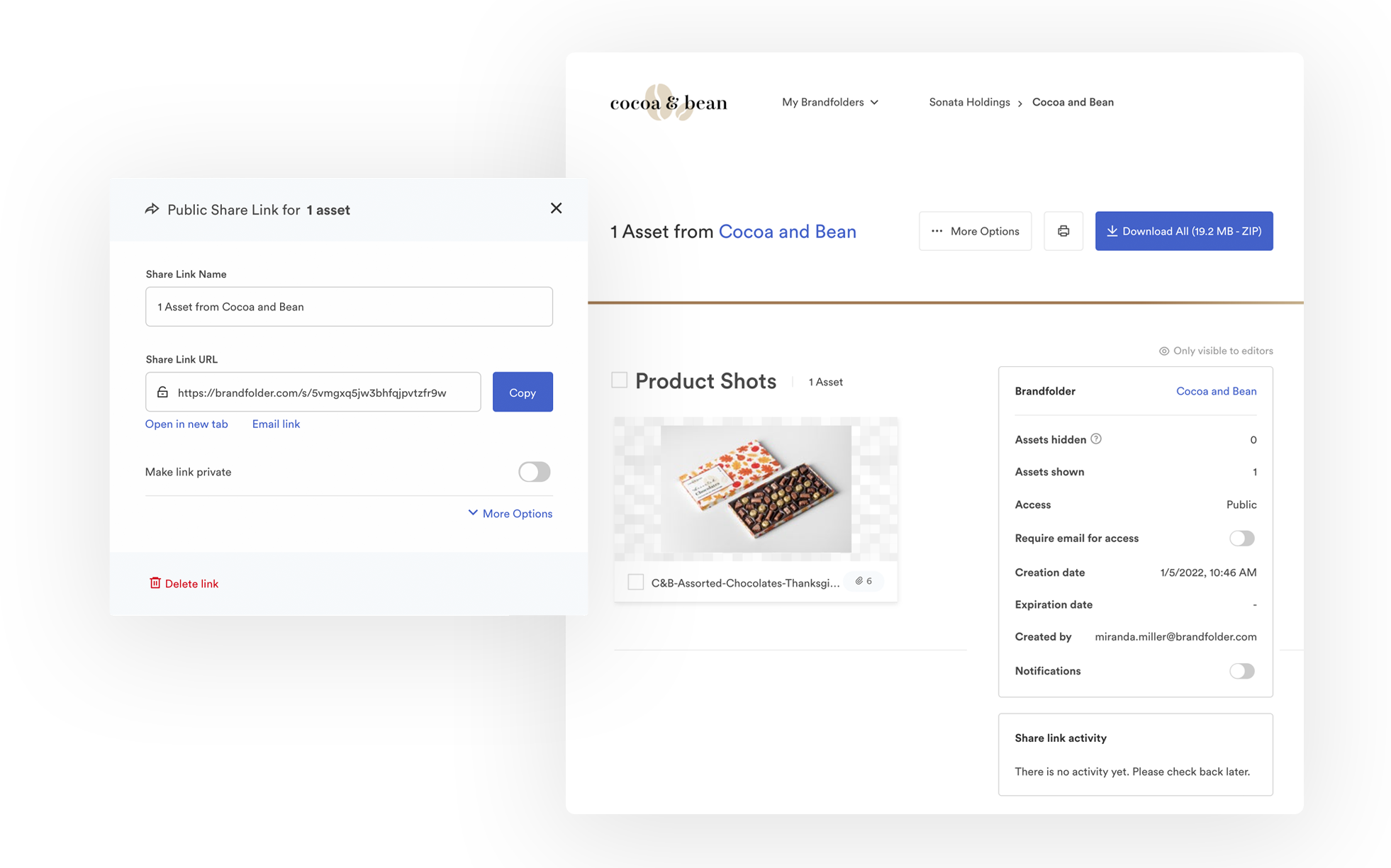 You can keep an eye on your content and monitor all active share links within your Brandfolder, so you always know what content is currently shared and with whom.
Last, think about all of the other software those teams use for their projects. Your DAM should be flexible and customizable enough to integrate with your existing tech stack (instead of making you modify your processes or change software to work with their platform).
Put together a list of all of the software you want your DAM to connect with so you can find a solution that's compatible. Most DAM brands build their software with out-of-the-box integrations, but many DAMs also have open APIs so you can make more specific modifications.
In general, DAMs can integrate with CRM systems, content management software, martech tools, sales enablement software, content creation software, daily workspace apps, project management software, and more; so it can support all of your teams' workflows.
What This Looks like in Brandfolder: Brandfolder has over 50+ integrations and an open-source API so it can be personalized for any business. Our professional services team can help you connect Brandfolder with other software and develop custom integrations to provide a bespoke implementation.
Want to learn more about Brandfolder's customization options? Request a free demo to see exactly how we can set up Brandfolder to support your teams.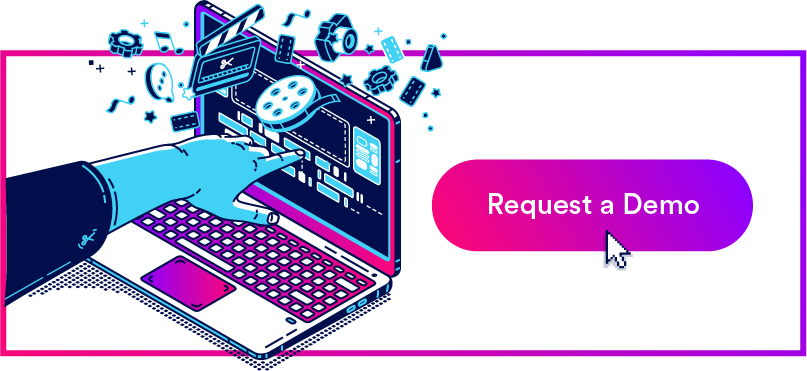 ---
5 Ways to Unlock Greater Value from Your DAM
Once you've successfully set up your DAM, follow these steps to reap the full benefits of DAM software:
Keep your asset library organized and your DAM clean
Familiarize yourself with the reporting tools
Save time with automation rules
Use collaboration tools to streamline team projects
Check-in on your DAM system and how it's working for your teams to pinpoint areas for improvement
1. Keep the Digital Content in Your DAM Clean & Current
Your DAM loses value if it's not well maintained. One of the biggest benefits of having a DAM system is the ability to keep an organized asset library where users can access pre-approved brand assets without bugging creatives; this improves brand consistency and saves designers' time. But if assets are old or you have duplicate assets lying around, users won't be able to navigate your library as easily and will have to ask a creative for clarification (and you risk unapproved content accidentally being sent out into the world).
Some DAMs have features to assist with keeping your asset library organized as time passes, you acquire new content, and you update old collateral. But if your DAM lacks those features, you should make it a point to go through your DAM every 3 or 4 months (about once a quarter) to expire old content and make sure everything is still clean and current.
What This Looks Like in Brandfolder: Brandfolder has three key features to help you manage the content lifecycle and keep your asset library up-to-date, including reviews/approvals for new assets, duplicate asset detection, and asset expirations.
Reviews and approvals settings let you put a review/approval flow in place for all new or updated assets. This guarantees that all new content is given the green light before it's available for others to access. You can use permissions to determine which users can add assets to your library, and which users have access to review and approve those new assets.
Duplicate asset detection analyzes assets upon upload to tell you if the file you're trying to import already lives in your Brandfolder. When dupes are detected, Brandfolder will prompt you to either cancel the upload or merge the file with the existing asset. This prevents duplicate assets from causing confusion and allows teams to group similar assets (like different versions of the brand logo) together in asset containers.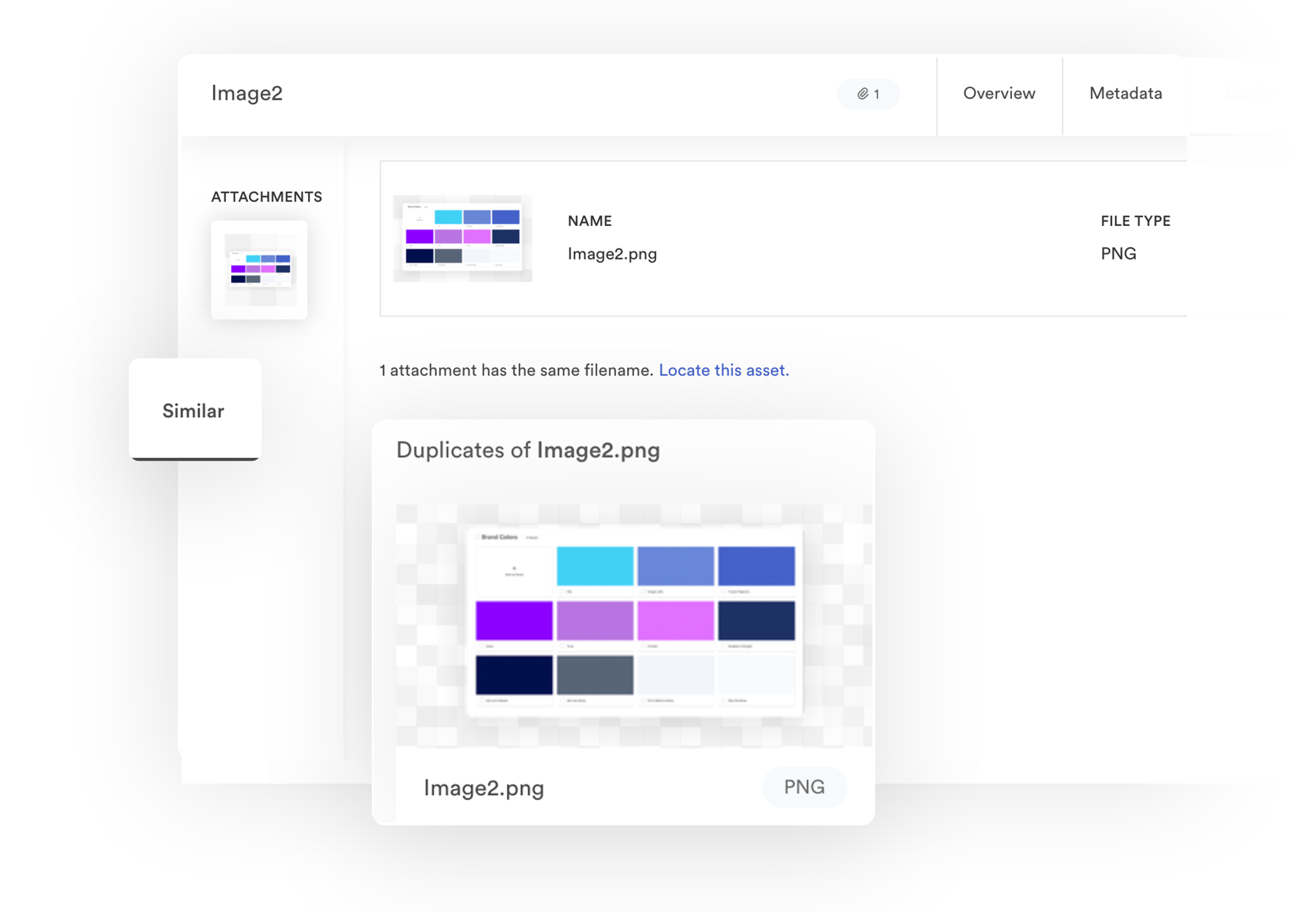 Asset expirations let you specify when you want an asset to expire so it's no longer available for your teams to use. Expired assets still live in your Brandfolder for reference, but downloading is disabled and a banner is placed across the asset so it's clear to users that it's old and no longer approved.
Another key benefit of switching to digital asset management software from cloud storage drives like GDrive or Dropbox is the ability to access reports and data regarding asset usage. So if your DAM has this option, you should definitely take advantage of it and keep an eye on how stakeholders use brand collateral.
Reporting features vary from DAM to DAM, but teams enjoy having this data because they can use insights and analytics to make decisions on content creation, see where assets are published online, and check that everybody's following brand guidelines.
What This Looks Like in Brandfolder: Brandfolder Insights lets you monitor asset performance and engagement. You can check metrics over different time periods and customize reports to dig into different data.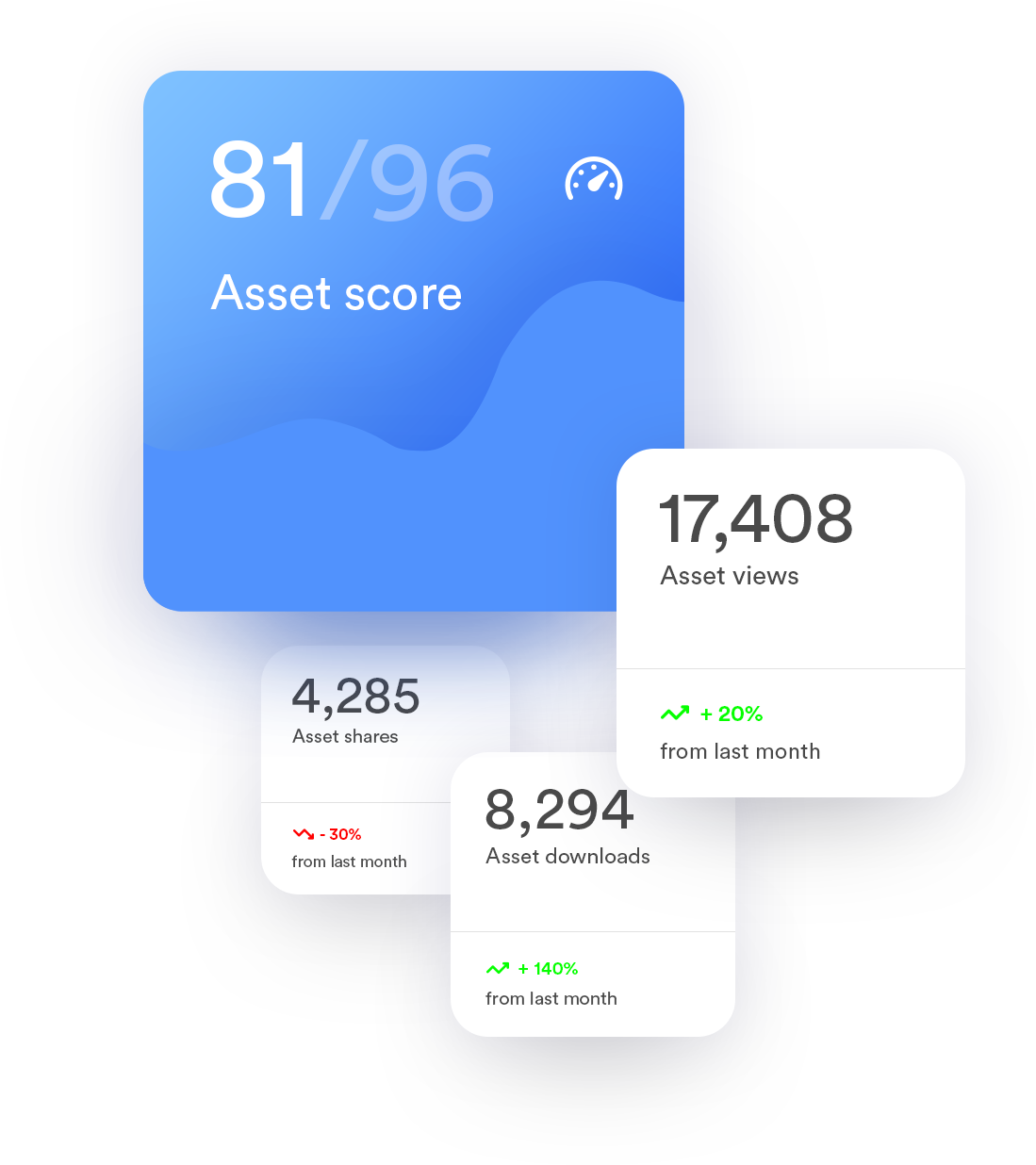 Some of the key metrics you can look at with our reporting tool include:
Asset's health score — How engagement with the asset increases or decreases month-by-month
Top-performing assets — Which assets are viewed, downloaded, and shared most frequently
Top users — Who interacts with assets the most
Where assets currently live on the web — View every place your asset's unique CDN link is embedded online (You can also read more posting assets online in our digital asset management for publishing guide.)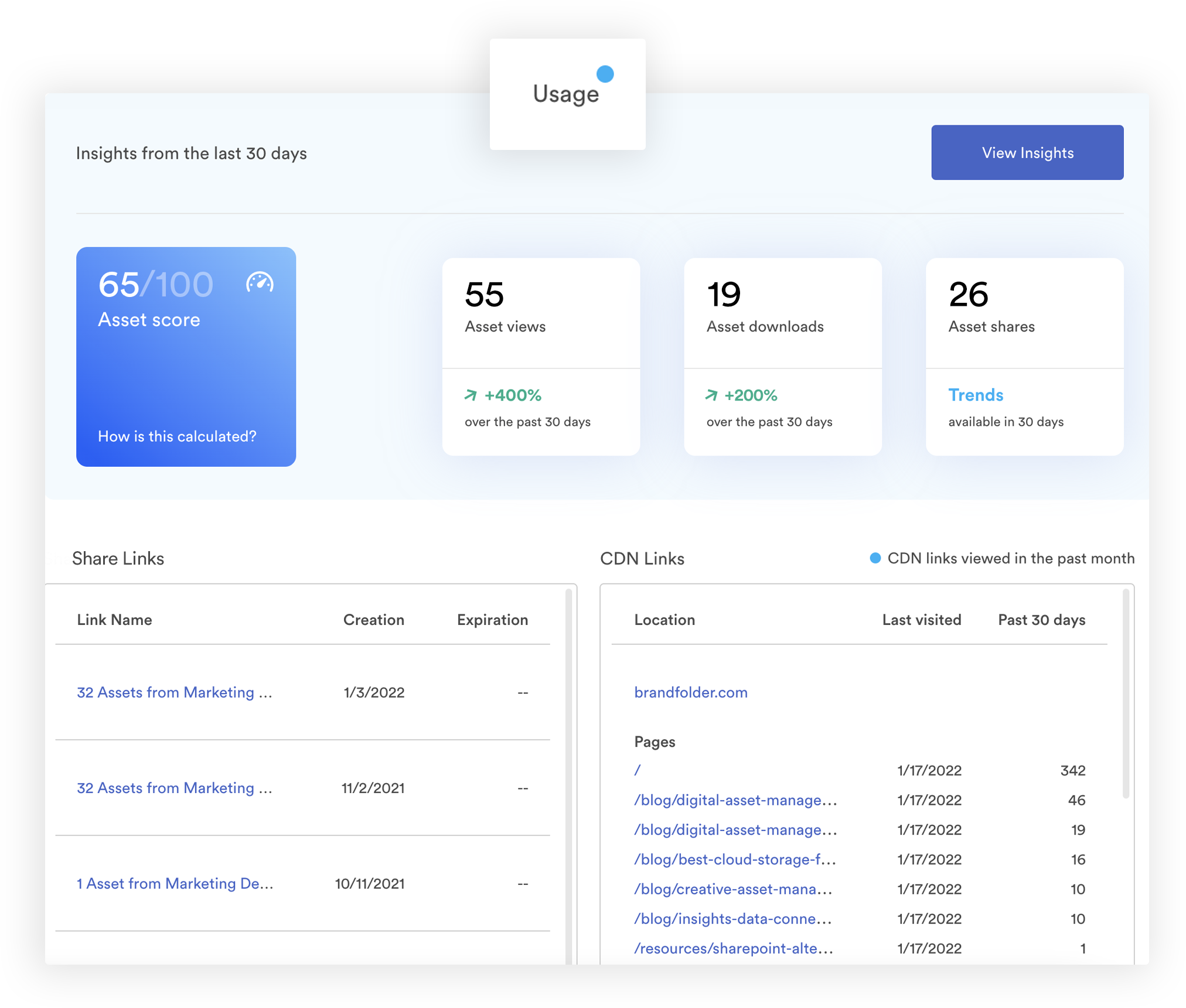 Our reporting feature is simple to navigate and allows teams to make data-driven decisions to refine their DAM strategy, maintain a consistent brand image, and improve team performance.
3. Take Advantage of Automation Rules
Most digital asset management software has automation rules that let you train your DAM to accomplish certain tasks for you, like organizing new assets once they're approved or adding tags to files. Automated workflows can shave time spent on repetitive tasks and free up your team's time for other, more important, work.
What This Looks Like in Brandfolder: Our DAM provides a dedicated Automation tab for users to create automation rules in each of their Brandfolders.

*Note: Teams managing brand collateral for one brand will only have one Brandfolder, but teams that manage assets for multiple brands will have several Brandfolders and the ability to create custom rules for each brand.*
We talked a bit above about the automation that takes place during ingestion — Brandfolder automatically organizing files and assigning metadata based on your asset taxonomy — but you can create extra rules to trigger additional actions from our platform. For example, you can train our software to add additional labels to assets based on information from custom fields, or you can have Brandfolder automatically move assets around when labels are added/removed.
There's no single best way to map out automation rules; we recommend building these rules around your teams' preferred workflows. And, of course, we can help you set these up if you need a hand.
4. Enjoy Cloud Collaboration to Streamline Team Projects
Digital asset management software, in general, improves team collaboration because it gets everybody working out of the same storage drive and guarantees that everybody's using the same versions of assets. However, some DAMs are built with additional collaboration tools to support new digital projects and keep teams on the same page.
What This Looks Like in Brandfolder: Brandfolder offers an array of collaborative features. One, our asset overview is very team-friendly because it allows users to comment back and forth with each other on the asset level, review the comment history at any time, push assets back and forth between their native editing apps for changes, and check the asset's version history to see how it's evolved over time.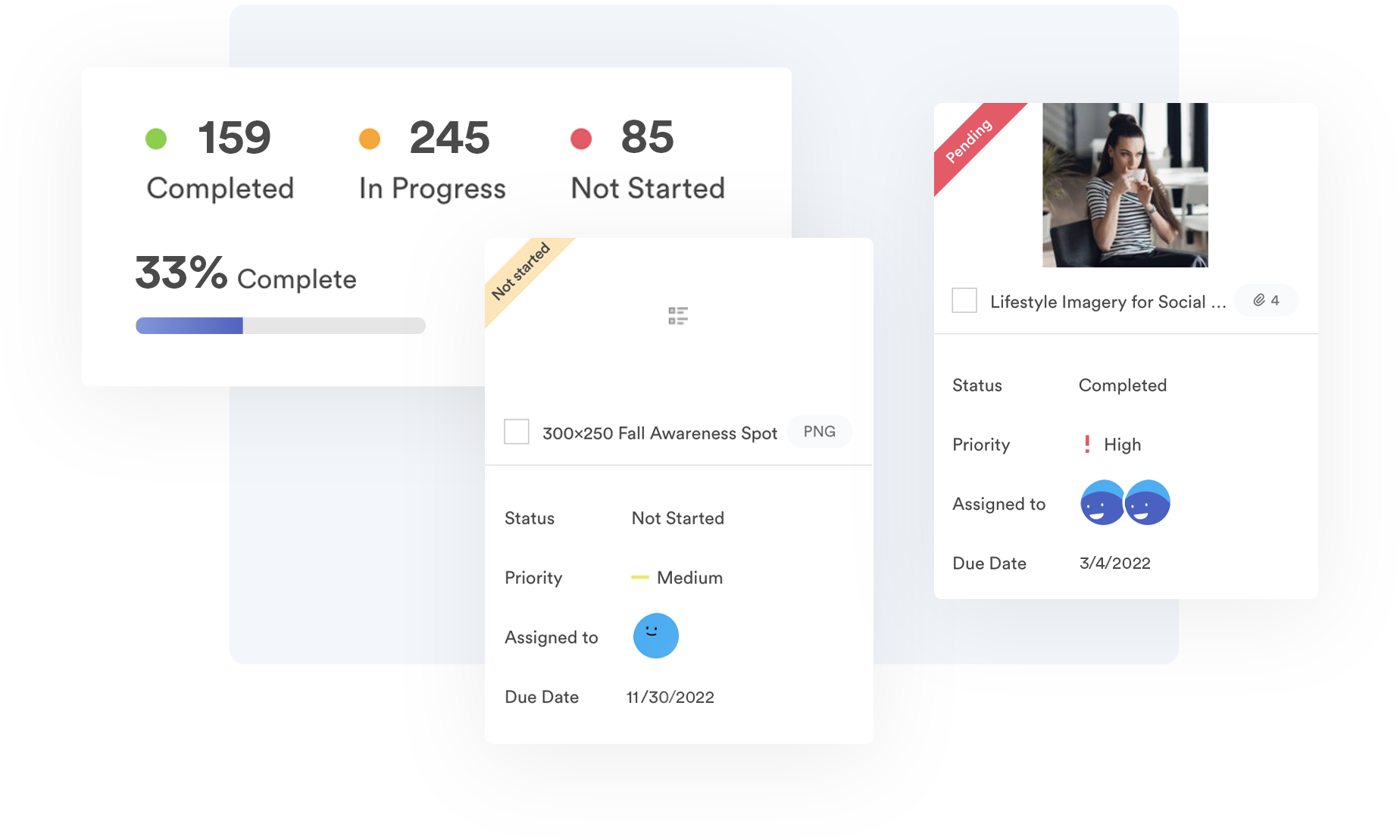 In addition, Brandfolder's Workspace feature acts as a built-in project management suite that lets you divvy up tasks amongst other teammates and work in parallel. Workspace makes it easy to check on task status and get all hands on deck with new projects, facilitating real-time collaboration and accelerating the creative process. Our platform also integrates with Smartsheet for more advanced project management capabilities.
5. Review Integrations to Refine Workflows Around Your DAM System
Last but not least, you should check in on your digital asset management system every now and then (twice a year) to review integrations and make sure DAM is set up to support all of your workflows.
You should also think about your DAM users during this reevaluation: Who's accessing your DAM? How do they use it? What do they need for their projects? You can use these details to see how you can tweak your DAM to work its best for your users — you may want to add or remove integrations, look at add-on features, change settings or permissions, or make other changes.
What This Looks Like in Brandfolder: Our Brandfolder customer experience team provides ongoing support after onboarding. We're always here to check-in, answer questions, and provide assistance to make sure that Brandfolder is fully optimized for your brand's needs. You can change your onboarding and support packages once you're settled in our platform, but if help is needed, we have services to keep you covered for the long haul.
---
Getting Started With Brandfolder's DAM Solution
Brandfolder is one of the most popular digital asset management software available because it's highly intuitive — making adoption much quicker — and it's visually beautiful, so teams truly enjoy using it.
We're consistently voted amongst the top DAMs on sites like G2 and Capterra, and reviewers praise our platform because it's user-friendly, modern, and super customizable.
But most importantly, it's worth noting that Brandfolder continues to earn these high marks because of our dedicated customer experience team. We do our due diligence to make sure our DAM is tailored to your exact needs and we walk you through the entire transition process to get you set up successfully.
*One-size-fits-all software solutions can only work so hard for your business, and we believe the full value of a DAM is only unlocked when it's truly customized for your teams and goals. We're here to help you through this transition and help you get the most benefit from your digital asset management platform. Get started with Brandfolder today by requesting a free demo. *