We'd all like to think we respond well under pressure. That we rise to the occasion. That we handle criticism like the professionals we are. That we can respond appropriately when the $#!% hits the fan. Unfortunately, that's not always the case for companies in crisis and the humans who run them. That's why a crisis management strategy is so crucial.
Recent history has seen some of the world's preeminent brands come under fire from the media, and even their most devoted followers. Crisis management examples are easy to find these days: We've seen Uber lose 200,000 users in the wake of #DeleteUber and United lose $800 million in value in just a few hours. That kind of consumer response is pretty remarkable, and it also says something about each brand's crisis management strategies.
---
What is Crisis Management?
Crisis management is a corporate strategy that aims to help organizations deal with a negative event. A negative event can be anything from a small PR crisis on Twitter to an incident involving serious injury or death. Managing a crisis involves developing a plan and coordinating resources to address the needs of the affected parties while also repairing the brand's reputation.
Crisis management is a process that prepares managers and employees to face unforeseen situations and circumstances in the organization. Having one in place allows them to manage their emotions, minimize risk, and respond effectively to the changes in the moment while under pressure. It's also necessary to prevent the situation from getting worse for customers and for your business.
Well-known PR agency SHIFT Communications defines it as:
"… analogous to putting out a fire … A fire requires three things to burn – heat (energy), fuel, and oxygen or a catalyst like oxygen (speed). Take away any one of those elements and the fire goes out. In a crisis communications situation, something has gone wrong and your brand is on fire. There's the something you did or something you're responsible for – the fuel. There's the tide of public opinion – the heat, the energy. There's your speed of reaction to it – the catalyst. As with real fires, if you deny the fire from any one of these sources, you break the chain reaction that causes fire and it burns itself out."
And Brandfolder's CEO, Steve Baker, explains crisis management as:
"Crisis management is like your Dad stockpiling MREs before Y2K (come on, we all knew someone's parents who were doing it). It seemed like overkill, like preparation for an event that was never going to happen. But they had a strategy, supplies, even communication plans mapped out and documented so that if the worst happened, they were ready. As brands you hope that, like Y2K, a crisis never happens, but if it does, you want to have the mother of all crisis management plans ready so that your company and your brand are protected."
Below, we'll take a look at some crisis management examples and how these brands handled crisis communication. Does your brand have a strong crisis management strategy in place? If not, this list might give you the inspiration you need to get started.
---
Examples of Effective Crisis Management and Communication
We've gathered several crisis communication examples that illustrate basic yet essential principles of this process. Below you'll find details on what each brand crisis was, how it was handled, and actionable lessons you can use to recreate their successes.
Cracker Barrel
The crisis:
You never know what the internet is going to find and amplify, but for Cracker Barrel, it was Brad's wife. In February 2017, Bradley Reid posted on Cracker Barrel's corporate website asking why his wife Nanette had been fired from the retail-manager job she'd held in an Indiana Cracker Barrel for 11 years.
It wasn't long before the hashtag #JusticeforBradsWife began trending. Someone even started a Change.org petition for answers that garnered over 17,000 signatures. People began adjusting Yelp and Google pages for the brand to feature photos of Brad's wife. And other fast food chains began capitalizing on Cracker Barrel's bad press, including a Chick-fil-A sign emblazoned with "Now Hiring Brad's Wife!" There have even been satirical retellings of the story on YouTube, garnering over 7 million views.
The response:
The restaurant's crisis management was, apparently, not to treat this like a crisis. They kept quiet on the issue, never publicly addressing the movement or Brad's wife. While you'll still find a few #NotMyCountryStore hashtags littering Cracker Barrel's social media channels, the firestorm has mostly passed. And the crisis didn't appear to have any negative effects on the brand's financial performance.
Key takeaway:
Cracker Barrel shows us an example of how silence can sometimes be the best form of crisis communication. In fact, while some critics say silence was the worst response, the general consensus is that it wasn't the disaster everyone thought it would be at the time. While staying silent may be a risk, it can really pay off. The majority of their consumers today are either unaware of the issue, have already forgotten about it, or know what happened but still enjoy eating and shopping there.
Pepsi
The crisis:
The joys of flying under the radar have probably never seemed so blissful and sweet to Pepsi execs. In April 2017, Pepsi kicked off a new ad campaign with a commercial starring Kendall Jenner. Over the next 48 hours, the "short film" received nearly 1.6 million views on YouTube.
That might seem harmless enough, but by this time we all know what followed. The world was treated to Jenner leaving a modeling gig to "join the conversation" which she and her fellow marchers seem to "win" after she hands a police officer a Pepsi. The backlash was immediate and fierce, but in Pepsi's defense, so was their corporate crisis management.
The response:
The brand did initially release a statement defending their campaign by saying, "This is a global ad that reflects people from different walks of life coming together in a spirit of harmony, and we think that's an important message to convey."
However, less than 24 hours later the soda company had pulled the ad and paused the campaign entirely. A second statement followed: "Pepsi was trying to project a global message of unity, peace, and understanding. Clearly, we missed the mark, and we apologize."
The response was heralded for its speed and straight-forward nature, but many predicted it would take a while for the brand to recover from this "worst ad ever." Now, in 2022, it seems that Kendall Jenner will never escape the backlash surrounding the incident, leaving Pepsi to continue on successfully post-crisis.
Key takeaway:
The response from Pepsi was immediate and effective. Like many successful crisis communication examples, the brand showed empathy and promised action. This was the first and most important step in their crisis management process and it paid off. Quick yet effective responses help minimize the risk of long-term effects from negative reactions and prevent them from permanently damaging a brand's reputation.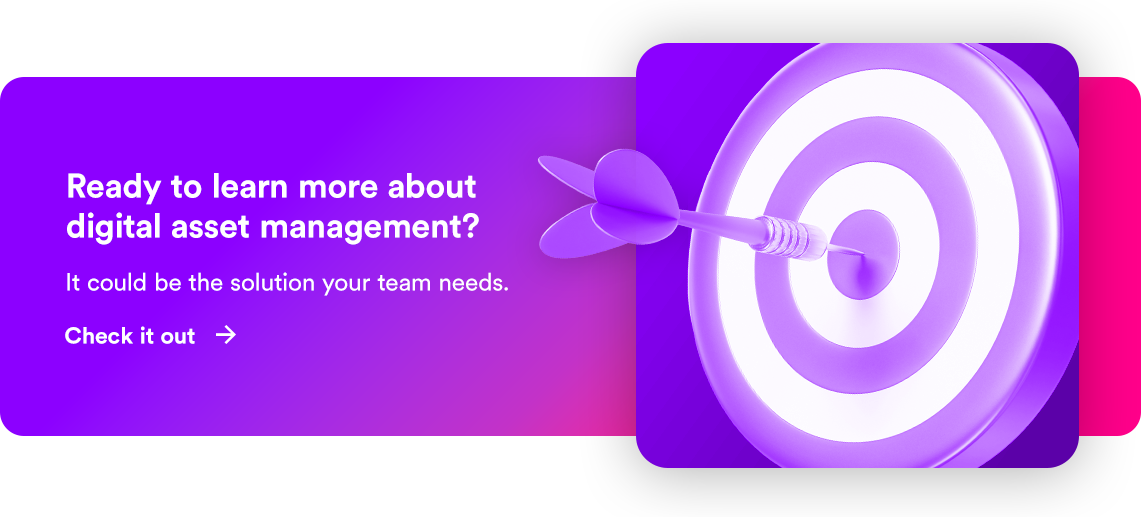 Johnson & Johnson
The crisis:
In 1982, seven people in Chicago died after taking cyanide-laced capsules of Johnson & Johnson's over-the-counter medication Tylenol. The incident remains unsolved. The company's response has become a textbook example of how to manage a crisis.
The response:
Johnson & Johnson immediately launched a massive response to the incident, which included halting all product advertising and sending 450,000 messages to healthcare facilities and other stakeholder groups. It also issued safety warnings to consumers.
Despite the evidence indicating that the toxic substance was accidentally introduced through the store shelves and therefore not the company's fault, the company did not try to hide the truth, and the brand eventually started making tamper-proof packaging. James Burke, the company's CEO at the time, even went so far as to express regret later on that the company did not immediately switch to a more secure caplet immediately following the incident.
Key takeaway:
Tylenol's response is regarded as one of the best crisis management strategies in history. In fact, according to RETRO REPORT on YouTube, it has created the script that corporations still use today. The media generally praised J&J for its actions in handling the situation and helping the Tylenol brand recover. One of the most important lessons in this example is that transparency and integrity will go a long way towards managing a crisis.
---
Examples of Poor Crisis Management and Communication
Many times, poor crisis management is caused by fundamental errors in planning and executing an emergency plan. These errors can compound and result in a massive disaster.
Unfortunately, in most cases, these errors could have been avoided if leaders were only aware of the potential consequences of their actions.
It's easy to dismiss the possibility of one of these issues ever happening to your company. However, the consequences of these events can be severe, which makes preventative crisis management even more important. Prepare your team ahead of time by studying the following crisis management examples gone wrong.
Uber
The crisis:
Uber went from one of the most celebrated brands in the world to one of the most reviled in a matter of months. The ride-hailing company started 2017 off in hot water when it was revealed that CEO Travis Kalanick was serving on an advisory council to President Trump. The hashtag DeleteUber was born and Kalanick announced that he would be stepping down from the council shortly after.
The hashtag made a comeback two times the following February. First, when Uber continued operating at JFK International Airport during a taxi strike in protest of President Trump's immigration ban, sparking a company crisis. And second, when ex-employee Susan Fowler Rigetti leveled claims of sexual harassment and gross HR misconduct at the company.
But it wasn't until a few days later when the hashtag really gained momentum when a video surfaced of Kalanick arguing with an Uber driver about a drop in driver pay. February 2017 also saw Uber slapped with a lawsuit from Google. The technology giant claimed Uber stole technology from their self-driving vehicle division, Waymo. The suit was abruptly settled a year later when Uber paid Waymo $245 million.
The tech darling is also in hot water for using technology called Greyball to elude authorities worldwide, and has seen several executives, including their former CEO on the board of directors, step down.
The response:
Kalanick announced an immediate investigation into the issue, but early investors voiced concerns over the impartiality of the internal investigation and the company's private arbitration clause. In regards to the video, Kalanick released a statement on Uber's website saying, "I must fundamentally change as a leader and grow up." But for many Uber customers, the damage was done and the video was viral.
Key takeaway:
While the business continued to release statements concerning each incident, it's hard to ignore the fact that missteps keep piling up. A lack of transparency has been Uber's biggest failing in handling much of the public interest which has impacted both their reputation and their bottom line.
A heartfelt letter from the CEO promising to be a better leader won't get the company far unless the public sees steps and actions taken to get there. For this reason, Uber is a classic example of crisis management gone wrong.
United
The crisis:
In early 2017, social media erupted with the news that United barred two teenage passengers from boarding a flight because of the leggings they wore. The situation quickly escalated as a nearby traveler tweeted about the incident.
The leggings scandal was nothing compared to what happened a few weeks later, however, when video surfaced showing a United customer being brutally dragged and bloodied from a flight. While initial speculation was that the paying passenger had been asked to give up his seat because of overbooking, it was soon revealed that the seats were being repurposed for United's own employees.
The response:
If you assumed that the response from United would be swift and sincere, you're sadly mistaken. Instead, the airline's CEO, Oscar Munoz, released a statement in which he defended the actions and protocol taken by the flight crew and expressed regret for having had to "re-accommodate these passengers."
Far from apologizing, United then released a series of tweets defending the gate agent's actions and claiming that this was standard procedure for passengers flying as "pass holders." The "pass holder" reasoning seemed to mollify some, but all agreed that the situation had been poorly handled.
Within 24 hours of the incident, United Continental had lost $800 million in total value. By comparison, Pepsi's value changed very little as a result of their controversial ad. What followed was too little too late. Munoz made several follow-up statements and apologies to attempt to make up for his original faux pas, but public sentiment only worsened, and the brand is still recovering.
Key takeaway:
It's easy to see what a rapid and genuine response to situations like this can do to gain a brand back some semblance of control. It's also easy to see the devastating impact of a lack of customer care and brand transparency. More time will tell what this roadback to customer and industry trust has in store for United, but many experts have said these events have caused irreparable brand damage for the airline.
Chipotle
The crisis:
In July 2015, E. coli outbreaks started at Chipotle and lasted through January 2016. It began in the Northwest and spread across dozens of states.
The result was an 82% decrease in profits over the course of a year and Chipotle stock down 15%. 2016 also saw an executive arrested for cocaine possession and 10,000 workers suing the company for unpaid compensation.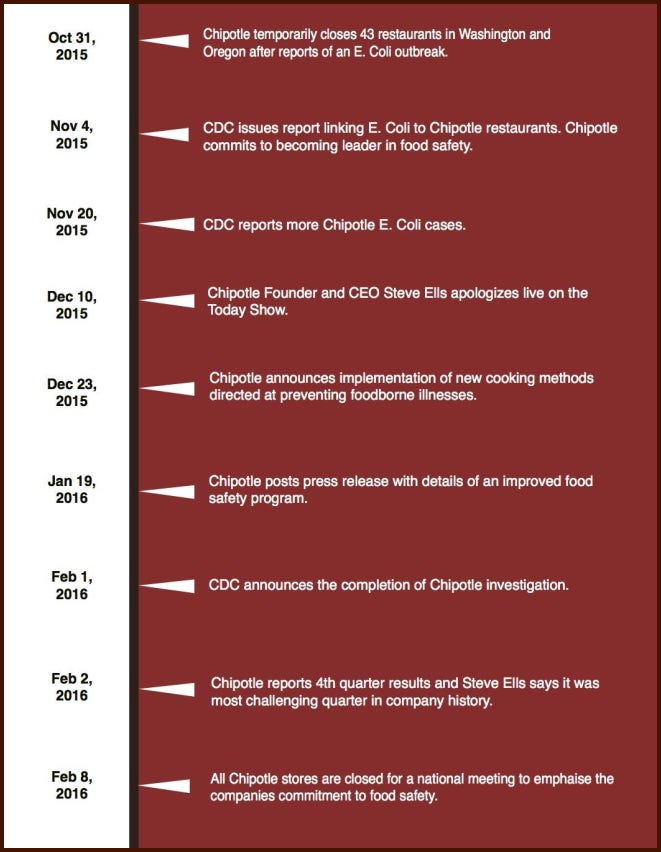 Source: Stanley Krishner-Breen via Medium
The response:
The burrito company's crisis management strategy has been a long and often criticized one. In the midst of the 2015 outbreaks, co-CEO Monty Moran responded to the incident at an industry conference for investors. While truthful, as journalists at Fortune pointed out, "this is not how you win back the world's confidence."
"It's been fueled by the sort of unusual and even unorthodox way the CDC has chosen to announce cases related to the original outbreak in the Northwest," he responded. And: "Because the media likes to write sensational headlines, you'll probably see, you know, when somebody sneezes … 'Ah, it's E. coli from Chipotle' for a little bit of time."
A few days later, Chipotle founder Steve Ellis appeared on the Today show apologizing to consumers and promising that "The procedures we're putting in place today are so above industry norms that we are going to be the safest place to eat." It was a bold promise, and one that made some PR professionals nervous for the already queasy company, but Chipotle's stock made a 5% climb after Ellis' speech.
In 2017, Moran stepped down as co-CEO, a move that was heralded by many. However, finger pointing, wishy-washy answers and apologies, plus a lack of company representation at the 125 food safety cases that were settled in 2016, already had some feeling that the brand could have done a better, more authentic job of recovering its image.
In 2019, the New York Times reported that "Four years after reports of E.coli and Norovirus sent customers fleeing, Chipotle has made a significant comeback. Last week, the chain's stock price reached a high of $759, surpassing the mark it set in August 2015, not long before the crisis began." However, this result only came after Chipotle brought on chief executive Brian Niccol who spent a full year dedicated to reviving the brand.
Key takeaway:
Save your company the trouble of hiring new executives and launching a multi-year rebrand. Chipotle is just one of many crisis management examples that prove taking the situation seriously and replacing rhetoric meant to appease shareholders with facts and actionable steps that solve the problem instead is the key.
Volkswagen
The crisis:
In 2015, the EPA accused Volkswagen of intentionally violating the Clean Air Act by using software that allowed its cars to pass emissions tests. Not only did the company violate the law, it also damaged its customers' trust by making its cars look more eco-friendly.
The response:
The company's response made the situation go from bad to worse. Initially, executives claimed they didn't know about the cheating, but then later admitted they did. Meanwhile, the news came out that while the company worked to fix the vehicles, it also started to lay off 300,000 workers.
It appeared to many that Volkswagen was making up for the loss in profits from the scandal by firing employees who had nothing to do with it. The final nail in the coffin came when, during the investigation, consumers sounded off online by accusing the company of intentionally deceiving them.
Key takeaway:
The best crisis management responses create a winning combination of empathetic words and actions. Volkswagen's had neither. Always lead with empathy and pay close attention to actions the brand takes in the following months post-crisis.
---
Crisis Management Best Practices
Now that you've seen crisis management examples of what to do and what not to do, let's go over the basic principles of a solid crisis management plan. Make sure you check the boxes below when creating or updating your brand's procedures.
Form a crisis team
Designate a chain of command that includes at least one executive. Include points of contact for both internal and external communications. Also, be sure to appoint a crisis management project manager to coordinate efforts companywide.
Assign a spokesperson
Ideally this will be your CEO or another top executive. Their job is to help draft and release a statement for those affected by the crisis. Respond swiftly
The longer a brand takes to respond to a crisis, the more manipulative they appear. Take action right away and don't go more than 48 hours without public comment on the situation if a response is warranted.
Act with honesty and integrity
The truth will always come out. Make sure that when it does your company's response will align with the news.
Stay silent when appropriate
As we saw in the Cracker Barrel example, sometimes silence is golden. In situations where there may be only one person affected, reaching out directly may be more effective than bringing more attention to the situation in a public setting.
Communicate the action plan
Make sure your entire team knows about your action plan and has access to it at a moment's notice. Host regular refresher training, make sure everyone knows their role, and alert relevant parties whenever changes are made to the plan.
Consider rebranding
Rebranding is an effective long term solution to resolving a crisis that got out of hand. This can look like a name change, new campaign, or simply a public rededication to company values.
Consider setting up a visitor management system
Your company may get a lot of foot traffic and one way to properly manage your customers, consultants, employees or anyone visiting your property can be properly handled with a visitor management system. Not only does it create a good impression and help with safety and security, but it also helps build a strong reputation by creating a sense of trust and dependency between your organization and the vistor.
---
Crisis Management 101
All brands hit bumps and PR nightmares in the road, but quick, transparent, and genuine crisis communication will likely lead to a far faster and more holistic recovery than trying to hide, defend, or ignore your missteps. By learning from the wins and losses of these real-life crisis management examples, your team will be one step ahead of the game.
Another way to be prepared for your brand's bad days? Having a digital asset management (DAM) platform that's populated with brand guidelines, PR strategies, and press kits to make swift responses possible when you need them most.
Not quite sure where to start while shopping for the right DAM? Click the link to get a free Brandfolder demo!