---
What is Digital Rights Management (DRM)?
Digital rights management, or DRM, is the application of systems and technologies to protect digital media against copyright infringement. This process is used by brands and agencies to manage their content libraries while also staying compliant with ever-changing digital copyright regulations.
Today there are more restrictions on how people can use and consume digital content than ever before, with online content regulation and competition policies being written into law for the first time ever. And with modern consumer demands requiring better content delivered faster and more effectively, it's essential for creators and distributors to have a plan in place.
Besides the need for speedy creation and distribution, content involves managing multiple types of media, channels, and collaborators all at once. With all of these factors at play, details such as content storage, usage, and copyright expiration can be a challenge to stay on top of. For these and many other reasons, digital rights management software is now at the forefront of many legal and creative digital marketing conversations.
At its core, digital rights management aims to identify and protect the rights of individuals and entities from third parties that use their intellectual property. For instance, it can protect against unauthorized use of music by restricting the number of times an app can be installed. Given all of this, it's easy to see why using a digital rights management software is mission-critical to any marketing department publishing content online today.
A digital rights management software is a combination of various tools that allow content owners and companies to control and monitor the usage of their assets, as well as ensure the proper usage of other people's creative property across the entire organization. DRM technologies can embed special code into the asset's metadata, making it easy to identify unauthorized users and control access.
Digital rights management software also provide a way to accurately label content using various features such as digital watermarks and device restrictions. These markers prevent unauthorized access to the content while also minimizing the unlicensed redistribution of digital media and proprietary software.
According to the U.S. Chamber of Commerce, the US economy loses almost $30 billion a year to online piracy. Even with copyright laws in place, it's far from easy to police the internet. When theft happens, it's almost impossible to track the perpetrators.
But the good news is digital rights management software makes it almost impossible for anyone to steal protected content, saving both companies and creators from potential violations in the process.
In this blog, we'll explore the DRM system in detail, considering the benefits, challenges, and use cases of digital rights management software in the data-driven age.
---
Why is Digital Rights Management Important?
It's the right thing to do
Nobody likes a brand that steals content. Misusing or forgoing digital rights rules can seriously damage an artist as well as your business and its reputation. Just take a look at the brands featured in YouTuber HopeScope's review of brands who have stolen her videos for ads (which has 1.1 million views) and you'll see comment after comment about how the companies that do this "are so creepy!"
Even if your team isn't blatantly ripping off a creator, they may still accidentally source material from a creator that requires proper attribution. Regardless of intent, the outcome is the same.
Digital rights management software saves money long term
Misusing digital rights can also put the company's budget at risk because of resulting fines and potential lawsuits. Aside from this, lawsuits related to the misuse of unauthorized or expired assets can also have a detrimental effect on the company's image long-term.
Digital rights are complex
The complexity of managing digital rights rules and limitations is very high. There are many different timelines and ways to use assets, which can be very time-consuming and prone to human error. The lack of visibility into digital rights can also cause delays and increase costs. Having a solution that allows you to manage these is a must.
It saves time
Without digital rights management, tracking of all of your digital rights can cause delays in launching campaigns and go-to-market plans. With it, team members at all levels can easily source, reference, and publish content with confidence.
The lack of visibility into digital rights also leads to the creation of duplicate work and wastes valuable content. Having a central library of licensed content can help reduce costs and ensure that everyone is using the right assets. It can also prevent unauthorized content from being sourced and rejected in the first place.
It protects your intellectual property, too
While the concept of copying someone else's idea is nothing new, the advances in modern technology make digital piracy much easier. Sharing or downloading information, like video or audio, only takes a few clicks.
Not only can you make copies quickly and often for free, but it's also easy to do so without being detected. Without digital rights management software, much of your brand's original video footage, music, PDF documents, and other digital assets would be susceptible to mass copying and sharing.
So, if any company is providing confidential or exclusive information to a select group of people, such as clients or paid subscribers, they must protect that information from unauthorized sharing. Using DRM technology, you can combat this problem and make sure that management can control access to your valuable media. Essentially, this means people cannot do whatever they want with your intellectual property.
---
How Does Digital Rights Management Work?
Digital rights management software works through an encryption application where code protects digital media assets by limiting access to certain personnel, periods, or devices or limiting the number of times the content can be installed or opened.
You can protect digital media in several ways, including:
Setting an expiration date on assets, after which users can no longer access it
Limiting the number of times content may be accessed
Restricting users from editing or saving content
Preventing users from creating screenshots
Restricting users from sharing or forwarding digital products or content
Restricting users from printing your content
Locking access only to specific IP addresses, locations, or devices
Watermarking artworks and documents to establish ownership and identity
We can categorize these actions as a form of copy protection or permission management:
Copy protection comprises strategies that control access by preventing people from creating copies of any protected work. Some examples include fingerprinting, digital watermarks, and rootkit software. A common online use is for digital content to be written in code that can only be read or unlocked by specific software or devices. This approach to copy protection is known as scrambling.
Permission management sets access limitations through a myriad of techniques, including software licenses and keys, proxy servers, virtual private networks (VPNs), user authentication, and IP authentication protocols. Creators may also design media with regional restrictions or geoblocking, or even design products to only work on specific hardware or software.
---
DRM Use Cases
So, what is DRM commonly used for today?
We can see DRM content in use across a range of digital media formats, such as music, images, videos, ebooks, proprietary business assets, database subscriptions, and software. With digital rights management software, the creators and rightful owners of these works can safeguard against unauthorized use. Here are some common use cases for digital rights management:
Creative works
In the media industry, DRM technology helps musicians, filmmakers, authors, and other creators to prevent unauthorized use of their content. If people can freely share this type of content, the artists and producers will struggle to earn an income for their creations.
DRM also protects creative works associated with brands. Having a consistent brand image is critical to business success, so improper use of a company's logo or campaign assets can be extremely damaging.
Software
A report from DataProt revealed that 57% of computer users have pirated software in the past. In the age of software-as-a-service (SaaS), it's imperative for technology companies to protect their valuable software products from piracy.
Due to this threat, digital rights management is essential for preventing the misuse of software. For instance, Microsoft users must acquire a personal user license and input their unique key before installing any Windows or Office software on their personal computer.
Enterprise business management
Enterprise digital rights management (EDRM) has grown into its own market, with Gartner projecting EDRM to be worth over $330M by the end of 2026. Typically, enterprises rely on DRM content to protect critical data, especially during product design documents and M&A (merger and acquisition) plans.
Through good digital rights management software, an enterprise can rapidly deploy new campaigns and product concepts while staying compliant with regulatory laws.
Client content
Agencies take responsibility for their client's creations and campaigns, so there is a high expectation for data security and privacy. Whether it's a product launch, rebrand, or new sales page, you need to be sure you can guarantee asset security.
Many agencies use DRM content to streamline workflows, as they can approve items directly in the platform, and enhance the level of brand consistency across the campaign, even when working with in-house personnel and outsourced contractors.
---
Benefits of Digital Rights Management
So, if there are ways around DRM software and tools that can remove the code, you might think it's not worth the effort. However, there are many benefits of digital rights management worth considering:
Digital rights management helps accelerate content production and distribution
Having clear terms of usage allows teams to confidently use digital content without having to repeatedly double-check information, ask for permission, and manually look up expiration dates. It's also useful for organizing and storing assets in a searchable database all authorized employees have access to.
Digital rights management can reduce legal and compliance risks
By recording information about the use and reuse of digital assets, organizations can reduce their risk of penalties. This can be done through the recording of details such as when and how assets can be utilized.
For example, if you're working with a professional film company to create social media advertisements, you'll need to keep track of the photographer, makeup artist, models, and featured customers' names as well as their contact information.
Having it all in one place ensures that content gets published on time with permission. If you've ever had to chase down talent for their usage restrictions last minute, you know how helpful this can be.
Besides being an excellent note-taking and keeping tool for the legal aspects of digital rights management, you'll also find that a DRM solution makes it easier to manage the paperwork involved. And when it comes to creating content on behalf of an organization, there are a variety of contracts that need signatures, approvals, filing, and updating as time goes on.
You may also know from experience that spreadsheets simply aren't cut out for keeping track of sensitive documents. With DRM, you can visualize where and how these assets can be used in a self-service platform.
Digital rights management enables companies to control asset usage across internal and external stakeholders
There are plenty of rules about how to use content that you've purchased, but you may also want to create your own rules to keep track of how it's being used. This will help keep your company in compliance.
In addition to trouble-shooting violations, digital rights management software allows companies to educate users about copyright and intellectual property and prevent issues from happening in the first place. Because let's face it: the majority of people don't pay much attention to copyright matters — they're more concerned about accessing the content day to day and worry little about the finer points of law and policy.
This doesn't just apply to in-house teams. Third-party collaborators, remote workers, and contract employees can all be brought up to speed on content usage rules at a glance with the right DRM tool.
Digital rights management gives authors and artists ownership rights
Authors and artists typically spend months or even years bringing their creative visions to life. DRM stops others from stealing this content, and therefore, keeps the power in the hands of the rightful owners.
Digital rights management protects income streams
Besides the time investment, authors, artists, and video creators also spend money during production. This expense is an essential cost of business, which they hope to recoup once they launch their digital media product online. DRM ensures that only paying customers can control access to their products, which helps maximize the income from each release.
---
Key Functions of DRM Software
If you want to use DRM technology to protect your products or media, there are several key functions you should look for when trying to choose between the different DRM content services online.
Protect various asset formats
If you were to speak to the decision-makers in most companies, they would likely tell you that text documents are the primary asset they need to protect. The best digital rights management systems go far beyond protecting digital content such as Word docs and digital files.
Even if you don't use other file types often, it's wise to look for a system that offers protection for a wide range of media, including images, audio, and video.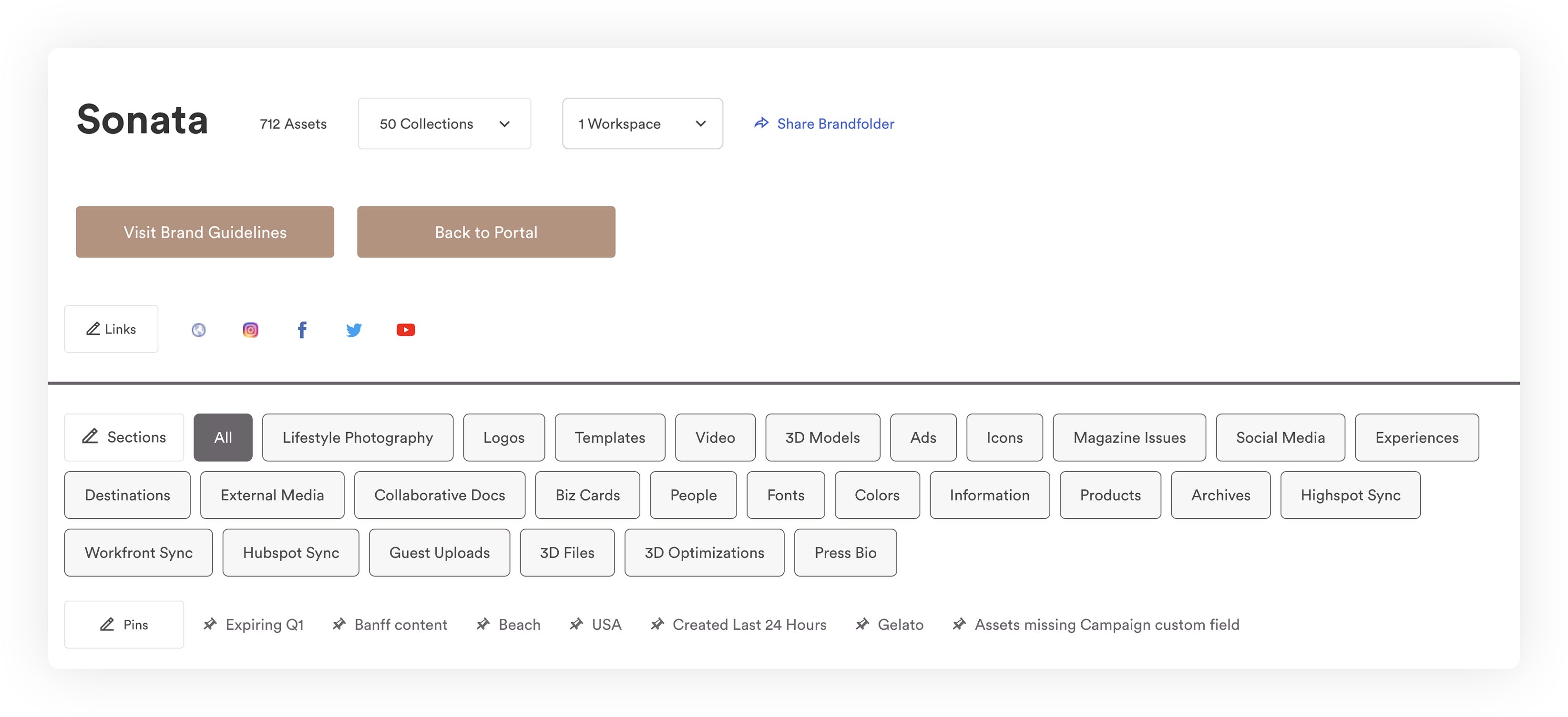 Brandfolder supports all file formats, protecting text, images, video, audio, and other documents.
Control asset availability
Being able to control asset availability is crucial. You can use DRM technology to configure privacy settings — open your media products for public access or restrict users to private viewing if they are internal resources.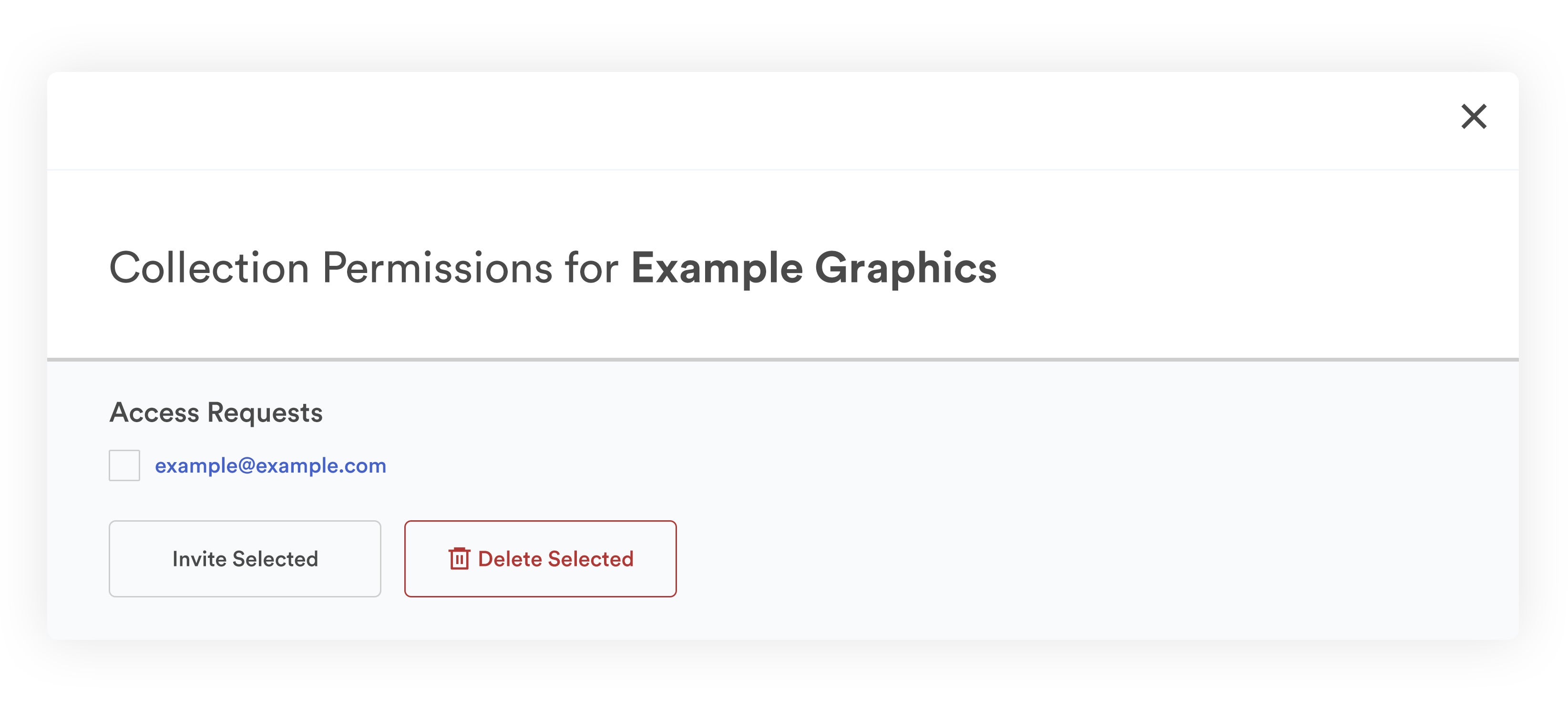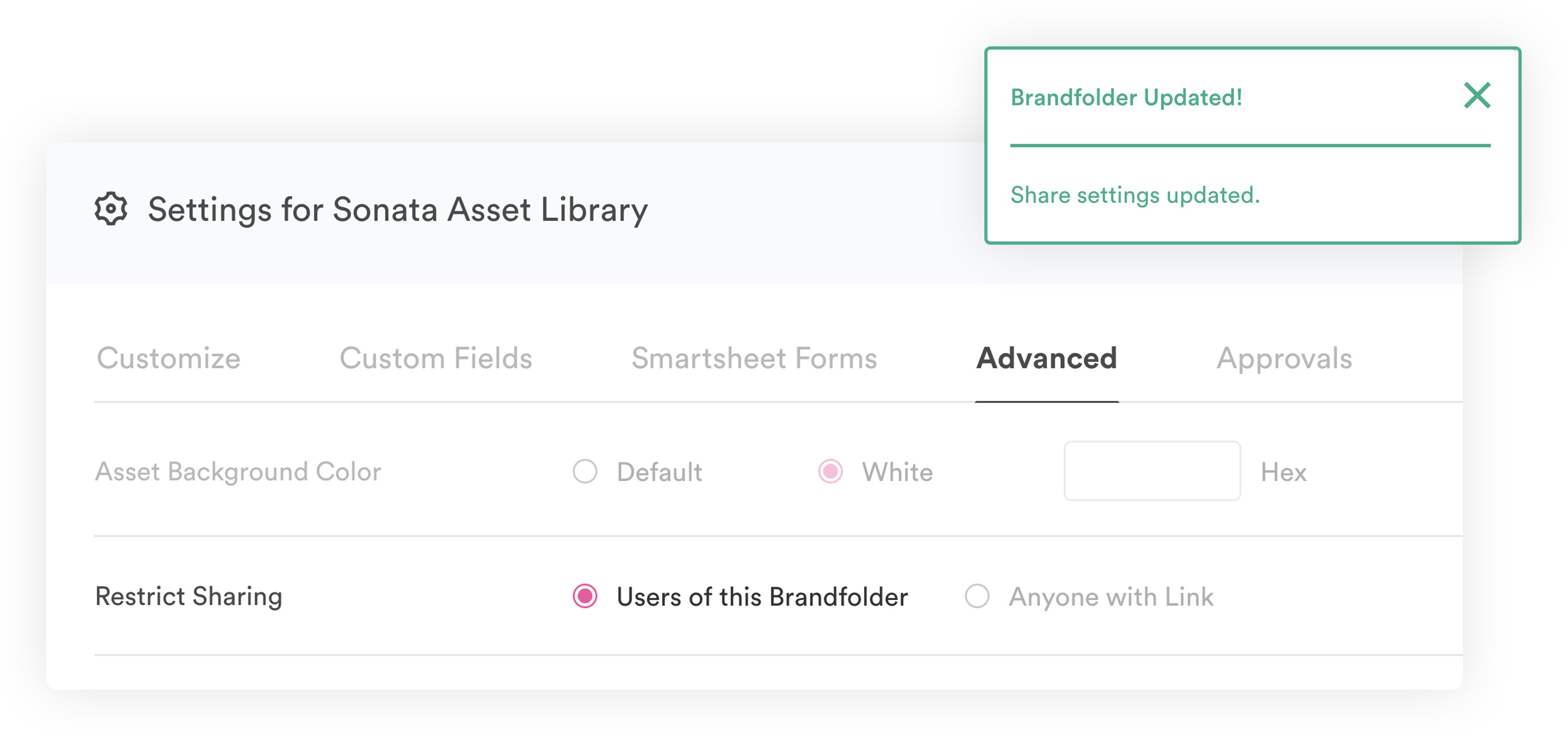 Brandfolder helps users customize their asset availability and organize media to streamline workflows and minimize access requests.
Set asset expiration dates
Certain products, like software, are offered on a subscription basis. Creators and copyright holders must ensure that users cannot access products or assets once their subscription expires. With DRM, you can set expiration dates in line with licensing rights to prevent unauthorized use.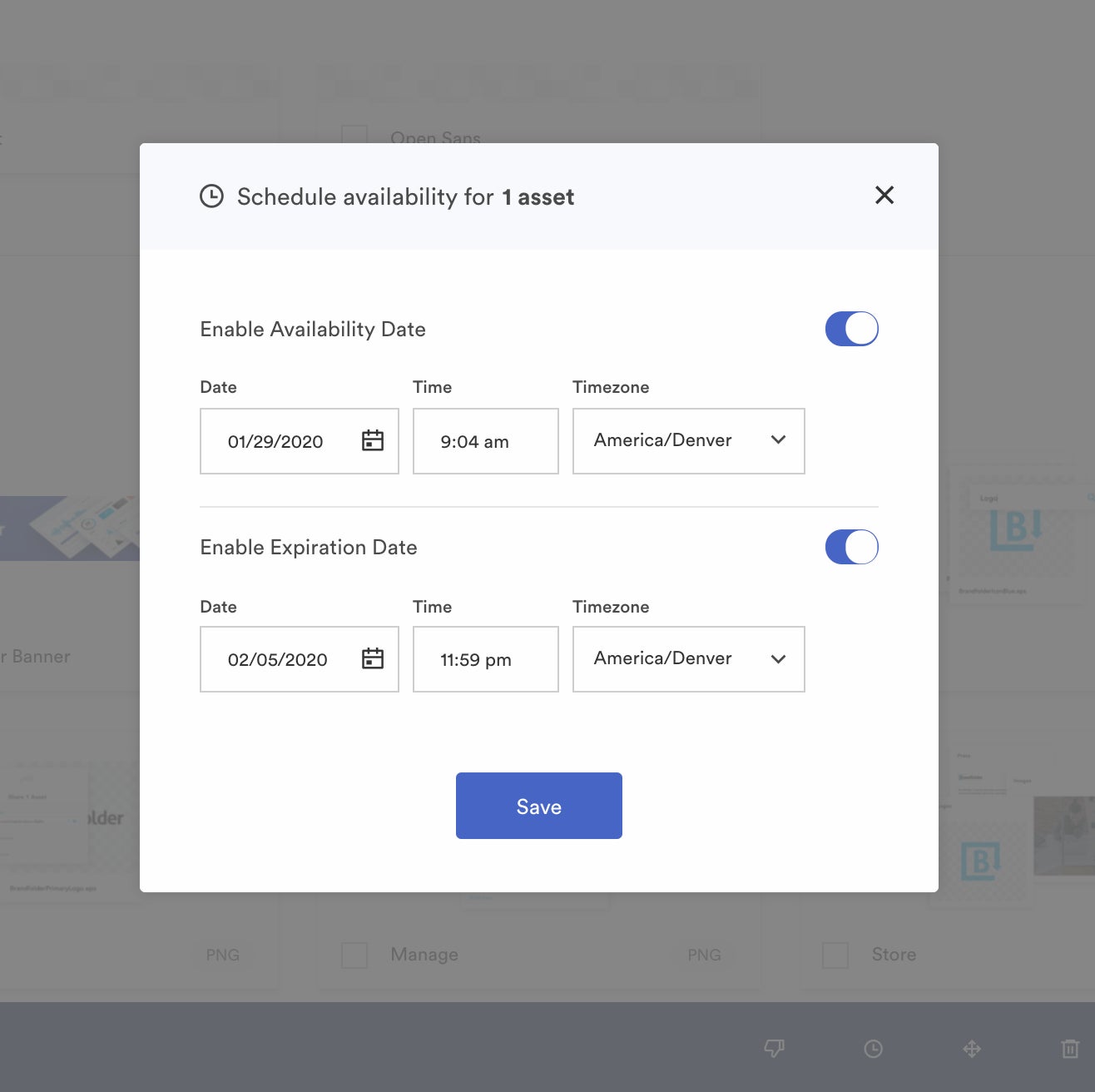 Brandfolder has a user-friendly interface that helps users manage expiration dates and automate access to expired assets. You can also set up alerts for when an asset is about to expire, so you can take immediate action.
Approve assets
Ideally, companies should have someone who oversees important digital media assets and controls access and usage within the organization. You add another layer of protection by monitoring access, ensuring critical information is not easily leaked or compromised.

Brandfolder has several features that help companies in this regard. You can select administrators to approve assets, consider access requests, and grant permissions to other people in the company.
View analytics
If you tap into the power of data analytics, you can gauge engagement and see which assets are the most valuable.
This analysis can give you a better understanding of how assets drive internal innovation and learning, or how they foster external engagement with prospects and customers, and ultimately, generate a positive return on investment (ROI).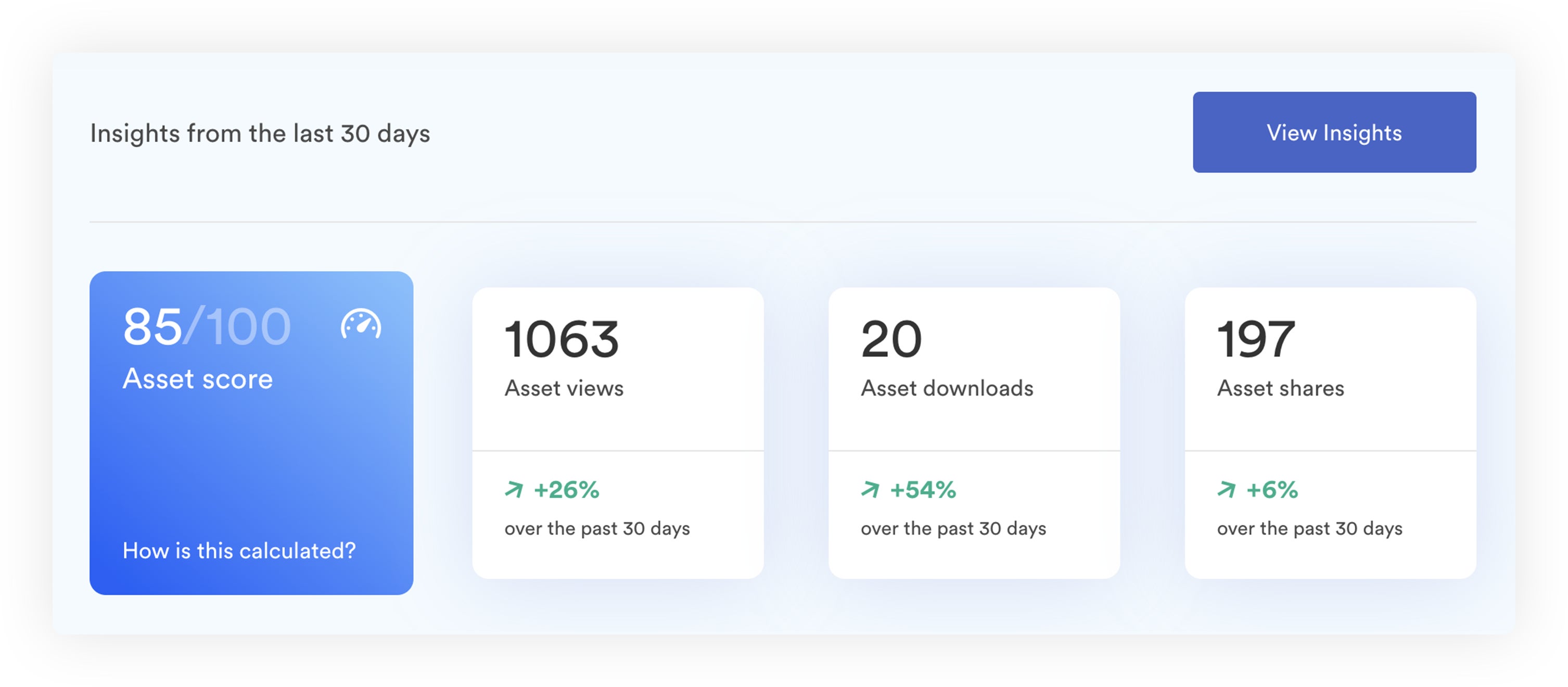 Brandfolder allows users to see the most engaged media, the top users, and the performance of all assets in the company. These features are easily accessible in a centralized dashboard that makes it easy to track all asset interactions.
Experience a Better Way to Manage Digital Rights
Brandfolder is an easy-to-use digital asset management (DAM) system that simplifies the way teams organize, distribute, and use content. When uploading assets to Brandfolder, all embedded metadata like exif or iptc, including any embedded compliance or rights information is made searchable, and can be used to trigger automations to enforce compliance policy. Each piece of content can be tagged with additional file information, and even scheduled to publish or expire on a specific date.
Brandfolder also enables users to easily curate collections and manage user permissions at scale. When it comes to accessibility, team members both within and outside of the organization can find exactly what they need with intuitive search. With help from Brandfolder's custom DRM restrictions and controlled access, you can rest assured that the right people have access to the right materials.
Brandfolder even offers Brand Intelligence, which uses AI and machine learning to analyze your assets and find out where they're being used. And through Brandfolder Insights, teams can see how many customers and potential leads are accessing their content and what kinds of assets they're downloading.