Announcing Brandfolder Advanced Video (and What it Means for You)
Did you know that including video on a landing page increases clicks by 80%? Or what about the fact that YouTube reports a 100% increase in mobile video consumption year over year? It's no secret that video is widely regarded as the future of content marketing, or that marketers should be strategizing accordingly.
Brandfolder wants to be a partner in facilitating your marketing campaigns now and as they evolve. And because of that, we knew it was important to upgrade our video capabilities and offer you a superior experience. So, we're proud to announce Advanced Video, allowing you to manage video better and in a more scalable way.
An Intro to Brandfolder's Advanced Video
When Advanced Video is enabled, the first thing you'll notice is a distinct "Upload" field in any section that supports video file types. Within the header of each section, you'll be able to click the play icon or drag a video over the icon to upload your video. Once the video is uploaded, you'll be able to view it among the rest of your assets. Yeah, it's that easy.
Easy Downloading, Video Formatting, and Superior Quality
Clicking on your uploaded video will allow you to preview the asset while introducing the newest download options. You'll see that we've added the video icon to the right of the simple download option.
Click on this icon and you'll be able to immediately adjust the video type to .mp4, .mov, or .flv file extensions, to name a few. Want to adjust the quality of your video? You can do that too. Make it 1080p, 720p, or 480p. We only offer options at or below the original to ensure that the quality of your video is pristine. If these transformations are all you need, click "Download" and the file will download directly from your browser.
Customizing Video
Are you and your team interested in customizing your videos? We've got features for that! From watermarking to clipping, you'll get more bang for your buck from every piece of multimedia you create. Access these capabilities by clicking the "Advanced Options" link to the left of the "Download" button.
Has your brand ever shared a video that got thousands of views… but your company's logo was nowhere to be found? Ouch, that's a missed opportunity. But with Advanced Video, you'll never have to worry about that happening again.
Overlay a watermark image first. Then customize the size, opacity, and placement of the watermark. As you make changes, the preview of the watermark will adjust in real time to eliminate the possibility of a mistake. You'll also be able to delay the appearance of the watermark. Only want the watermark to be visible during your video's introduction? You can do that too. When you're finished making your selections, click "Download" and the file will download straight from your browser.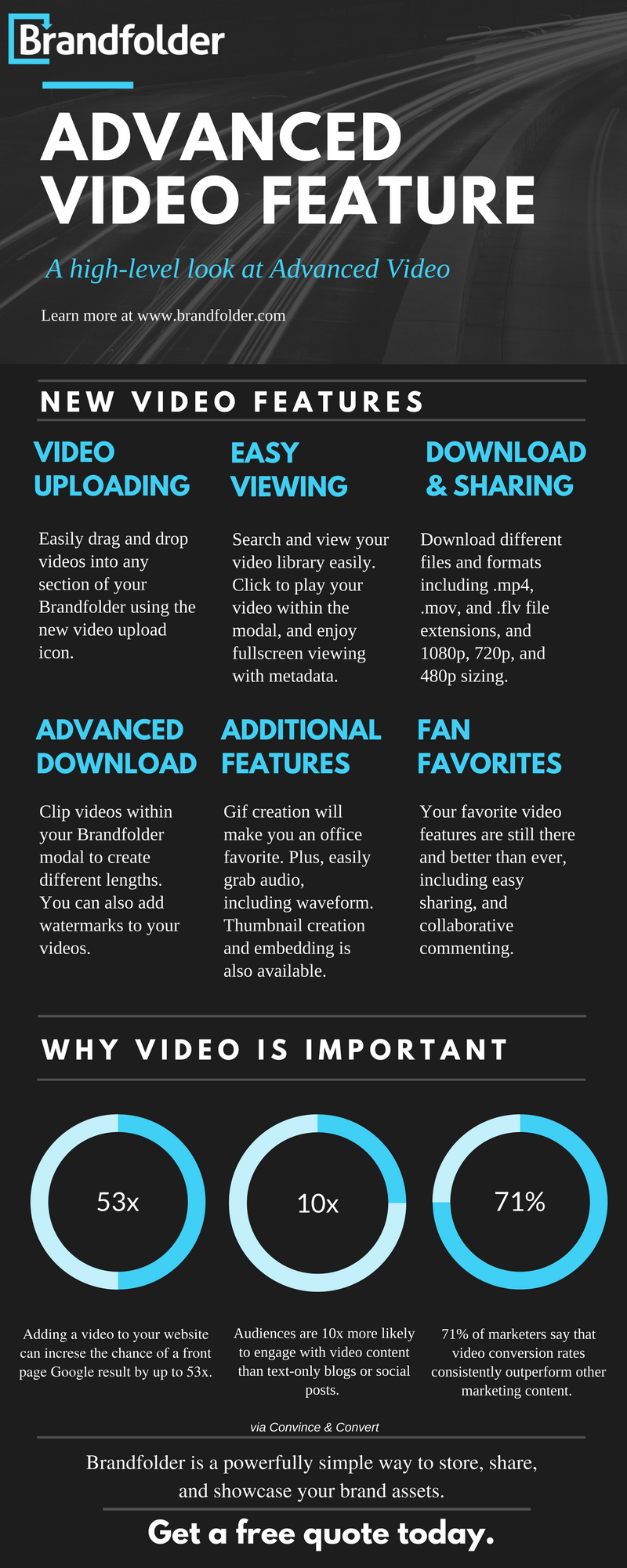 Bonus Features
Finally, because we like to surprise and delight you, we wanted to include at least a few bonus features. So we've made it possible for you to create animated gifs from your video content. That's right, ten evenly spaced frames can be spliced together and played in your browser — sure to make you the most popular marketer in your office.
Let's say your team has a video interview with great sound bites you'd love to grab and repurpose. With Advanced Video you can do just that. Select the "mp3 download" option and clip it to play only the hits. Or perhaps the music on your video is copyrighted and blocked by Youtube, and you'd like to find a similar unrestricted song. Download an image of the waveform and run it through a sound-matching comparison. Because, dammit, you can!
Advanced Video empowers anyone on your team to become a video-editing master. Want to see them for yourself? We'd love to share these new features with you. Simply email sales@brandfolder.com.
Don't have Brandfolder yet? Get a free quote today by clicking the button below.