The Top Alternatives to Box in 2021: Pros, Cons, & Customer Reviews
Google Drive, Microsoft OneDrive, and even DropBox are all popular alternatives to Box's storage solution, but we don't recommend switching to these tools because: 1) they don't offer any additional features, so you don't gain anything from the switch, and 2) users experience a lot of the same problems with these tools as they do with Box, so they eventually have to move away from those tools, too.
These cloud storage solutions let users store and collaborate on assets, but that's about it. As "storage drives," they aren't built with many features to manage, distribute, and use assets after they're uploaded. And even though these tools now have integrations to sync with other software, setting up all of these integrations takes time and the experience post-setup is a bit clunky.
Once you've outgrown Box's storage drive, you're better off switching to a more advanced asset storage solution — in particular, digital asset management (DAM) software — instead of trying to create a makeshift DAM with these tools using integrations.
To put it simply, DAM software does everything storage tools do plus way more: they have features to support all of your different teams, let you get far more granular with permissioning and sharing, and have tools to give you better control over the entire content lifecycle.
In this post, we talk about Brandfolder and four other digital asset management solutions for teams who are ready to take the next step and switch to a DAM system.
Curious about digital asset management software? Our customer service team is here to walk you through the process, from answering your questions about DAMs to assisting with the setup of your asset library. Get in touch with our team for a free demo of Brandfolder!
Brandfolder Digital Asset Management Software
Brandfolder's digital asset management system lets you neatly store all of your branded content in one place — not only images, documents, sales decks and marketing collateral, but also rich media like videos and audio files, InDesign templates and Photoshop files, fonts, colors and HEX codes, and other file types.
As we mentioned above, file storage is only one component of digital asset management — "digital asset management" naturally encompasses things like digital rights management; brand management; marketing and social media asset management; image, video, and document management; and so forth. Brandfolder's features give you more ability to use, distribute, and keep track of assets.
Let's talk more about what you can accomplish in Brandfolder.
Store Your Assets in a Way that Makes Sense for Your Teams
In Brandfolder, you can organize your assets in:
Brandfolders: Folders of assets for specific brands — most businesses have one Brandfolder, but companies who manage assets for more than one brand make several Brandfolders.
Collections: Groups of similar or related assets (i.e., Collections for different services, products or product lines, promotional or marketing materials, sales collateral, etc.).
Brand Portals: Subsets of relevant assets for specific end users; these are beneficial for global companies who have groups of assets for each of their regional teams, or for brands who work with different retailers and distributors and need to regularly share product images/information.
Before uploading your assets to Brandfolder, our team will sit down with you to determine the best way to map out your assets and walk through how ingestion works. Then, when it comes time to move all of your assets to Branfolder, our platform will auto-organize your asset library so all of your files live in the right spot.
Note: Brandfolder even automates metadata and tagging to speed up ingestion and improve the searchability of your assets.
After the initial onboarding is complete, you can 1) control who can upload assets, 2) control where assets are uploaded, and 3) put a review/approval process in place for all new asset uploads so you can keep your library clean as you acquire more content.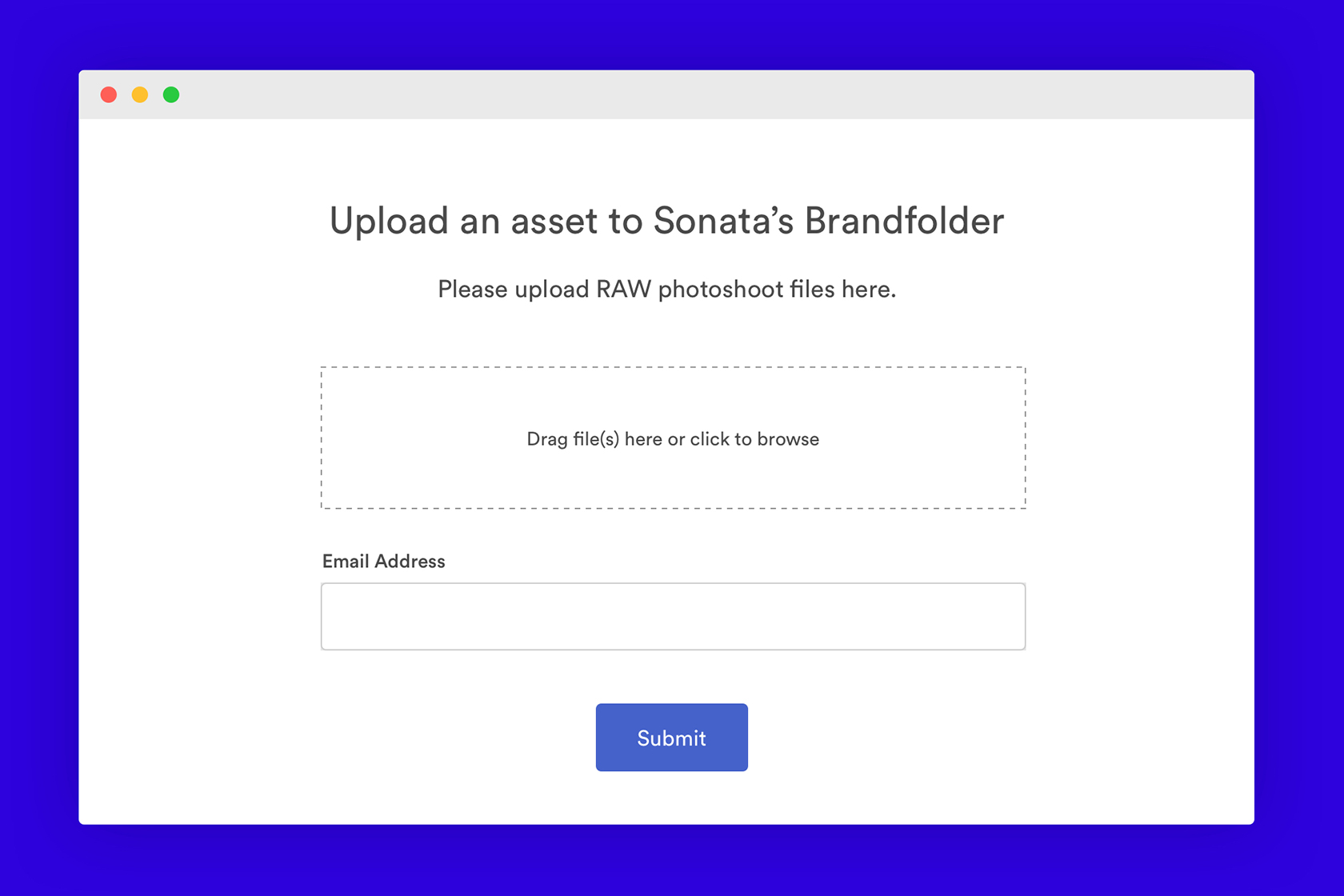 If you receive assets from outside collaborators, you can use our platform to send them guest upload links. When guest users upload with these links, their files automatically appear in Brandfolder for review and approval. (Don't worry, they won't be available for other users to view or download until they're approved by someone on your team.) You can even control where these files are uploaded when generating the upload link, so you don't have to do any further organization after approving the asset.
Make Sure All of Your Users Have Access to the Assets They Need
Once your assets are in Brandfolder, you can control who has access to which assets with permissions and user roles.
First, you can add users to Brandfolders, Collections, and Portals. When you add a user to an entire Brandfolder, they can view all of the Collections and assets within. If you just add a user to a Collection or Portal, they'll be able to see all new and existing assets stored there. You can also add users at the asset level; so you can share single assets or groups of selected assets if you want to get more specific with sharing.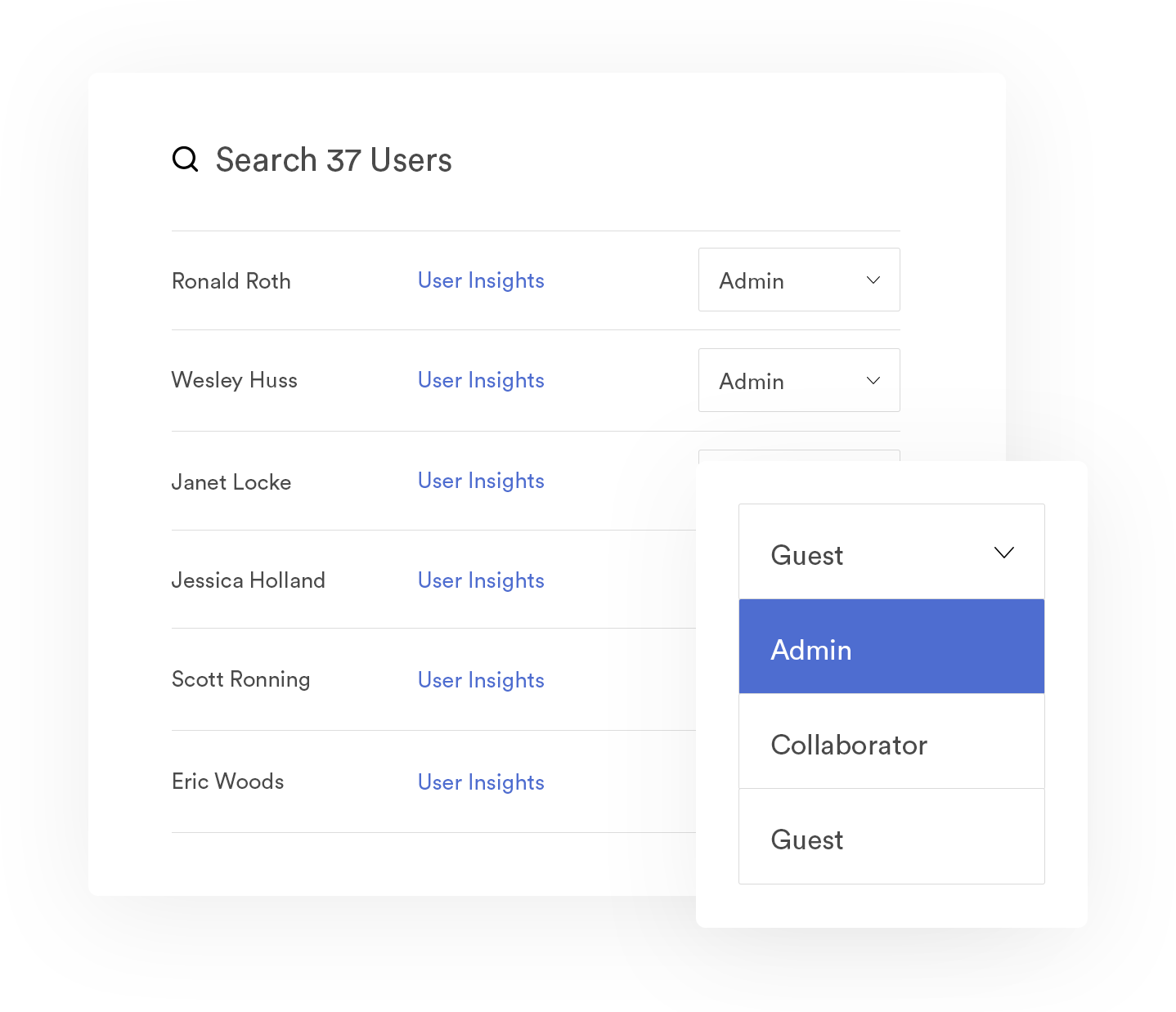 In addition, you can use role-based permissioning to share assets with other users and control how others in your workspace use assets.
There are four types of user roles in Brandfolder: Owners, Admins, Collaborators, and Guests. (For the most part, you'll just be granting Admin, Collaborator, and Guest access.)
Admins can control user customization and permissions, add and edit assets, and view and download assets
Collaborators can add, edit, view, and download assets
Guests can view and download assets
For example, say you want to share all of your brand assets with your marketing director and give them the ability to change user permissions and manage asset updates: You can add them to an Admin of your org's Brandfolder. Then, they can access all of the Collections and assets within, control user permissions, and approve new or updated assets. You can learn more about user roles and role-based permissioning here.
Note: We offer free unlimited guest seats so our platform can support unlimited file sharing and the largest of enterprise businesses. Check out our other post to learn more about Brandfolder's features for enterprise digital asset management.
Easily Find the Files You Need (Without Weeding Through a Cluttered Asset Library)
We design our search functionality to be simple yet powerful so you can find the assets you need quickly and easily. Brandfolder's search works in a few distinct ways:
Analyzes your entire asset library — at least all of the assets you have access to — so you don't have to go digging through folders to find what you need
Uses product and image recognition to analyze the content of your assets and pull all of the files that are relevant to your search query; that way, you don't have to remember file names
Lets you narrow down search results with pin tags and filters
Groups your assets by type and displays clear thumbnails so you can easily scroll to find the asset you need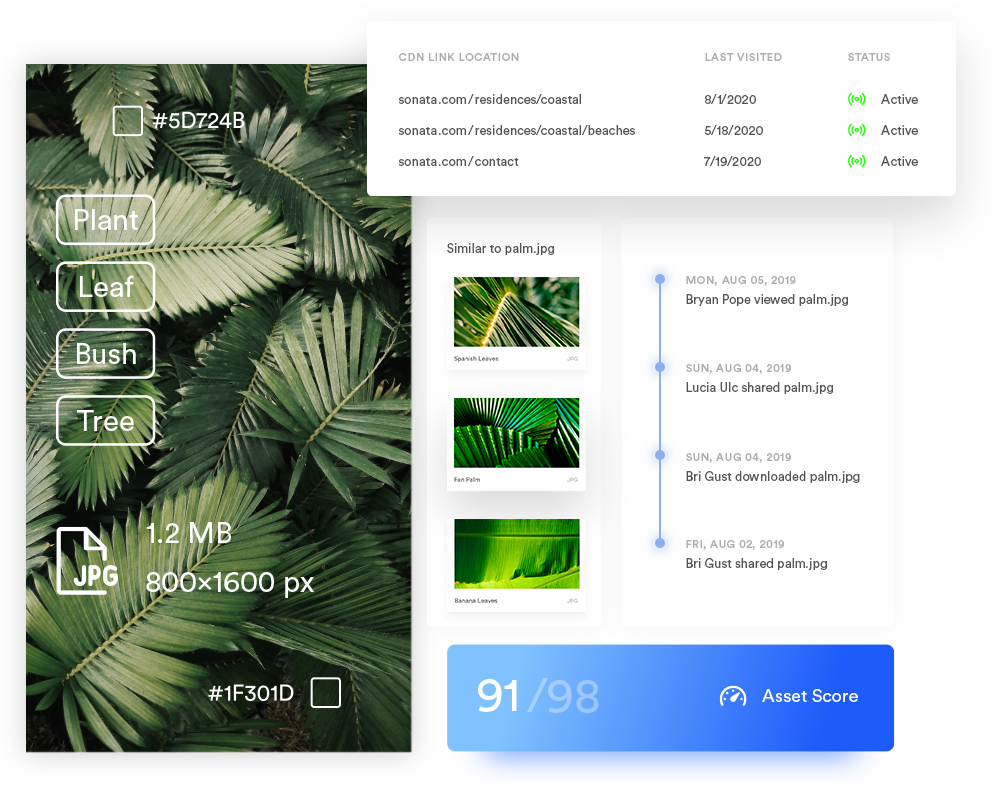 Brandfolder also detects duplicate assets during upload and auto-updates your library after asset updates, so your users aren't scrolling through a ton of repeat assets in your library and are always finding and using the most current versions of your branded content.
Manage Asset Updates & Keep Track of File Versions
On that note, let's cover some of our collaboration tools that make updating assets and managing asset versions easier.
Every asset in Brandfolder has a dedicated Asset Overview that opens when you click to view an asset. Within this overview is a Workflow tab where teams have collaoration options:
Comment back and forth with other team members on asset updates in real-time
View the asset's comment thread
Check assets out for updates and push them back to their native editing app
Push assets back over to Brandfolder once edits are complete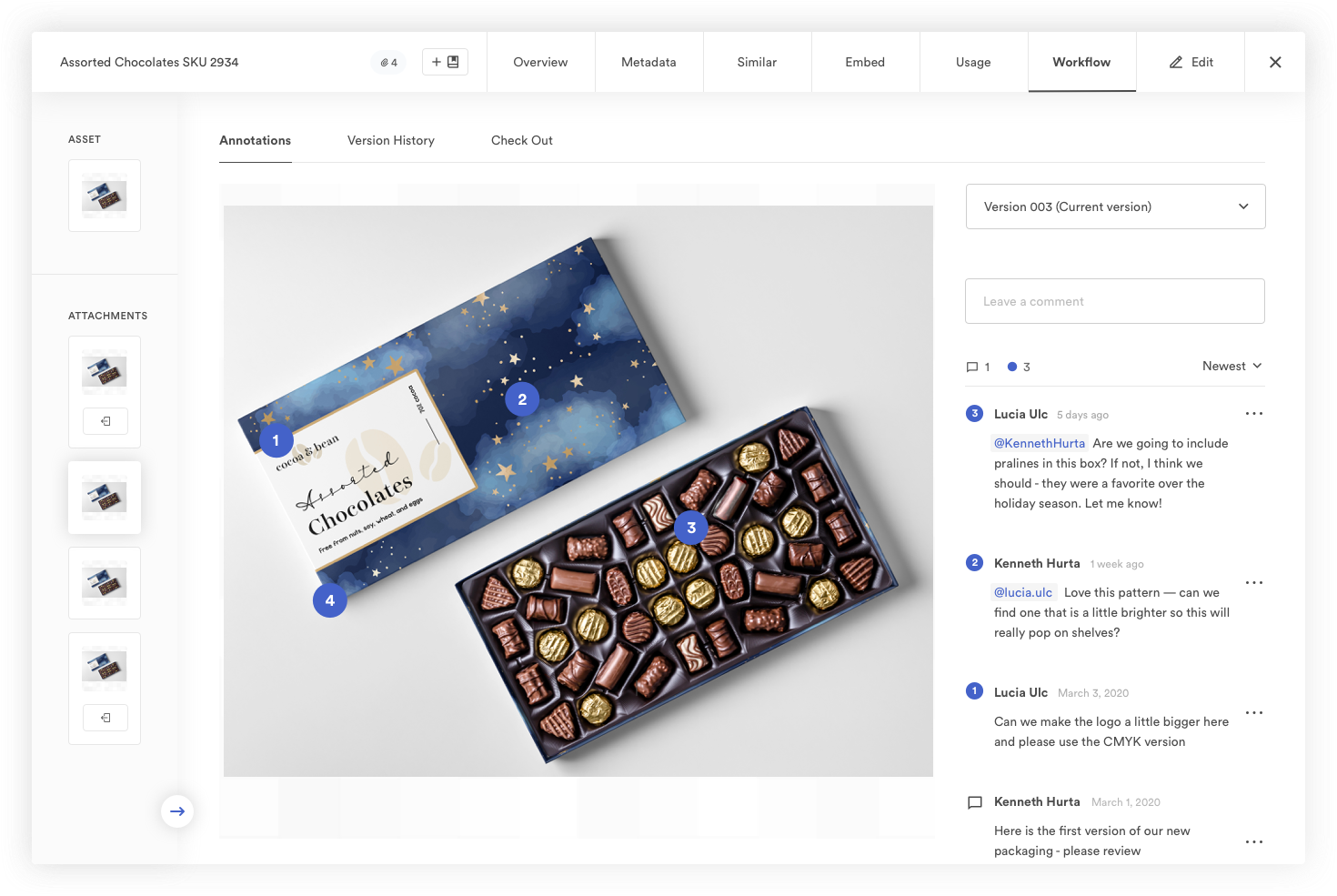 When assets are checked out for updating, Brandfolder displays a banner over the asset to notify other users of updates. This also blocks downloading so nobody accidentally uses an asset while it's undergoing edits.
Once edits are wrapped up and the asset is pushed back to Brandfolder, admins and collaborators are notified that the updated asset is ready for review. Then, after it's reviewed and approved, the asset becomes available for download again. (You can also nix the reviews/approvals process here if you don't want to review every update. We give you total control over how asset reviews work.)
Brandfolder records all updates and asset versions in the Version History. You can easily see when assets were updated, what changes were made, and who made the updates. Our DAM lets you view and download previous asset versions, and it also supports automatic versioning, so you can always revert back to older asset versions if you need.
Maintain a Consistent Brand Image & Gain Better Control Over Asset Usage
Making sure that all of your users are accessing and using the right versions of your assets is only one way to better maintain brand consistency. But you can also use Brandfolder to take better control of your brand image by powering all of your digital content directly from our platform. How does this work?
Brandfolder is built with a content delivery network (CDN) system, and every asset is assigned a unique CDN link to use for publishing. By simply copying and pasting that link across websites and email marketing campaigns, you can host your digital content from Brandfolder. Any future updates you make updates at the Brandfolder level will be automatically reflected every place the CDN link lives.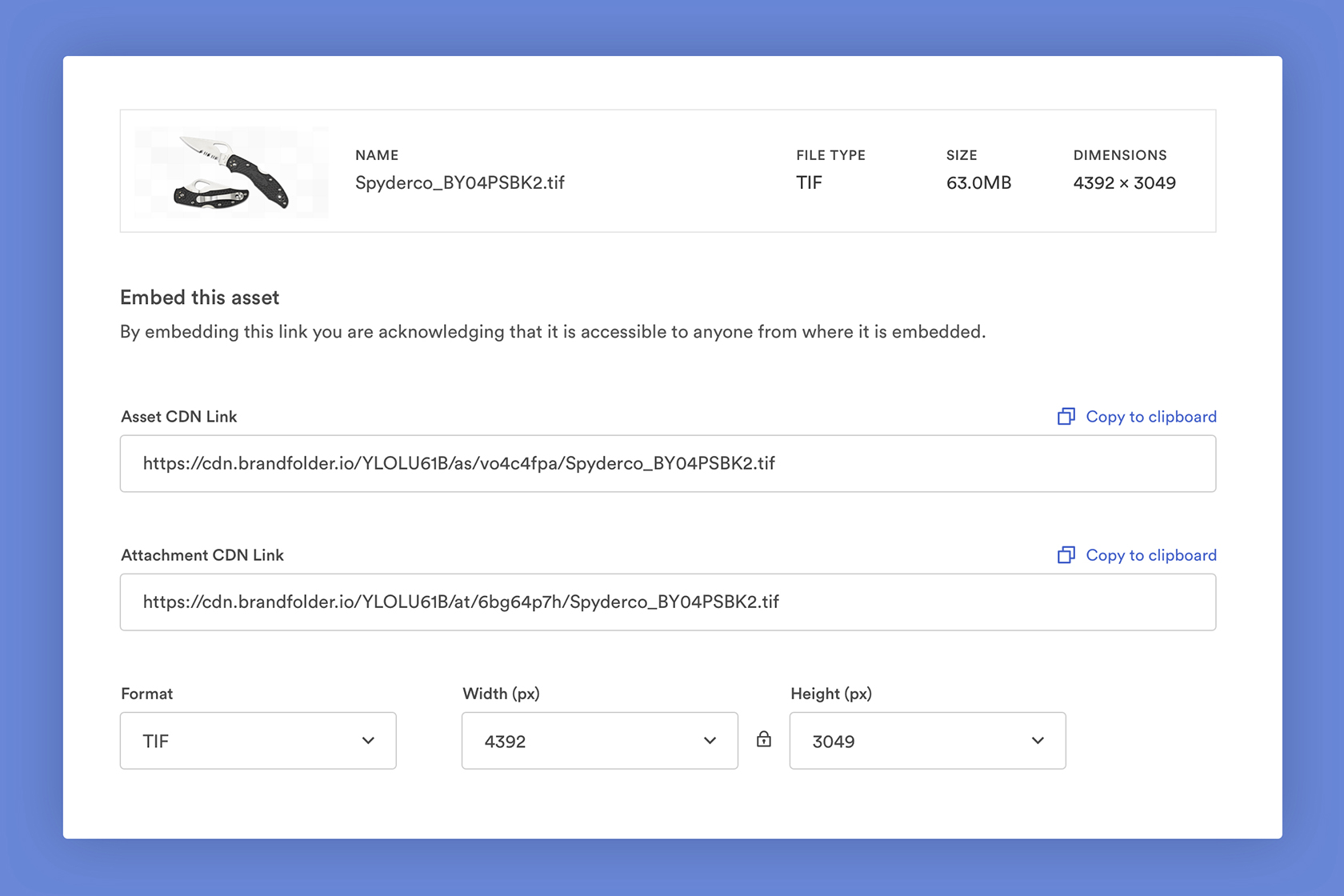 You can also use Brandfolder to share brand guidelines and asset information with other users. This ensures that everybody who's publishing and using your assets knows how to use them the right way.
Our Brandguide feature makes it easy to put together and store clear but detailed brand information right in Brandfolder. Your Brandguide can be referenced by all of your users, or anybody you share your assets with, at any time, so you don't have to always find and share your brand guidelines every time somebody needs them.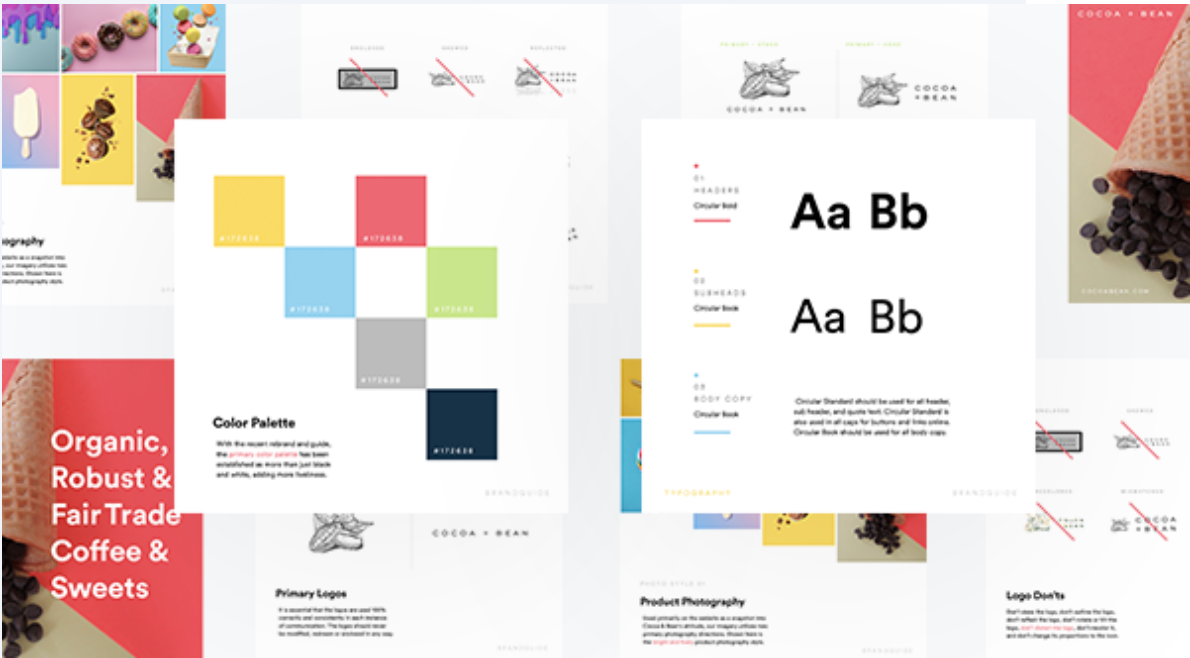 At the asset level, you can include more specific usage information within the asset's description, such as "dos and don'ts" for asset usage. These typically include: where the asset can be used, how it can be used, who can use it, and any other relevant information needed to publish the asset. All of the asset information is shared when the asset is shared.
Share Assets With Anybody Outside of Your Org
Brandfolder also has secure file sharing options so you can send assets to people outside of your organization (or other non-Brandfolder users). Instead of requiring you to download assets from our platform and email large files, you can share any asset(s) you need with a custom share link.
You have a variety sharing options with custom share links:
Give the share link a name
Set the share link to expire
Limit downloading or watermark assets
Require end users to submit an email address to view assets
Then, once your link is ready to share, you can send it off!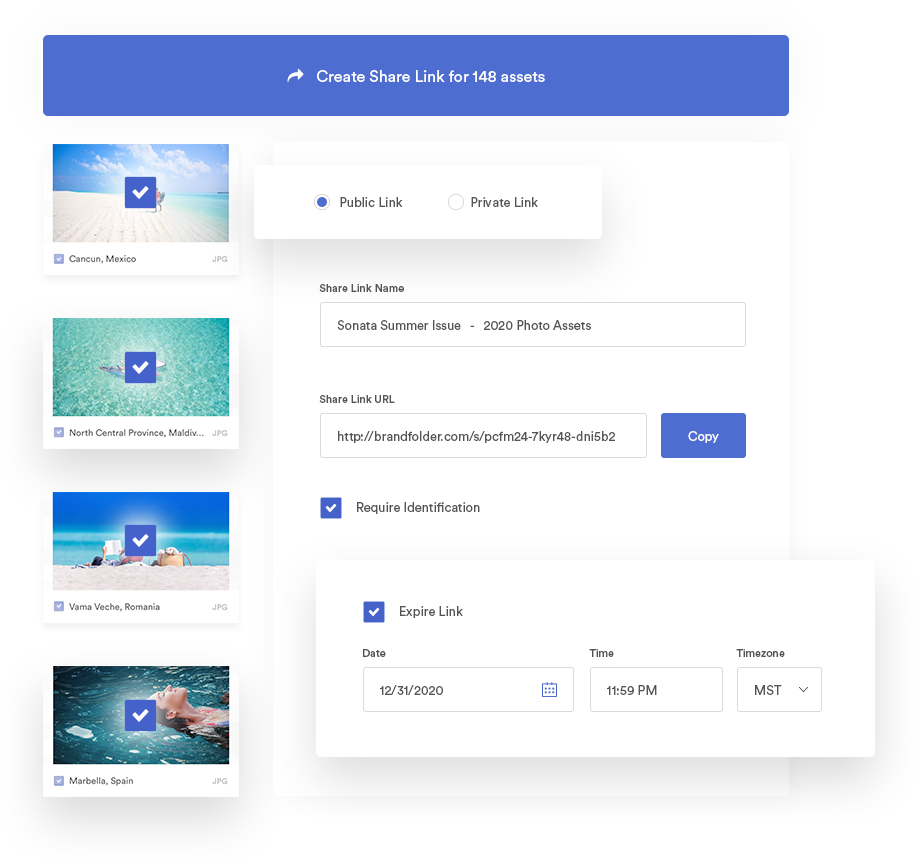 After you've sent a share link, you still have control in a number of ways:
Add or remove assets to the share link
Set up notifications when somebody views or downloads the assets you've shared
View and manage all existing share link so you can see which assets are currently shared and with whom
Again, we provide free unlimited guest seats, so you can share digital assets as much as you need without worrying about extra charges.
Support All of Your Teams
Brandfolder is one of the most robust DAMs available: In addition to features to manage asset organization, sharing, and usage, we provide extras like a suite of video editing and video management tools, a customizable templating feature, and built-in send-to-print capabilities.
We also offer dozens of integrations and design Brandfolder with an open-source API for further customization. This lets you connect our platform with all of the tools your teams use, so you can leverage Brandfolder to support all of your teams' workflows.
Some of the other software types where we have integrations:
Content management systems like Wordpress or Contentful
Content creation tools like Adobe and Canva
Project management tools like Smartsheet and Trello
Collaboration tools and messengers like GSuite, Microsoft Office, and Slack
CRM and marketing communications systems like Salesforce and HubSpot
To view the whole list of Brandfolder integrations, click over to our integrations page.
Want to learn more about Brandfolders features and see how our DAM can support your teams? Schedule a free demo with us to walk through the Brandfolder platform and talk about how to make the switch.
4 Other Box Alternatives to Consider
Still searching for other alternatives?
If you've done any research on Box Alternatives before finding this post, you've probably seen names like NextCloud and Citrix since they're both popular file management and content collaboration tools. However, like the alternatives we listed earlier — GDrive, OneDrive, DropBox — these tools aren't as powerful as digital asset management software.
So in this next section, we'll discuss four other DAMs for you to consider during your search for the best Box alternative.
Or, you can read our other post on finding the right digital asset management tool for your team.
Image Relay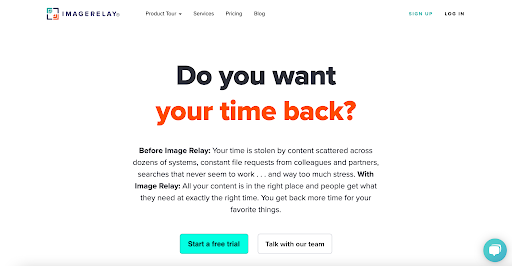 Image Relay is a digital asset management system built with time management in mind: Its features are centered around organizing your assets so the right people can access them when they need them. This makes it so you (or your creative team) aren't wasting hours of your day responding to asset requests and sending files to other people.
User reviews of Image Relay mention how easy the platform is to use, and this DAM is typically recommended for nonprofits and small businesses because of its affordable pricing. That said, Image Relay isn't built with as many extra features as other DAMs, so even though it's somewhat easier to use than more complex systems, it also has its limitations. If you're just looking for a storage system that lets you improve organization and share files more easily, Image Relay could be a good option.
Canto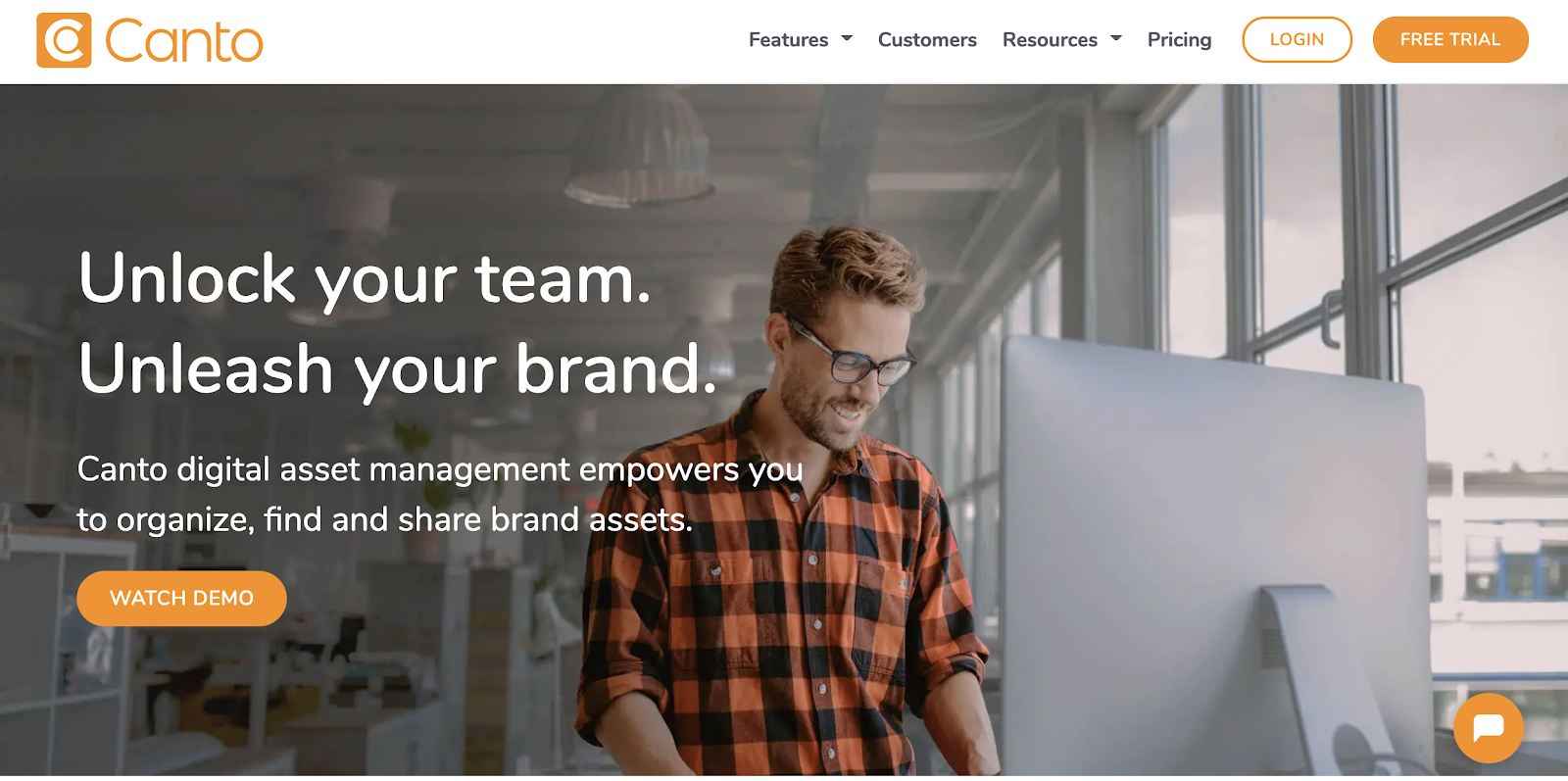 Canto is another DAM for small and mid-size businesses because of its simplicity and affordability. (That said, Canto does charge extra for guest seats, so while it's affordable for teams who don't do a lot of sharing, it can be costly for enterprise and big businesses to use.)
Canto's popularity can also be attributed to its ease of use; teams who switch to Canto don't have a lot of trouble with adoption. Its interface is similar to Apple's iPhoto application — a grid of photos with folders on the side — so the transition to Canto is natural for Mac or iOS users. However, we've also heard some users say that Canto's interface is too cluttered to use easily, so it comes down to personal preference.
Canto is also one of the only DAM brands to offer hybrid and on-premise versions of their software, so it's a great option for teams who need a self-hosted DAM system.
To learn more about Canto, read our Canto software guide.
Bynder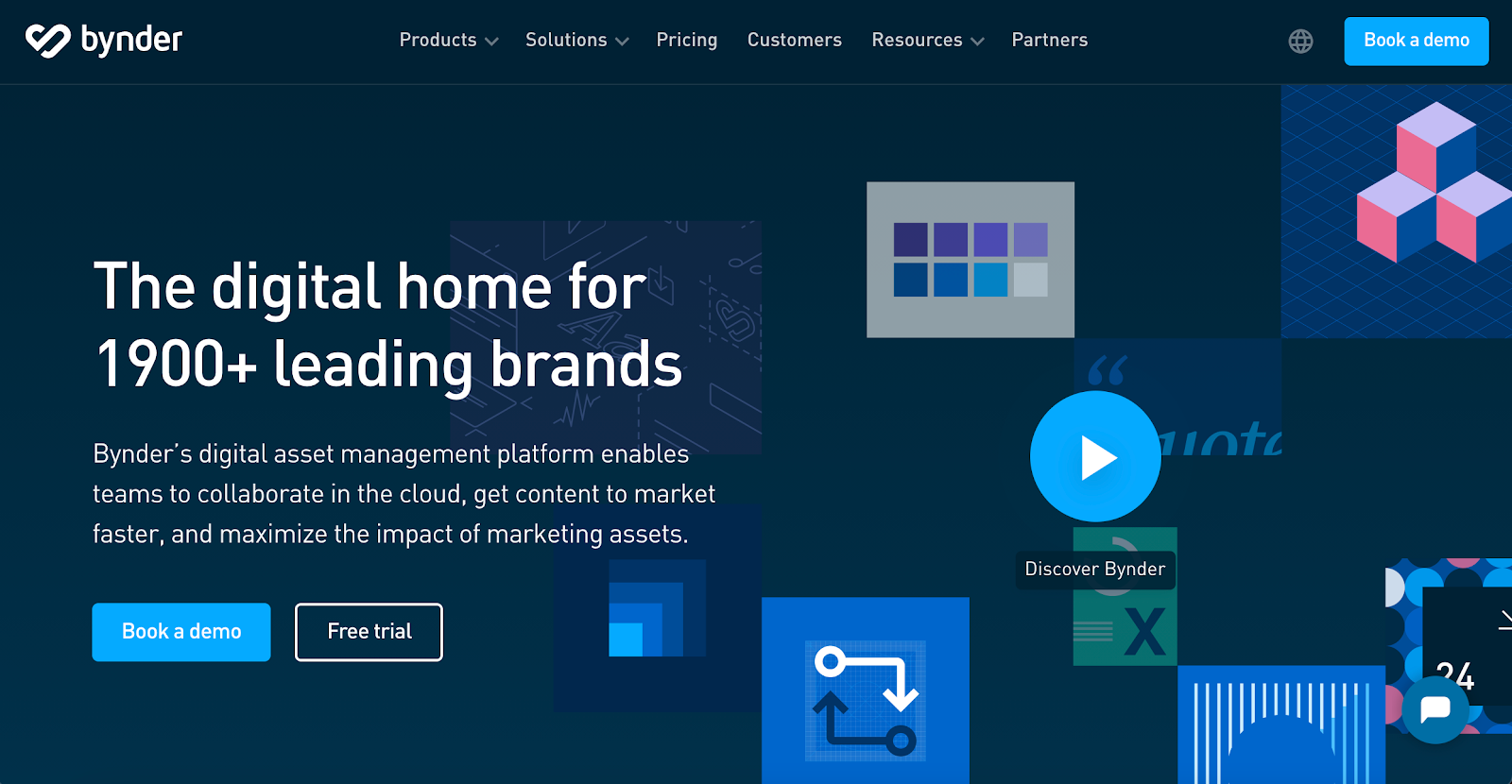 Bynder is a pretty sophisticated DAM that's popular amongst enterprise businesses (e.g., Puma, Spotify, TED, Klarna). However, Bynder is built to be versatile and customizable so it can also appeal to smaller businesses and work for brands across all industries and verticals. Instead of offering a "one-size-fits-all" software, they allow you to select your storage space, add-on features, and control integrations.
Bynder's advanced platform gives teams a lot of features and functionality to work with, which is both a pro and a con: You can do a lot with one software, but the software can be hard to use and training others to use Bynder can take a good deal of time and energy. If you have the resources to dedicate to adopting Bynder's DAM, then this shouldn't be a problem. But be warned, reviews also say that it can be hard to get help from Bynder's team, so you may be left on your own to navigate the transition.
Bynder is often compared to Brandfolder because it has a broad feature set and allows users to tailor their DAM to their needs. To learn more about Brandfolder vs. Bynder, check out our post on Bynder alternatives.
Widen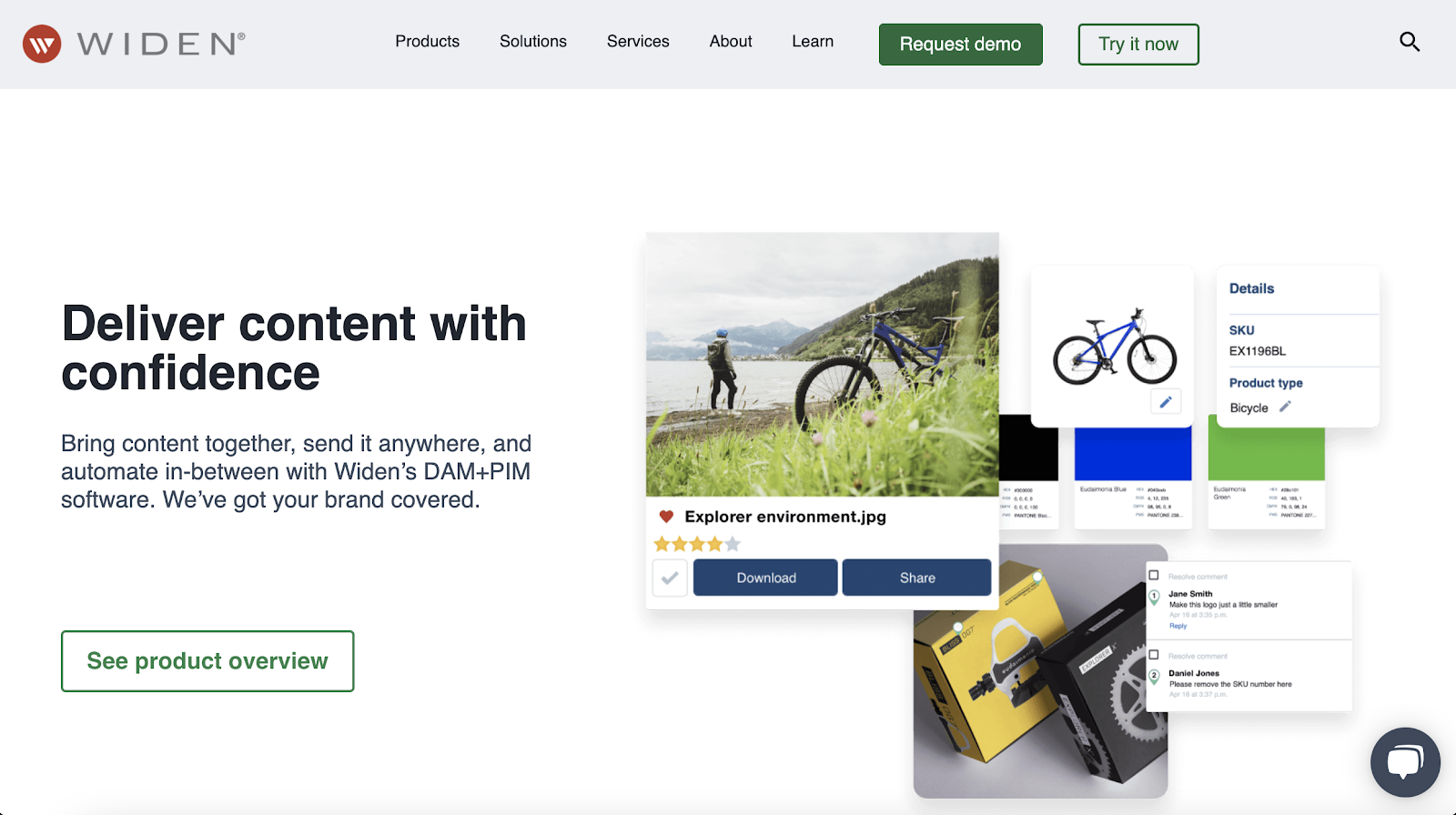 If you also want a product information management (PIM) system to complement your DAM, check out Widen's DAM + PIM software. Widen Collective is an enterprise DAM brand that's popular amongst eCommerce and retail businesses who need to store product images and information together in one place. Widen also integrates with over 50 other applications, too, so it can support a variety of industries, teams, and business processes.
For the most part, Widen receives good customer reviews: Widen has a good built-in feature set, the platform is easy to use, and the Widen team is helpful. However, some reviewers say that it can take awhile to hear back from Widen's team, the platform can be buggy, and Widen is expensive.
So, if you're a large eCommerce business with the budget and resources to make the most of Widen's DAM, it could be worth the investment. However, if you're a smaller business or don't need all of the extras Widen provides, you can save money by choosing a different software.
As always, we recommend reading customer reviews while researching digital asset management software so you can see feedback from real users, weigh the pros and cons of different DAMs, and identify which software is right for your specific needs.
Get Started With Brandfolder for Better Asset Management & Team Collaboration
Box is a popular storage drive for both individuals and organizations, but as a storage drive, it can only support you for so long. If you actually want to be able to use the assets you're storing away, you need a digital asset management system with features that let you find, download, share, update, and publish your digital content.
But we understand that making the switch from one storage drive to another can pose challenges, especially when you have hundreds — if not thousands — of assets to migrate over. That's why our team takes on the overhaul with you: We assist during the entire transition period, from mapping out asset organization to training your teams on the platform. (It's the reason we have a 98% retention rate amongst our customers.) Plus, we designed the entire Brandfolder platform to be intuitive and straightforward, so learning how to use the software takes close to no time.
To learn more about making the transition to Brandfolder, reach out to our team for a free demo!