Announcing Portals: Create Customizable Homepages for Your Assets
Today, we're incredibly excited to announce Brandfolder Portals. Portals are like a customizable homepage for your digital assets and are the best way for admins to curate specific asset experiences for any use case or stakeholder. Building Portals is incredibly easy and requires no technical prowess; the simple UI makes it easy for anybody to create valuable curated content experiences in just a few minutes with a click-and-drag interface.
Here at Brandfolder we believe a DAM solution is only as valuable as it is usable, you shouldn't need any training to hop in and find the asset you're looking for. From day one, Brandfolder has been architected to allow admins and users to organize and search for assets in a variety of ways so that nobody is forced into a specific paradigm of asset discovery that may feel unnatural to them.
When we're talking to customers and analysts about the value that a DAM like Brandfolder provides, the conversation often ends up focusing around the topic of asset usage. Most organizations struggle with empowering internal and external stakeholders to easily access the assets that they need, and when assets go unused, that's real money wasted— not to mention the time and money spent searching fruitlessly for assets. Problems compound when someone can't find the asset in the official system of record: old versions saved to the desktop or pulled from Google are used, employees' valuable time is wasted sending links to assets and brand crime occurs. It's almost impossible to force someone to use a system they don't want to use, instead, adoption must come from making a system like a DAM the easiest possible option by adapting to the employees workflow.
Portals help ensure that your most valuable assets are always front and center for the people who need them most with only one or two clicks.
Who benefits from using Brandfolder Portals?
While the exact title and type of user may vary significantly between companies, broadly speaking, most organizations have three levels of DAM users ranging in proficiency and familiarity.
DAM admins and owners: the people responsible for managing the DAM, administering users, and ensuring that everyone who needs access to the valuable assets inside can find them
Common users: these users can also range in proficiency and familiarity with the DAM but generally know how to navigate and use the system
Infrequent/guest users: this group of stakeholders are not heavy users of the DAM and often reach out to the DAM admins or heavy users to help find what they're looking for and include external partners like distributors or retail partners.
While Portals can be valuable to all levels of users, they are most important for group number 3. These users often either lack technical sophistication, or do not have time to learn a new system due to infrequent usage.
No matter how easy to use a DAM is, when you're dealing with millions of assets, it can be overwhelming for more infrequent users to find what they're looking for.
Portals can be used by businesses of all types to enhance the user experience for anyone looking for a curated set of assets.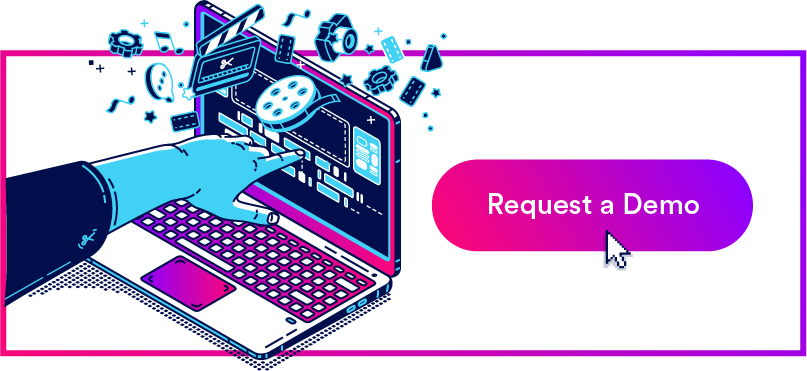 Here are some examples of ways that businesses can use Portals.
1. Software Companies:
Here at Brandfolder we have two Portals that get a ton of use:
Brandfolder Marketing Portal
Brandfolder Sales Portal
The Brandfolder Marketing Portal is the marketing team's homepage. As you can see below, we've got links out to our most common tools like Google Analytics and Marketo, shortcuts to see approved ad creative, the assets being used most commonly by the sales team, and more. This is a one stop shop for everyone on the marketing team to easily access the stuff they need.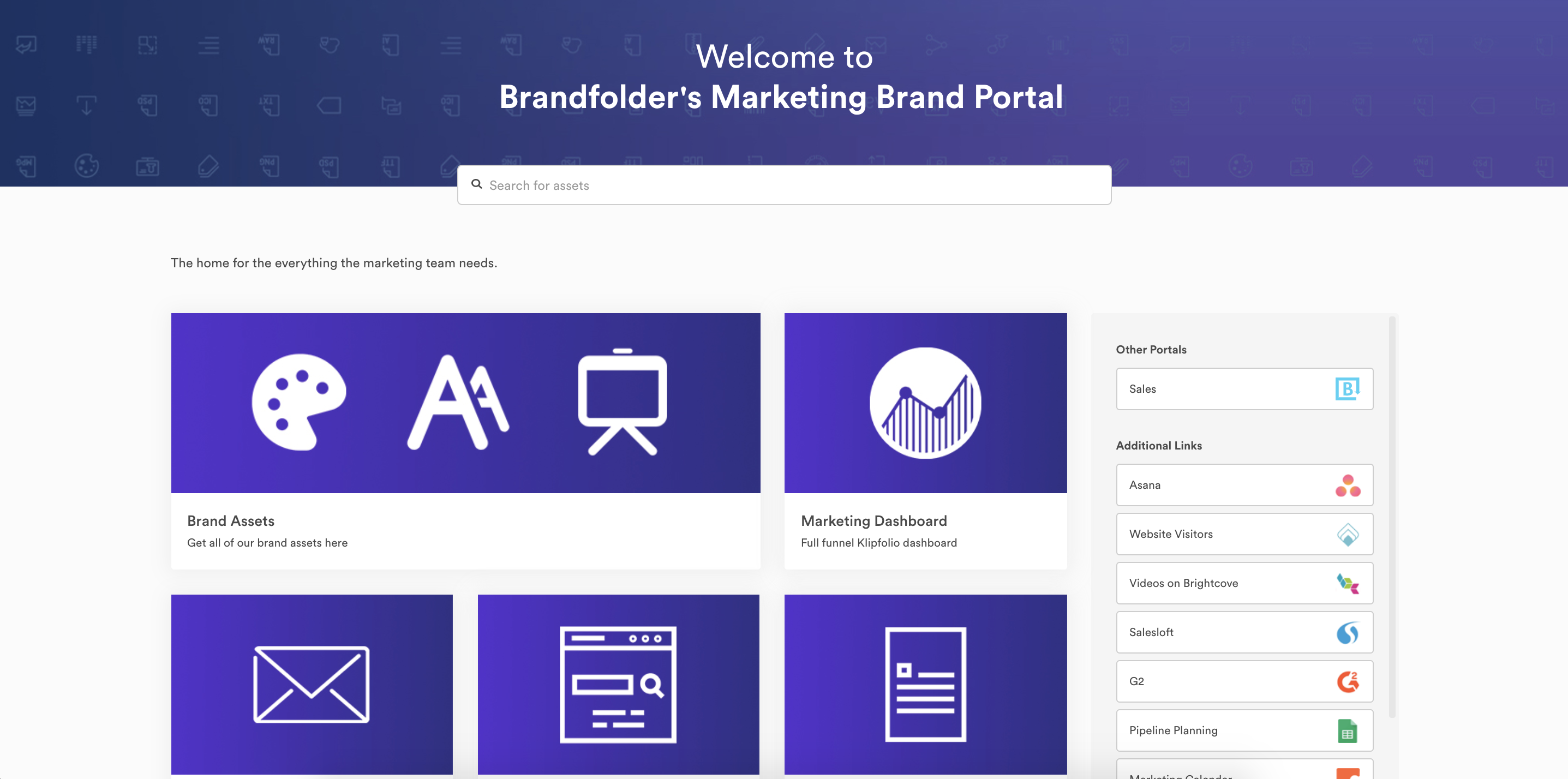 Similar to the Marketing Portal, the Brandfolder Sales Portal is a one stop shop for just about everything that our sales team uses on a daily basis. With links to Salesforce, the marketing calendar, frequently used assets, and more, we've made it super simple for our sales reps to focus on what they do best, not spending time chasing down assets or, god forbid, creating their own.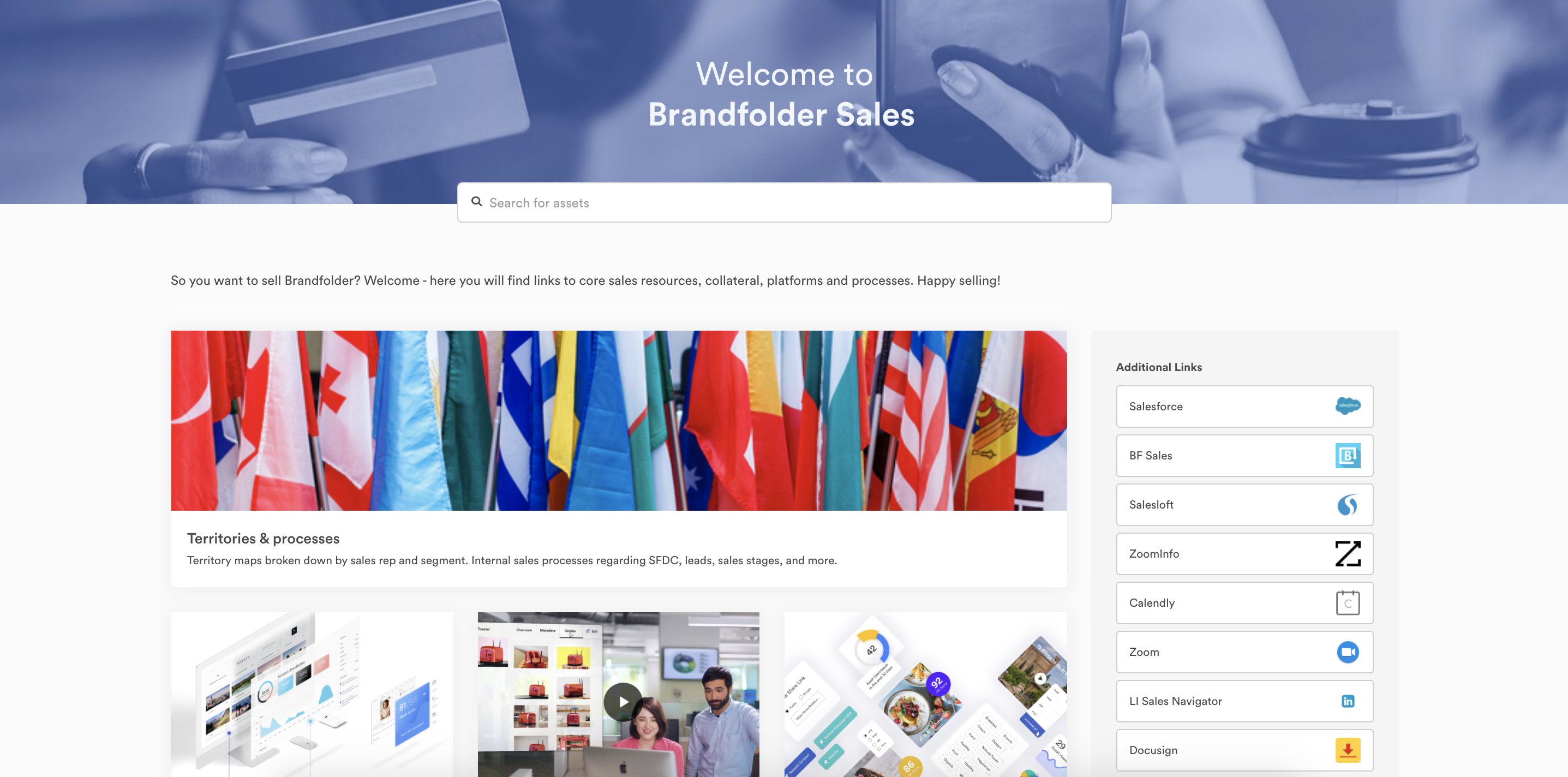 2. International Businesses
Sharing and distributing assets can be challenging enough in one region or language, but what about when you're international. Many assets may be region specific and while it's possible to create separate collections, you might want something more prescriptive, especially when it comes to different languages.
Let's say you're an international franchise company, or multinational manufacturer, you could just create a Portal that is region specific, making it easy for your partners in that region to get assets at the drop of a hat.
3. Brand Hub/Press Kit
If you're working with an external partner like the media, or perhaps a new marketing agency, there are probably a well defined group of assets and links you'd like for them to be able to see without needing to dig. We've created a Press Kit Portal with the essentials of our brand including logos, links to headshots and more.
With Portals, you can curate content for any user like never before. Users will see exactly what they need and admins and marketing teams will gain back the precious hours previously wasted helping people find what they're looking for.