DAM Software: The Best Cloud Storage for Business
If you've reached a point where regular cloud storage drives aren't cutting it and you're Googling "best cloud storage for business," then it's time to consider digital asset management (DAM) software.
Why?
Because DAMs are the natural next step when basic storage isn't meeting your business needs. They go way beyond file storage and file sharing: They have dozens of advanced features to help you better manage your brand collateral, use that collateral more strategically, and transform how your teams are using your digital assets. As a result, DAMs can really help you improve your brand consistency and build customer loyalty.
In short, DAMs are like cloud storage drives on steroids. Cloud storage drives might work for individuals or really small businesses that don't have much of a digital presence, but all other teams and organizations need a DAM to make the most of their brand assets.
It's also worth mentioning that there is no such thing as "business cloud storage solutions." All cloud storage providers function in pretty much the same way. While some brands may break their storage services up into tiered packages and advertise certain plans for business users, the only real difference between those enterprise plans and the more basic plans is the available storage space. So switching from one cloud storage solution to another just because it seems more advanced typically doesn't work out, and most teams in this boat eventually end up in a DAM.
In this post, we'll explain how digital asset management software — specifically our solution, Brandfolder — expands upon the functionality of regular cloud storage drives to help you better organize, share, use, and monitor your brand's digital collateral. We'll also talk more about the differences between cloud storage drives and DAMs so you can learn more about who each software option is suited for.
Brandfolder: Our Customizable, Versatile Digital Asset Management System
We built Brandfolder around the idea that a digital asset management tool is only as good or beneficial as its implementation and ease of use.
Think about it: If you switch over to a DAM but there's no rhyme or reason to your asset library — your files are hard to find, you don't set up the right integrations, or your teams have trouble navigating your DAMs features — you're essentially wasting your money because your DAM isn't really working for you.
So half of our entire DAM product is our onboarding and support services — not only do we make a high-quality, customizable DAM platform, but our customer experience team also walks you through the entire setup and transition process so your Brandfolder is completely designed for you and your teams. (And don't worry, you don't have to tackle this alone.)
During onboarding, we help you:
Map out your asset library in the most logical way for you and your users
Create a more detailed "content taxonomy" so our platform can automatically organize digital assets and add metadata/tags to your assets upon upload
Choose the amount of storage space you need, select the right features, and set up integrations and APIs
Prepare for the pre-transition clean-up and put together a plan to get all of your assets moved over to our platform
Train your teams on how to use the software
There are no limits on customization, either. You can change storage plans or make adjustments at any time, and our team is available to answer questions or assist. We offer unlimited storage options and never charge extra to make tweaks to your Brandfolder.
All of this is what allows Brandfolder to work as a versatile solution and scale with your operations: You can switch to Brandfolder and modify our pre-existing solution to suit your changing business needs,Not to mention that our platform supports unlimited users, so you never have to worry about needing to switch DAMs.
Let's talk about some of the basic ways Brandfolder is more convenient than online storage providers.
1. DAMs Keep Your Library Organized & Up-To-Date Automatically
After you're all set up in Brandfolder, our system has features such as duplicate asset detection, review/approval flows, and asset expirations to keep your asset library clean and organized.
Duplicate asset detection prevents users from uploading dupe files. If it recognizes the uploaded file as one that already exists in your Brandfolder, it'll prompt the uploader to delete it or merge it with the current version in an "Asset Container" so it can be easily referenced. That way you don't have a billion and one versions of the same file cluttering your asset library.
Review and approval flows ensure that all newly uploaded assets go through a review and approval process before they're available for other users to view or download. This prevents just anybody from adding assets to your library.
Asset expirations let you set assets to expire so you don't have old or outdated files available in your Brandfolder. This feature is beneficial for businesses that have a lot of assets for seasonal events, holiday promotions, or other limited-time campaigns.
Brandfolder also has built-in collaboration tools so creatives can work on asset updates directly in our platform. Once an asset is updated and approved for use, it automatically updates in the Brandfolder platform (and every place the asset is embedded across the web - more on that below) in real-time so everybody is always viewing the most current versions of your files.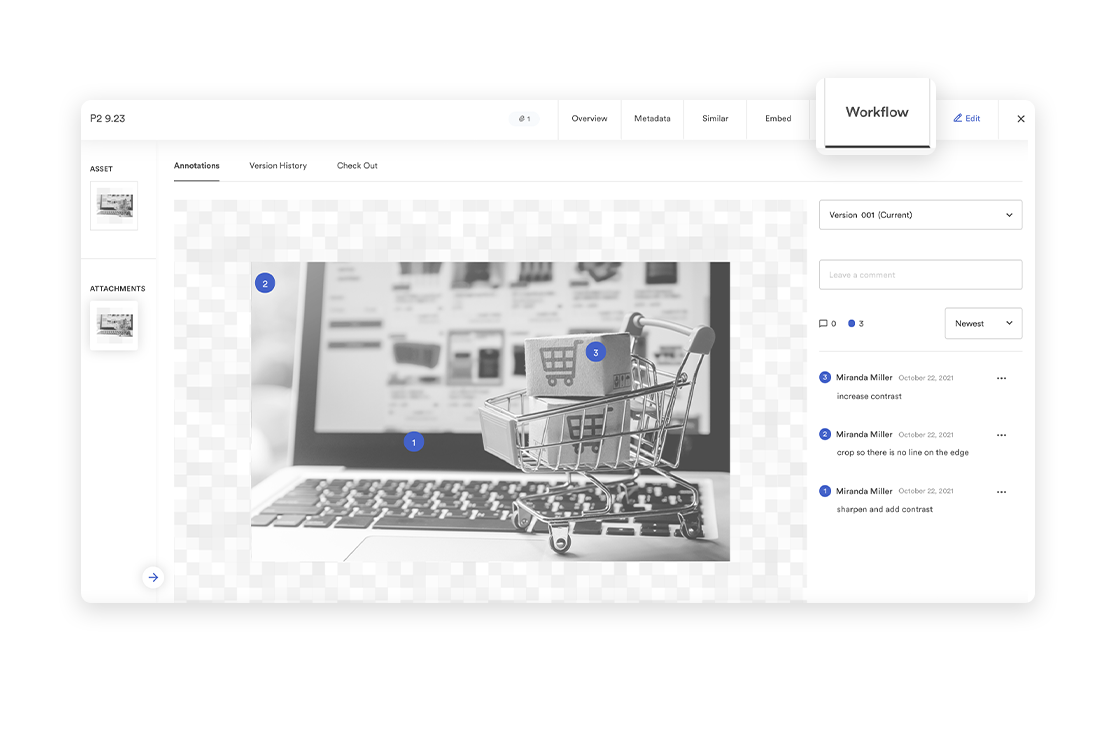 Plus, Brandfolder records a detailed version history for every asset so you can keep track of how your assets evolve over time and access previous versions if need be.
Note: Another way Brandfolder makes life easier is by accepting all file types, so you can keep all of your brand files — we're talking everything from images and videos to Adobe Photoshop files, Powerpoint presentations, Excel spreadsheets, Google Docs, business cards, product brochures, marketing collateral templates, brand logos, fonts, colors, and so forth — in one storage drive. This prevents you from having assets dispersed across different cloud storage tools (or even worse, stored in external hard drives).
2. They Also Make Assets Easier to Find
Brandfolder's search is far more advanced and efficient than what you're used to in cloud storage drives because it doesn't operate just by file name and exact search term. Instead, it's powered by our proprietary AI (a.k.a. Brand Intelligence), which analyzes the content of your assets and pulls everything that relates to your search term. That means it can scan your assets and identify colors, fonts, product images, background scenery, and more to find all of the brand collateral you might need for your current project.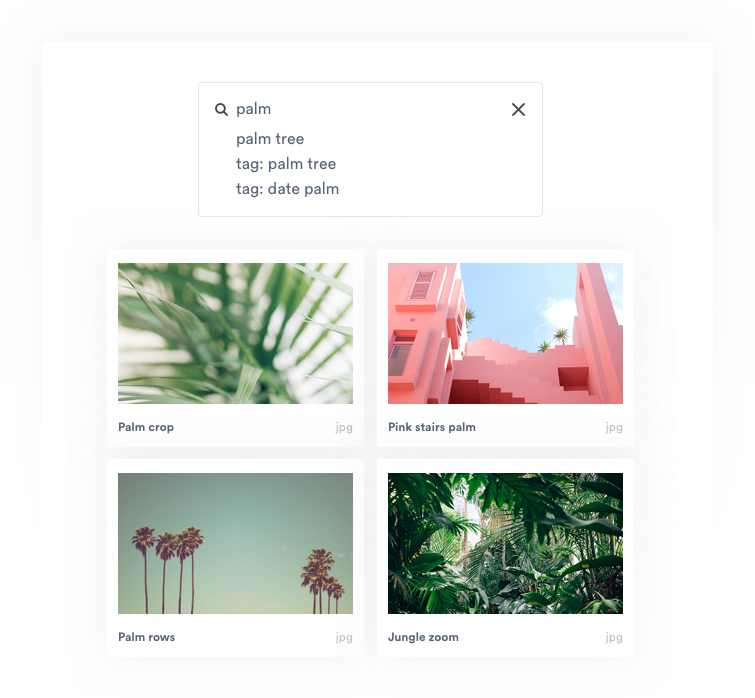 Not only that, but Brandfolder's search also works on a flat structure; in order words, it doesn't search by folders and subfolders, but rather, it analyzes your entire asset library to help find everything that's relevant really quickly.
Brand Intelligence also improves the "discovery" of assets, as it can help you find new collateral within your library that you didn't realize existed. This lets end users discover and use fresh, unique content for their projects (and it helps teams make better use of their collateral and ensure their designers' time is well-spent).
We should also note that the organization of assets, as well as all of the metadata and tags that you add during upload, have a lot of weight on the effectiveness of your DAM's search. So setting up your Brandfolder properly is critical to its ease of use later on down the line... and that's another reason why we're so hands-on during the onboarding process.
3. Brandfolder's Sharing Features Improve Accessibility & Control
In addition to organizing assets and setting up your DAM so it's easy to use and search, you also have to make sure the assets within Brandfolder are accessible to the users who need them.
Brandfolder's sharing features are a lot like the sharing methods available in cloud storage drives (making them straightforward to use) but they're more robust because they allow you to:
Control how users interact with your asset library, and all of the files within, after assets are shared
Monitor all external sharing and make changes anytime you feel necessary
There are two ways to share digital files in Brandfolder: User permissions and custom share links.
Use permissions when sharing assets with other Brandfolder users. You can use these permissions to add users to Brandfolders, Collections, or Portals (as well as individual assets or groups of selected assets). The specific role you assign each user will dictate what they can do in your DAM, and you can learn more about the different user roles here.
Use custom share links when sending files to external stakeholders and collaborators, or any other non-Brandfolder users. Custom share links let you choose exactly what assets you want to share and with whom you want to share them, and we don't put any limits on sharing. (In fact, our free unlimited guest seats make us a great option for larger teams or anybody shopping enterprise digital asset management software because we don't put limitations on sharing.)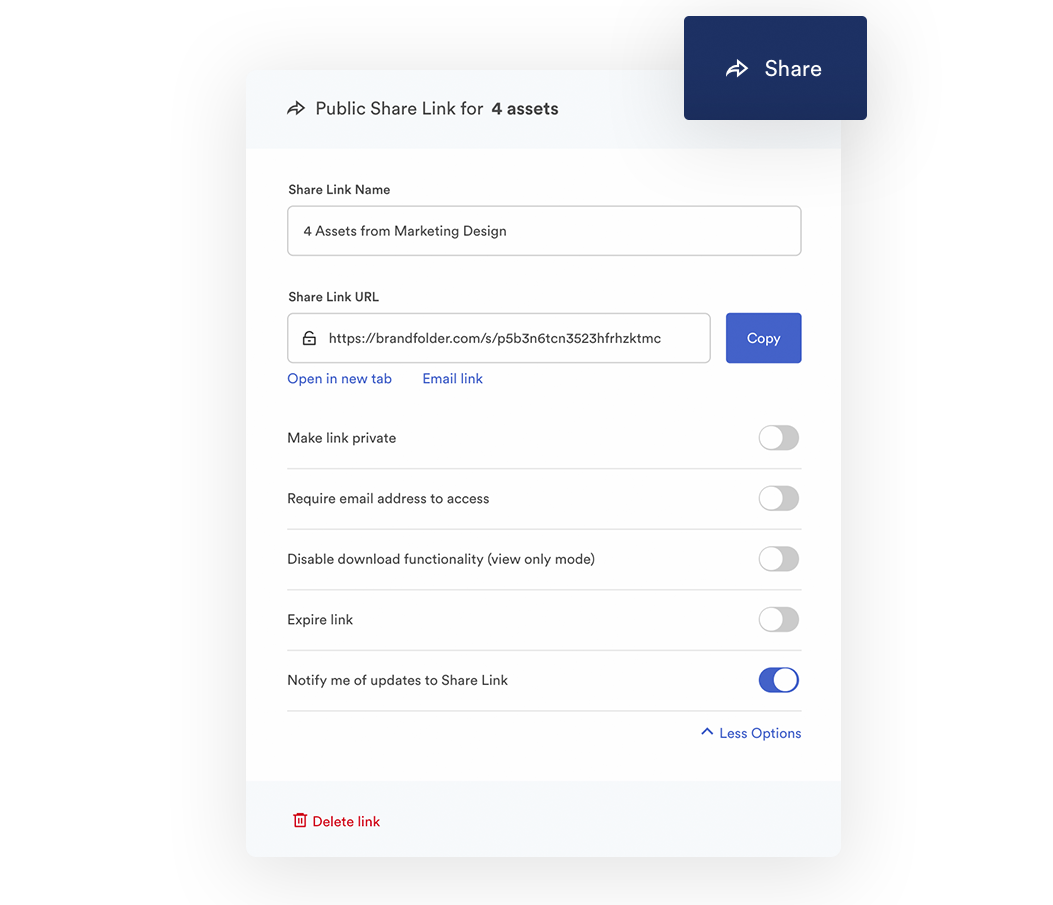 Our sharing features let you track all external share links so you can monitor which assets are shared and when. You can also:
Change the name of the share link
Add or remove assets from the link
Set the share link to expire
Watermark all of the assets available in the share link
Disable asset downloading
Require users to provide an email address to open your share links
Set alerts so Brandfolder will notify you when shared assets are opened or downloaded
These sharing methods are far better than just sending your brand assets around and hoping that whoever you share your files with will use them correctly, which is more or less what you have to do in cloud storage drives.
Note: We also offer guest upload links that allow external parties to contribute content to a brand's Brandfolder; this is great for UGC content, field marketing teams, events, etc.
4. DAMs Make It Easier to Actually Use Your Brand Assets
We've already covered the ways in which you can use Brandfolder to store, find, and share assets; but in this section, we'll cover some of our other features to help you get those brand assets out in front of your target audience.
First, Brandfolder makes publishing across different platforms simple by allowing you to convert and crop assets on the fly to suit different online channels. You can change the file size or type for download, or use a custom crop tool to optimize your content for social media channels, email marketing campaigns, blog posts, website pages, and so on. This way you're always pushing high-quality digital content without creating a bunch of modified versions of your original asset.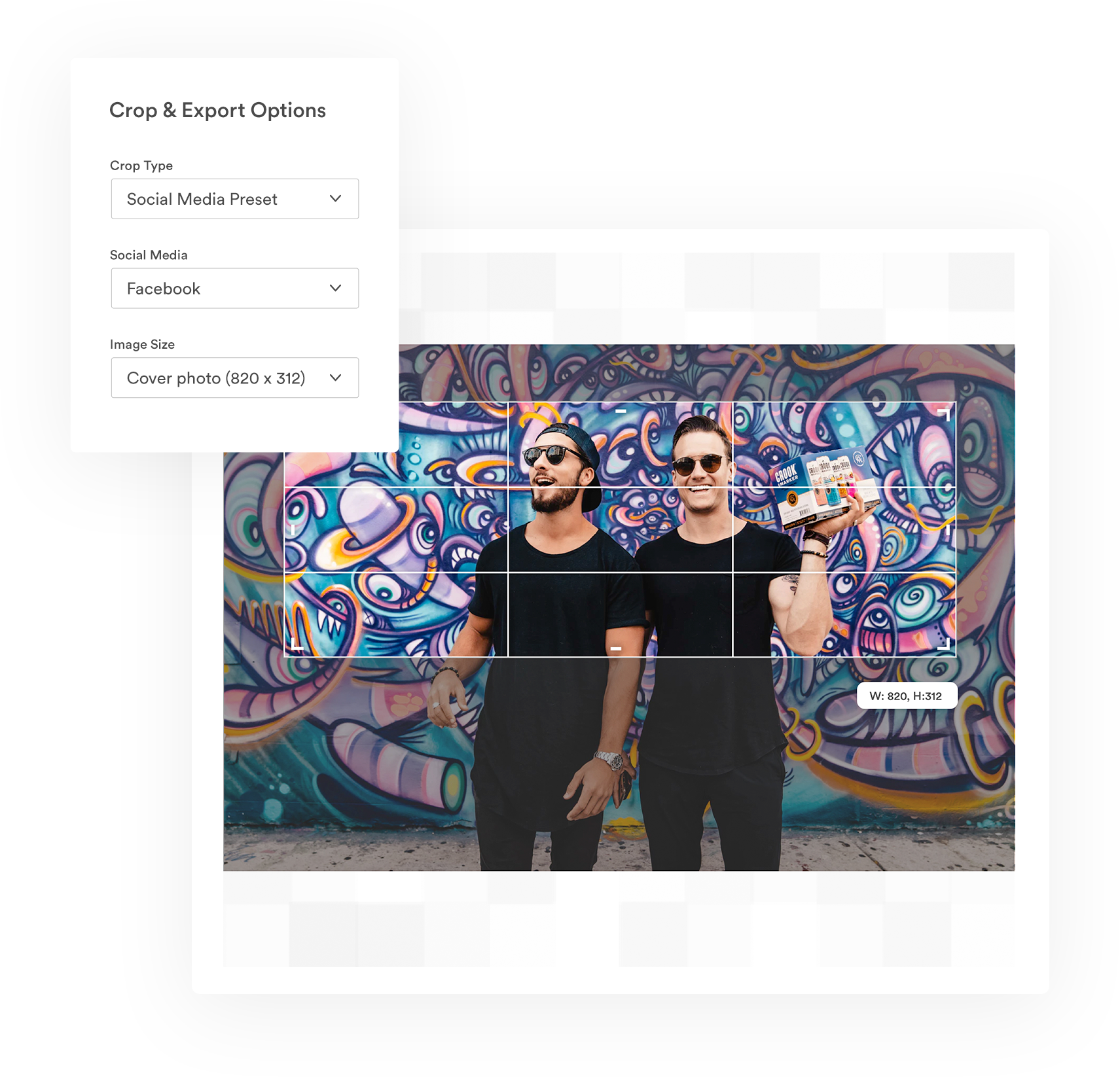 Next, Brandfolder is built with a content delivery network (CDN) system that lets you power all of your online publishing right from your DAM.
How does this work? Brandfolder assigns every asset a unique CDN link. Then, your team can access that link, copy it, and paste it anywhere they want to embed the asset across the web. This avoids the time-consuming process of downloading files from your DAM and uploading them where they need to be, and publishing digital assets with their CDN link also helps you maintain a consistent brand image because all changes that are made at the Brandfolder level are automatically reflected everywhere the asset lives online (as we mentioned in #1 above).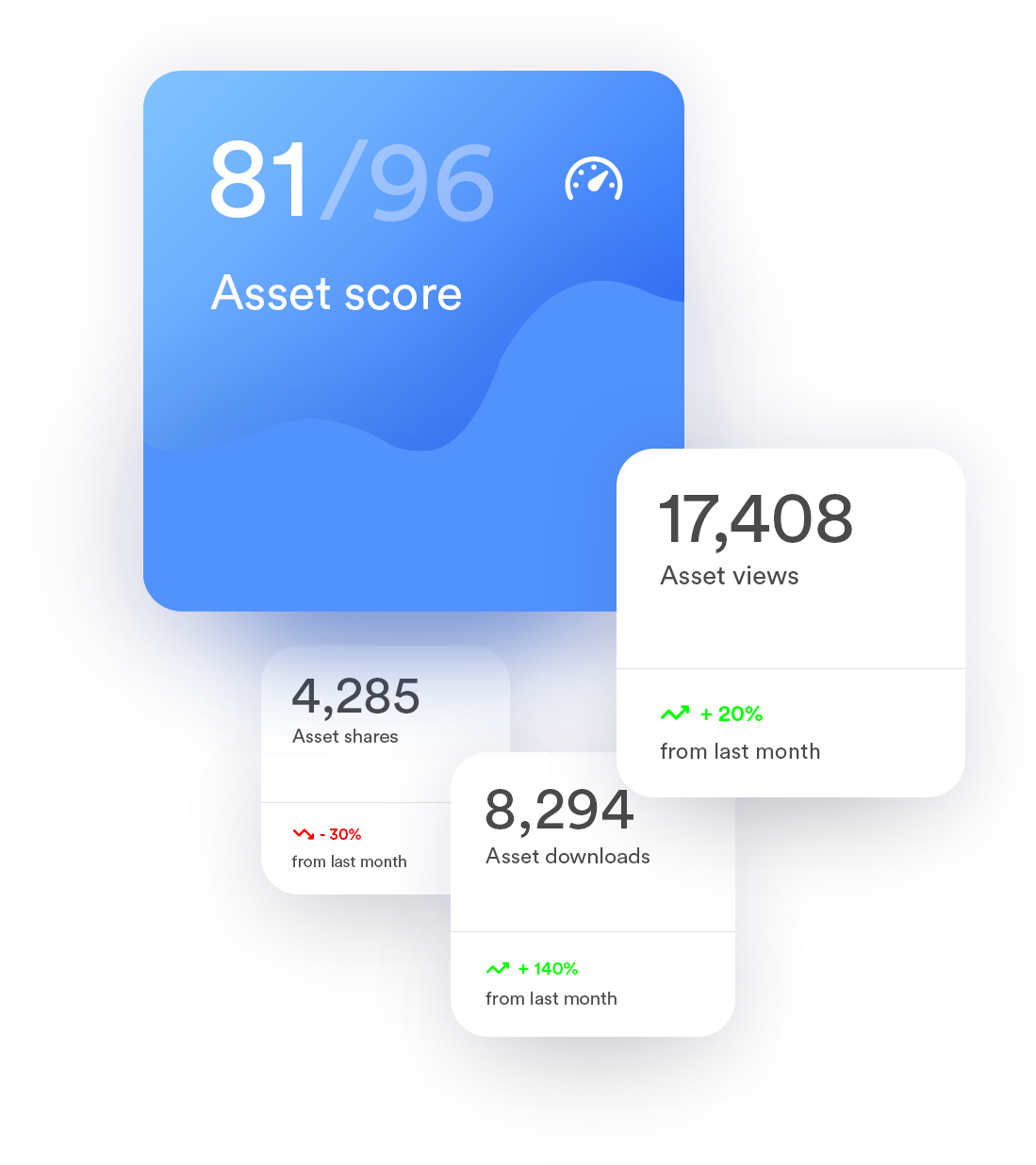 Third, Brandfolder also has built-in web-to-print capabilities so you can send digital files directly from your DAM to your printer — printing flyers, infographics, business cards, informational pamphlets, and other print collateral has never been easier.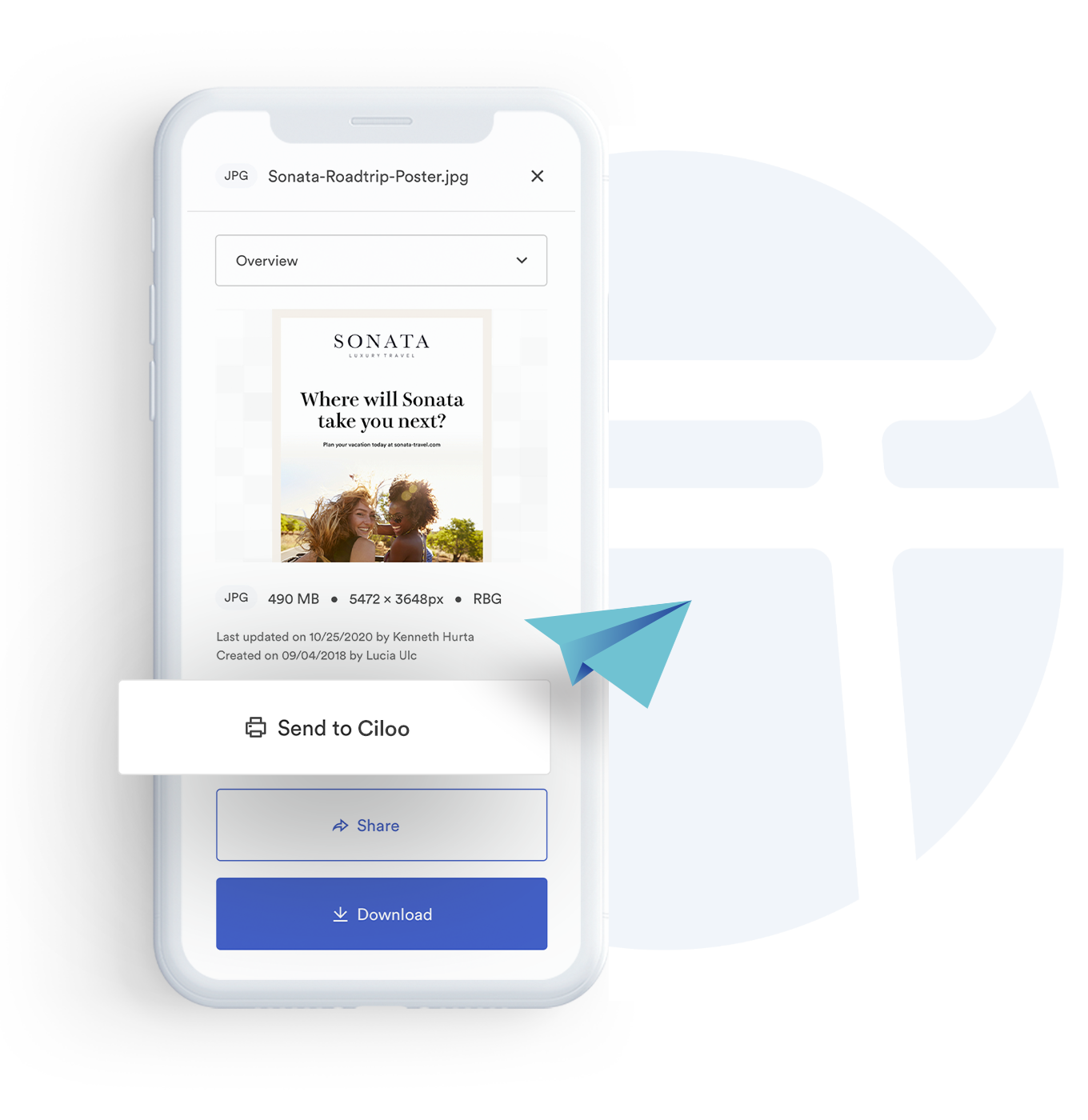 Last, we offer dozens of out-of-the-box integrations and allow teams to connect Brandfolder with any of the tools they use through our open-source API, so you can use Brandfolder to push assets into all of the other tools you and your teams use on a daily basis. That allows everybody to accomplish what they need to accomplish more productively and feel more confident that they're using 100% polished, on-brand assets in their projects. (And this also keeps everybody consistent.)
5. Brandfolder Lets You Track Asset Performance & Monitor Asset Usage
Even though we give you tools to control how others use your assets and keep all of your teams on the same page, we also provide you with in-depth reporting tools so you can view data on how your users engage with your assets and gauge whether or not your digital campaigns really succeed with your customers.
With our reporting tools, you can see metrics like:
How often an asset has been viewed, downloaded, or shared
Who is viewing, downloading, and sharing your assets
Where an asset's CDN link is embedded online
Who interacts with your library the most
Which assets are most popular
Which assets are least popular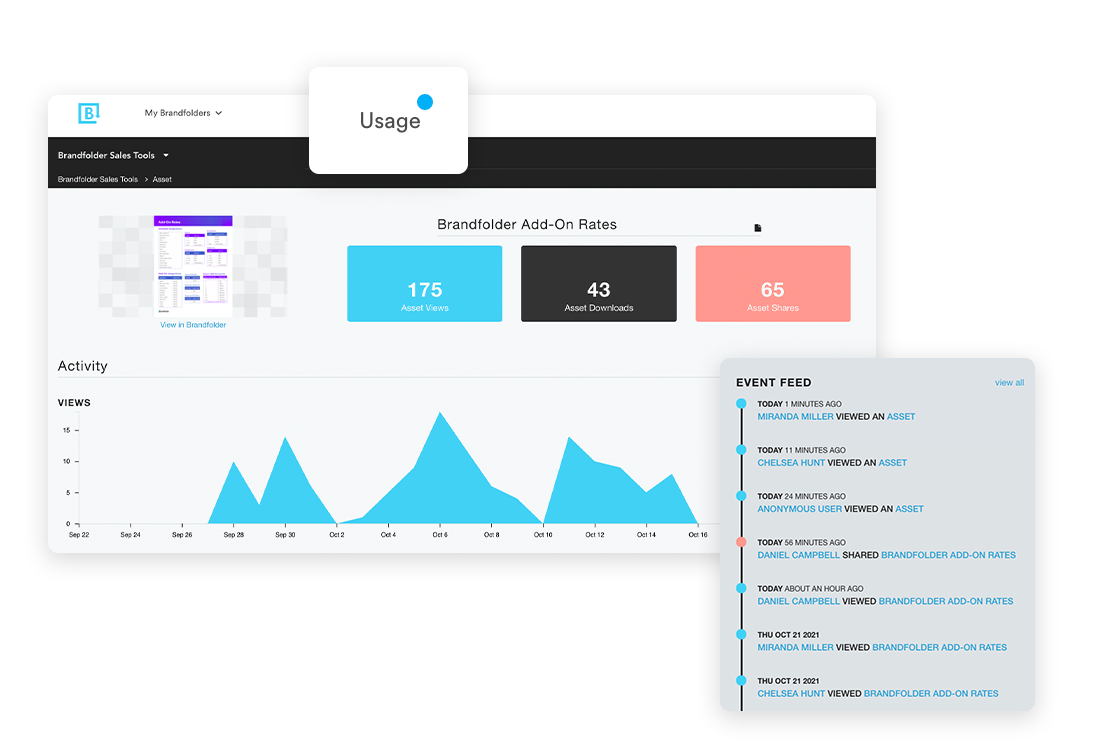 This information gives you a clearer idea of how your teams are using your digital files and what collateral is most popular amongst both your users and target audience. These reporting tools are completely customizable, too, so you can look at different metrics over different timeframes to dig into any data.
Brandfolder is a highly secure DAM solution because we leverage Google Cloud (GCP) and Amazon Web Services (AWS) cloud service providers, meet SOC-2 Type 2 compliance standards, and have top-tier security features and stringent protocols in place to keep your data private. To learn more about our DAM solution, how it keeps your brand assets secure, and how it's tailor-made to suit your teams, get in touch with us for a free demo.
Some of the Best Cloud Storage Services to Know
While a DAM is the best storage solution for many businesses, not everyone is ready for it. If you...
Don't have a lot of digital files
Don't do a ton of sharing
Don't have a big team (i.e., don't have a lot of users who need to access your brand assets)
Don't collaborate a lot with external partners or stakeholders
Don't publish their content online or have a strong digital presence
Don't really need to use their brand assets beyond storage and occasional sharing
...then you might want to consider some of the secure cloud storage providers in this section. These options are pretty easy to use and affordable. Plus, many of them offer free cloud storage (up to 5GB) for new users.
Below are some of our top picks for cloud storage drives.
Google Drive: Google Drive is one of the most popular options because it's free and connected to all of the Google workspace tools, like Google Docs, Sheets, and Slides. Everything you create in the GSuite is automatically saved in your Google Drive. They also offer user-friendly mobile apps for iOS and Android so you can access those files on the go. Drive is a place to store digital files, but overall, this platform is very basic in terms of asset organization and sharing options, and it gives you virtually no control over how others use assets.

Microsoft OneDrive: Microsoft's OneDrive is a go-to for professionals who use Office365, Outlook, Sharepoint, or the Microsoft Office suite of products. It's very much like Google Drive in the fact that it's a simple cloud drive and does not have many features beyond secure file sharing, hosting, and synchronization. It's mostly recommended for personal use, although they do have business plans available through "OneDrive Business."

Apple iCloud: Apple's iCloud is a personal cloud storage drive for iPhone & Mac (iOS) users. You can adjust your storage settings at any time, and Apple's cloud storage services are pretty cheap. This is the easiest option for people who use Apple devices because Apple automatically saves your content in the cloud. Also, many people like using Apple's iCloud for personal storage because it makes transferring mobile devices easier — with iCloud you can instantly set up your new phone from a cloud backup and all of your settings, apps, data, etc. will be pushed to your new Apple device.

Dropbox: Dropbox is a little more advanced than the options above; its primary function is file storage and sharing, but they also have extras like collaboration features, HelloSign (for eSignatures), and a toolbox to help remote workers stay on task and working productively. They have free and entry-level storage plans, but they also offer paid plans under Dropbox Business for larger teams.

Box: Box is a secure cloud storage, team collaboration, and file-sharing tool that's popular amongst small businesses because it's simple and affordable. Box, like Dropbox, is built with extra features to offer a little more than the traditional storage drive, and they offer tiered packages to support different teams. However, many businesses eventually outgrow Box and upgrade to DAM software.

pCloud: pCloud is another highly-rated cloud storage service — many reviewers like it because pCloud offers up to 10 GB of free storage space for new users, the packages are inexpensive, and their platform is modern and intuitive. pCloud is a good option for personal users who have a lot of big files (because they do offer so much free storage), but they also have plans for families and businesses. When you download pCloud's desktop app, it'll save all of your local files in the cloud, but you can still access everything right from your desktop. They also have mobile apps and browser extensions to pull and save files.

iDrive: iDrive is an online backup service with plans for personal users, as well as small, medium-sized, and enterprise businesses. It's a little different from the storage providers above because it specializes in data backups: It can backup devices like cell phones and computers, or it can do full server or data center backups to ensure your business's info is secure. They have desktop apps for Windows and macOS operating systems, and iDrive also works on Linux servers. They have mobile apps and file syncing tools so you can access all of your brand assets from any device. As a bonus, iDrive has a feature to protect against ransomware and other online threats.

SpiderOak: SpiderOak is an uber-sophisticated cloud storage drive designed specifically for business professionals who have really confidential data to keep secure. They have a "zero-knowledge" policy when it comes to your data — which just means that SpiderOak doesn't look at or know what kind of data you have stored on their servers — and they keep it all protected with end-to-end encryption. They have a handful of products and backup options. But regardless, this is a pretty serious storage drive and is marketed for federal officials, government contractors, and healthcare workers who need to meet HIPAA compliance standards.
Note: Although some of these tools have extra functionalities or integrate with other software, they're still far from being considered DAM software because they lack the necessary features to manage and control your brand assets. If you need DAM software, choose DAM software.
Get a Free Demo of Brandfolder
A generic storage solution can only take your business so far: They help you get your digital assets more organized (for a limited time) and they make sharing digital assets faster and more convenient than sending large files over email. Whereas DAMs make it easier to organize assets (and keep them organized) and improve the accessibility of your assets for all of your teams. On top of that, they give you tools to better manage and use your brand assets. *We have a 98% retention rate amongst our customers for a reason. *
So if you're on the fence about whether or not you're ready for a DAM, or you have some concerns about moving over to DAM software, get in touch with our team to talk about your specific needs and what you're looking for in a better solution. We'll help you plan out exactly how to make the switch, and we'll support you every step of the way.