Canto Software vs. Brandfolder: Compare Two Top-Rated DAMs
Many young brands rely on tools like Google Drive and Dropbox to store and organize their branded digital assets. But as time passes, the folders-within-folders structure spirals out of control, and most teams realize they need a better way to manage their digital files. That's where digital asset management (DAM) systems come into play.
Canto was one of the earliest DAM software to hit the market. Since its debut, Canto has released on-premise, cloud-based, and hybrid versions of its software to make searching, sharing, and updating digital files easier.
Despite Canto's benefits, it's not the absolute best tool for every team. For example, if you work with a lot of distributors, outside agencies, or external stakeholders, you may want to avoid Canto because they charge extra for every guest seat.
That said, comparing and contrasting all of the DAM tools available can get to be rather confusing, especially when crucial information like pricing isn't always transparent.
We may be biased, but we think Brandfolder is worth considering before you make your decision. Many of our clients either considered Canto or were using it before switching to our software, so we collected insights from them to understand key differences between the two software solutions.
We'll also spell out in detail which kinds of businesses would do better using Canto and which should consider Brandfolder as their first choice.
Learn how our digital asset management system allows teams to store, organize, search, and share all of their branded digital content with users across the globe. Get a free demo of Brandfolder here!
How are Brandfolder and Canto Digital Asset Management Software Similar?
Both Brandfolder and Canto offer the core functionality of any digital asset management software. That means, they both...
Centralize all of your brand's digital assets, including photos, videos, documents, templates, Adobe Photoshop and InDesign files, audio files, presentations, pdfs, etc.
Offer robust search features
Neatly organize assets and display thumbnails of each digital file
Assign each asset metadata and tags for better searchability
Allow users to create branded asset portals for specific projects, departments, and external groups
Allow team collaboration at the asset level
Display each asset's version history and usage guidelines to improve asset version control
Streamline asset sharing
Aid in workflow automation
Provide analytics for asset usage
Sync with other creative workflow and project management tools though pre-built integrations and open APIs
Keep assets secure with permissions, individual user logins, and stringent security protocol
Brandfolder and Canto each receive excellent user ratings: G2, a popular software review site that gathers user feedback, rates Canto 4.3 stars and Brandfolder 4.5 stars (out of 5).
Where these two software solutions differ is not in their specific features, but their usability, customer experience, and pricing.
Brandfolder vs. Canto: Ease of Use
Brandfolder: Minimalistic and Clear Interface
When talking with clients about their experience with Canto and how it compares to Brandfolder, something we hear rather frequently is that Brandfolder's interface is more minimalistic and clear. Because of that, our software is more intuitive, making it easier to navigate and adopt.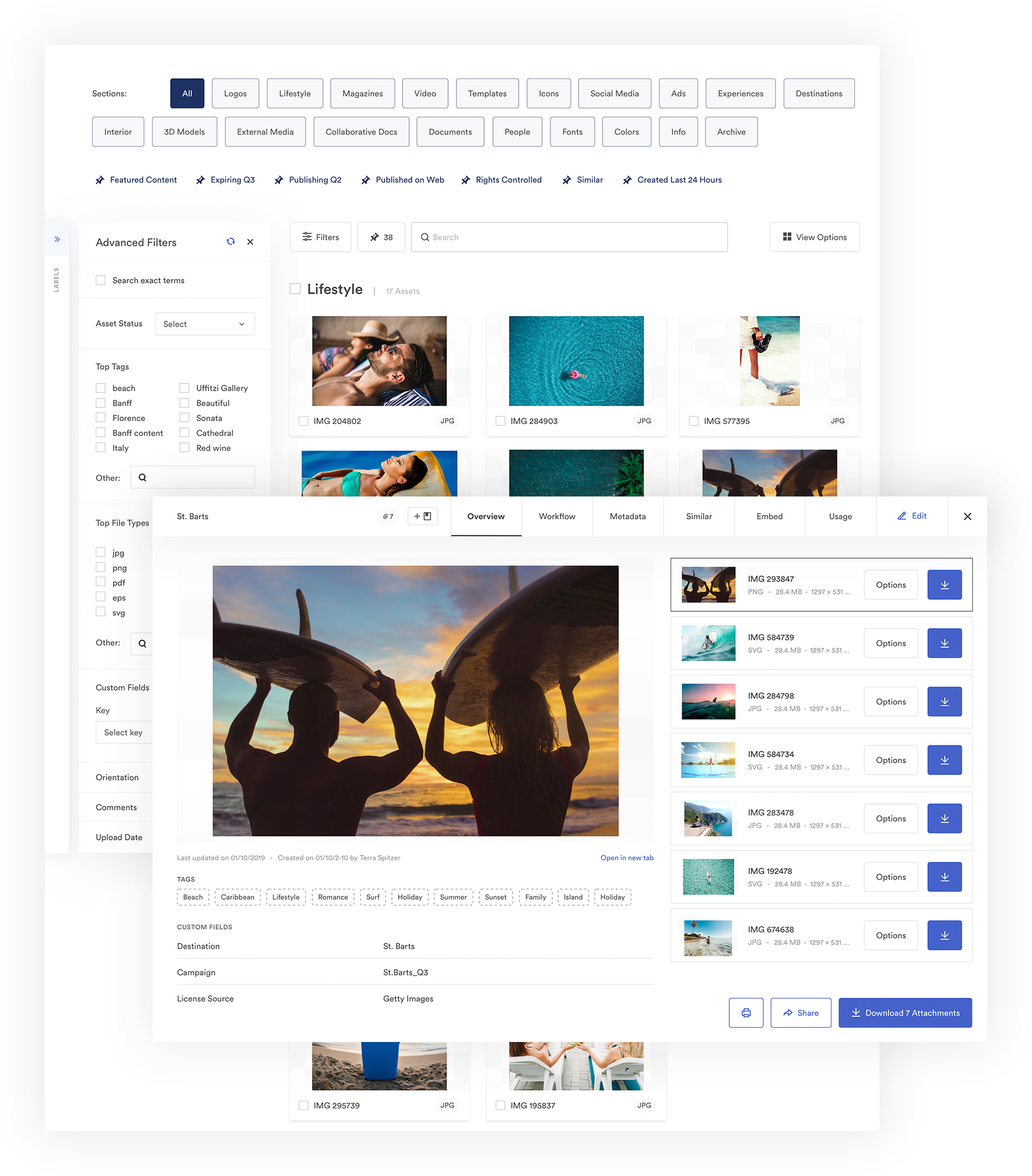 Upon opening Brandfolder, you'll see your assets displayed neatly in a thumbnail view. We take organization a step further and group similar assets in categories — think logos, colors, documents, social media assets, video assets, etc. — for easier scanning. At the top of the page, filters and pin tags allow you to weed out certain assets and find exactly what you need. The search bar enables you to search your entire asset library, not just the collection or Brandfolder account you're currently viewing.
When viewing an asset in Brandfolder, you can use tabs to find information like metadata, similar assets, embed links, usage analytics, version history, and notes from your team on that asset.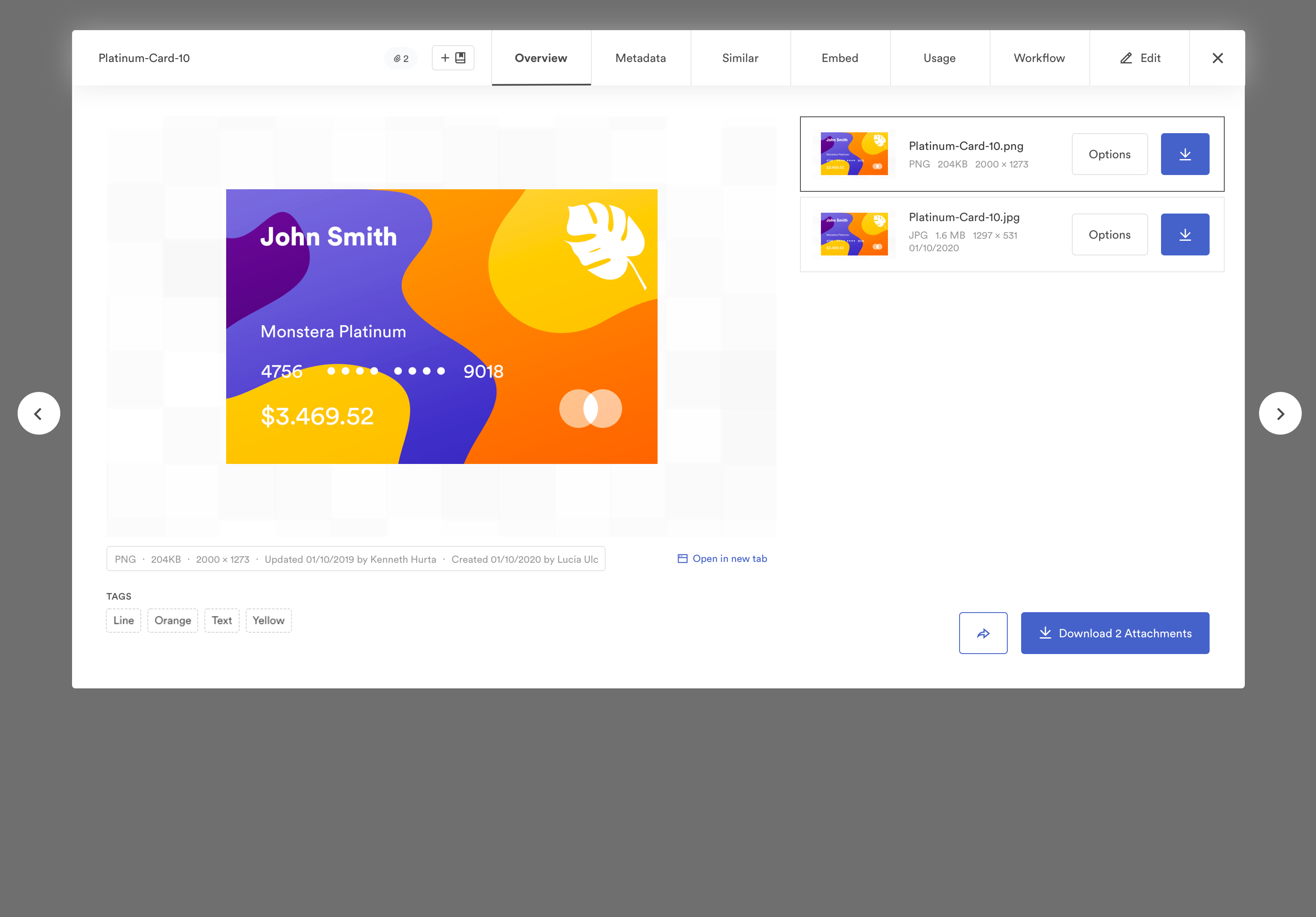 Canto: Data-Dense Interface
Canto's interface is pretty similar to Apple's iPhoto app, so if you have a lot of experience with Apple products, you should find the Canto interface somewhat familiar. When you open Canto, you're directed to your media library, and assets are displayed in the default thumbnail view. On the left-hand side, you can find folders and albums, and across the top of the page is the main toolbar that filters assets by file type.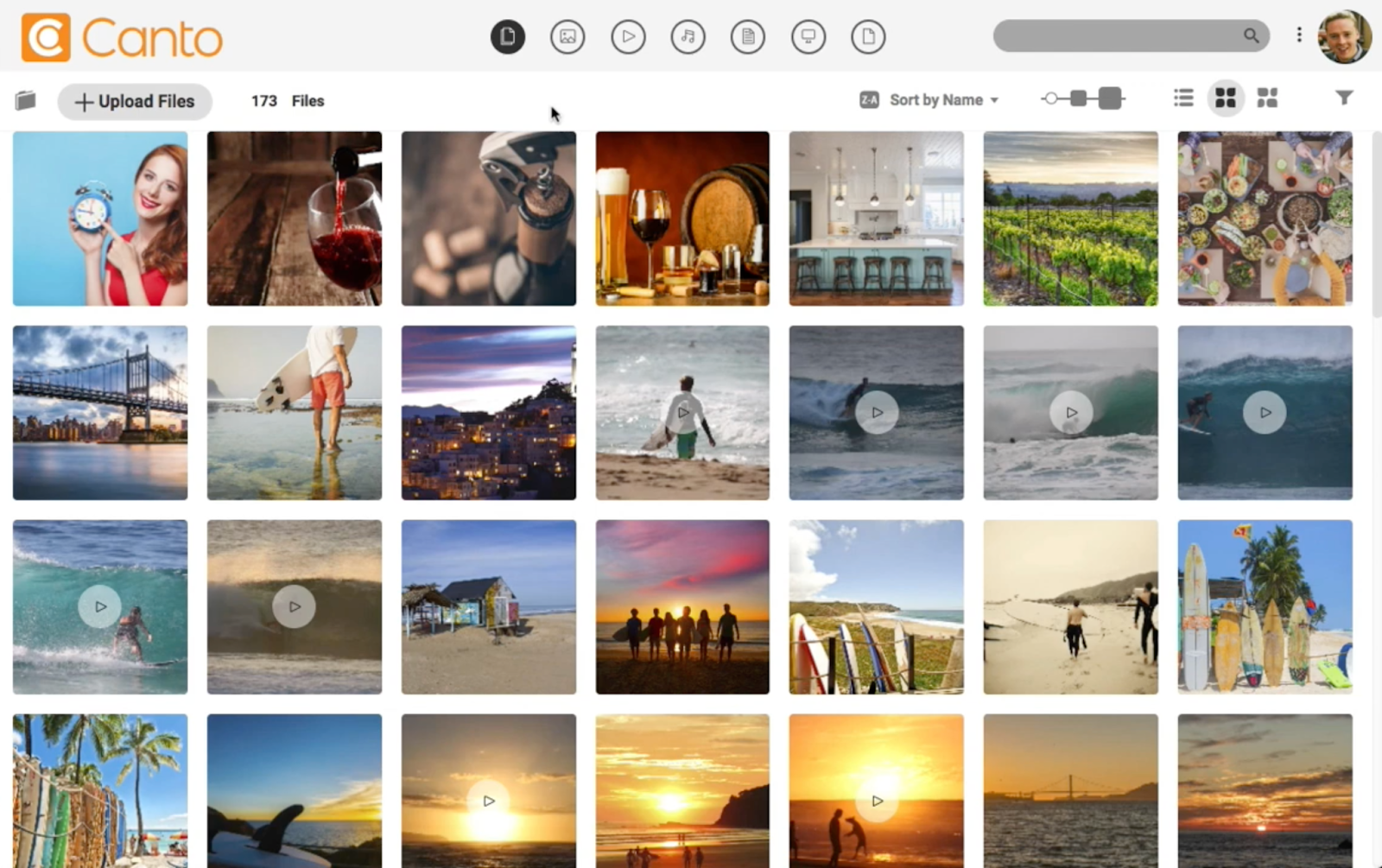 You can organize assets in folders and albums in Canto. The search functionality works the same in both software: You can type any word or phrase about the file you're looking for in the search bar, and Canto will pull all related brand assets, even if they're not in the folder or album you're currently viewing.
Customers tell us the asset view is a little messy and convoluted. All asset information, including the file name, description, related keywords and tags, and asset comments, is displayed on the right-hand side of the preview instead of organized in specific tabs.
Canto does not offer all of the same asset information as Brandfolder, either. In Brandfolder, users can view asset analytics and similar file types while also working with other team members on asset updates in dedicated tabs within the overview window — users do not have that same functionality within Canto.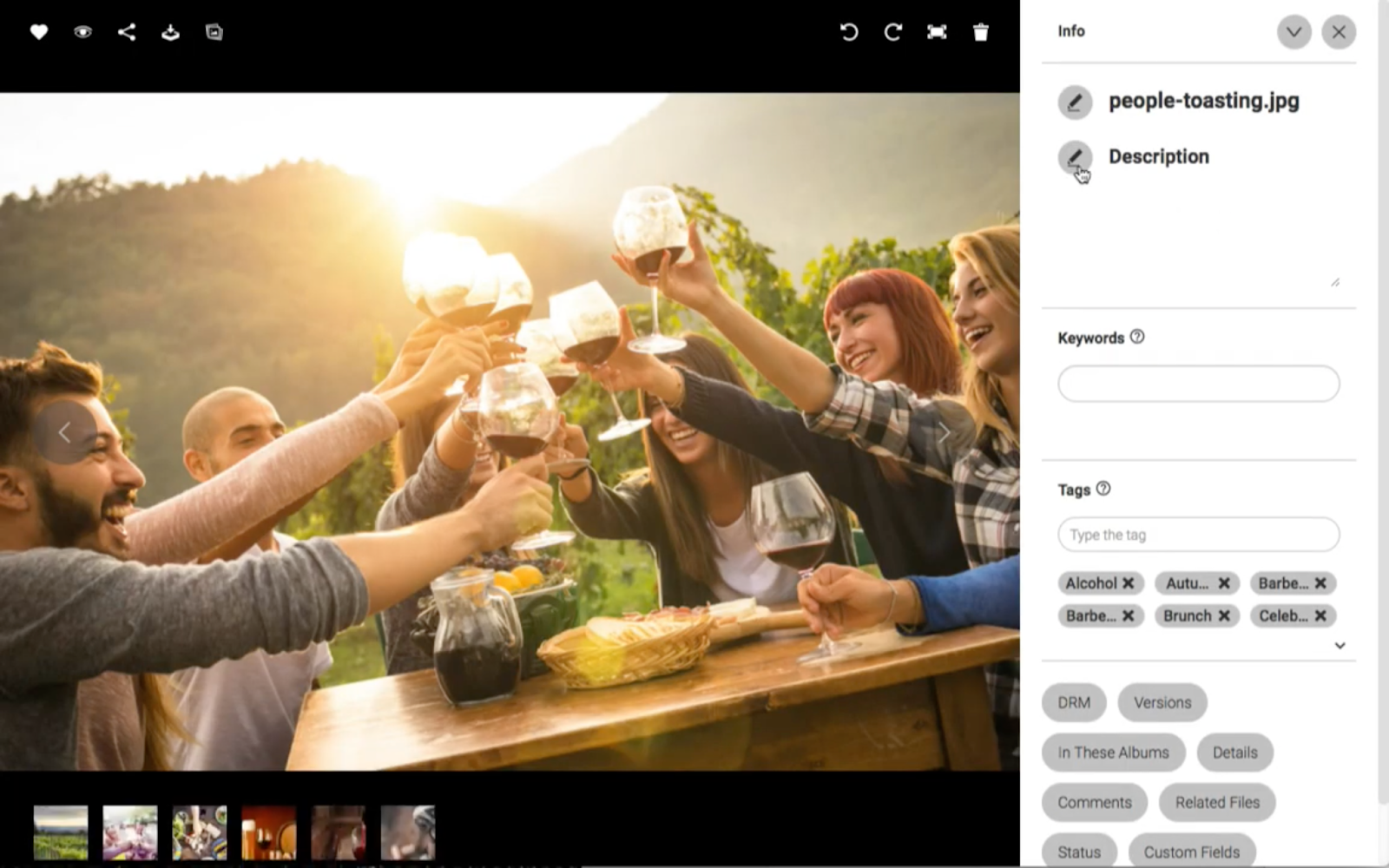 Brandfolder vs. Canto: Customer Experience
Brandfolder: Offers flexible onboarding and support options
One of the biggest things that sets Brandfolder apart from other DAM software is our onboarding and support services. When looking to make the transition from a simple storage solution to a digital asset management tool, many users have hesitations around adoption. It's one of the biggest factors for finding ROI. Unlike many DAMs, we have a 99% client retention rate because we assist customers through the entire adoption process.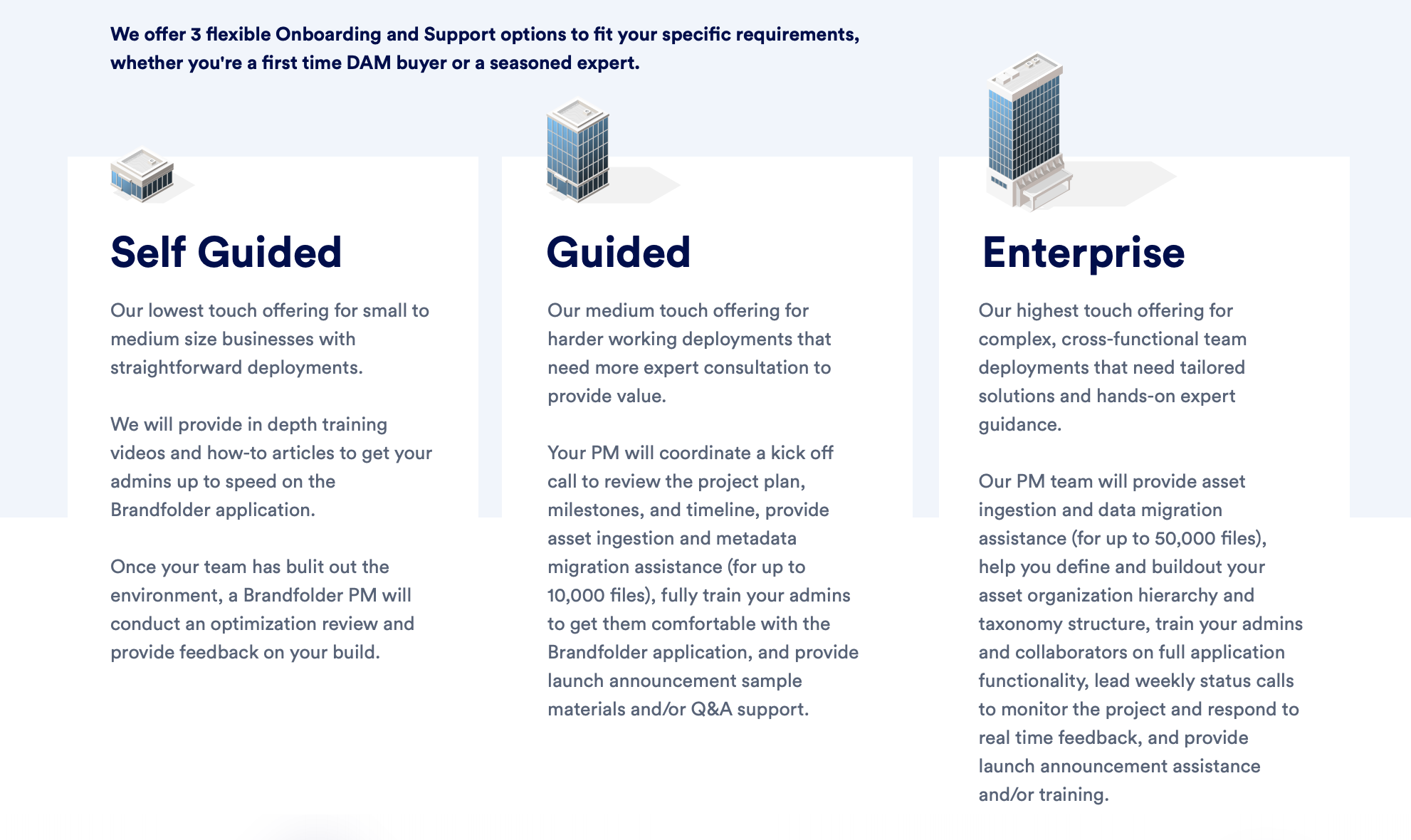 Upon signing up with Brandfolder, you can select the support package that best fits your teams' needs. Every client is assigned a dedicated project manager, and our customer experience team is available to assist as you migrate all of your files to Brandfolder and get set up in our platform. We also offer training videos for teams and 24/7 support to help when questions arise.
Canto: Offers basic post-sale support
Canto also offers wonderful customer support; however, they don't hold your hand as much as Brandfolder's customer experience team. Canto's team will respond to clients when they have questions, and most reviews mention that their customer experience team is prompt and helpful. However, we have heard that Canto doesn't offer a ton of help during the onboarding process, which prolongs set-up and hinders quick adoption. In addition, Canto doesn't offer training videos for teams, so management is left to train users on the software themselves.
With all of that considered, we would say Canto, like the majority of other digital asset management tools, offers "basic" customer support. Our diligent customer experience team at Brandfolder allows us to stand out from other DAM solutions, but when comparing Canto to other top digital asset management software, you'll see that Canto's level of support is on par with what most other SaaS DAMs offer.
Brandfolder vs. Canto's Pricing
Brandfolder: Pricing based on business size and storage
At Brandfolder, we charge one locked-in price with all the features and functionality that suits your business. We base price on storage and number of internal admins, and we only adjust the price when/if teams want to modify their use case.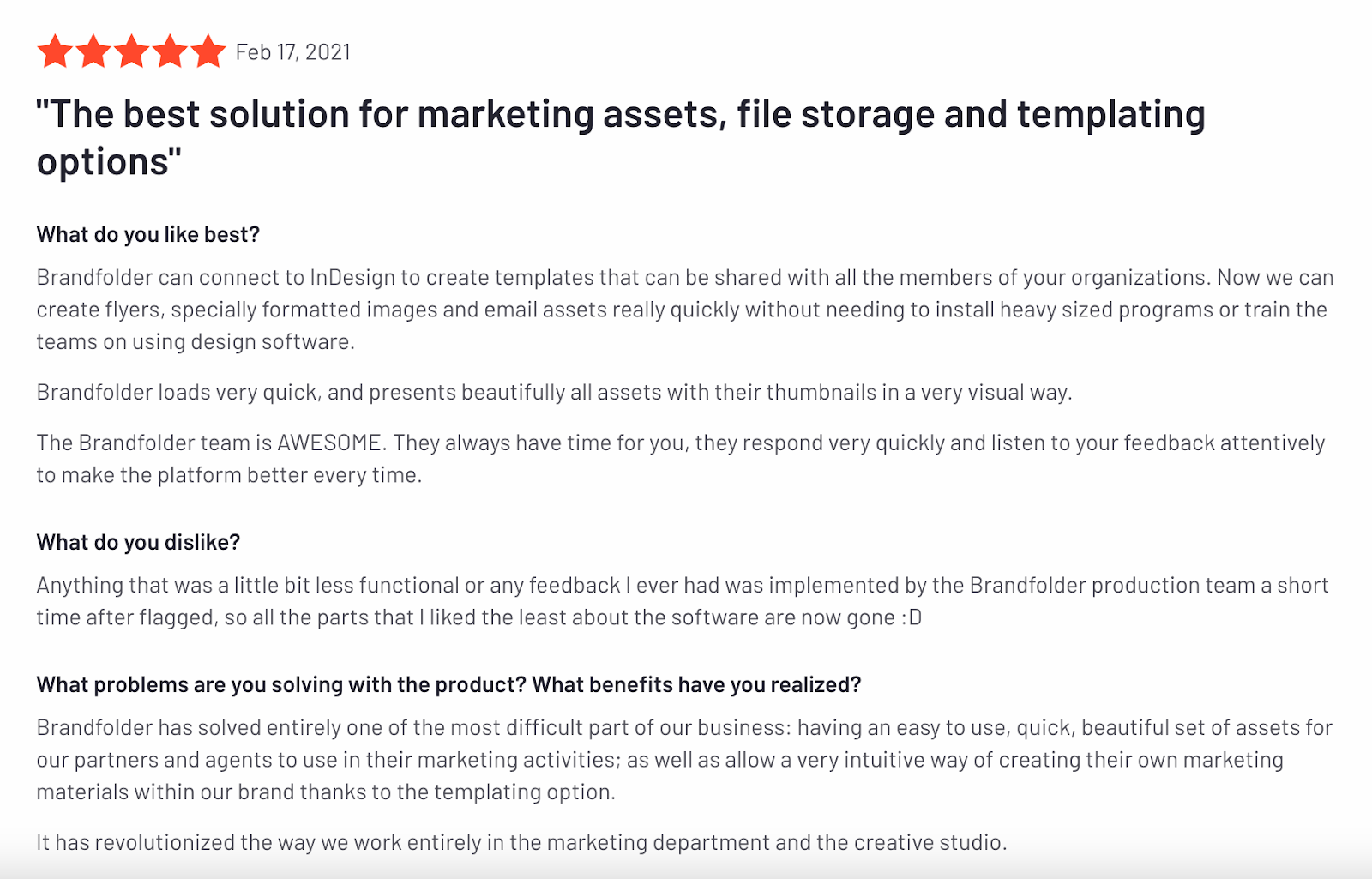 We never charge extra for guest seats, and our team's 24/7 availability allows them to take the lead with troubleshooting if you encounter glitches or bugs with the software (even if it is 2:00 in the morning on a Tuesday).
Canto: Pricing based on internal users, guest seats, and storage
Brandfolder has a higher up-front sticker price than Canto, so on the surface, Canto looks less expensive. But there's a difference between price and cost, and the cost of operating Canto can add up over time as it's put to use.
As we mentioned previously, Canto doesn't offer free guest seats, so as you share files with new external users, the cost goes up. Then there's the issue of slow load times, ironing out glitches, and managing integrations — anytime anything goes wrong with the software, it's up to your IT team to get in touch with Canto and wait for a response, or fix the problem themselves; this burden costs time, and ultimately, money.
When reading reviews of Canto software, we noticed that quite a few users mention that Canto is "good for it's price," insinuating that the software might not be perfect, but it fits the bill and doesn't cost an arm and a leg. Many of those reviews also mention difficulty with adoption, slow load times, and bugs with the software.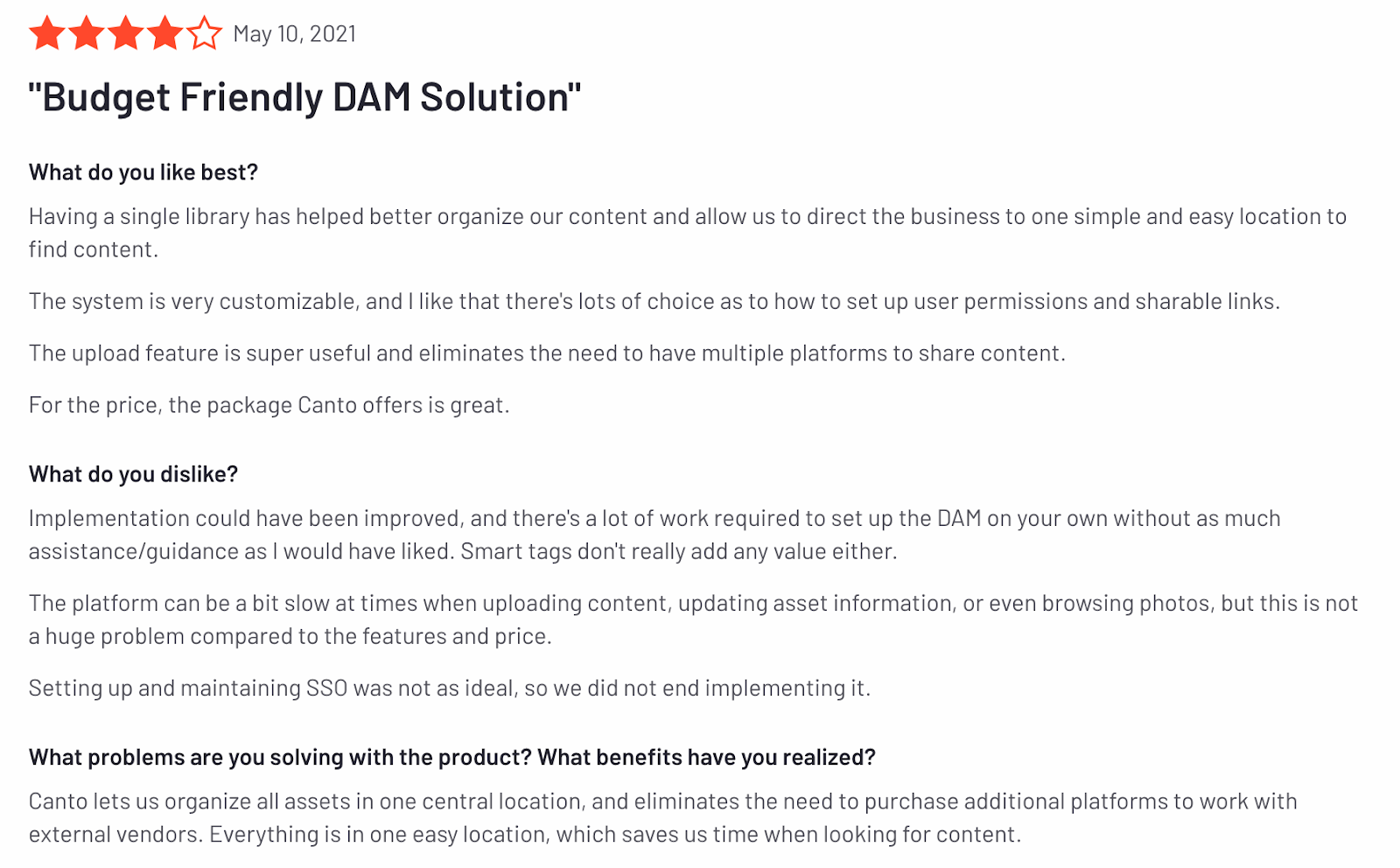 If you want a budget-friendly option, are OK with managing troubleshooting, and don't intend on sharing assets with external groups, then Canto can work for you. But if you want a software with one locked-in price, top-tier customer support, and free guest seats, Brandfolder is the way to go.
Any Other Key Differentiators?
Beyond the differences we just mentioned, Brandfolder's and Canto's DAM solutions have a few other differentiators.
Canto offers an on-premise (Cumulus) and hybrid version of their software, whereas Brandfolder is strictly cloud-based. Canto offers a mobile app for their on-premise software, but neither Canto nor Brandfolder offer a mobile app for their cloud-based solutions.
Brandfolder has more built-in integrations (40+) than Canto. Canto's open API allows users to connect Canto with any software, but the set-up takes a little longer. Canto also has a Google Chrome add-on that allows users to reference their asset library as they navigate the web.
Canto and Brandfolder also analyze digital files differently. Both software use image recognition to suggest auto-tags, but Canto is equipped with a facial recognition function while Brandfolder's software is built with feature and product-recognition. This makes Canto a good option for users who handle assets featuring celebrities and other known faces (e.g., production companies and photographers) and Brandfolder a better solution for users who work with mostly product images and other branded assets.
Who Is Canto Recommended For?
Canto has worked with businesses of all sizes and needs, including brands like Godiva and non-profits like Fair Trade USA. However, we recommend Canto for small businesses because price is based on internal and external seats, and usually mid-size and enterprise companies need to share assets with a great deal of external partners.
We also recommend Canto to those who want a self-hosted digital asset management solution. If you work in healthcare and need to operate on a HIPAA-compliant server, or you want to store personal customer information within your DAM and need stricter security measures in place, Canto's Cumulus software can work.
Who Is Brandfolder Recommended For?
Like Canto, Brandfolder works with a diverse range of teams, but our software is especially beneficial for global brands, enterprise businesses and companies who work with numerous external stakeholders because we allow for unlimited asset sharing.
Brandfolder is also great for teams that need a cloud-based solution and want hands-on support during set-up; for example, teams who have never used a DAM before and need assistance with onboarding.
Although we have strict security and confidentiality procedures in place, we do not recommend that teams store personal or private information on Brandfolder.
Learn More About Brandfolder's Digital Asset Management Features
Is Brandfolder a good choice for your team? We've only covered the tip of the iceberg in terms of our digital asset management tool's features and functionality. To learn more about storing, organizing, sharing, and collaborating with teams in Brandfolder, you can sign up for a free demo with a DAM expert.
We look forward to helping you find the best digital asset management solution for your team's needs!