Creative Asset Management in Brandfolder: Reclaim Your Time
Creative asset management involves more than just keeping a clean and organized asset library. It also requires greater control over the entire creative workflow and content lifecycle — think planning creative projects, directing how others use assets, and upholding a consistent brand image pre- and post-publishing.
But the mistake many teams make is trying to improve creative asset management within simple cloud storage drives like GDrive and Dropbox. Although we understand the appeal of these solutions — they offer easy ways to store and share digital files online — most creative teams outgrow these cloud systems and experience frustrations with:
Disorganization from users who go rogue and add, duplicate, or delete assets in the library
Old or incorrect asset versions floating around the asset library causing confusion and creating clutter
Other teams misusing assets — killing brand consistency and creating clean up work for designers
Wasting many hours a week responding to asset requests from other team members (who really should know where everything is by now)
Delayed projects because every deliverable requires a review before it can receive a green light
Miscommunications that arise when there are multiple open message threads about projects and nobody can stay on the same page
The lack of visibility on how others use assets and no data on the success of those efforts to guide future content creation
Digital asset management (DAM) software is far better for teams that want to improve creative asset management because they provide file storage and sharing like cloud storage solutions, but they also have numerous other features to let designers:
Control how others interact with your brand's asset library, so anybody who needs to find and use brand assets can do so without bugging creatives
Power new design projects in the cloud, collaborate with others in real-time, and create new digital content faster
Gauge the success of creative collateral and strategically plan new creative content
So in our post, we'll talk about Brandfolder's features to help creative teams operate more efficiently. Specifically:
Tools to manage an organized asset library
Tools to manage how others use assets
Tools to plan new content & manage new design projects
Tools to report on the success of creative collateral
We designed Brandfolder and our onboarding process so every team receives a digital asset management system tailored to their needs. We help you map out your asset library, connect your DAM solution with your other tools, and select the right feature set to support all of your users. Get started with a free demo of Brandfolder!
Manage an Organized Asset Library
One of the most basic, core benefits of digital asset management software is the ability to keep an organized, up-to-date asset library: In other words, DAMs let you store all of your brand assets in one centralized location and have tools to maintain organization — even as others interact with your asset library and you acquire more and more digital content.
This alone makes creatives' jobs easier because they can give everybody who needs to use brand assets — such as sales and marketing teams, retailers, external collaborators, and stakeholders — access to their DAM and know that they are using the right content.
Brandfolder accepts all digital file types, including images, fonts, color HEX codes, logos and other brand graphics, Photoshop files and InDesign templates, rich media like audio and video assets, GIFs and social media assets, business cards and other marketing materials, and more so you can use our digital asset management solution to store all of your brand files. This ensures all of your brand assets are in one spot and nobody has to go digging through multiple storage drives to find what they need.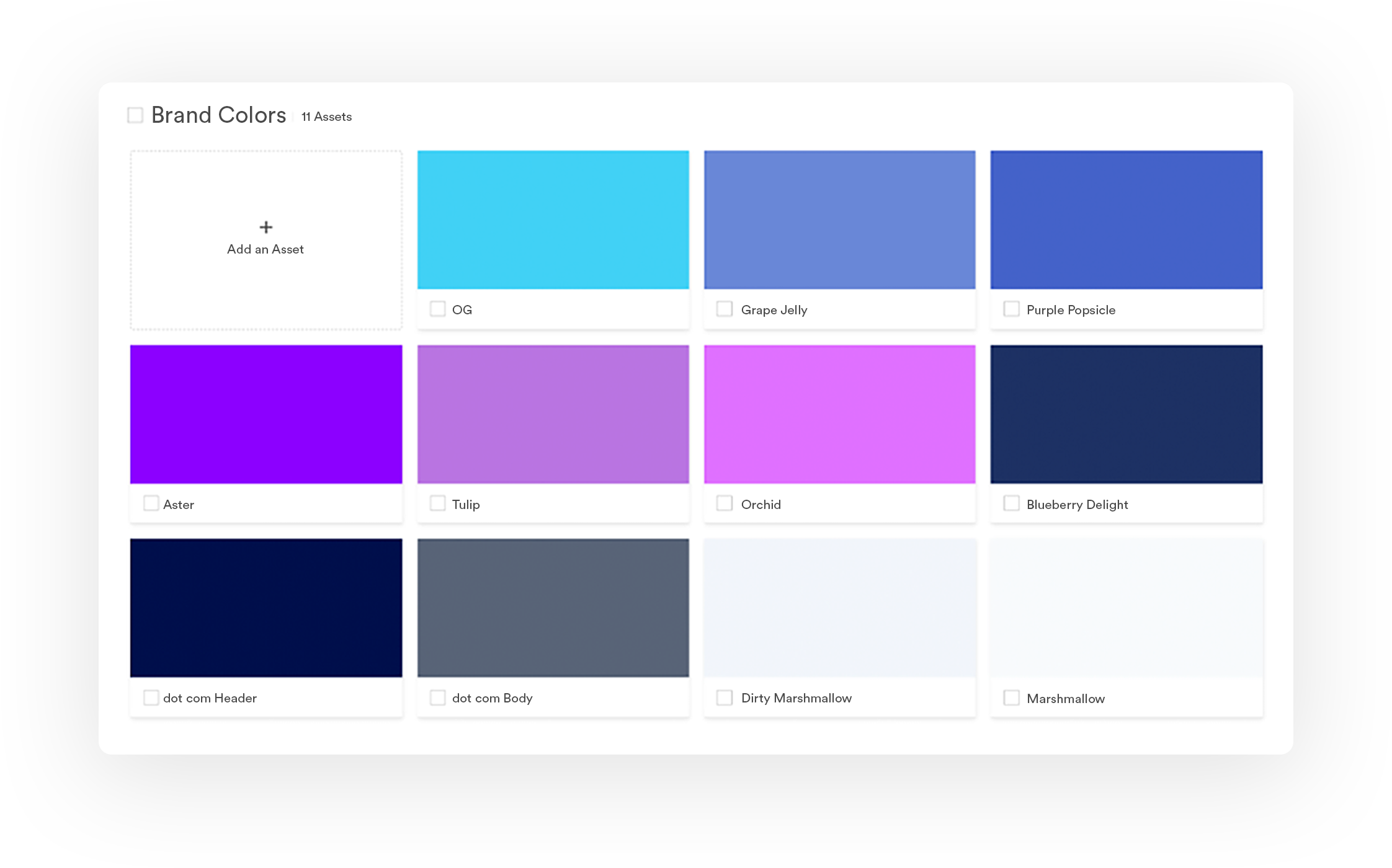 Prior to moving all of your assets to Brandfolder, our customer experience team helps you organize your asset library and gameplan the entire uploading process so you don't have to go at it alone. This is especially beneficial for teams that don't have much experience mapping assets and putting together a content taxonomy, or teams that have thousands upon thousands of assets to sort through. Best of all? After we plan out asset organization and uploading, we can program Brandfolder to automatically ingest and organize everything for you.
Then, once assets are moved over into Brandfolder, our DAM lets you control who can contribute to your asset library so you don't have random users dropping content into your DAM. You can also choose who can approve assets so you don't have just one designer stuck to tackle the reviews and approvals of new/updated assets.
Brandfolder also has a duplicate asset detection feature that analyzes all new asset uploads to make sure users aren't uploading a file that already exists in the DAM. If it catches a duplicate, it'll prompt the user to cancel the upload or merge the dupe with the existing file in Brandfolder.
If you work with outside creative teams and freelancers for certain projects, you can use our guest upload links to receive assets from external collaborators and monitor all of those uploads. Prior to generating and sending the guest upload link, you can control exactly where each asset is uploaded in Brandfolder so you don't have to do any extra organizing after the asset is received and approved.
When you need to update existing assets in your Brandfolder library, you can collaborate with other creatives on the changes right in the asset's overview. Brandfolder saves all collaborator comments so anybody can pop in and get up to speed without asking for an update.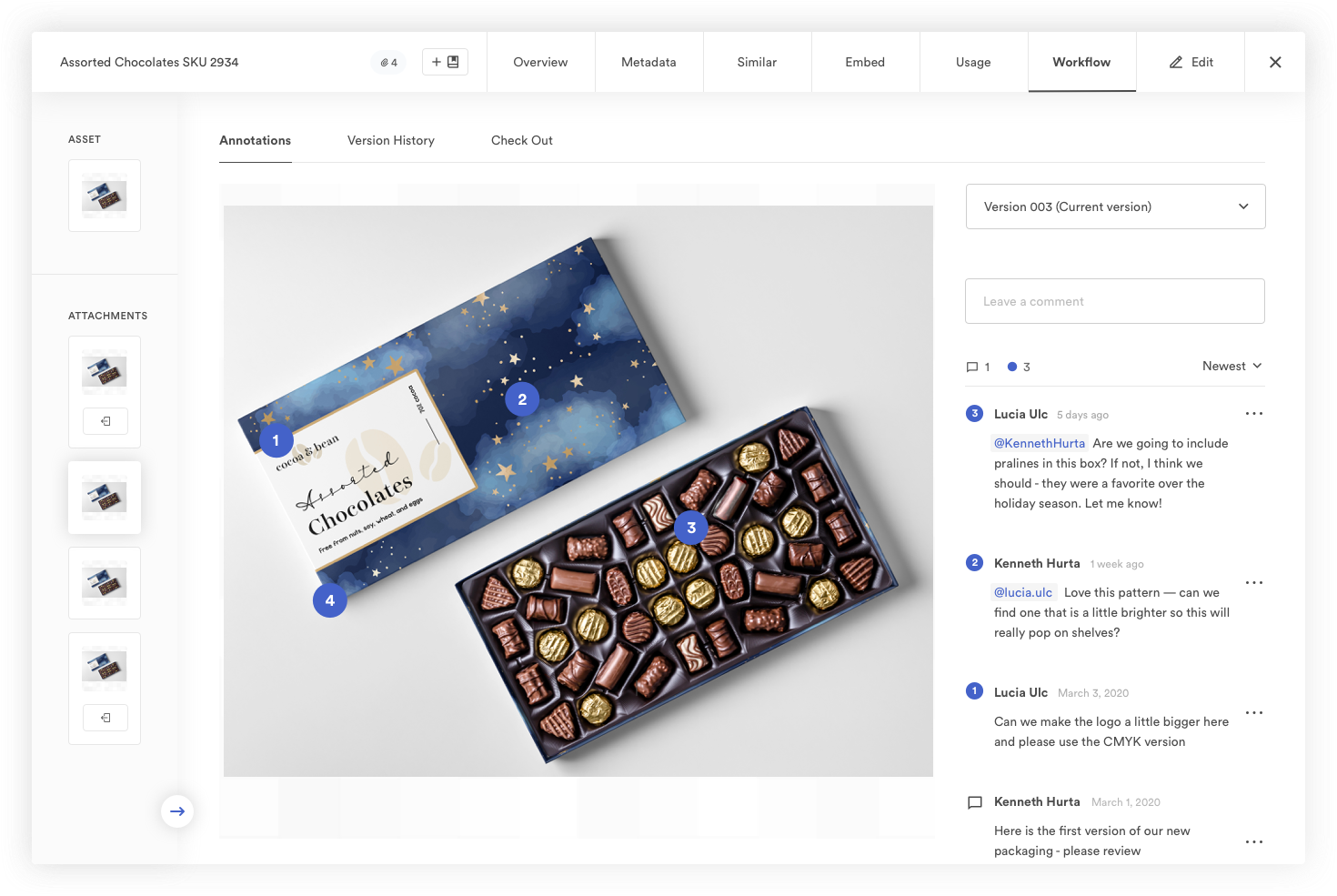 Once you're ready to make edits, you can push assets from your library straight into their native editing app, and then back to your asset library when edits are wrapped up (via integrations and Brandfolder's open-source API). This streamlines the editing process and ensures you always have the most current asset version in your library. We also record a detailed version history for all assets so you can see how it has been edited over time and access past versions.
When assets are "checked out" for edits, Brandfolder alerts other users by putting a banner over the asset and locking the download function; this ensures nobody accidentally uses the wrong asset and further improves version control.
Manage How Others Use Assets
In addition to keeping an organized library, when looking for a DAM that'll truly help improve creative asset management — or a DAM for designers — you also want to think about the features that'll help design teams manage how everybody else uses their collateral.
First, Brandfolder's sharing methods let you dictate exactly how others can interact with your assets. There are two ways to share digital assets in Brandfolder: You can add teammates or other internal users to assets (or groups of assets) with user permissions. Or you can send assets to external collaborators and stakeholders with a custom share link.
When sharing assets via permissions, you can decide if users can view, download, or edit an asset — but you can also get more granular with user permissions. Then, any users you share assets with can come in and access the content they need without submitting a request to a creative or double-checking asset versions. When adding users to groups of assets (i.e., Brandfolders, Collections, Brand Portals), those users will have access to all existing assets and any new creative content that's added. This makes it so creatives don't have to share every single asset they add to Brandfolder — they can just add it and go.
Custom share links let you send assets to anybody, and we provide free unlimited guest seats so you can do as much sharing as needed without extra fees. As the name suggests, custom share links are completely customizable: You can change the link name, add or remove assets, set the link to expire, disable downloading for end-users, watermark assets, and more. You can also turn on alerts to be notified anytime an end-user opens a share link or downloads one of your files within, plus monitor all active share links in one dashboard. This gives you and your design team total oversight over where your creative files are distributed outside of your organization.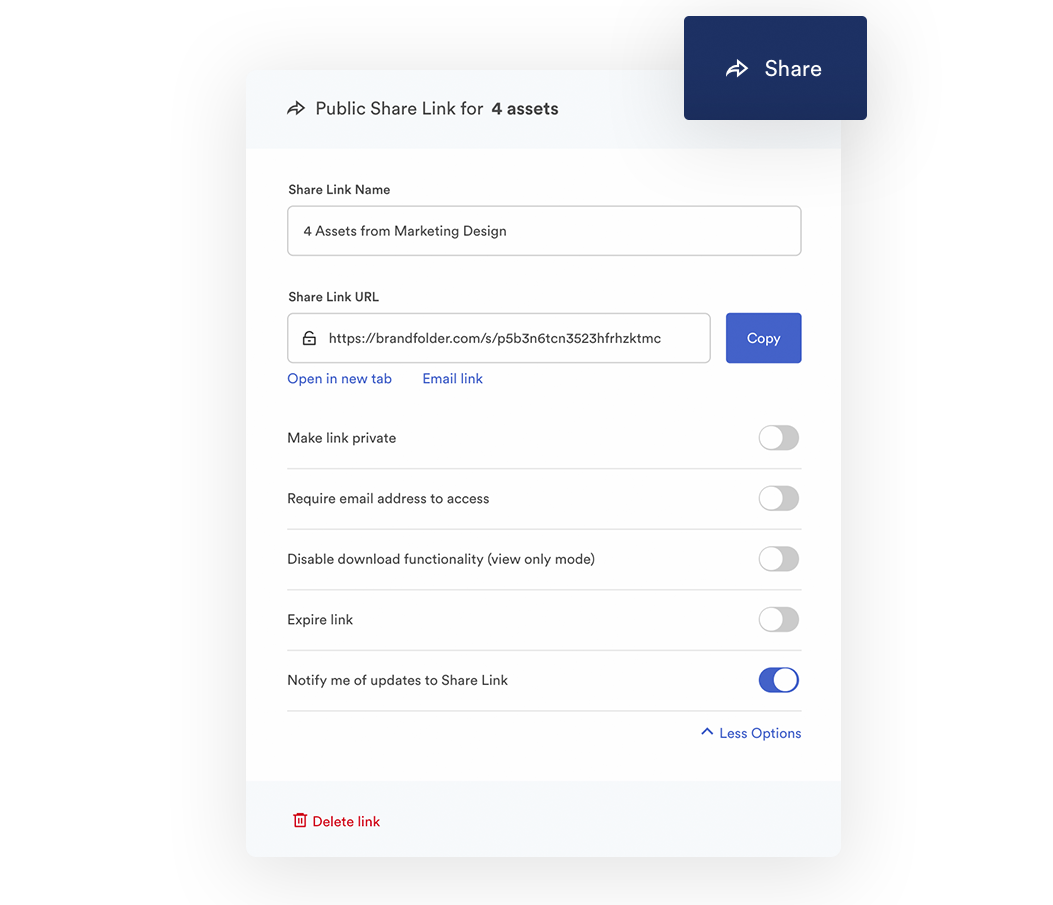 After assets are shared, our powerful search functionality makes finding the right creative files easy for anybody, even if users don't know file names. Brandfolder's search analyzes the content of your assets (i.e., colors, fonts, products, background scenery, dialogue, etc.) to pull everything related to an end user's query. This way, anybody can pop into Brandfolder, search for the type of collateral they need, and find everything the design team has available for them.
Brandfolder is also built with a Brandguide feature that allows creatives to store brand guidelines right in the DAM for other users to reference. You can get as detailed in these brand guidelines as you want — we've seen creative teams write out step-by-step instructions for downloading assets, instructions for posting creative on different mediums, "things to know" when editing brand templates, and more. Posting brand guidelines ensures that everybody who's using your assets has the resources to use them accurately, and this makes it easier for others to utilize collateral and ensures brand consistency across all projects.
In addition to Brandguide, Brandfolder also has a few other features that empower teammates to use assets while ensuring brand integrity, such as templates, convert & resize, and custom & preset cropping.
Templates: Our templating feature lets creatives store pre-approved, on-brand templates for popular collateral like marketing assets, sales decks, business cards, email signatures, etc. so other users can personalize those templates for their projects and use cases. Creatives can even control exactly how end users modify those templates so nobody ever goes off-brand.
Convert & resize: The convert and resize tool lets users instantly change file format or file size before downloading an asset from the platform.
Custom & preset cropping: This feature lets users quickly trim and crop their creative files before publishing or printing. Brandfolder provides presets for social media platforms like Twitter and Facebook, and designers can create custom crops for any site your teams publish content on, such as websites, blogs, or email marketing campaigns.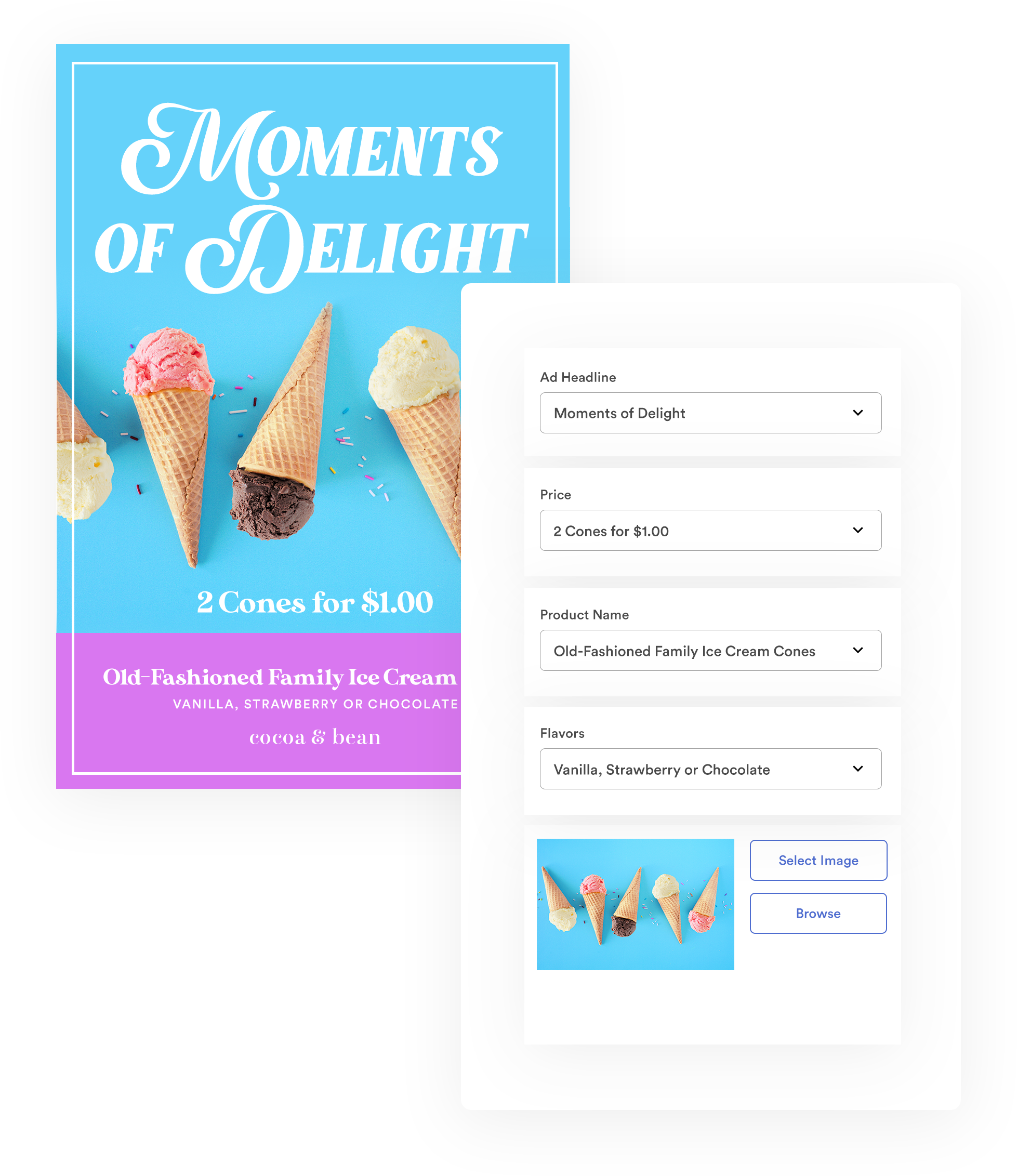 Brandfolder also makes publishing and printing assets easier via our built-in content delivery network (CDN) system and web-to-print functionality.
With these tools, teams can use Brandfolder as a single source of truth and publish assets across the web with a CDN link, or they can push assets directly to print without the hassle of sending print requests. When publishing assets with a CDN link, the published asset is still powered by Brandfolder, so any changes made at the Brandfolder level reflect anywhere the asset is embedded. This automates the tedious task of swapping updates every time an edit is made and guarantees everybody is publishing high-quality, approved, and best of all, current collateral.
All of these tools prevent designers from responding to asset requests all day, giving them the freedom to focus on actual design tasks and be more productive. Speaking of...
Plan New Creative Content & Manage Design Projects
Apart from managing the assets your team already has, creatives are also tasked with:
Planning new high-quality content
Producing that content in an efficient way
Brandfolder has a built-in reporting feature so you can see which assets are used most often, how they're being used, and who's using them. This feature is completely customizable and gives you dozens of reports to see which creative content is popular amongst your users… and what content they pass over. Then you can leverage that data to identify new content needs and strategically plan new digital projects.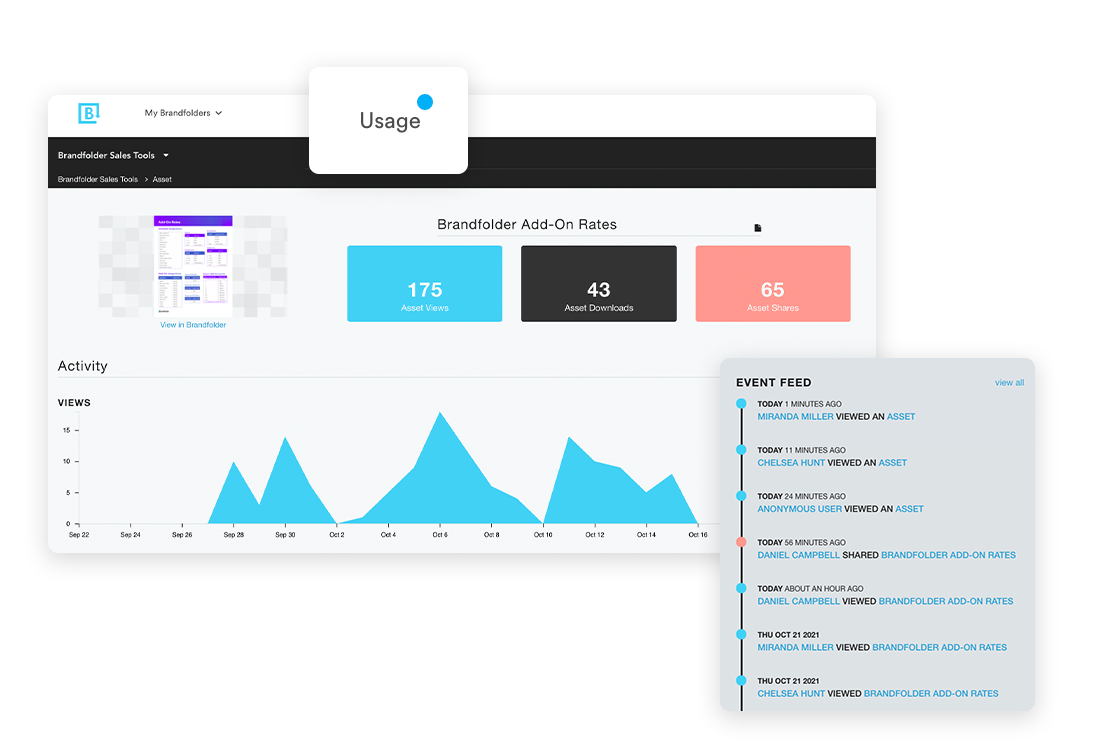 What's really unique about our reporting feature is that it also tells admins what users are searching for, and what search terms generate zero results. Designers can use this info to identify content gaps and work those assets into their queue.
Then, you can manage all of your digital projects right in Brandfolder using our Workspace feature. Workspace is essentially a project management tool that lets you break projects into smaller tasks, assign those tasks out, set due dates, and communicate on task status on a team board. We also integrate with Smartsheet to give users more robust project management capabilities. This way you can oversee the entire content lifecycle in Brandfolder instead of having to rely on multiple tools to manage creative assets — and once projects are wrapped up, you can move the completed content directly into the asset library with a few clicks.
Plus, Brandfolder comes with numerous out-of-the-box integrations and is built with an open-source API, so you can connect your DAM with all of the design tools your teams use and push files between software for a smooth workflow. This beats having to download the asset from Brandfolder, upload it to the native editor, download it once edits are complete, re-upload to Brandfolder, and merge the file with the existing asset.
Some of Brandfolder's integrations for designers include:
Note: Other teams can also benefit from our integrations because they can connect Brandfolder with the tools they use for their projects and push assets over directly from the DAM. You can read more about our other integrations here.
Report On the Success of Creative Collateral
Brandfolder's reporting features are helpful for more than just planning content — you can use Brandfolder's reporting features to monitor the success of your digital projects and creative efforts.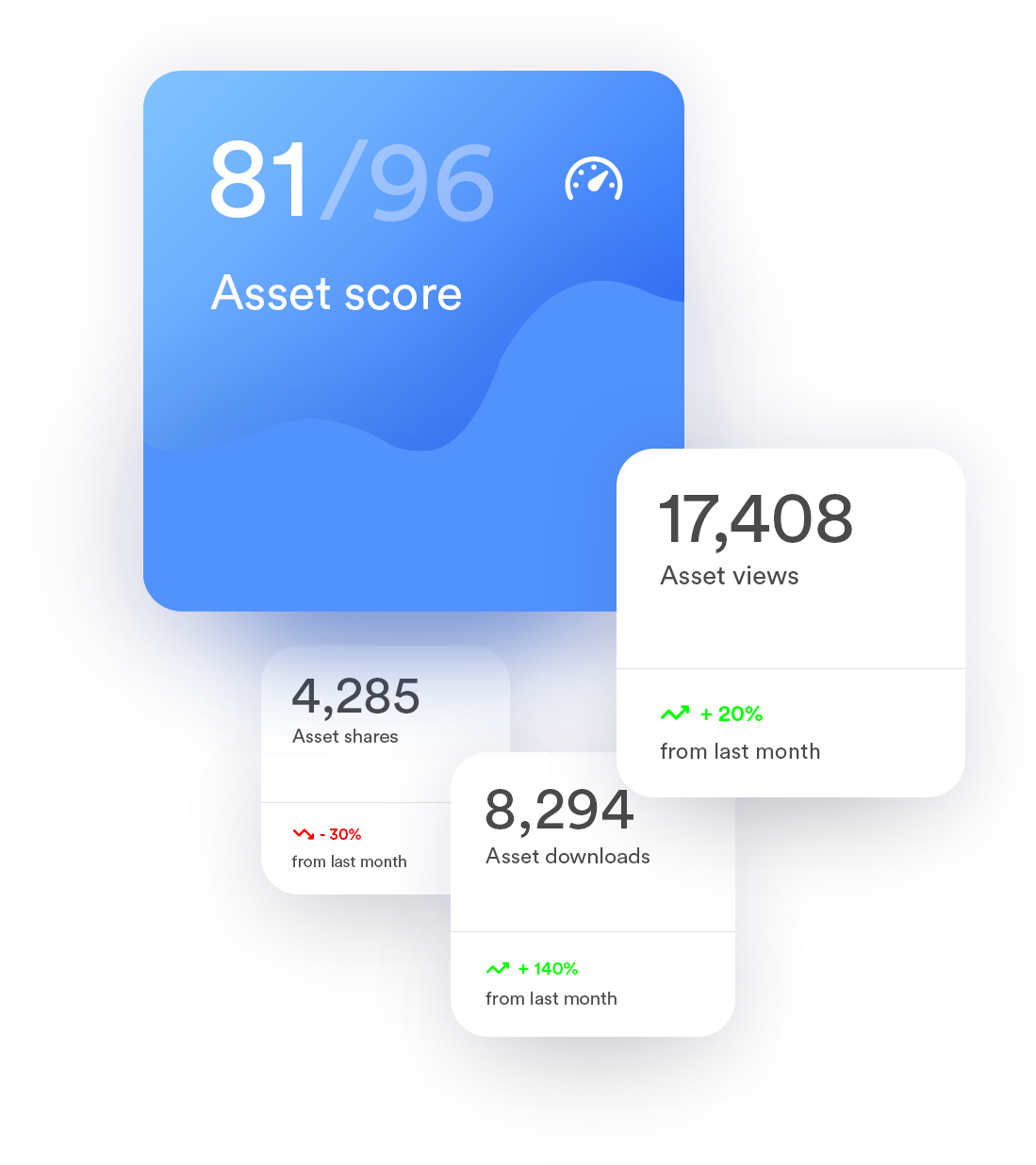 As we mentioned earlier, you can use our reporting tool to look at top-performing assets, where your team's digital media lives online, who engages with assets most, and more. Having the ability to quantify the success of your creative efforts can go a long way when pitching new projects or expanding creative team efforts.
Get a Free Demo of Brandfolder
Brandfolder is one of the most personalized creative asset management platforms available because our customer experience team talks through your specific needs and works with you during the entire onboarding process to make sure:
Assets are organized in a logical way for your designers and those accessing creative files
You have the appropriate amount of storage space
Brandfolder is equipped with the right features to support the different teams who will be using your DAM tool
We connect Brandfolder with the right tools using integrations and our open-source API
Your users are set up and trained efficiently
And more
We have a 98% retention rate amongst our customers because we take the steps to get them set up in our DAM system correctly, and we're always available to help after the fact. To see exactly how Brandfolder can support your design teams and creative processes, click the button below!