Need Digital Asset Management for Publishing? Try Brandfolder
Teams who want to better manage online and print publishing — such as marketers, creative agencies, social media, and public relations teams — can benefit from adopting digital asset management (DAM) software because it:
Makes it simple to organize media assets for better searchability and easy access
Helps you keep an updated asset library so everybody who's using your brand's digital content is finding (and publishing) the right versions of assets
Allows you to share brand guidelines so everybody knows how and where assets can be published
Converts assets on the fly so they can be optimized for different online platforms and social media channels
Lets you collaborate with other team members on digital projects in real-time
Connects with other tools to publish directly from Brandfolder and streamline creative workflows
Monitors how assets perform on the web and refine publishing strategies
Sends files directly to print in just a few clicks
In this post, we discuss how our DAM platform, Brandfolder, is built to help you manage publishing and print efforts so you can publish more frequently, create a consistent digital experience, better connect with your target audience, and improve team productivity.
Brandfolder is built with a variety of features to help beyond publishing; it's customizable and versatile enough to support all of your teams. To learn more about how you can reap the benefits of digital asset management software, get in touch with us for a free demo of Brandfolder.
Store Assets So They Can Be Easily Organized, Searched, & Shared Pre-Publishing
Brandfolder serves as a central repository for all of your brand assets: It accepts all file types (yes, even rich media like video and audio files) so you can store all of your brand collateral in one spot and organize your files in a way that makes sense for your teams.
In Brandfolder, you can organize assets in Brandfolders, Collections, & Brand Portals.
Brandfolders hold all of the assets relevant to a specific brand. Most businesses only need and use one Brandfolder; but if you manage assets for more than one brand, you can create separate Brandfolders for each brand.
Collections live within Brandfolders and house groups of similar assets. You can create Collections for different products or product lines, services, marketing campaigns, etc. — whatever makes sense for your team. (To make your life easier, our team will sit down with you before transitioning to Brandfolder and help you map out your asset library so the uploading process goes smoothly and your assets are organized neatly.)
Brand Portals let teams group subsets of relevant assets for specific end users. These are convenient if you work with retailers or distributors who publish your assets, or you're a large enterprise brand with teams dispersed across the world, because they allow end users to find and search through just the brand assets that are relevant to their roles/regions.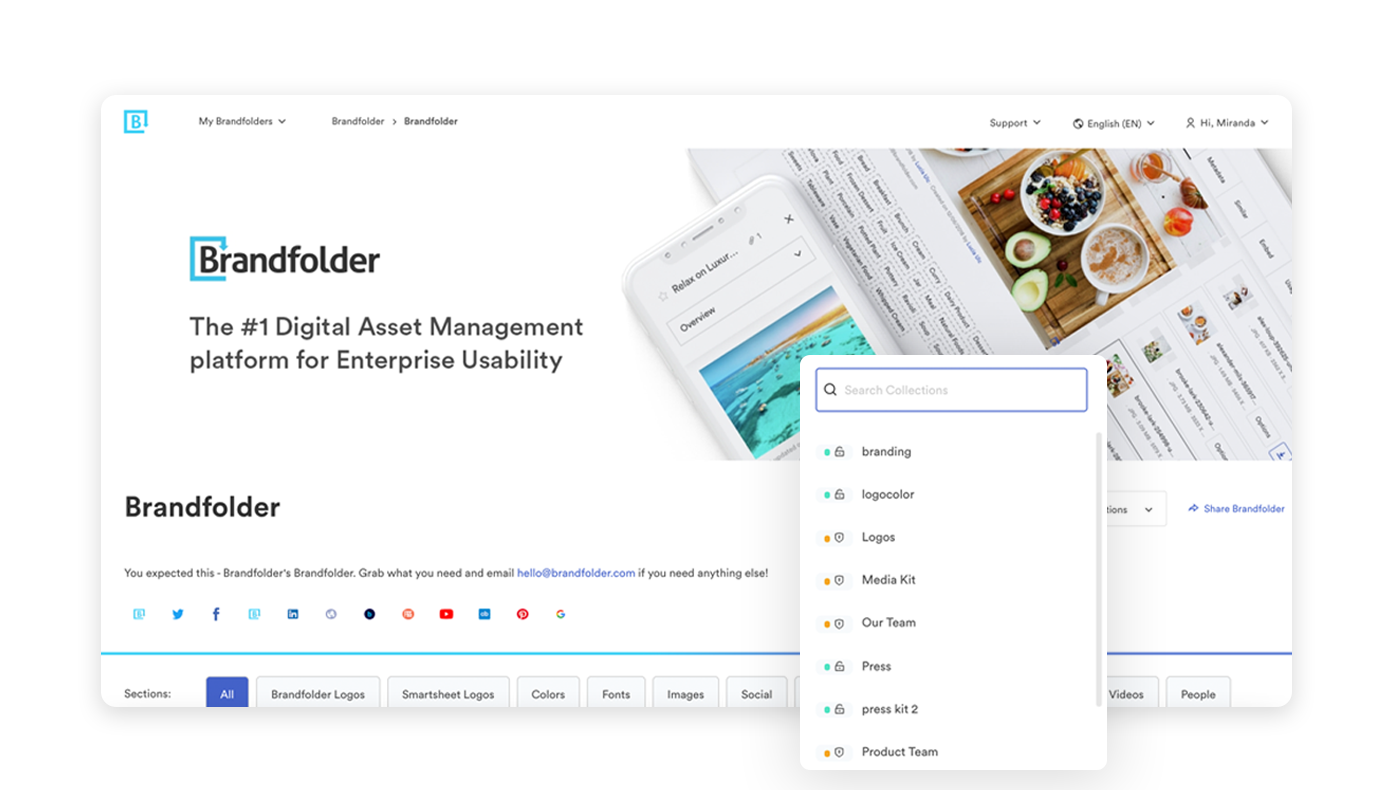 But no matter how you organize your assets, our flat search functionality makes it easy to pinpoint the files you need for publishing.
How? It 1) searches through all of the assets you have access to, instead of requiring you to search specific Collections or Portals, and 2) uses artificial intelligence to analyze the actual content of your asset (i.e., colors, fonts, background images, products) and pull all of the files that are relevant to your search query. This AI also analyzes assets during the upload process to automate metadata and tagging; then it uses all of that data to improve searchability, as well.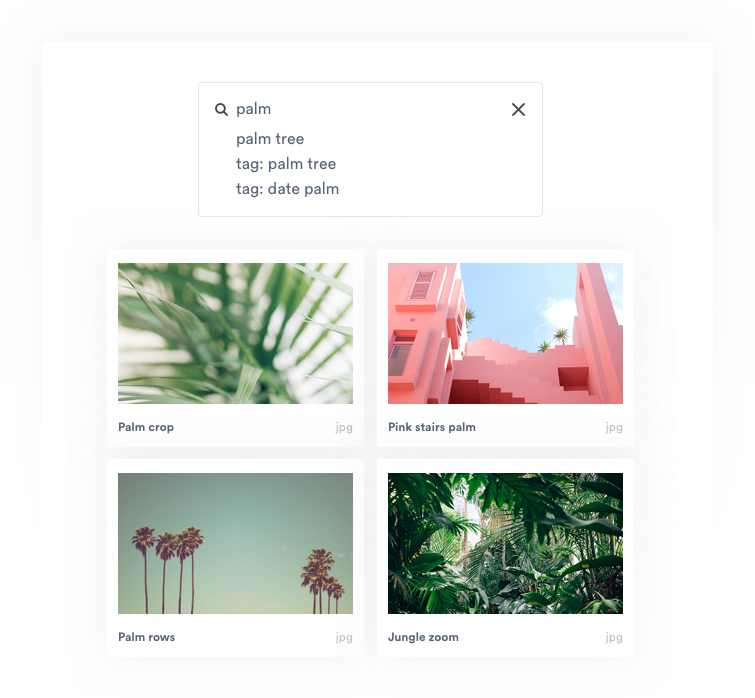 Clearer organization also allows for better accessibility and easier sharing. Instead of scrolling through your library and sending off assets when somebody requests content, you can share these "folders" of assets with your internal teams and external collaborators via permissions and custom share links. That way, anybody who needs to publish your assets can find the collateral they need without submitting an asset request or wasting time digging through a cluttered library.
Let's talk more about our two sharing options: Permissions and custom share links.
Permissions are used to share assets with other team members (a.k.a. Other Brandfolder users). When adding other users to assets via permissions, you can control exactly how they can interact with the asset you're sharing. You can learn more about user roles and permissions on our webpage.
Custom share links let you send assets to stakeholders (a.k.a. Non-Brandfolder users) and monitor all external asset sharing. You can generate a custom share link just by selecting the assets you want to share and clicking "Share." When you share assets via share link, you can add or remove files at any time, set links to expire, require an email to access, watermark assets, restrict downloading, and more. You can also learn more about custom share links here.
We provide free unlimited guest seats, so you can share digital assets and collaborate with whoever you need without limitations or additional fees.
Note: You can also choose to share singular assets or groups of selected assets instead of whole Brandfolders, Collections, or Portals; we let you control who can access your assets and what they can do with them.
Keep Your Asset Library Updated So Teams Can Find & Publish the Right Digital Content
Another way digital asset management solutions can majorly streamline publishing and help your teams improve brand consistency. They keep your asset library current; this means all the files in Brandfolder that are available for publishing are the most recent versions (and everybody who's accessing your Brandfolder is finding the right assets for publishing).
Our DAM system lets you manage the content lifecycle and keep your library up-to-date in a few ways:
It detects duplicate assets upon upload, so you can delete the dupe or merge it with the current version so it can be found in Brandfolder if somebody needs to access it.
It lets you create custom review and approval processes for "new" assets — internal asset uploads, guest uploads, asset updates — so every asset in your library is seen by a fresh pair of eyes before it's approved for publishing.
It has collaborative workflow tools so teams can work on asset updates in real-time, keep track of the comment history, and improve version control. Once assets are updated and approved, they automatically update in Brandfolder and become available for download again.
It lets you set expirations for assets so Brandfolder will automatically "retire" assets on a designated date.
Note: If you use Brandfolder's CDN links to publish assets online (more on that below) our platform will automatically update or expire assets across the web when changes are made in Brandfolder. This helps you maintain a consistent brand image and user experience even when assets are modified.
Brandfolder also has a bonus Brandguide feature that lets you create and share comprehensive brand guidelines for everybody who's accessing and publishing your assets. Putting together brand guidelines lets you clearly spell out rules for asset usage, digital publishing, and printing assets.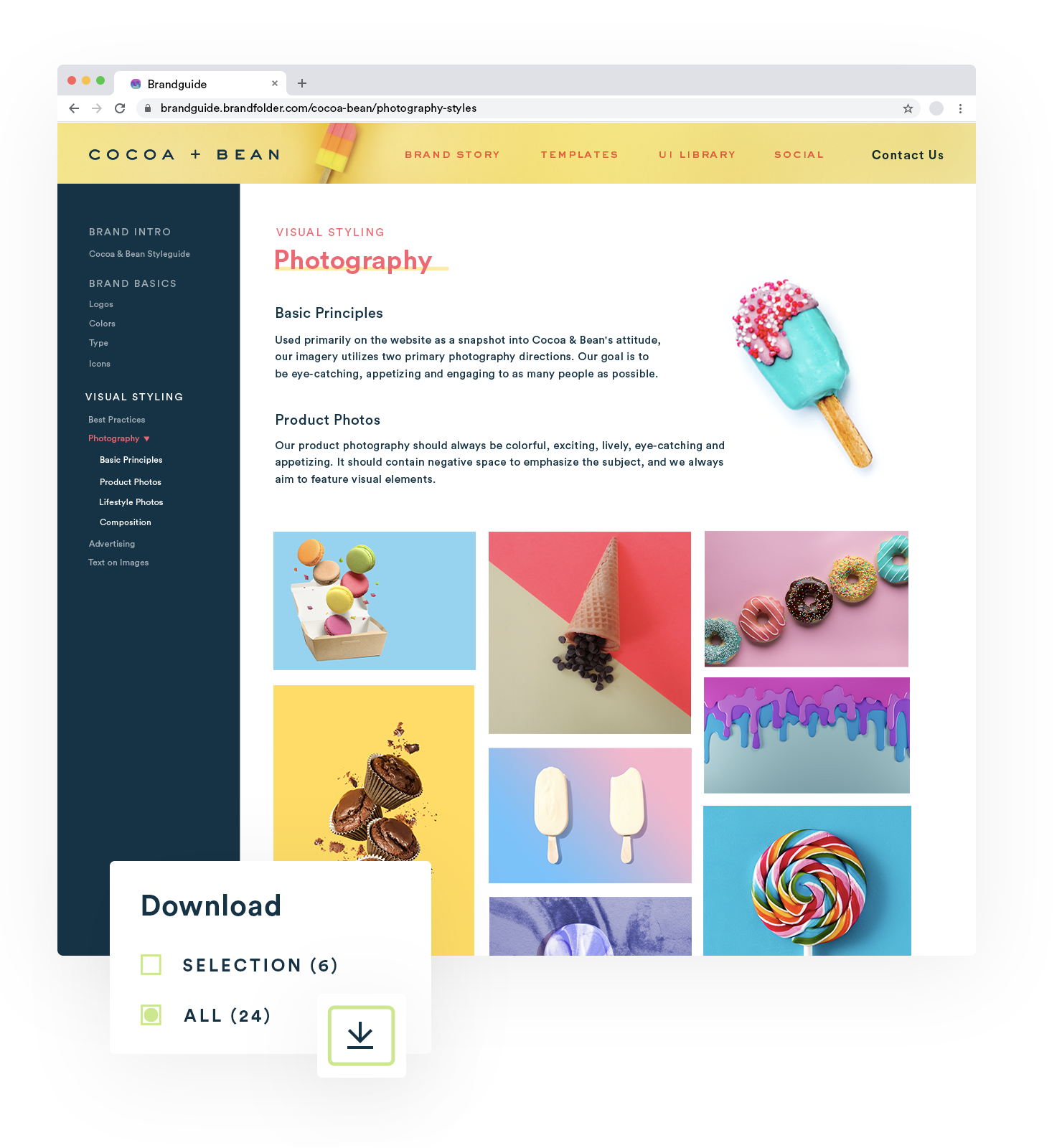 You can be as thorough as you want in your brand guidelines: We've seen marketing teams use these to write out in-depth publishing instructions for different online mediums and creative teams leverage Brandguide to include specifics for printing collateral.
Optimize Your Digital Media for Publishing On the Fly
Brandfolder also has a variety of digital transformation tools — such as Advanced Video, convert & resize, and custom & preset cropping — so you can quickly optimize assets for different platforms directly within your DAM software and send them off for publishing.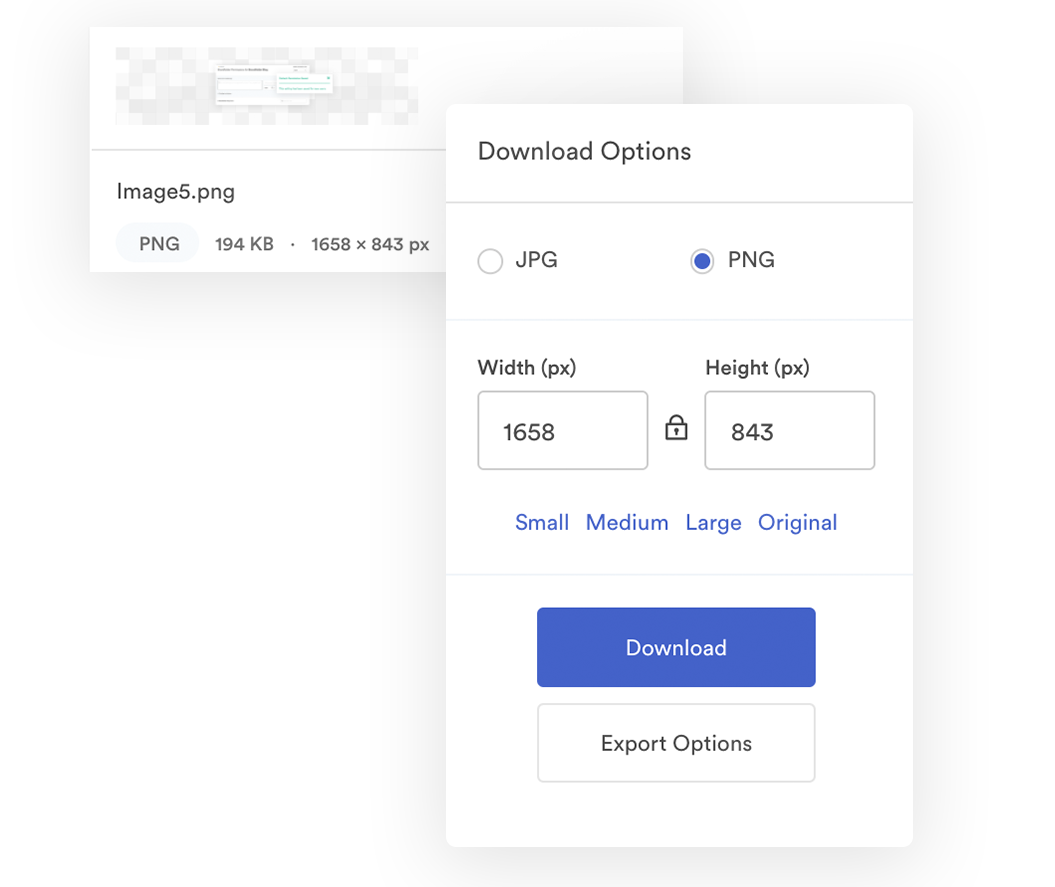 These built-in features are not only convenient, but they're beneficial for teams who are just starting to publish or print assets and don't know how to optimize media files for different channels because they do that work for them. Let's talk about what you can do with each one:
Advanced Video: Trim video files to create clips for websites and social media; create GIFs from videos; adjust video resolution; convert your video to another file type; watermark videos and customize the watermark
Convert & resize: Adjust the file format and size of your asset before download
Custom & preset cropping: Auto-crop your images to fit the intended channel for publishing (social media, YouTube, your website, blog, etc.); our platform has preset crops for popular platforms like Facebook and Twitter, but you can create custom crops for other mediums you commonly publish across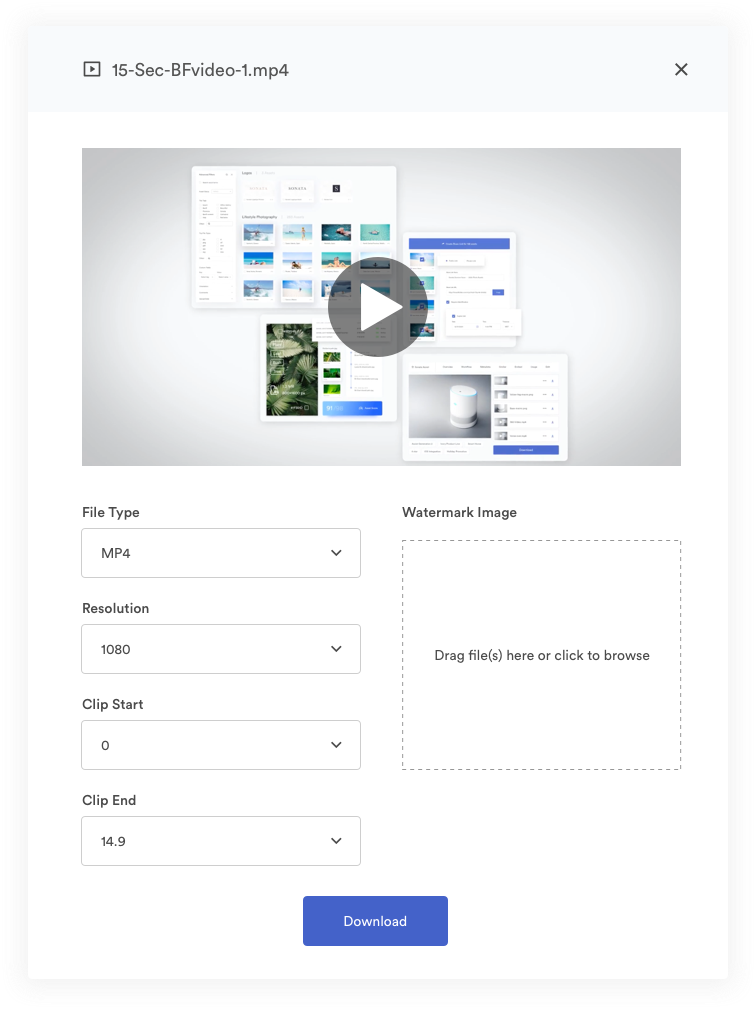 This makes it easier to include graphics, especially video, in your digital publishing strategies, and studies show that including visual media on your website and in your online postings improves engagement and conversion rates.
Use Workspace to Collaborate On Digital Projects
To facilitate better collaboration in Brandfolder, we also released a Workspaces feature so teams can work on digital projects — such as coordinating asset publishing — together in our DAM solution.
Workspaces is not a full-fledged project management software, but it's pretty darn close (and it integrates with other project management tools, like SmartSheet, to give you more robust reporting capabilities).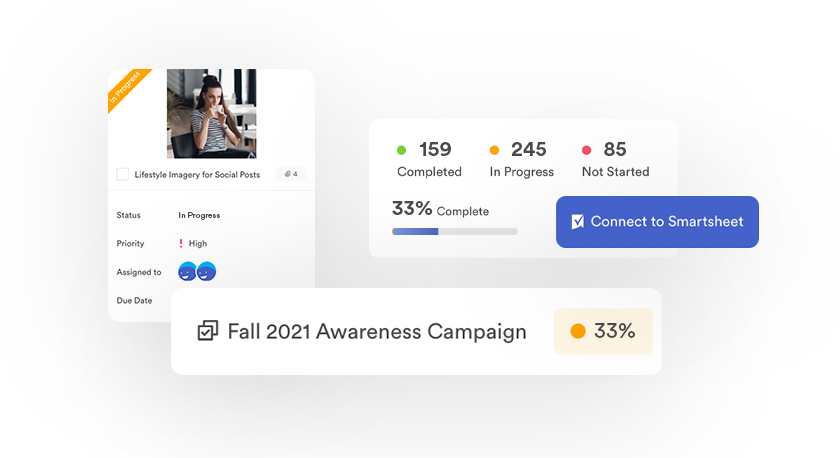 With Workspaces, you can:
Create a new "Workspace" for each digital project
Draft a "project overview" outlining the goals of the project and the tasks you're going to complete to get there; then you can add other team members to the project and they can get themselves up to speed without bugging others for updates
Add all of the relevant assets to the workspace so your teams have creative direction and know which assets they should be using for their tasks
Add the other team members you want to collaborate with to the workspace
Assign tasks to other team members and check in on their status
Ultimately, Workspaces let you speed up the entire project workflow and move from "in progress" to "published" faster.
Brandfolder also integrates with creative applications like Adobe Creative Cloud and Canva, so you can manage creative production and asset updates for digital projects all in one tool.
Integrate With Other Tools to Streamline Content Creation, Print, & Publishing
Speaking of integrations, Brandfolder comes with dozens of out-of-the-box integrations that can make publishing online and printing assets smoother. Some of the tools we integrate with include:
Content creation tools like Adobe, Canva, and Templafy
Content management systems (CMS) like WordPress and Contentful
Marketing communications tools like Hootsuite and HubSpot
Project management tools like SmartSheet and Trello
Web-to-print software like Gelato
Our DAM is also built with an open-source API, so you can connect it with any of the tools you need to publish/print assets and make that process seamless. Read more about our integrations here.
Through our integration with Adobe, Brandfolder also has a dynamic templates feature; this allows teams who don't have a lot (or any) graphic design background to create and publish fresh, new content.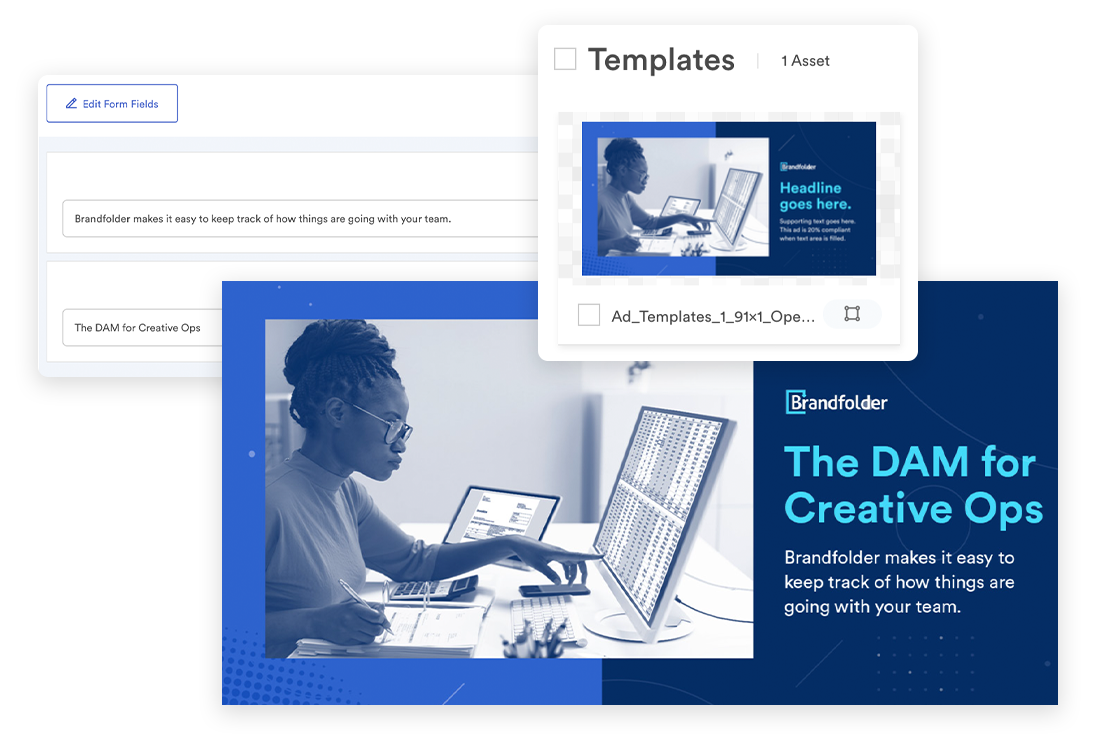 With our templating feature, creatives can push templates directly from InDesign to Brandfolder and control exactly how end users can customize those templates. Then, others can find your brand's pre-approved templates in Brandfolder, personalize them for their unique use case, and proceed to publish or print them without having to ask a designer to review and approve the new collateral.
Use Brandfolder to Power All of Your Online Content & Automate Asset Updates
Brandfolder is also built with a content delivery network (CDN) system so you can use it as a single source of truth and publish online content directly from your DAM. This is ideal if you need to add product images to your eCommerce site, pull assets into email marketing campaigns, or share assets on other websites.
Publishing assets via CDN link also automates certain brand management tasks — such as swapping out assets when you update brand collateral — because all edits that are done at the Brandfolder level automatically reflect everywhere the asset is embedded.
To publish assets from Brandfolder, simply copy the asset's unique CDN link from Brandfolder and paste it where you want to post the media.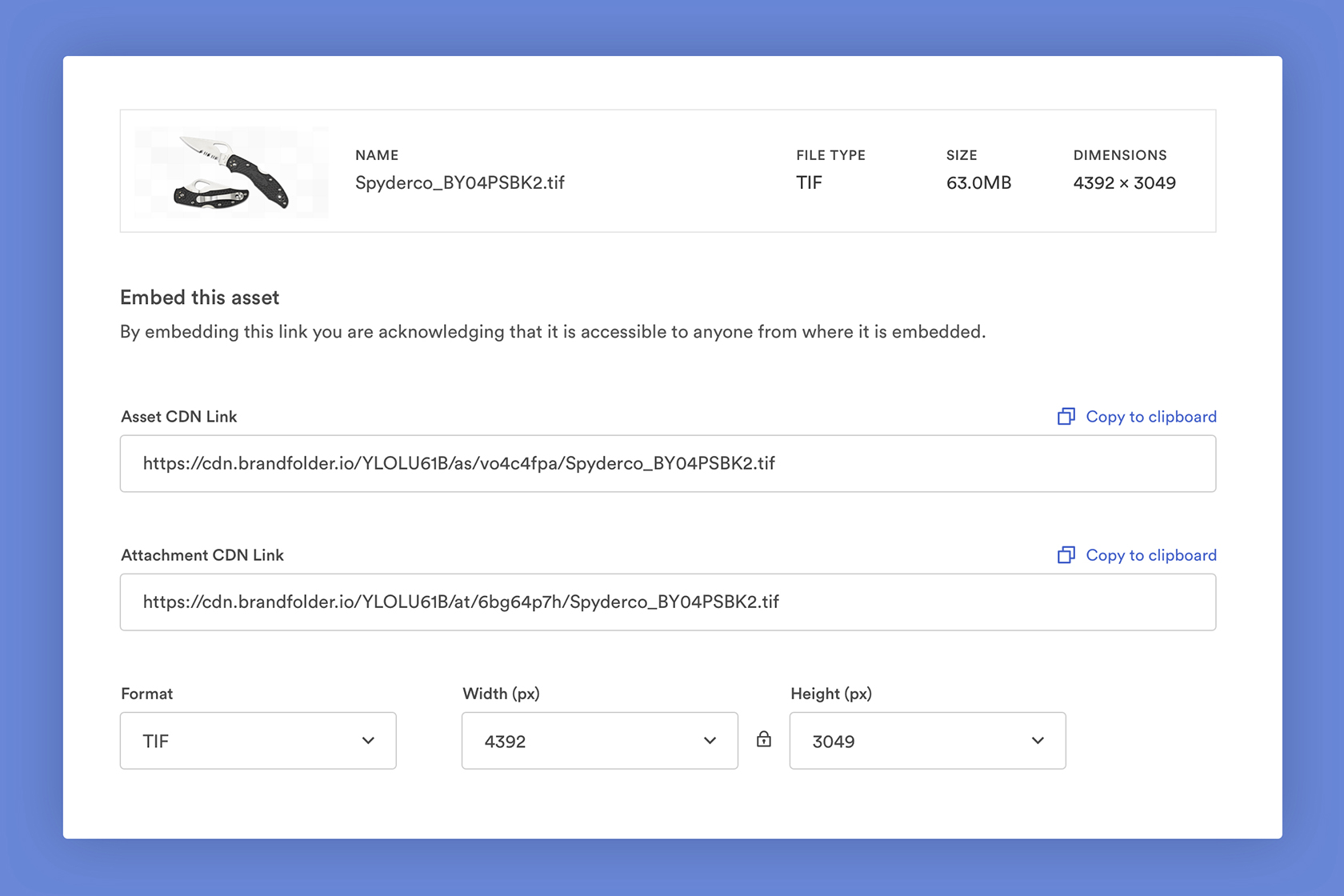 Since this takes only a few seconds, it makes publishing digital assets online easier and faster.
Monitor Where Assets Are Published & How They Perform Online
We also provide detailed data and analytics for every asset so you can monitor where assets live online (when publishing via CDN link), which assets perform well, who's using your assets, and how they're using them.
With these reports you can also see:
How many views, downloads, and shares an asset has
"Top performers," including top assets and top users (in terms of engagement)
What users are searching in Brandfolder, and what assets are appearing in the search results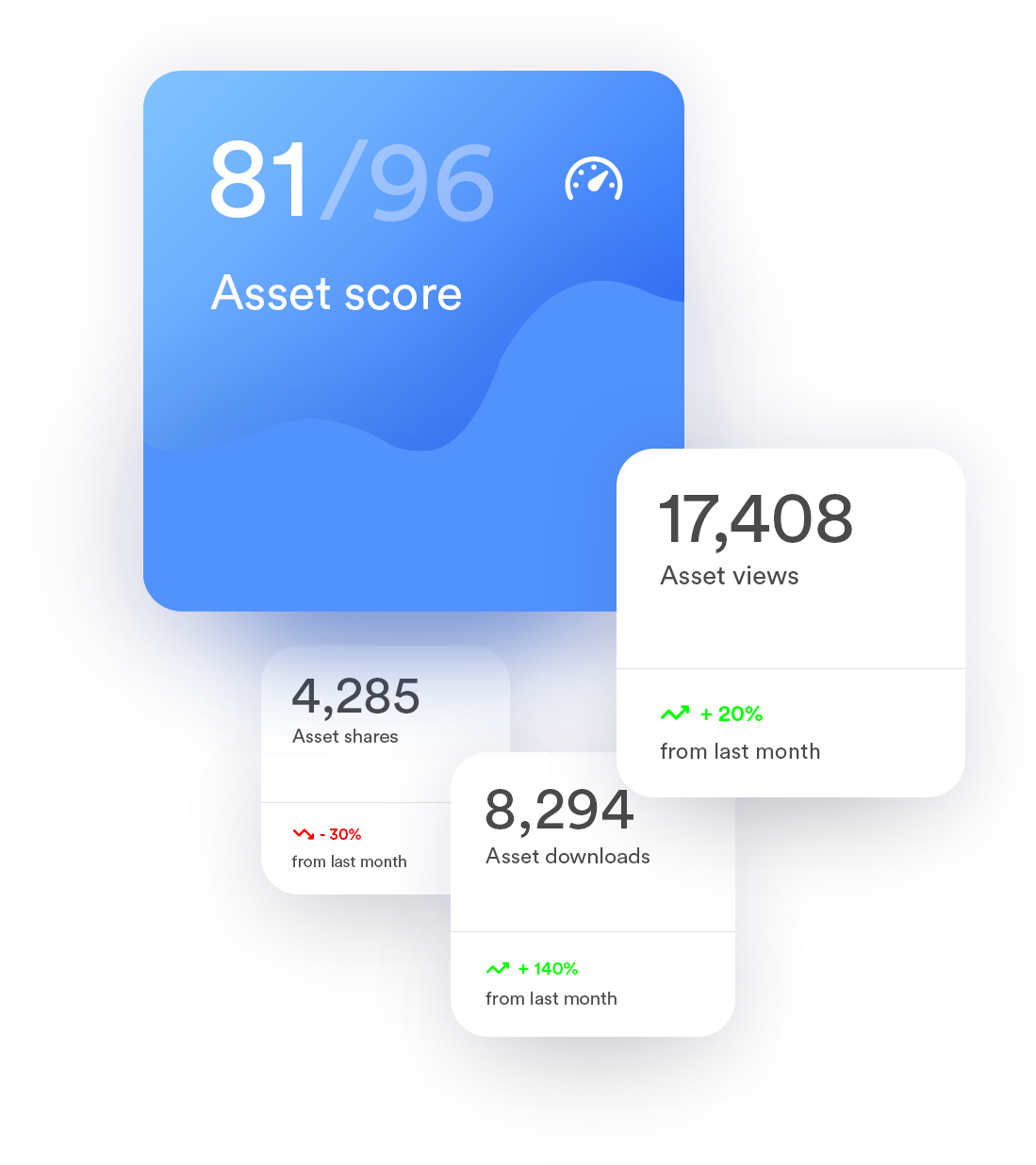 Note: Brandfolder's reporting tool is customizable so you can also measure other metrics and modify the report time frames.
These reports let you quickly find your assets online and double-check that everybody is publishing your assets the right way. They also let you refine your publishing and marketing strategies because they give you real data to measure how your target audience(s) are engaging with your brand.
Send Your Brand Collateral Directly to Print
In addition to our tools for publishing assets online, Brandfolder also has a web-to-print feature to make printing assets more convenient: Just connect the printer(s) you use, and you can send files directly to the printer of your choice with a few clicks. Brandfolder also provides tools to configure your files prior to printing so they turn out neat and polished.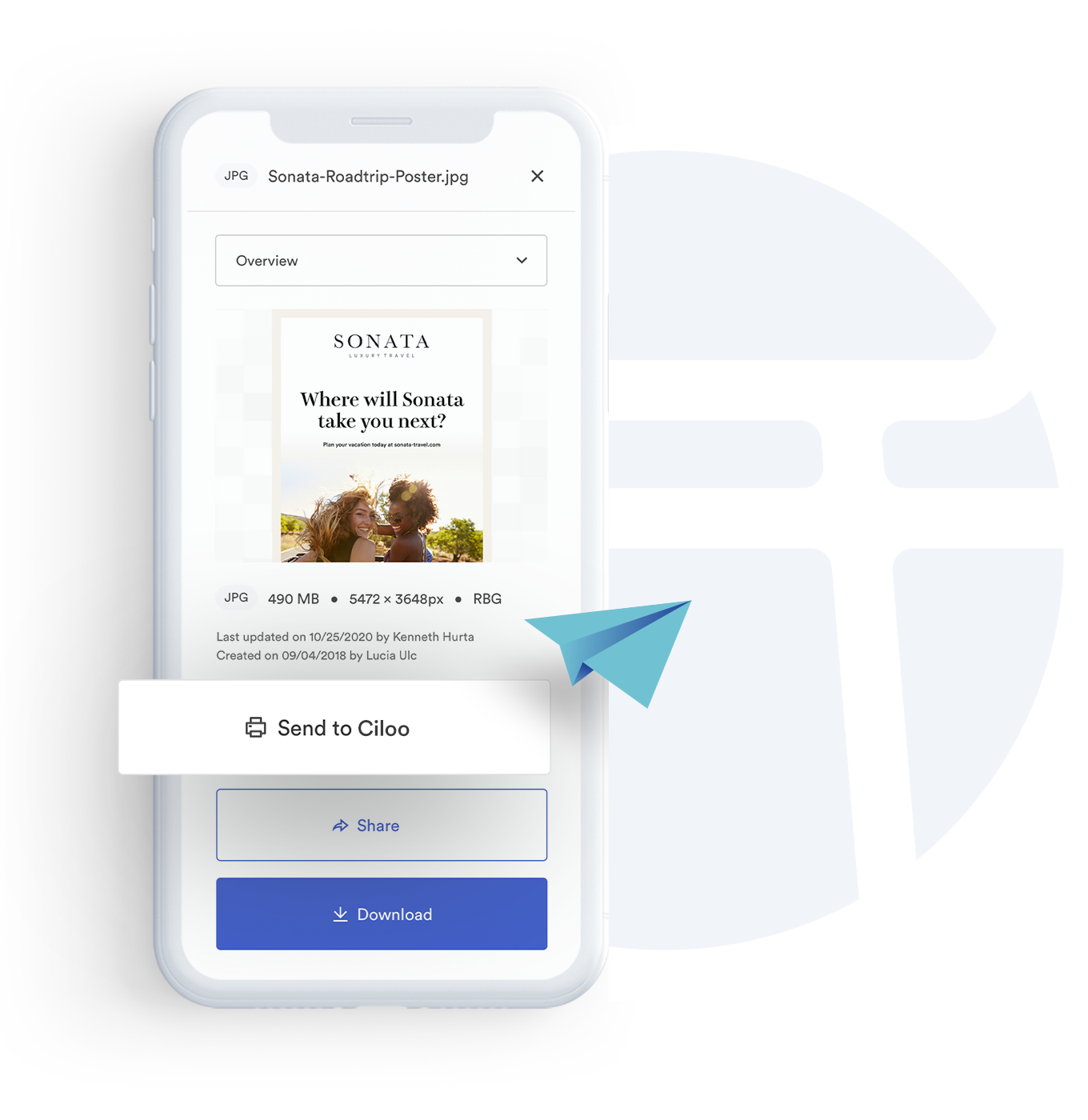 We commonly see teams use Brandfolder's web-to-print functionality to print business cards, brochures, sales decks, marketing materials, and white papers, in addition to flyers and other print collateral.
Demo Brandfolder's Digital Asset Management System for Free
Marketing and social media teams, creative agencies, public relations teams, or really anybody who publishes assets online can benefit from digital asset management tools because they simplify the entire process.
Without a DAM, the process for publishing assets goes a little like so:
First, you have to go to your store drive and find the asset you want to publish — if you have duplicate assets floating around, you'll have to do some investigative work to determine which asset is the right version to use… or you'll have to ask a creative about which asset to use.
OR, if you (or another person on your team) doesn't have access to your brand's asset library, they start the publishing process by submitting an asset request to the creative department.
Then, once you have the asset you want to publish or print, you have to download it from your storage drive — which involves some degree of tweaking the asset layout and making sure it's modified for its appropriate channel — and either a) upload it online for posting or b) email it to a printer.
Then, once assets are published, you have to keep track of where assets are hosted online so you can make sure your online postings adhere to brand guidelines and make appropriate updates when assets need to be swapped.
But with DAM software, you can:
Search the asset you need in seconds without dupes or clutter causing confusion
Share assets with everybody who publishes them so nobody in your org has to waste time submitting (or responding to) asset requests
Push assets directly from Brandfolder for publishing
Automate asset updates and keep your digital presence consistent by publishing assets with Brandfolder's CDN system
Curious to learn more about how our digital asset management tool can support you and your teams' publishing and print efforts? Get in touch with our customer experience team for a free demo of Brandfolder.
Since Brandfolder is not a "one size fits all" DAM solution, we'll take time during the demo to talk about what you specifically want in a DAM system, what troubles you're currently having that you hope a DAM can solve, and how you hope to enhance your publishing efforts with a DAM. That way, we can tailor Brandfolder to suit your teams and workflows.