Digital Asset Management Version Control
Without robust version control in place, updating assets can be confusing and messy. It's all too easy for team members to spend hours updating the wrong version of an asset... only to be stuck spending extra time redoing those edits later. And then, when someone actually needs to use that asset, it can be hard to search through various versions of an asset and pinpoint which version is the most recent. Duplicate or poorly organized assets can lead to internal teams and external stakeholders using outdated or off-brand materials, hurting your brand consistency.
Some teams try to get by storing versions in Google Drive and solve the problem with creative tools like Photoshop or InDesign, which track changes and allow multiple users to work on projects. But these tools still rely on users, managing multiple platforms, to keep everything organized and accessible. On top of that, permissioning can quickly become a nightmare in large organizations. This is where digital asset management software comes into play.
Digital asset management (DAM) software serves as a central repository for users to store, organize, update, share, and track all of their digital assets. We designed our DAM, Brandfolder, to do more than just store and organize assets: It also makes it easy to find assets with advanced search and tagging capabilities, encourages team collaboration through various workflow features and integrations, and streamlines file sharing with both internal and external users. You can manage the entire asset lifecycle from creation to distribution.
Version control is only one feature of managing a well-kept asset library. Schedule a demo with our team to learn more about versioning in Brandfolder and how Brandfolder keeps all of your brand assets organized, easily searchable, and secure.
Version History in Brandfolder
Version History — located within an asset's Workflow tab — in Brandfolder provides a detailed timeline of how an asset has been updated since its creation: it shows specifics on when updates were made and who made each update.
Every version of an asset is automatically assigned a version number. Instead of having multiple versions of a singular asset floating around, our software solution cleanly stacks versions together, making it super clear which asset is the most recent. The version history overview also displays other key features of an asset, such as its file type and size.
When you sync your Brandfolder with Canva, Sketch, or any of Adobe's creative tools, you can then view an asset's iterative changes right within the version history timeline instead of having to toggle back and reference the native app. This allows users to see how an asset was updated before ever previewing the file, saving teams time.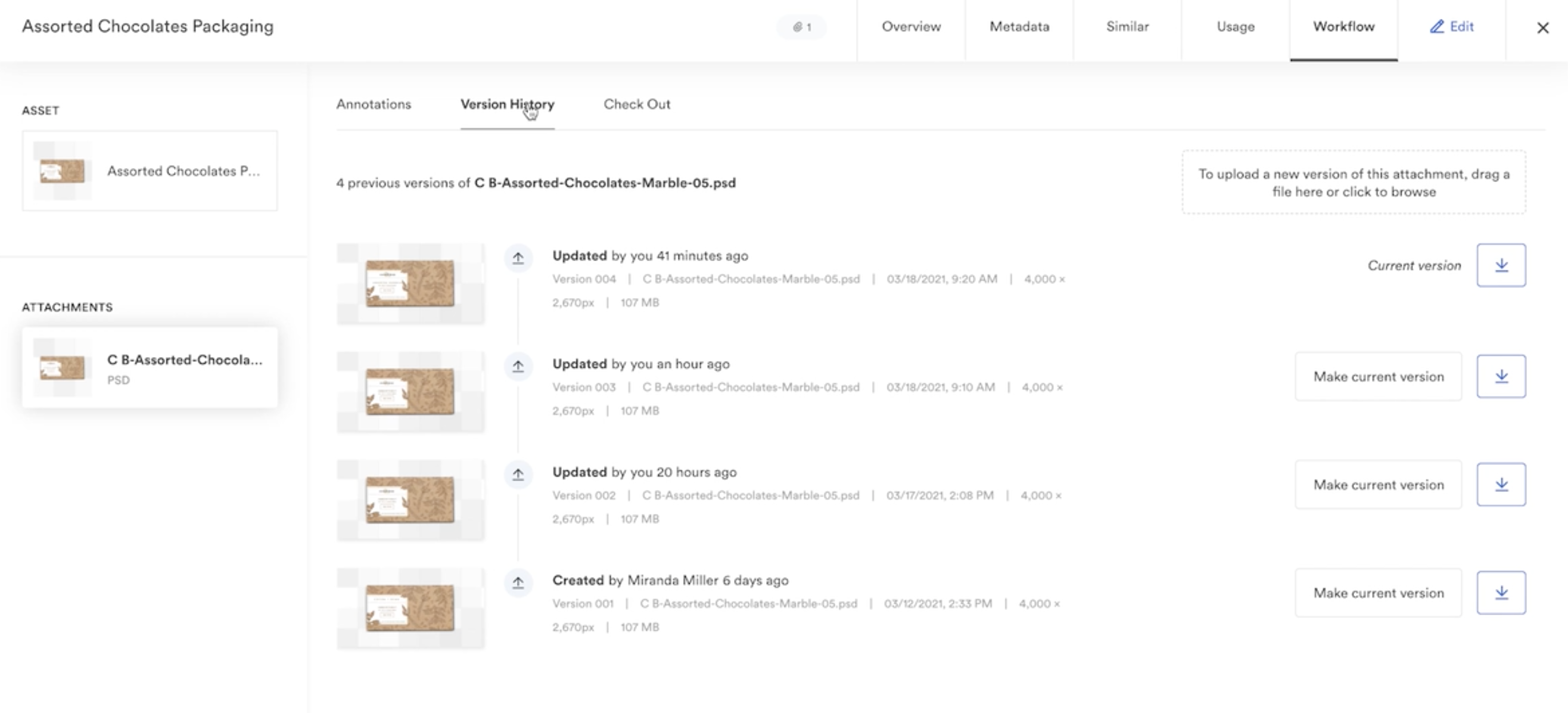 Not a fan of this year's updated product shots? Want to steal some copy from last year's sales brochures? Admins can pop into the version history window and revert digital files to a previous version at any time, and all of those changes are logged for others to see. Within Version History, users (with the right permissions) can also view or download previous versions of an asset without overwriting what's most current.
With this information, users don't have to shuffle asset versions and hope they're working with the most up-to-date file. Asset updates follow the asset no matter how it has been shared with external parties or embedded across other sites, so everybody is constantly working with the correct versions of your assets. Plus, asset metadata and brand guidelines also follow your media files, so anybody you share files with has all the information they need to use those updated assets correctly.
Collaborating with Teams in Brandfolder
Real-time collaboration on asset updates has never been easier — Brandfolder's advanced workflow functionality and integration with SmartSheet give us an edge over other DAM software and content management systems because they allow users to:
Annotate and proof assets
Tag team members in comment threads and assign asset updates to specific users
Push assets back and forth between Brandfolder and external creative tools
Check digital content in and out for editing
Bulk review and approve updated assets
See the Brandfolder and Smartsheet integration in action
Let's talk more about commenting on assets and checking them out for updating.
Users can leave comments on assets to request changes, ask questions, or tag other creative team members for feedback. Annotations are available for any file type, including photos, brochures, templates, logos, and rich media such as video and audio files. That way, users aren't limited in the assets they can work on and update in our digital asset management system. The entire comment history is also saved within Brandfolder, so users can come back in and review team communications before leaving comments or checking the asset out for updating.
Once you resolve all comments, you're ready to check the asset out for updating.
Updating Assets in Brandfolder
Updating assets within our DAM platform is as simple as selecting the "Check Out" button and pushing the digital media file to its native editing software. Advanced integrations and our open API allow teams to connect Brandfolder with any external editing software, preventing the need to download and re-upload assets from software to software and allowing teams to do their updating in the platform they're most comfortable with using.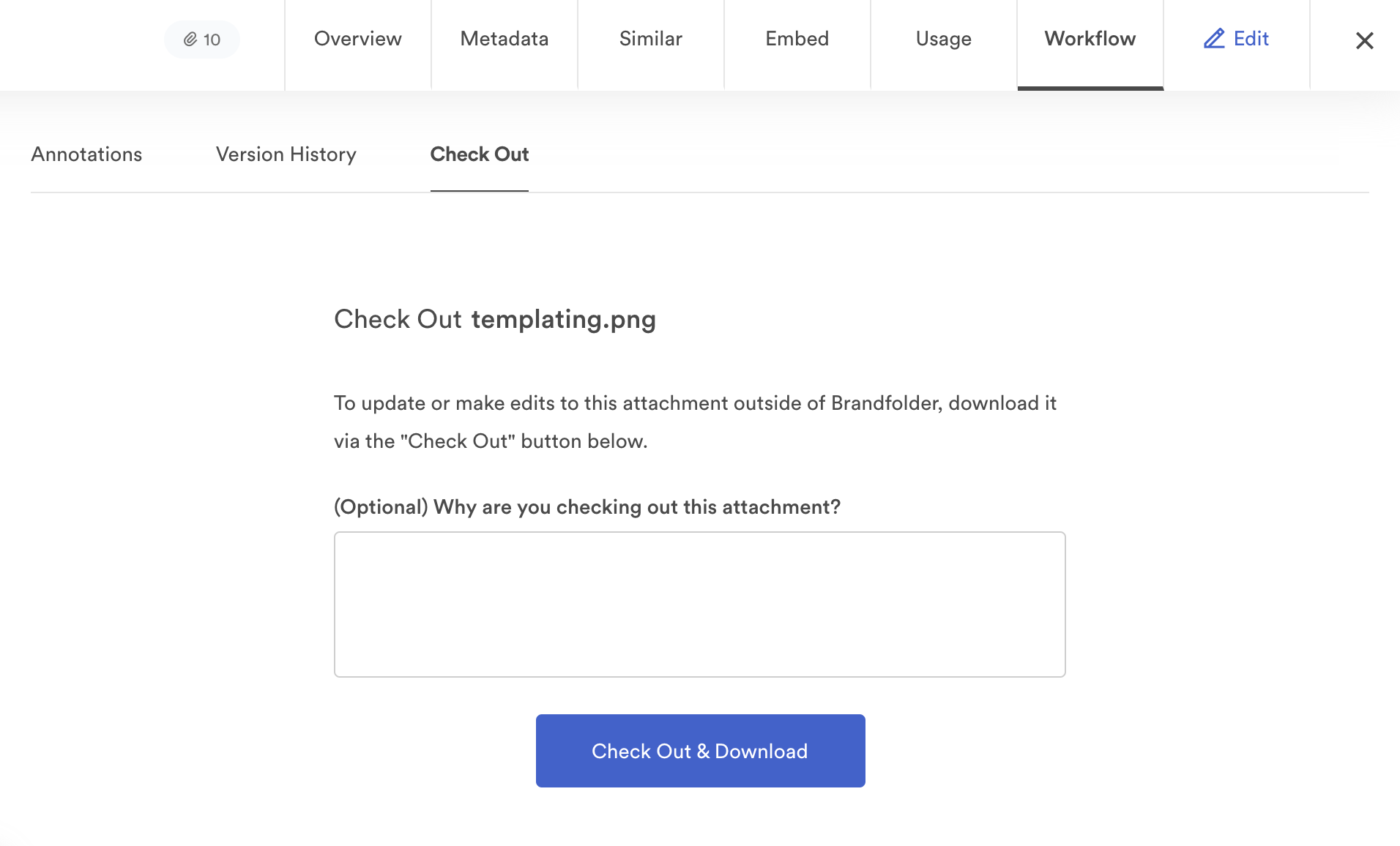 Once an asset is checked out, downloading is restricted. A banner appears across the asset thumbnail to let users know it's checked out for updating and unavailable for download. Users can still view assets and their version history when they're checked out for updating, but locking the download functionality prevents users from accidentally downloading and using an outdated version of the asset.
That said, with our access control features, admins also can set an asset as "Pending," which removes the asset's visibility, accessibility, and availability for guest users. That way, the asset can be commented on and updated in private (amongst specific users) and then pushed back to the DAM system when it's ready for other eyes.
Once an asset is updated, you can push the media file back to Brandfolder with the "Check In" feature. Even after an asset has been checked back in, it'll appear "Checked Out" until an admin can review and approve the changes. Admins can review assets one-by-one or use our bulk asset management tools to review and approve numerous assets in one fell swoop. After the asset is approved, it's updated across the board and available for download again.
Embedding Assets for Automatic Updates from Brandfolder
Updating assets for users within Brandfolder is only one piece of the puzzle when making updates to your branded content — you also need to update all of the places where that asset lives. If your asset is hosted on websites or used in marketing collateral, you'll have to spend time re-uploading the updated asset. We make that process more manageable with a smart CDN (content delivery network) system.
When you select the Embed tab when viewing an asset, it generates a CDN link that can be copied and pasted to other websites or within your email marketing campaigns. This allows you to power your website and email content directly within Brandfolder, making it the single source of truth.
So how is this beneficial? It automatically applies asset updates wherever the file is hosted — so when an asset is updated at the Brandfolder level, it updates everywhere. This guarantees all of your content is on-brand, saves time, and prevents updates from slipping through the cracks.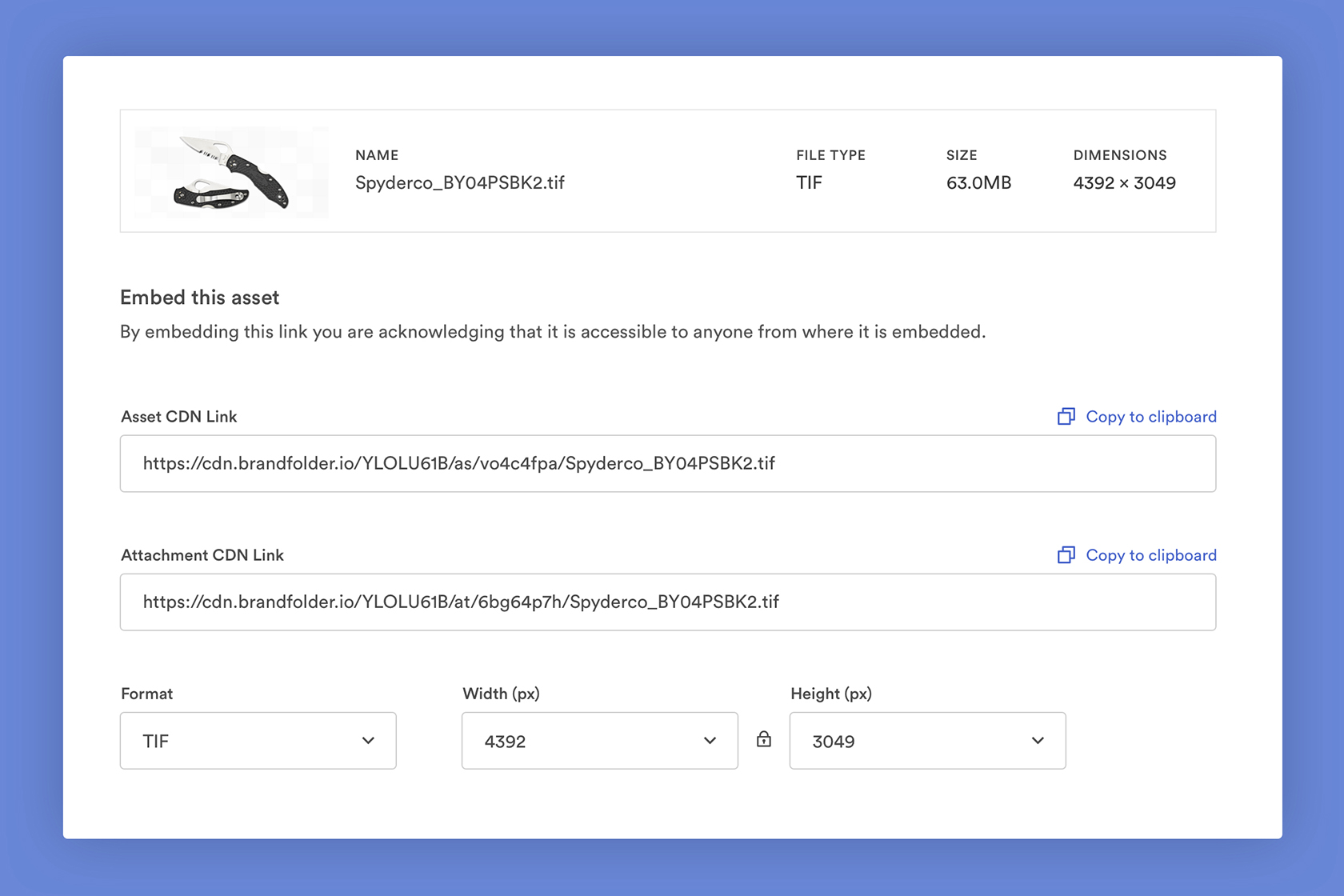 You can even see exactly where an asset lives within the Usage tab, so you can quickly check how often an asset is being used, where it's being used, when the web page was last visited, and when the asset was last viewed. Users can also preview the asset on the live site.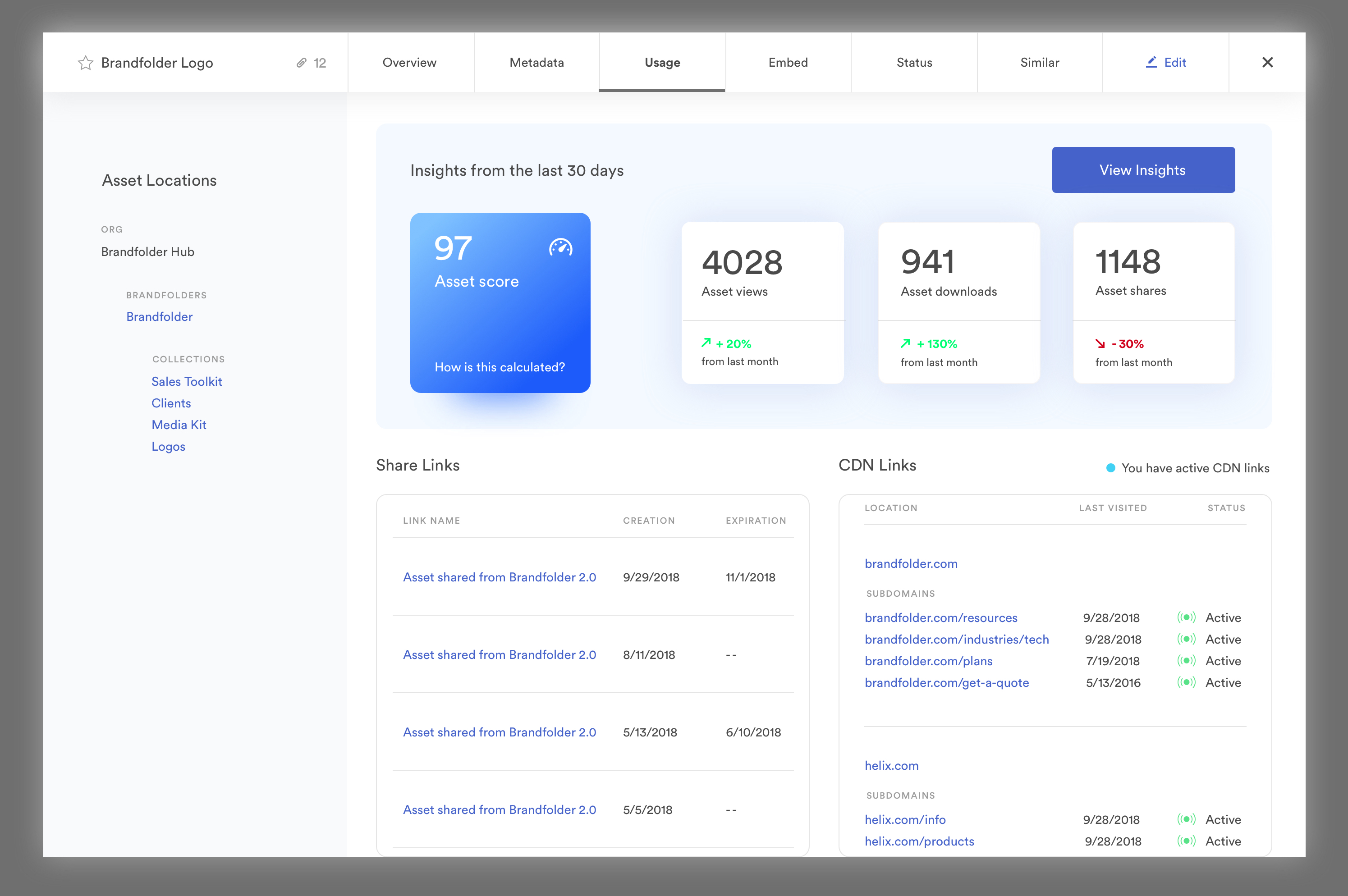 Creating Templates in Brandfolder
Another way teams can hone in on version control and maintain brand consistency is with branded templates — think brochures, proposals, sales decks, one-sheeters, business cards, so on and so forth.
Templates have a number of benefits including:
Save time
Make it easy to repurpose digital files for specific use cases
Allow users with zero creative background to design unique marketing materials
Guarantee the branded content distributed by your vendors, sales teams, marketers, and regional partners is polished and pretty
Our integration with Adobe's InDesign makes brand management via templates a seamless process.
After pushing your templates from InDesign to Brandfolder, they become editable within our digital asset management solution. Admins and original creators of the template can lock in specific text fields, graphics, fonts, and colors, and choose the template sections that other users can tweak.
You can even take things one step further by using dropdowns and selecting pre-approved images to completely limit editing, giving teams specific options to change templates without allowing the freedom to change the overall message and look.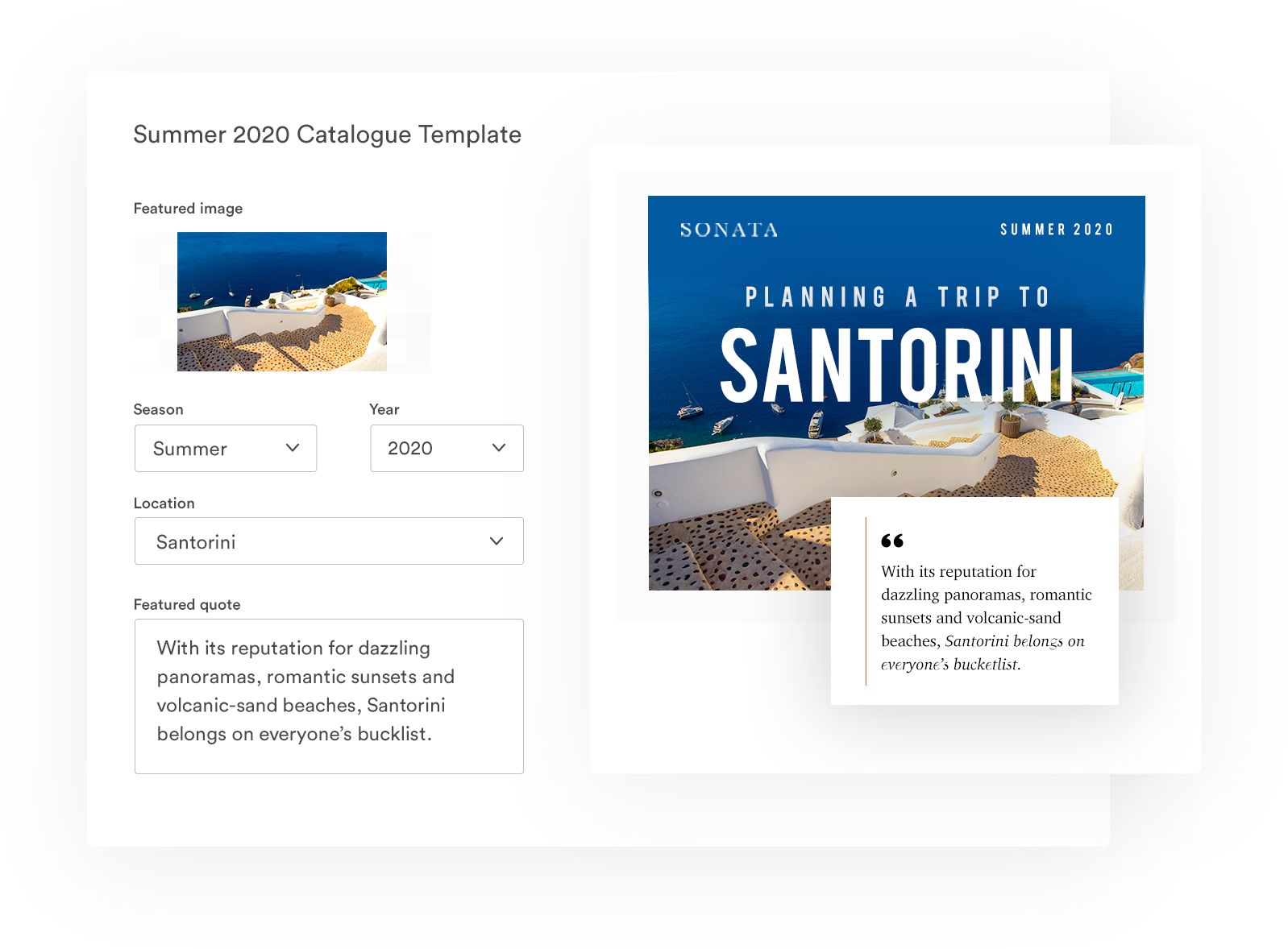 Once template changes are complete, users can download the updated file to their device or send it to an admin within Brandfolder for final review and approval. Users do not have the option to save their template as a "new version" in Brandfolder, though, so you'll never have to worry about the original template design being altered — users will always have a fresh template waiting for them.
Maintain Brand Consistency by Organizing All of Your Digital Media Assets with Brandfolder
Our digital asset management system's collaborative workflow features, smart CDN system, and advanced templating tools allow users to update, share, and embed digital files all in one software, maintaining better brand consistency and version control — even when you have countless assets to manage.
But maintaining brand consistency is just one benefit of using a DAM solution. Digital asset management software also makes it easier to store, organize, and search all of your brand's digital files — which is especially helpful when you have countless assets to juggle. With insights and analytics, DAM can also let you keep an eye on how those assets are performing and being used by your teams.
In addition, Brandfolder is designed to streamline asset distribution: between unlimited free guest seats, branded portals, custom collections, and share links, it's easy for teams of all sizes to send their on-brand assets to both internal teams and external users.
To learn more about Brandfolder, our version control features, and the many benefits of transitioning to the best digital asset management software, get in touch with our customer experience team to schedule a free demo.