Why You Need a DAM for Social Media Asset Management
Social media teams that manage all of their images, videos, and other graphics in Google Drive — and other basic cloud storage systems like Dropbox and Box — often have a process that goes something like this:
Search through the entire asset library for the right graphic
Wade through outdated versions of that asset to find what's most recent
Download the right version from drive
Upload it to a file conversion tool to optimize it for the right channel
Download it from the conversion tool
Then finally upload the asset to one social media channel
And repeat this for as many posts that need to be published
Doing this for every single post you have to create eats up a ton of time.
The best way to speed things up is by transitioning to a more advanced storage solution that lets you keep an updated asset library, optimize assets on the fly, and push assets back and forth between platforms for publishing. In other words, you need a digital asset management (DAM) system.
Brandfolder is a DAM solution designed for creatives and all of the teams that creatives support, including social media marketers. So we've put together this post explaining how you can use our digital asset management system to:
Improve the organization and searchability of your assets
Make sure that social media team(s) have access to the assets they need when they need them
Convert assets for different social media channels without needing another conversion tool
Push assets straight from your library to be published
Enable content creation and organize new assets from outside creatives
Keep everybody on-brand and encourage better brand consistency
Brandfolder is designed to help social media teams handle the massive volume of assets and posts they need to manage. Want to see Brandfolder's features for social media marketers in action? Schedule a free demo with our team to learn more about how Brandfolder can support your social media marketing.
Organize All of Your Social Media Assets
The first way Brandfolder improves social media asset management is by making it easy to maintain an organized and updated library of brand assets (like social media collateral). How? Our digital asset management software detects duplicate assets so you can merge or delete them, and it provides a full version history for every asset so you always know which version of an asset to use. It also allows asset managers to expire assets to prevent marketing teams from downloading or using old digital content.
Brandfolder accepts just about every digital file type, including images, rich media like videos and audio files, GIFs, logos, templates, and other graphics. (Our customer experience team assists throughout the entire onboarding and uploading process, too, so creating and organizing your asset library in Brandfolder isn't a challenge.)
Within Brandfolder, you can organize your assets by brand — which is ideal for social media teams in marketing agencies who work with more than one business unit — by creating dedicated Brandfolders. Within Brandfolders, you can then organize assets in Collections and Brand Portals.
Use Collections to organize groups of related assets: You can create assets for different social media platforms or marketing campaigns, etc. Our DAM system gives you a lot of flexibility with asset organization so you can map your library in a way that makes sense for your teams and workflows.

Use Brand Portals to organize groups of assets for specific end users. This is useful for global brands who have several social media marketing teams around the world. Brand Portals allow you to house all assets that are relevant to a specific end user/team in one place; that way those users only have access to what they need and aren't working in your entire asset library.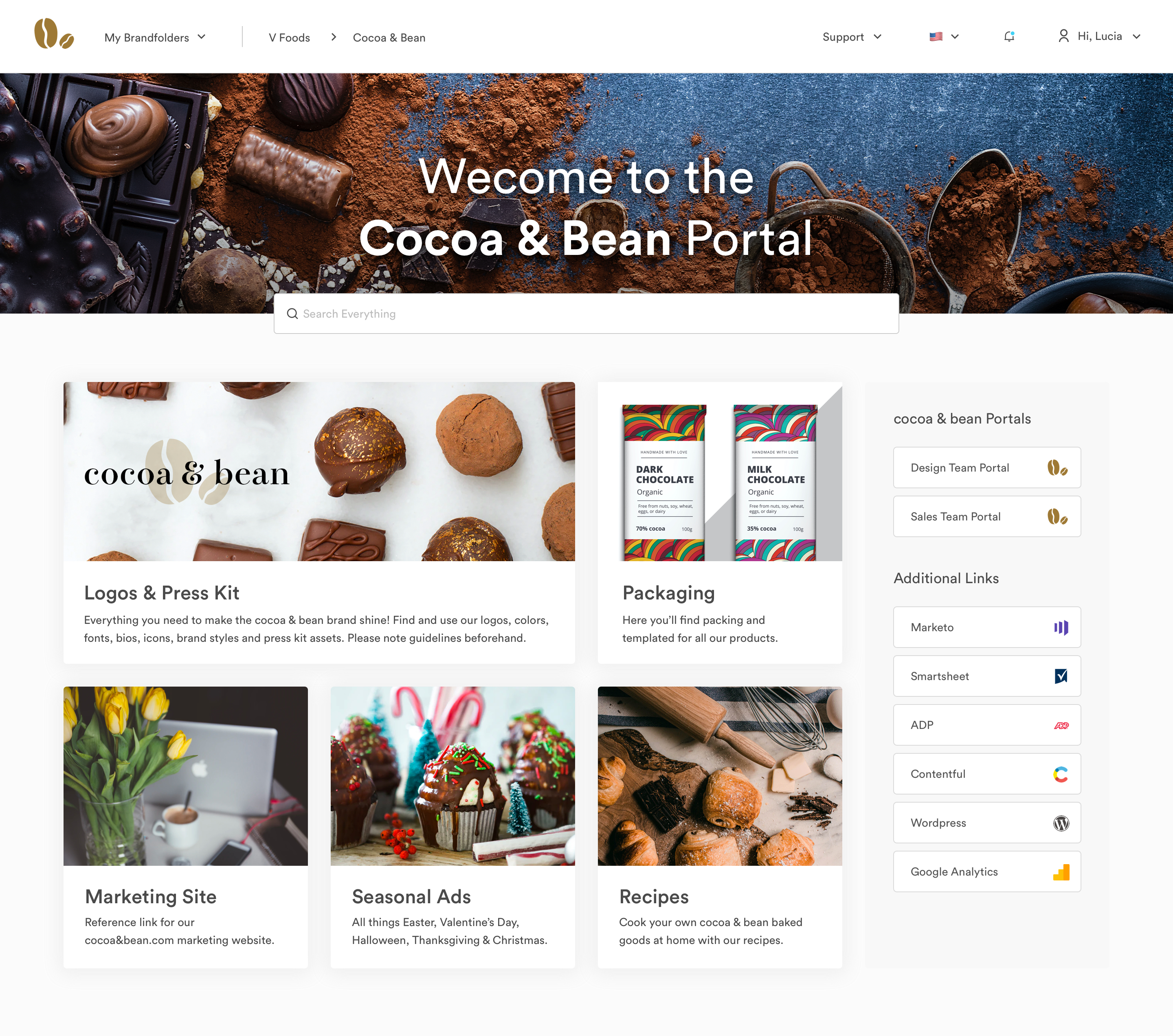 At the asset level, Brandfolder allows users to stack duplicate assets of different file types. For example, you can save your brand logo as a singular asset and house all file types (i.e., .jpg, .png, .PDF) of it within its asset stack. This prevents your teams from having to see the same asset over and over again while scrolling through the library. But it's extra beneficial for social media marketers because it allows you to save one asset — in various sizes and formats, ready for use on different social media channels — without cluttering your library.
No matter how you organize your assets, our robust search feature can find what you need with just a search term. Our search analyzes the entire Brandfolder of assets you're working in so you don't have to go digging through Collections or folders. Using artificial intelligence, it actually analyzes the content of your assets (colors, objects, background scenery, product images, etc.) to pull everything that's related to your search. Brandfolder also auto-assigns metadata and tags to your assets upon upload to improve the searchability and organization of your assets.
Make Sure Your Marketers Can Access the Right Assets
Beyond organizing your asset library, you can use Brandfolder to share your social media assets with your marketing team(s) so everybody can find and use the assets they need.
With permissions, you can add other users to Brandfolders, Collections, or Portals so they can access all currently available assets and any future assets that are added. Or, you can share singular assets or selected groups of assets with other users by giving them access to just those assets.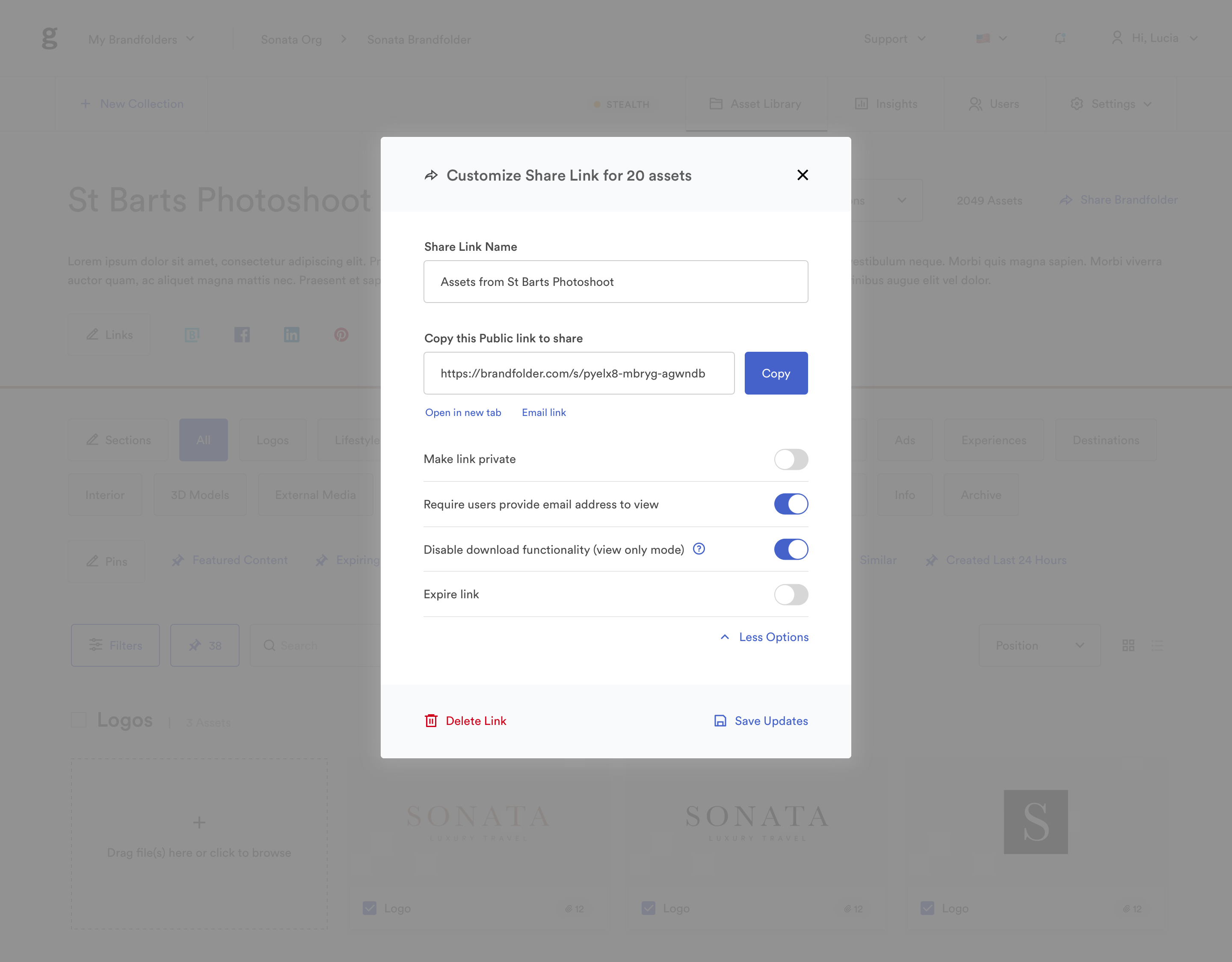 When you want to share digital assets with people outside of Brandfolder, you can send a custom share link. You can name your share link, retroactively add or subtract to what was orginally included, set a date for the link to expire, require an email address to view the link, and more. We allow unlimited guest seats, so you can share your assets with whoever you need, as many times as you need, without worrying about extra charges.
Many enterprise and multinational teams choose Brandfolder because we do offer unlimited guest seats; they can share and receive assets from non-Brandfolder users without monitoring shares or paying for guest users. Read our other post for more tips on what to look for when choosing enterprise digital asset management software.
Optimize Your Assets for Social Media & Push Them Out for Publishing
You can also use Brandfolder to make asset optimization less cumbersome. Instead of downloading your asset from Brandfolder and uploading it to another conversion tool, you can download assets in different file formats or quickly crop your assets to fit across different social media channels right within Brandfolder.
Our Custom Cropping functionality has presets for websites like Facebook, LinkedIn and HubSpot, so you can crop your assets for export without changing the actual asset in Brandfolder.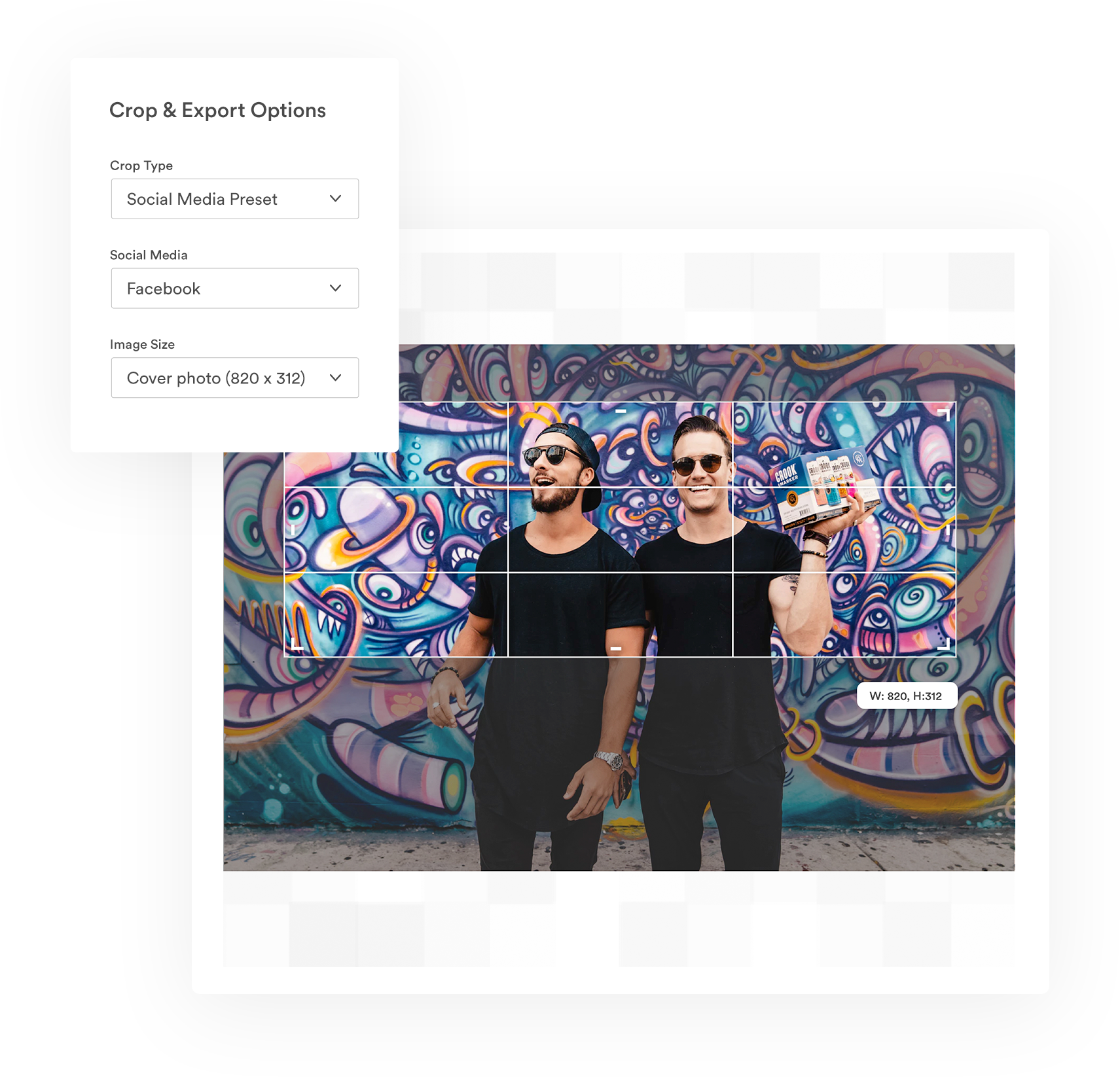 What really sets us apart from other DAMs, though, is our advanced video features. Some DAMs don't even accept video assets; not only do we accept videos, but we also give you tools to:
Trim your video files
Save or download specific clips of your video file
Add captions to your videos
Resize your video
Add watermarks to your videos
Having easy video editing tools at your fingertips allow you to incorporate more high-quality videos into your social media strategy (without having to learn an advanced video editor or bug creatives to tweak your video files for different social networks or target audiences).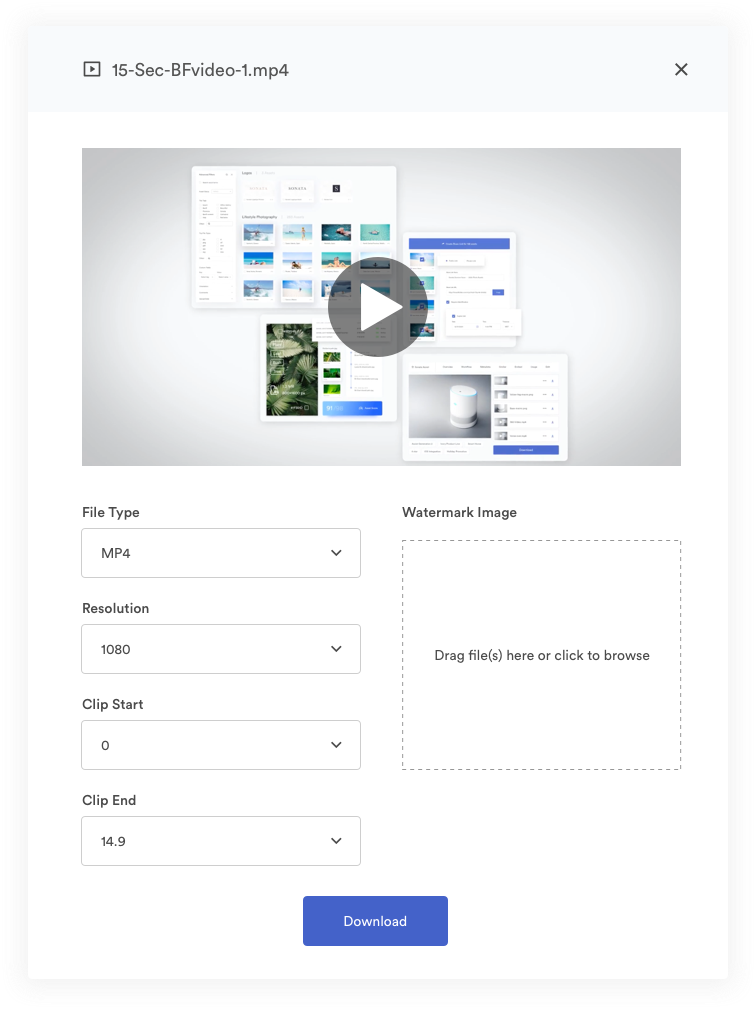 Working with a lot of video assets? Check out our other article to read more into video asset management in Brandfolder.
Brandfolder also integrates with digital marketing management tools like Hootsuite and content management systems like Contentful so you can push assets directly from Brandfolder and publish them across the web.
Enable Content Creation & Get Your Marketing Campaigns Running Faster
Since social media teams are responsible for posting a lot of content, it's also a good idea to set you and your teams up with customizable, on-brand templates. With marketing collateral templates, you can create fresh, unique content for your social media posts without submitting a request to the creative department or waiting around for assets to be reviewed and approved.
We built Brandfolder with an optional templating feature to benefit both creatives and marketers. Here's how it works:
Creatives start by putting together templates in Adobe InDesign. In InDesign, they choose which elements of the template can be customized and which are locked into the design. Creatives can even control which fonts and colors can be used during customization. Then, designers can push the template directly to Brandfolder so it can be stored and shared.
After the template is pushed to Brandfolder, we give creatives even more ways to control how their templates are customized. Specifically, designers can limit which graphics are inserted into the design and control the options for adding text. This control over customization prevents the need for another review after templates are customized, saving creative teams time and allowing marketers to begin using their digital content as soon as it's ready.


Once the template and templating features are all set, creatives can share their templates with other teams using permissions. That way, the teams who need to access these templates can find them in Brandfolder without having to ask a designer where they're located or how to use them.
Finally, customizing templates is straightforward and easy. Anybody can use our editing features to create new media content. Once you're done customizing your template, you can preview the final product and download it or send it to a printer for immediate use.
After you're all wrapped up, our software resets the template so you can reuse your templates as many times as you need and always come back to a clean, ready-to-use template.
We should also note: Even though Brandfolder allows designers to control template customization, creatives can still require templates to go through a review and approval process before they're available to download or print. You can completely control the review and approval process for new and updated assets. (More on reviewing and approving assets in the next section.)
Collaborate With Other Creatives & Receive Notifications for New and Updated Assets
A lot of social media teams also work with and receive assets from freelance designers and other external creative teams. Typically, these outside creatives have to send new assets to the design team via email so they can be approved before they're shared with others. But in Brandfolder, we allow you to send Guest Upload links to non-Brandfolder users so they can upload their digital files straight to your Brandfolder library for review and approval.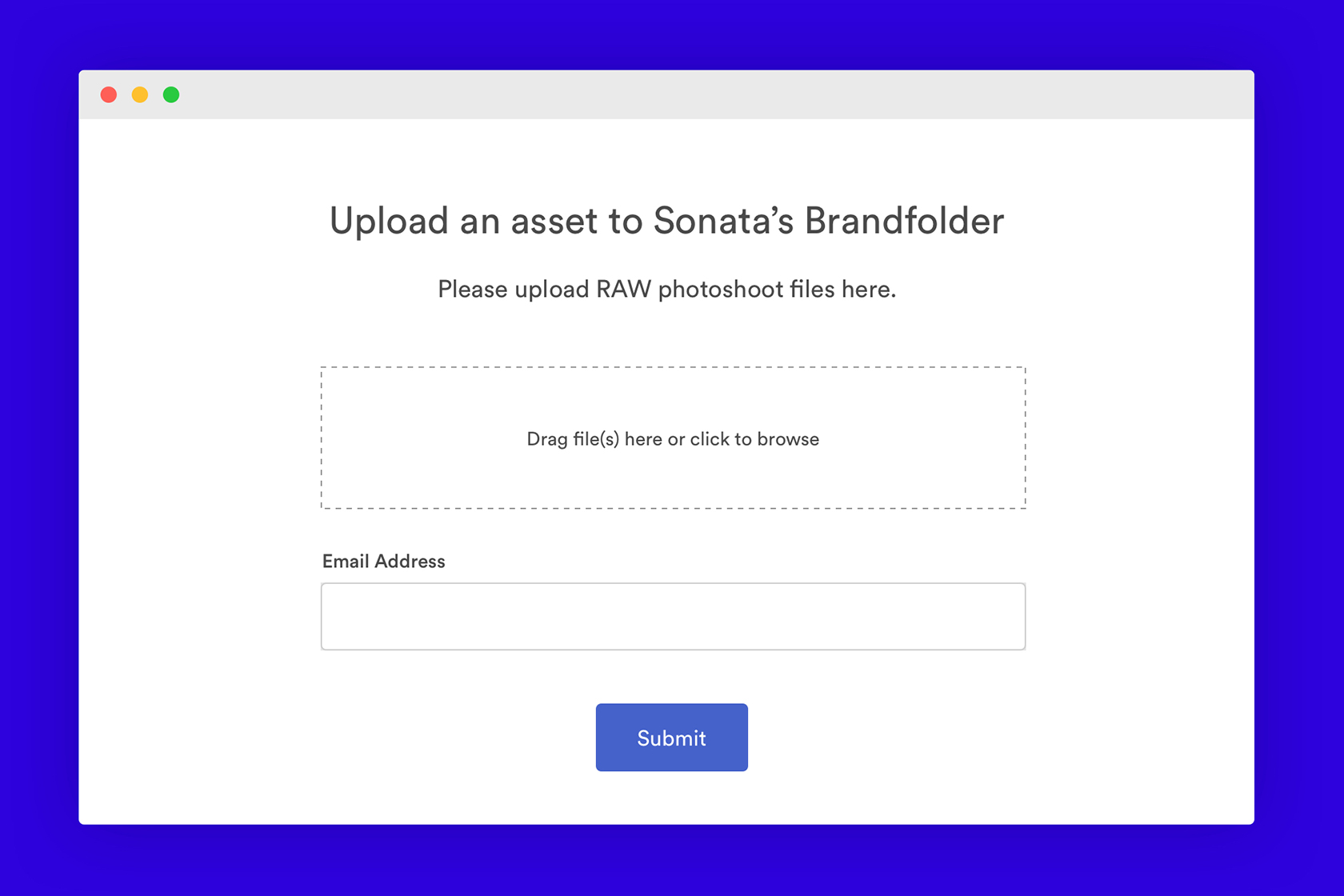 When sending these Guest Upload links, you can choose exactly where the asset is uploaded; whether you want it in your main Brandfolder library or a specific Collection or Portal. Once it's uploaded, you'll receive a notification letting you know the asset is ready for review. After the asset is approved, it becomes available for everybody else to find and use. No extra sharing required.
Note: If for some reason the asset is not approved, you can comment right on the asset to provide direction for edits. Remember, we allow unlimited guest seats, so you can communicate with creatives outside of your team on asset updates without restrictions.
Apart from managing new assets from outside creatives, we also allow you to set notifications for all new or updated assets that need to be reviewed and approved; that way admins and creatives can jump on reviews and get assets approved sooner.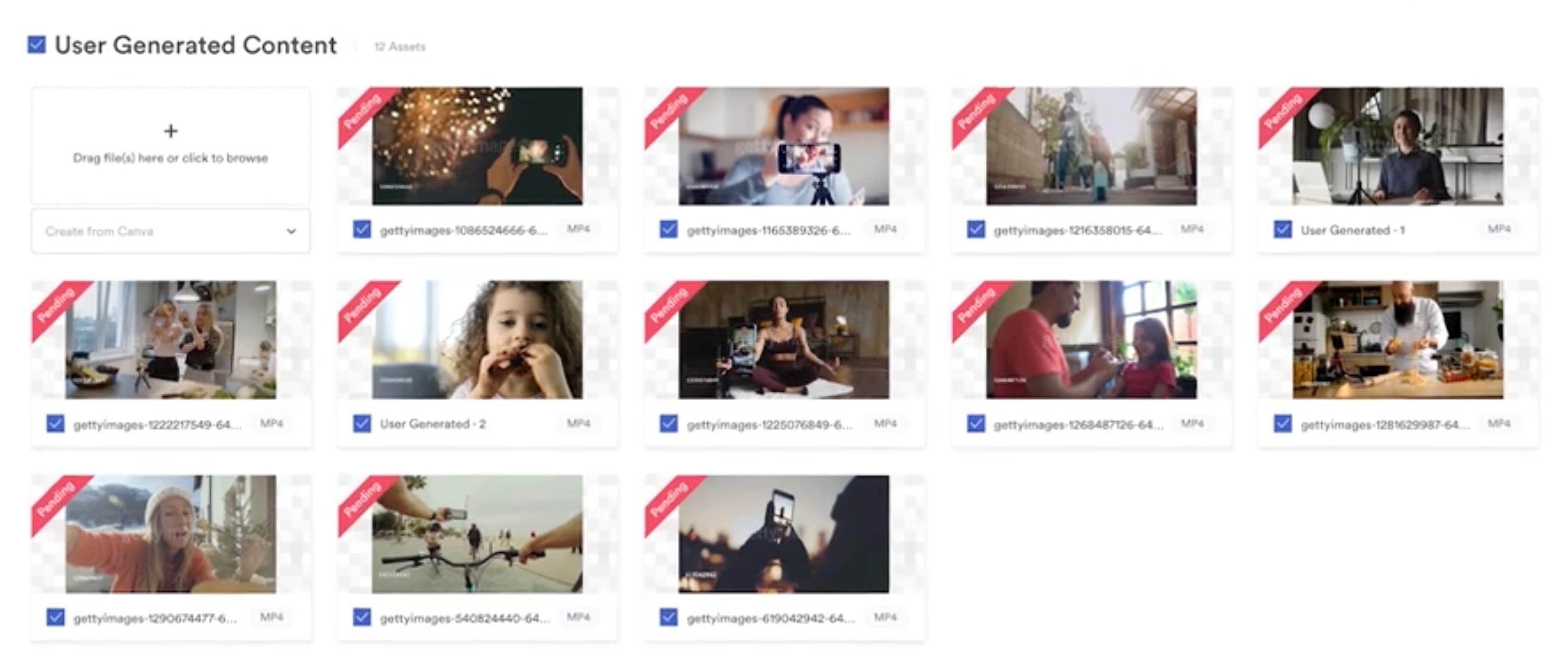 For example, many social media teams use Canva to create new digital content. After they've put together their graphic on Canva, they usually have to send it to somebody else for approval — over email or messenger — before it can be shared online or uploaded to your team's asset library. We make this process easier by integrating with editing tools like Canva so you can push assets directly to Brandfolder. Then, when new assets are pushed to Brandfolder, admins receive a notification that they're ready for review. And once they're approved, they're already in your main asset library and ready for publishing; this speeds up the review process and simplifies sharing.
Again, you have entire control over the review and approval settings in Brandfolder. You can select who is able to approve assets and choose when you want to require a review process. Teams modify their review and approval settings to speed up certain workflows and maintain better brand consistency; so you can set these up based on what works best for you.
Track How Your Assets Are Used & Keep Everybody On-Brand
Using a digital asset management system to manage social media content also makes it easier for your teams to stay on-brand. For starters, social media managers can feel more confident in what their teams are posting because their marketers are always pulling content from an updated asset library. Then, having the ability to require reviews and approvals for new assets and template downloads provides another layer of control.
Brandfolder also lets you implement better brand consistency by allowing you to create and share brand guidelines. With our Brandguide feature, you can lay out specific details about how to use (and not use) your branded collateral.
Many social media teams also use Brandguide to:
Explain their "brand identity," including their brand's mission, values, tagline, tone, personality, and ultimately how they aim to relate with their target audience
Establish their marketing goals and plans to achieve them
Provide information on their marketing strategies; this can include everything from how to post on different mediums, what hashtags to use, tips to improve SEO during posting, and notes about the desired social media presence
Post instructions for publishing on different social media accounts
To learn more about maintaining a cohesive aesthetic across all of your team's social media platforms, review our brand consistency checklist.
You can also view data and analytics about each of your assets to monitor how often they're being viewed, downloaded, and shared within Brandfolder. Our DAM assigns each asset a unique CDN link so you can embed your assets on websites and in email campaigns. When you use those CDN links to power your online content, we provide you with data about where the asset is embedded and how it's engaged with on the web.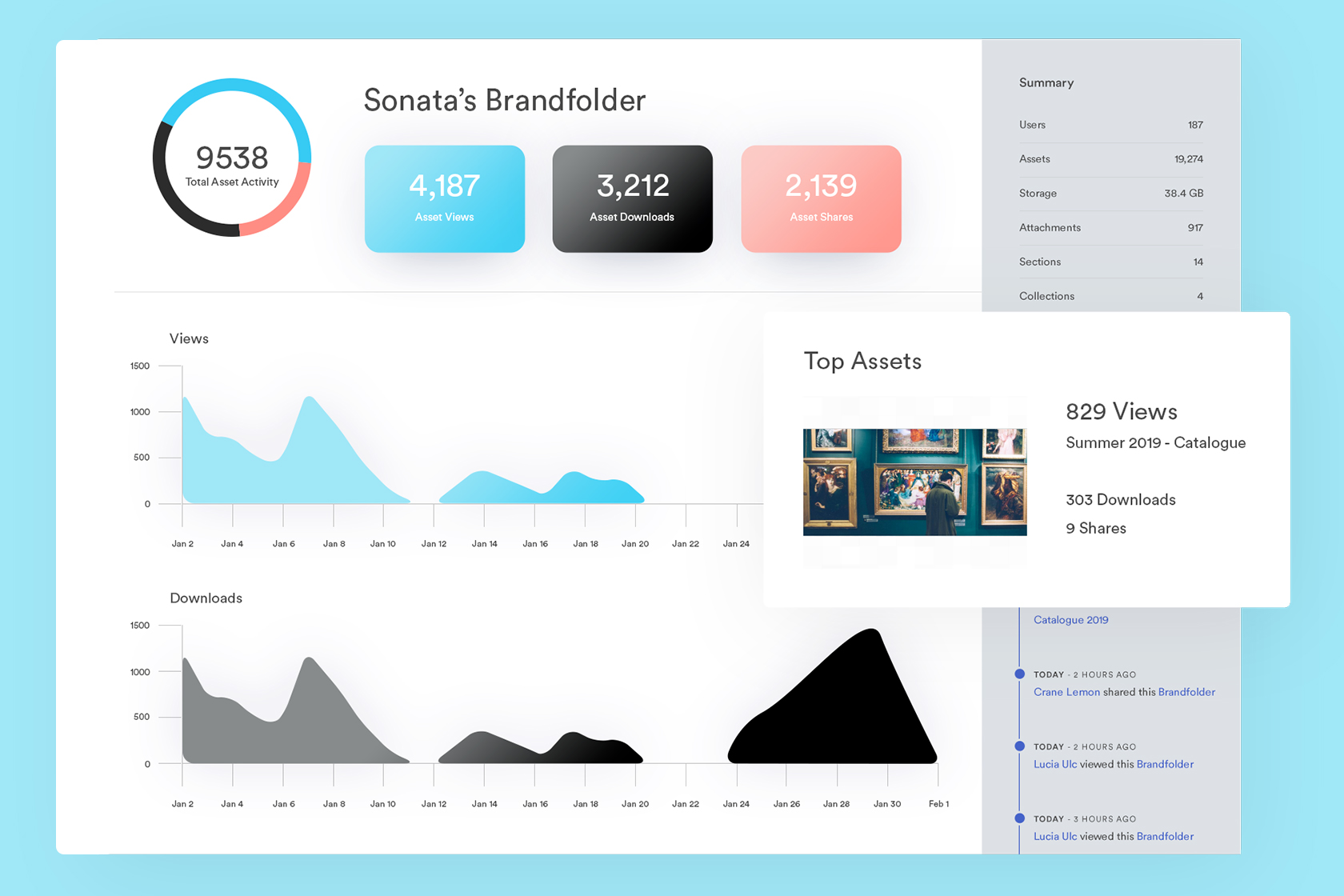 With this information, you get a better picture of how others in the company are using the assets and how your target audience is responding to them. In turn, you can use these insights to fine tune your marketing strategies.
Even better, when you use CDN links to host your content, it updates automatically whenever that asset is updated in Brandfolder. That way, your online content is always up to date.
Brand maintenance can majorly impact your team's efficiency and production. Download our eBook for tips on how to keep campaigns on-brand and on schedule.
Try Brandfolder to Keep All of Your Teams Organized
While we have a variety of tools to help you manage marketing assets, our platform is also built to support your other teams and their workflows, so everybody in your organization can operate more efficiently.
We're dedicated to helping each of our clients leverage their Brandfolder to work best for their teams' needs. Our customer experience team assists through onboarding, set-up, and training to make life easier for all of your teams. Our hands-on approach to support is the reason why we have a 99% retention rate amongst clients and why our support team is one of the best in the digital asset management industry.
To learn more about how Brandfolder can support all of your teams, get in touch with us for a free demo!