What sets good marketers apart from the great ones? Well, realistically it's many things, but among them is an insatiable desire to learn. Whether it's making their way through an RSS feed, keeping up with thought leaders on social media, or devouring an endless array of marketing and branding books (not for the faint of heart), great marketers are always looking for new things to learn.
You're spending a precious few minutes reading a marketing blog, so it's not a stretch to peg you as a marketer unsatisfied with punching the proverbial clock and heading home. To help feed your curiosity, we've put together a list of 9 branding books that will make you a better marketer. Enjoy, and let us know if we've left out any of your favorites!
1. Sticky Branding: 12.5 Principles to Stand Out, Attract Customers, and Grow an Incredible Brand, by Jeremy Miller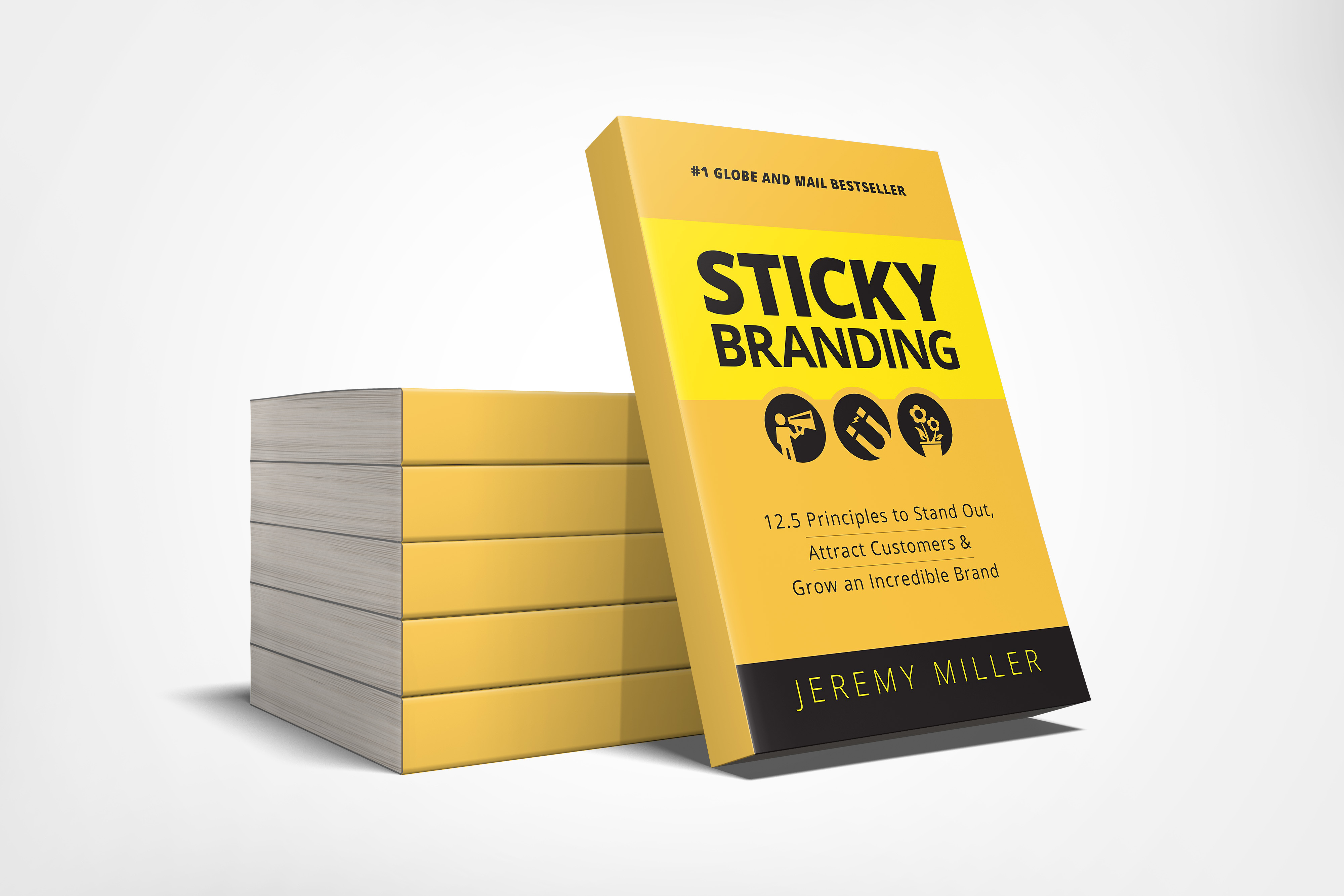 Named after his brand building agency, Sticky Branding, Jeremy Miller's book takes a deep dive into what makes companies like Apple, Nike, and Starbucks recognizable and successful. Based on a decade of research, Sticky Branding shares tried-and-true strategies for building a brand that's anything but ordinary. Buy it here.
"Sticky Brands bring together purpose, vision, customer service, passion, operational excellence, and strategy to deliver remarkable customer experiences. Customers don't beat a path to the company's door because of its marketing. Marketing hype scratches off quickly. Customers seek out Sticky Brands — and come back again and again — because those companies offer a compelling service and a memorable experience."
Takeaways:
When growing your brand, focus on one priority at a time.
Keep it simple. Can you describe your brand in less than 10 words?
Be courageous. Sticky brands are bold, meaning the challenges laid out in this book are not for the faint of heart.
2. Brand Thinking and Other Noble Pursuits, by Debbie Millman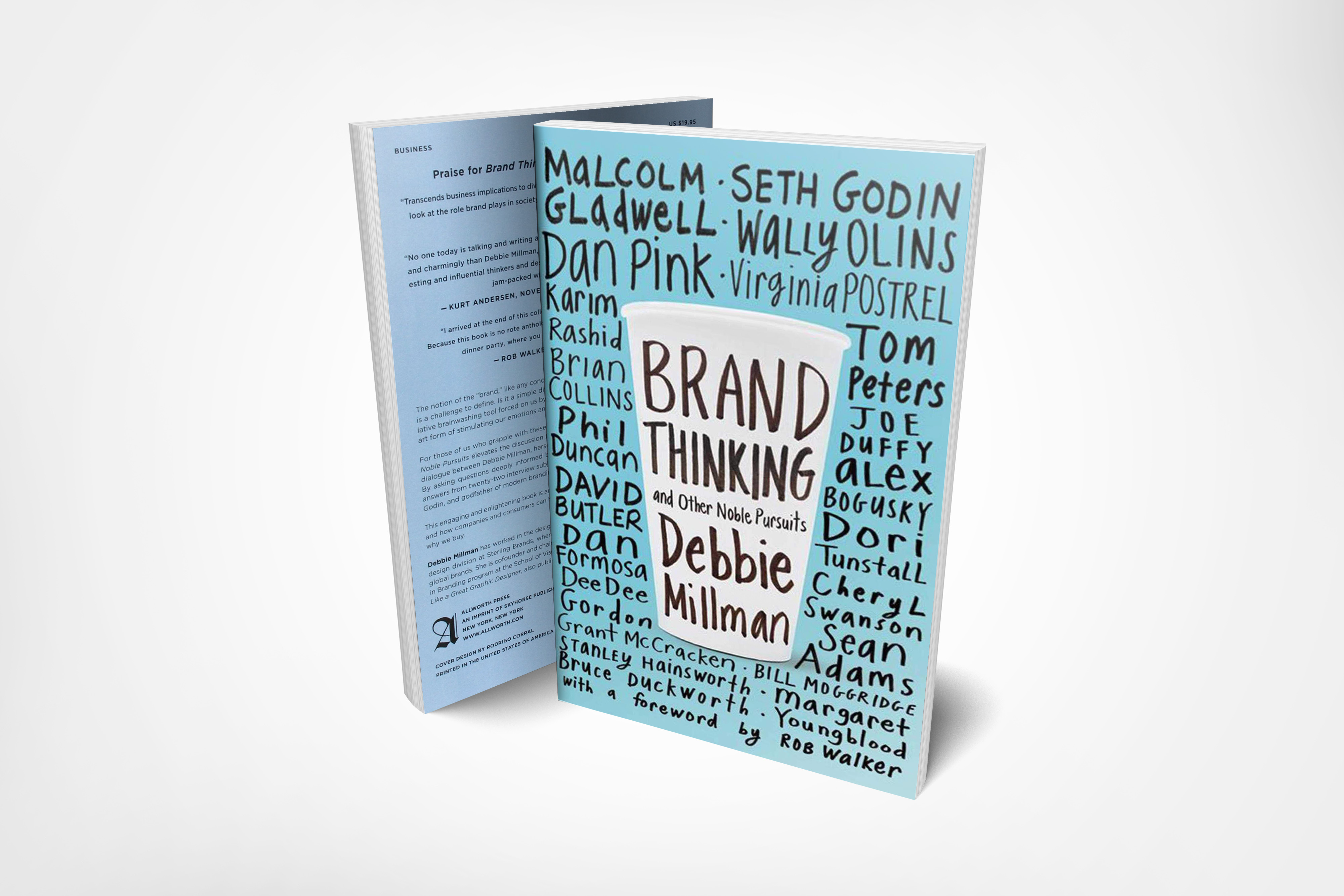 Millman, president of the design division at Sterling Brands, interviews 22 subjects for her exploration into brand thinking. From Malcolm Gladwell to Seth Godin, each chapter is a deeply informed conversation between Millman and fellow branding heavyweights. The result is an insightful page-turner you'll have trouble putting down. Buy it here.
"The notion of the 'brand,' like any concept that dominates markets and public consciousness, is a challenge to define. Is it a simple differentiator of the cereals in our cupboards, a manipulative brainwashing tool forced on us by corporations, or a creative triumph as capable as any art form of stimulating our emotions and intellect?"
Takeaways:
Focus on the story. Stories give people meaning and is how people experience the world.
Be ready to respond to change. Culture suffers when you fail to react.
Brand attributes are no longer the most important element. It's all about brand meaning.
3. The Brand Gap: How to Bridge the Distance Between Business Strategy and Design, by Marty Neumeier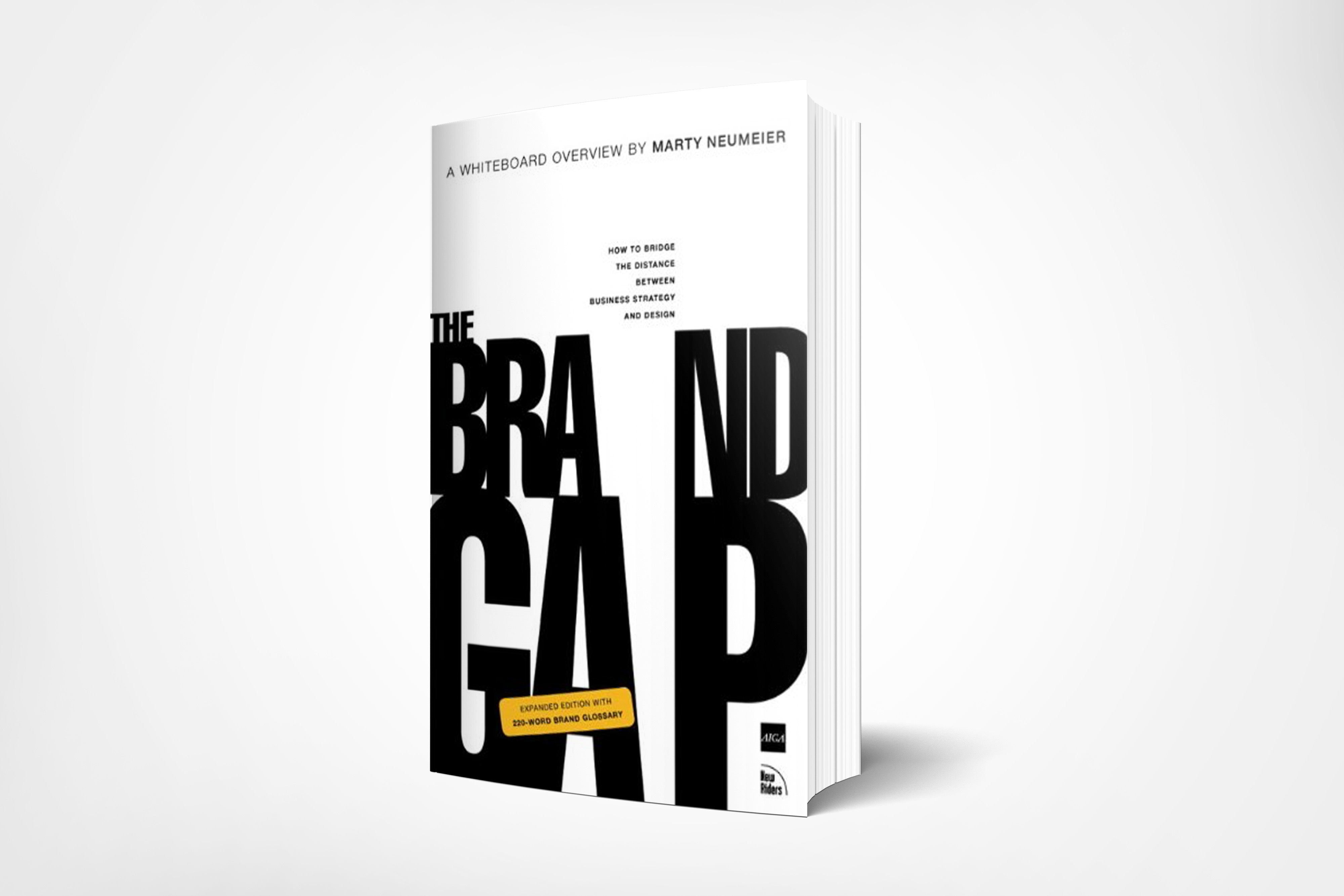 Looking for a book that presents a unified theory on brand-building? You've come to the right place. Neumeier takes a look at both the strategic and creative approaches to crafting a "charismatic brand" that's essential to your consumer's life. Buy it here.
"A brand is a person's gut feeling about a product, service, or company. It's a GUT FEELING because we are all emotional, intuitive beings, despite our best efforts to be rational. It's a PERSON's gut feeling, because in the end the brand is defined by individuals, not by companies, markets, or the so-called general public." "Each person creates his or her own version of it. While companies can't control this process, they can influence it by communicating the qualities that make this product different than that product. When enough individuals arrive at the same gut feeling, a company can be said to have a brand."
Takeaways:
People have access to information but are starved for time. Can your brand make it as easy as possible for customers to say "yes" to your offering?
Bring right and left-brained workers together to bridge the gap. Bring "magic and logic" together.
Your brand is a never-ending play. Every single person in your company is an actor. Your customer experiences this play every time they engage with your brand.
4. Ogilvy on Advertising, by David Ogilvy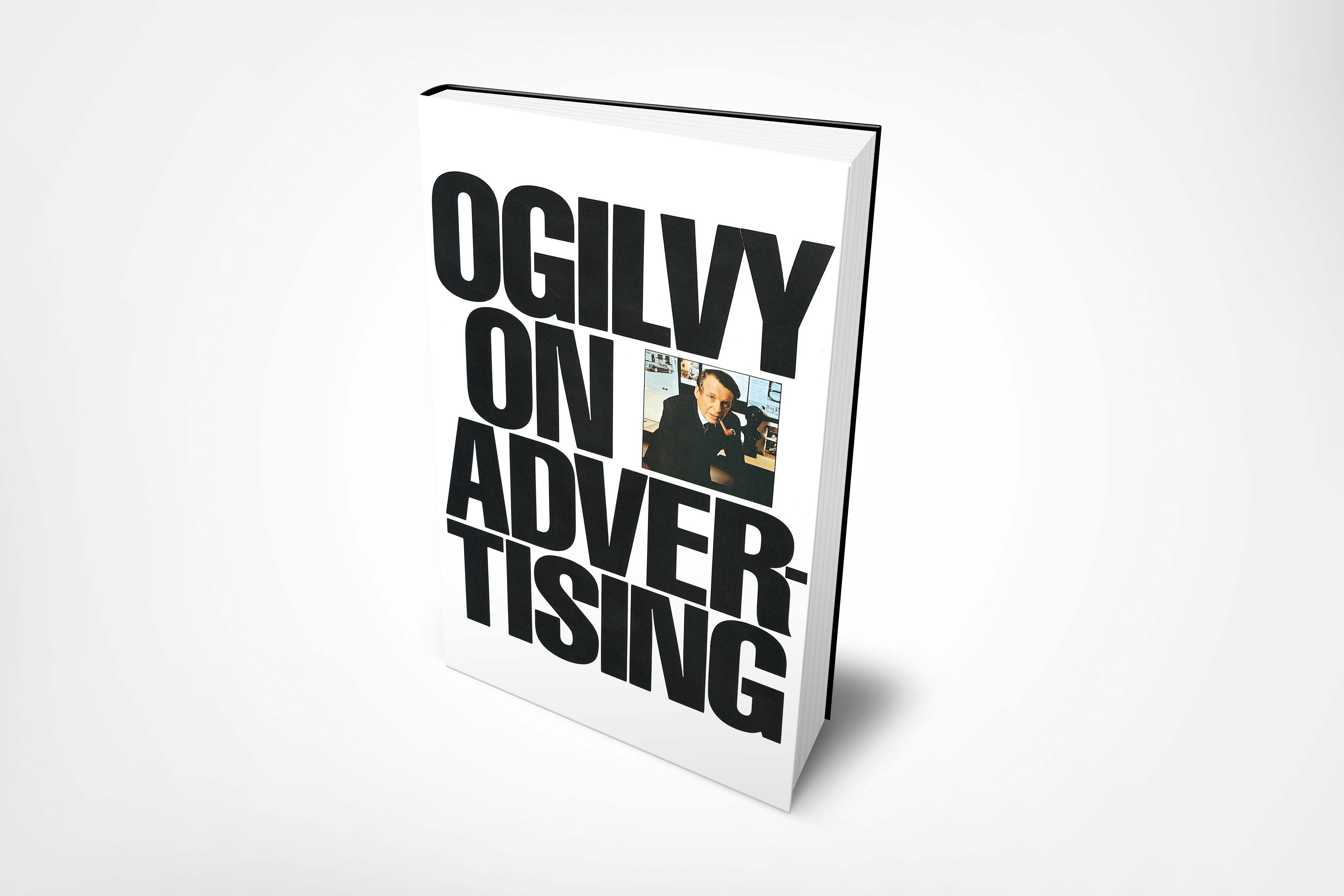 If there's a book on this list that needs no introduction, it's Ogilvy on Advertising. This book, from the father of advertising himself, is a must-read for brand marketers. It provides an essential overview of all aspects of advertising, from how to get a job at an agency to writing great copy. Just like you have to watch "A Christmas Story" around the holidays, this is one of the branding books you have to read when you get into marketing. Buy it here.
"Most campaigns are too complicated. They reflect a long list of objectives, and try to reconcile the divergent views of too many executives. By attempting to cover too many things, they achieve nothing. Many commercials and many advertisements look like the minutes of a committee. In my experience, committees can criticize, but they cannot create. Search the parks in all your cities You'll find no statues of committees' Agencies."
Takeaways:
Cleverness doesn't sell products. Focus on connecting with your audience instead of funny and witty messages.
To persuade people to take action, you must research and understand how they think. Then speak their language.
Remember you're not speaking to an audience, but an individual. Write and speak like you're talking to one person – no matter the medium.
5. What Great Brands Do: The Seven Brand-Building Principles that Separate the Best from the Rest, by Denise Lee Yohn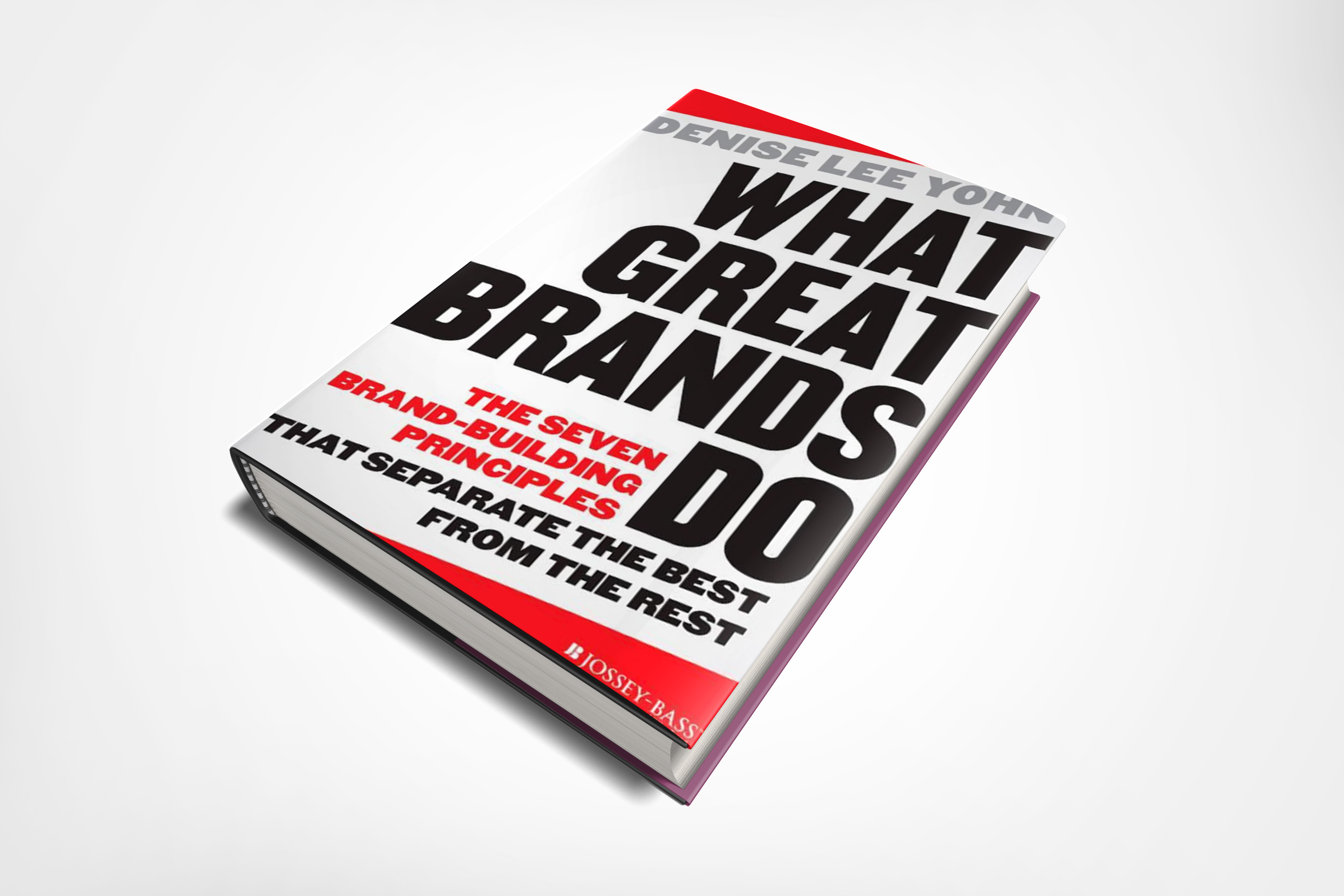 Lee Yohn's revered book breaks down the science of how great brands are built. She shares seven key principles that the world's best brands implement consistently. Plus you'll review case studies from brands including GE and IKEA. And Lee Yohn outlines strategies your company can start using right away for a better, stronger brand. Buy it here.
"Creating a Brand Toolbox is an important first step in fostering a strong brand culture, but the managers of great brands know that simply producing brand content and tools is not enough. They stage Brand Engagement Sessions featuring hands-on exercises and immersive experiences to ensure that brand understanding is followed with appropriate actions and decision making by their staff."
Takeaways:
Your brand toolbox should, fundamentally, contain an explanation of your brand strategy. Keep everyone aligned with your mission and why you do what you do.
Culture and values don't support business operations inside great brands. They are the brand.
Culture is the determining factor when reinforcing your brand with employees and customers alike. Culture-building is the first step to brand-building.
6. Brand Leadership: Building Assets In an Information Economy, by David A. Aaker and Erich Joachimsthaler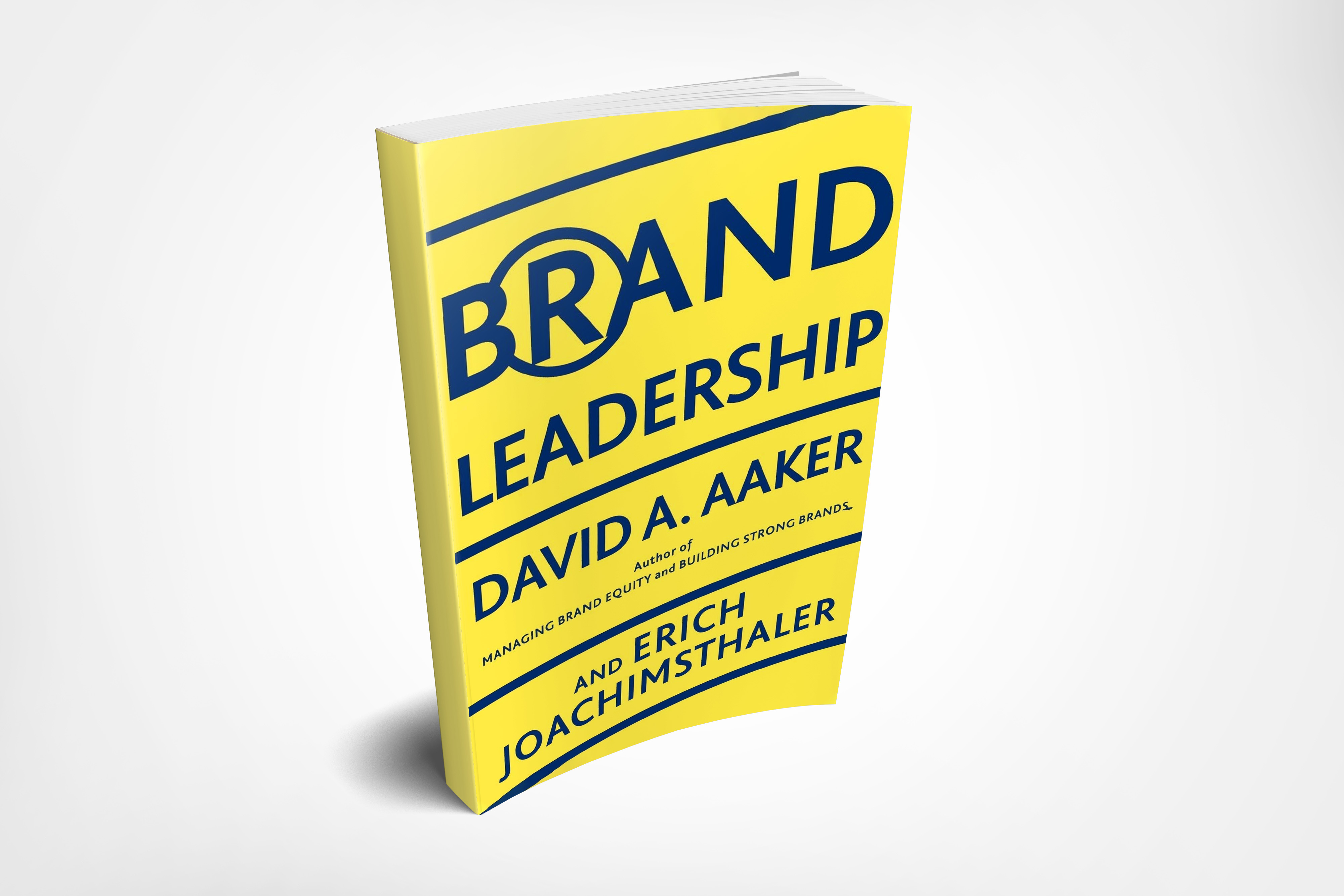 Packed with helpful diagrams, infographics, and incredibly entertaining storytelling, this book breaks down how to create an impactful brand identity. Learn from case studies highlighting Virgin Airlines, Adidas, McDonald's, and more as the authors share how to break out of the clutter with a strong brand architecture. Buy it here.
"A brand strategy can enable, sometimes crucially, the potential of an innovation to be realised. There are times when you literally need to brand it or lose it."
Takeaways:
For a brand to be built, strong brand leadership is required. This means a shift in organizational structure and the systems within it.
Brand identity can be used as a competitive advantage. Instead of chasing customers over price, focus on brand leadership.
Brand identity is the cornerstone of a strong brand strategy. Development and measurement of brand-building is what implements publicity.
7. Archetypes in Branding: A Toolkit for Creatives and Strategists, by Margaret Hartwell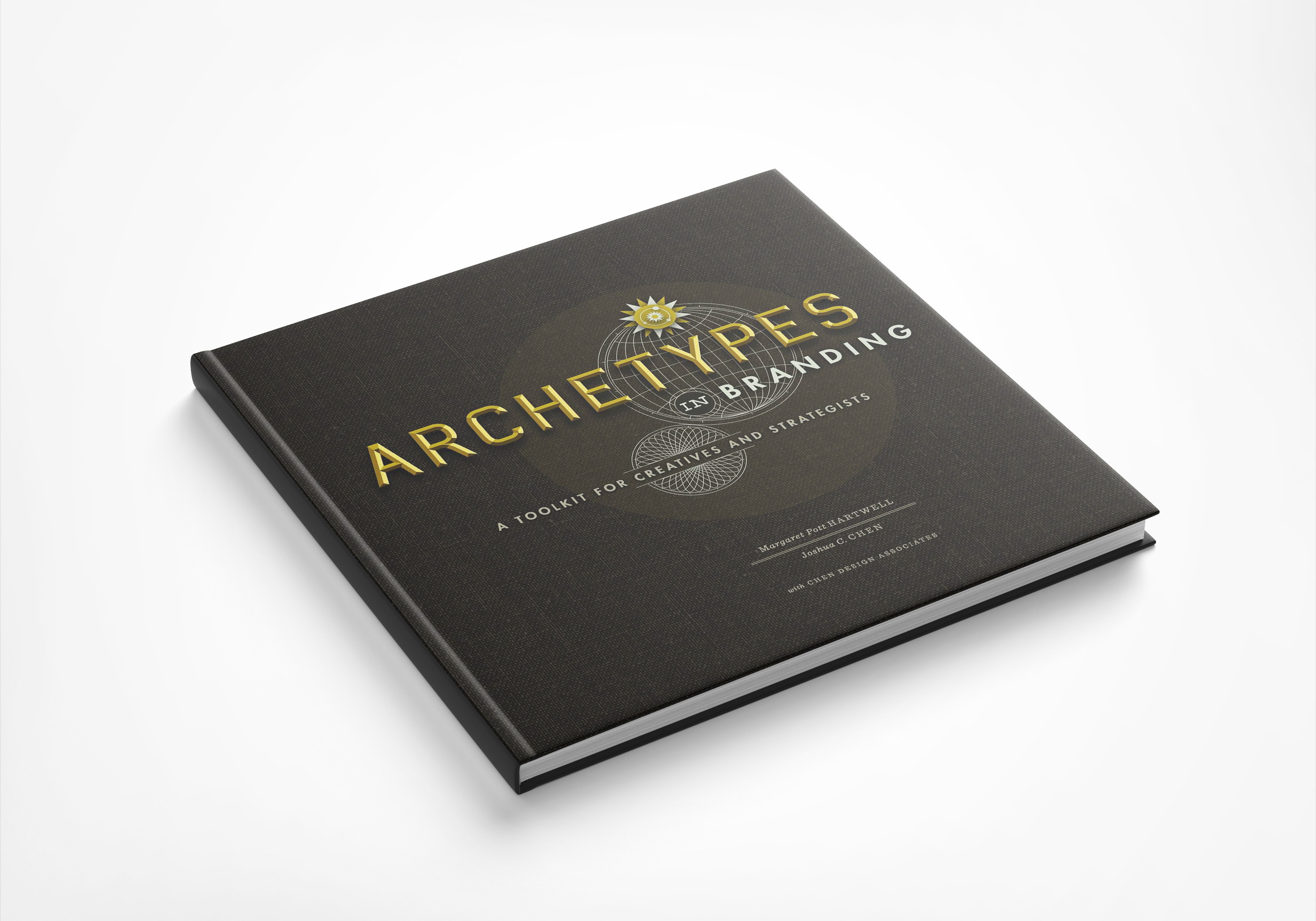 Building your first brand? You NEED this book. This interactive kit helps identify your brand's motivations, how it moves in the world, and why it attracts particular customers. With a companion deck of 60 archetype cards, you'll be able to nail down exactly who your brand is and how it communicates. Buy it here.
"Archetypes work because they bring a humanness to the essence of brand. They create shortcuts to making meaning and create relationships, because they create instant emotional impact which creates instant affinity."
Takeaways:
Archetypes shift our brains from the analytical to the emotional. They shift management from control to empowerment.
An archetype can be defined as universally recognizable character. They transcend time, place, gender and age representing an eternal truth.
Your brand isn't a logo or whatever you say it is. It's what people tell each other it is.
8. The Hero and the Outlaw: Building Extraordinary Brands Through the Power of Archetypes, by Margaret Mark and Carol S. Pearson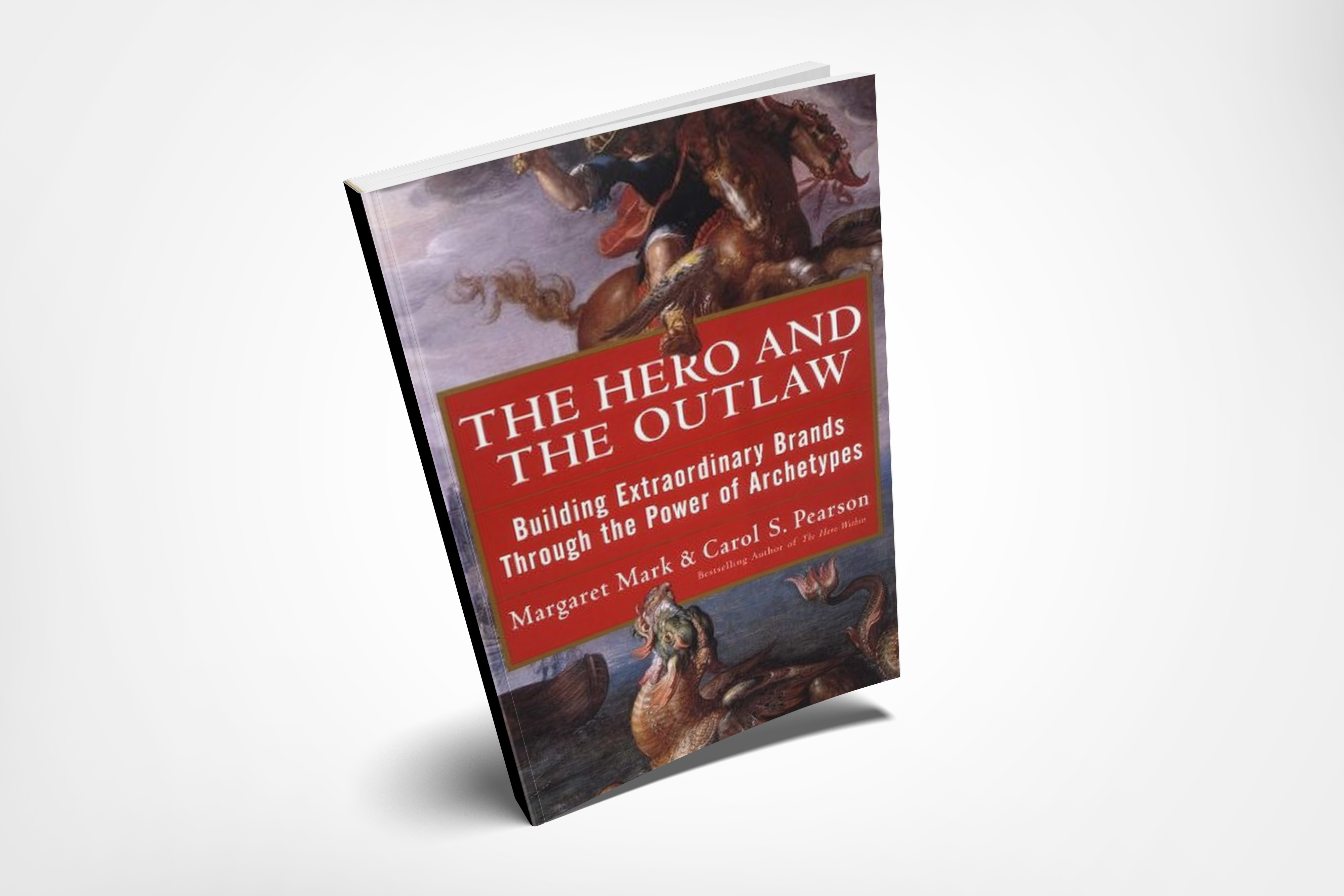 Mark and Pearson reveal how brand meaning works, how to manage it, and how to use brand meaning strategically. By sharing studies of Nike, Ivory, and other well-known brands, the authors break down the fundamental patterns that rule consumer's minds. Plus they share how successful brands leverage those archetypes for better branding. Buy it here.
"The new breed of consumer is not as trusting, as loyal, or as malleable as those of the past."
Takeaways:
To articulate brand personas within your company, use archetypes. Surveys can help flesh-out their perception of your brand.
Brand personas can help identify which archetype your personas fall under. Use this to develop an effective creative approach.
In short, understand perceptions to project your brand's truth.
9. Designing Brand Identity: An Essential Guide for the Whole Branding Team, by Alina Wheeler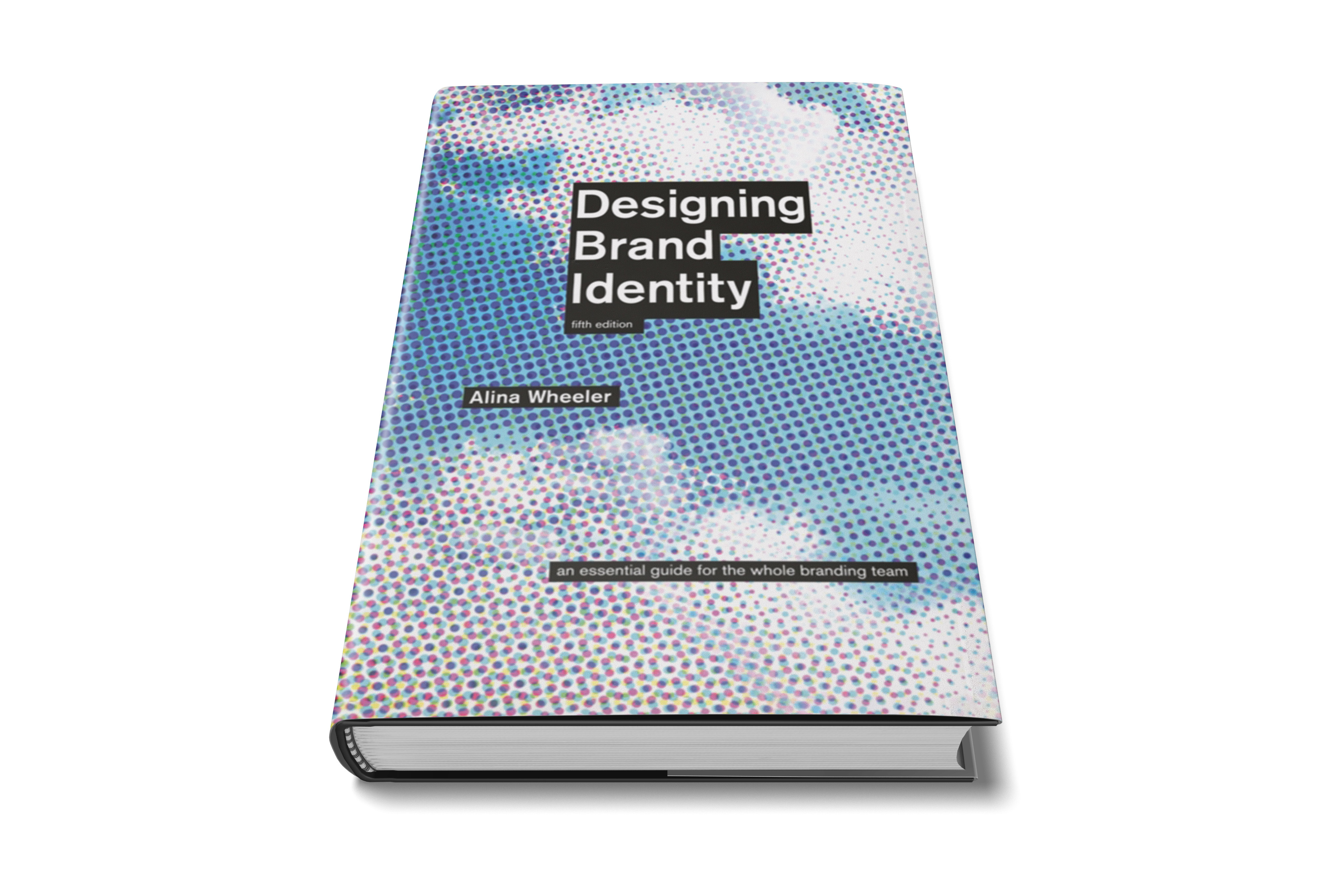 This book offers up a five-phase process for the creation and implementation of an impactful brand identity. Case studies and data highlight these steps. And you'll get a unique look into the latest trends in branding, from social networks to apps, video, and more. Buy it here.
"Brand is the promise, the big idea, the expectations that reside in each customer's mind about a product, service or company. Branding is about making an emotional connection."
Takeaways:
Good design continues to be a powerful differentiator. But we live in challenging times. Crowded marketplaces, global competition and an unstable economy or all factors for uncertainty.
A great logo has meaning. It features strategy, intelligence and visual form. Identity systems must balance coherence with flexibility.
Work thrives when there is strong leadership supporting it. That leadership must protect, preserve and grow brand as an asset.
As you look to expand your brand, we recommend exploring your current brand platform. Brandfolder is the perfect solution for creative and marketing teams to solve the most common problems faced with producing, managing and sharing assets across multiple team and channels.