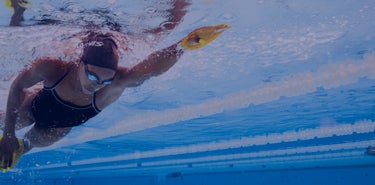 The FINIS Brand: A Show Stopper at the Pool
An interview with FINIS' Creative Manager
The FINIS Brand: A Show Stopper at the Pool
An interview with FINIS' Creative Manager

Becca WyantCreative Manager
What's your role at FINIS and perhaps you can tell us about your team size, expertise and partnerships with agencies and others?
The Creative Team is within the Sales & Marketing Team here at FINIS, and is in charge of leading the brand, both visually and vocally. We are a small and mighty team made up of three very passionate, talented, and strong designers. We take pride in our FINIS roots and mainly keep our creative production in-house. We work very closely with product marketing, product development and the sales team to execute impactful, creative assets that better our brand. Our team consists of myself, the Creative Manger & Photographer, who leads the team to consistently perform at high level and encourages each project as an opportunity to innovate. I also produce all of our photography, videography, and play a large part in creating our print designs and copywriting. Clarke Dolliver, leads our creative efforts on the digital marketing front. While producing our web based designs, he also keeps our website looking fresh and clean, runs our social media, and creates the artwork on our product packaging. And finally Mariya Kyoseva, handles our creative designs outside of the US and also produces all of our custom swimwear designs. It's incredible to have this wonderful team of many hats and various strengths help build the FINIS brand.
I learned about the FINIS brand when I was training for the Escape from Alcatraz swim race a few years ago. At that time, the brand seemed to be aligned with the most elite swimmers in the water. How did you expand the brand to be more broadly consumer friendly? Is this connected with the tagline "Simplify Swimming?"
So, something to know: FINIS loves swimming. It's a little crazy how much sometimes, actually. And we've always worked towards helping everyone enjoy the water just as much as we do. A couple years back, we went through a brand refresh and a large component behind that was to really highlight what our FINIS mission and vision stood for. When we introduced the 'Simplify Swimming' tagline – it was because that really was the heart of it. FINIS has always been known for our high quality products and innovation – which is great, and we're very proud of our strengths, but we wanted to demonstrate that our brand fits such a wide range of water lovers. Our visual presence used to be very dark and intense, that gave off an elite focus, and we weren't focusing some of the uniqueness of our brand. (I mean, we have Mermaid™ fins!) We made a very conscious decision to keep our brand premium and innovative, but also light, fresh, fun – a true invite for everyone to enjoy the water. Breaking down the complexity of our products to show our consumers how much we can help simplify their swimming was the way to go.
If the brand team at FINIS could influence anyone in the world of fitness what demographic would that be? Kids? Elites?
We exist to help everyone in the world enjoy the water – and by doing that, we have to think about the people in the swimming world that are big influencers. With a strong relationship with those supporters, and the love for the sport swimming­ – we know that we can really make an impact. For us, that's swim coaches. We share a deep-rooted passion for helping swimmers and we both geek out on ways we can make that happen. Our strength has always been in our technical training products and education, and this demographic really understands the heart of being a swim fan and how to improve their swimmers to make them faster and stronger.
What is the one word that describes the FINIS brand - other than Californian!
Well, there are some of the obvious go-to words to describe FINIS, like 'awesome' and 'amazing' – but I think one word that fits the best is: Fresh. Why I say fresh is because it not only reflects the lightness and brightness of our visual presence, but it also encompasses our endless innovation and premium production. Here at FINIS, we are constantly inspired and looking for ways we can spice up the world of swimming. Whether that be a new product that will help improve your swimming, educational visuals to help inform swimmers, or 'getting to know' videos on our elite sponsored athletes. We like to keep things fresh in the swimming market – and we're always embracing challenges along the way.
Innovations in consumer and competitive swimming are few and far between - especially, if you aren't talking about fabrics and materials. FINIS' background in uncommon innovations like the Swimmer's Snorkel and the Monofin are extraordinary. How has this innovative foundation shaped the brand?
John Mix always asks Team FINIS, "With the knowledge we have amassed over the course of time since we began, how can we further impact the world of swimming?" And though this answer is always changing, we remain focused on the central idea: to simplify swimming for the athlete, coach, beginner, and lifelong swimmer. With this mindset, we always look at what is out there in the swimming market and how we can solve problems that are in need of solutions and ways we can possibly improve on something classic. We are eager to see what the future holds, and with technology evolving and new doors opening, we are embracing the change and challenges – that's what innovation is all about for us. We have thirsty minds here at FINIS and it's always pushed our brand to stay fresh.
What are the brand awareness strategies that FINIS uses? It is clearly an emerging, aspirational brand in a competitive space. How do you go about becoming part of the conversation among other water fitness brands?
FINIS has a love for sharing knowledge, telling stories and learning more. We pride ourselves on being educators and we make an effort to truly simplify swimming. Because in the end­ – we get it, and we like to make swimming a conversation that anyone who enjoys the water can have. By making an effort to showcase the fun, authentic, and educational side of the FINIS brand we've played a large role in making the water more welcoming to all swimming abilities. Building strong connections with teams, swimbassadors, swim schools, and our sponsored athletes really makes our brand whole. If we see our products in someone's hands, we ask them about it and what they think. If someone asks, we listen. We take notes and make necessary changes to better our products. Most importantly, we have a whole lot of fun doing it­ – and anytime you see someone having fun doing what they do, and someone loving what they get in return, the love and enjoyment spreads.
At Brandfolder, we see that yellow is an emerging primary brand color. Why did FINIS select it?
Oh, we sure love our FINIS yellow. That may be a little bit obvious…because it is everywhere! Yellow does mean a lot to us. Not only does it symbolize happiness, sunshine, hope and clarity – but we also view it as our 'show-stopper' at the pool. Originally we started with blue when FINIS first began, but we wanted our products to stand out more in the hands of our consumers. And nothing quite beats walking on a pool deck – whether it's a swim practice or a lunchtime swim – and seeing pops of yellow everywhere, and knowing that that's FINIS. We love this being our signature color and constantly feeling energized by its brightness.
What resources does the FINIS brand team rely on? Influencers? Podcasts? Books?
I've always been a strong believer on hands-on inspiration. Jumping into new experiences or attending design events has always been eye-opening for me, and I encourage that for the members of the Creative Team. Yes, there's always the Internet and its endless possibilities for research – but sometimes simply swimming with our products on our lunch break, talking to our elite athletes about their training, or going to San Francisco's Design Week, can bring a better, or maybe new, understanding of our brand message. (Not to mention our CEO, John Mix always has a great book or podcast to share with our company every Monday morning that's always interesting to learn more about.)
What's the most effective marketing stunt that FINIS has ever undertaken?
Every year we have a FINIS booth at the ASCA World Clinic, which is a very large coaches' conference. We love the relationships that we have with coaches and swimmers alike, and what makes this event so great for us, is it gives us the opportunity to get some face-to-face time with coaches that are really making an impact in the swimming world. At this last year's conference, we had just introduced our latest strapless paddles that gives swimmers instant feedback on their stroke to improve their technique – and we wanted to get it in the hands of every coach that was attending the clinic. In each of the coaches' bags that they received upon arrival to the event, they all had a card to fill out to come by the booth to get a free pair of paddles. This simple inclusion made our booth a popular one. Not only were people coming by, and learning more about these innovative paddles – but we got to talk about so much more about our brand. We built a lot of great relationships and got to talk with some true FINIS fans.
What are tips that you would offer other brand leaders who are also developing premium, high quality brands? What do you do to set FINIS apart from other swim brands who focus less on the high end?
I think it's a combination of two things: One is to establish the right voice, style and behavior. The second would be to make sure to use the right outlets to express them. We can often get caught up in all the different platforms and the latest technology crazes, that it can sometimes steer us a little off track of what would make the most sense for your brand. FINIS targets various markets, and it takes time, testing, and learning to find the right balance for each of those to make the greatest impact. Our brand has a lot of character and we want to keep things real. We mean what we say, and say what we mean – and that true authenticity and our fun personality helps set us apart. I think finding something that adds that human touch to a brand is key. Something that people can relate to and fall in love with. For example, on a social media stand point, we have Fin The Paddle, (which is one of the swim paddles that has a face drawn on it). And we post the FINIS adventures he goes on­ – whether that be hanging out with one of our elite athletes, a lunch time swim, or even our tour guide swim conference. It's something that makes us recognizable, it's a little silly, but very simple.
Lastly, what one individual has influenced the FINIS brand more than any other? John Mix?
If there is one individual that truly influences the FINIS brand, it's our CEO and Co-Founder, John Mix. Having a leader who truly believes in endless innovation, building great relationships and is passionate about the world of swimming – makes it easy for us to love what we do, and that inspires us to make the FINIS brand sing. John's always in the office and brings that energy level up to 11 – he's the kind of person that can walk into a room, and before you know it, you're excited and jazzed about what's to come. And being very involved with every step of the process of our products, he makes sure that we're doing the right thing that will make the best impact. He's the one who built FINIS off of the idea of introducing a monofin to the competitive swimming market – and now we're doing everything from training products, technical racing suits, mermaid fins, and so much more. With where we are now and where we are going, he's given us that belief that we can create the life we imagine, and the future will unlock the dream products of tomorrow.