The Best Thanksgiving Ads of All Time (According to Us)
Ahh, Thanksgiving. That all-American holiday that rarely gets the marketing love of it's younger sibling, Black Friday. Overshadowed, under-commercialized, and always delicious, Thanksgiving is overflowing with marketing opportunities that often go untapped. So today, we've put together some of the best Thanksgiving ads of all time — as frothy and enjoyable as that pumpkin pie you'll be eating for breakfast the rest of the week.
1. Robert DeNiro and Billy Crystal Promote NYC Tourism
Airing during the Macy's Thanksgiving Day Parade weeks after 9/11, this commercial encouraged everyone to "come find your New York dream" and to "be a part of the New York miracle." It was funny, simple, and an appropriately subtle way to encourage healing and hope.
2. Giving Thanks — Holidays with Walmart
Walmart took a decidedly emotional approach to their first holiday ad of the 2016 season. A 30-second spot featuring families gathered around Thanksgiving tables praying and discussing the difficulties they had faced throughout the year, as well as soldiers taking comfort in each other over a holiday meal. Set to a rendition of The Beatles' "Come Together," the message is clear: find family wherever you are.
3. Jennie-O Oven Ready Turkey
A good Thanksgiving ad or one of the best Thanksgiving Ads ever? We'll let you decide. A fews years back, Jennie-O made a commercial that will continue to resonate with anyone who has ever tried to prepare a turkey from scratch. Dramatized? Maybe. Hilariously relatable? Definitely. A simple tagline of "Tired of wrestling with turkey?" wraps things up neatly.
4. Metlife's "Happy Thanksgiving Charlie Brown!"
Remember these?! Metlife struck a nostalgic tone in the 80's with a string of commercials starring Peanuts. It was a smart move, because in an era before DVR fast-forwarding capabilities, who's going to change the channel on Charlie Brown?
5. Publix Thanksgiving 2014
"To the overcooked, the overfed, the overtime…" Strong copy anchors this feel-good commercial by supermarket chain Publix. Thanksgiving togetherness is the thread that binds each of these ordinary moments (family arriving at your door, naps in front of the TV, etc…) together. Their parting message? "Here's to the day that may not be flawless, but it's always perfect."
6. BMW "The Best Fall Tradition There Is"
BMW nails the messaging in their 2016 Thanksgiving commercial. "It's a tradition we all have…it's called the road home, and it's the best tradition there is." The language is elevated with the subtle use of BMW vehicles carrying families home, lighting a late night game of football, and transporting food. It's measured, it's unique, and it shows how far a Thanksgiving message can go.
7. Stove Top's Artisanal Hipster Pilgrim
The videos for this campaign are sadly no longer available, but they could not take the print ads from us! Last year, Stove Top sought to battle the rising trend of millennials armed with multi-step, inspirational Pinterest recipes to create the most Instagram-worthy Thanksgiving ever. The result was CP+B's brainchild, Artisanal Hipster Pilgrim.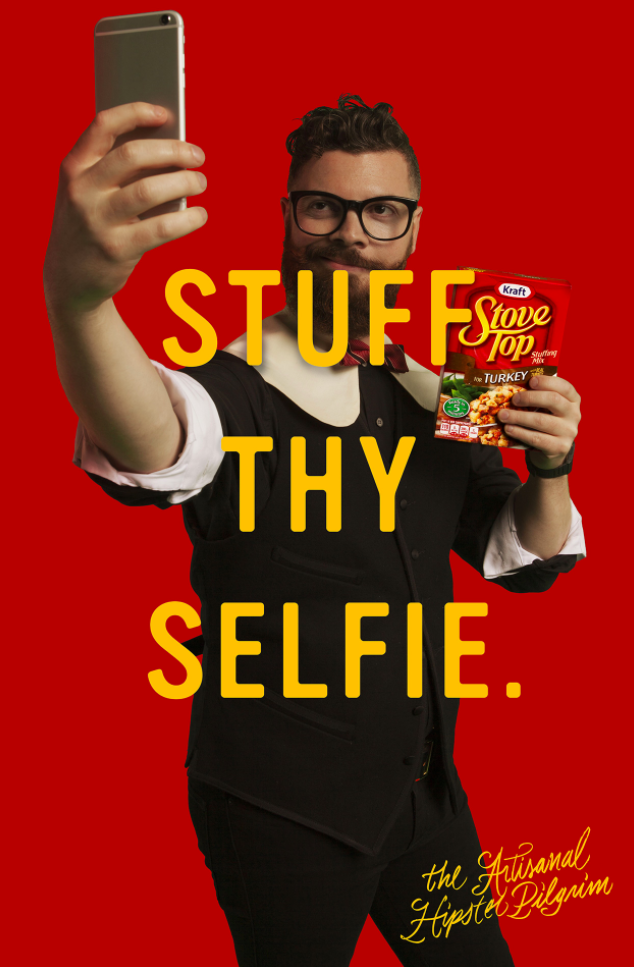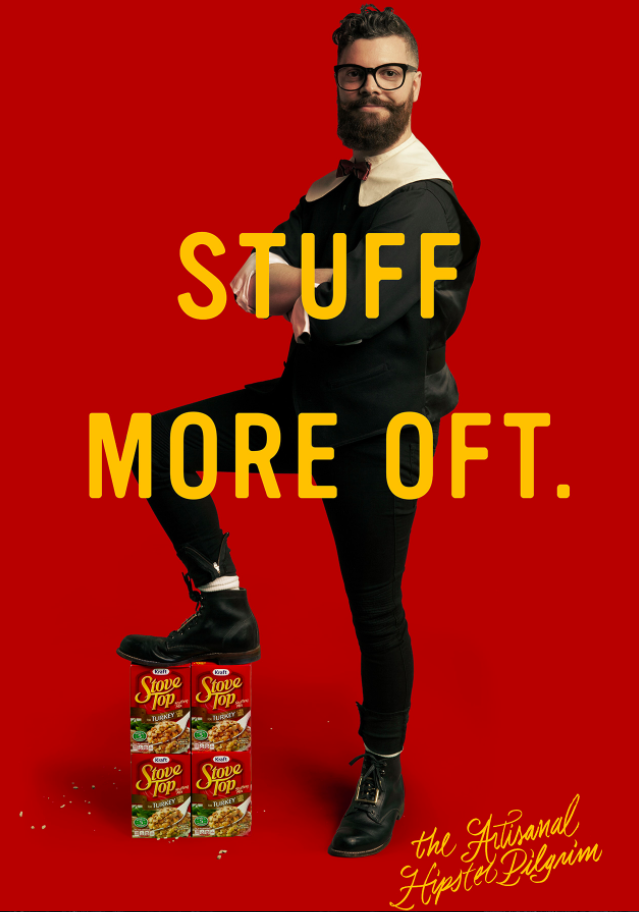 8. REI #OptOutside
It's a Black Friday campaign, but it's too iconic not to include in this list. In 2015, outdoor company REI rocked the retail world by announcing it would close its doors on the biggest shopping day of the year and pay its employees to get outside. They garnered 2.7 billion PR impressions in the first 24 hours of their announcement and social media impressions rose 7000%.
Today, #OptOutside is a movement that other retailers are clamoring to take part in. REI now hosts a page on their website just for #OptOutside. Enter your zip code to find great hikes or rock climbing spots near you, see hashtagged images from last year's participants, and pledge to #OptOutside this year. It will go down as one of the riskiest and most legendary campaigns of all time, and it certainly deserves the hype.
One thing we can all give thanks for is innovative advertising and inspiring branding. We love helping brands tell their unique stories through Digital Asset Management (DAM), and we'd love to help yours. Get a free quote today.
Happy Thanksgiving! Oh, and don't forget to enjoy a steaming mug of "Hot Dr. Pepper" over the holidays. Something's got to take the edge off, right?