Brand Academy Chicago: Rand McNally's Rebrand & KCD's Brand Perception
Last week we traveled to the "Windy City" for Brand Academy Chicago, our fourth Brand Academy event. (Previous stops have included Denver, San Francisco, and New York.) Because these events are so heavily focused on the cities in which they are hosted, I wanted to recap some of the awesome material presented by our fantastic speakers, so their great advice could live forever on the Brandfolder blog.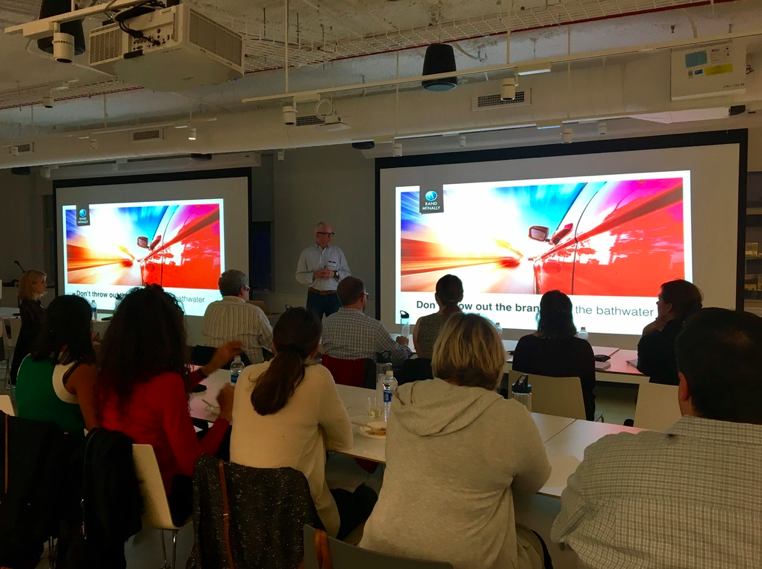 If you aren't familiar, the Brand Academy series has a very open format. We choose major metropolitan areas and reach out to customers in that area, asking them to share their branding wisdom. For Brand Academy Chicago, we were lucky enough to get speakers from Rand McNally, and Kenmore Appliances & Craftsman Tools on the agenda. We let our speakers talk about whatever resonates most with them, as long as it pertains to branding.
Rand McNally's Rebrand
In this case, the evening kicked off with Joerg Metzner, the Design Director at Rand McNally. Joerg took attendees through Rand McNally's most recent rebrand, in addition to sharing the ways in which Rand McNally is changing as a company. (One anecdote that stuck with me: Rand McNally's roots are deeply tied to printing. During the great Chicago fire, the company buried their printing presses on the shores of Lake Michigan, saving them from destruction.)
As he talked about the rich history of the company, he also shared real examples of their evolution as a brand. This was reflected in their most recent rebrand which included updating their logo and creating a brand flag for use across all of their marketing materials, both digital and print.

Joerg also called attendee attention to this quote by Massimo Vignelli:
"A logo gradually becomes part of our collective culture; in its modest way it becomes part of all of us. When a logo has been in the public domain for more than fifty years it becomes a classic, a landmark, a respectable entity, and there is no reason to throw it away and substitute it with a new concoction, regardless of how well it has been designed."
Joerg's point is that Rand McNally has been around for so long (over 160 years) that their redesign didn't need a complete 180. Instead, they needed to update the look and feel of the brand while remaining true to their roots.
They also used the rebrand as a means to review other brand assets, like their product lines.
Before the rebrand, each line had it's own logo and it was almost competing against their own brand. Joerg wanted to simplify everything so that the actual brand (Rand McNally) stood out the most, not the individual product lines. That change looked something like this:
Before:

After:

Joerg's presentation was a great reminder of how a rebrand can help to redefine your brand and it's importance. Joerg showed dozens of logo concepts before unveiling the final result. Another thing I found very impressive: his team handled the entire rebrand internally, and they were able to finish in only three months.
Brand Perception: Kenmore Appliances & Crafstman Tools
Next we shifted gears and listened to Brian Jochum, Senior Marketing Director for KCD Brands, discuss the importance of content marketing and relationship building as it pertains to the Kenmore and Craftsman brands. Brian talked about changing the way you perceive your brand — your brand should act and think like a media publisher. Treat your brand like a newsroom and cultivate relationships with consumers, instead of fostering one-off sales transactions.
Brian broke this down by discussing three ways to achieve a media publisher feel for your brand. First, start with micro-moments by clearly defining your brand purpose and aligning it to consumer interest to create relevant content. Once you've figured out your micro-moments, conduct a content symphony. You can do this by acting as a conductor, ensuring that all of the moving parts that permeate from your brand are creating an in-sync experience. Lastly, you need to let your consumers help you by using their engagement to drive the conversation.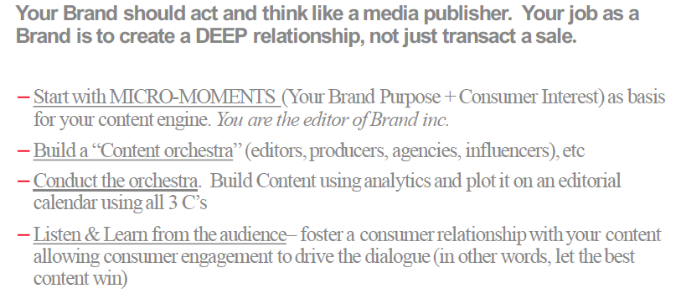 Brian shared two examples of how KCD Brands does this on their own platforms, which far outweigh the benefits of building relationships on borrowed platforms (like Facebook or Instagram). It's better for your brand to maintain traffic on your own website or blog, so figure out the best places to send your audience and build from there.
Craftsman Club is a community website driven by the hardcore Craftsman fans themselves. Members are encouraged to contribute by starting discussions, answering questions, and connecting with each other. In twelve months, this online community saw 3.2 million page views. Having this site allows Brian to really get into the minds of Craftsmans biggest customers, helping to build those relationships to foster the most relevant content for their target consumer.
Here's a real profile taken directly from Craftsman Club. The information, provided by Eric himself, is invaluable to Brian as the person responsible for marketing Craftsman products.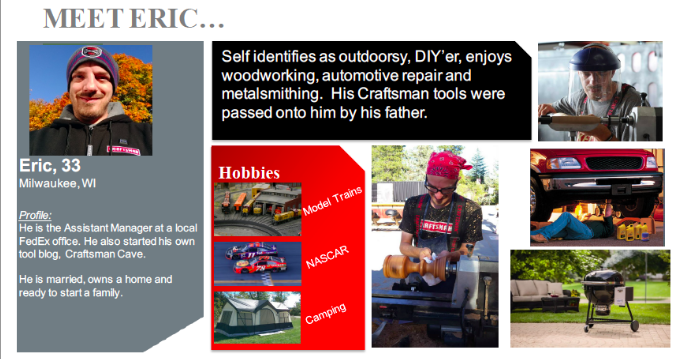 Both presenters also made sure to highlight the various ways in which they use and rely on Brandfolder, which was great to hear. By having one visual place to manage important assets, whether they're for a rebrand or to enhance your content engine, the overall team productivity and brand consistency increases, helping to continue to build the overall value of your brand.
Thanks to everyone who made Brand Academy Chicago a success. And let us know if you'd like Brand Academy to come to your city next!
To learn more about how Brandfolder can help your organization, contact us today.