Brand Collaborations: Our Recent Favorites and Why We Love Them
When an organization and all of its marketing efforts are operating at their absolute best, a brand begins to function on a higher level. As we've all witnessed, a consistent experience with a brand — from its marketing to its customer service, product design and everything in between — creates a personality. Be it heartfelt, goofy or just straight-up weird, we all have a few brands that come to mind. And as marketing geeks, we believe there's nothing better than when two of these brands and their "personalities" mesh to create something even greater.
But any time two personalities come together, there's always the potential for conflict. For collaborations to be truly memorable and impactful, it's critical that each brand stays true to its values, retains its visual integrity, and remains recognizable to customers. This is much easier said than done!
We've rounded up some of our recent favorite brand collabs that have managed to do all of these things well, and we've included a peek behind the curtain as to why we love them. Enjoy!
1. Tesla X Nosotros Tequila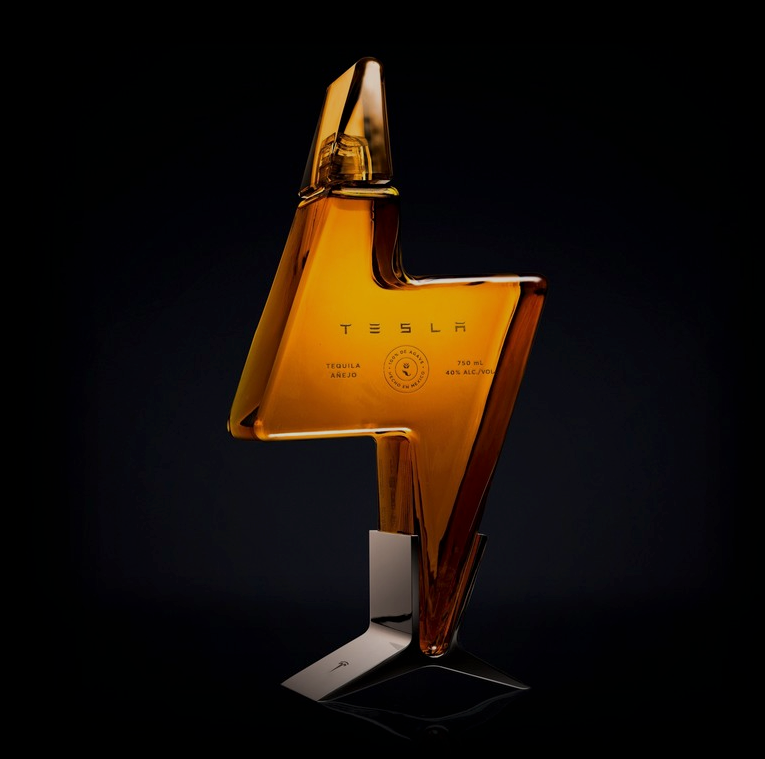 The Collaboration:
Tesla Tequila arrived in late 2020, giving Tesla another leg up on its coolness factor. To no one's surprise, the tequila, which came in a hand-blown lightning-shaped bottle, sold out almost immediately. It retailed for $250 a bottle and was produced by Nosotros Tequila, a spirits company based in Southern California.
Tesla's website describes the tequila as "an exclusive, small-batch, premium, 100% de agave tequila añejo made from sustainably sourced highland and lowland agaves. Aged for 15 months in French oak barrels and into a hand-blown glass bottle, Tesla Tequila features a dry fruit and light vanilla nose with a balanced cinnamon-pepper finish. Best enjoyed as a sipping tequila."
Why We Love It:
Tesla is widely known for its beautiful branding. From its sleek vehicles to branded apparel, the brand knows how simple and cohesive creative can be markedly memorable. Extend this look and feel to spirits and you better believe you'll have a massive following. While the tequila sold out quickly, today's it's reselling for almost $1,200. Car and whiskey fanatics combined = collaboration success!
2. Dôen X Ergobaby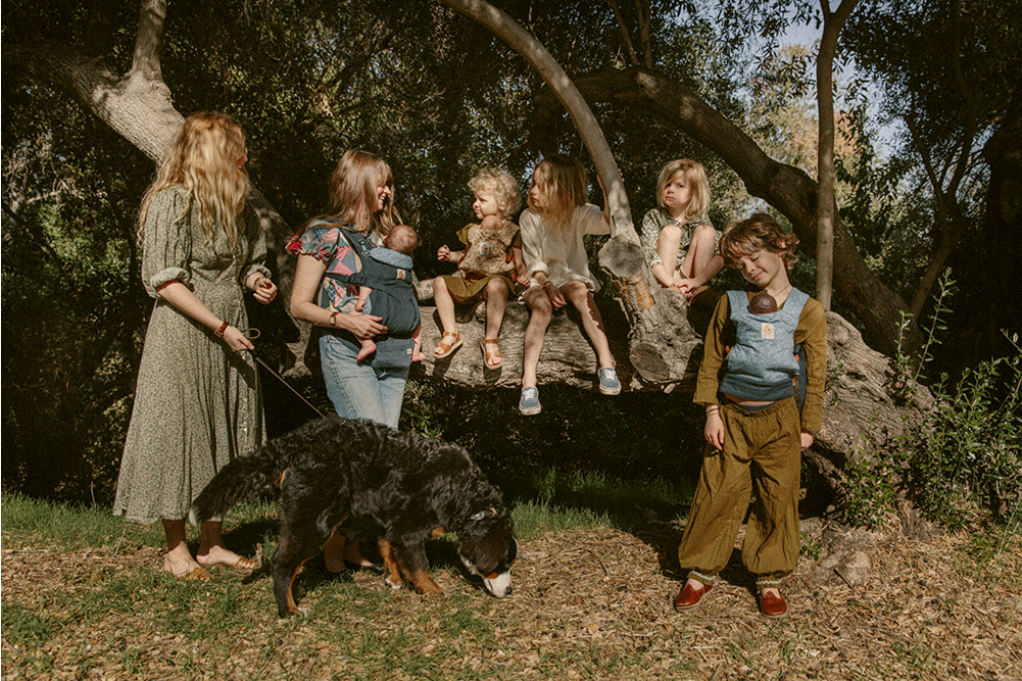 The Collaboration:
Dôen (a direct to consumer womenswear brand) and Ergobaby teamed up in spring of 2021 to create a line of ergonomic baby carriers in a beautiful floral design. This partnership was born of a deeply personal connection that the founders of Dôen, sisters Katherine and Margaret Kleveland, have to their families. Motherhood and female empowerment is an integral part of Dôen's spirit as a brand. And with a total of five children between them, the sisters have a deep appreciation of the Ergobaby brand.
"Ergobaby has played a huge role in both of our lives," explains Katherine. "Margaret and I have shared the same carrier, which has gone back and forth between five babies over the last nine years! We keep going back to the importance of having a carrier that offers both physical support for the development of our babies as well as emotional security through carrying them close to our chests and bodies."
The six-piece collection combined Ergobaby's most popular carrier styles with Dôen's famous floral prints.
Why We Love It:
This one is pretty darn simple: We are all about women supporting women. Not only is this collaboration beautiful to look at, but it's also a partnership between women who are helping to elevate and expand each other's business. And to add another layer, this collaboration supports parents. If you or someone you know has a little one, you can appreciate how much of a gift it is to be able to be hands-free while watching a child — not to mention also being confident that they are safe, secure and supported. Combine this with a beautiful floral pattern from Dôen and that's a win in our book.
3. Shea Couleé X Goose Island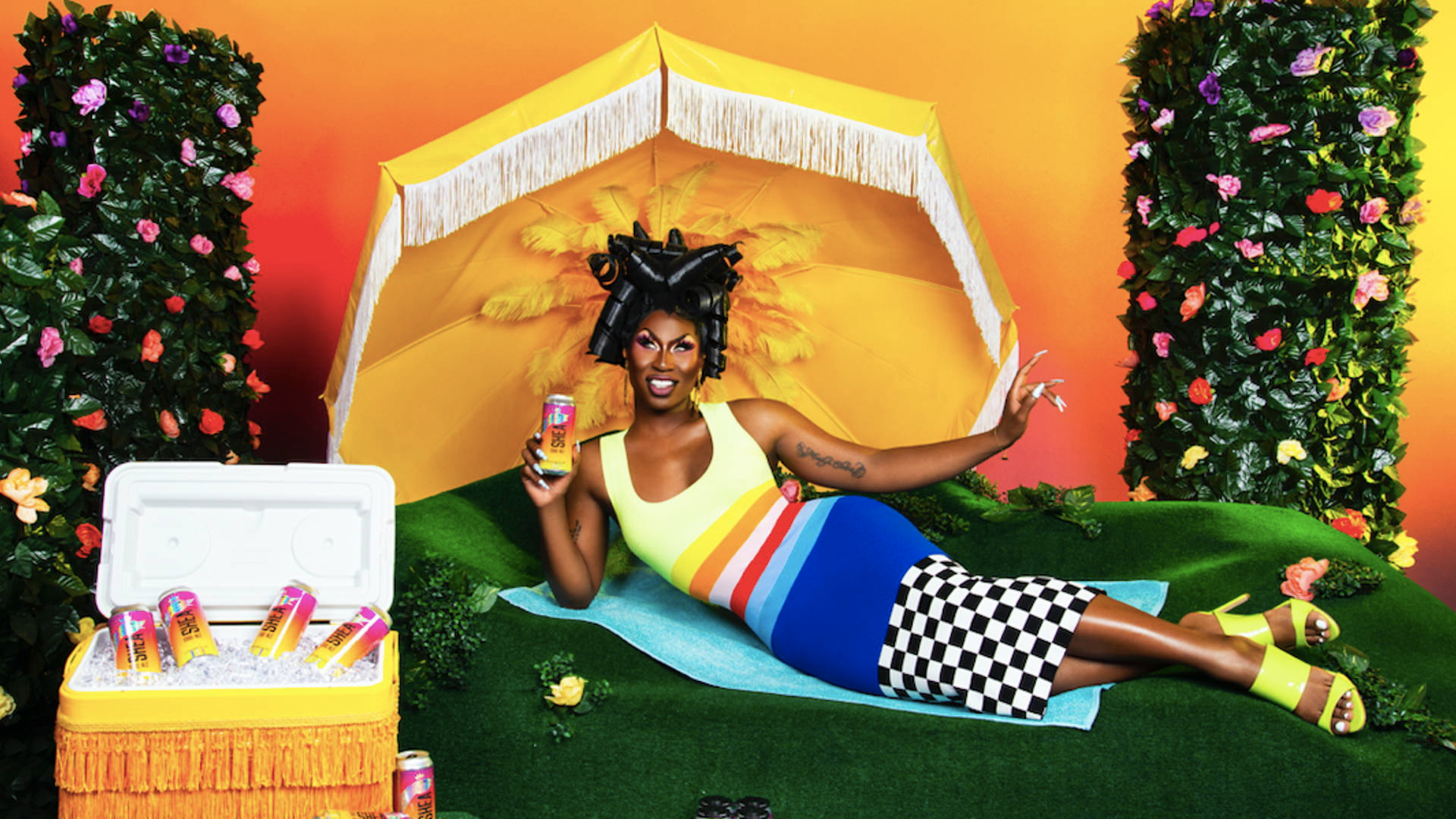 The Collaboration:
RuPaul's Drag Race All-Stars Champion, Shea Couleé, partnered with Goose Island Brewery to create an original beer: Shea Coul-Alé: Royal Edition. The limited edition beer, described as "a flavorful, fierce, tropical wheat ale that's dramatically bursting with pineapple, followed by hints of orange zest," was released in Chicago, New York, Philadelphia and St. Louis in late May 2021.
Arguably the most exciting part of this collaboration was the packaging, which featured Goose Island's signature goose, upgraded with long eyelashes, a crown and a shimmering finish, with the tagline "She's here, she's queer, and this is her year."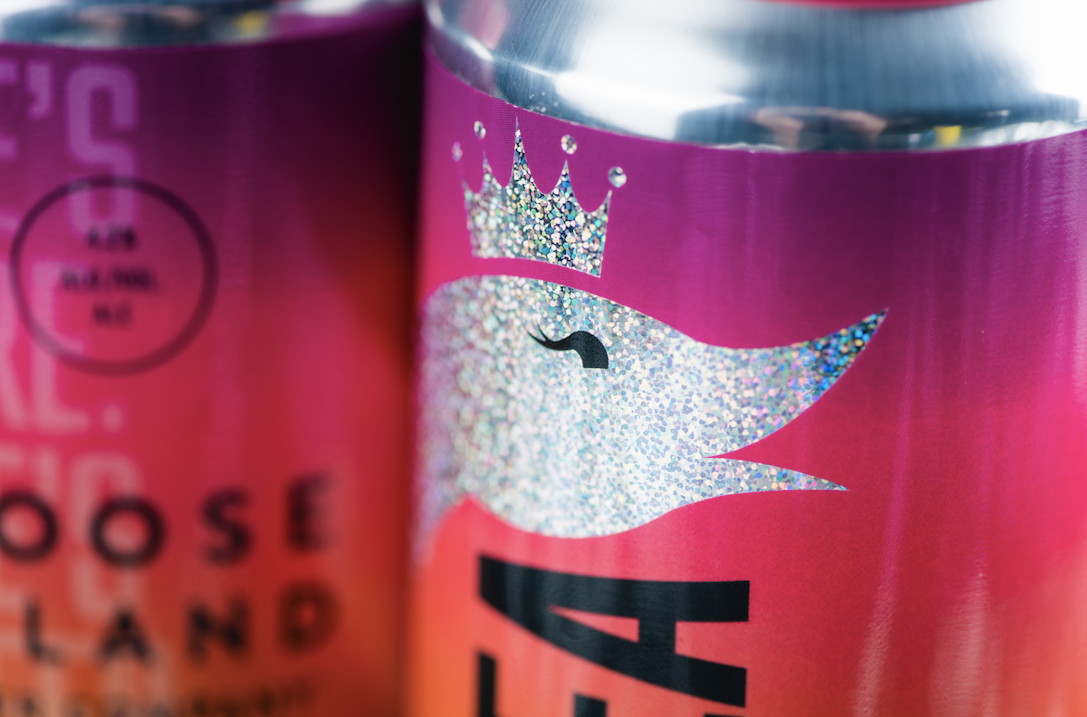 Why We Love It:
This collaboration is all about celebrating and promoting inclusivity. Not only is the can aesthetically pleasing, but for every purchase of Shea Coul-Alé, the partnership donated $2 to Brave Space Alliance, the first Black-led LGBTQ center in the South Side of Chicago. The Brave Space Alliance is "dedicated to creating and providing affirming, culturally competent, for-us, by-us resources, programming and services for LGBTQIA+ individuals on the South and West Sides of the city."
For Couleé, this collaboration represented an opportunity to reconnect with "chosen" families during a year when many were forced to be physically distanced from their loved ones. We can all relate to wanting to feel supported and connected to our community, and this collab does just that — while delivering a delicious beer from a brand we all know and love!
4. Postmates X TikTok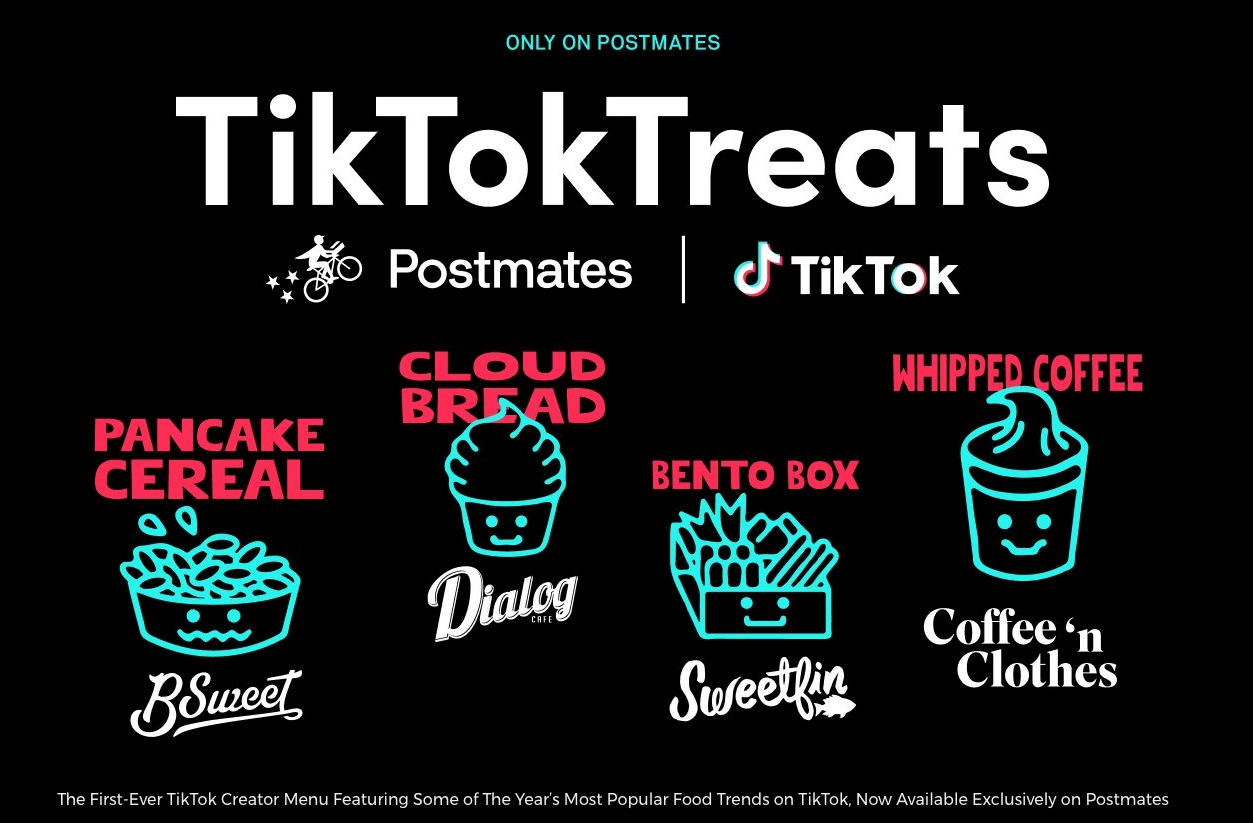 The Collaboration:
In October of 2020, Postmates and Tiktok partnered together to launch the first-ever creator-led menu which featured some of the year's most popular food trends on TikTok. The partnership, called TikTok Treats, was available exclusively in the Los Angeles area and included 2020's most shared food trends including #cloudbread by Dialog Cafe, #whippedcoffee by Coffee N' Clothes, #pancakecereal by B Sweet and #bentobox by Sweetfin.
"From music to fashion to food, the TikTok community has built a reputation of starting movements that influence today's zeitgeist," said Nick Tran, head of global marketing, TikTok. "As we continue to celebrate how culture starts on TikTok, we are thrilled to be partnering with leading on-demand delivery platform Postmates and beloved local LA restaurants to bring TikTok treats to fans across the city."
The widely known food trends reached massive popularity on Tiktok during 2020 with #BentoBox seeing a reach of 259.3M, #PancakeCereal 1.6B, #WhippedCoffee 2.2B and #CloudBread 3.0B.
The entirety of the menu of TikTok treats was created and prepared by locally-owned restaurants and each order included free delivery from the Postmates app.
Why We Love It:
This campaign combines two staples of modern society: viral videos and food delivery. Since Tiktok's inception, it's been incredible to witness the power this app puts in the hands of its users. Together, TikTok users have decided what is trendy and what is not, largely impacting behavior and purchasing decisions of people all over the world. This collaboration is an example of how powerful these trends can be. Collectively, billions of people were exposed to food offerings that originated from LA based businesses. This insane exposure not only largely amplified the reach and recognition of small businesses but it also majorly supported restaurants that faced enormous challenges during the pandemic.
This partnership is a fabulous example of how TikTok and Postmates can be used for social good to help support local businesses. Here's to hoping both of these apps are used for more of this in the future!
5. Budweiser X Ad Council X American Red Cross
The Collaboration:
February 2021 was the first time in 37 years that Budweiser decided not to run an ad during the Super Bowl. While many other brands have chosen to sit out from advertising during the big game over the years, Budweiser was the first to publicly announce that its media spend would be reallocated to a purpose-driven effort. In this case, their $5 million went to the Ad Council (and COVID Collaborative) and the American Red Cross in an effort to support COVID-19 vaccine efforts.
"Like everyone else, we are eager to get people back together, reopen restaurants and bars, and be able to gather to cheers with friends and family," Monica Rustgi, VP of marketing at Budweiser, said in a press release. "To do this, and to bring consumers back into neighborhood bars and restaurants that were hit exceptionally hard by the pandemic, we're stepping in to support critical awareness of the COVID-19 vaccine."
This multiphased collaboration included a digital short film titled "The Bigger Picture" that focused on American resilience and highlighted health care workers who were among the first to receive the vaccine. Additionally, the collaboration included an advertisement titled "One Team" that outlined Budweiser's commitment to redirect its sports investments toward helping heroes on the front lines by using stadiums to host American Red Cross blood drives during the COVID-10 crisis.
Why We Love It:
It goes without saying that the experience of the global pandemic has affected each and every one of us. And while we've adapted to this new way of life, it's refreshing to see brands recognize the importance of giving back. Budweiser has long been known as one of the staple advertisers for the biggest football game of the year, so it's a deeply satisfying thing to see them take a step back (for the first time in 37 years!), show us what they truly care about, and then act on it. The world would be a better place if more brands would take the time and money to collaborate with organizations that are making a difference.
The Benefit of Brand Collaborations
Here at Brandfolder, we're firm believers that brand collaborations are worthwhile for a variety of reasons, but most notably for their ability to amplify brand recognition while tapping into shared knowledge and resources. Think about it: Double the audience and double the budget sounds pretty darn enticing, right? Not to mention the fact that collaborations give brands an opportunity to show their true colors and showcase what matters to them. Today more than ever, we as consumers are looking to support companies that believe in the same things we do. Brand collaborations are the perfect way to showcase that.
That being said, there's absolutely an art to collaborating. As a brand, consistent messaging is key to building trust with your audience. And this consistent messaging extends to the brands you choose to collaborate with. Finding the right partner to help you deliver your message will only further your audience loyalty — but choosing the wrong brand could do irrefutable damage. To be truly effective, it's critical that collaborations allow space for brands to stay true to their values, retain visual integrity, and remain recognizable to their audience.
Interested to learn more about how you can tactfully build a solid foundation for your brand? Check out our webinar, Finding Your Digital Sweet Spot: Where campaign quality & efficiency intersect for brand impact.