This blog is as a comprehensive guide to brand communication, including the key elements of effective brand communication, specific strategies and best practices to follow, and real-world examples.
Included in this blog, you'll find a chart that compares SMB brand and enterprise brand communication strategies, as well as details about brand communication models and brand communication plans.
---
What Is Brand Communication?
Brand communications refers to tactics, such as advertising and social media, that companies use to communicate to existing and potential customers. The goal of brand communication is to influence customers' thoughts on the brand and its importance.
Every time a customer interacts with a company, the brand has an opportunity to craft its personality and experience in the way by which it communicates. This concept, known as brand communication, is considered to be a vital tool of the larger brand communication strategy. Brands communicate every day to inform, persuade, and further teach about the brand itself and its associated values, services, and offerings.
Examples of brand communications include billboards, radio advertisements, TV commercials, newsletters, online bulletins, reviews, and direct communication with the company via its employees. All of these forms of communication focus on a larger, more holistic brand image that the company is trying to promote.The main objective of brand communication is to build a communication approach that is cohesive, successful, and effective.
John Raffetto, CEO of Raffetto Herman Strategic Communications, provides further insight about brand communication: "Brands are constantly evolving assets that are shaped by intentional and unintentional factors. An advertising campaign is intentional — the brand messages are carefully considered and targeted to the right audience at the right time. A PR crisis is unintentional and can undo years of carefully cultivated brand communication. Brand communication is the deft management of both aspects to lock in the desired brand attributes while defending against the undesired attributes."
---
Benefits of Effective Brand Communication
When done correctly, brand communication can provide a company with tangible benefits as it tries to grow and expand its audience. These effects include successfully creating an emotional impact that makes customers feel connected to the brand.
Additional benefits of effective brand communication include the following:
Improved Authority: Through both product design and strong brand communication, a company can boost its overall authority on a product or service. This effort leads customers to believe a brand is superior to the competition, and in turn, leads to greater customer acquisition.

Greater Differentiation from Competitors: With cohesive messaging that leans on specific value propositions, a company can create a more powerful competitive advantage that hones in on their market offerings and thought leadership.

Boosted Brand Loyalty: In the mind of a customer, a brand that has streamlined and consistent communication is a trustworthy and loyal one. Companies build loyalty and advocacy over time through repeated and reliable positive brand communication experiences.

Greater Market Development: Consistent brand communication will, over time, carve out a specific space for your company within the market share, which will make your brand more relevant and recognizable.
---
What Is Strategic Brand Communication?
The term strategic brand communication refers to a cohesive strategy concerned with reaching the right audience at the right time with the right messaging.
A part of a company's greater marketing communication strategy, strategic brand communication is an integral part of all branding efforts. Start by researching your target audience, market, and communication channels. Strategic brand communication is considered an analytic approach that drives the direction of a company's creative efforts.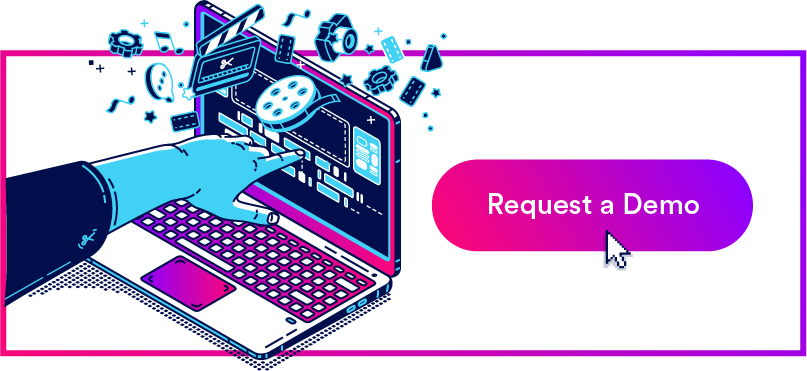 ---
What Is a Brand Communication Model?
A brand communication model is a streamlined way to communicate with customers about your brand and services, products, or offerings. The model can help you to build loyalty and trust, generate an emotional attachment, and create brand loyalists.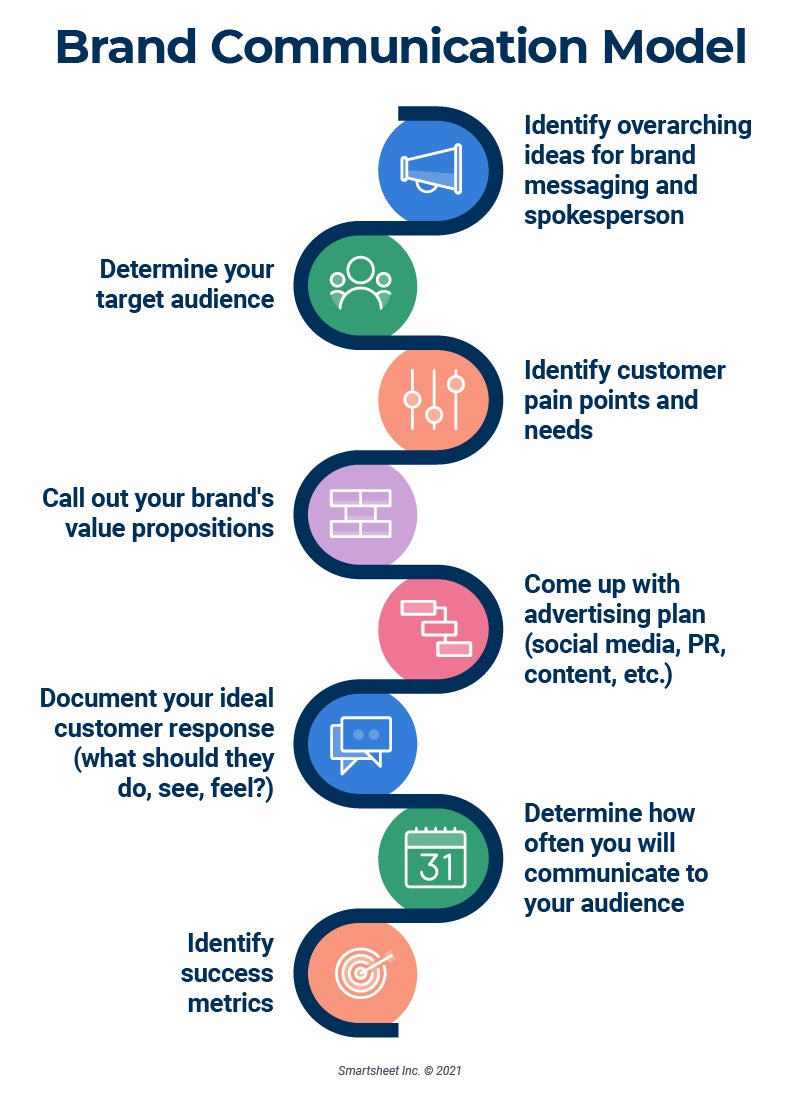 ---
Brand Communication Examples
Brand communication can come in many forms, such as social media announcements, billboards, TV commercials, paid advertisements, and more. Below are some specific examples of impactful brand communication:
Starbucks TV Commercial: This commercial showcases the coffee brand on a more personal level. The advertising introduces Starbucks products in a fun way that is easily and widely recognizable.
Apple Billboard: Apple leverages large, physical billboards to share its message. This ad focuses on privacy and data security, with the goal of ensuring that Apple users know how seriously the company takes privacy across their products.
Nike Social Media Advertisements: Nike uses social media to establish its brand message with fun, eye-catching ads. The company places the ads across various social media platforms, which helps to create a consistent brand look, feel, and tone.
---
What Is a Brand Communications Plan?
A brand communications plan is a tool that companies use to build strong brand positioning. The plan can also help companies to identify and develop a succinct brand story.
The goal of a brand communications plan is to motivate potential customers to see, think, feel, do, or influence others through a strong, unique, and genuine brand message. Through creative, cohesive messaging across paid advertising, social media, PR, content management, and digital media, a brand can create a consistent position that customers can easily identify and trust.
When creating a brand communication plan, be sure to answer these questions:
1. What do we need our advertising to accomplish? Is the goal of your advertising to get noticed so customers see and recognize your brand consistently? Are you trying to establish your brand's position and solidify it among customers? When answering these questions, determine what your targeted advertising should accomplish. Everything you do should work to build trust, create a bond among customers, and inspire brand loyalists and advocates.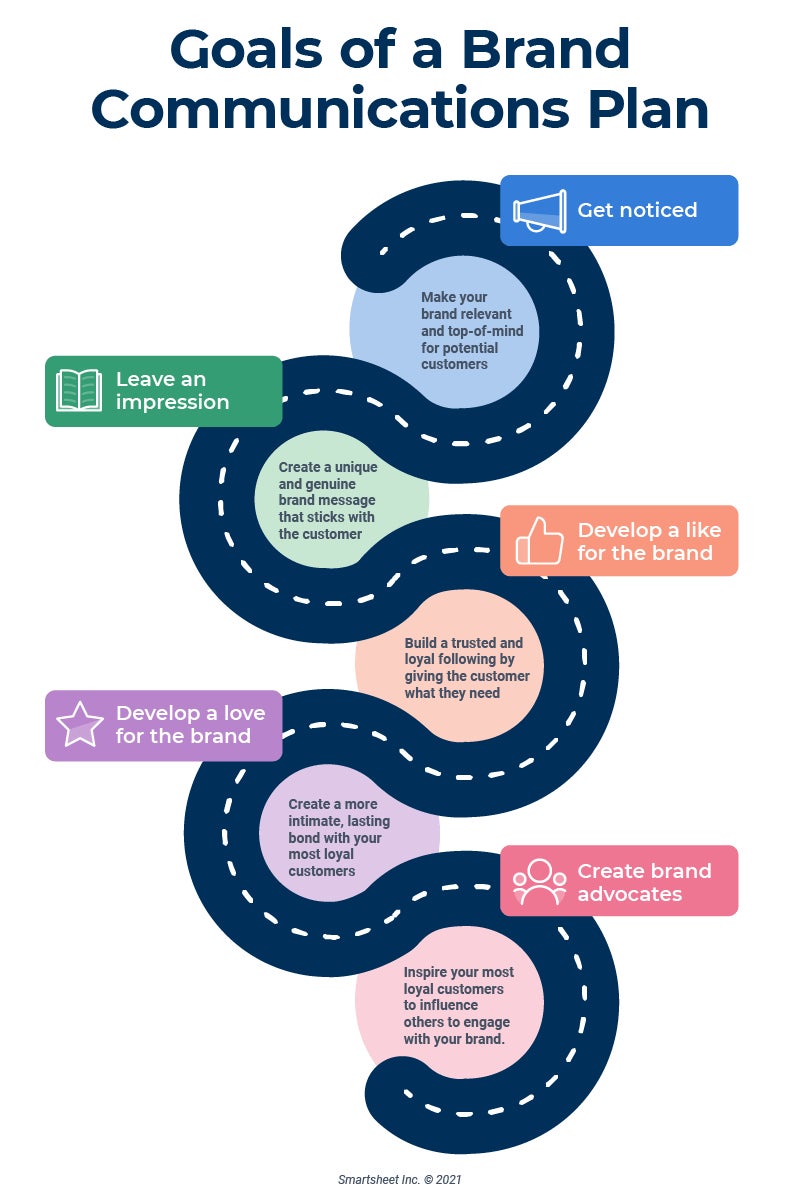 2. Who is your target audience or ideal customer? Identify the types of consumers you're targeting, as well as the main needs or pain points they may be experiencing that your brand can address and solve. Conduct both quantitative and qualitative research to better understand your consumer and gather insights on them. Look into things like what they're buying right now, which brands they engage with, and what they might be in the market for in the future.
3. What are you selling? Center your brand communication around what the consumer gets — either products or services. Identify all of the possible brand features you want to share publicly, and focus on how they can help your competitive advantage. Product features should answer the question, "What do I get from that?" Functional benefits, on the other hand, should answer the question, "How does that make my life better, easier, etc.?"
4. Why should people believe us? It's important to develop strong trust among potential customers. Spend time identifying key points that back up the main benefit of your brand. This might mean creating a well-thought-out product roadmap or listing details of past product advancements.
5. What is the overall brand message? The main brand message should be both captivating and enticing. Create clear and concise messaging that is interesting and inspiring, yet simple enough that customers will easily remember it and associate it with your brand. The brand message should also highlight what you do, how you do it, and how it will help customers.
A good way to determine brand messaging is to create brand pillars that support your overall goals and objectives, and that help you stick out against your competitors. Consider creating a brand brief that details the various components of your brand messaging so stakeholders understand your goals and can provide feedback.
Brand communication should be succinct and streamlined. Be sure to collaborate with internal stakeholders to organize all brand and marketing communications around the main brand message.
6. How do you want people to feel or think about your brand? Determine the goal response you want from potential customers. Do you want them to act a certain way, feel a certain emotion, or perform a certain action after engaging with your brand?
Once you settle on the desired response, determine what and how you should communicate to get your desired response. The goal is to seize interest within a few seconds, and to keep the audience engaged enough to learn more about your brand.
A good rule of thumb is to always make your brand communication actionable. That could mean having customers get in touch with a sales representative or try out a new product feature or service.
7. How and when will you communicate? Once you've finalized your messaging and desired responses, create a plan to reach your target audience. The plan should have enough consistency to make them engage with your brand. Usually, a one-and-done approach does not work. You'll need to plan different channels of communication through which to reach your audience regularly.
8. Where will your customers be most receptive to your messaging, and does this channel work with your strategy? Develop a comprehensive media plan that drives home your brand messaging and story through various channels. You'll need a media budget for the plan that you can leverage to impact the customer journey. Focus on tightening your communication during times when customers will be most open to engaging, listening, and acting upon your efforts.
9. How will you measure success? Determine tangible success metrics to measure whether or not your communication plans were successful, and if they played a role in reaching larger organizational goals.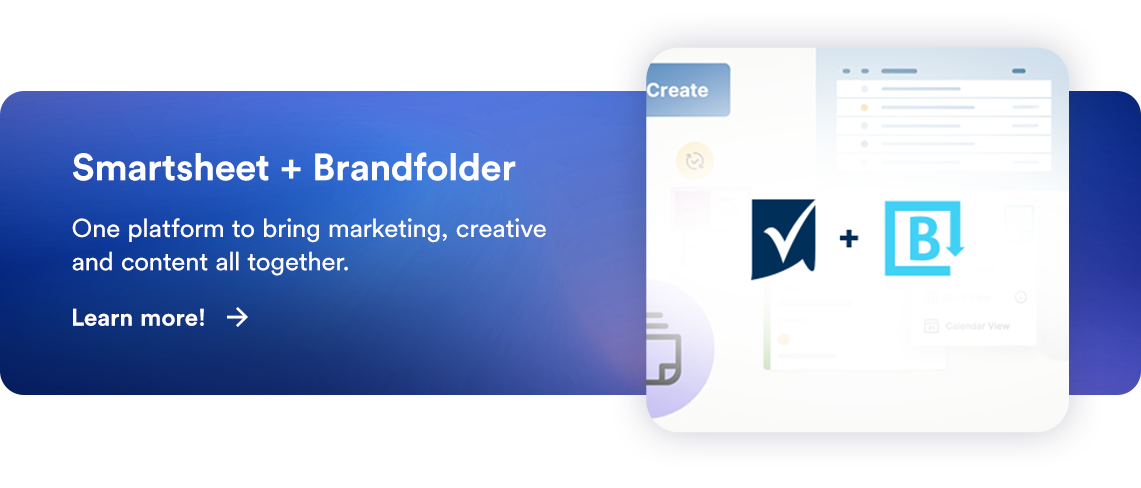 ---
Brand Communication Elements
Every brand communication plan should have a few key elements, like a communication strategy, a target market and audience, and main benefits or value propositions.
Here's a comprehensive list of the core components of every effective brand communication plan:
Communication Strategy: The overall communication strategy should note the investment you're putting into a strategic program. The program should align with the larger marketing and brand goals, identify the specific market you're trying to satisfy, and call out targeted success metrics.

Target Audience/Market: Identify the group(s) of potential customers that you're targeting with the strategic brand communication plan. You should identify this audience by using both qualitative and quantitative research, as well as competitive research to better understand the market share and how to differentiate yourself.

Main Benefits or Value Propositions: This section is the bread and butter: Brand messaging should center around how your product or service can help your customer achieve their goals and make their lives better, easier, and more productive. Take time to nail down your key value propositions, so you can better promote them across all channels and communications.

Desired Responses: Each brand communication plan should have a desired customer response, whether it's to contact a sales representative, try a new product or service, or promote or influence others to engage with the brand.

Media Channels: These are the channels you will use to communicate your brand messaging. You can use both traditional and digital outlets, like newspapers, bulletins, social media, content, PR, and more. Determine the channels that make most sense for your efforts and budget.
---
Small-Medium Business vs. Enterprise Brand Communication Strategy
The brand communication goals of small-medium size businesses vs. those of enterprise companies can vary a lot, from the overall strategy to the desired response. Use this helpful comparison chart to see how the needs of small businesses differ from enterprise.
SMB vs. Enterprise Brand Communication Strategy Comparison Chart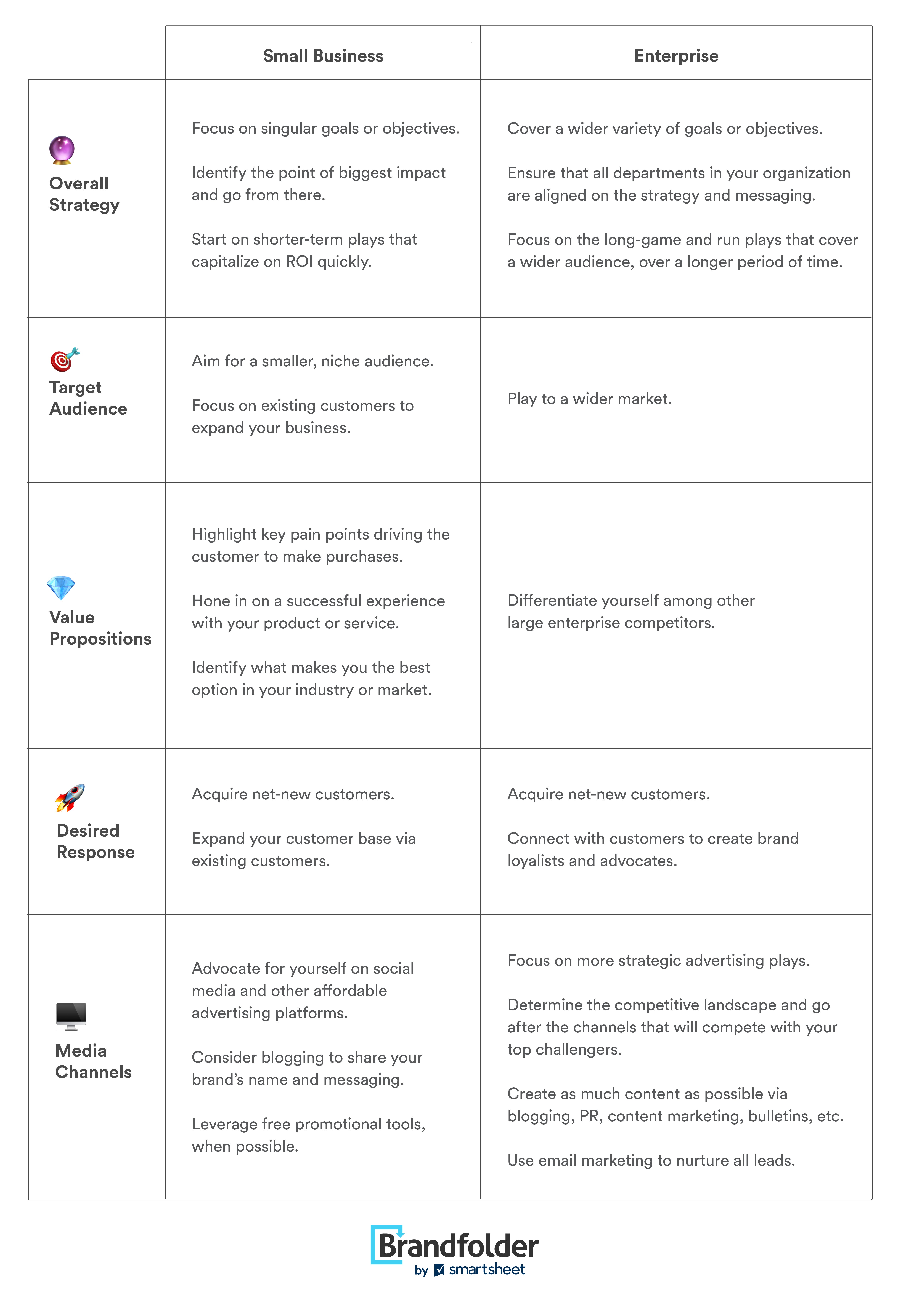 ---
How Do You Create a Brand Communication Plan?
To create a brand communication plan, address the elements listed above in order, starting with developing your overall objectives and target audience.
5 Steps for Creating a Brand Communication Plan
Follow these step-by-step instructions to create an effective brand communication plan.
1. Determine your brand goals and objectives. Start by identifying exactly what you want to accomplish as a brand, such as "enter into a new market" or "expand customer base." Then, determine how you will achieve these goals using strategic communication plans that align with all areas of your business, from marketing and sales to product marketing and software development.
2. Identify your target audience and market. Perform qualitative and quantitative research to better understand your target market and their needs, desires, and goals. Decide the best way to reach them so you can maximize your communication efforts effectively.
3. Develop your brand messaging. Once you define your objectives and target audience, start developing specific brand messaging that you believe will resonate. Make sure to emphasize your value propositions (what your product or services can do to help them) and lean into a genuine, authentic voice that expands across all communication forms.
4. Create a strategic plan of action. Identify exactly how you plan to communicate your new brand message to the target audience. Ask yourself which channels, both traditional and digital, will be best to leverage, and how frequently you should communicate. Consistency is key, so implement a plan that enables constant communication to keep your brand top of mind.
5. Identify success metrics. The last step is to select the metrics you'll use to measure success — these measurements can be the number of new customers, engagement rate with specific communication efforts, or improved ROI, to name a few.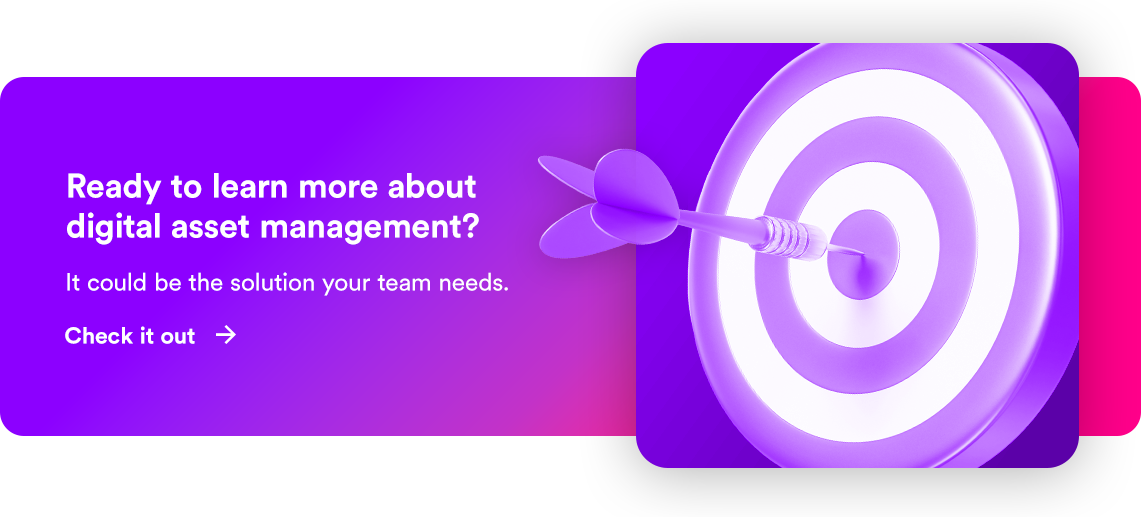 ---
Brand Communication Plan Example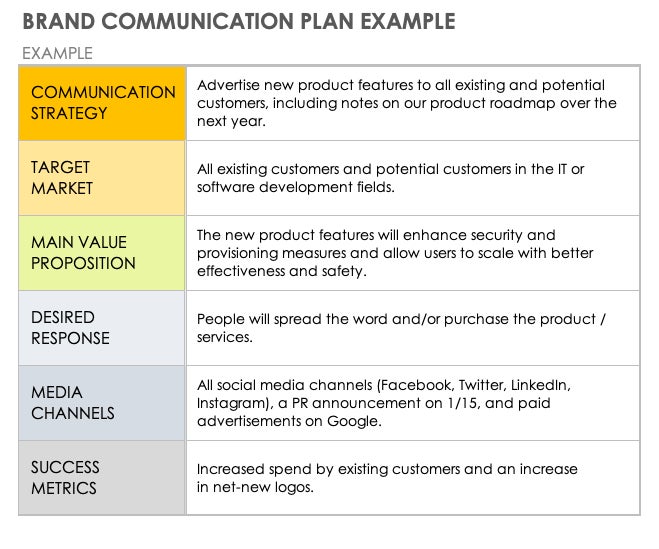 This brand communications example shows an effective communication plan that includes the goal of expanding across existing user bases and increasing net-new logos for a business. Download this customizable brand communications plan example, or download a free brand communication plan template to get started.
---
Best Practices for Writing a Brand Communications Plan
There are a few best practices worth following as you create a brand communications plan, including choosing a brand spokesperson and identifying the media channels you plan to use, which should be a mix of traditional and digital media.
Here are a few additional best practices that will help you write the most effective brand communications plan:
Remain Authentic: All communication you generate should be genuine and authentic, in order to ensure customer loyalty and promote a long-standing relationship with customers and your brand. The communication should not feel forced or have other motives outside of creating advocates for your brand.

Create a Dialogue: Your first approach at brand communication should not be the last effort. The process should also be collaborative. Both stakeholders and customers should be able to provide honest feedback and suggestions, while also expressing any grievances they may have towards the brand communication.

Highlight the Brand's Personality: One of the most important aspects of brand communication is the human and emotional connection it fosters. Much like the tip to be genuine across all communication, your brand's personality should be unique and authentic, while instilling trust in your customers — both existing and potential.

Be Helpful: Brand communication should reference your customer's pain points and provide feasible and actionable solutions for them. Ask for feedback so you can better tailor your communication.

Remain Open and Transparent: To maintain the loyalty and trust of customers, you must remain open and transparent. That means that all communication must reflect those sentiments, too. Make sure to convey all developments about the brand, as well as your products and services and any future plans in the pipeline.
As Raffetto says, "Do not limit planning to intentional and controllable branding attributes. Consider that PR-driven attributes are less controllable and must be contemplated — perhaps even embraced.
"Take, for example, a viral post from a customer expressing their eternal appreciation for an act of unexpected heroism from a service rep. A good communication plan will be ready for these moments. Likewise, a full-blown PR crisis, such as a social media blow-up or a CEO behaving badly, should be anticipated in the plan. This forces preparation and produces a better outcome when the PR crisis actually hits. At RH Strategic, we say the best public relations crisis response actually results in customer adulation for the brand."
---
How to Improve Brand Communications
Once you have your brand communication up and running, you may need to pivot occasionally to improve the way you communicate with your customers.
Raffetto advises those looking to improve their brand communication to "give up a little control of your brand. Let your most loyal customers and enthusiasts help define both the brand and their preferred means of engagement. Get to know them and their view of your brand by meeting them where they are — sponsor their community events, reach out to them on social media, invite them to visit your factory or meet your CEO. Document what you learn from these engagements and allow it to shape a redefinition of the brand."
---
Getting Started with a Brand Communications Plan
In this post we've covered the many benefits of having a succinct and organized brand communications plan. With all the research and hard work that goes into defining your brand and creating the assets that bring it to life, it's incredibly important to make sure your team has access to the latest brand assets - as well as your brand guidelines.
If you're looking to keep your brand story consistent no matter who it comes from, check out how Brandfolder can help.