A brand pyramid is a visual tool that outlines the key tenets of a brand's market positioning.
In this post, you'll find information on how to create a brand pyramid, what benefits a brand pyramid can provide, and some tips on how to get started creating one for your brand.
---
What Is a Brand Pyramid?
A brand pyramid is a simple visual framework that outlines a brand's identity and market positioning. Creating one allows you to help your team communicate your brand's essence, personality, core functionality, and emotional and material benefits.
A brand pyramid is an incredibly useful tool for sharing your brand vision and can be an effective way to begin crafting your brand strategy, whether you are a small business or large enterprise. While brand pyramids can be extremely helpful, we'd recommend creating one after you've already done the work of forming and outlining your brand's identity.
Wendy Young, owner of Wendy J Young Brand Management, shares her approach, "Before one can get down to the business of creating a brand pyramid, you first have to know your brand. The following five components must be nailed down before you can move on to the fun part."
Your organization's mission and purpose
Your vision for the organization's future
Your target audience and which of their specific needs you address
The three to five adjectives that define your brand personality
The core values that will guide company decisions and future actions
---
What Is the Purpose of a Brand Pyramid?
An effective brand pyramid is incredibly beneficial as it instills trust in those who interact with your brand. Once you have a coherent framework in place, your pyramid should help your brand stand out and inspire a sense of familiarity.
"Consistency — in both your products and services and your branding — is the most effective way to build brand loyalty. A customer who encounters consistent brand messaging across platforms is more likely to trust the brand. Trust not only encourages brand loyalty but increases the likelihood that a customer will share their positive experience with others. Accurate and consistent branding will also help you maintain relationships with customers long-term," suggests McConnell.
Your organization can distribute its brand pyramid to marketing professionals, designers, journalists, and consumers to ensure your brand identity is represented consistently across platforms. For example, a marketing department might use it to familiarize new designers with the basics of your branding while a journalist might use it to learn your brand's talking points. Additionally, the sales department might use it to demonstrate your brand's benefits over competitors and a customer might use it to learn more about the mission and core values of your brand. When crafted well, a brand pyramid ensures that your brand messaging remains consistent across departments and platforms, ensuring a consistent brand experience.
Types of Brand Pyramids
All brand pyramids fall into one of two categories: internal and external. Internal brand pyramids measure customer engagement and purchasing loyalty whereas external brand pyramids outline a brand's identity to the public.
Internal Brand Pyramids are models used for gauging customer purchasing loyalty. The bottom of this pyramid represents customers who show minimal engagement or emotional investment in your brand, while the top of this pyramid represents customers who demonstrate high levels of brand loyalty.
These types of structures can go by many names, including but not limited to: brand engagement pyramids, brand dynamics pyramids, or brand loyalty pyramids.
External Brand Pyramids are tools used to simply communicate your brand's identity to the external world. These pyramids help businesses define and represent their brand identity in a visual manner.
These types of pyramids are also known as brand equity pyramids, brand positioning pyramids, brand DNA pyramids, brand building pyramids, brand essence pyramids, brand identity pyramids, brand resonance pyramids, brand equity pyramids, brand positioning pyramids, brand DNA pyramids, brand building pyramids, brand essence pyramids, or brand identity pyramids.
---
Components of a Brand Pyramid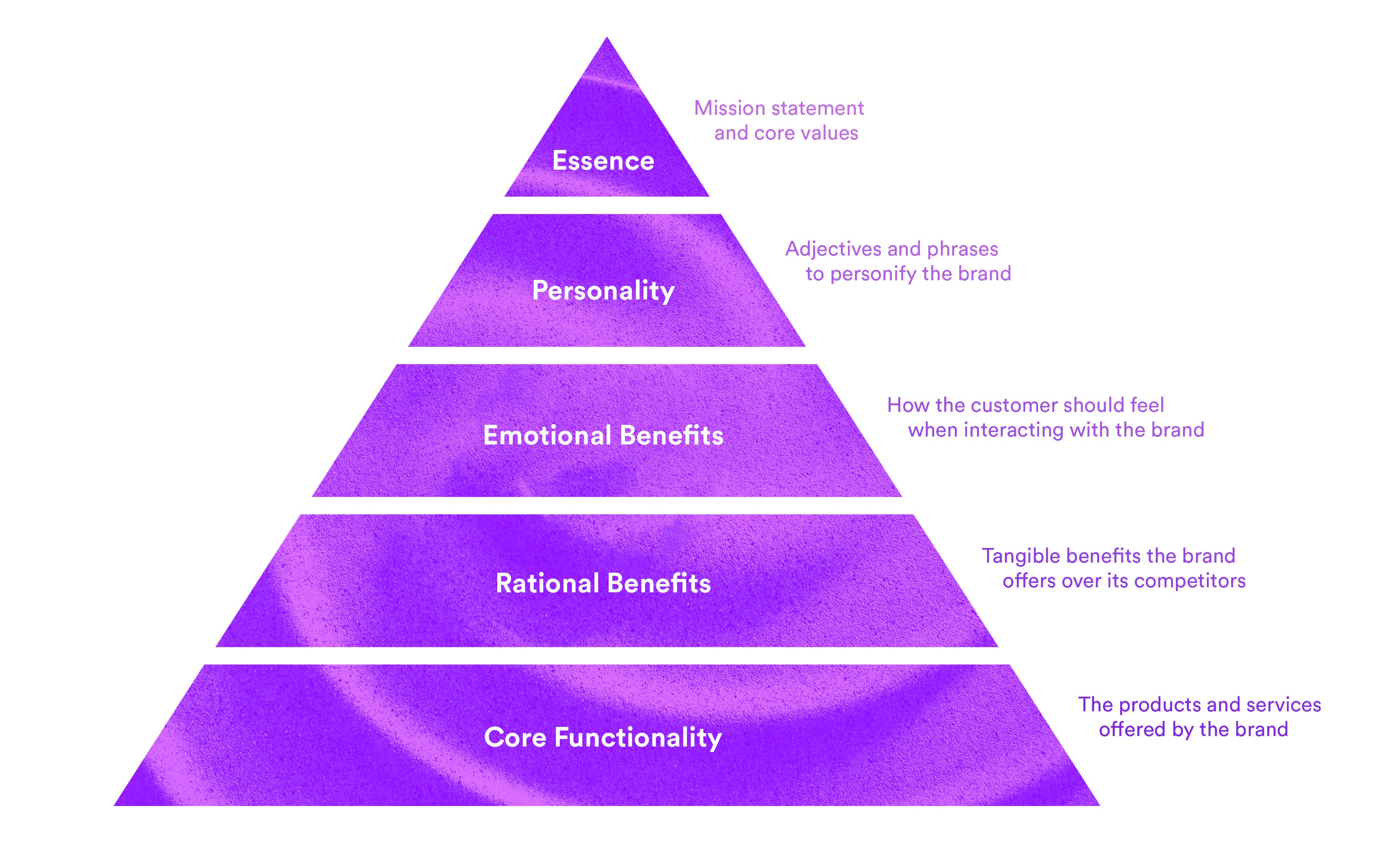 Traditionally, a brand pyramid has five components. Starting from the bottom, these include a brand's core functionality, benefits over competitors, desired emotional response, personality, and essence.
Core Functionality: The base layer of a brand pyramid describes the products and services your brand offers.

Rational Benefits: The second layer outlines the advantages your brand has over competitors. These might include costs, location, product quality, customer service, or any other tangible benefits.

Emotional Benefits: The middle layer identifies the intended emotional impact of your brand. You probably want customers to trust your company and have confidence that your products will perform as advertised. All of your branding — including colors, fonts, and logo — contribute to a customer's emotional experience.

Personality: The fourth layer includes adjectives that help personify your brand. For example, one brand might be fun and approachable, whereas another is professional and dependable. Advertising and product copy should reflect the personality of a brand.
"Develop your brand's personality. This is the same persona that inspires and connects with your customers and helps educate new employees, the same employees that act as living extensions of your brand," advises Daniel Gibson, Partner and Managing Director at NiceDay.
Essence: The top layer displays your mission statement and the core values that govern your brand's decision-making. "Wrap up your brand pyramid with a great brand story. In a nice little package, wrap up your company's mission, vision, and core values," suggests Irene McConnell, Managing Director of Arielle Executive.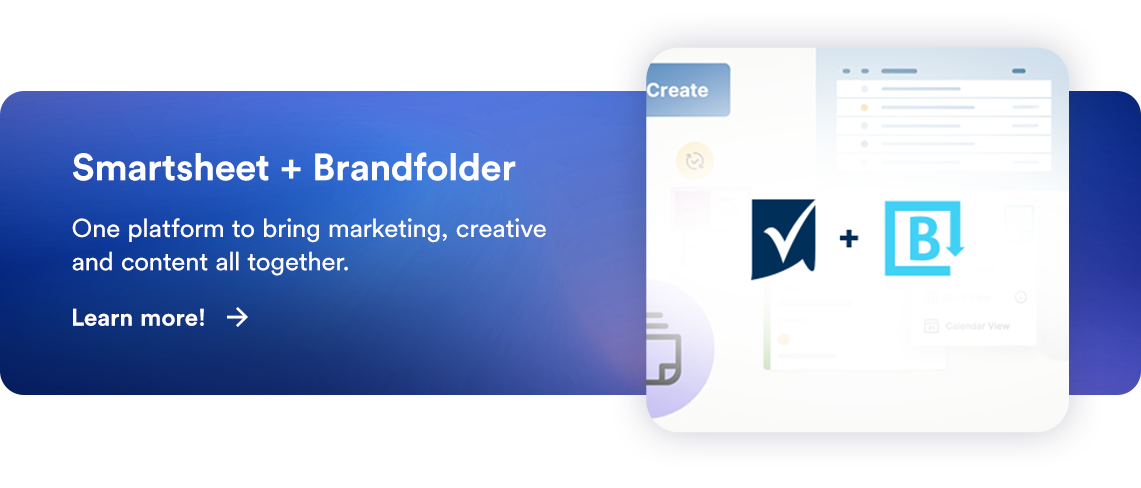 ---
How to Build a Brand Pyramid
A brand pyramid is a useful framework for communicating the market positioning of your brand. But without an organized approach, you'll likely struggle to create something that's useful and effective.
By taking the following steps, you can help ensure that your brand pyramid drives significant impact within your organization:
1. Analyze Your Current Branding Approach: First, determine whether your current approach is generating the desired response and reaching the correct audience. Compare your current customers to those you want to attract, and outline which branding goals you have and have not met.
"Assessing your goals should be the first step in your brand audit," says Caroline Hoy, Senior Marketing Manager for WellSaid Labs. "Is your brand assisting you in reaching your business objectives, obstructing them, or achieving something unexpected? Is it aimed at the people you want to reach? Whether you want to be known as a pioneer in telehealth products or a retailer with the best customer service, your branding should be helping you convey that message."
2. Decide Which Qualities to Emphasize: Next, make a list of your brand's unique characteristics and determine which to emphasize. For example, you may want customers to recognize your brand as a trusted manufacturer, a creative problem solver, or a friendly source of expertise. Depending on your industry, you may choose to emphasize the quality of your product, the convenience of your services, or the friendliness of your staff.
3. Create Your Pyramid: When you're ready, feel free to start at any layer of the pyramid and work in the direction that makes the most sense to you.
Below are the elements that comprise each layer of the pyramid, starting from the bottom:
Identify the Products and Services Your Brand Offers: State your core offerings. Include the features and attributes of your products and the service offerings you provide.
"How do your products or your services compare to competitive brands, based on independent, objective research? Every company tends to think that their products are superior to competitive products, but they rarely conduct the research to determine if this assumption is true. Most often, this assumption proves false. Repeat product research on a regular schedule because the market is constantly changing as competitors rise and fall, as the economy mutates, and as consumer tastes and styles evolve," advises Jerry Thomas, President of Decision Analyst.
State the Rational Benefits of Your Brand: Identify the characteristics that make your brand desirable. Consider the quality of your product, the niche your brand fills, or the warmth of your service employees.
"Identify a specific problem your business offers a solution for, and build your branding around it," suggests Sophie Bowman, Founder and Director of Brand Branding.
Determine Your Desired Emotional Impact: Identify the feelings you want customers to experience when interacting with your products and branding. To start, Young offers advice for learning how customers already view your brand.
"Use social groups, email surveys, and social media polls to get a diverse number of responses about how people view your brand. After collecting all that information, compare the results with where you believe your image should be. Make the changes to fix the direction, and don't be afraid to reassess in six months," she says.
Identify Your Brand's Personality: Create a list of adjectives that describe your brand. When creating this list, be sure to keep in mind the qualities you want customers to associate with your brand.
"What is your brand's image compared to competitive brands? Is your brand seen as reliable, exciting, long-lasting, beautiful, or sexy? What's the trend of these image attributes for each brand?" asks Thomas.
State Your Brand's Essence: Articulate a simple, clear mission statement that communicates your core values and brand pillars.
"People don't just buy what you do, they buy why you do it," says Bowman. "It's so important to implement a strong mission in your branding that appeals to your target audience."
4. Design Your Pyramid: Next, incorporate your brand guidelines into the visual design of your pyramid. Be mindful of colors, fonts, and tone of voice. Remember that for a brand pyramid to be effective it needs to be easy to read and understand. For examples of different styles, check out this list of brand pyramid templates.
5. Make It Shareable: As the final step, make your brand pyramid sharable! Consider sharing your pyramid as a file on your website. Include it in your brand style guide and in printed documents with your brand story for education and onboarding.
"Remember, this is a document that can also serve as a staple in your employee onboarding process to ensure new hires fully understand the proper ways to present the brand," says Shena Delgado, Brand Mentor and Consultant at Shena Nicole LLC.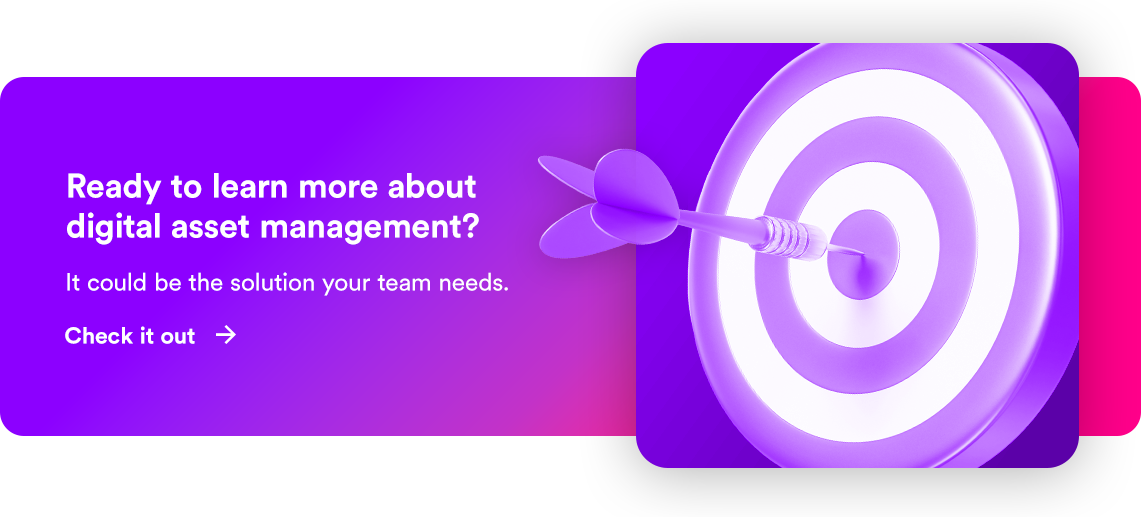 ---
Brand Pyramid Internal ToolKit
Strong branding incorporates input from multiple stakeholders, so we've created a brand pyramid internal toolkit to help facilitate conversations with members of your organization. Inside this kit, you will find: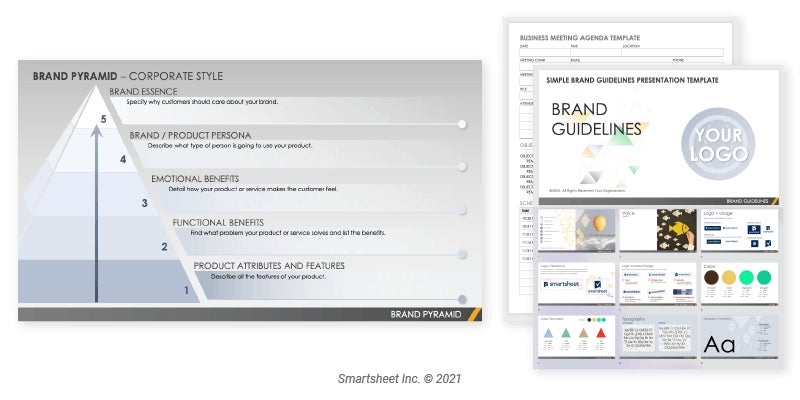 ---
Benefits of Having a Brand Pyramid
Having a brand pyramid benefits an organization in a variety of ways. For starters, brand pyramids are visual tools that communicate your brand's identity quickly and help you make a great first impression. Additionally, they can be a reliable method of sharing information about your brand's unique qualities.
"Successful branding is the difference between a decades-old business and a flop. If you aren't consistent and memorable, you won't be around for long. Some of the benefits of great branding include making you memorable, inspiring others, increasing conversion, improving employee retention, creating community and experiences, and delivering growth," says Gibson.
We've rounded up the top benefits of having an effective brand pyramid:
Coherent Core Identity: A brand pyramid helps to establish and showcase your brand's core identity. It can answer basic questions that new customers may have or reinforce the positive impressions of established customers.

Consumer Confidence: It can also be an essential resource for ensuring that your branding stays consistent across platforms. Consistent brand messaging makes for a trusted brand that customers will be more likely to turn to in the future. "Ideally, people will recognize you immediately and remember their first impressions. You can garner loyalty with strong positive emotional reactions, which leads to more word-of-mouth advertising," suggests Young.

Efficient Communication: A brand pyramid is a visual tool that can communicate your brand's core values and identity instantaneously.

Appealing Brand Personality: Successful branding humanizes your brand and makes it more approachable. A brand pyramid helps ensure that your brand has a consistent, likable personality. "Truly successful brands can humanize themselves, and humans, as we know, are creatures of habit, meaning they are very consistent," says Gibson. "A customer is more likely to come back to a brand they feel is friendly."

Ease of Use: It can be helpful to think of a brand pyramid as a more condensed version of your brand style guide, making it easier to send, share, read, and present. "Anything you share will generate optimistic curiosity because you're already a trusted brand," Young remarks.

Emotional Response: Meant to elicit an emotional response, a brand pyramid will tell your customers how they should feel about your brand. Communicating that your brand is fun, professional, and trustworthy will prime them for a positive emotional experience. "Consumers do business with brands that deliver on their promises, remain consistent, exude confidence, and align with what they believe," says Delgado.

Increased Revenue: It ensures consistent branding and improves a brand's likeability, which in turn increases revenue. Customers will pay more for products and services with which they have a positive brand association. "It also helps with talent acquisition and retention, which inevitably guarantees an increase in awareness and sales," notes Delgado.

Quality Talent: A brand pyramid doesn't just attract customers — it also attracts employees. With consistent, thoughtful branding, "you'll get higher-quality applicants eager to join your team," says Young.
"All in all," says Young, "building a strong brand and remaining consistent with it, as long as you've interpreted your mission and value statement properly, will only serve to help your business grow in the long run."
---
Who Invented the Brand Pyramid?
In the 1990s, the marketing research firm Millward Brown (now known as Kantar) developed the first brand equity pyramid. The product of 30 years of brand research from thousands of data sets, the original is the basis for today's brand pyramids.
Later, Kevin Lane Keller developed Keller's Brand Equity Model, also known as the customer-based brand equity model. This pyramid displays customer relationships with your brand and creates a bottom-up example of customer-to-company relationships.
These two pyramids have evolved into the brand pyramids we use today. The brand equity pyramid was the basis for the external, brand sharing type, while the Keller Model became today's internal brand loyalty pyramid.
---
It's Time To Get Started With Your Brand Pyramid
To recap, a brand pyramid can be an incredibly useful visual tool to help communicate your brand's identity and market positioning. Creating one empowers your team, regardless of its size, to more clearly communicate your core identity, including your brand personality and the benefits you provide to your audience.
While it may seem like a tedious process to get started, we can ensure you that it's well worth the effort! Need additional help getting started? Check out our post, How to Build a Strong Brand Identity That Sets You Up for Success.