Brandfolder Now Integrates Creative Production Automation Features – Powered by Storyteq
We're excited to announce the addition of Storyteq's powerful creative automation tool to our integrations portfolio, allowing you to easily create and adapt your assets to your audiences, markets, and ad channels.
Storyteq's creative automation platform: How does it work?
Storyteq's creative automation platform allows you to leverage templates of your visual assets using data, in order to output all desired outcomes at once.
At its core, a template consists of a base creative (video or image) in which elements are set to be swappable. These are called "dynamic elements" and are typically text, images, sound, video, or even entire scenes. This gives the user the ability to instantly create customized videos/banners at scale without sacrificing creative quality.
A dynamic element is something in a piece of creative that can be changed from your dashboard or from a data trigger. This can be the aspect ratio of the video, a text element, an image element, a video element, and more.
Think in terms of translations for example: linking your CTA and/or text element to a translation sheet allows you to render out all possible variants at once. Or, consider linking your creative's product shot to a product feed. The same principle can be applied to each element of your ad: pricing, swappable scenes, and much more.
Storyteq's platform also uses a powerful resizing algorithm allowing the user to work with a base creative and easily adapt them to different aspect ratios (for different uses / channels) in just a few clicks.
Storyteq & Brandfolder
The Brandfolder x Storyteq integration allows Brandfolder customers to efficiently create and distribute on-brand, design-quality video creative. Designers/producers can create video templates in the Storyteq online editor or with an After Effects plugin, which are pushed straight to Brandfolder and made available for editing by end users - with no design or video production skills necessary. Users can change video clips, images, backgrounds, text and more within an intuitive web based editor.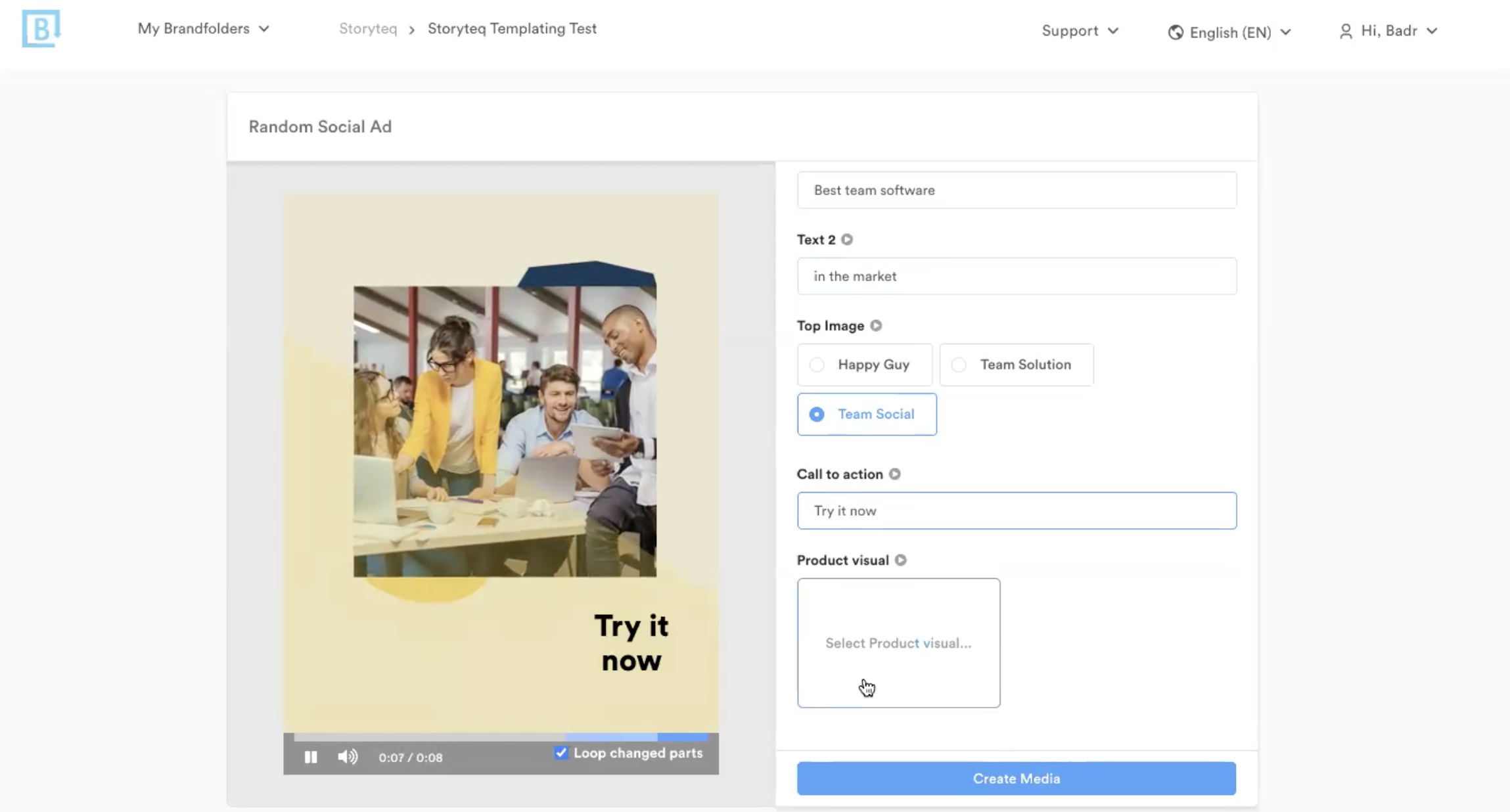 Key benefits:
Video First Solution - Video is expensive and resource intensive. Our video templating solution can extend the value and scale your video efforts.
Brand Consistency - Take control of your assets and ensure each touchpoint is on-brand
Personalization & Localization - Personalize your message, customize assets and empower sales team with regional impact
Resource Efficiency - Let designers focus on creating; enable your marketers, sales reps, distributors, etc. to scale campaigns while maintaining brand control
Some of the ways brands use Storyteq's creative automation tool:
Some companies, like Perfetti, use it to adapt their creatives to all their markets. Perfetti is the maker of popular brands such as Mentos and Chupa chups. Perfetti saved time by switching from manual processes, where each local branch would design their own assets, to Storyteq, allowing them to design the assets on a high level (HQ) before dispatching them to their branches for local adaptation.
Others use it to produce all the versions of videos they need for multivariate testing. Voodoo, the world's biggest hyper-casual gaming app publisher, saves an estimated 400 days of production work by generating over 6,000 assets (banners & videos) required for testing purposes thanks to the automated features of Storyteq's platform.
Some leverage the platform to create personalized videos that are used post-purchase or internally. By combining owned data (such as their customers' names) and Storyteq's dynamic creative, they directly render out hundreds of video versions tailored to each individual customer.
About Storyteq: why they do what they do.
Storyteq is an Amsterdam-based creative automation platform used by leading brands and agencies to automate the production, customization, and versioning of their banners & video assets. Before developing their own software, Storyteq was a creative agency facing a problem that all agencies are too familiar with: the tedious and time-consuming process of adapting creative assets to each audience segments and/or markets. So Storyteq simply decided to create a tool to automate the process and focused solely on its development.
Storyteq's powerful creative automation tool is now used by companies worldwide to reach speed and scale without compromising on brand consistency. The platform allows companies to keep their production & versioning processes streamlined,