Meeting consumer demand, expanding into new channels, and creating rich content requires agility only digital assets can offer. Of course, reliance on virtual channels comes with risk. The unauthorized use of your copyrighted materials or a data breach can rack up legal fees and damage your brand, so businesses need strict content controls from digital rights management (DRM) software.
DRM platforms leverage technology to protect and share digital assets like documents, pictures, audio files, or branded content. Whether you run a growing enterprise or a new startup, you need to lead with a reliable DRM platform.
In this post, we review 15 of the best DRM software options on the market. We'll start by breaking down each platform's features, then explain the basics of digital rights management, and then close out with a few frequently asked questions.
---
The 15 Best DRM Solutions
To help you choose the right DRM platform for your business, we've compiled a list of the top options. While some of these tools focus on DRM, we included several digital asset management platforms with DRM features built in.
The top 15 solutions are:
Brandfolder
Bynder
PallyCon
Digify
Acquia DAM (Widen)
Canto
PhotoShelter
CapLinked
EditionGuard
Vitrium
Fasoo
Widevine
OpenAsset
Sesimi
Axinom
We'll break down each of these platforms below.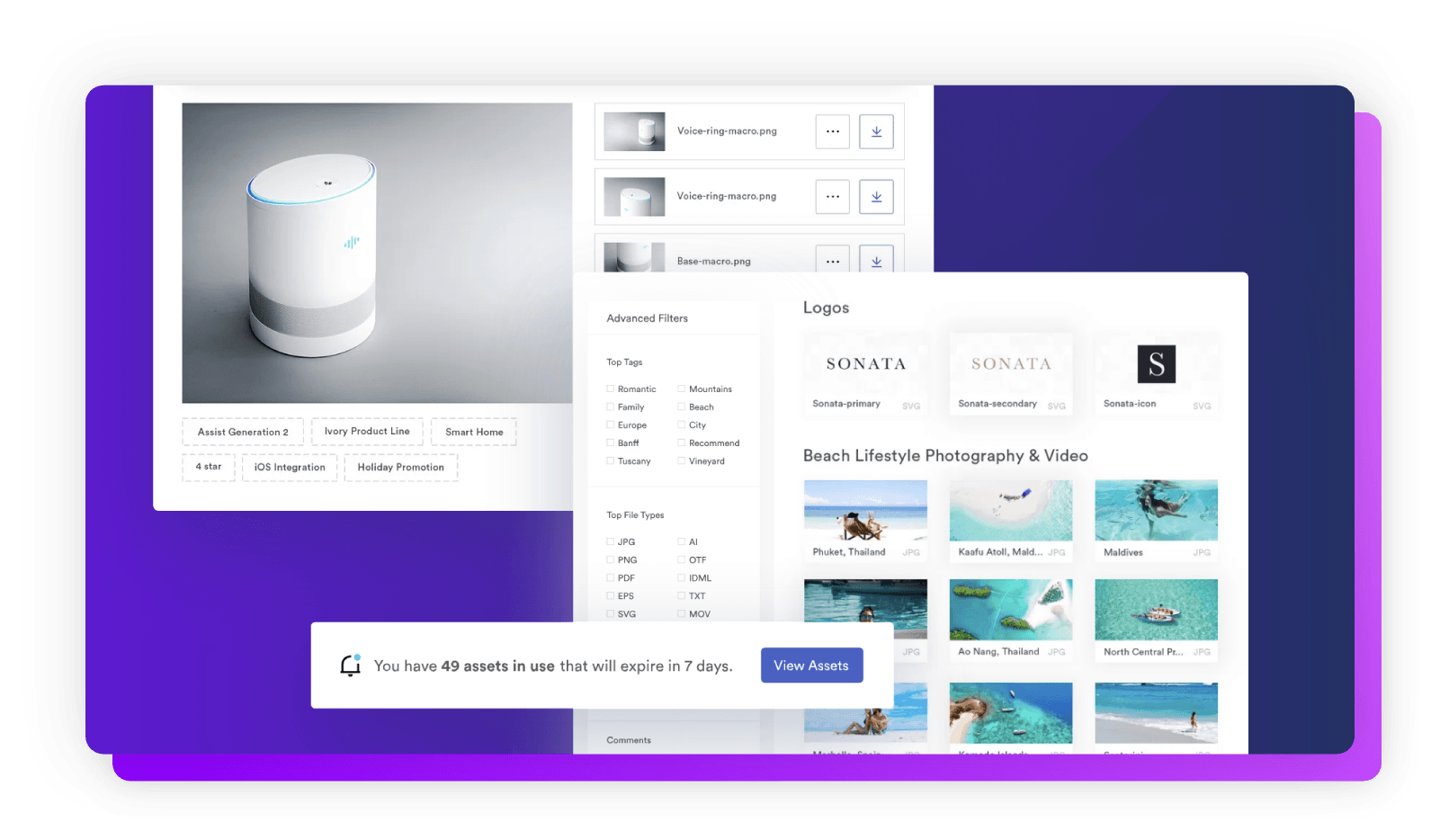 Our platform helps you control, distribute, and track digital assets, including 8K videos, images, documents, and 3D assets. We offer intuitive design and AI features that let you quickly upload and track assets using metadata. From there, you can export or edit assets to meet brand guidelines, and secure DRM protection.
We ensure secure asset sharing with groups or individuals, as well. Whether you share assets with staff or outside partners, our software's robust controls limit others' ability to copy or share data. Our platform also keeps tabs on who views your assets and what they do with them to help you retain control over your IP and refine your brand strategy.
Features:
Pre-built integrations and a developer-friendly API
Secure rights management and asset tracking tools to help you control how content is used and set expiration dates to assets to ensure proper usage of campaign assets
Asset and link expiration settings to ensure content is only available on your schedule
Insights and analytics to help you track active share links
Ability to share custom asset links with external groups and stakeholders
Download approvals and watermarks to prevent unauthorized distribution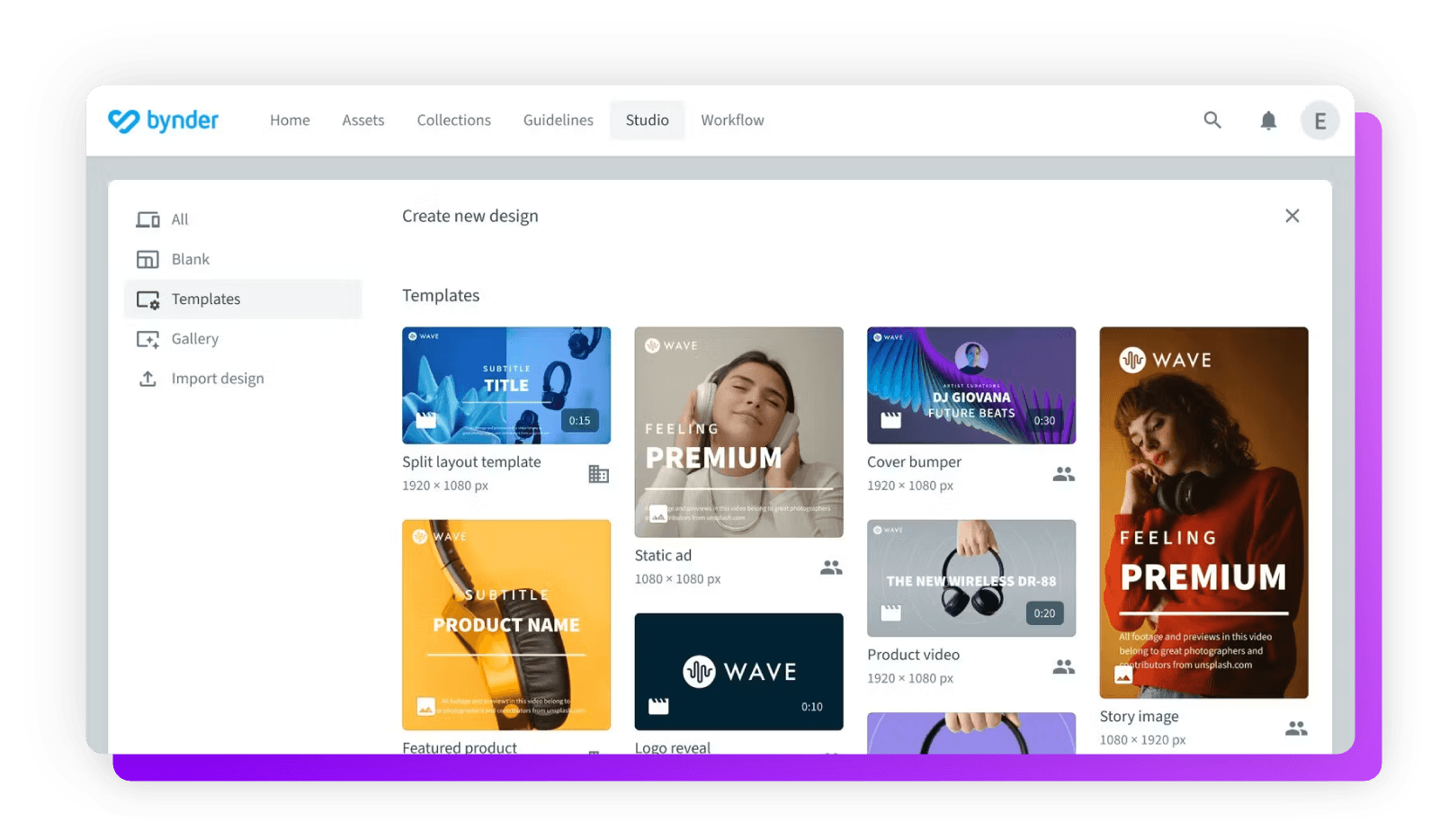 Bynder's digital asset management platform comes packaged with DRM features. This centralized platform helps distribute and manage your digital assets. Bynder's image is built on its use of artificial intelligence. Like Brandfolder, Bynder's AI tools streamline DAM management by enriching assets with metadata for enhanced searchability.
Bynder helps teams manage their usage rights by limiting access to unauthorized users, and helps share files internally and externally from the DAM system for authorized users. When sharing data, you can also set expiration dates for sharing, and track sharing history.
Features:
In-depth access configuration to meet any user's needs
Watermarking and access controls to prevent unauthorized distribution
Download approvals and tracking to see how assets get used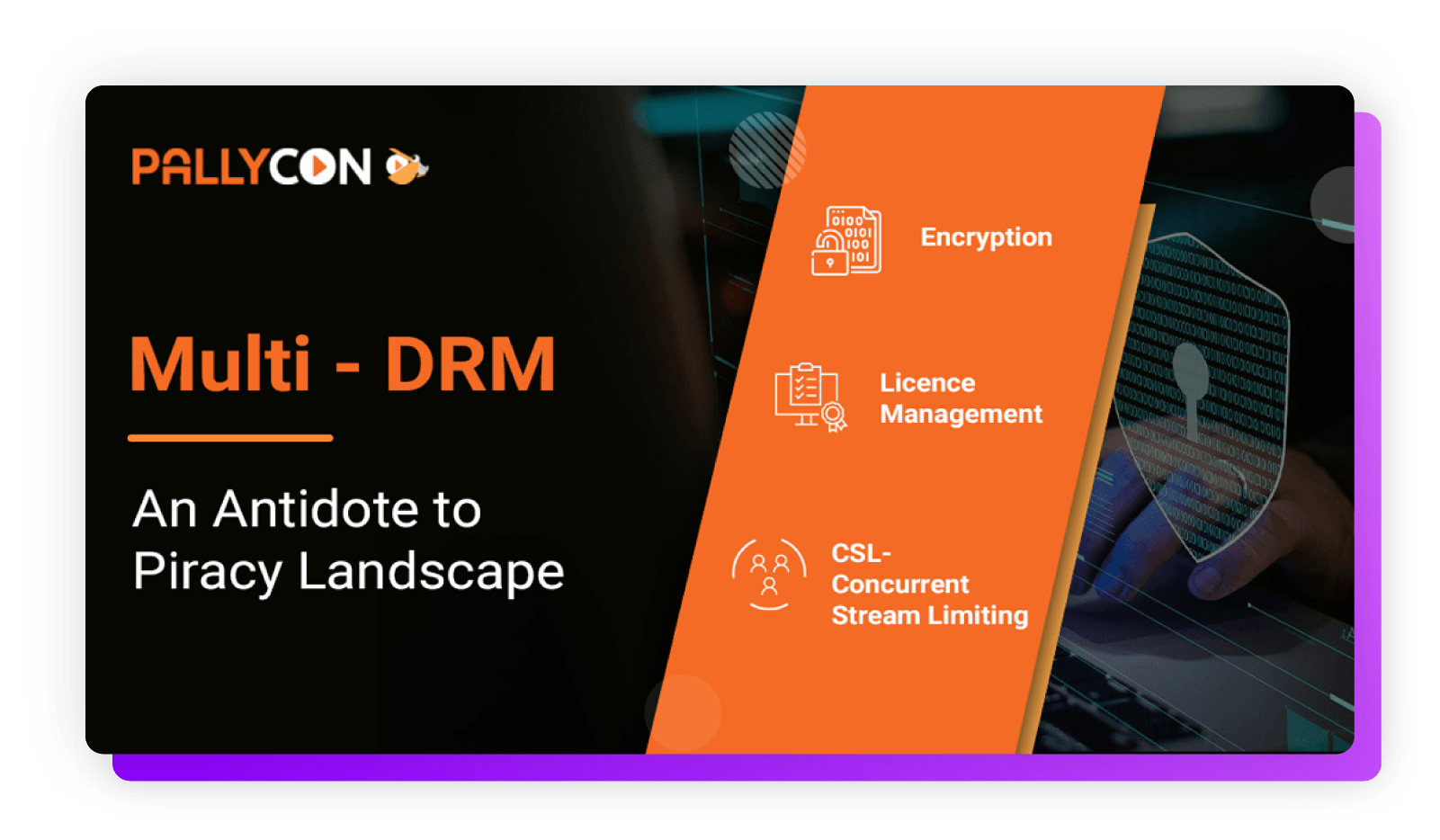 PallyCon is a multi-service DRM solution provider for individuals or businesses to protect their content. Its 360-degree approach offers forensic watermarking, anti-piracy measures, and app security. PallyCon's cloud-based end-to-end encryption model helps users quickly and easily apply content security. As a result, some teams turn to PallyCon for online digital asset management.
Features:
Concurrent Stream Limiting (CSL) to prevent credential sharing
Easy integration for HTML5 web players
Forensic watermarking for premium content protection
Multi-region service for high performance and reliability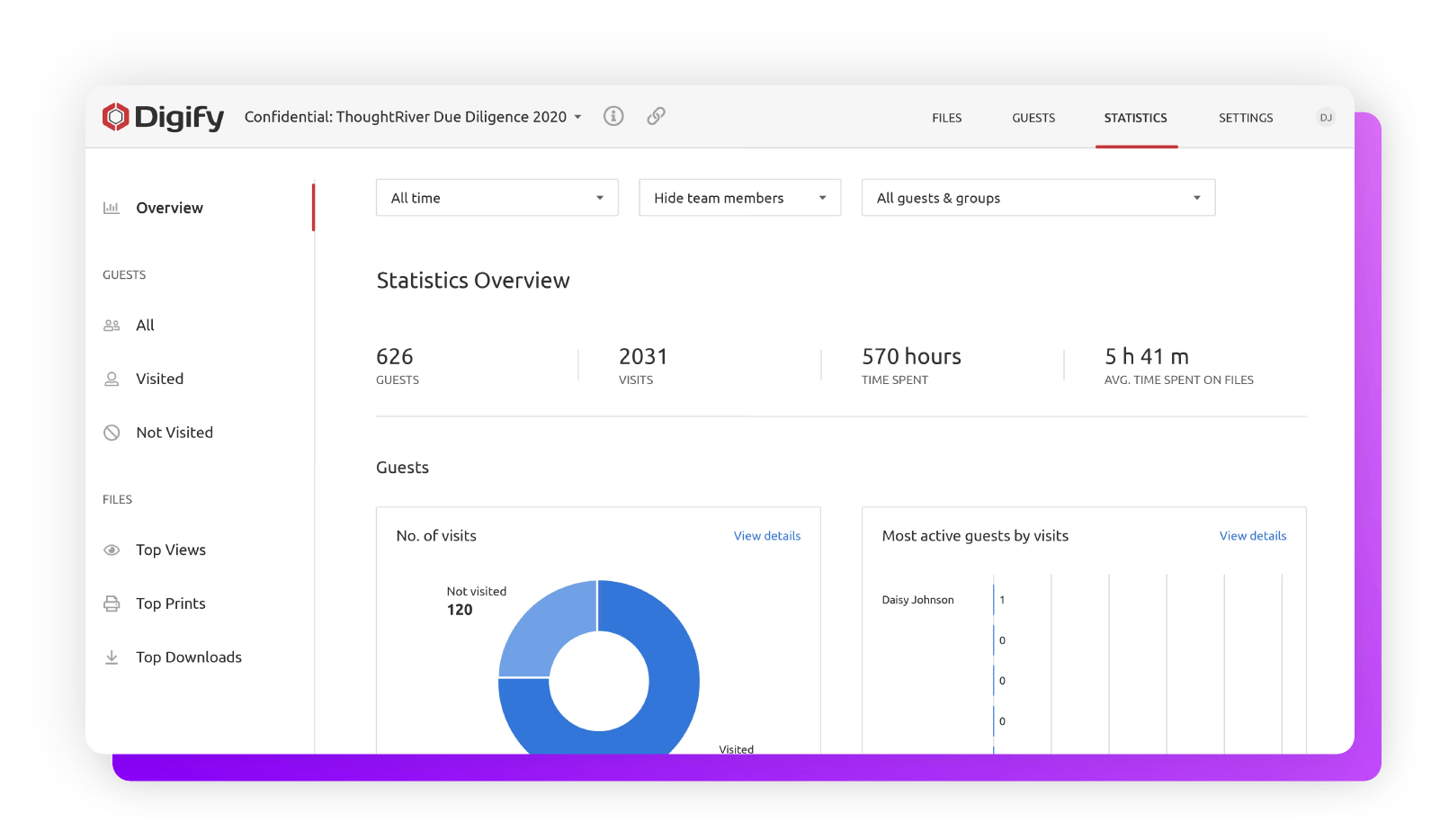 Digify is an easy-to-use DRM service that gives you total control over your documents. Users can adjust view permissions, restrict downloading, or add watermarks to copyrighted forms. Additionally, you can track document views, noting when and where your forms were reviewed, and by whom.
Digify's ironclad security and ease of use work for small startups and large enterprises. It also appeals to firms in a wide variety of industries, such as law, real estate, and stock trading.
Features:
Controlled documents with restricted downloads and watermarks
Viewing permissions that can be revoked or added at any time
Analytics tracking user activities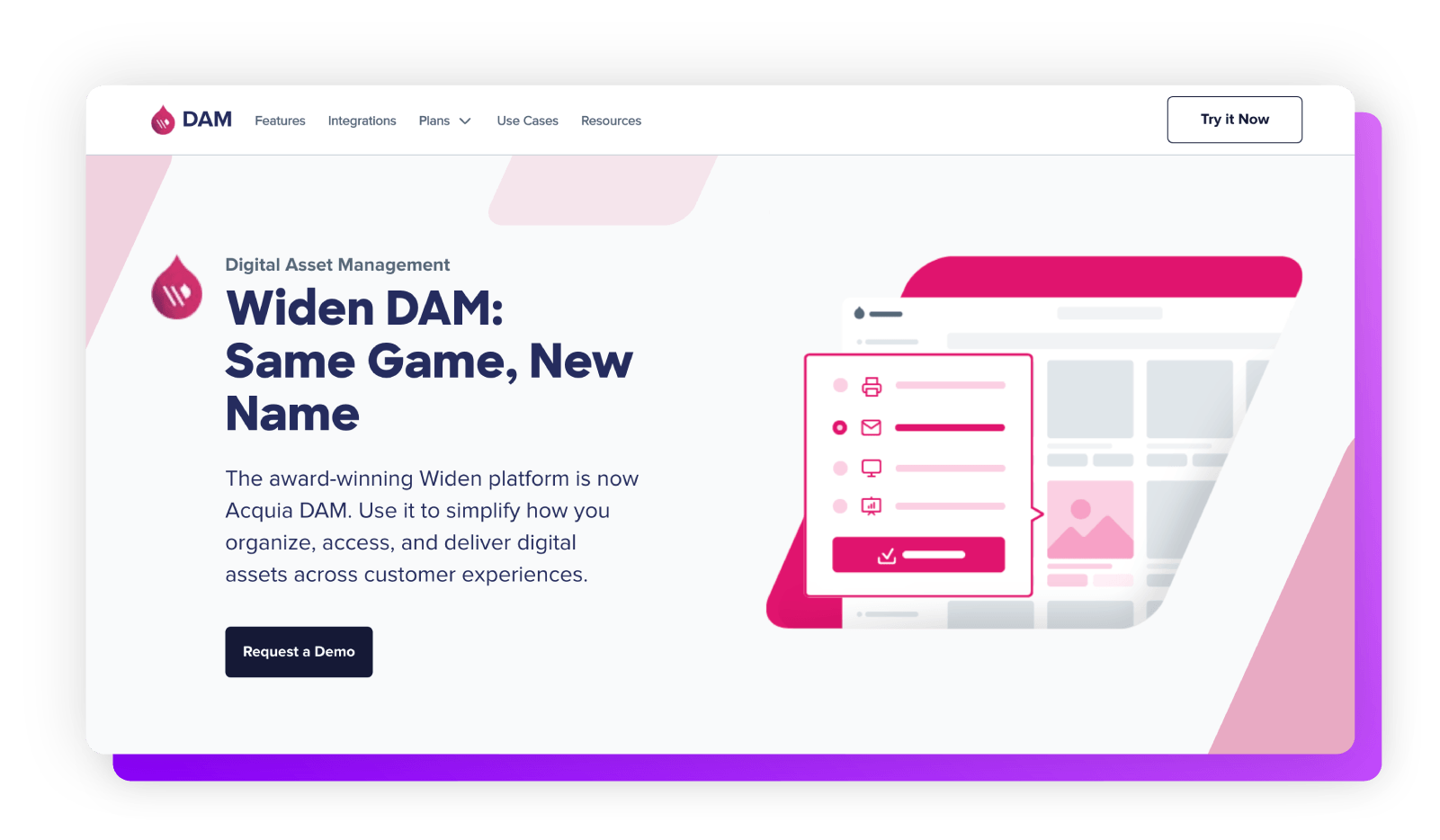 Acquia DAM, formerly known as Widen, streamlines organizing, accessing, and delivering digital assets. Regardless of your target customer experience, the platform offers a range of valuable tools. Its customizable metadata schema and AI-powered tagging helps locate and secure your assets.
Digital marketers and creatives can use these tools to track assets in campaigns and product launches anytime. Acquia's API-powered dev tools can also quickly update assets without posing a cybersecurity risk.
Features:
System monitoring to see who used your assets and when
Asset version trackers that share updates across all share and embed links
Versioning, metadata, and rights management tools to improve your asset security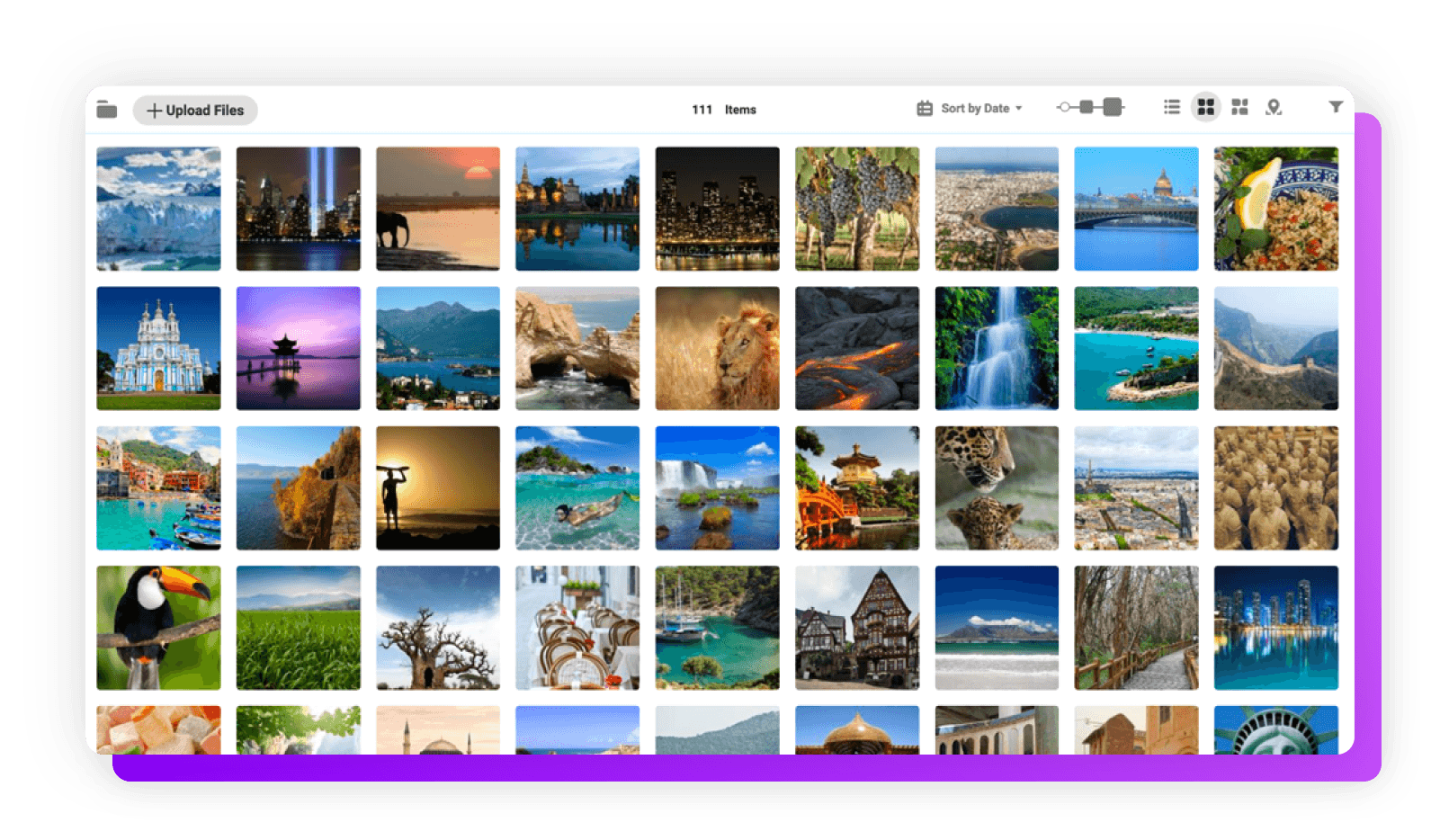 Canto helps businesses organize and distribute their digital assets in an effort to avoid operational challenges and increase efficiency. Canto manages your digital assets in one easy-to-track place. From there, you can share or publish content while retaining control and oversight over your files.
Features:
Content controls when sharing and publishing assets
Product security, data protection, compliance, and accessibility
Analysis tools that track KPIs on your DRM-controlled content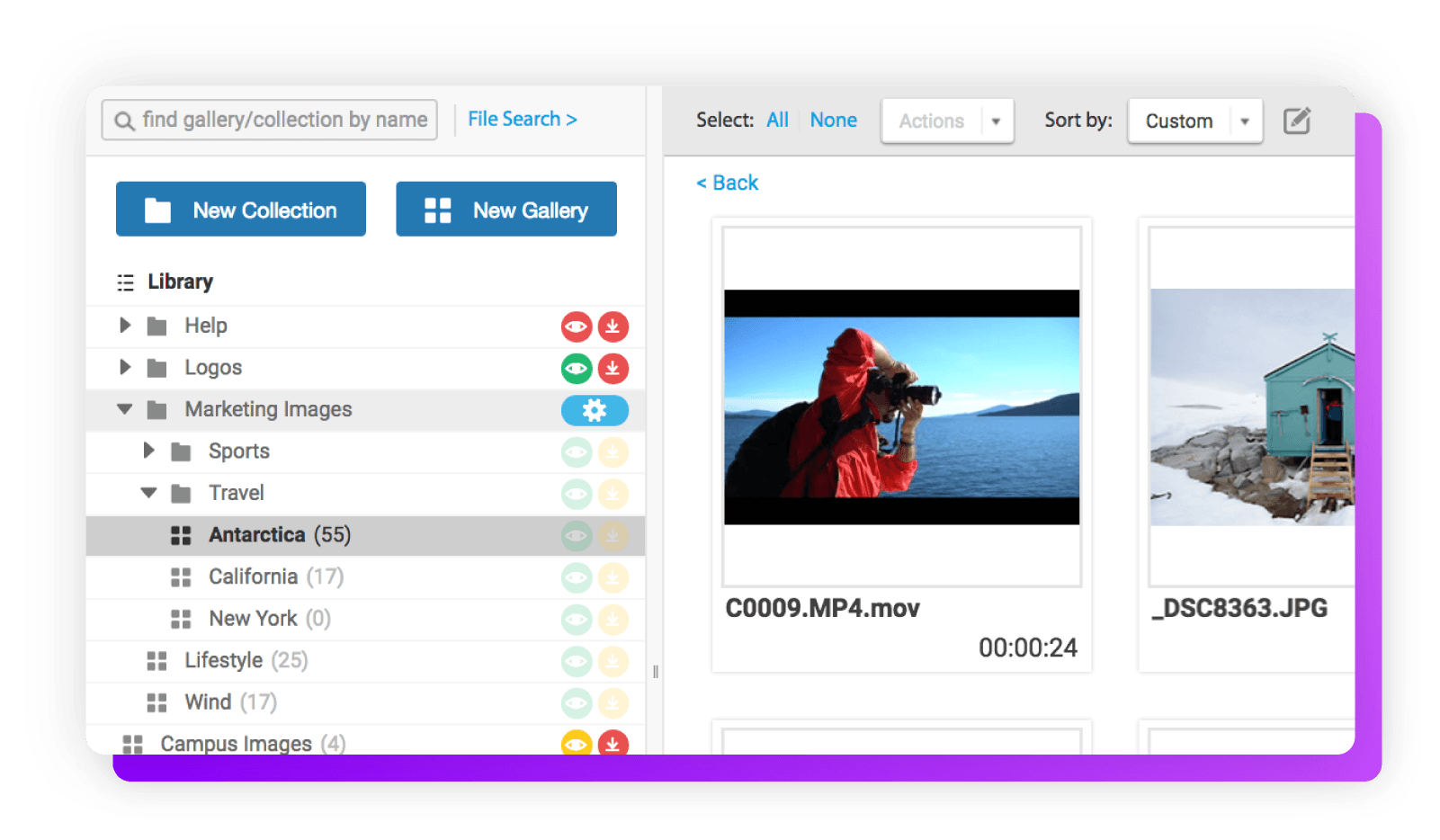 PhotoShelter is a DAM platform geared toward visual media, catering to creative teams, athletic organizations, and schools. PhotoShelter's real-time workflows organize and move media from capture to release. Its AI tagging also attaches keywords to images to streamline tracking.
PhotoShelter offers secure file delivery specifically crafted for visual media. Independent sellers can sell photo prints, image licenses, and watermark copyrighted images.
Features:
Fast and secure file delivery
Customizable e-commerce tools
Safe, seamless sharing and uploads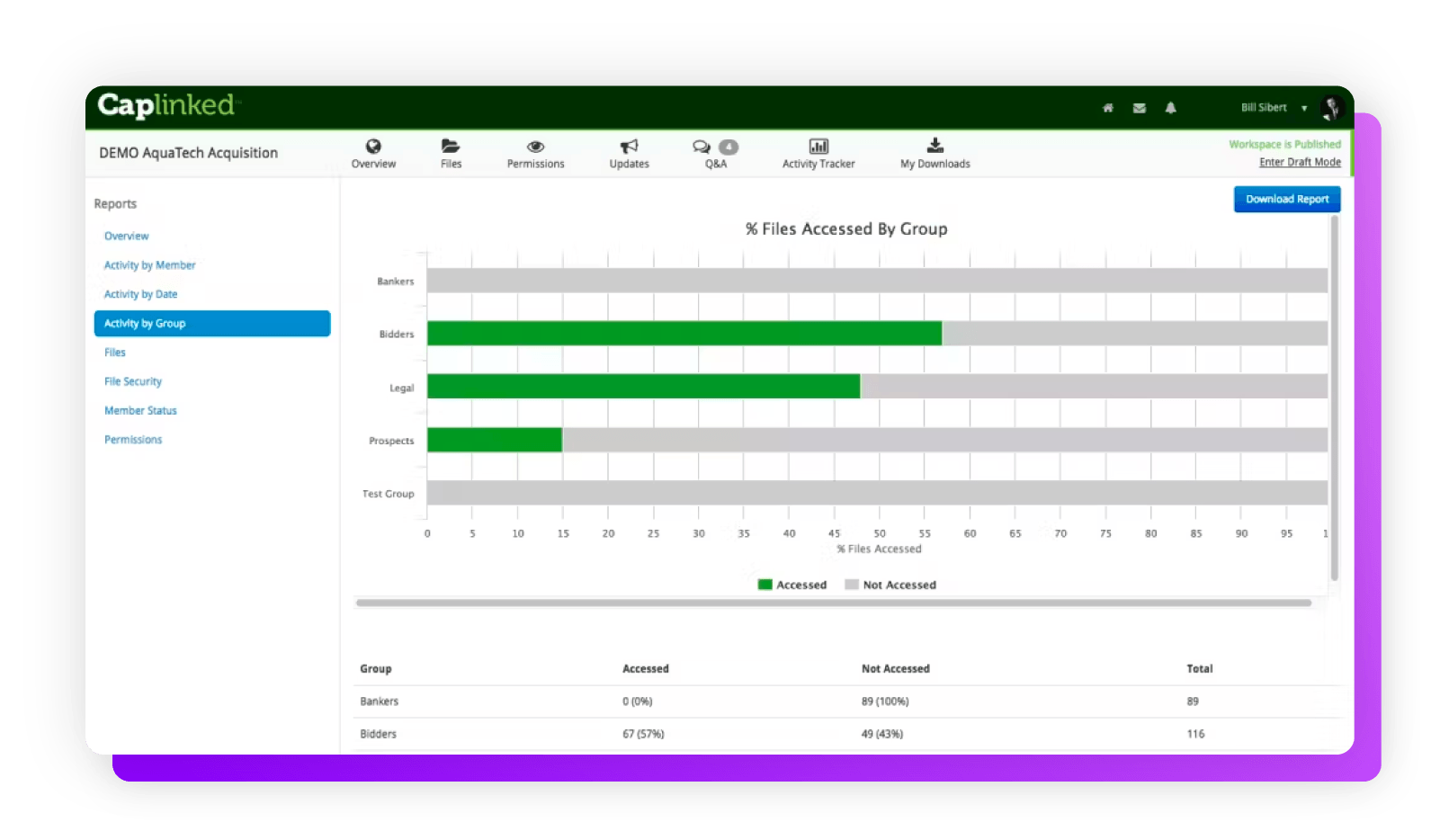 CapLinked is a document management platform focused on file sharing. It caters to businesses sharing confidential contracts for asset sales, mergers, and IPOs. Because it deals with sensitive information, CapLinked invests in some of the hardest-to-crack encryptions. Document owners have total control over how a document gets used, copied, edited, and printed.
Features:
Wide range of document access control settings
Comprehensive document activity tracking
No plug-ins required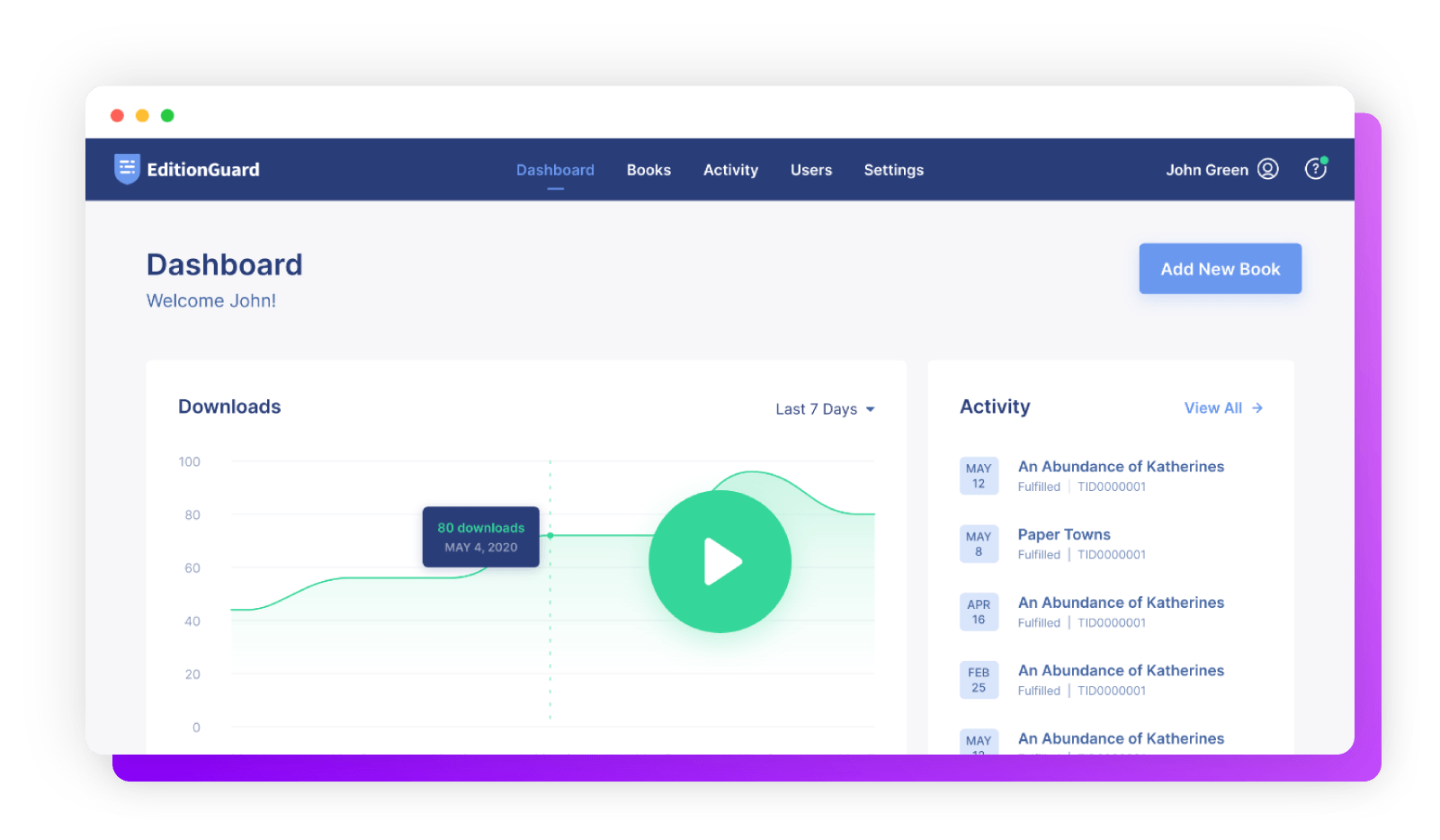 EditionGuard's DRM hones in on PDFs and e-book software and sales. Its web-based service is especially useful for independent booksellers lacking the resources to protect their content.
EditionGuard also streamlines the sales process for booksellers and comes with automated tools for order fulfillment. Additionally, users can use EditionGuard's out-of-the-box storefront, which comes with secure payment options.
Features:
Customizable display and copy permissions
Restrictions on unauthorized printing
Chat and email support for new sellers
Easy setup and integration with other software and websites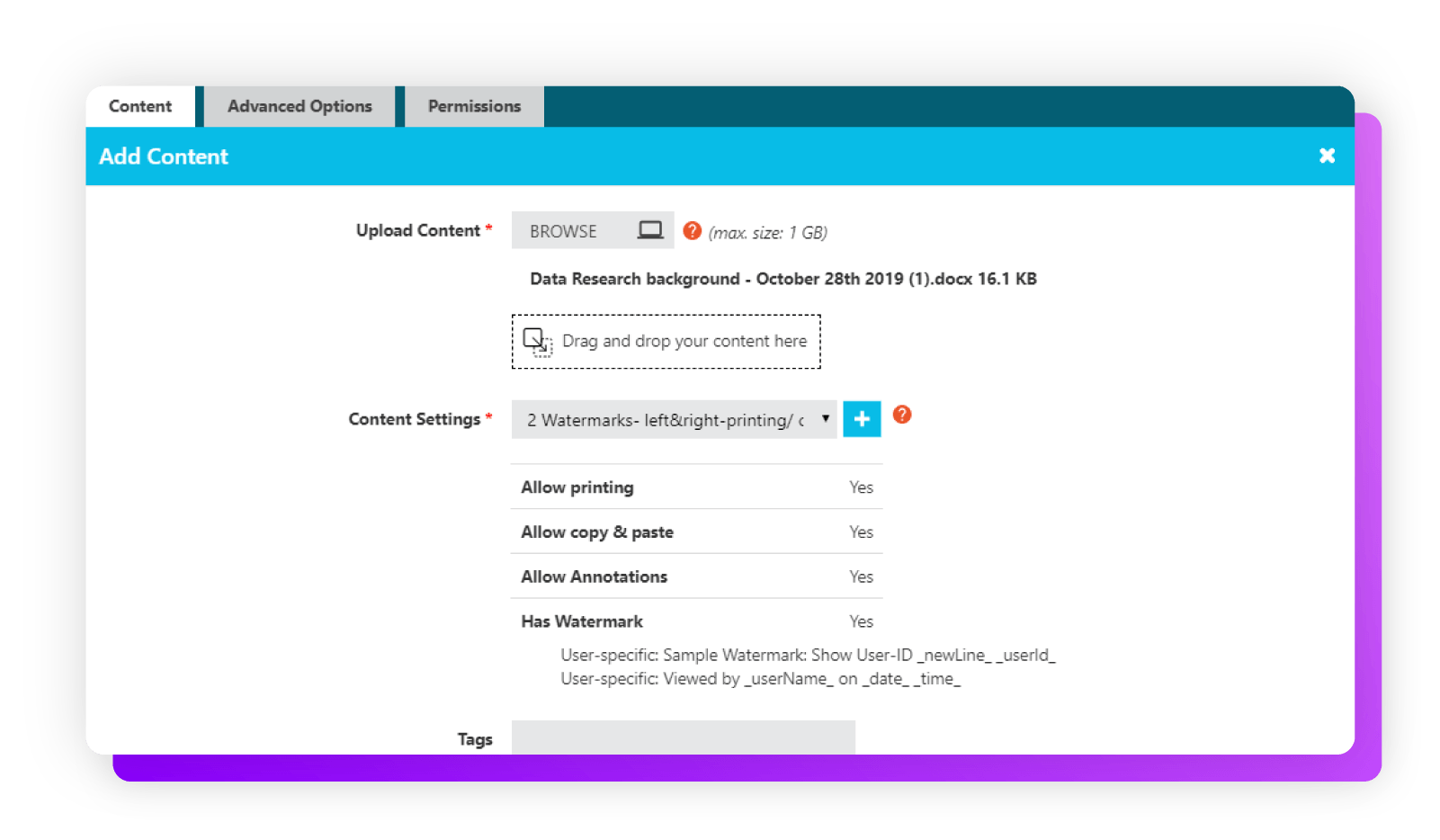 Vitrium's DRM software caters to companies looking for general IP protection. The platform covers documents, images, videos, and audio files, catering primarily to businesses, schools, government offices, and independent content creators.Vitrium comes packaged with standard features like AES encryption, a range of DRM settings, and user controls.
Features:
Strong encryption
Seamless user access
Risk prevention in content distribution
Analytics and content tracking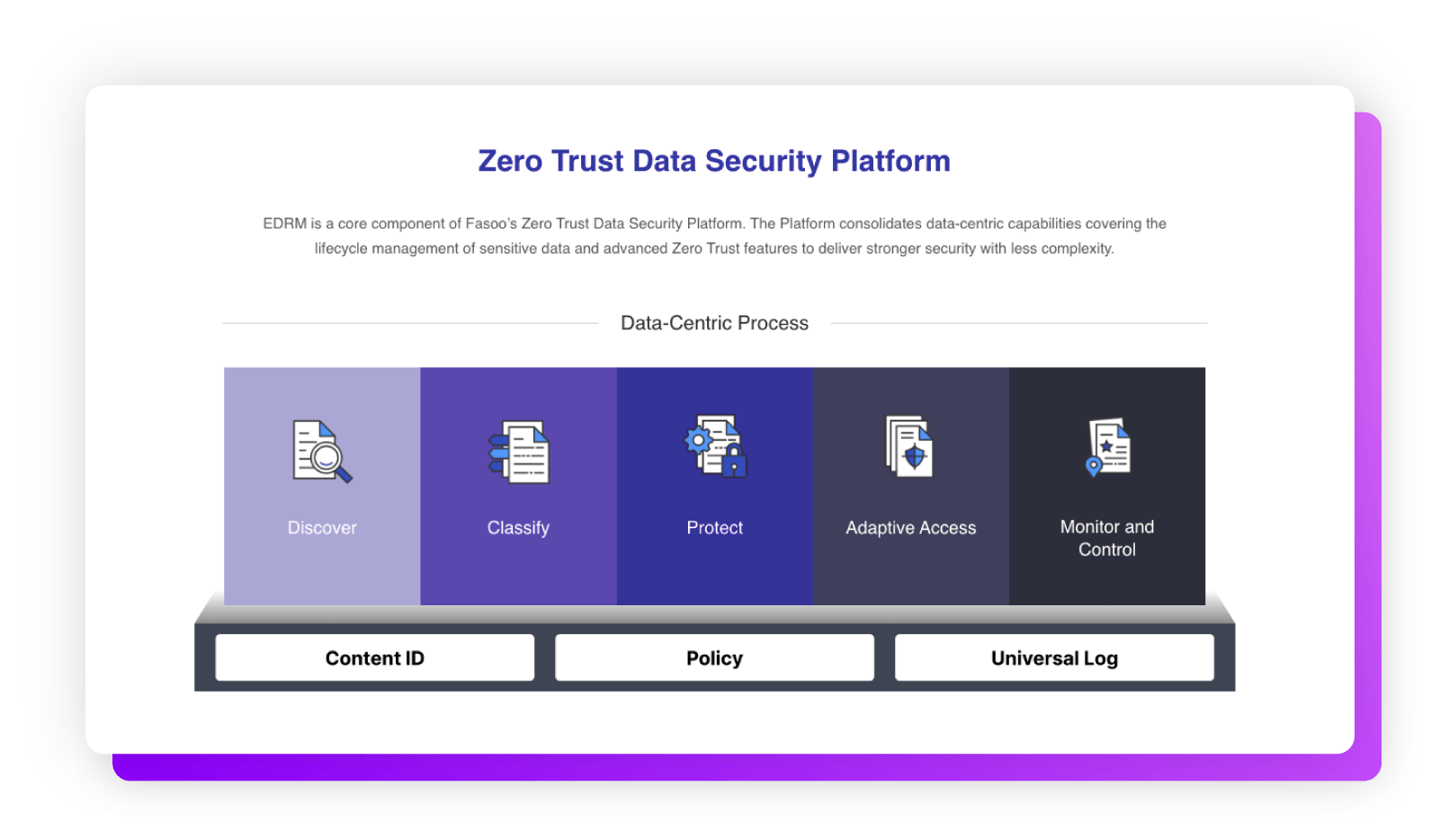 Fasoo tracks, protects, and controls sensitive documents on any device. Its encryption adds granular controls to limit printing, editing and sharing content. Fasoo can restrict unauthorized users inside or outside of your organization, and it adds cybersecurity protections against data breaches targeting unstructured data.
Features:
Document controls that protect and trace sensitive files
Centralized security management tools for cloud and physical servers
Simplified management of security exceptions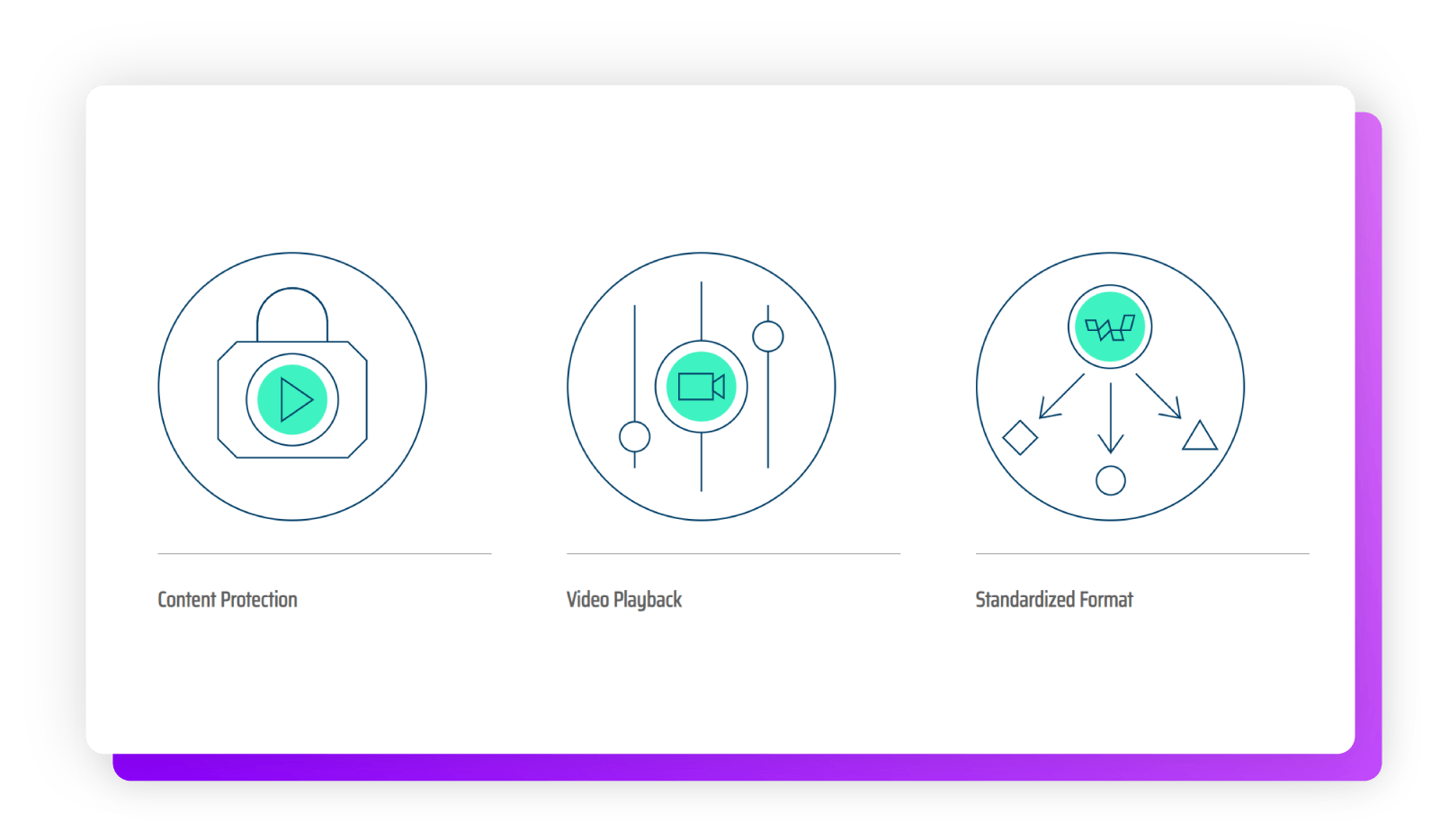 Widevine's DRM services let users distribute, license and protect video and audio content on computers, tablets, and smartphones. Content owners and creators use the platform to protect their revenue streams from playback content.
Because Alphabet owns it, you can find Widevine integrated into Google Chrome. Its focus on anti-piracy benefits independent creators and large companies alike.
Features:
Content protection on a large range of consumer electronics
Fully featured video playback with accessibility support and adaptive streaming
Legacy support which provides migration tools as technology changes
Reliable security with factory-provisioned key boxes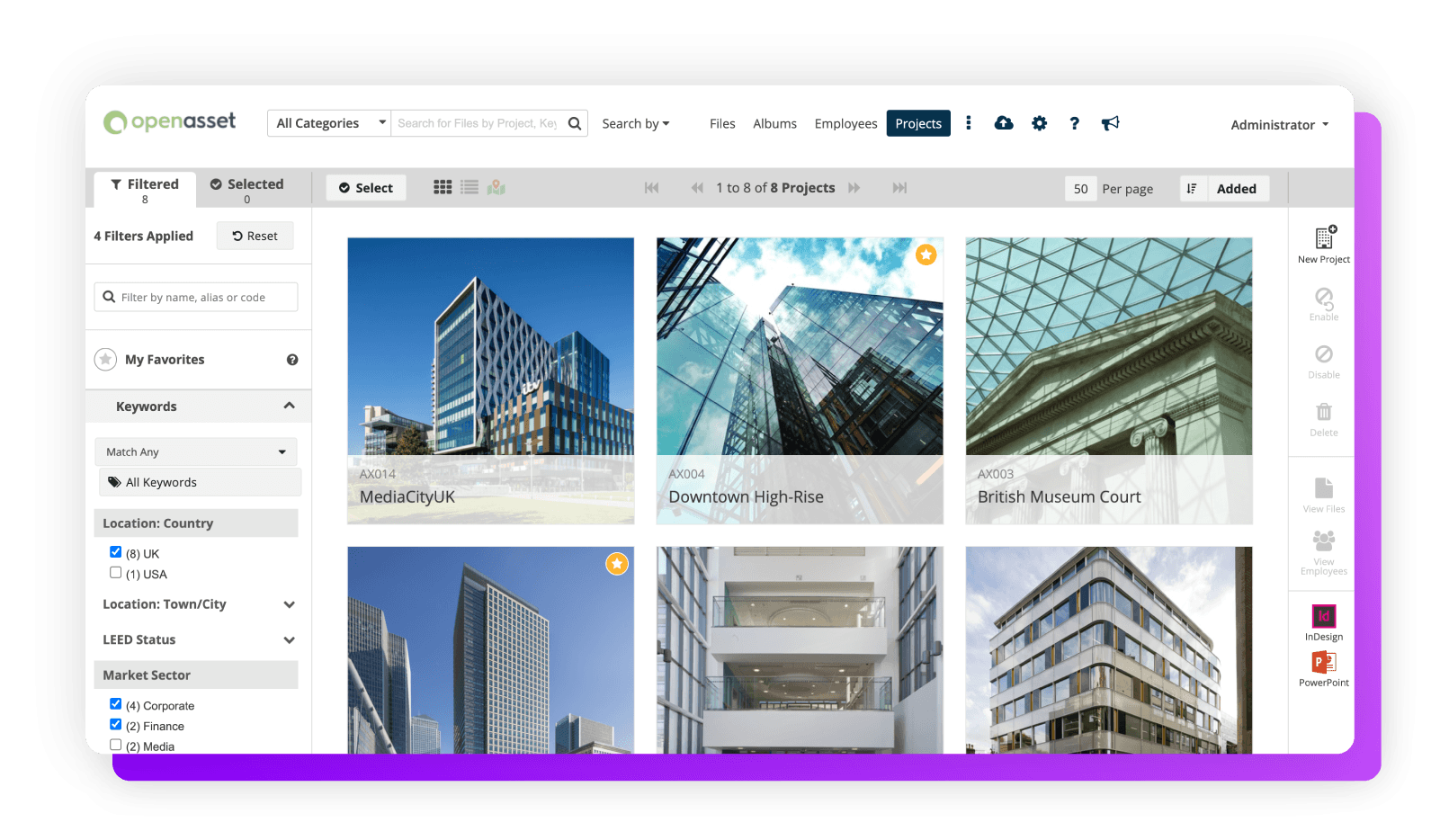 OpenAsset tailors its platform to architecture, engineering and construction (AEC), and real estate firms. Its project-based asset management centralizes storage in cloud servers. You can use keywords and metadata to track and store assets, or use its AI-supported search features to find what you need and adjust permissions.
Features:
Controls for who can access digital assets both internally and externally
Employee data storage, to align employees with the projects they worked on
Team and enterprise license options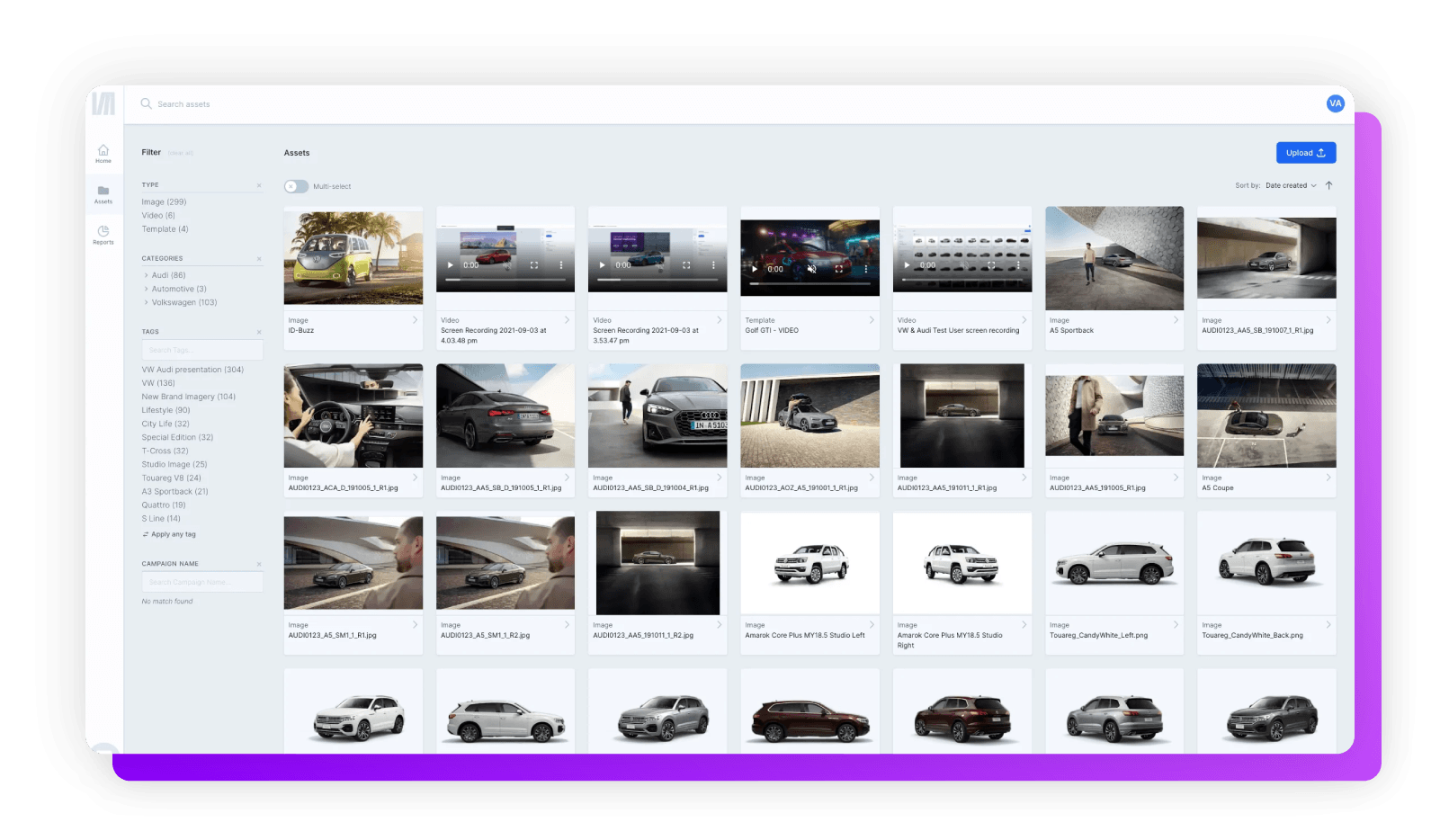 Sesimi allows users to create and manage branded content. Whether you need to build a secure campaign or share marketing assets, Sesimi can help. You can produce content with Sesimi's customizable templates for video and audio advertisements, and its streamlined approval flows and automated report generation can help boost productivity and gauge campaign performance.
Features: Scalable plans suited to each user's needs AI tagging on uploaded assets Single sign-on functionality through existing SAML or OAuth 2.0 accounts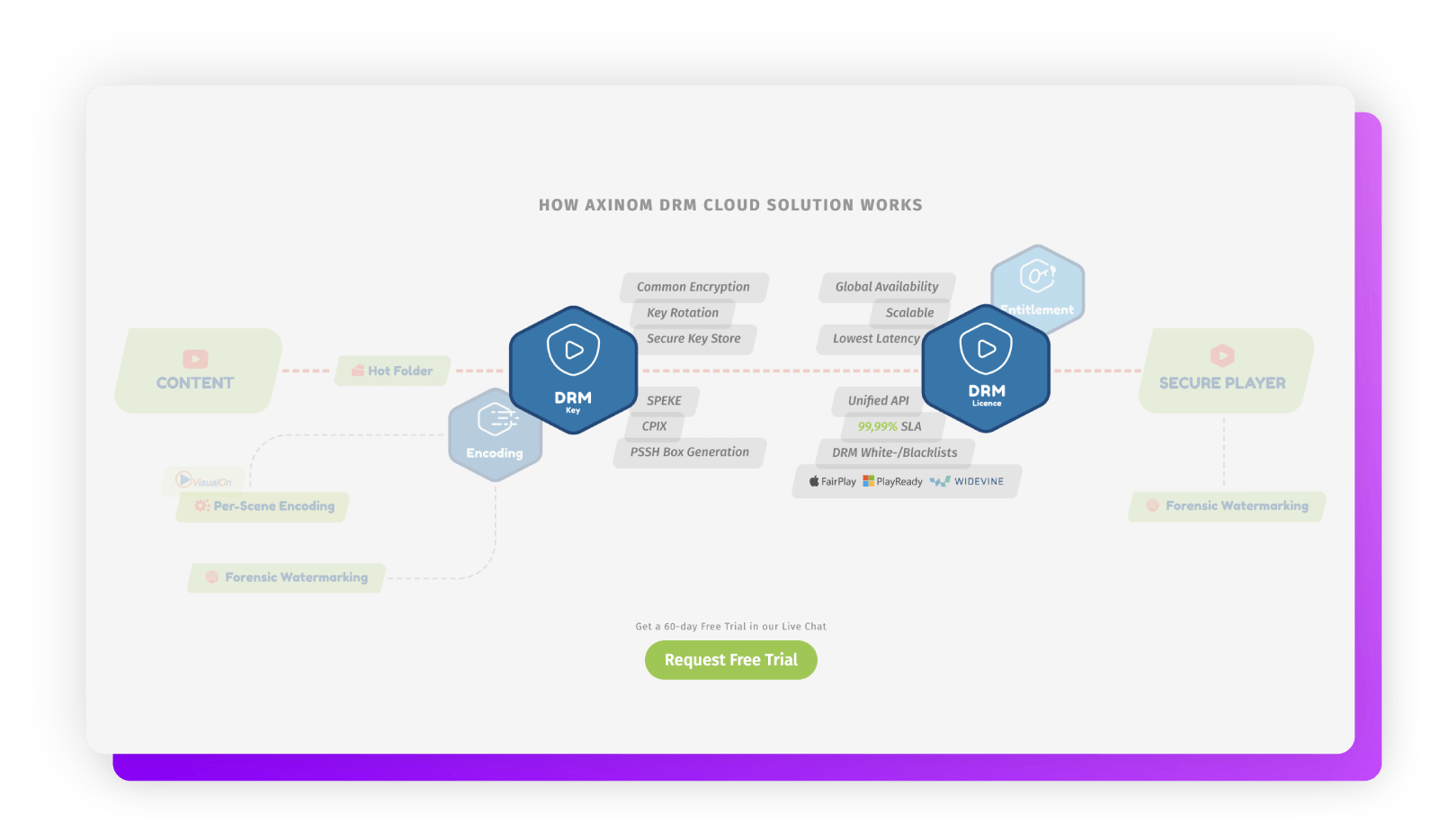 Axinom is a multi-DRM platform offering a unified API for its focus on video streaming. It works with Apple FairPlay, Widevine and Microsoft PlayReady, stressing its compatibility with every platform, device, and video player. To prevent piracy, it meets the latest security requirements for live content, VOD and premium UHD 4K.
Features:
Automated scalability to match demand while live streaming
Customizable access controls across multiple devices
Availability on globally distributed servers to prevent latency issues
---
What Is Digital Rights Management?
Digital rights management is the process of managing legal access to digital content. Content owners use DRM as a form of encrypted copyright protection. Using a DRM system, you can prevent the unauthorized distribution, copying, or modification of content. DRM protection can take many forms, including:
Content restrictions preventing users from accessing, altering, or sharing content
Cutoff dates limiting a user's access to media
Limited content access for blocked IP addresses and devices
Watermarks on forms or images to establish ownership

Why Is DRM Protection Important?
DRM restrictions help content creators and owners control how people use their content. Authors and artists use DRM to prevent theft or a loss in their creative investment. It can also protect assets individuals need to work. So, in an era of torrent sites and file exchanges, DRM is the difference between profit and loss.
Organizations also use DRM-controlled content for cybersecurity. Media companies and businesses that keep their most vital assets in files need to protect these files from breaches. An investment in DRM can prevent asset losses before they occur. Companies can use a DRM platform to:
Meet compliance standards
Protect customer data
Avoid system downtime to boost productivity
Control access to proprietary information
Manage how employees use files
---
How DRM Works
DRM creates barriers between your digital content and outside actors trying to access it. DRM systems use encryption keys that restrict access to content and what a user can do with that content. Content creators with a decryption code can access their material and share that access with others.
DRM operates in three steps:
Choose your DRM solution: Pick a platform and type of restriction that suits your needs. DRM can limit access by IP address, device, location or all of the above.
Encrypt your files: Place a restriction key on your copyrighted materials. You can gatekeep overall access, and also limit specific user interactions. For example, you can let people view your files, but you can limit their ability to copy or share them.
Use your decryption key: Your decryption codes give access to your content. You can also share the decryption with staff or trusted friends and business partners. If you add watermarks or license agreements to files, the decryption key gets around those.
DRM Examples
You can use a DRM for different content and business applications. You can use a DRM to:
Manage platforms and payment security: DRM platforms track the devices and transactions involved in your platforms. This keeps unauthorized devices from accessing files and ensures a transaction goes through before granting access to data.
Prevent tampering: Outside hackers can change the information in files to harm you or your business. DRM technology prevents outside actors from seeing or changing your data. Even if they get through, DRMs can reveal who viewed your files and when.
Protect confidential information: DRMs can protect proprietary and private information from outside breaches.
Place watermarks: DRMs can place watermarks on pictures and GIFs. If someone uses a watermarked image, that means they didn't pay for it.
Add and accept user licenses: DRMs can add licensing and usage rights to digital media. This tells users what they can and can't do with your content.
Limit file access: A DRM can restrict file access based on time, device, IP address, or location.
Track assets: DRMs can place a tracking ID on content to gauge how it gets used. Owners can collect this data and compile it into metrics.
---
DRM FAQ
We've answered a few frequently asked questions to round out your understanding of DRM-controlled content and platforms.
What Are the Benefits of DRM?
Enabling DRM restrictions helps manage and protect your copyrighted materials. For artists and companies, DRM can manage your brand and retain your materials. More general benefits of DRM include:
Protecting income: Creators rely on sales to earn revenue from their digital assets. If theft occurs, these owners miss out on potential profit.
Securing ownership: DRMs help content creators secure their ownership. This keeps third parties from stealing material and passing it off as their own.
Sharing copyright knowledge: DRMs communicate what users can and can't do with media they don't own. As a result, customers learn more about intellectual property.
Gatekeeping content access: DRMs prevent unauthorized users from accessing your files. This can limit access to employees at your company or trusted friends.
Improving privacy: DRM adds an extra layer of privacy to your files. A reliable DRM will keep outside actors from even reading proprietary files.
Staying compliant: Enabling DRM benefits your enterprise company that relies on DRM to manage and protect your brand and meet compliance standards.
Should I Enable DRM?
You should always enable DRM protection. While it doesn't provide perfect security, it lowers the risk of breaches. Small to enterprise digital asset management platforms often include an option to enable DRM protection.
What Is the Difference Between DRM and Copyright Enforcement?
DRM protection guards copyrighted materials, and copyright enforcement helps owners respond to theft. In other words:
DRM is a preventative measure. It exists to avoid copyright infringement in the first place.
Copyright enforcement gives owners legal recourse after their content gets stolen.
---
Protect Your Digital Assets with Brandfolder
While IP protection isn't new, DRMs offer cutting-edge solutions to protect assets from new threats. By learning about the different types of digital rights management, you can take the first step toward securing your content.
If you're ready to protect your marketing and creative assets today, try Brandfolder by Smartsheet. Our all-in-one platform comes with the best DAM and DRM tools on the market. Our DAM streamlines the process of creating and embedding different types of assets across the web — and the same analytics and content management tools that streamline workflows and boost productivity raise your defenses against data breaches and theft.
To get started with Brandfolder, schedule a demo with our award-winning customer service team today.