Forrester's Total Economic Impact™ Study: Brandfolder Customers See 273% ROI
The research firm crunches the numbers to show how an investment in Brandfolder can pay for itself – many times over
Getting started with a new software solution can be daunting – just the time it takes to conduct an RFP is a job in itself. But it's a necessary evil and the payoff can be well worth the effort. To help organizations understand if Brandfolder is right for them, we commissioned the trusted market researchers at Forrester Consulting to conduct a Total Economic Impact™ (TEI) study and assess the return on investment (ROI) companies may realize with Brandfolder.
The TEI Survey Framework
Forrester conducted a robust series of surveys and interviews with five companies that currently use Brandfolder for digital asset management to understand the cost, benefit, flexibility and risk factors that affect business' investment decisions. The companies are anonymized in this study but fall into the following industries: hospitality e-commerce, employee benefits, financial services, retail co-op and personal care. The results of the study are aggregated into a single composite organization that is US-based with global operations, has $1 billion in annual revenue and has 3,000 employees.
Shared Key Challenges
Prior to using Brandfolder, these brands shared a common set of headaches and challenges including:
Lack of processes to enforce brand compliance, search for assets and produce materials
Legacy tools for creating, tagging, uploading and searching for assets was tedious and ineffective
Content distribution was inefficient and inconvenient
Legacy systems had poor adoption and required time-consuming maintenance
Some of these pain points sound familiar? Unfortunately, these are all too familiar for many companies out there.
Snapshot of the Findings
After investing in Brandfolder, these companies realized greater efficiencies and improved productivity in marketing and creative teams.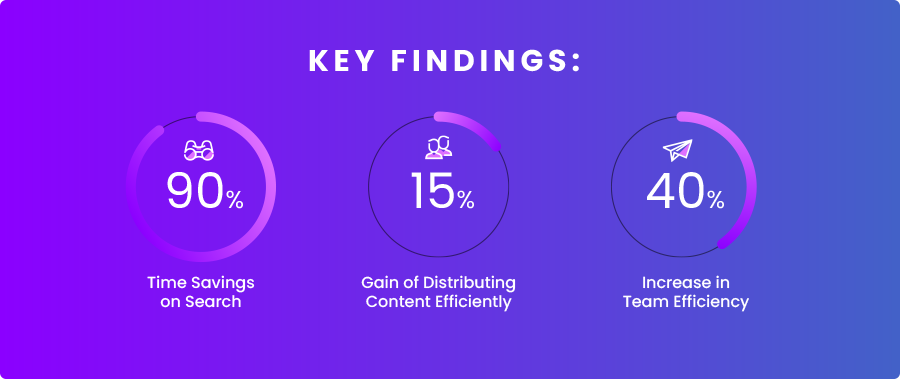 Notable Benefits
A few of the quantified highlights from this survey include:
Realizing an ROI as high as 273%
$1.13 million in benefits over 3 years with payback in less than 6 months
Freeing up 90% of time searching for creative assets
Improving productivity by 40%
$220,000 in cost savings from the retirement of legacy systems
A 15% increase in content distribution efficiency
A positive employee experience with a high adoption rate

These insights couldn't come at a better time. All over the globe, workforces must be agile and resilient, adjust to new collaboration tools at breakneck speeds and train their employees with new technologies in hopes of making them more productive. It's a lot to bite off for anyone, so you might not be surprised to hear that interviewed organizations cited content distribution efficiencies, cost savings and the ability to retire legacy systems as a crucial reason they chose Brandfolder.

Final Thoughts
We believe that Brandfolder is not only the glue that holds teams together but the fuel that boosts team's productivity, and we're so pleased to see that the surveyed companies experienced measurable cost savings and efficiency gains. We don't want to spoil it for you, but it's safe to say that the study reveals just how much teams love Brandfolder. You've heard our customers rave about how Brandfolder saves them time, money and headaches and we have the numbers to back it up.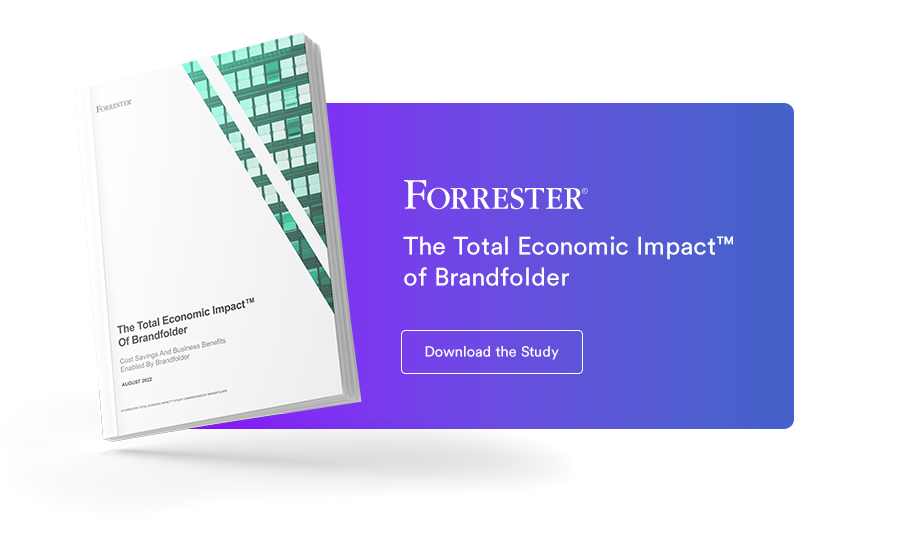 If you've heard enough and are interested in seeing the benefits of Brandfolder first-hand, schedule a demo with us.