Looking for guidance on a brand management solution? Read on.
A great brand is your competitive advantage.
A complete brand experience connects you to your target audience and inspires lasting loyalty, improves brand recall, and is closely linked to sales performance.
Brand management ensures that everything that goes into the customer, employee, and partner experience is consistent, easy-to-find, aligned with your business strategy, and used appropriately.
In these next few sections, we'll explain what brand management is and how brand management software plays an essential role in ensuring that your company really nails this critical strategy.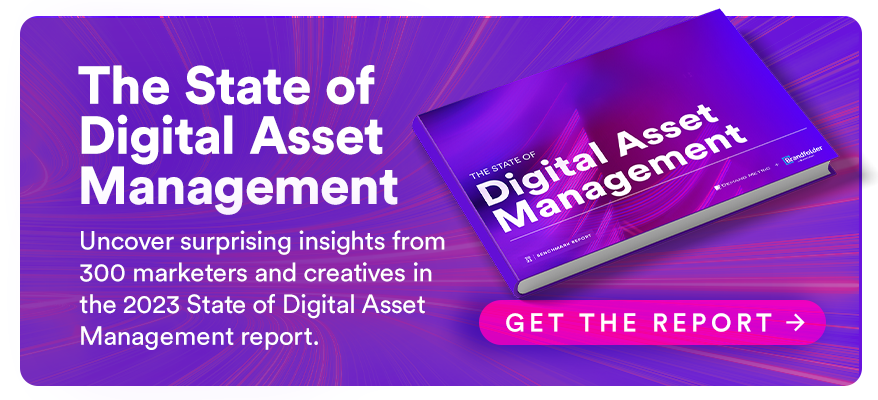 What is Brand Management?
Brand management is a marketing term that describes the process of setting and enforcing a set of standards for managing all internal and external branded digital assets. Where branding represents the process of building a brand, brand management is the process of maintaining it.
It's important to note that brand management is about so much more than aesthetics. It's about managing all elements that collectively make up a brand's identity so that a business can convey a consistent image to the end-consumer.
Those elements include everything from packaging and press releases to blog posts, social media accounts, and the in-person experience—essentially any touchpoint where a potential customer might interact with a brand.
Brand management is a strategy that originates with the marketing team, but involves anyone who represents your company on any channel–be it social media posts, sales calls, support requests, press releases, blog posts, service calls, and so on.
As such, your brand management strategy should include your entire internal team, as well as vendor partners, freelancers, agencies, and influencers that act as extensions of your core business.
Why is Brand Management Software Valuable?
Managing a brand involves keeping track of a long list of moving parts–channels, touchpoints, stakeholders, as well as maintaining 24/7 brand consistency, managing your reputation, and securing market share.
Already, that's a lot for humans to handle on their own.
Companies also face the following challenges that make it even harder to protect their brand from everything that might possibly go wrong.
High expectations from consumers. Today's customers—both B2B and B2C— expect to receive a personalized experience at every touchpoint. Content not only needs to be delivered ASAP, it also needs to be personalized based on the recipient's location, behaviors, preferences, and other characteristics.

External factors. Your brand isn't always within your control—external forces like influencers, trends, reviews, and news stories are just as much a part of your brand as the logo and branded content your team created and can easily control your brand's narrative if you're not careful.

Industry regulations. Organizations operating in highly-regulated industries like healthcare or financial services face additional challenges in terms of maintaining compliance requirements. In those cases, brands not only need to worry about protecting consumer data, they also need to be mindful of how they present information in branded assets.
Brand management software is designed to address these specific challenges, allowing marketers to build and control the brand across all relevant touchpoints.
While brand management software is one of many tools in any marketer's stack, these solutions play a critical, central role in creating a cohesive, on-brand experience for all stakeholders—both internal and external.
Bottom line: without brand management software, the whole strategy falls apart.
Which Industries Uses Brand Management Software?
Brand management platforms can be used across a wide range of industries, including:
Franchise— Franchise businesses face some unique challenges when it comes to creating and distributing marketing materials.
There's often this disconnect between corporate headquarters and the local offices in their network, operated by independent owners, yet still responsible for doing their part in creating a cohesive brand experience that aligns with the rest of the brand.
Corporate marketing teams can create templates for signage, promos, and campaigns and upload them into a centralized portal allowing local teams to access and customize brand-compliant assets.
Retail— Like franchise businesses, multi-location retailers also benefit from brand management software features like marketing portals and the ability to set custom rules that prevent errors and inconsistent messaging.
Manufacturing— Manufacturers deal with countless SKUs and their associated assets, presenting several significant challenges and potential risks to the brand.
Brand management software supports manufacturing companies by providing a single source of truth for digital assets. Features like version control and smart search & discovery help brands manage and locate the up-to-date assets they need to promote the brand according to the style guide.
Agencies— Brand management software helps creative agencies maintain consistent quality standards across all creative assets, whether they're developed in-house or by external freelancers or contractors. A DAM software allows agencies to streamline workflows, capture feedback, and communicate more effectively with clients.
Sports franchises— Assets connected to professional athlete sponsorships and sports teams are some of the most expensive marketing materials out there. Brand management tools help users manage usage rights, distribute promotional assets, and drive customers to purchase merchandise with collateral promoting branded apparel. Additionally, features like auto-expiration dates and the option to add layers to default security settings provides additional protection to teams with high-value brands.
Financial services— Brand management tools allow financial services firms to deliver better customer experiences without putting the brand at risk. Wealth managers, financial advisors, and branch agents can deliver personalized reports and experiences using templates that ensure they stay in compliance with industry regulations.
Healthcare- Healthcare companies benefit from cloud-based brand management software as it allows them to create corporate-approved marketing materials that can be customized to meet the needs of local audiences.
Food & beverage— For food and beverage companies, brand management software helps companies build and maintain a recognizable brand no matter how many markets, warehouses, and sales reps are in your network.
Brands can create segment-specific portals for different partners, making it easy to deliver on-brand assets that help products sell.
Features to Look for in Top Brand Management Software
Brand management software spans a wide range of tools, allowing users to create, manage, organize, update, and control all branded assets from one centralized location.
That said, not all platforms are created equal, and you'll need to find a solution that aligns with your business strategy, industry, and internal workflows.
Below, we've outlined some of the key features to look for in a potential solution, though again, depending on your unique business needs, you may need to look for more specialized capabilities.
Easily store and organize brand collateral
At the most basic level, your brand management software should function as a homebase for all digital assets.
That way, anyone who needs to use these files will not have to search for or request final versions.
DAM software can help you avoid some of the issues that can arise when different departments and locations are working from a shared file server–duplicate files, inconsistent naming conventions, multiple organization methods, etc.
Look for solutions that reduce the amount of time spent manually uploading and organizing files.
For example, Brandfolder's built-in FTP ingest workflow automatically ingests files from your connected data sources and uploads them to the platform.
Users can set custom rules that automate the tagging and organization process. Sort assets into collections, portals, and categories that make it easier for users to locate the materials they need without any training.
Quickly access brand assets
When teams can't find the information they need, they often take matters into their own hands and end up either misusing marketing materials or creating ad-hoc content to address perceived content gaps.
Both situations can put your brand at risk and have a negative impact on customer perception.
Additionally, it also means that marketing assets go unused–meaning employees lose countless hours to digital assets that never see the light of day.
As such, another base level feature to look for in a brand management platform is a system that makes it easy for key stakeholders to instantly find and share the information they need to efficiently and effectively do their jobs.
Features to look for:
Pinned searches
Auto-tagging
In-document search
Filtering
Suggested search
Bonus resource: Metadata Management: What It Is and How To Use It
Edit and convert brand files
Additionally, brand management solutions should make it easy to edit, convert, and update all digital assets from one place.
This way, you can avoid wasting time switching between platforms, eliminate downloads, and get more done in less time.
Features to look for: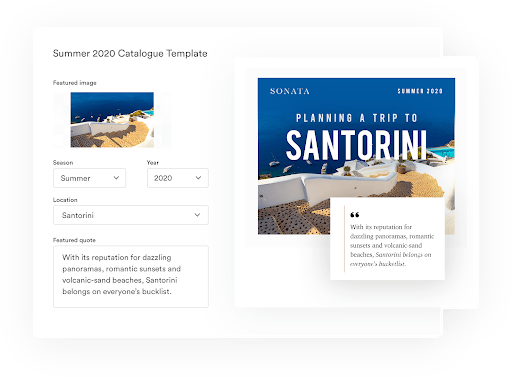 Set media rights and permissions
Brand management software should also allow organizations to define rules, permissions, and usage rights that protect digital assets.
Features to look for:
Asset approvals
Content expiration & availability
Access requests
User activity analytics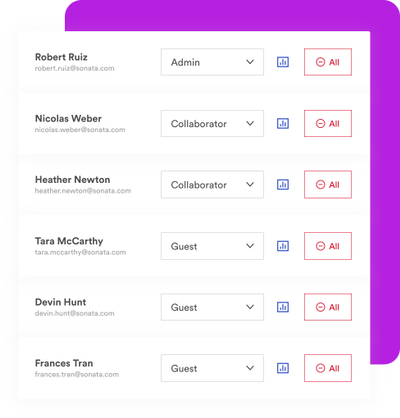 Collaborate across brand assets
Brand management software should also enable seamless collaboration between internal and external stakeholders.
Users can create custom rules that control who can access, edit, and share digital assets, allowing external collaborators to edit some elements within a particular document, while keeping the formatting, design, and other components intact.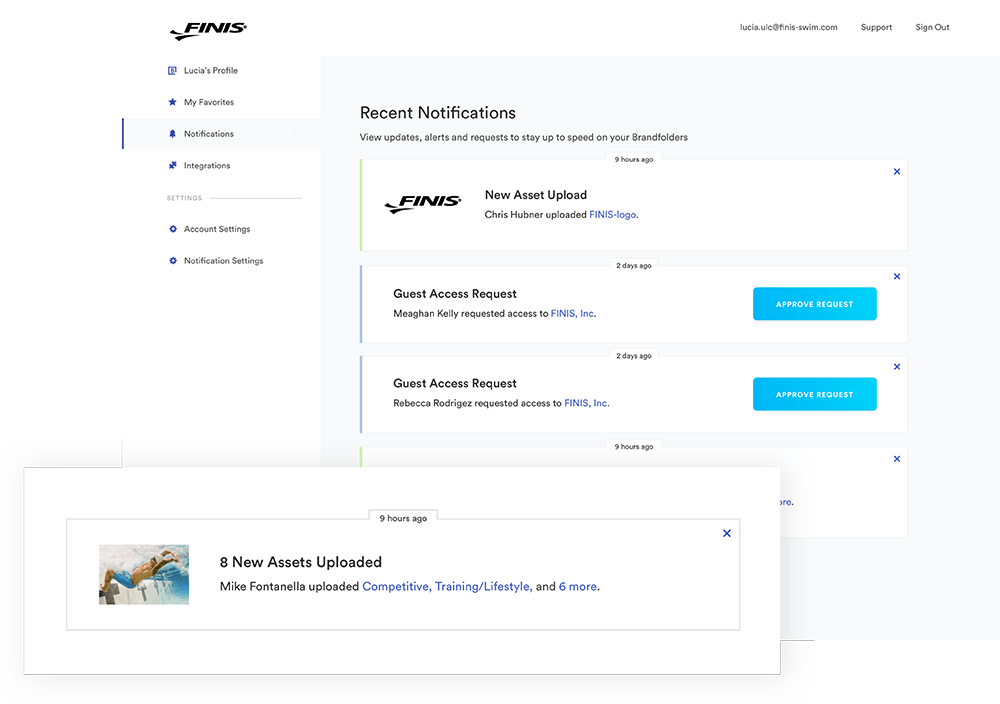 Here's an example of a basic rule-based approval flow set up using Brandfolder where an asset needs to be approved by predefined list of team members: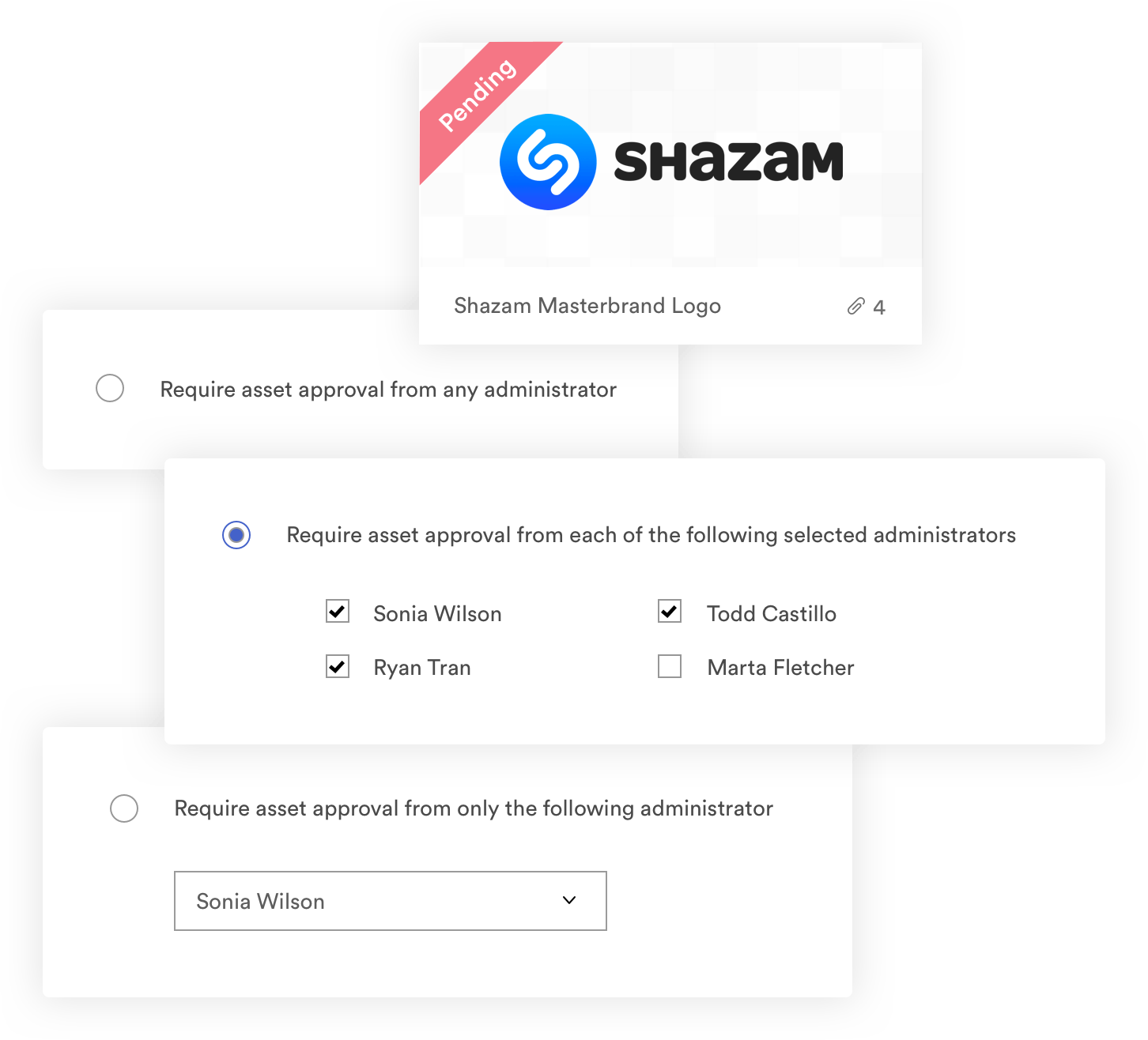 Look for platforms that offer file sharing and web publishing features, which help teams quickly and easily exchange information–regardless of file size or format.
Brand management software that doesn't include built-in file sharing capabilities won't be of much use.
Without it, you'll need to find another solution for securely sharing large files that doesn't break any rules regarding security or consumer privacy.
Create and share brand portals
Brand portals simplify access to digital assets by acting as a customizable homepage for accessing branded assets. Organizations can create different portals for different user segments–think sales teams, marketers, local franchises, influencers, affiliates, etc.
For these various stakeholder groups, portals save a ton of time and on the brand level, they make it easy to control branded assets, significantly reducing the number of requests for approved, branded assets and empowering each stakeholder group to find the exact materials they need to support a customer, launch a campaign, or learn about the latest product offerings.
Measure the impact of brand materials
Your brand is constantly evolving along with customer expectations, trends, and shifts in the market, as well as the various external factors that also influence brand perception.
That means, your brand management strategy should also be an iterative, ongoing process, focused on improving your performance.
You'll want to look for solutions that make it easy to monitor asset usage from a controlled, centralized location and provide in-platform analytics & reporting tools that allow you evaluate assets from a few different angles.
Look for asset-level analytics that track content usage, user analytics that drill down into individual activity, and insights that quantify the impact of brand materials on achieving big-picture goals.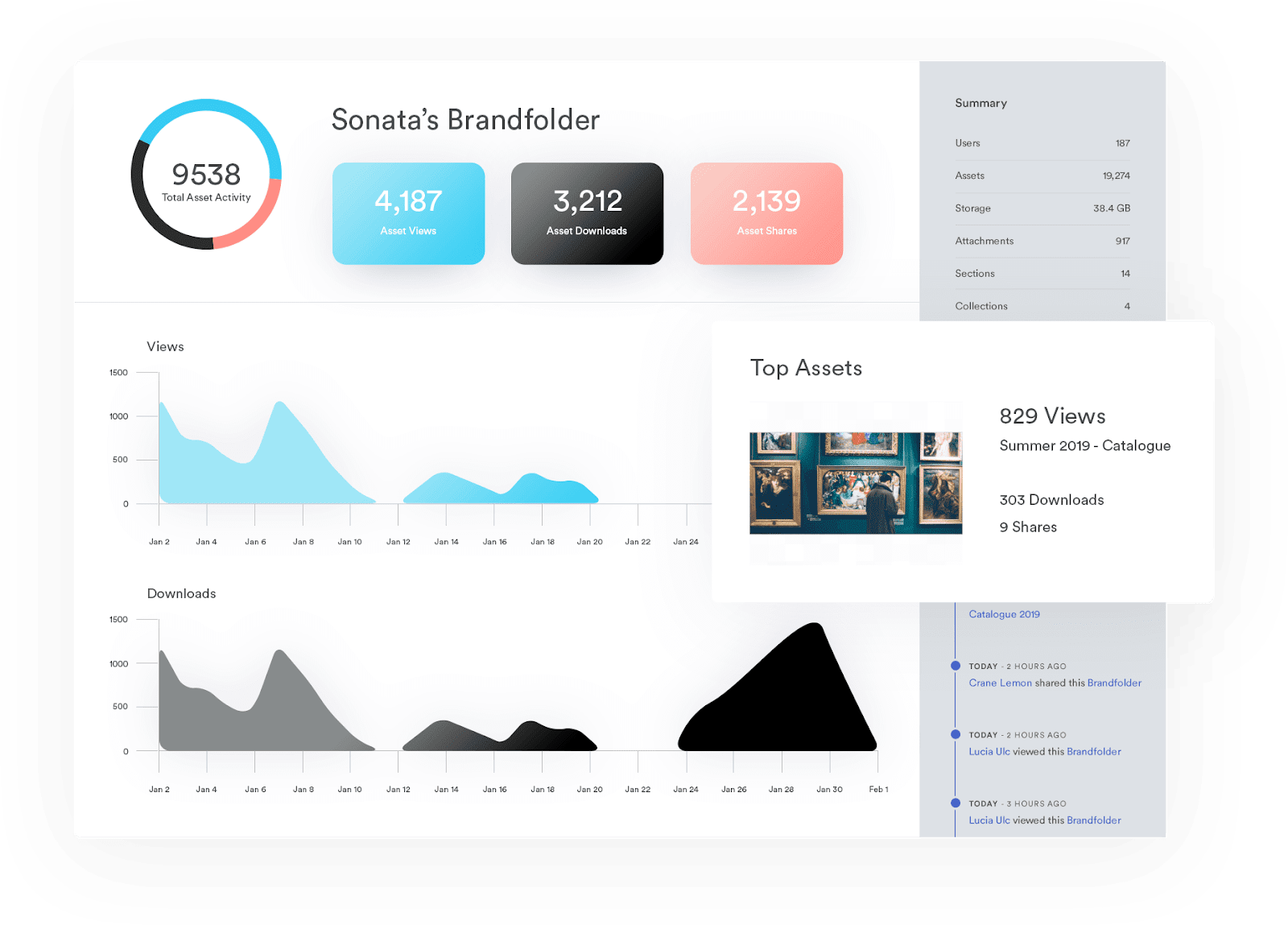 Integrate and streamline existing workflows
Finally, you'll need to make sure that the platform you select integrates with your existing tech stack and internal workflows.
This is critical because most of the benefits offered by DAM platforms come from connecting all data sources and content repositories that your organization uses on the job–like your CRM, the Adobe Creative Suite, your sales enablement platform, and communication channels.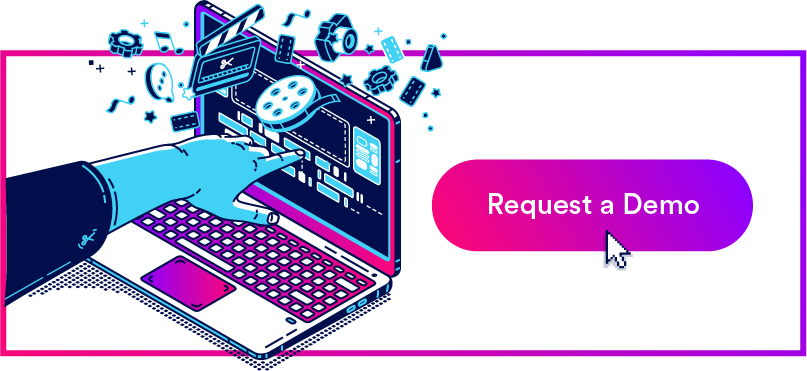 Frequently Asked Questions About Brand Management Software
How does brand management software work?
Brand management software typically provides six main functionalities–asset creation, management, distribution, storage, collaboration, and measurement.
When should I invest in brand management software?
Any organization that needs help maintaining a professional, cohesive brand can benefit from brand management software, though here are a few signs that it might be time to pull the trigger:
You're having trouble staying organized. Advanced tagging and labelling makes it easier to store a file in one place instead of re-copying it across multiple different folders.

You need better version control. Brand management tools are often designed to handle version control issues, ensuring that stakeholders are always working from the latest, most relevant version of every business asset.

You need a secure solution for storing branded assets. Dedicated DAM tools are typically designed to ensure that your digital assets stay safe.

You're working with multiple external partners. The more "cooks in the kitchen" the harder it is to stay in control. Brand management software helps you distribute approved content to sales teams, retailers, distributors, etc. eliminating annoying requests and instances of misuse.
How much does brand management software cost?
Brand management software ranges from limited free plans to enterprise-level custom pricing plans.
Ultimately, the cost depends on the size of your organization and the feature stack you're looking for.
Who benefits from brand management software?
As mentioned above, brand management platforms are an essential tool for organizations in just about any vertical. But more specifically, they support several "stakeholder types" including:
In-house creatives
Sales, service, & customer success teams
Legal & IT teams
Contractors & partners
Agencies & outsourcing companies
Use a DAM to Manage Your Brand Assets
Brand management is an expansive strategy that helps your brand make good on its promises by delivering consistent experiences to partners, customers, and loyal advocates.
Brandfolder is a digital asset management platform (DAM) that helps leading brands such as Under Armour, Mastercard and the Houston Texans organize, manage, and control brand assets from one central location.
Users can collaborate on creative assets and campaigns, as well as set custom rules that protect assets when you're not watching, and understand how they're performing.