Considering an investment in cloud-based DAM software? Here's what you need to know.
A decade ago, the notion of "the cloud" was a trendy new topic of conversation. At the time, on-premise hosting was the norm. Enterprise companies dedicated entire teams and office space to managing their IT infrastructure.
Fast forward to today, and cloud-based technology drives virtually every department - marketing, sales, legal and IT - within the enterprise. Digital asset management (DAM) is no exception.
Digital assets now fuel nearly every aspect of doing business from omnichannel marketing and sales campaigns to branding strategies and contract management.
Companies have increasingly started to embrace remote work–some by choice, others by necessity. They're also amassing more data, content, and digital assets than ever, creating the need for an efficient system designed to access, edit, and share files between teams from any location.
Cloud-native digital asset management (DAM) solutions are rapidly replacing on-premise DAMs and taking on a central role in the brandtech stack. Read on as we dive into why.
A cloud digital asset management system or cloud DAM is an online platform that allows users to store, organize, manage, and access digital assets from any device with an internet connection from their browser or a dedicated app.
Cloud DAMs are hosted on a network of remote servers (aka "the cloud") and operate on a Software as a Service (SaaS) model–offered typically as a monthly or annual subscription that includes access to a choice to specific sets of features.
Cloud vs On-Premise DAM - What's The Difference?
Both cloud and on-premise DAM solutions aim to give organizations a single source of truth for storing, organizing, and managing digital assets.
While there's a great deal of overlap, the biggest difference between the two comes down to the hosting environment.
Here's a quick break down of each solution:
Cloud DAM systems are hosted on a network of remote servers owned and operated by third-party vendors who handle storage, maintenance, security, and more. Here, users subscribe to a plan that grants them access to the platform's features and insights, while the DAM vendor shoulders the burden of managing & maintaining the software and its underlying infrastructure.
The service provider deals with everything from bug fixes and upgrades to security and IT, allowing brands to tap into the benefits of DAM software without the time, expense, and expertise self-hosting requires.
On-premise DAM solutions are installed on company property–on office desktops, in server rooms, or a dedicated data center. Rather than paying an ongoing subscription fee, brands purchase the hardware, infrastructure, and licensing rights to the software.
While the benefits of cloud-based tools are well-known, many organizations are still reluctant to embrace the cloud–whether it's because they don't understand it or fear losing security over assets. Or, keeping the status quo might seem simpler in a highly-regulated industry like financial services or healthcare, where maintaining compliance is a high-stakes affair.
But, things are changing.
Cloud DAMs have evolved into sophisticated systems that do more than store contracts and content–offering a suite of tools designed for today's challenges–including strict adherence to security and compliance requirements.
For example, consider how far online banking has come in the past few years. Without digital asset management tools, there's a good chance most of us might still be doing all our banking in-person and receiving the same generic experience.
A similar principle applies here. In most cases, cloud DAMs are offering more benefits at a lower price point than on-premise hosting, all while creating a more streamlined and personalized experience for everyone who interacts with the brand. Though there are some circumstances where hosting on-site has an edge over cloud–usually in situations that use data streaming to capture & act on insights in real-time.
That said, these use cases don't typically represent an organization's entire data/asset management strategy and are generally part of a hybrid solution where data captured on-location is later cleaned and sent to the cloud (here's a basic breakdown if you're interested in learning more).
13 Benefits of a Cloud-Based DAM
While a cloud-based DAM unlocks a variety of advantages, you'll notice a common thread as you make your way down the list. Unlike locally-hosted DAMs, cloud-enabled software offers a sense of freedom and flexibility, plus the peace of mind that comes from knowing your data is secure.
1. Cost-effective, scalable storage
On-premise solutions don't scale easily and it can be difficult to determine precise resource requirements before deployment.
Cloud DAMs allow users to easily scale up or down, as needed, so you're only paying for what you actually use. These solutions remove the challenge of trying to forecast future data growth, ensuring that you won't run out of storage space or pay for more than you need.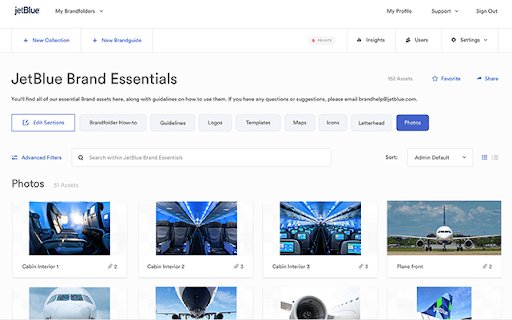 A DAM like Brandfolder allows brands to upload and share unlimited files in many formats into a secure central location–regardless of size. This benefit is crucial for companies working with a large number of digital files, in a variety of different formats - audio, video, and hi-res images etc - that quickly fill up precious server space.
Additionally, users can save time by setting up automated workflows that ingest and organize branded assets before storing them in a secure, central location.
Brandfolder accepts hundreds of different file formats.
2. Improved asset organization
Cloud DAM features not only help keep things organized and secure, they also reduce the redundancies and bottlenecks caused by misplaced assets.
Most on-premise DAM platforms organize assets using a folder structure requiring manual naming, tagging, and updating. This approach worked relatively well about ten years ago, before remote access and big data became standard requirements for doing business.
Instead, organizations should look for solutions with intelligent search functionality and built-in automations that make it easy for everyone to find the right materials and immediately put them into action.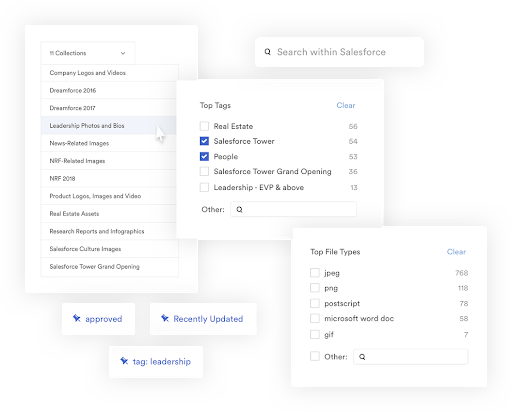 Brandfolder enables users to label and auto-tag digital assets, organize them into collections that can then be sorted and filtered using metadata, and all of this can be fully automated with our Smart Rules Engine.
Digital assets become easily searchable - no matter how many versions you've got on file.
3. Advanced search capabilities
In most cases, asset libraries grow larger and more complex over time.
With files spread across multiple web apps, physical servers, and employee desktops, locating the latest piece of compliant, on-brand content can be a total nightmare–wasting countless working hours and introducing several risks linked to brand non-compliance.
Cloud-based DAMs like Brandfolder include smart search and discovery features like advanced search, metadata management, AI-image recognition, and more, all aimed at helping users identify and access digital assets–fast.
Advanced search features save users a ton of time and allow them to focus on activities that generate value for the business. What's more, these capabilities also prevent users from sharing the wrong file with customers or when collaborating with external partners–which can cause creative re-work and compliance issues for the organization.
4. Next-level security
While many organizations opt to keep digital asset management on-premises for security reasons, the reality is, today's cloud providers typically offer much tighter security than most organizations are capable of handling internally.
It's important to note that the security benefits extend beyond vendor capabilities, offering companies to free up their IT department so that they can focus on a different set of challenges such as new threats brought on by the rapid move to remote work and increasingly tighter regulations for handling user data.
For example, Brandfolder offers users a number of different privacy controls, in addition to SAML and SSO identity management: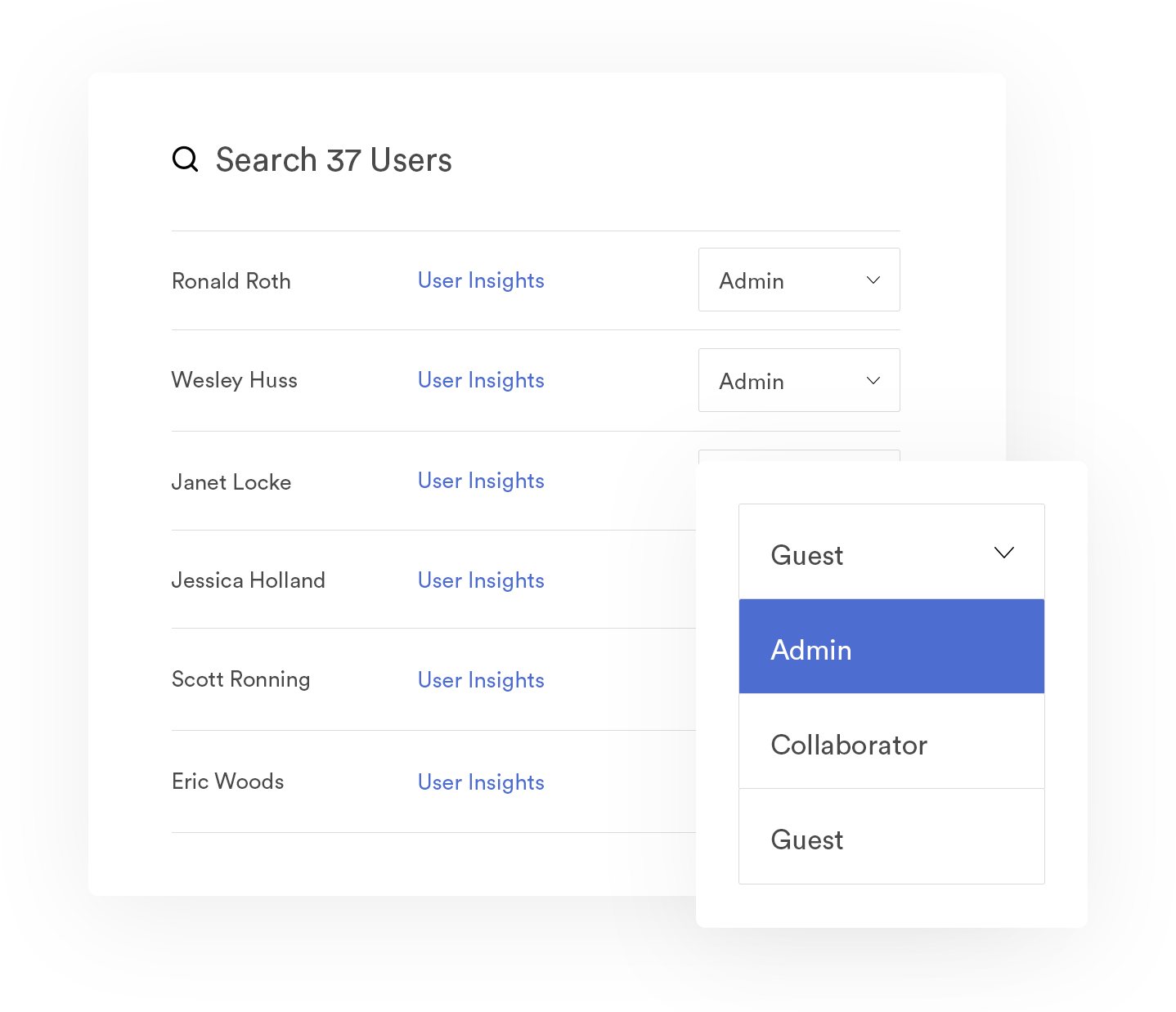 Instead, organizations can carve out a competitive advantage by placing IT on the offensive–focusing on security projects involving predictive modeling, advanced analytics, and machine learning that actively create value, rather than simply defending threats as they enter the system.
5. One update for all locations
Cloud DAMs allow organizations to embed and access assets from multiple platforms, making sure data not only remains secure, but also consistent, across all connected sources.
Cloud DAMs such as Brandfolder allow users to add an embed code to each data source to ensure that all updates are reflected anywhere that code is published.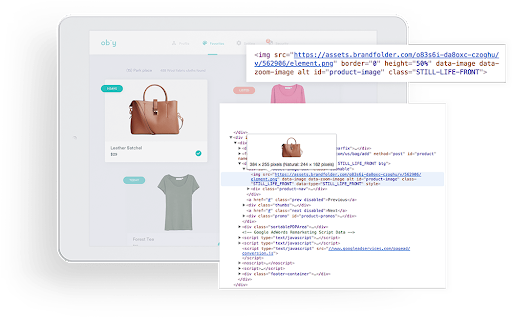 With on-premise solutions, maintaining that level of consistency is really hard to achieve. Often what happens is, different users make changes to specific files and save their work to their desktop or to the server under a different name or category.
The problem is, there's no oversight over who is using what, whether they're using relevant information, or using assets as intended.
Users can connect their cloud-based DAM system with a content delivery network (CDN) to automatically deliver files to external locations–think learning management systems (LMS), CRMs, or social media channels.
6. Reduced burden on IT resources
Using a cloud-based DAM platform reduces the burden on your internal IT department by removing the repetitive, reactive tasks that have long been too large a part of the job description.
Instead, the DAM provider is responsible for maintenance, upgrades, and monitoring & protecting the data stored on its distributed server network.
By contrast, on-site DAMs require users to handle maintenance and integration internally, meaning, your IT is responsible for managing all updates and providing support as needed.
Though it may seem like a one-time investment, self-hosting means you're on the hook for replacing aging infrastructure, installing & integrating updates, and performing ongoing maintenance–all of which can get very expensive.
7. Shorter time to market
Cloud DAM software empowers teams to deliver products and services faster by streamlining workflows, team collaboration and automating repetitive asset management tasks.
Unlike on-premise DAM solutions, cloud-based platforms allow users to organize, identify, and access the right assets quickly, which in turn means they can launch campaigns, respond to customers, and update legal docs much faster.
Additionally, approved assets can be easily turned into templates, with editable image and text fields of the creative team's choice. Those templates can then be stored and organized using tags and collections–this both speeds up the asset creation process and localization possibilities, all while ensuring every asset is on-brand and compliant.
8. Deploy upgrades faster
Cloud-hosted software companies are always making improvements to their service–rolling out bug fixes, upgrades, and new features on the regular.
Unlike on-site DAM solutions, cloud DAMs don't require users to install updates or integrate with existing IT infrastructure–tasks that can be both expensive and time consuming and sometimes, open the door to new security threats.
Instead, vendors build and deploy new features which are automatically added to the platform with no action on the user's part.
9. Easy collaboration and sharing
Cloud-based asset management software allows teams to work together by providing a common space for sharing files and making changes without leaving the interface to search for the right materials.
Brandfolder users can integrate with the Adobe suite–allowing them to create, edit, and share versions with collaborators. This eliminates the need for downloads and streamlines the review and approval process–allowing users to leave comments, request edits, or pin annotations directly on the file.
10. Access from Anywhere on Any Device
Unlike locally-hosted DAM solutions, which require users to log-in from a specific location, cloud-based platforms enable greater access and easy collaboration with remote colleagues, external partners, and your customers. This means that complex, multi-step VPN logins are a thing of the past.
By hosting your DAM in the cloud, you can be sure the right internal and external employees have access to exactly what they need. What's more, solutions like Brandfolder offer a fully responsive, consistent experience no matter the device or screen size.
11. Flexible digital rights management
Cloud DAM software allows users to control who can access what and when. Unlike on-premises solutions, cloud-hosted platforms typically come with several built-in rights management features like approval flows, expiration dates, and the ability to ensure that asset availability aligns with license & campaign deadlines.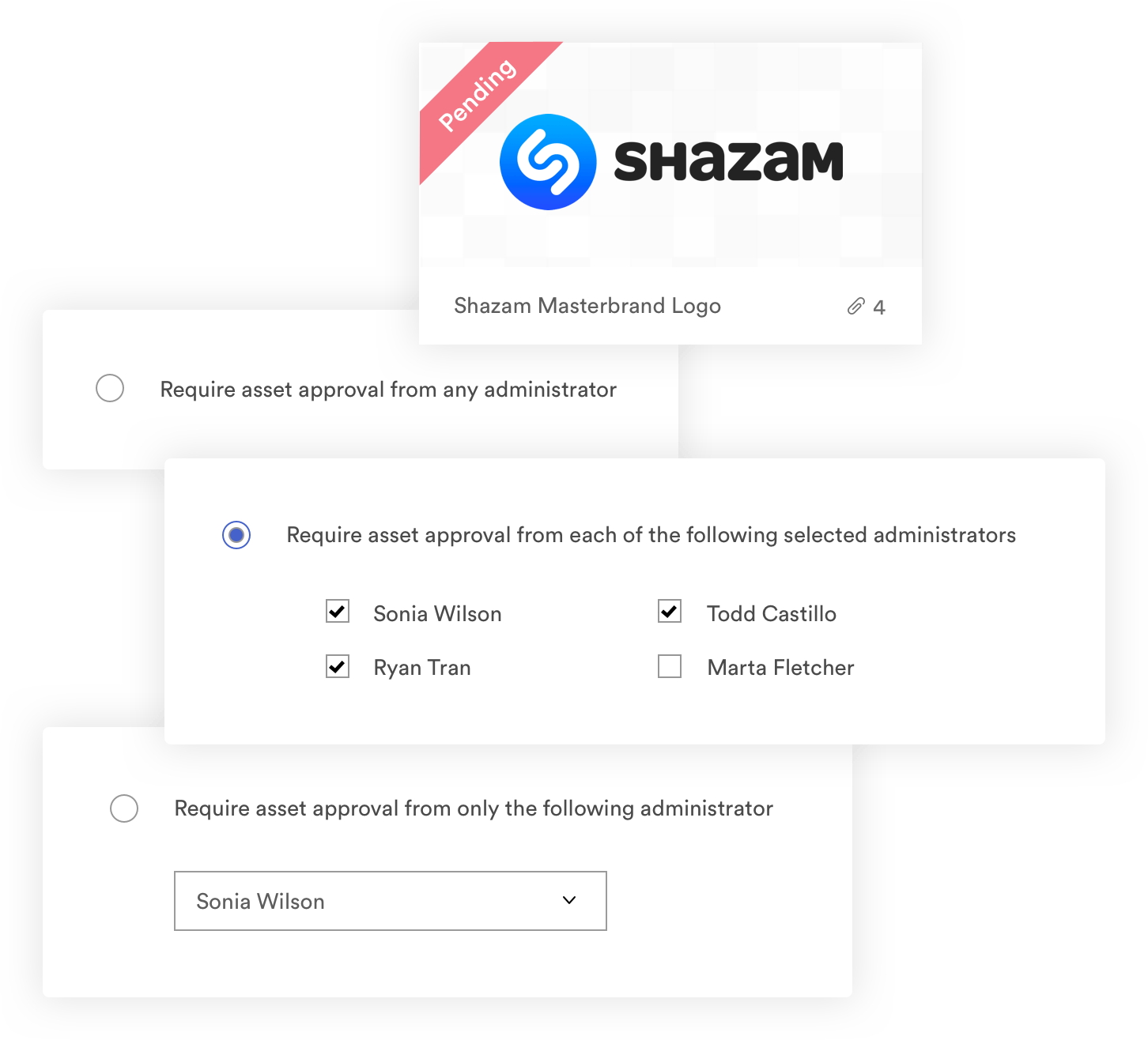 12. Empowers distributed teams
Cloud-native platforms of all types have become essential for remote, distributed teams, as they ensure that everyone gets exactly what they need to do their job, without constantly asking marketing to send specific files.
Because users access DAM software through the internet, teams can quickly find, share, & collaborate on digital assets from home, in the field, or anywhere in the world. Additionally, all authorized users are working from the same data, as updates are automatically synchronized across all connected platforms and tools.
The benefit here is twofold: marketing teams spend less time fielding requests and more time on core tasks, while organizations can set custom rules that ensure that everyone is working from the best assets.
13. Seamless integration with existing workflows
A quality cloud DAM service should integrate with the full range of tools you use each day–serving as a sort of home base for anything related to asset creation and management.
DAM software streamlines workflows, syncs data across your entire digital ecosystem, and enables users to work with digital assets seamlessly, regardless of type, format, medium, storage location, or method of delivery.
If you're using a tool like Brandfolder, you can easily scale up the content creation without missing a beat by accessing your tools through a host of seamless integrations. That list ranges from the Adobe Creative Suite, to project management tools like Jira, as well as various content repositories, marketing automation platforms, and your CRM.
Making the Move to the Cloud
Cloud-based digital asset management provides several advantages over on-premises solutions–including greater flexibility, improved access, better security, and better support for remote distributed teams.
Brandfolder is a top-rated cloud DAM platform designed to simplify and scale digital asset management. Our software uses built-in AI and machine learning technologies to understand asset performance, maintain compliance, and locate relevant files from a single source of truth.