Creative Operations
Sections
What is Creative Operations?
A day in the life of a Creative Operations professional
How is Creative Operations different from project management?
An example of Creative Operations in action
3 key elements of Creative Operations
Resources for Creative Operations professionals
Conclusions
Creative Operations: the emerging discipline that's helping creative teams be more effective
The famous — and now 10-year-old — video called "The Process" nails the pain and frustration creative professionals experience all too often.
A massive creative brief, muddled instructions, jargon, a 24-hour turnaround time, round after round of revisions, conflicting edits, and changing objectives all ultimately lead to a creative product that is wildly ineffective in the real world.
From our conversations with creative professionals over the years, we know many of you can relate.
Being a creative professional (or leading a team of creative professionals) can feel like an endless juggling act: balancing the desire for inspired, creative work with the needs and requests of account managers and your other clients.
For those of you leading teams of creative professionals, the great challenge is this:
"How do I get the best creative work from my team — while also hitting deadlines and keeping clients happy?"
Creative Operations is all about improving your answer to that question.
If Creative Operations is a new idea for you, we hope this article will be an introduction to the discipline. If you're already well aware of the concept, we hope you'll find new ideas and resources to help you and your team become more effective.
Note: Brandfolder is the digital asset management platform of choice for many Creative Operations teams. Learn more here!
1
What is Creative Operations?
Creative Operations (sometimes called "Creative Ops") is a fast-growing role that supports the work of creative professionals. It's an idea that has taken hold mostly in the world of in-house creative agencies, but which we believe has application to any creative team, including traditional external agencies.
Creative Operations covers things like:
Project intake
The creative brief
Project management
Communication with clients
Communication with project owners
Communication within the creative team
Status updates
Review
Revisions
Delivery
Asset storage
Distribution
At every level, the goal of Creative Operations is to improve the way work is done within creative teams; it's the left brain to the creative director's right brain.
"It's the business side of marketing and creative," said Christina Carr, current Head of Project Management, Global Business Marketing at Facebook and former Director of Creative Operations at Shutterfly.
2
A day in the life of a Creative Operations professional
To be a Creative Operations professional, you must be an expert at juggling the many, many things that come your way on a daily basis.
Kevin Gepford, Digital Design & Creative Operations Associate Director at AT&T, walked us through a typical day in the life.
"The first thing you're probably concerned about is job intake. You're concerned about the integrity and completeness of the creative brief. You also want to make sure it's assigned appropriately.
"You ask questions such as: 'Can we take this job and do it by the required deadline?' 'Do we have the resources?'
"You probably have a 10 o'clock meeting about intake, then around 11:30 a.m., you're going to be called into a meeting because there's a rush project coming from leadership. So that destroys everything you set in your 10 o'clock meeting, but those things happen.
"At 2:15 p.m., you might get a call that the creative review and approval system just went down. So you have to call the developer and get it back up and running.
"At 4 o'clock, you'll receive a hard drive from the results of a recent photo shoot, and then you have to ensure those photos are input into the appropriate system so that by 9 o'clock tomorrow, they're available for the creative director to review and pick his favorite, so they can go back out.
"And then at 5:15 p.m., you'll receive the proofs for billboards and bus shelters, and those need to be in front of managers before they leave for the day so you can make the FedEx shipment."
As you can see from Gepford's description, Creative Operations is a job that can, at times, feel overwhelming. But it's also a role that allows for constant improvement — even as you strive to keep everything moving.
"It's asking, 'How can we run the creative functions in a more business-like manner?'" Gepford said. "It's also asking, 'How can we optimize our work so we have less churn, less waste, and less duplicate effort? And how can we stay more focused on the business goals?'"
3
How is Creative Operations different from project management?
There is admittedly a lot of overlap between Creative Operations and the traditional roles performed by project managers and account managers in creative teams.
But Creative Operations is more than just being organized, and handling project management within a creative department comes with unique challenges that go beyond traditional PM techniques.
As Christina Carr explained: "There's a strategic mindset you have to have. A lot of people can be organized. But to be successful within a creative team, you have to understand where all these cross-functional people are coming from, bring them together as a team, and then get success out of them."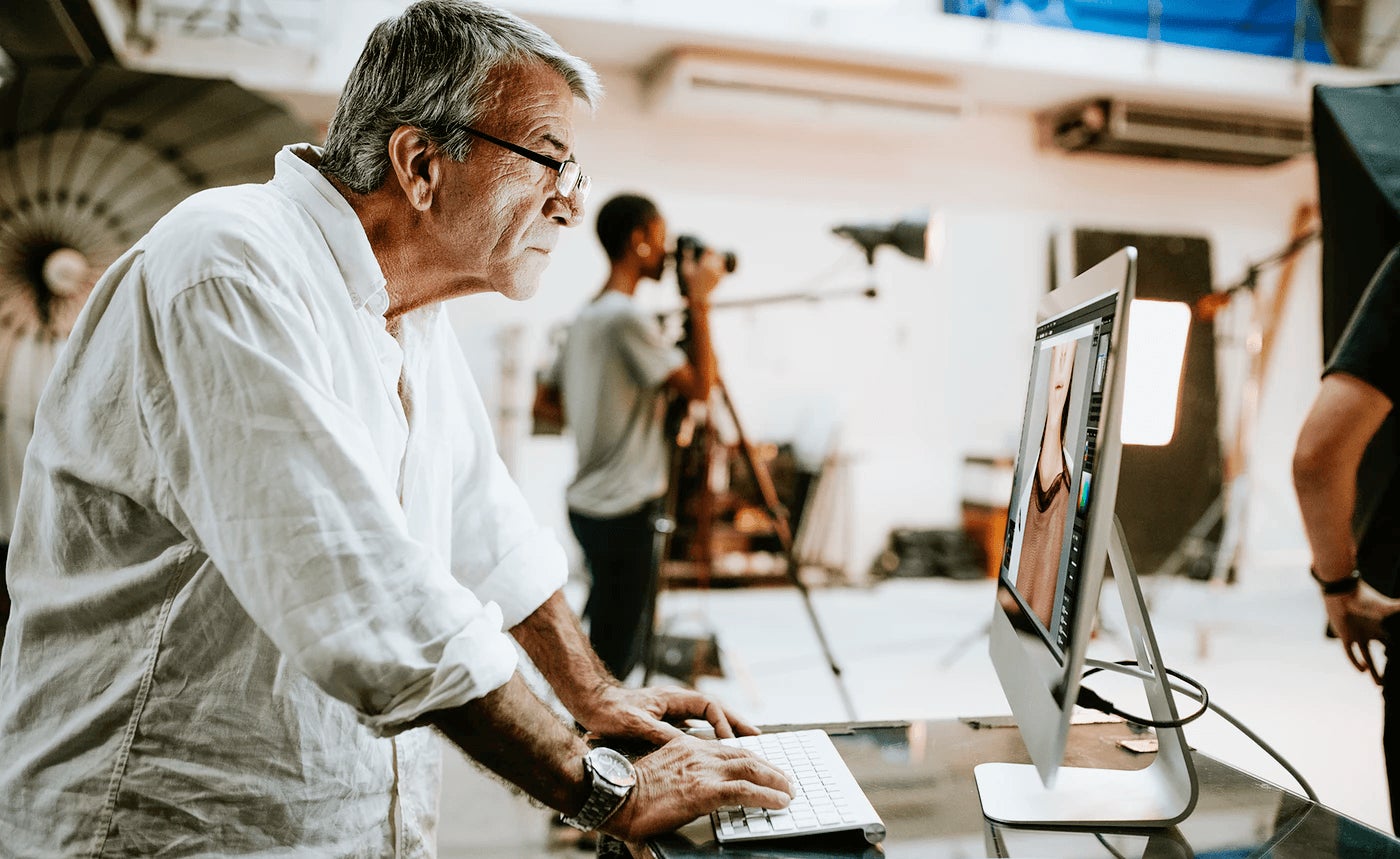 4
An example of Creative Operations in action
Frank DeCarlo, a speaker and writer on the topic of Creative Operations and the CEO of RPR Graphics, gave us a simple example of Creative Operations at work: the delivery of images from a photo shoot.
"Let's take a furniture maker for example," Frank said. "And let's say we're taking photos of their products for their online store."
"They might take 15 shots of different angles of one chair." The photographer will pick the images to upload to our digital asset management system, and the color manager will color correct them. From there, we need different sizes and versions of the images, so our team can work from that one hero image to create everything we need.
"Within a short period of time, the images are cut, color corrected, they have shadows, they have web copy, and they're off to eCommerce to be published."
To maintain consistency, additional teams will have access to the same image files to create social media posts, digital ads, marketing collateral, or any number of other creative assets from that one set of images.
The key is this: Everyone can work with the same, approved, updated set of images — and quickly.
"In the past, it was literally a nightmare of getting everything consistent and then being able to find the images," Frank said. "It could literally take weeks to have everything done and color matched."
In the past, images and creative assets also had a habit of going missing — especially weeks or months after the initial photo shoot.
"Those images might be lost on a CD or a hard drive on someone's desk somewhere," Frank said. "You run the risk of having to do it all over again because no one can find the assets after the fact."
In this way, Creative Operations doesn't change the creative work itself — the photographer does what she's always done on a shoot.
But Creative Operations does change how her photos are distributed and stored within her organization — helping ensure everyone has what they need and is working from the most recently approved versions of the files.
What once took a month can now be accomplished in a day or two. And the likelihood that you'll need to redo the shoot later is dramatically reduced.
As Kevin Gepford put it: "The business goals for Creative Operations are cost reduction and the elimination of waste. You have to operationalize the process. Hence, we use Creative Operations."
5
3 key elements of Creative Operations
Creative Operations happens at all stages of the creative process, but we've tried to organize them into a few key elements.
Element #1: Intake
The first stage of Creative Operations is the intake process. This includes the creative brief and all meetings and communications that happen before the creative work actually begins.
The goal is to clearly establish what the client is looking for, the deliverables he needs, and a timeline for delivery. Historically, this step has been the focus of project, account, and traffic managers within creative teams.
Could you have a better creative brief? Could you run the intake meeting more efficiently? Could you eliminate some of the back and forth that happens before the project starts?
Asking and answering these questions is how improvements are made that will benefit everyone on the creative team.
Element #2: Review
In theory, "client review" is a simple step: the fulfillment of the vision you and your team committed to during the intake process.
In practice, however, client review can easily become a maddening series of back and forth revisions.
Christina Carr is especially interested in these moments within the creative process.
"I think the best Creative Operations stays with the creative," she told us. "There's often a ton of work around intake, and then there's a ton of work around where the asset goes after it's done. But in the middle is sometimes where it all falls apart."
Case in point: the stop sign video we embedded to start this article.
One practical suggestion Christina had for creative teams is to ground every conversation in the context of what the client asked for in the initial intake process.
"I really look at the structure of the review process," she said. "Right from the start, I tell clients how we're going to present our work for them — the templates we use, whether we're going to do it in person or over video, and the whole process.
"Then at every meeting, I have the creatives start by telling the client, 'This is what you asked us for.' Only then do we show them the creative and what we're doing. It just grounds the conversation, because everyone has a million things going on and no one can remember exactly what was said during the intake conversation two weeks ago."
Element #3: Digital Asset Management
The third area of Creative Operations is the distribution of creative assets to the stakeholders who are going to use them.
It seems like such a simple thing: sending files to the people who need them. But as we heard from several of the people we interviewed for this article, it's a tremendous challenge for many creative teams.
"Some of the biggest headaches we encounter are from clients who aren't used to these workflows," Frank DeCarlo told us. "They might have an image that's exactly what someone needed, but it disappears because no one knows it's on an executive's desktop at someone's office in Chicago. Those are the situations where they would be at risk of having to redo all their work."
Small teams may be able to get by using Dropbox or Google Drive for their storage needs. But for any organization big enough to have an in-house creative team, digital asset management systems are the solution to this problem. They're built to be a "single source of truth" for everyone within your organization.
When used well, they prevent rework and eliminate the numerous requests to Creative for "a copy of that image we ran in that ad three months ago."
Note: Need a digital asset management system to manage creative assets for your company? Brandfolder can help!
6
Resources for Creative Operations professionals
If you'd like to learn more about the emerging discipline of Creative Operations, there are several organizations with excellent resources you can use to get started. We've gathered links to some of them here.
Henry Stewart
The Henry Stewart conferences were among the first events created to bring together Creative Operations professionals. Henry Stewart currently offers conferences, webinars, and video resources on both Creative Operations and digital asset management.
Recordings of many past conference seminars are also available online, providing a great resource for anyone seeking to advance their knowledge of the field (we watched many of their videos in our research).
Henry Stewart also maintains an active (and helpful!) LinkedIn Group called Creative Operations Pros. With the help of group admin Aleesha Nagra, we were able to connect with several creative professionals to interview for this article by posting in this group.
In-House Agency Forum
The In-House Agency Forum describes itself as the leading professional association for in-house marketers. While not strictly branded as a resource for "Creative Operations," the forum has a strong focus on networking for people working within in-house creative roles.
The organization offers webinars and conferences, and it publishes the Inside Jobs Podcast, hosted by Robert Berkeley (who was kind enough to spend some time speaking with us for this story — more from Robert below).
Cella
Cella is a consulting organization that works with in-house agencies and offers a variety of resources for creative professionals.
It operates CreativeExecs roundtable events, moderated discussions for creative professionals held in major U.S. cities. Cella also offers training events for creative managers and project managers.
Creative Operations is not a magic bullet. It's a philosophy — a commitment to continuously improving the workflow system that supports the creative work being done by your team.
To leave you with a closing idea, here's one last thought from Robert Berkeley, host of the Inside Jobs podcast for creatives working in in-house agencies.
"You have the people — the creative professionals. Then you have the process they use. Then there's the technology that underpins everything the team is doing," he said.
"Those three things — people, process, and technology — those are what come together to achieve the business aims of the organization through creative ideas."
Note: Brandfolder helps hundreds of brands reduce busywork and needless requests of their creative teams. Click here to learn more about how we work!