Brandfolder Feature Roundup: September 2022
It's September and our team has been working hard on a bunch of great new updates to Brandfolder! We've put together a fantastic selection of new capabilities and integrations that makes Brandfolder an even more exceptional hub for all of your assets and workflows. Whether you're looking for ways to improve your workflow or create more impactful content, these features are sure to help you take your branding to the next level.
Simplified Product Management with Salsify Integration
When Digital Asset Managers (DAMs) and Product Information Managers (PIMs) work together, seamlessly syncing product data and images becomes a blissful reality. Which is why Brandfolder's new integration with Salsify is so exciting.
Brandfolder users can now automatically sync assets from Brandfolder to Salsify so that they no longer need to manually download and upload assets to their PIM saving time and manual work. The integration will also send product data back from Salsify to Brandfolder so that Brandfolder is maintained as a single source of truth.
With the new Salsify integration, you can:
Use custom fields, like "Product ID" to map Brandfolder assets to Salsify Product Data for a constant bi-directional sync of information
Maintain Brandfolder as your single source of truth
Streamline distribution from DAM to PIM and beyond
Better Together
Integration with a PIM like Salsify is better for Brandfolder customers with advanced requirements like inventory management, automatic e-commerce syndication and partner data synchronization. Salsify's integrations with major e-commerce platforms and social channels allows for channel specific product feeds and experience previews, as well as order data and updated inventory feeds. If you are a Brandfolder and Salsify customer, contact your CSM to learn more about this time-saving and valuable integration.
New Settings Experience, Same Great Brandfolder
Over the past year, we have added many robust capabilities to customize how customers can access, measure and manage their Brandfolder accounts.
Quickly invite team members with email autocomplete
Keep changes simple with our updated Bulk Management screen
Access CDN details for additional insights into CDN usage across Brandfolders
Enhanced Insights Data Connector
Dig deeper into how your teams are utilizing Brandfolder with our improved Insights Data Connector. Brandfolder now supports additional insights so you can better understand who is using your DAM, how content is being shared and which assets are being used the most, helping you find actionable insights and opportunities for improving engagement with your assets.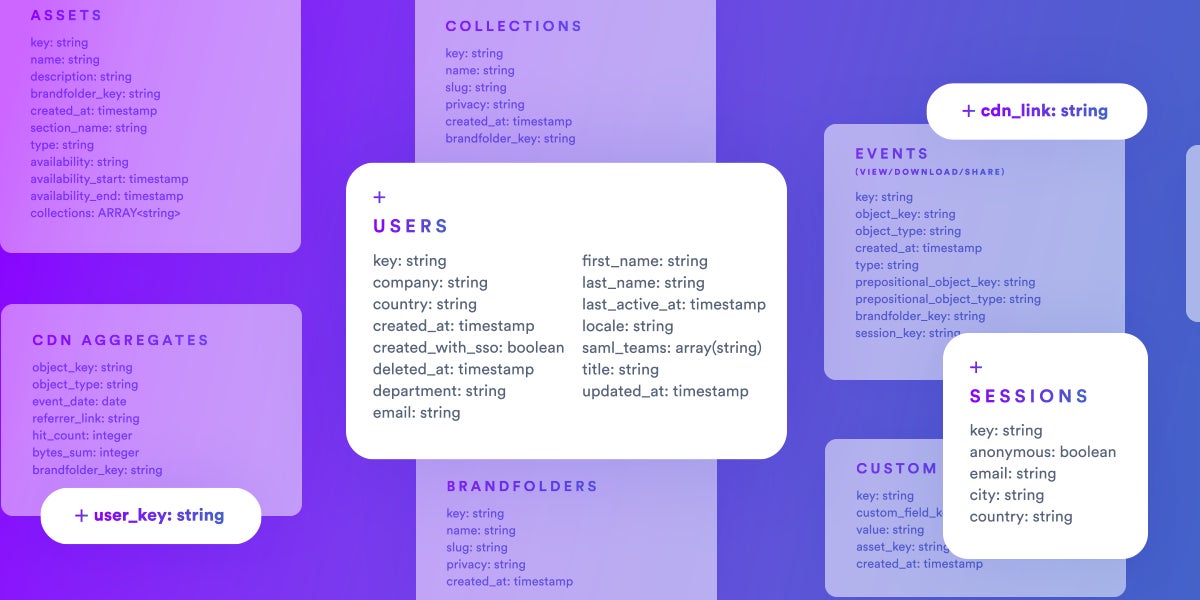 If you already have Insights Data Connector, you can access the new Users and Sessions tables and data strings, user_key: string & cdn_link: string, when building reports.
If you don't already have Insights Data Connector, it allows you to connect Brandfolder Insights with any BigQuery compatible BI tool. Contact your CSM to learn more.
Custom Fields in the Brandfolder Panel
Uploading asset data to Brandfolder through Smartsheet just got easier. When customers upload attachments to Brandfolder from a sheet, they'll be able to add custom field values from their Smartsheet Columns to each attachment.
Customers can now carry over important data from Smartsheet, for instance, who requested an asset, what campaign it was created for, who created the asset, and so much more via custom fields.
Wrapping It All Up
That wraps up the top highlights from the past couple of months. We're always working on new features and improvements, so be sure to keep an eye out for what's coming next! We hope you'll find something that meets your needs and helps you do more with ease.