---
Cloud-based digital asset management: What you need to know
A decade ago, "the cloud" was a trending new topic of conversation. At the time, on-premise hosting was the norm, and enterprise companies dedicated entire teams and office space to managing their IT infrastructure.
Fast-forward to today, and cloud-based technology supports nearly every department. Yet, some companies are missing out on one of the greatest cloud based systems out there: digital asset management (DAM).
Cloud-based digital asset management systems improve efficiency, support collaboration, and securely store all assets in the cloud. They offer enterprise-level teams the ability to share files internally or externally from any location, and they provide actionable analytics on the performance of assets.
In this post, we'll take a look at the benefits of cloud based digital asset management, its key features, and how it compares to on-premise asset storage.
---
What is a Cloud Digital Asset Management System?
A cloud-based digital asset management system or cloud-based DAM is an online platform that allows users to store, organize, manage and access digital assets from any device with an internet connection from their browser or a dedicated app.
Cloud DAMs are hosted on a network of remote servers (aka "the cloud") and operate on a Software as a Service (SaaS) model — a monthly or annual subscription that includes access to specific sets of features.
---
Cloud vs On-Premise DAM
Both cloud and on-premise DAM solutions give organizations a single source of truth for storing, organizing, and managing digital assets. The biggest difference between the two platforms is the hosting environment.
Here's a quick break down of each solution:
Cloud digital asset management software is hosted on a network of remote servers owned and operated by third-party vendors who handle storage, maintenance, security and more. Users subscribe to a plan that grants them access to the platform's features, while the DAM vendor manages and maintains the software and its security.
An on-premise DAM system is installed on company property – on office desktops, in server rooms, or a dedicated data center. Rather than paying an ongoing subscription fee, brands purchase the licensing rights to the software.
While the benefits of web-based DAM tools are well-known, many organizations are still reluctant to embrace the cloud – whether it's because they don't understand it, fear losing control of assets, or are concerned about compliance.
Cloud DAMs have evolved into sophisticated systems that do more than store contracts and assets. They include settings for user permissions, workflow automation, and feedback management, as well as identity management for security. In most cases, cloud digital asset management software offers more features at a lower price point than on-premise hosting.
---
13 Benefits of a Cloud-Based DAM System
Unlike locally hosted DAMs, cloud based digital asset management software is a scalable solution with unlimited storage that's accessible from wherever your team members are working. Let's take a closer look at the features that save companies time and money.
1. Cost-effective, scalable storage
Unlike on-premise solutions, cloud DAMs allow users to easily scale up or down so you're only paying for the features and storage you need.
Brandfolder allows brands to upload and share an unlimited number of media files of any size. This benefit is crucial for companies working with a large number of digital files and image assets, in a variety of different formats — audio, video, and hi-res images — that would otherwise consume local server space.
Additionally, users can save time by setting up automated workflows that ingest and organize branded assets before storing them. It's a better way to manage media files.
2. Improved asset organization
A cloud DAM system's organizational features reduce the risk of redundancies and bottlenecks caused by misplaced assets.
Organizations should look for DAM solutions with intelligent search functionality and built-in automations that make it easy for everyone to find the right materials.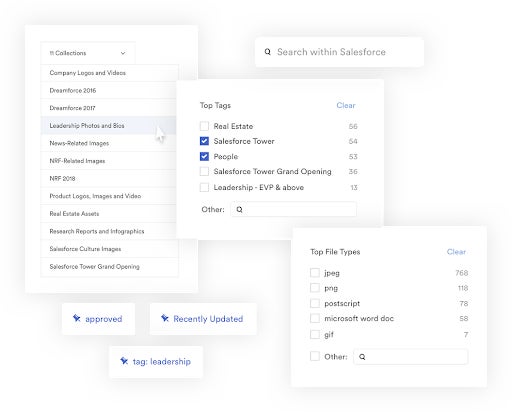 Brandfolder enables users to label and auto-tag digital assets, and organize them into collections that can then be sorted and filtered using metadata. Thanks to our smart rules engine. Digital assets become easily searchable — no matter how many versions you've got on file.
See Brandfolder's auto-tagging capabilities in action.
3. Advanced search capabilities
In most cases, asset libraries grow larger and more complex over time.
With media assets spread across multiple web apps, physical servers, and employee desktops, locating the latest piece of compliant, on-brand content can be a challenge–and waste countless working hours.
Cloud-based DAMs like Brandfolder include smart search and discovery features, such as:
In-document search: Search for specific words within documents or collections.
Advanced filtering: Zero-in on the most relevant results with filtered searches. You can search by tags, custom fields, metadata, and other variables to quickly find the right asset.
AI auto-tagging: Brandfolder automatically adds tags to images based on their content. Those tags include not just the primary objects in an image, but also any relevant modifiers (size, color, shape, etc.).
Thumbnailing: Brandfolder creates thumbnails for images as they're uploaded, so users can scan a collection of thumbnail images to spot the image they're trying to find.
Pinned searches: Save the terms you search for frequently as pinned searches.
Suggested searches: Brandfolder learns from user searches, so when you begin typing a search term, it automatically suggests the most commonly searched terms.
Advanced search features save users a ton of time and allow them to focus on activities that generate value for the business.
4. Next-level security
While many organizations may think on-premise DAM systems are more secure, the reality is, today's cloud DAM providers offer superior security and ongoing enhancements that protect assets from threats.
Brandfolder offers users a number of different privacy controls, in addition to SAML and SSO identity management.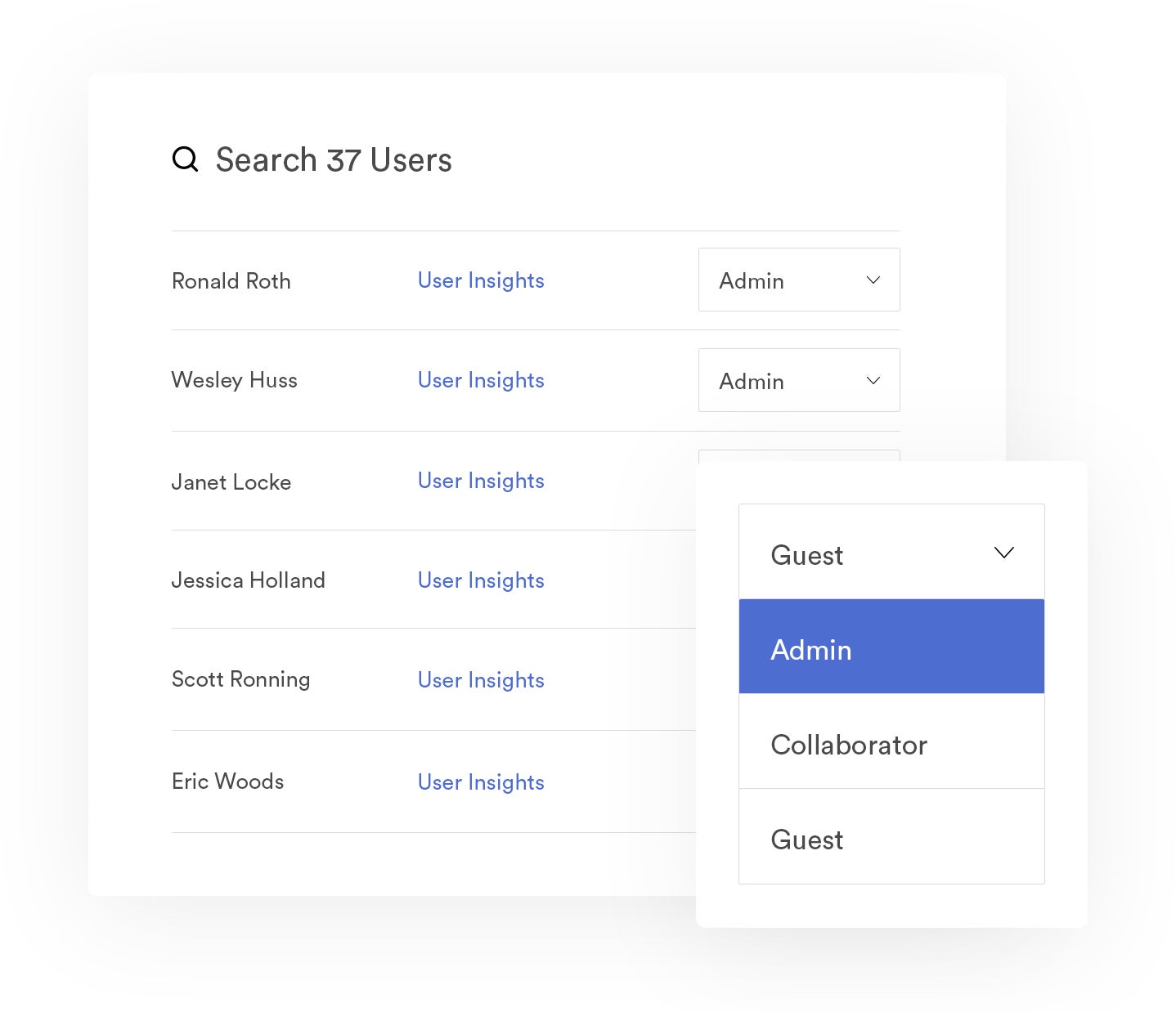 Instead, organizations can carve out a competitive advantage by placing IT on the offensive - focusing on security projects involving predictive modeling, advanced analytics, and machine learning that actively create value, rather than simply defending threats as they enter the system.
5. Push updates for all branded assets
A cloud based DAM solution such as Brandfolder allows users to add an embed code to each data source to ensure that all updates are reflected anywhere that code is published. You can connect Brandfolder to a content delivery network (CDN) that automatically updates files on external platforms — learning management systems (LMS), CRMs, or social media channels, for example. That means your branded assets are consistent across all channels.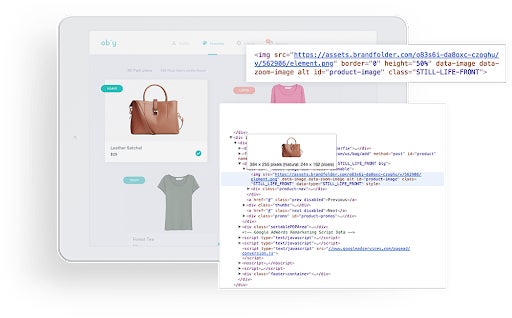 With on-premise solutions, maintaining that level of consistency is difficult. Often what happens is, different users make changes to specific files and save their work to their desktop or to the server under a different name or category, and changes aren't applied to related assets.
6. Reduced burden on IT resources
Using a cloud based DAM platform reduces the burden on your internal IT department by removing the repetitive, reactive tasks that have long been too large a part of the job.
Instead, the DAM provider is responsible for maintenance, upgrades, and monitoring and protecting the data stored on its distributed server network.
By contrast, on-site DAMs require users to handle maintenance and integration themselves.
Though it may seem like a one-time investment, self-hosting means you're on the hook for replacing aging infrastructure, installing and integrating updates, and performing ongoing maintenance — all of which can be expensive and time-consuming.
7. Improved collaboration
Cloud DAM software improves internal and external campaign collaboration. With Brandfolder, creative teams can collaborate on assets in real-time, using annotation and comments. Teams can also add freelancers, clients, and other external users to Brandfolder and share assets with them from within the platform.
External users don't need to have creative software to view assets — they can see PDFs, images, and other assets within Brandfolder and add comments and feedback.
Additionally, approved assets can be easily turned into templates, with editable image and text fields of the creative team's choice. Those templates can then be stored and organized using tags and collections, which speeds up the asset creation process and localization possibilities and ensures every asset is on-brand and compliant.
8. Deploy upgrades faster
Cloud hosted software companies are always making improvements to their service — rolling out bug fixes, upgrades, and new features.
Unlike on-site DAM solutions, cloud DAMs don't require users to install updates or integrate with existing IT infrastructure. Instead, vendors build and deploy new features which are automatically added to the platform with no action on the user's part.
9. Simplified sharing
Cloud based asset management software allows teams to work together by providing a common space for sharing files and making changes without leaving the interface to search for the right materials.
Creative teams know that delivering content via email isn't ideal. Brandfolder has a better solution — every asset and collection has a share link that users can customize and share internally and externally. You can also set security permissions for share links, such as expiration dates and view-only access.
10. Access from anywhere on any device
Unlike locally-hosted DAM solutions that require users to log in from a specific location, cloud-based platforms enable greater access and easy collaboration with remote colleagues, external partners, and your customers. This means that complex, multi-step VPN logins are a thing of the past.
Cloud based DAM systems ensure internal and external employees have access to exactly what they need. What's more, solutions like Brandfolder offer a fully responsive, consistent interface, regardless of the device or screen size.
11. Flexible digital rights management
Cloud DAM software comes with several rights management features like approval flows, licensing expiration dates, and notifications when assets are nearing the end of their licensing agreements.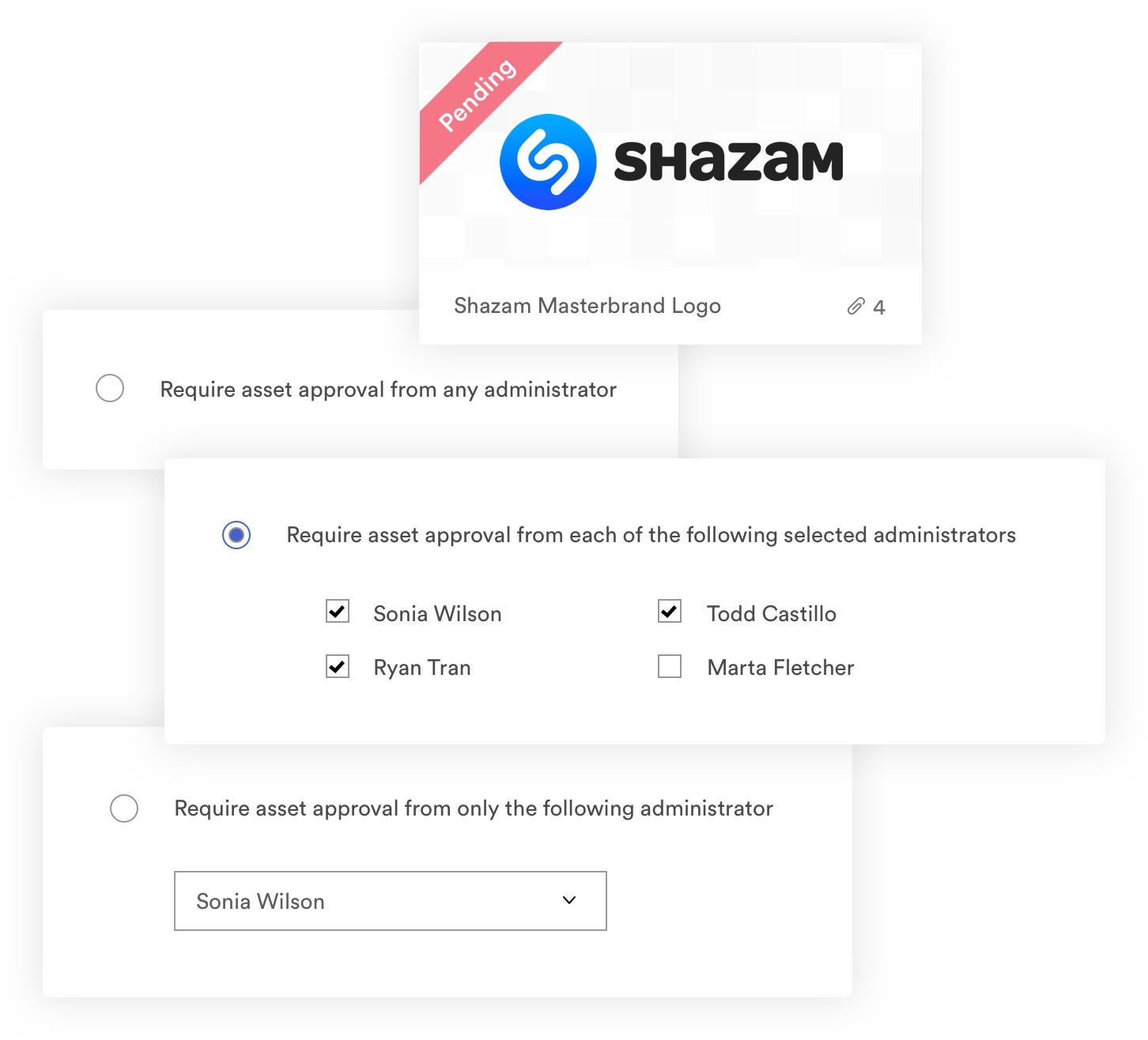 12. Empower distributed teams
Cloud-native platforms of all types have become essential for remote, distributed teams.
Because users access DAM software through the internet, teams can quickly find, share, and collaborate on digital assets from home, in the field, or anywhere in the world. Additionally, all authorized users are working with the same data, as updates are automatically synchronized across all connected platforms and tools.
13. Seamless integration with existing workflows
A quality cloud-based DAM service should integrate with the full range of tools you use each day. For example, Brandfolder integrates with the Adobe suite, so creatives can create assets in Adobe design platforms and share them to Brandfolder, without switching platforms. This eliminates the need for asset downloads and streamlines the review and approval process.
Brandfolder's other integrations include project management tools like Jira, as well as Google Apps, Microsoft Office, WordPress, Shopify, and more.
---
Making the Move to the Cloud
Cloud-based digital asset management provides several advantages over on-premises solutions,including greater flexibility, improved access, better security, and better support for remote distributed teams.
Brandfolder is the best DAM software for simplifying and scaling digital asset management. Ready to get started?