Digital Asset Management for Designers: The #1 DAM for Creatives
Choosing the best digital asset management (DAM) software for your design team isn't just about looking for advanced features to support creative processes — the biggest benefit of digital asset management for designers is the freedom DAMs give other teams to use brand assets without bothering designers. So a truly beneficial digital asset management platform will have features to support your design team's workflows AND enable other teams to (independently) use the brand collateral the designers provide for them in the DAM system.
Here's why:
Before transitioning to DAM software, many creative teams use standard cloud storage drives like Google Drive or Dropbox to store and share brand collateral. However, these drives are really limited in their functionality, and many designers are still left wasting time...
Responding to asset requests every time somebody is unable to find a file (or hasn't yet been shared on a file)
Trying to keep their asset library organized so everybody's always working on the same versions of assets in the hopes that they aren't left answering a billion questions on which version of an asset to use
Editing assets — or creating new collateral — every time somebody needs a graphic modified for a different project or target audience
Reviewing new assets and all of your teams' projects before they're given the go-ahead to proceed
Not to mention, many cloud storage drives don't have collaboration tools or integrations, so teams are left working on asset updates and digital projects in other platforms (and doing all of the manual uploading and downloading between software). The entire process is just clunky.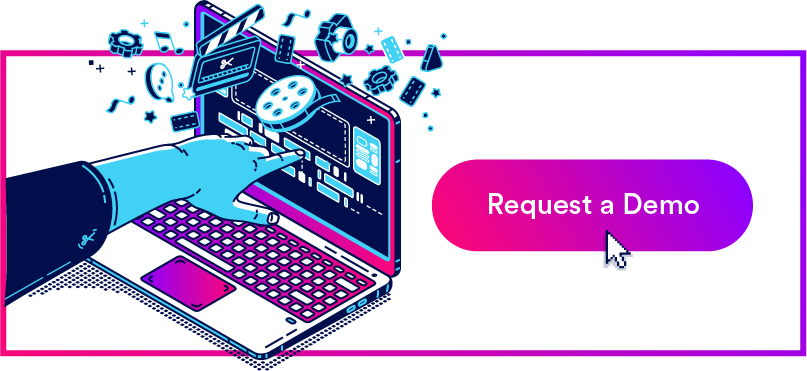 DAMs get everybody working more productively, giving designers the time to actually focus on their own design tasks instead of responding to and assisting everybody else.
So in this post, we'll talk about how our digital asset management system, Brandfolder, is set up to support your design team... and all of the teams they have to support. Here's a sneak peek at what you can do with Brandfolder:
Store all of your digital files in one place, and keep your library current and clean
Share all of your brand's media files with the teams who need to use them
Help all of your teams work more independently
Collaborate with other team members
Customize your DAM to support your teams' workflows
Use asset analytics to plan new digital content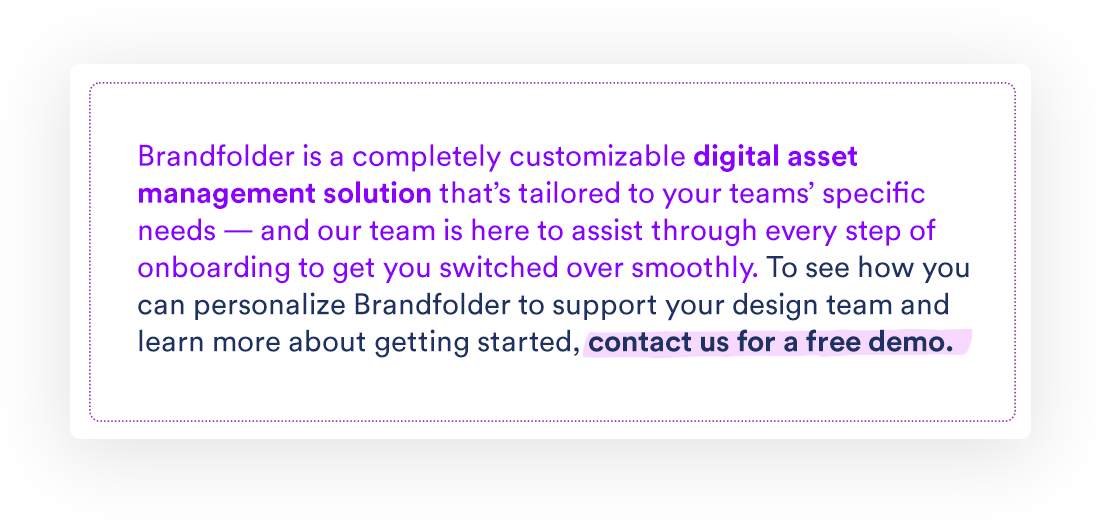 Maintain an Up-to-Date, Automatically Organized Library
Brandfolder acts like cloud storage drives in the fact that it stores all of your brand collateral (a.k.a. your design team's content) in one place. But it expands upon these drives in a few key ways:
One, Brandfolder accepts all file types/formats — so it accepts the typical images, documents, spreadsheets, PDFs, that cloud drives store, but it also lets you store creative assets like color HEX codes, fonts, templates, Photoshop and Illustrator projects, and so forth. This makes it so you only need one storage drive for all of your brand collateral. Plus, all of your users and stakeholders are accessing the same asset library.
Two, Brandfolder lets you organize your asset library in a way that makes the most sense for your end users. This makes your library easier to navigate and improves the user experience. Our team will help you map your entire library before uploading so you can set it up the way that makes the most sense for how you use it.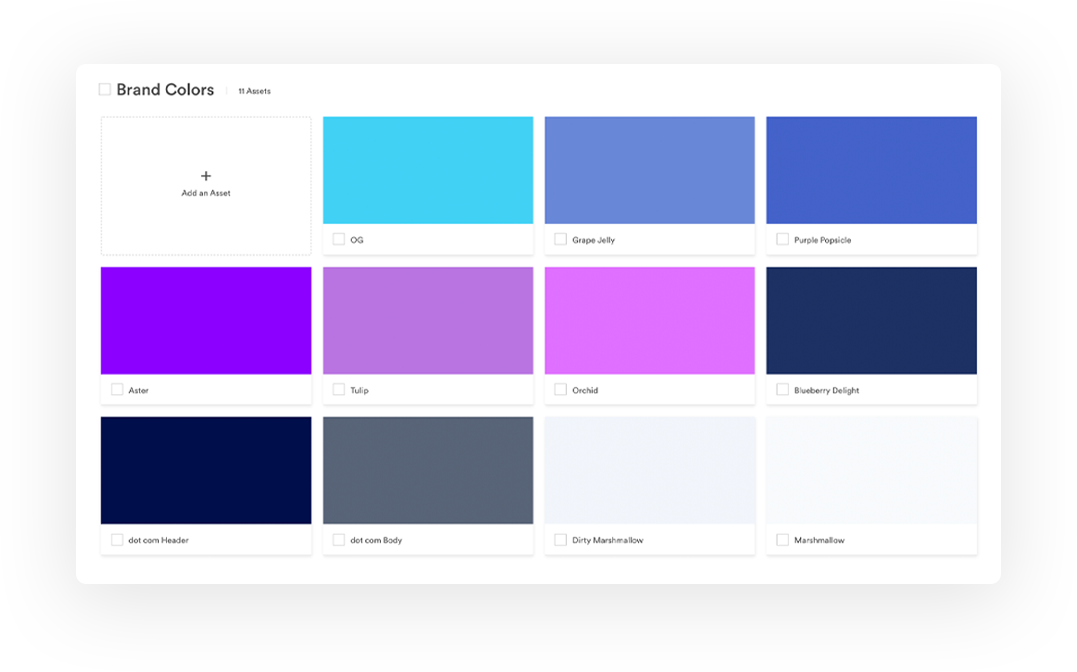 Three, Brandfolder has tools to automatically keep your asset library updated so everybody is always viewing, using, working on, etc. the same versions of assets — and nobody has to wade through duplicate files or ask designers about asset versions.
Some of these features include:
Duplicate asset detection: This notifies users when they've uploaded a file that already exists in Brandfolder and prompts them to either cancel the upload or merge the asset with the existing file in an "Asset Container." These are useful if you want to store different versions of an asset together — for example, you have products that come in multiple colors/variations and you want to house certain product shots together, or you have branded content like logos in different file types and don't want a bunch of versions of your logo cluttering your main asset library. Duplicate asset detection is also beneficial because it helps designers see what they already have and what they need to create.
New asset reviews: You can set up Brandfolder to alert you — and any other user you add as a collaborator — every time a new asset is uploaded or an existing asset is updated, that way you can review and approve all assets before they're available for other users to access and download. This also gives you better control over your asset library, in general.

Asset expirations: If you have certain assets you know you'll only need for a limited time, you can set them to expire on a specific date and prevent others from accessing and using old or outdated collateral. This makes it easier for designers to control the entire asset lifecycle from creation to expiration.
Share Assets With Everybody Who Needs Them
Storing brand assets and creative collateral in Brandfolder improves its accessibility for both internal users and external collaborators so designers can spend less time sharing content.
There are different ways to share digital assets in Brandfolder, depending on who you're sharing with:
You can __share assets with team members with user permissions__. Just choose the asset(s) you want to share and add other users to view, download, or edit them. When adding users to "Collections" (or other groups of assets), they'll have access to all existing assets in that Collection and any new collateral that's uploaded in the future — designers can just add files to Brandfolder without having to share each individual asset.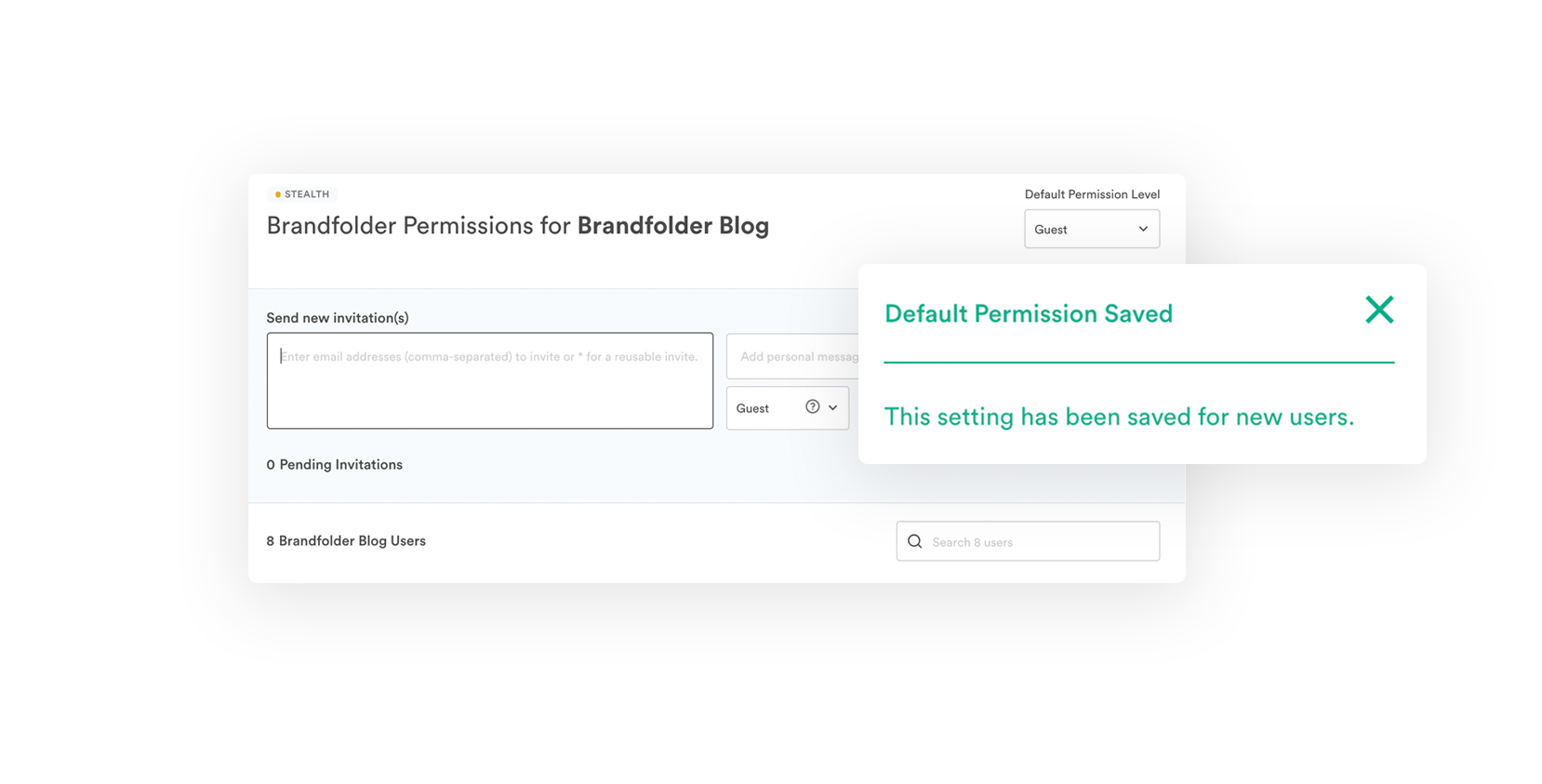 You can __share assets with external collaborators and stakeholders with custom share links__, and we offer unlimited free guest seats so you can do as much sharing as you need without being charged extra fees. Our share link feature gives you better control over outside sharing and allows you to monitor all of your team's share links.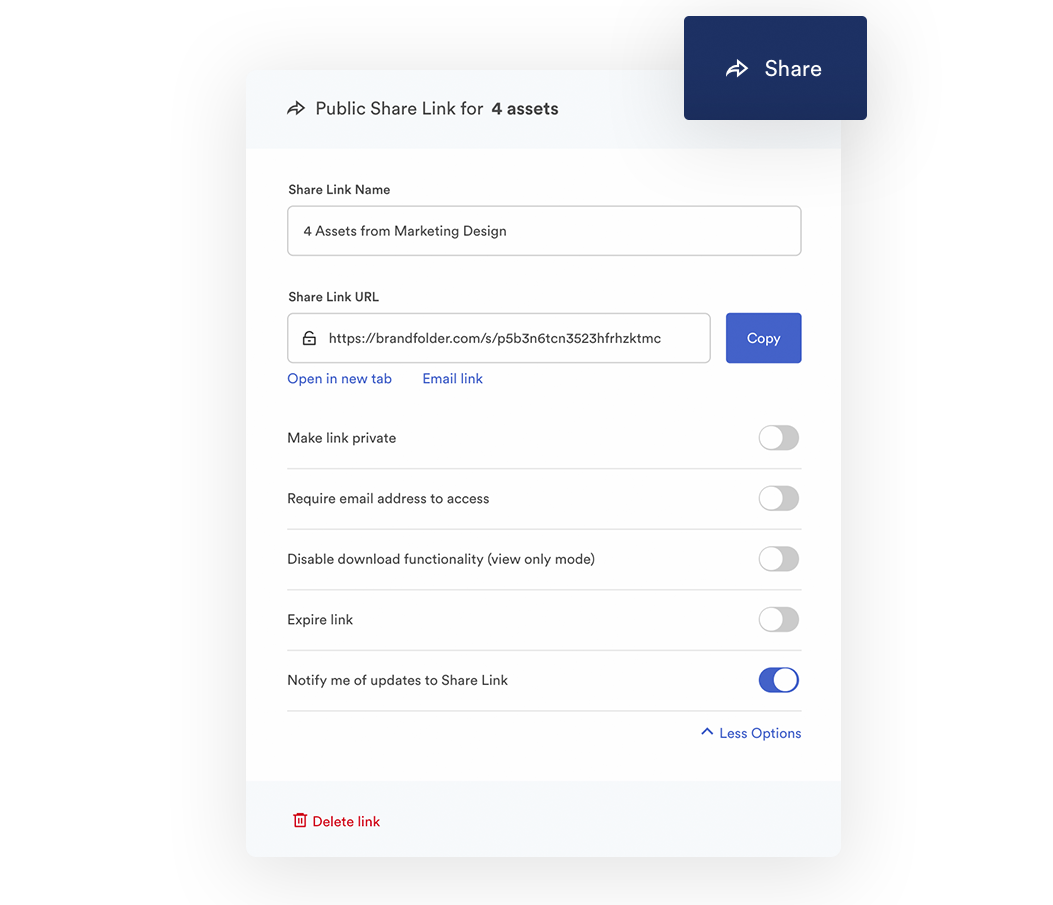 With custom share links, you can:
Change the name of the link
Set the link to expire
Require end users to submit an email address to open the link
Watermark shared assets
Disable downloading (a.k.a share assets in a "view only" mode)
Set real-time alerts for when end users open or download assets
Add or remove assets to the link at any time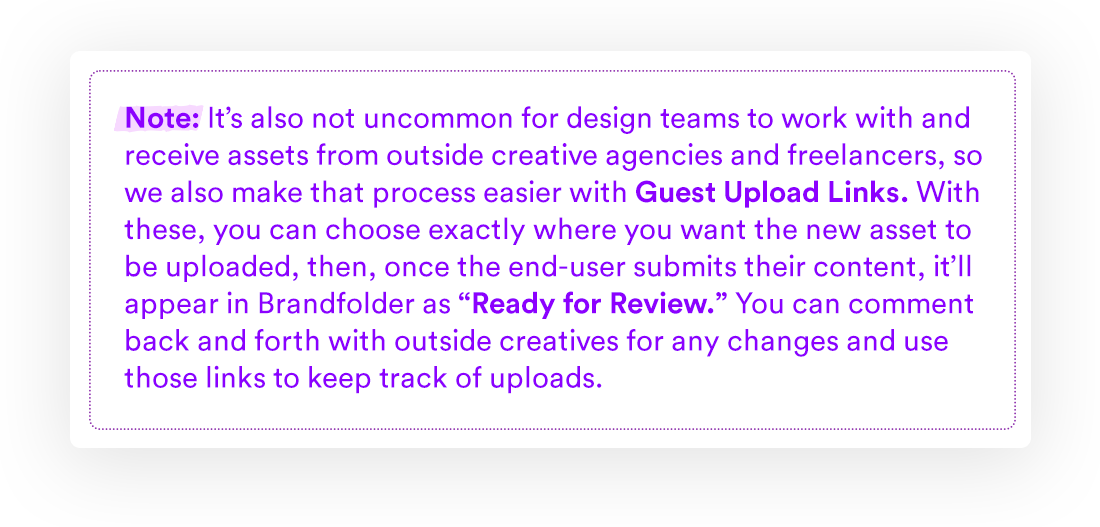 Keep Others from Wasting Designers' Time with 5 Tools
As we said above, DAMs are really useful for creative teams because they free up designers' time: In addition to making it possible for others to find and use the assets they need without requesting content from designers, Brandfolder also has extra features so users with absolutely no graphic design experience can repurpose creative collateral for their individual projects.
First, our advanced search feature lets users easily find brand assets and discover new creative content for their projects. They don't have to know file names, or even exactly what they're looking for: They can type just about anything into the main search bar, and our proprietary AI — Brand Intelligence — will get to work analyzing your brand's asset library and pulling all of the collateral that's related to the search. This lets users see everything your designers have that is relevant to their projects, also making it clear if new content needs to be added.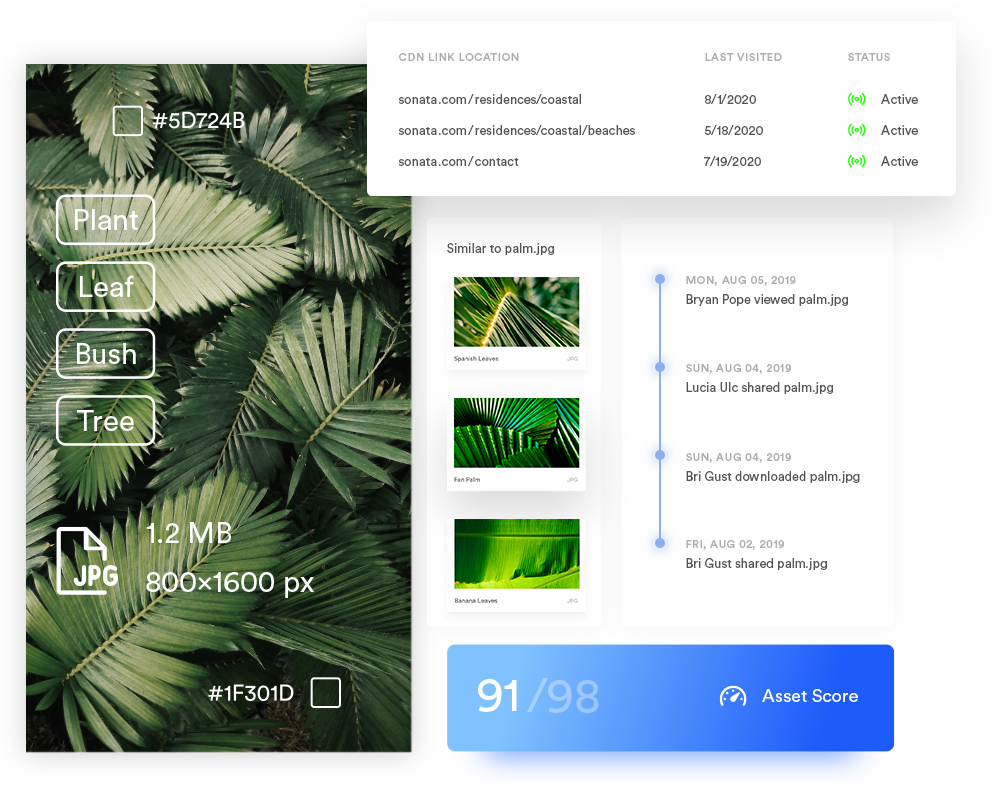 Next, we have "on-the-fly" conversion features so users can modify assets (file format, file size) for different online channels or digital projects when pushing the asset from Brandfolder; this eliminates the need for an extra conversion tool and prevents users from creating duplicate versions of the file.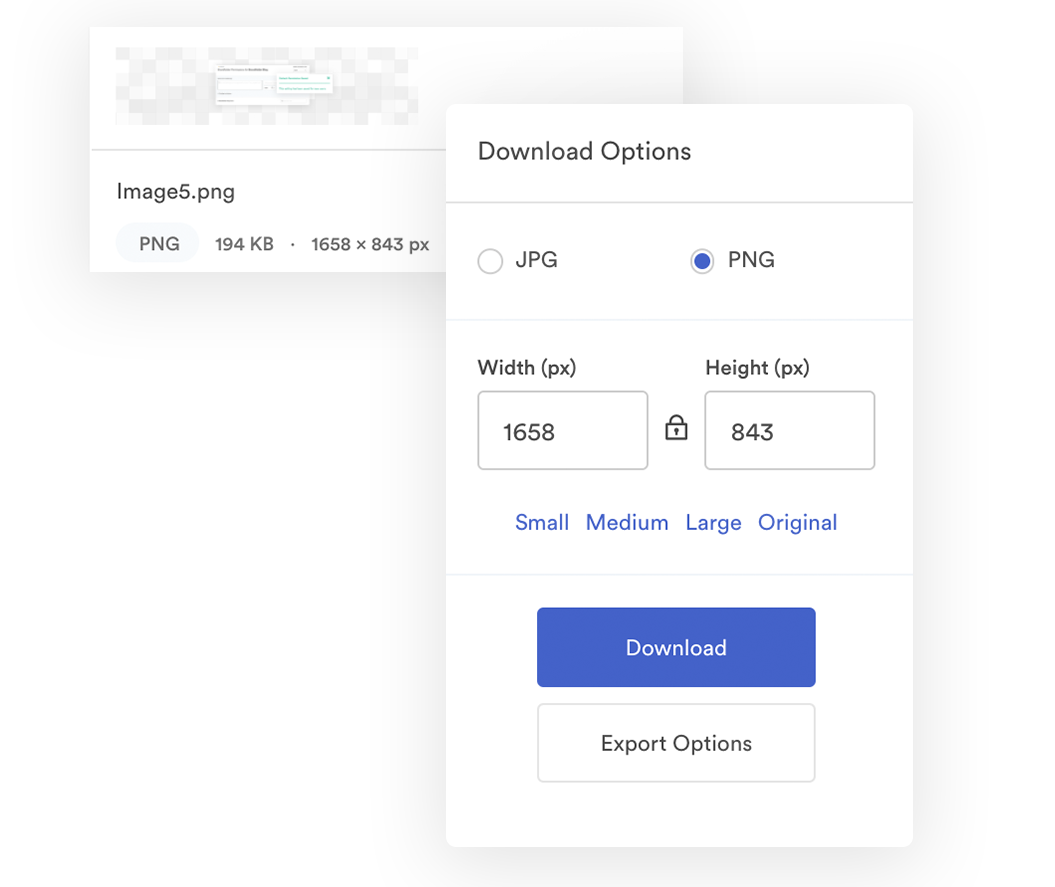 Our custom cropping functionality also lets you quickly crop assets before publishing or printing. You can create "custom crops" for any medium's specifications, but we have presets for popular websites like Facebook, Twitter, and Instagram already available. Having the ability to quickly optimize assets is beneficial for marketers who regularly publish social media assets or work with a variety of marketing materials because it helps them get content in front of their target audience faster.
For more details on using digital asset management software for publishing, check out our other post.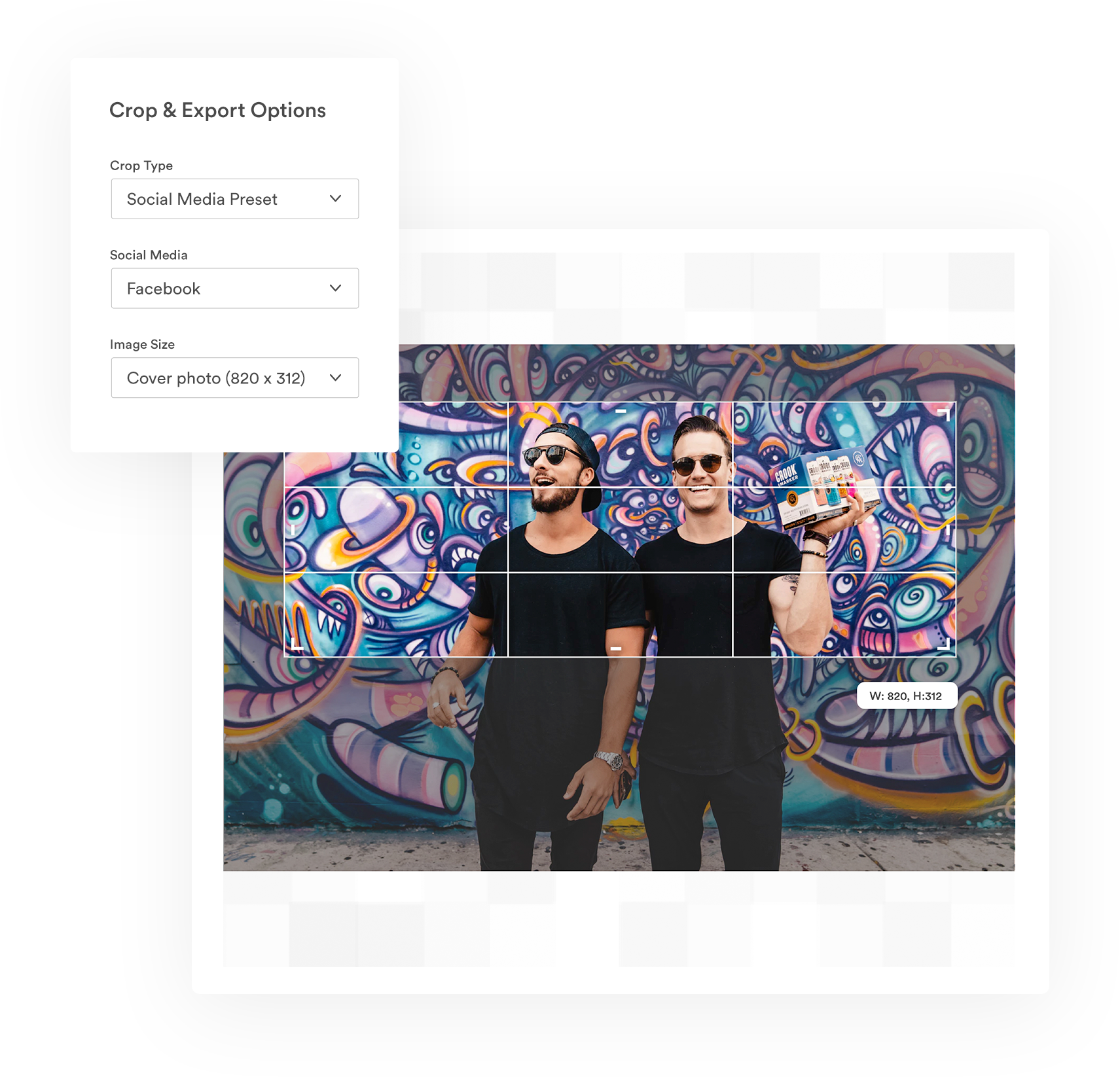 To give your other teams and stakeholders even more creative freedom, Brandfolder has an optional templating feature. Designers can upload pre-approved templates for popular collateral types (i.e., sales collateral like brochures and business cards, or marketing content like email templates and headers), control exactly how users customize those templates, then push those templates out for others to access and use (and reuse) when they need to create fresh, unique content for their projects.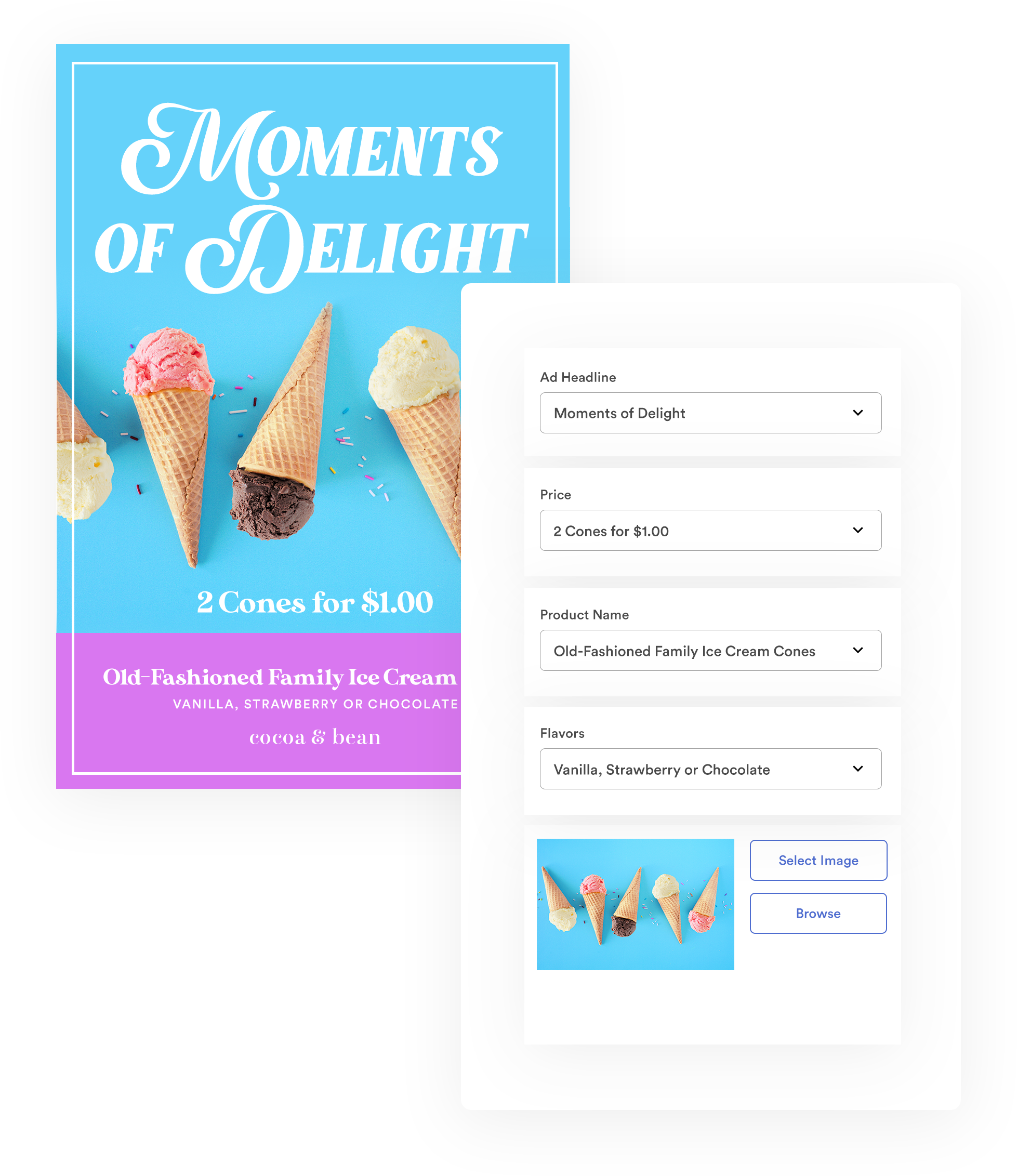 Templates keep everybody on-brand, and since designers can control how users personalize templates, "finished" templates don't need an extra review from creatives before they can be downloaded and used. You can also read more about this feature in our post on marketing collateral templates.
All of these features are convenient because they let everybody who needs to use your assets come into Brandfolder, find the assets they need, and immediately begin using them — because they know the assets they're finding are current and approved. This not only makes everybody more efficient, but it also improves brand consistency.
On that note, Brandfolder also has a Brandguide feature that many designers find beneficial. With Brandguide, you can set up brand guidelines right in Brandfolder — your Brandguide is automatically accessible to anybody you share assets with, so everybody who's using your assets has detailed instructions on how to use them correctly.

Other DAM Features for Designers: Collaboration Tools, Integrations, Insights & Analytics
In addition to the tools to store and share assets, and Brandfolder's features to help others use those assets, our DAM solution also has a number of features to help designers work more efficiently (together and individually). Let's talk about some of those.
Collaborate in Brandfolder
Designers can collaborate on asset updates and new projects within Brandfolder via the Workflow tab and our Workspaces feature.
The Workflow tab (located right within the Asset Overview) is where you can update existing assets, and communicate with team members on those asset updates. In this Workflow tab, you can:
Comment back and forth with other users and view the entire comment history
Check assets out for updating (and push them over to their native tool for edits)
Check assets back in once updates are complete (and push them back into Brandfolder from the editor)
Monitor the entire version history and the changes that were made during each update
Revert the asset back to a previous version (or download previous versions) if you need to backtrack
Once assets are pushed back into Brandfolder post-editing, they remain in a pending status until they can be reviewed and approved. Once approved, the asset automatically updates across the Brandfolder platform (and any place the asset's link is embedded online — more on that below) so everybody is always viewing the most up-to-date and approved versions of assets.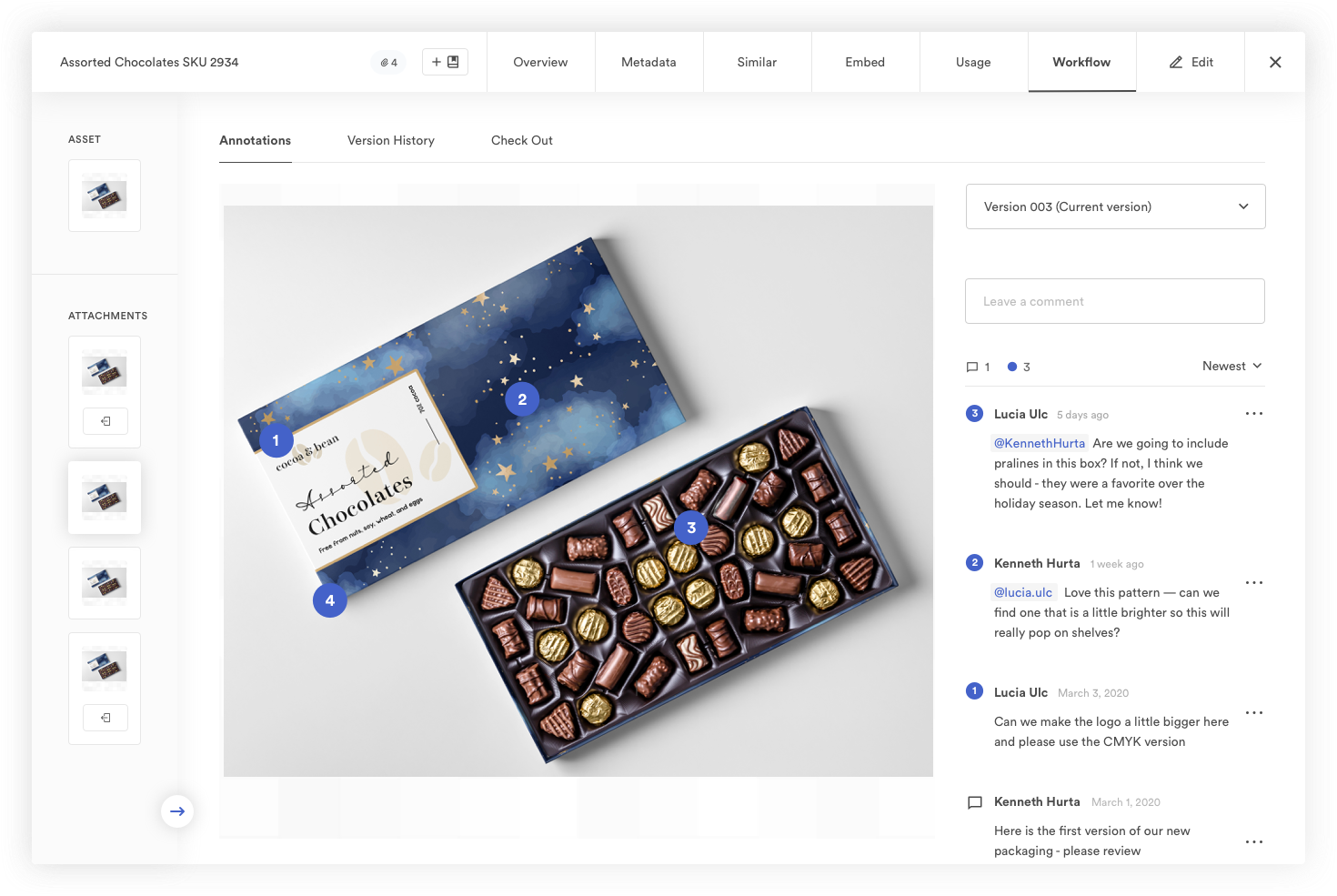 Our Workspaces feature is different from the Workflow tab because it lets designers work on and manage new asset production and other "in-progress" digital projects directly in Brandfolder. It functions as a built-in project management tool, so designers can:
Break up projects into tasks
Assign tasks to team members
Add due dates for tasks and change their priority
Follow along on project status with real-time updates
Provide feedback for other users all in one place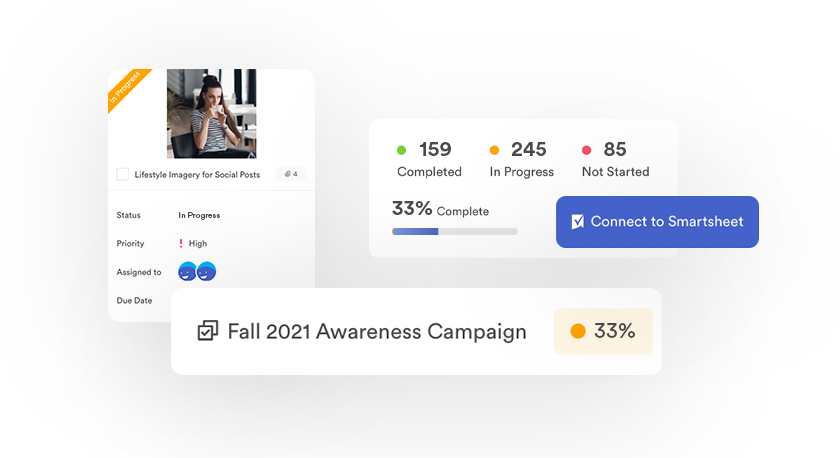 Workspaces is built so your creative teams can tackle even the biggest of design tasks in a simplified environment.
Customize Your Brandfolder to Work With Your Other Tools
Brandfolder has dozens of out-of-the-box integrations and an open-source API so you can connect it with any of the tools your teams use in their workflows and seamlessly push assets between platforms.
For starters, it integrates with graphic design and content creation applications like Adobe's Creative Cloud (Photoshop, InDesign, Illustrator, etc.), Canva, Sketch, and Figma.
However, it also integrates with other software types, like:
Content management systems (CMS) like WordPress and Contentful
CRM software like Salesforce
Marcom like Hootsuite and HubSpot
Workspace tools like Slack, Google Suite, and Microsoft365
Project management software like SmartSheet and Trello
Plus, it's also built with a content delivery network (CDN) system, so you can use Brandfolder as a single source of truth and publish assets online by copying and pasting the asset's link (as we mentioned above).
The built-in CDN system is great for eCommerce brands who want to use DAM software to power their website. However, many marketing teams also like this feature because they can publish email marketing campaigns and other online content directly from Brandfolder and know that any updates made at the DAM level will reflect in all of their projects.
In addition, Brandfolder has a web-to-print integration so your teams can push collateral directly from the DAM to the printer of their choice and speed up that process.
Use Insights & Analytics to Plan Creative Content
Our DAM software also has in-depth reporting capabilities so designers can look at how their creative collateral is used by other team members and see how successful it is with target audiences. Then, they can leverage that data to strategically gameplan content creation.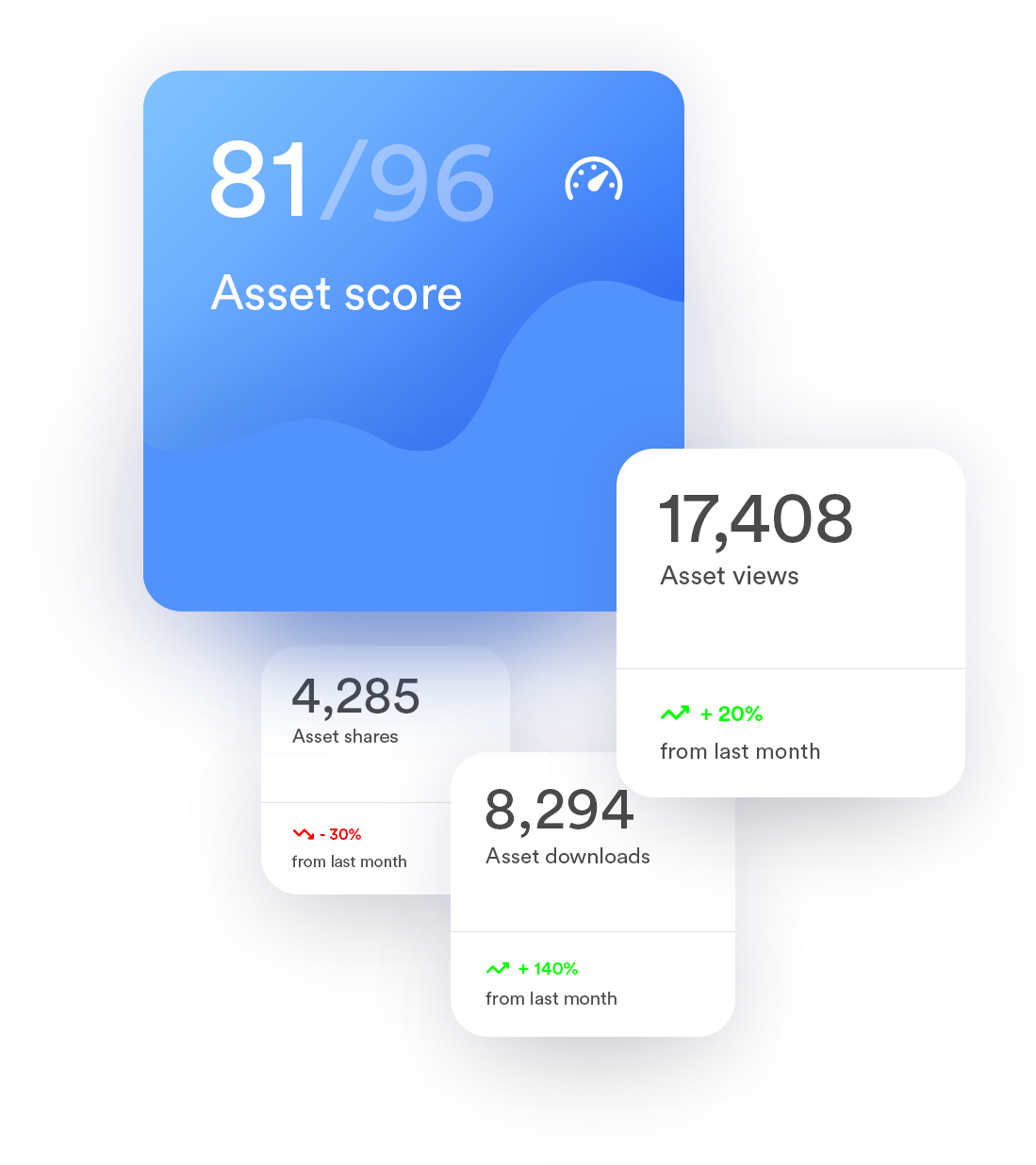 With Brandfolder's reporting feature, designers can see:
How often each asset has been viewed, downloaded, or shared
Who is viewing, downloading, and sharing your assets
Where an asset's CDN link is embedded online
Which users interact with your library the most
Plus, our reporting dashboard is customizable so you can look at different metrics over different time frames and dig into any data that sparks your interest.
Get Started with a Free Demo of Brandfolder
When shopping for a digital asset management solution for your design team, don't just think about features for designers, such as collaborative tools to work on digital projects and integrations with creative applications. Instead, stop to think about all of your other teams that use your brand collateral and what they need to support their projects. Optimizing your DAM for all of your teams is the key to really reaping the benefits of this software (and helping your designers enjoy more freedom to do their thing).
To make getting started in a DAM easier, we're here to assist with the transition. Our customer experience team is available to answer all of your questions, help personalize our platform for your teams, and put together a plan to get your organization switched to Brandfolder. Get in touch with our team to learn more about our DAM, pricing, and receive a free demo of Brandfolder.