How to Find the Best Digital Asset Management Tool for Your Teams
Whether you're working with photos, videos, audio files, written documents, templates, marketing materials, or sales decks (the list goes on), a digital asset management (DAM) solution can help your teams…
A.) Organize and store digital files in a way that everyone can access them without bothering 5 teammates before finding what they want B.) Make better use of on-brand digital assets throughout the company and in collaboration with external contacts (like distributors, franchisees, retailers, etc.)
We put together this buyer's guide to make shopping for digital asset management solutions easy. In it, we talk about….
Which teams get the most from digital asset management systems

What to look for when comparing digital asset management software solutions

Seven top digital asset management tools
Let's dive in!
Want to see how Brandfolder simplifies digital asset management? Schedule a demo with a DAM expert to walk through Brandfolder's features, learn more about the benefits of using a DAM platform, and get answers to all of your digital asset management questions.
Who Benefits from a Digital Asset Management Tool?
While digital asset management software is useful for many companies, not all teams truly need it. If your business is small and you don't have a lot of digital content to keep track of or share, you may get along just fine storing your files in applications like Google Drive or Dropbox.
DAMs are especially helpful if:
You have an expansive asset library (100+ digital assets)
Your assets are difficult to find, and your library is cluttered with duplicate asset versions
Your creative teams are clocking hours responding to asset requests each week
You share brand assets with several external parties
You receive assets from outside sources or work with creative agencies
Digital asset management software is almost always a necessity for creative teams because it eliminates the need to share asset links manually with other employees or stakeholders: No more fielding asset requests or sharing updated assets every time a file is tweaked.
But really, all departments can benefit from a DAM system because they organize your digital files (of all file types) in a central repository and make it easier to share, collaborate on, and update digital assets.
Accounting teams can store their spreadsheets in a DAM; sales teams can share sales decks with team members and clients; content and social media marketers can organize graphics and images for posting; designers can comment on asset updates and keep track of different versions; management can track how assets are used and perform over time.
Most DAM solutions are highly customizable to fit your team's specific use case. Many of the best digital asset management systems are built with add-on features, integrations, and open APIs so teams can sync their systems and use their DAM as a "single source of truth" for managing and distributing digital assets.
Other Benefits of a Using a Digital Asset Management Platform
The biggest benefit of using a digital asset management system is saved time. Apart from alleviating burdens on creative teams, DAMs make your assets easy to find and organize them so you're always viewing the most updated versions of your files.
Here are a few other ways DAMs are beneficial:
Automatically tags assets and adds metadata (short descriptions based on their content) so they're easier to find
Makes it easy to share digital files without jumping back and forth in email threads
Keeps track of any changes to assets so everyone uses the latest version of an asset (read more on version control)
Enhances team collaboration
Provides tools to repurpose old creative files
Allows teams to download digital content in different file formats
Simplifies editing and watermarking
Eliminates concerns around asset security
What To Look For in a DAM Solution
When researching and comparing the best digital asset management solutions, keep these criteria in mind:
Ease of use: A DAM system with a clear, intuitive interface and straightforward functionality is easy to learn and adopt. DAMs with a clunky UI and over-the-top features may be challenging for all of your users to navigate.
Collaborative tools: Teams work more efficiently when they have easy ways to communicate on asset updates, where assets are shared, and how assets should be used. Look for software that allows teams to leave comments on assets, add brand guidelines to asset descriptions, and view version history and asset analytics.
Integrations: You want your DAM to sync with the other tools you work with on a day-to-day basis. Read about each DAM's built-in integrations and check to see if they have an open API for extra customization.
Pricing: By the time you're done adding users, choosing add-on features, and selecting cloud storage space, DAMs can be pretty pricey. Look for software that offers free guest seats and look past the initial sticker price to find out what a software costs when it includes everything you want.
Support: There are two major hurdles when adopting a digital asset management system: 1) ingesting and organizing all of your assets, and 2) training your teams to use the software. DAMs with good customer support can provide assistance with onboarding and implementation so the transition goes smoothly.
With that in mind, here are seven DAM software options, starting with our own — Brandfolder.
Digital Asset Management in Brandfolder
We may be biased, but we think the proof is in the pudding when it comes to showing Brandfolder is the best digital asset management tool for most teams. Its uncomplicated features minimize training times and the platform scales as you grow. We have 40+ integrations and an open API so you can customize the tool to work for your specific needs.
Brandfolder's customer experience team is also the best in the digital asset management industry to help ensure adoption (and we're not just saying that because we're proud of the team) — we have a 99% retention rate because we never leave our clients hanging when they need support. You'll have a dedicated team available 24/7 to help you get up and running, which won't take as long as you think — and while every brand's implementation is different (as it should be) our process aims at 30 days for teams to get set up and fully switched over to our software.
Let's talk more about managing digital assets in Brandfolder to determine if it's the right fit for your organization and users.
Storing & Searching for Assets in Brandfolder
Storing your digital media files in Brandfolder is as simple as dragging and dropping files from your computer or importing them from another asset storage system. Our software accepts all file types, including images, Photoshop files, PDFs, texts, fonts, templates, word documents, spreadsheets, and rich media like video and audio files. Really, the only files our software doesn't accept are HTML and Java files.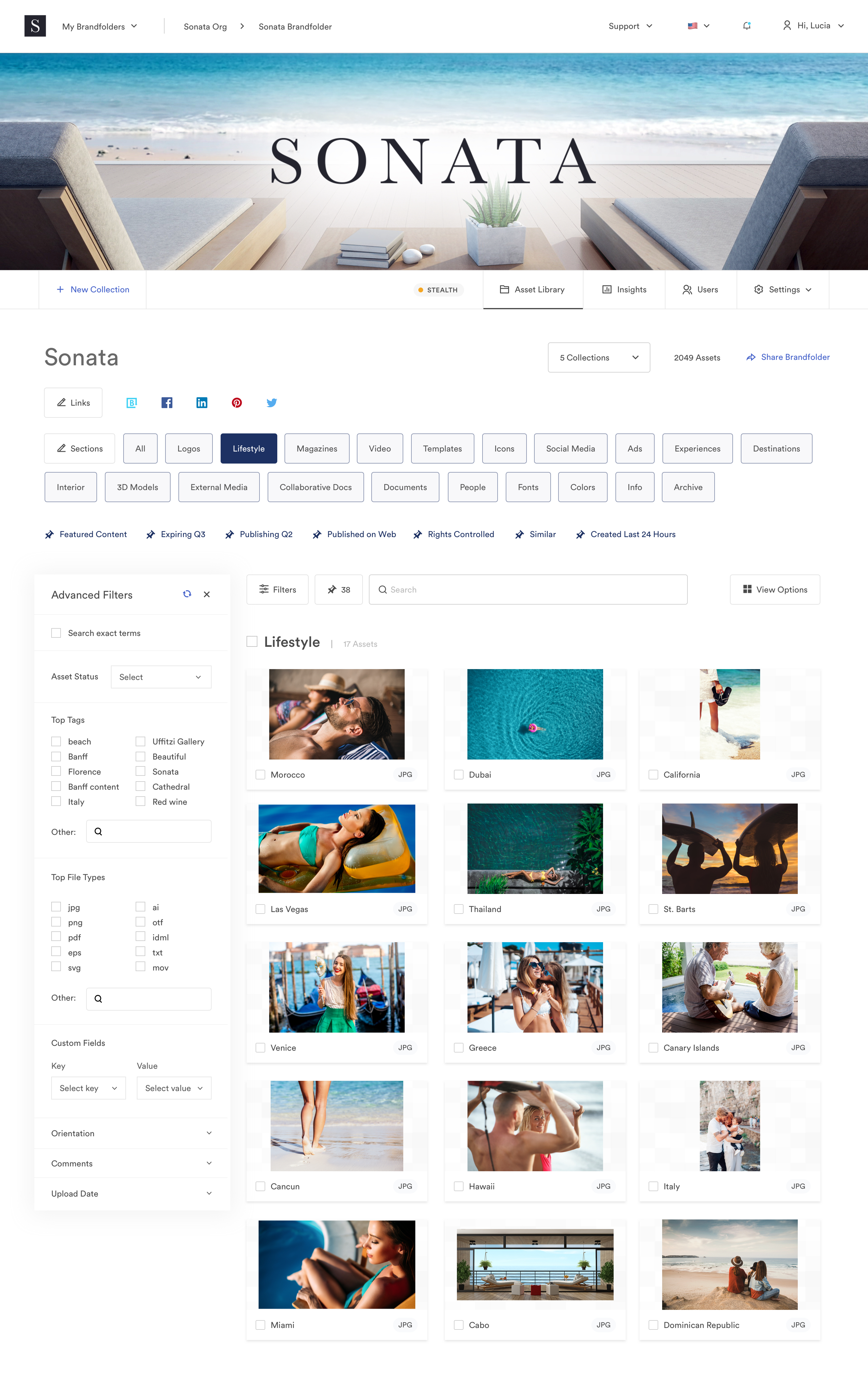 Within Brandfolder, files are organized in Brandfolders, Collections, and Brand Portals.
Brandfolders: Organizing assets in different Brandfolders is helpful if you manage more than one brand.
Collections: Collections allow users to organize assets for different departments, projects, or end users. We take organization a step further within your collections and group assets by type (logos, fonts, colors, images, etc.).
Brand Portals: Brand Portals are beneficial when you work with outside distributors or retailers and need a place where those external parties can access all branded images, marketing resources, and product information.
Upon asset upload, our machine-learning adds metadata to your files and auto-suggests tags to improve searchability. Of course, you can also add your own asset description and supplemental information so it's clear how, where, and when assets can be used.
Our advanced search functionality makes it easy to find any asset in a matter of minutes. Instead of having you search within Collections or Brand Portals for digital files, our flat search analyzes your entire asset library.
In the search bar, you can type anything about a media asset, including colors, fonts, text, product names, image components, etc., and our search engine will pull all related digital files. That way, you can find assets based on their content (no more memorizing file names!), even if it's a phrase like "Pepsi can" to find an image that you remember has that object.
Our default thumbnail view allows you to quickly scan results and find the exact file you need. There are so many different ways to surface assets based on search queries that it's almost impossible not to find the asset you're looking for with a few search terms.
Updating Assets in Brandfolder
Keeping track of asset updates and file versions is another headache that Brandfolder mitigates. Within every asset — even video and audio files — users can leave comments for other team members (and view that comment history), push files back to their native editing apps for updating, check assets back in for review and approval, and view asset version history.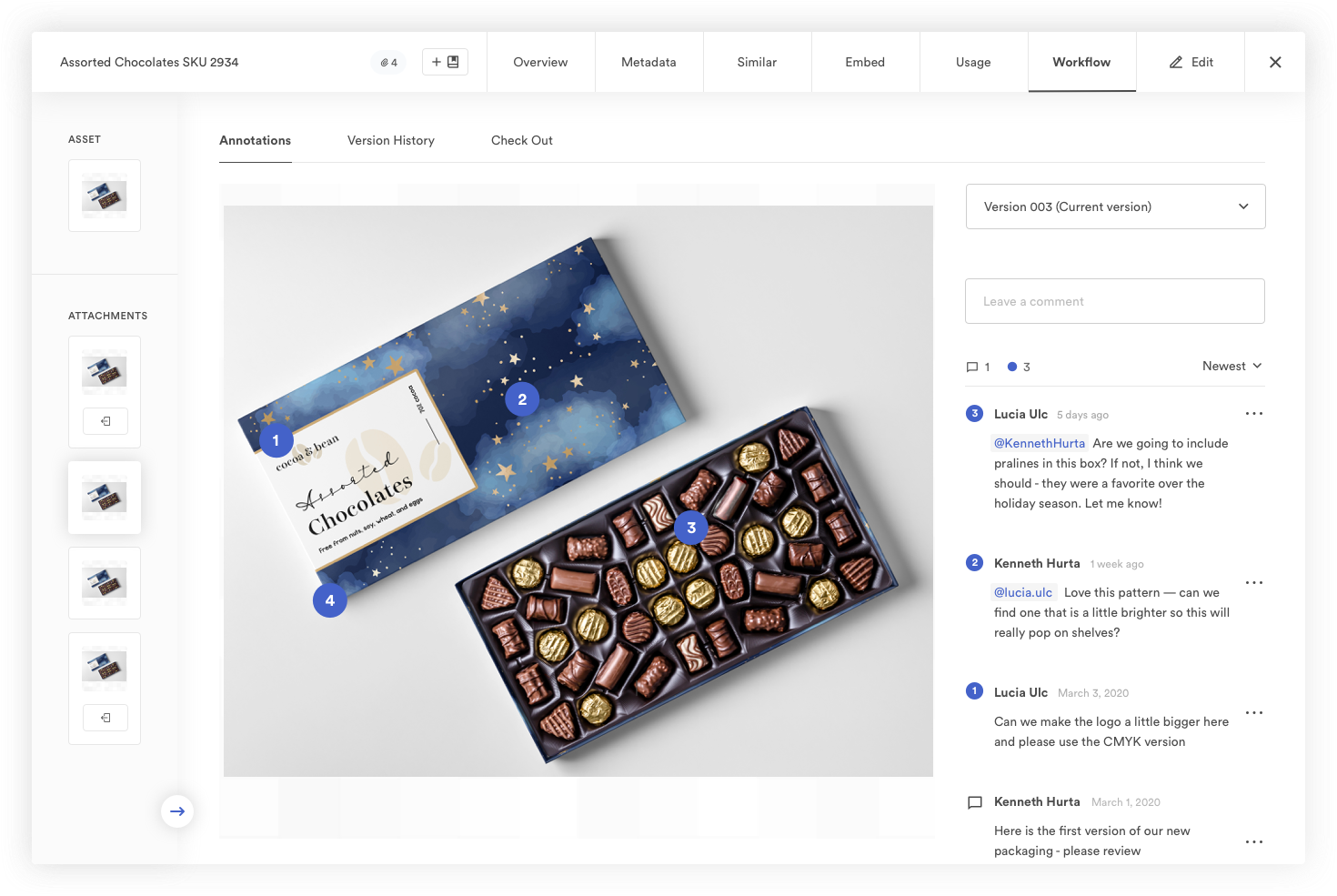 After an asset has been updated, users can view, share, or download the most recent version without any questions or confusion around, "Am I using the right asset?" Even as assets are updated, users can scroll through an asset's version history and view or download prior versions for reference.
Another helpful feature: Brandfolder has an optional templating tool that allows users to create unique, updated content from standardized templates. Creatives can put together a template in Adobe InDesign, lock the editable fields, and upload it to Brandfolder for other users to personalize, download, and share. We hear sales and marketing teams find this feature most useful because it allows them to easily repurpose marketing content for different audiences.
Sharing Assets in Brandfolder
Instead of downloading files and sharing them via email, teams can share digital assets with other users and external groups directly from Brandfolder using permissions and custom share links.
Permissions: Permissions let you add registered users to Brandfolders, Collections, and Portals so they can view, download, or share the assets within. You don't often have to do this manually; if someone belongs to the sales team, for example, they will automatically get access to anything set to be shared with sales.
Custom Share Links: To share assets via custom share link, select the asset(s) you want to share and who you want to send them to. You can give your custom link a name, set the link to expire, or restrict download access for end users.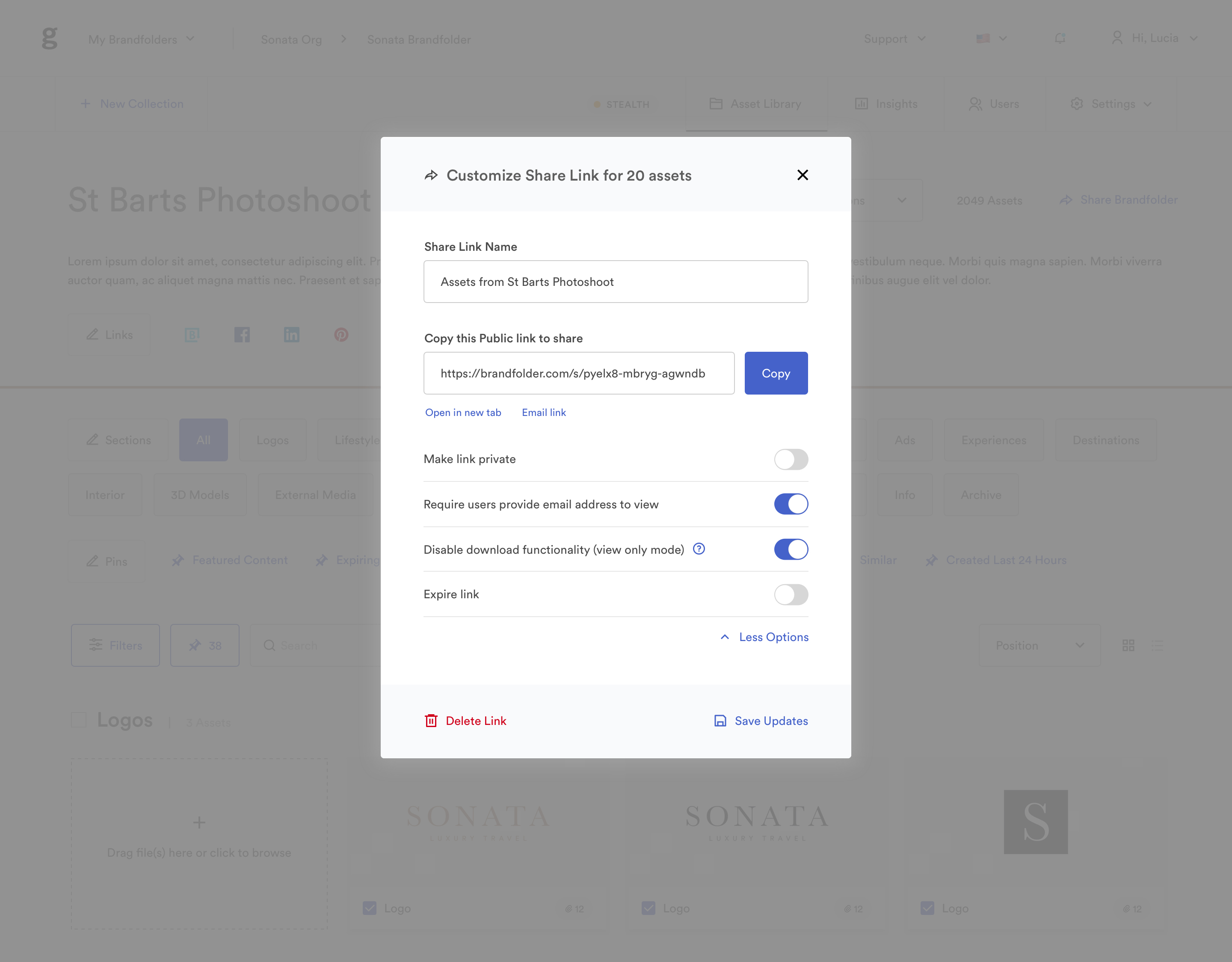 You can also use Brandfolder to share your assets online. Every asset has a smart CDN link so you can embed the asset on your website, in email marketing campaigns, on social media, and more. Then, you can check asset analytics to see where the asset lives and how it's being used online. (Note: This also improves brand consistency — when an asset is updated at the Brandfolder level, it updates across the board, so you don't have to comb through your online content manually and make changes.)
Finally, if you receive digital files from an external collaborator (agency, freelancer, etc.), you can send them an asset request link so they can upload their files right into Brandfolder. The sender can choose where in Brandfolder they want the uploaded asset to live, and once the file is received, they can review and approve the asset so it's available to other users.
Brandfolder Pricing
We keep pricing simple by basing quotes on storage space, number of users, and support packages. We offer all of our clients free guest seats — making us a great option for mid-size and enterprise companies who share their digital assets with a number of outside users — and we don't charge extra to take advantage of our integrations. We do offer some add-on features like templating for an additional cost, but all of our features to organize, search, update, and distribute digital files are included in the base price.
Our prices stay static year-to-year, only increasing or decreasing if you modify storage space, number of seats, or support packages.
Other Leading Digital Asset Management Solutions
Now that we've covered digital asset management in Brandfolder, let's review some of the other top-rated DAM tools so you can weigh your options and make the best choice for your team.
Canto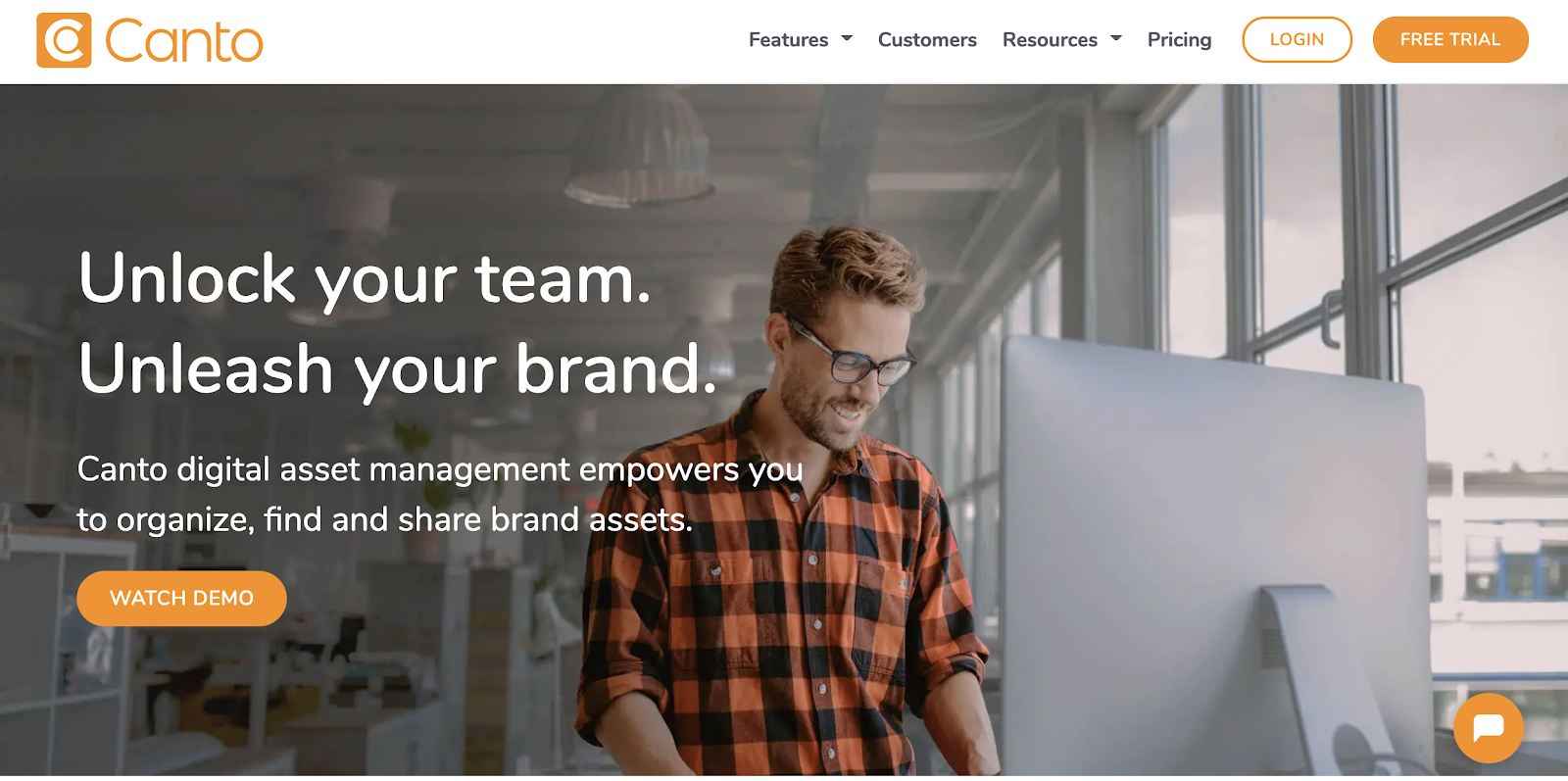 Canto was one of the first digital asset management systems to hit the market. Since its launch, Canto has released cloud-based, on-premise, and hybrid versions of their software to fit all user groups. Their software is packed with features to aid team collaboration, and the software integrates with a variety of different tools. For the most part, Canto's software is straightforward and easy to use; however, when talking with clients who have switched to Brandfolder from Canto, many say that Canto's interface is a bit cluttered.
Canto comes in at a reasonable price point, but they do charge users for guest seats, which can make this software a little too expensive for brands who share their assets with a lot of users.
Recommendation: Canto works for small businesses who need an on-premise solution for managing digital assets.
Bynder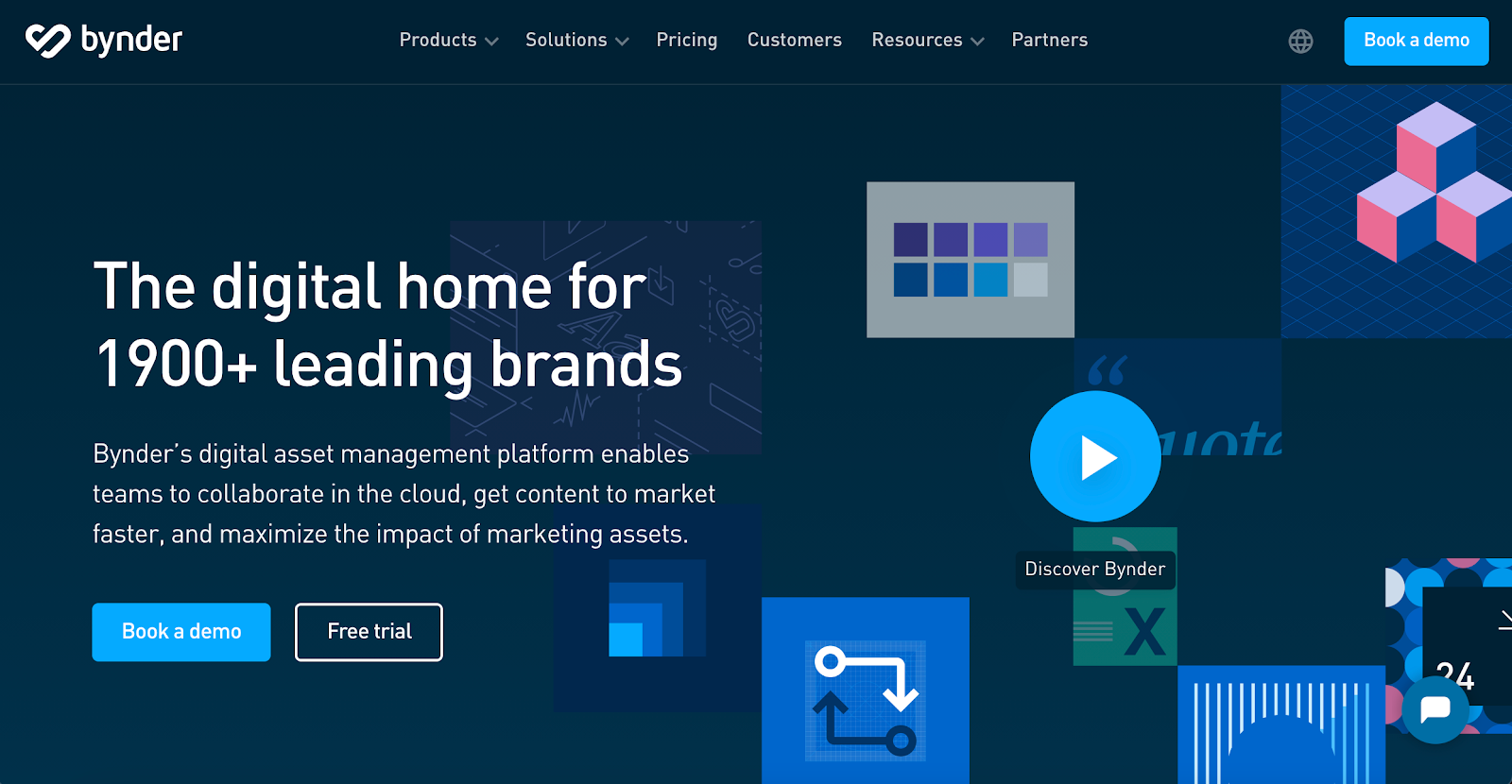 Bynder is one of the most popular digital asset management solutions because it's built with dozens of features to appeal to different teams and needs. Given it's expansive variety of features and functionality, Bynder is one of the harder digital asset management solutions to implement, and it's also a bit pricey. For the most part, Bynder attracts larger businesses with teams who have the need for all of Bynder's features and the budget to afford the software.
When talking with prospective clients who have used Bynder in the past, we hear Bynder is similar to Brandfolder because it has a clean, intuitive interface and integrates with many of the same tools as our software. However, clients say Bynder's team isn't as helpful or responsive as Brandfolder, so ironing out issues during implementation and learning how to use certain features can be challenging.
Recommendation: We suggest Bynder for enterprise companies who have a larger budget and an internal IT team who can assist with answering questions and rolling out the software.
IntelligenceBank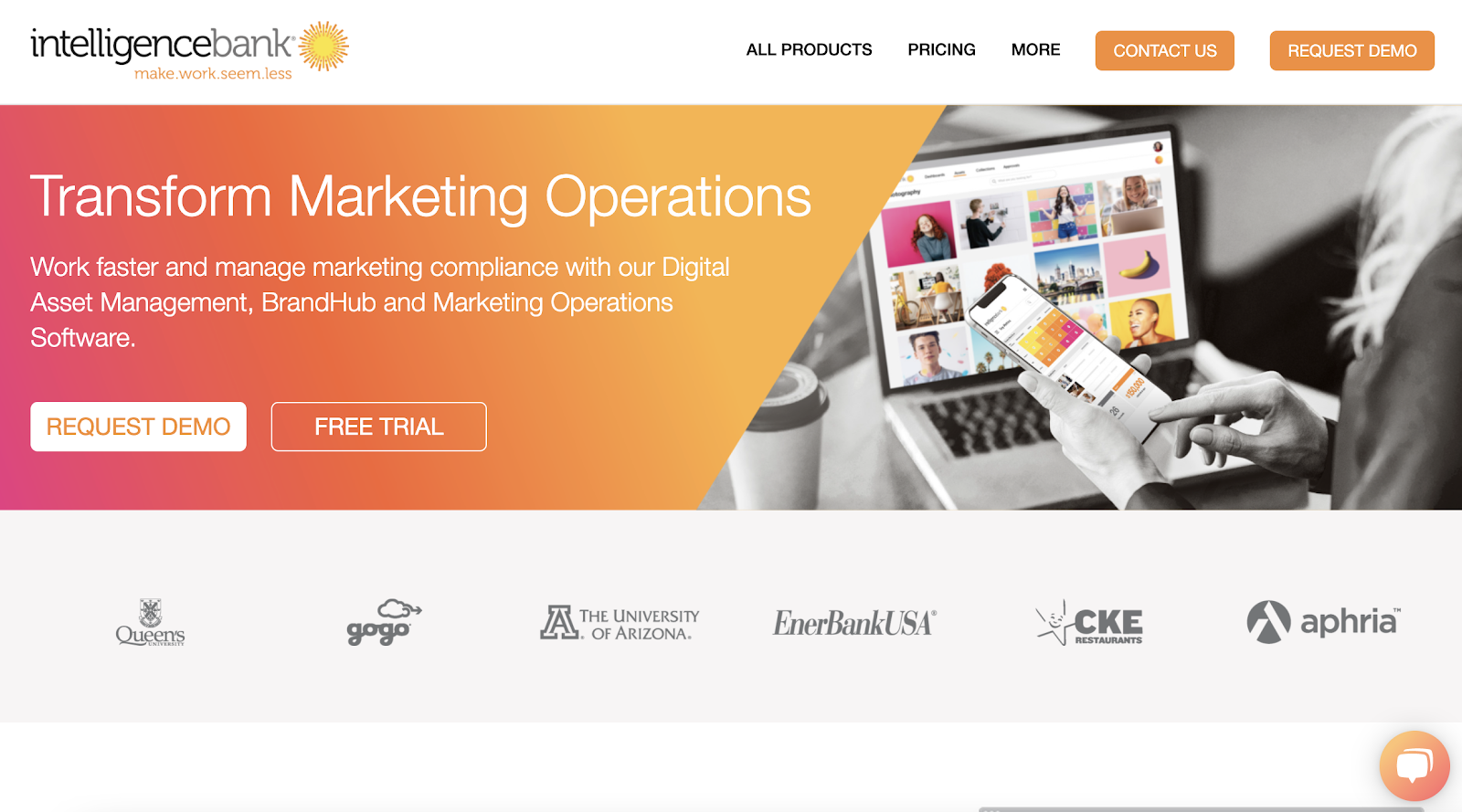 IntelligenceBank is a digital asset management platform specifically designed for marketers. In addition to acting as a DAM, IntelligenceBank serves as a brand portal software, marketing operations software, and marketing resource management (MRM) tool because their software contains features to keep marketers on brand, quickly move assets through the approval process, and better manage and track marketing campaigns.
In reviews of IntelligenceBank, users comment on the software's ease of use, options for customization, and robust marketing management features. However, some reviews say that the platform may be a little too robust in its offerings, providing tools that teams don't need or use.
Recommendation: IntelligenceBank is best for marketing teams who want a variety of tools to hone in on brand consistency and need better ways to track marketing campaigns and how they perform.
Nuxeo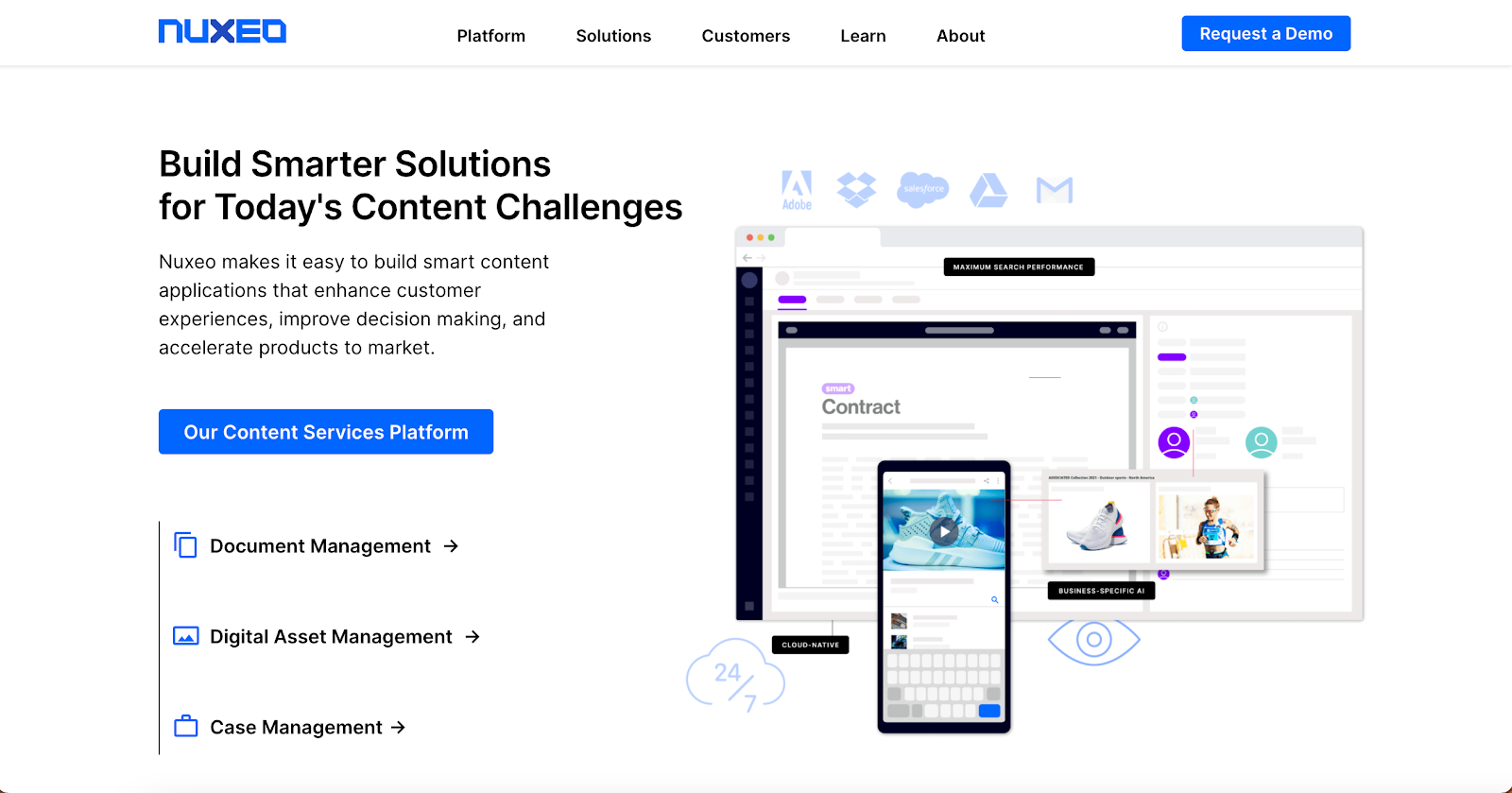 Nuxeo is actually a content management system that aids with document management, project management, knowledge management, and case management. For the most part, Nuxeo is better for enterprise companies who need all of that advanced functionality.
Nuxeo users say that the platform has a very modern feel and they like that the platform is easily customizable. Some reviews of Nuxeo point out that basic digital asset features cost extra and are not included in Nuxeo's main offerings.
Recommendation: Nuxeo works for enterprise companies shopping DAMs that also want more tooling around the creation of digital assets and establishing a digital paper trail.
MediaValet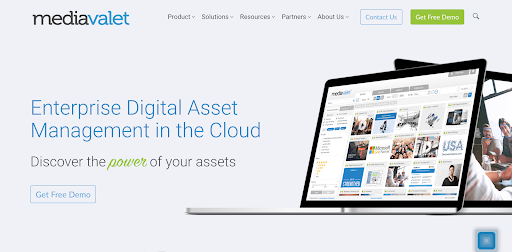 MediaValet is a digital asset management system advertised for teams of all sizes. However, they try to appeal more to enterprise businesses with their advanced technologies and functionalities to provide better control over the asset lifecycle, promote asset discovery, and encourage team collaboration. Their software comes pre-built with a variety of integrations and reviews of the software say it's easy to set-up and customize with MediaValet's support team.
When reading reviews of MediaValet, we noticed a number of reviewers commenting on the lack of reporting features and difficulty with file sharing. With that, it may not be the best tool for users who want better insights on how assets are used and perform on the web or for users who share assets with numerous external groups.
Recommendation: MediaValet is a solid option for creative and marketing teams in enterprise companies and global brands who need a better way to collaborate on assets.
Widen Collective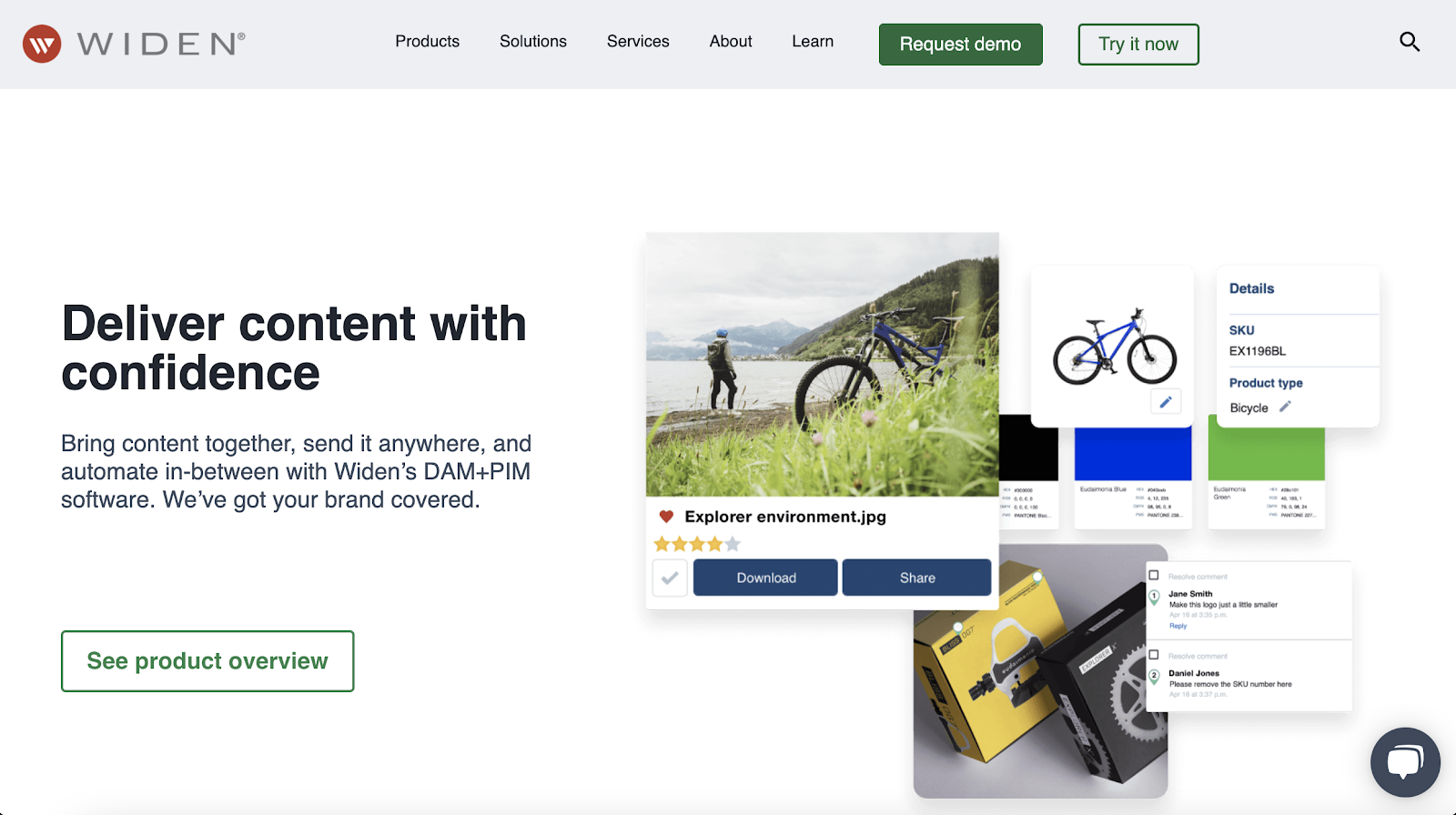 Widen Collective is a digital asset management and product information management (DAM+PIM) software designed for mid-size and enterprise companies with hundreds of employees. In addition, Widen functions as a marketing workflow, resource management, and brand management software through its many built-in integrations. Many users like that Widen is tailored to their specific needs; they can pick and choose the features they want so that the software isn't cluttered (and they aren't paying for features they don't need).
Like most DAMs, Widen manages assets through their entire lifecycle, from creation to retirement. Since product information management is also a big part of Widen's software, users can also enjoy the ability to use Widen as a "product catalog" where they store all relevant product information to sell products through a variety of channels.
When looking at reviews of Widen, we noticed a few complaints with the software's ease of use and the lack of support from Widen's customer success team. Not only that, but Widen is also one of the most expensive DAMs on this list, which is why it's really only an option for enterprise brands who have a hefty budget.
Recommendation: Widen Collective is only a solid option for enterprise companies who want a DAM+PIM solution to manage both their digital content as well as their products and service offerings.
Did You Find the Best Digital Asset Management Software for Your Team? Finding the best digital asset management software involves more than just reading reviews. Start by creating a list of the features you want in your DAM software. Then, narrow down your options by pinpointing DAMs who have those features on your list.
You can compare DAMs by reading user reviews and requesting demos, but as you cross options off your list, keep our buying tips in mind:
Look for software that's easy to use and adopt
Keep collaborative tools in mind
Check out each software's integrations (and if the software is built with an open API)
Ask about pricing and extra costs
Gauge the helpfulness of each DAM's customer experience team to determine if they'll provide prompt, valuable support during implementation
To see Brandfolder in action and learn more about all of our features and functionality, request a free demo with our team.