It's no secret that businesses today are becoming increasingly digital. This means that companies are dealing with more and more files, saved in a variety of formats, and often, in a whole lot of different places.
But much like in the non-digital world, keeping tabs on such a large number of files can be… challenging, to say the least.
Enter: The Digital Asset Manager.
A Digital Asset Manager is the answer to all your digital asset storage, organization, and management needs.
Keep reading to learn!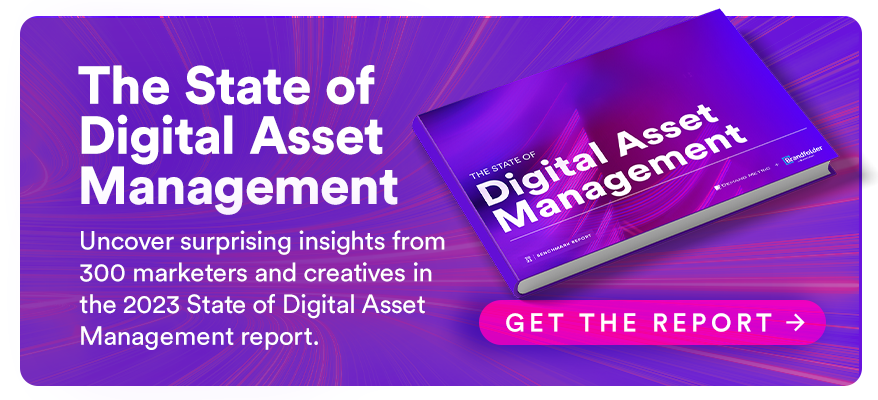 ---
What is a Digital Asset Manager?
When people talk about a Digital Asset Manager, they're referring to one of two things: 1) the role or 2) the software.
(To make things even trickier, both share the acronym, "DAM." Fun!)
The Digital Asset Manager role is the person responsible for documenting, storing, analyzing, organizing, and cataloging all of a company's digital assets. That's all their photos, videos, audio, website and blog content… the list goes on.
Digital asset management software, on the other hand, refers to a tool that companies (especially larger ones) can use as a centralized location to store all those assets.
While this article will focus on digital asset management as a role, we'll also later take a look at the impact DAM technology can have for any brand, agency or enterprise business.
---
Why Are Digital Asset Managers in High Demand?
Having a Digital Asset Manager on your team is kind of like the difference between a tumultuous pile of confusing cooking ingredients and a pantry neatly stocked with clearly labeled, fresh ingredients. The latter makes it a lot easier to consistently whip up something delicious.
Did that make sense?
In other words, by having a role dedicated to keeping your library of assets tidy and up-to-date, those items will become a lot more accessible to the other roles in your organization,making life easier for everyone including your marketing, creative, legal, IT, sales teams.
Here are some stats from a report based on one composite organization that drives home the return on investment a digital asset management system alone can bring to your company:
Over $300,000 a year in savings from more efficient regional marketing directors and creative team operations.
An average time saving for members throughout the organization from streamlined review and production processes.

Two hours a week saved on brand compliance.
Sixty hours a week saved on marketing searches.
Seven hours a week saved from templates.

Over $56,000 a year in savings by eliminating manual workflows for content distribution.
A 15% decrease in time spent distributing content.
A 40% decrease in creative team's time spent creating, uploading, searching, and tagging assets.
273% ROI and $1.13M in present value benefits over a three year period.
---
Who Needs a Digital Asset Manager?
Any company that stores and uses a sizable amount of digital assets can use a Digital Asset Manager on their team. This is especially the case in large organizations with separate departments and creative operations teams.
This role bridges the different departments together by ensuring everyone has appropriate access to the company's asset library.
---
What Exactly Does a Digital Asset Manager Do?
So we established that a Digital Asset Manager is responsible for overlooking all of an organization's digital assets, but that's not all they do. They also oversee how those assets are used.
Digital asset management is a highly collaborative role that encompasses a whole list of responsibilities, including:
Training new hires on how to access and use the company's digital assets, as well as continuous training on any changes to the process
Documenting processes into technical training manuals and keeping them up-to-date as they evolve
Tracking how people use individual assets, whether internally or externally
Researching and helping to implement new technologies to continuously improve workflows
Establishing and managing budgets for asset acquisition and creation
Managing employee access to specific assets
Approving or denying any changes made to existing assets
Ensuring assets are backed up in case of file loss
Updating content metadata, taxonomy and tagging
Tracking and monitoring the security of files
Bottom line: A Digital Asset Manager manages all of an organization's digital assets, the technology they're associated with, how people interact with them, and the processes to keep them safe.
---
What Skills Should You Look for in a Digital Asset Manager?
As far as educational background goes, Digital Asset Managers can vary from having studied computer science to design, or a related field in earning a bachelor's degree.
But there are a whole lot of other practical skills that are needed to succeed in this role. Here's a breakdown:
Tech skills - These are digital assets and data after all. The Digital Asset Manager will be taking care of all of your brand's valuable files, most likely on specialized DAM software, so tech-savvy should be a language they're very familiar with.
Analytical thinking - A Digital Asset Manager is responsible for looking after hundreds, thousands or even millions of files at a time. This is where an analytical mind comes in handy, helping them determine the most efficient and logical way to organize, store, and access that collecting information.
Project management - This is a highly collaborative role with lots of information being shared between lots of different people and departments. This means a Digital Asset Manager is often juggling multiple projects at once and should have the skills to do so with ease.
People skills - An important part of this role is teaching people how to use and manage digital assets, including onboarding users from different departments across the company. So people skills are a must.
Data entry - It comes with the territory and it's a crucial part of a Digital Asset Manager's day-to-day job. As it should be—a missing or incorrectly spelled asset label, among other details, could have a big impact on its findability.
Attention to detail - As has been outlined here, a Digital Asset Manager's job consists of many organizational duties, so attention to detail is critical.
Strong communication skills - This is a must-have in any management role, and digital asset management is no exception. With such highly inter-departmental focus, they need to be able to effectively communicate training, processes and updates to everyone.
Flexibility - An ability to adapt to change and work well under pressure are essential skills since projects, campaigns and business objectives will constantly be moving and changes can happen rapidly.
Patience - Not everyone is going to be a whiz at picking up the Digital Asset Manager's systems and processes. And that's okay. A Digital Asset Manager understands this and is patient with team members who need a little extra time getting familiar with all the tools available.
---
How Much Do Digital Asset Managers Make?
According to PayScale, the average salary for a Digital Asset Manager in the United States is around $62k, but can range from anywhere between $39k and $90k.
---
How Technology Helps Digital Asset Managers Succeed?
A DAM solution is used by Digital Asset Managers—and organizations as a whole— to distribute all of their assets and understand how they're performing.
Below we've detailed four ways DAM technology can help, using Brandfolder as an example.
1. Store Assets
DAM technology serves as a home for all of your digital assets. It gives Digital Asset Managers a single, secure location to upload, organize, and share files with internal and external users.
Brandfolder supports an unlimited amount of file formats, offers generous storage capacity, and guards your assets with multiple layers of security.
Uploading is super easy with the bulk upload and drag-and-drop capabilities, letting Digital Asset Managers quickly populate files within the company's Brandfolder.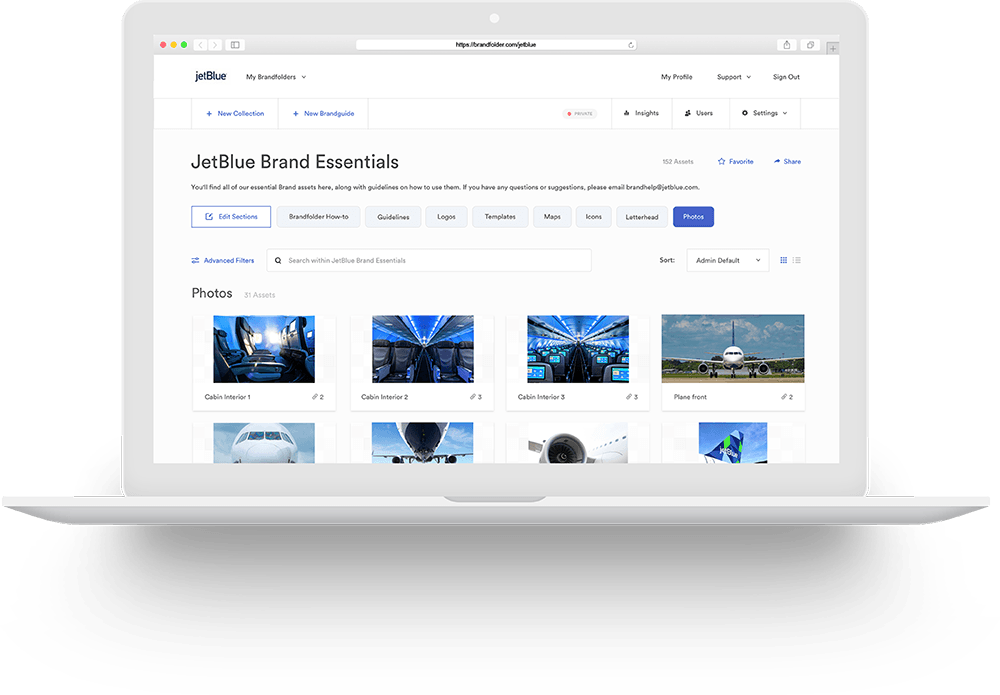 2. Organize Creative and Marketing
Obviously, an organized collection of digital assets is much easier to use than an unorganized one. But just what does "organized" really look like? Hint, it's more than just a spreadsheet or shared drive.
Digital Asset Managers can use DAM software to build collections, produce labels, sort assets, and tag them for easy access. This way all the other departments on your team will be able to use this asset metadata to find relevant assets quickly and easily.
With Brandfolder, Digital Asset Managers can create curated collections of assets for specific sets of users and limit who sees what with unique user permissions.
These collections can be further refined into sections to group related assets together. Labels and tags can also be used to boost searchability. It all amounts to users finding exactly what they're looking for, where they expect.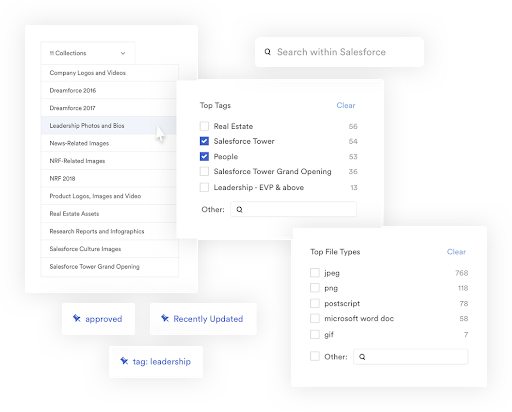 3. Collaborate
Everyone on your team can collaborate on the organization's assets, while keeping control and approval rights with the Digital Asset Manager.
Brandfolder integrations connect seamlessly with your existing workflows and even include an Adobe plugin, making it easy for everyone to customize assets in real-time from right within the app. This eliminates the need to download assets and keeps them centralized.
You can also set up an administrator (i.e. the Digital Asset Manager) to approve assets before they become visible to the rest of the organization for use.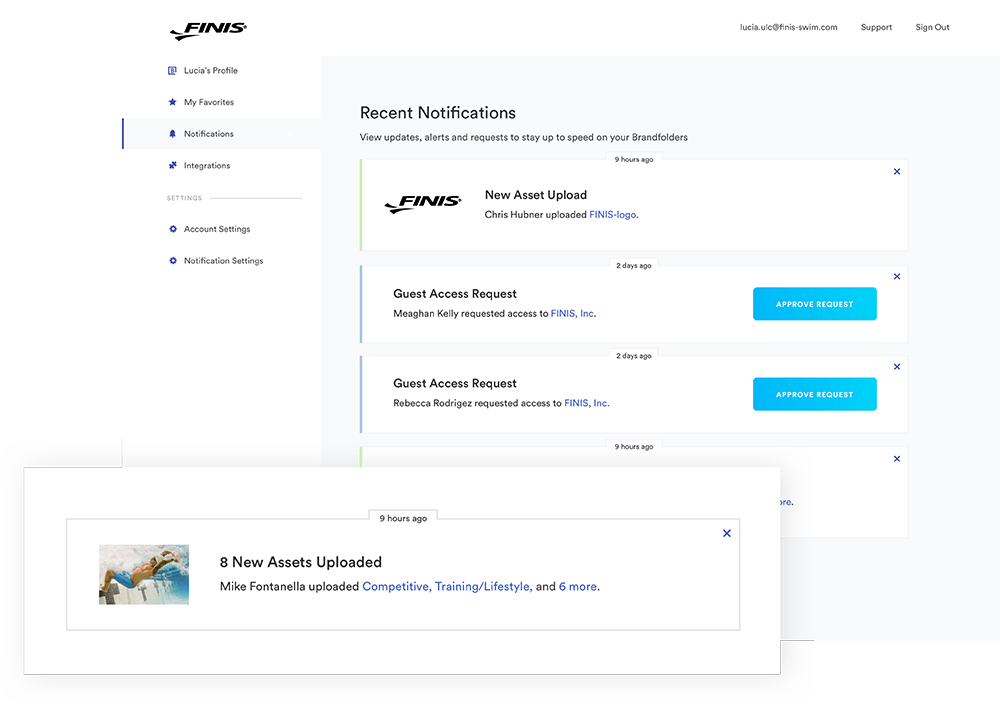 4. Measure
Digital Asset Managers want to be able to quantify the impact your brand is making by tracking asset usage and ensure the resources your team is spending to create those assets are paying off across your different channels.
With Brandfolder, Digital Asset Managers can analyze assets closely and determine which get the most interaction, and who's behind that interaction. They can also narrow down to a specific time-range for even more concise data.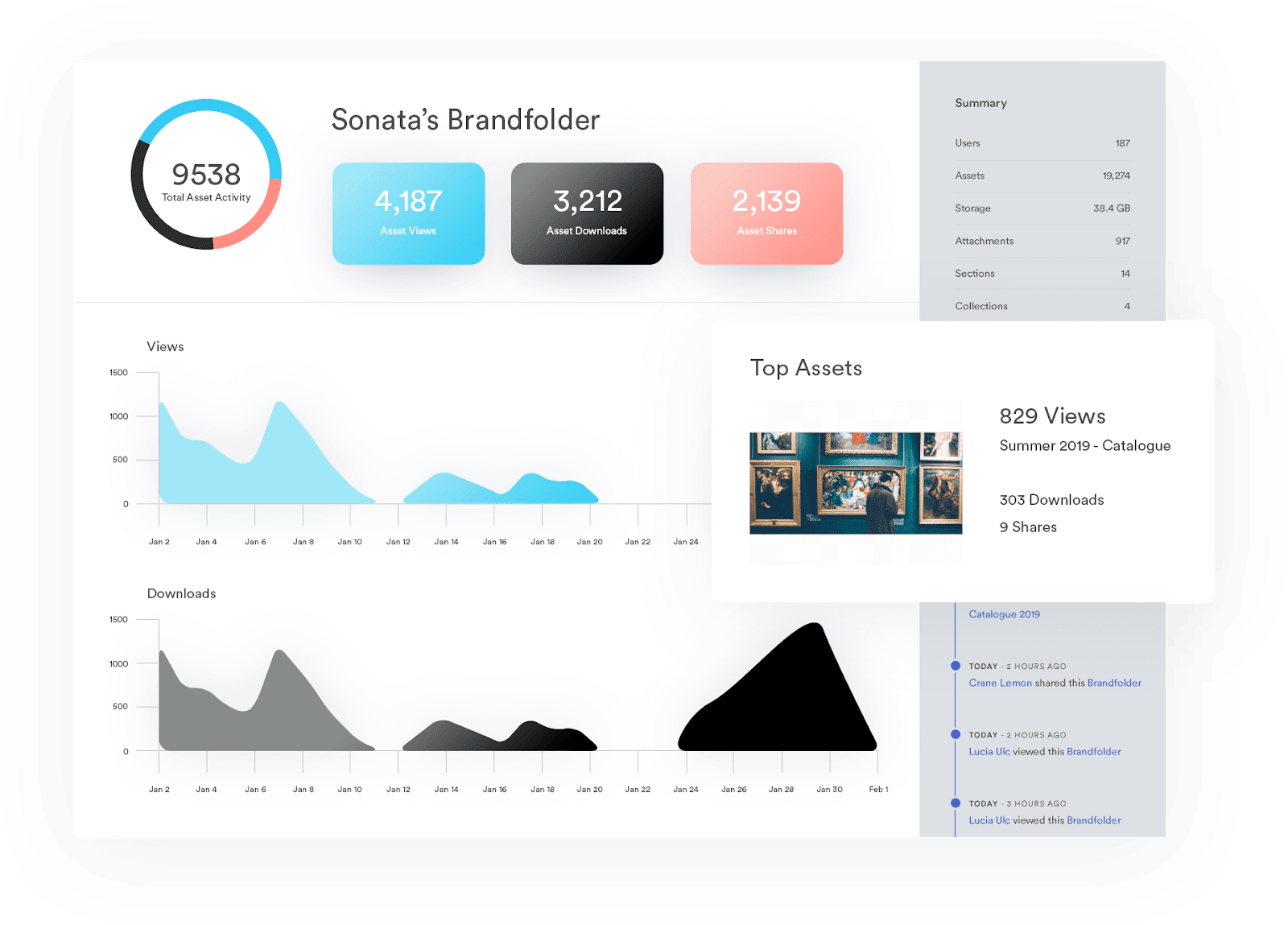 Are You Ready for a Digital Asset Manager?
The addition of a Digital Asset Manager is a smart decision for any organization dealing with large amounts of digital content.
But don't stop at the role, start getting the most out of your assets.
A digital asset management solution will tie the management protocols and workflows built by your Digital Asset Manager together in one centralized location, and help streamline workflows for all departments - creative, legal, IT and sales.