Know Thyself: The Importance of Defining Your Brand
Have you ever had dreams of transforming your brand into the Apple or Under Armour of your industry? These are fresh, inspiring brands that are always pushing the limits of what's expected. But what makes these brands resonate with their audiences in such an impactful, lingering way? They communicate a strong sense of self.
Yep, brands can (and should) have a sense of self. There's a lot of talk these days (and our blog is no different) about "brand strategy," "user personas," and "audience insights." Those buzzwords are definitely important, but you need to know who your brand is before you take them on.
Define Your Brand Pillars
So how do you define who your brand is? Start by asking these three questions:
What does my brand do?
Why does that matter?
What does my brand value?
Once you've answered these questions, you should be able to begin piecing together your brand pillars. These pillars are the foundation your brand is built on, even before you have a viable product or service. Take these brand pillars from The Honest Company: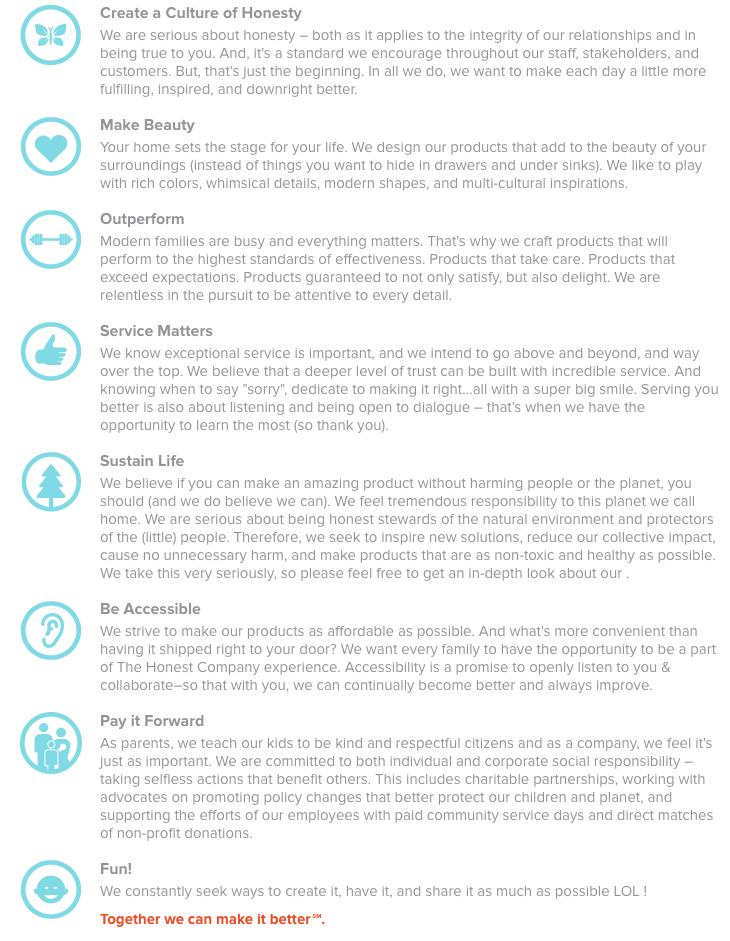 These are thoughtfully articulated values that go beyond "we're modern" or "we're spunky." Honest lays out values like "Make Beauty" and "Be Accessible" and defines, in detail, what exactly those values mean to Honest and to their consumer.
This is an important differentiator, because "Make Beauty" would have a different meaning for a company selling, oh, let's say painting supplies. To Honest, it means "We design products that add to the beauty of your surroundings (instead of things you want to hide in drawers and under sinks)."
Create Your Brand Persona
Once you have identified your brand pillars — then what? It's time to decide what kind of person embodies your brand pillars. This is called your brand persona. You create user personas, so why wouldn't you create a brand persona? Take retail brand Everlane. If I were to give Everlane a brand persona, it would be:
The cool, hip friend who always has the best clothes and the best music, and isn't afraid to share where she found both. Everlane wants her wardrobe like she wants her brunch — ethically sourced and transparently presented. She prefers a clean, minimal aesthetic, and she doesn't mind paying a little more for quality items. She's a millennial and works in a casual, open-office environment where creativity is as valued as Friday cocktail hours.
This persona (entirely created by myself) is who I feel I'm hearing from when I get emails, see Instagram posts, or receive packages from Everlane. It's clear who they are and what they're all about.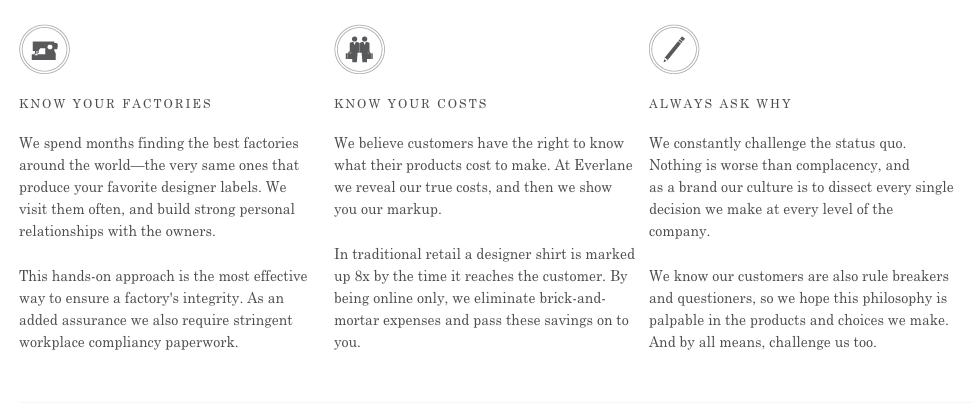 Define Your Brand Voice
What's the last secret to knowing your brand? Well, you have your brand pillars, so communicate them in a way your brand persona would. This is called your brand voice.
"Packing a creative lunch every day is no picnic. We're here to help. We believe everyone deserves the good that food has to offer. That's why, for more than 25 years, we've made cleaner versions of the convenient foods you and your family love. We choose real over fake. Simple over complicated. Honest over clever. So that making good choices can be a little easier."
This copy positions Annie's as the helper, the understanding friend, and the practical health nut. They understand the pains of getting creative packing your kid's lunches everyday, because they're parents themselves. So they've set out to help you easily build healthy lunches for your family. Their brand personality is clearly evident in all of Annie's marketing materials.
Once you have brand pillars, a brand persona, and a brand voice, how do you get people to adopt this new sense of brand self? Brandfolder allows you to manage all of your digital assets. From images to video and even press coverage. Plus you can add usage guidelines to each asset, explaining how to bring your brand to life.
Want to learn more about building a great brand? Check out our Branding Guide.