Create, Customize and Scale Your Brand With Templates
Whether you're a global team or a scrappy marketer, Brandfolder templates empower your team to scale and automate content creation while staying on-brand. A crucial piece of the solution is self-service, meaning that Brandfolder enables marketers and creatives to work more efficiently by eliminating unnecessary roadblocks and repetitive work. And now, with enhanced templating functionality, your entire team, regardless of design experience, can quickly create templates that other users can then customize.
Leverage new easy-to-use editing tools to automatically size or resize templates for marketing channels and lock design elements to control the elements users are allowed to customize. By locking certain aspects of a design, you can choose which elements remain consistent and which can be customized. You can also lock in elements such as text, images or formatting, add animations, apply filters, and much more in just a few clicks. Create templates and customize content to fit your needs while working within an approved on-brand design.
For users with advanced web-to-print needs, you can create templates in Adobe InDesign to use right inside Brandfolder. With our approvals workflow for print templates, no one else can access the asset you're working on until you're finished making changes. Once an asset created from your template is approved, it can be downloaded in a variety of formats or sent directly to a preconfigured print shop right from Brandfolder.
Whether for print or digital, Brandfolder templates empower non-creatives to quickly customize preapproved designs to create the beautiful on-brand assets they need without waiting on the creative team.
How it works: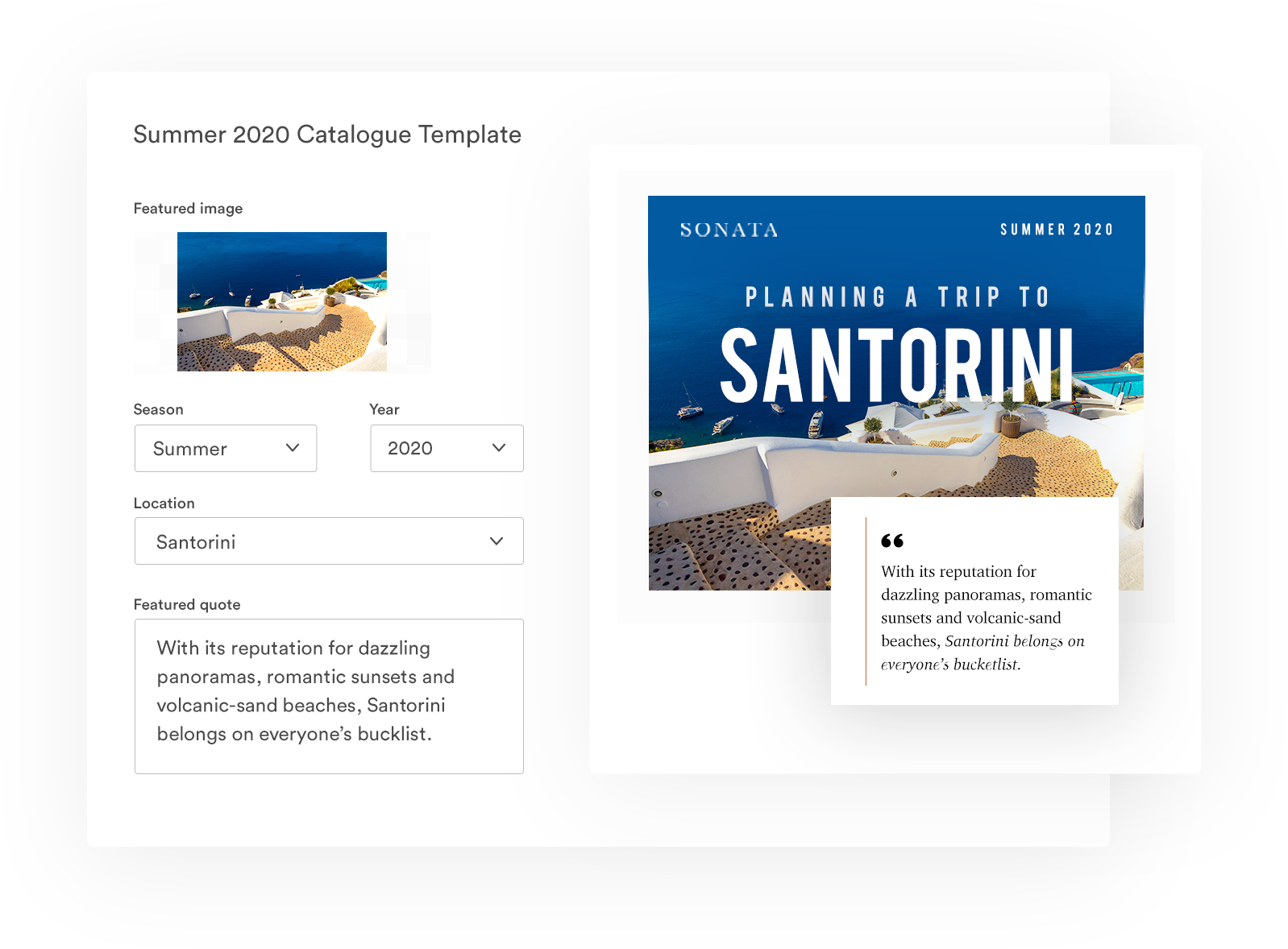 Creative teams know it all too well: Continuous requests for routine edits are a major obstacle to efficient, creative production. Here's how Brandfolder enables anyone to leverage the suitable template when and where they need it:
Restrict design customizability: Lock design and formatting capabilities with plenty of configurations and several levels of editability for specific users, functions or regions.
Use advanced editing tools: Our new "What You See Is What You Get" editor (ever heard of WYSIWYG?) shows real-time changes as users format text, add animations, apply filters, and much more in a few easy clicks.
Turn templates into tangible assets: Brandfolder's range of capabilities includes web-to-print, giving the option to quickly turn templates into tangible assets wherever they're needed.
Manage workflow approval: Manage the creative approval process to completion right within Brandfolder by securely reviewing when necessary and immediately releasing templates for customization when ready.
Encourage self-service: Sales, marketing and external partners can customize templates to self-serve and create on-brand content with confidence.
How to get it:
Are you interested in eliminating repetitive creative tasks and encouraging self-service while maintaining brand integrity across marketing channels? Talk to your account representative about setting up templates inside of Brandfolder.
If you already have template features activated in your Brandfolder, click the button below to learn more.