Many teams upgrade to digital asset management software for better control over existing brand collateral: DAMs have advanced features to securely store content, neatly organize your media library, share assets with anybody you work with (internal teams or external user groups), and monitor brand content from creation to expiration.
However, some DAM solutions (like Brandfolder!) go beyond the basics with extra features to empower new content creation. Our templating tool, Content Automation, lets designers:
Create (on-brand, approved) templates for commonly-used asset types — for example, you could upload templates for various types of marketing collateral, including retail flyers, product catalogs, business cards, or email newsletters.
Establish customization rules that specify exactly how end-users can personalize templates; so everybody stays on brand when creating new versions of collateral.
Store all brand templates in DAM so they're easily shareable and accessible.
Then, marketers, sales teams, retail partners, you name it, can leverage your brand templates to supply unique content for new projects.
And this has several benefits: for starters, it enables all of your teams to use brand assets more productively. Users can create the content they need when they need it — and they don't have to ask designers to supply templates or guide edits (or rely on designers to make edits).
This also helps designers — they don't have to waste time responding to repetitive asset requests (or feel pressure to supply each iteration of content themselves).
But to reap the benefits of Content Automation: you have to be thoughtful in your setup (e.g., think about which templates to provide, customization rules, and how other users can access them) and ensure teams have the right resources to make on-brand collateral in the DAM.
So this guide explains how to use Content Automation to manage marketing collateral templates, support your teams that need content, and improve speed to market for digital projects.
Want to see Content Automation in action? Request a free demo to learn more about Brandfolder and our features to improve digital asset management.
---
Create templates for all collateral types & pieces of content your teams require
First, Content Automation lets designers create and save templates for all types of marketing collateral.
Pro tip: When building your template library, consider the marketing collateral your teams use for both online projects and print materials. (Prioritize the types of content teams use most frequently. It also helps to gather feedback about the content that teams often request.)
Providing the right templates for users greatly reduces repetitive design requests. It gives everybody — designers and users who need content — the freedom to work on the tasks pertinent to their roles.
Here's what set up looks like:
First, your creative team can design templates using the platform's interactive editor, custom code them via HTML, or import templates from graphic design tools (like InDesign) depending on the level of sophistication needed.
When designing templates, creatives upload brand color palettes, custom fonts, logos, media, and other unique brand elements to Brand System (a feature within Content Automation). Then, designers can insert and lock those elements within templates to maintain the content's intended look and feel.
Brand System also protects your brand identity and fuels bulk updates by connecting with all of the templates your designers create/end-users customize — for example, if you update a logo or other piece of content in the Brand System, it'll automatically update across all connected templates.
The next step is to define how each of the template's customizable layers can be personalized: insert text boxes or create drop-down menus to limit how users can edit the template. Designers can choose approved media, approved copy, fonts and font sizes, colors, and more.
For example, let's say a designer is building a new template so the sales team can create product brochures in DAM. In the customization rules, they could allow users to:
Pick from a select # of color palettes
Change the font weight or color (but not the font type or size)
Swap the photo — but only from a specific collection in Brandfolder (a.k.a. restricted search query)
Content Automation lets you control how much freedom end users have with templates; this makes it so teammates don't mess up edits or have to ask for reviews. This feature is unique to Brandfolder and can be a game changer for creatives and marketing teams working with templates.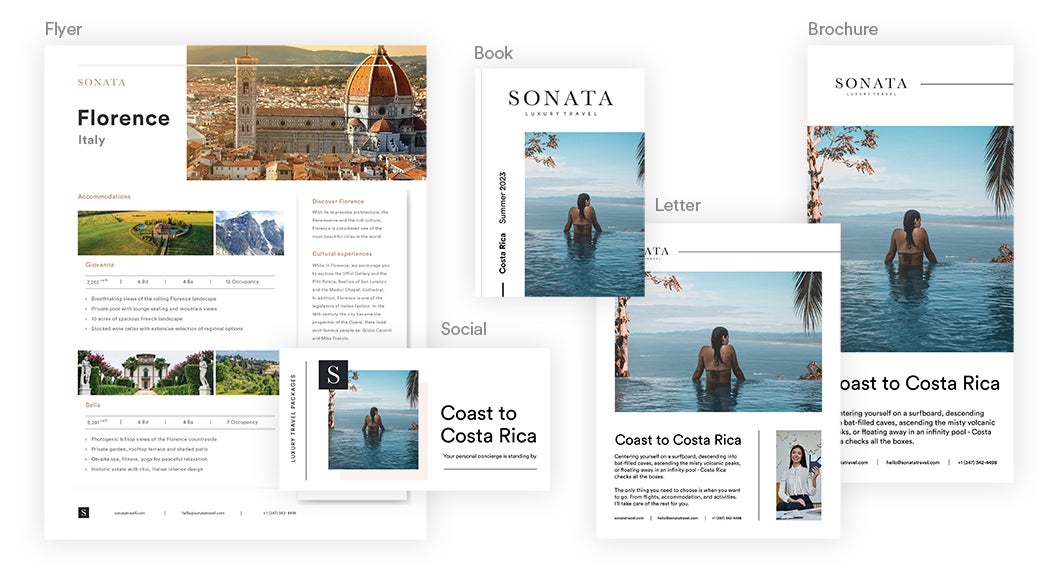 Take the flyer template above, for example: designers locked the Sonata logo, created drop-down menus to change the location name and images that coincide, and included freely-customizable text boxes so users can edit the content for different marketing campaigns and add personal contact information.
Other examples of marketing collateral you can create in Brandfolder include:
Newsletters
Press releases
Pitch decks
eBooks
Landing pages
Infographics
Testimonials
Case studies
White papers
Business cards
Menus
Product catalogs
Direct mail advertisements
Brochures
One-pagers
Read more: #1 Tool for Marketing Collateral Management: Brandfolder DAM
Note: Designers can update templates at any time — once updates are saved, users can instantly access the most recent versions of templates.
---
Share access to templates with the right end-user groups
Digital asset management (DAM) software solves another significant pain designers face when marketers and other teams need templates: responding to template requests.
DAM simplifies asset organization so that internal teams and stakeholders can locate templates in various ways… without asking somebody else where templates are stored or how to access them.
Once templates are ready to share, creatives can add them to Brandfolders, Collections, and Portals and make them accessible to other teams — then users can search and readily find templates when they want to create content.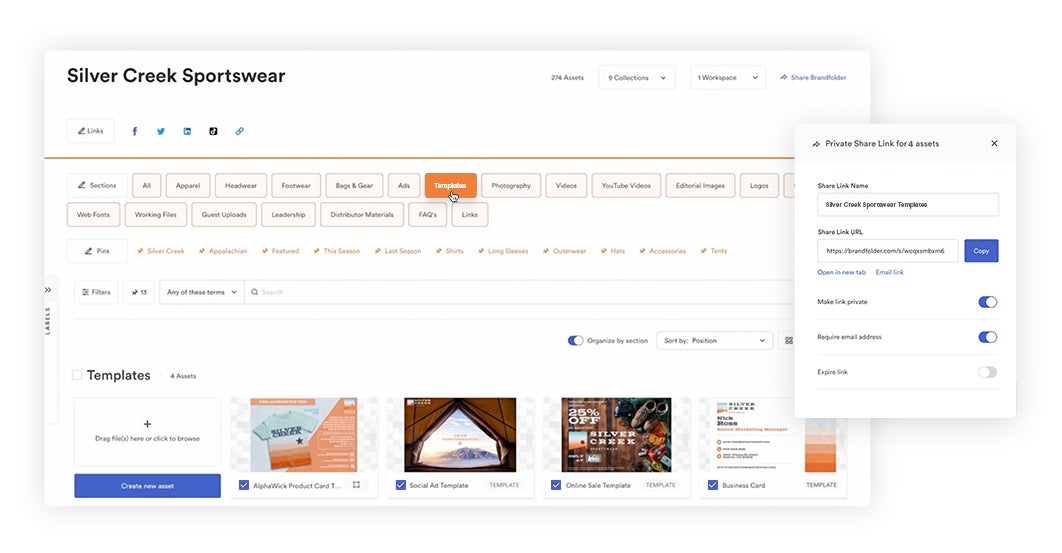 Brandfolder offers a few ways to share templates:
You can grant access to templates via permissions — add users to the templates they require for their roles.
You can add templates to Brand Portals — Brand Portals offer a simple way to consolidate assets for particular end-user groups. You can use these to create media libraries for partner groups (retailers, agencies) or different teams within your organization (like marketers and sales teams). Then they can browse just the resources they need for their roles and access that content easily, on their own time.
You can send templates via share link — you can customize share link settings for greater control over content once it's sent. Choose the files (templates) you want to share, add recipients, and modify share link settings.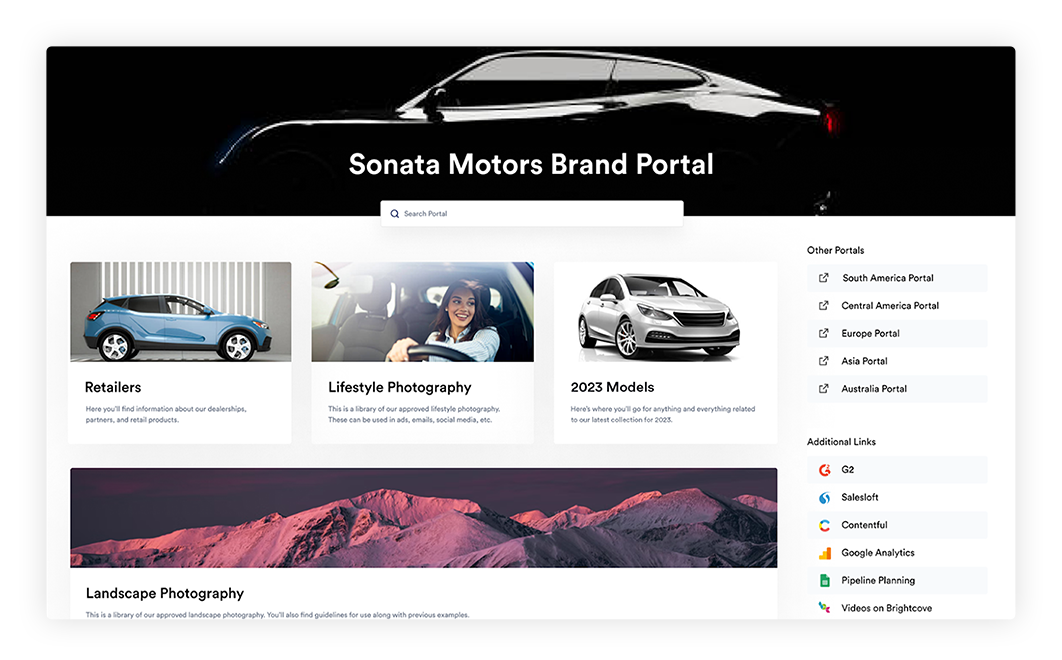 You can monitor file sharing in Brandfolder (and adjust settings on the fly) so you always know who has access to your brand templates.
---
Users leverage templates to "create" unique marketing collateral
Your teams can access and use marketing collateral templates as needed:
Templates are saved and shared in the DAM for instant access.
Designers put the right controls in place to keep users on brand.
Editing features are user-friendly, so customizing templates is straightforward.
Templates automatically reset between users so everybody can start with a clean slate.
When it comes time to create content, users can find the most fitting template and get right to work — they have the tools to personalize templates for any target audience or use case without going off course (as they're limited to what designers pre-approve).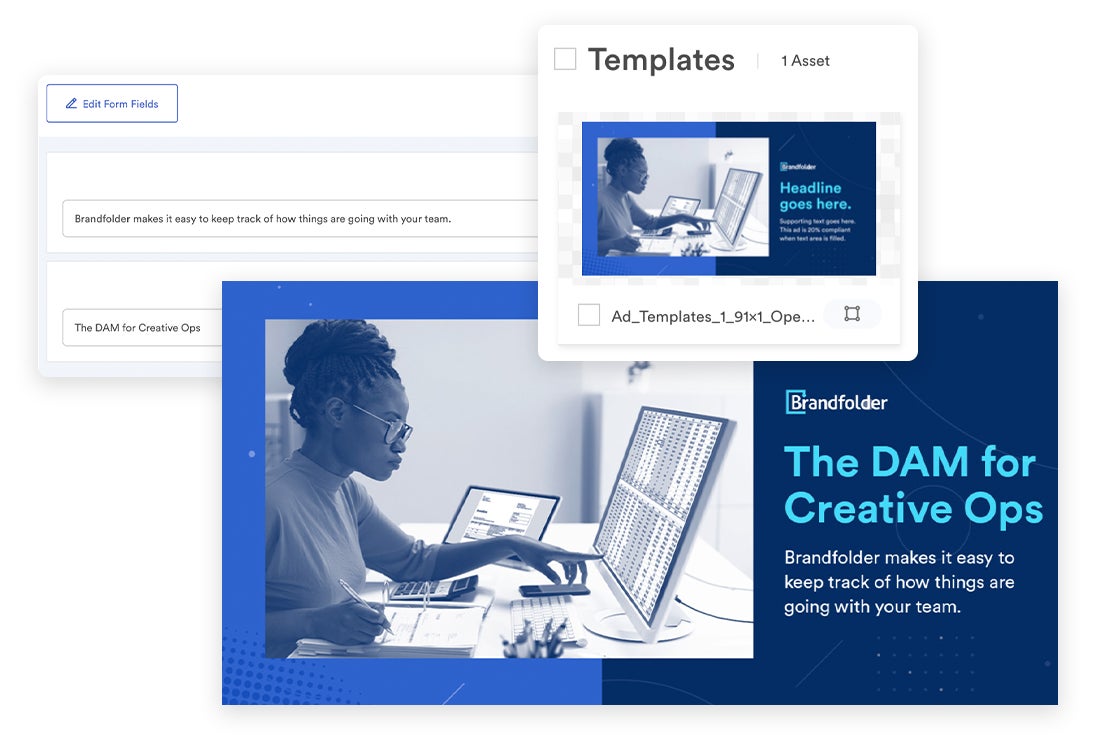 Content Automation also offers bulk functionality so marketing teams can customize multiple templates at once — this is helpful if you want to make more than one version of a particular piece of content (say, a promotional flyer that you can use across several retail stores or a digital coupon that you re-use for different promotional events).
You can even configure templates to auto-populate specific fields for you — for example, if you want to add a personal touch to your marketing emails without spending hours on the task.
In this example, you can access the template to build email newsletters, then import your customer contact sheet to automatically add recipients' names (or any other details you want as template inputs, like products they've recently purchased or the event you met them at) in the email. Then you can export and send emails with a few clicks.

After personalizing templates, users can review the final product before downloading or sharing. Users (with access) can also save their new content to the DAM — for example, if your teams want to save a particular piece of marketing collateral, like a flyer with details about an upcoming sale, for future use.
Teams can also use Brandfolder integrations to distribute and publish new marketing collateral — more on that below.
Designers & brand managers can implement extra layers of control
We've talked about the number of ways in which designers can lock down template designs and prevent users from going off-brand.
However, we also give designers the option to instate fully customizable review processes for new content; this way, you can send all simple content straight to market and slot other media or high-risk content pieces in for a second look. We also provide an audit trail for each template so you can reference previous versions and feedback. These added safeguards guarantee consistency across digital marketing campaigns and print collateral and ensure all teams use high-quality marketing collateral.
Read more: Why DAM Is Essential to Support Brand Management Strategies
In addition, Brandfolder offers Brandguide so designers can create and store guidelines for new content creation. You can:
Add background on how to find templates in DAM — you can even save commonly-used templates directly in Brandguide for fast access.
Instructions on how to use templates — you can get as in-depth as you want here.
Processes for reviews and publishing new content.
Brandguide is a space to share any information you feel is helpful for teams who use marketing collateral and represent your brand to potential customers. We give you total freedom to customize your style guide as you see fit.
Note: Some users also include "how-to-use" notes within template descriptions to eliminate any confusion around content usage.
---
Distribute content from Brandfolder to improve speed to market & brand consistency
So far, we've covered:
Brandfolder's features to create and store templates.
Options to share templates so users can easily access them when they need to create content.
Details on how users can personalize templates (and how designers can maintain control over content).
But Brandfolder also has features to support content distribution so you can use marketing collateral more strategically and efficiently.
As mentioned, users can download template exports once they're done creating content (or it's given the green light from designers) and use them for new marketing projects — our platform allows for convenient file conversions so users can download assets for different marketing efforts, including email marketing campaigns and social media posts.
However, we also have integrations with popular software solutions and content marketing tools so users can push content between systems. You can connect Brandfolder with apps like HubSpot, Hootsuite, Salesforce, Shopify (and more) and publish collateral in marketing campaigns and other digital projects.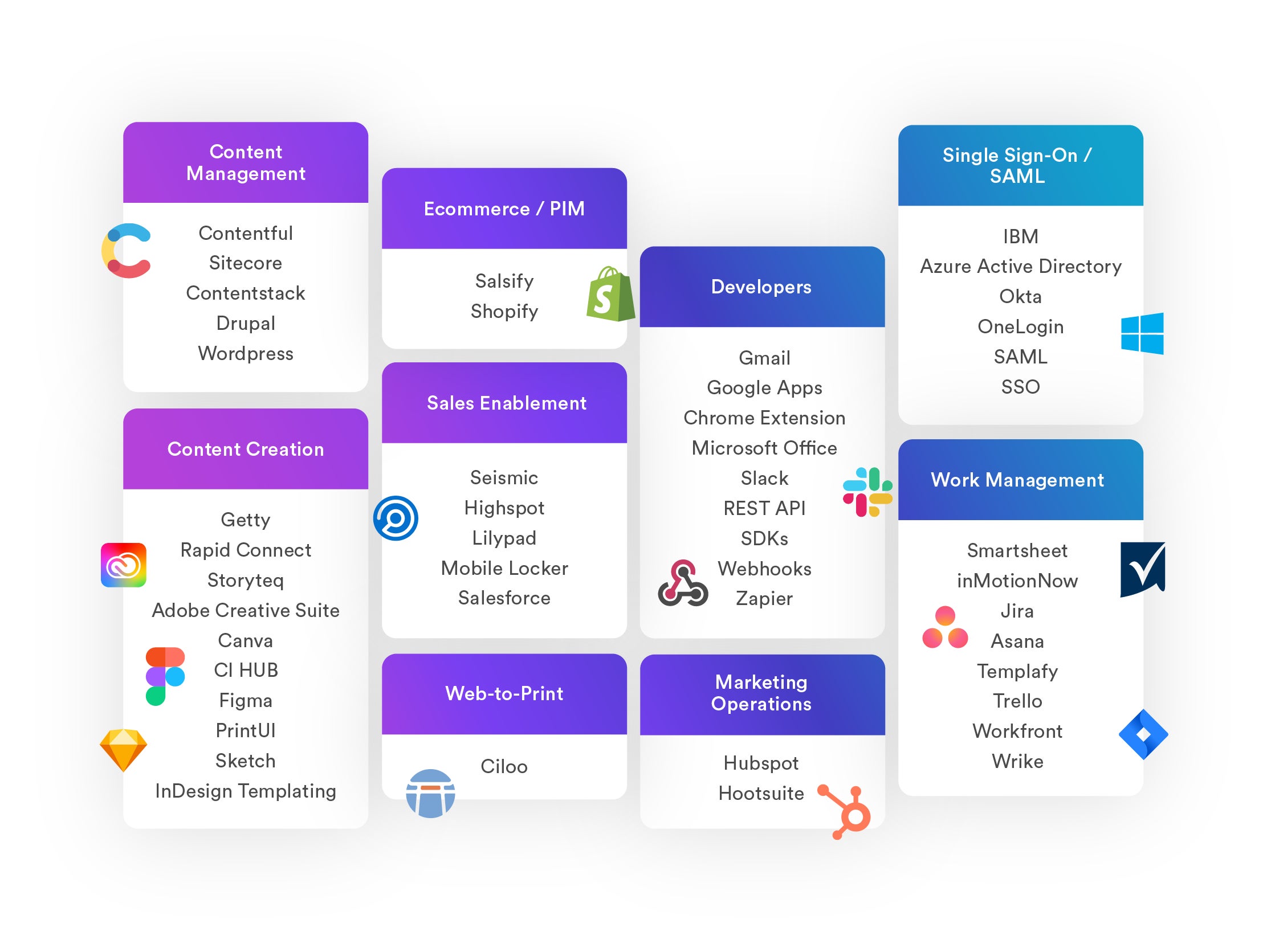 On the flip side, we have integrations with content creation tools like Adobe, so you can pull assets directly from Brandfolder and push new creative back into the DAM.
Brandfolder also has web-to-print functionality (via Ciloo) and Smart CDN to create custom print orders and host online publishing from DAM.
Our Ciloo integration is super convenient for marketing teams managing a high print collateral volume. They can create high-quality content in DAM, send the content to any printer, and track all print orders in the reporting dashboard.
The DAM's CDN system is advantageous to marketers that frequently collaborate with partner sites and need to maintain control of content everywhere it lives.
Instead of sending and uploading static files, you can embed the file's CDN link where you want to publish. (That means images for websites or email campaigns can be hosted in Brandfolder instead of downloaded and uploaded to a web server.) Brandfolder remains the source of the published file, so you can update marketing collateral in the DAM, and the link will always display the most current version of the content.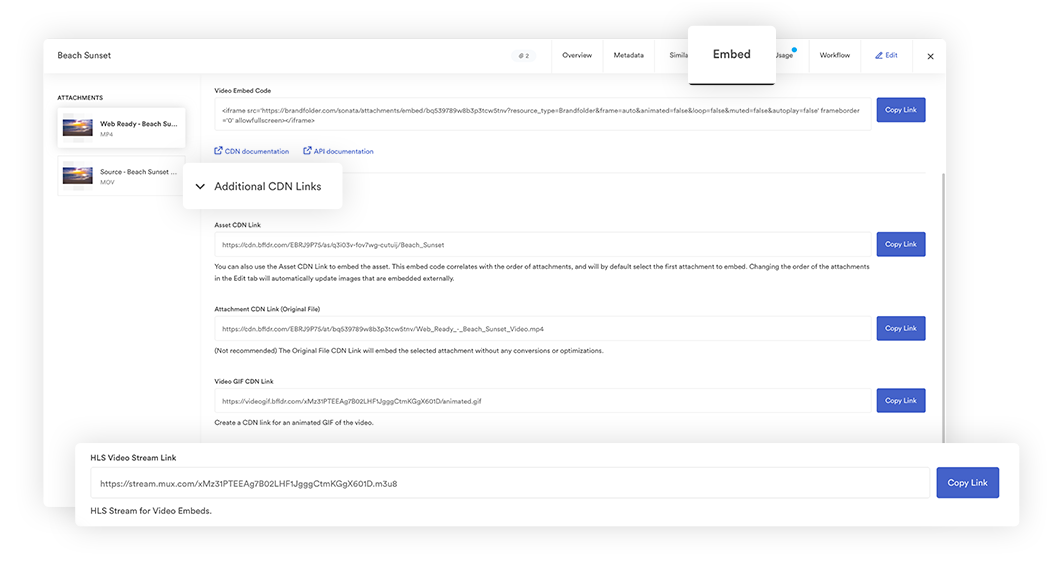 Read more: Need Digital Asset Management for Publishing? Try Brandfolder
---
Monitor new content & report on the success of marketing materials to guide future strategies
Brandfolder offers a reporting dashboard where brand managers, designers, and other admins can access asset analytics to determine:
Which templates are used and downloaded most often.
Who's using templates to create content.
How marketing collateral and other digital content is used in projects — admins can see user activity, print orders, and active CDN links.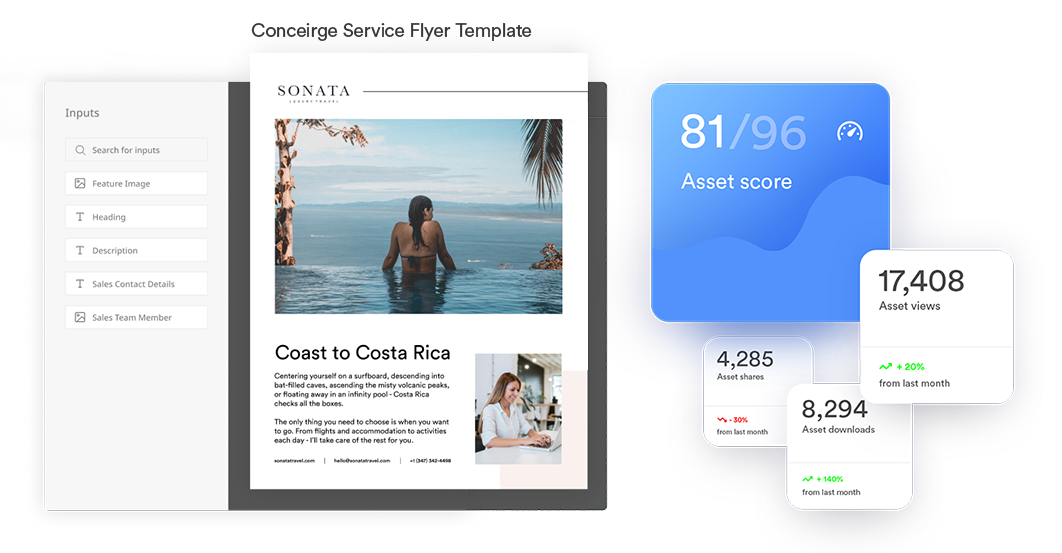 These insights show you which templates are valuable to team workflows, and which templates you should add to your library. Then you can determine the best ways to support teams and save designers time.
They also help you report on the success of different types of marketing collateral, so you can refine marketing strategies and plan content for upcoming campaigns.
---
See Content Automation in action
You can watch a quick explainer video of our Content Automation tool below:
Creatives store brand templates in a central repository to offload repetitive design requests — users can log into their Brandfolder and access templates, personalize marketing materials to fit new use cases and audiences, and distribute content from a single source of truth.
You can also schedule a call with our team to walk through Brandfolder features and Content Automation — we'll show you how to manage existing marketing collateral, build templates to support your users' workflows, and generate new content from the DAM.
If DAM sounds like the best solution for marketing collateral management, we can also talk about strategies to tailor Brandfolder around your requirements, pricing, and how to prep for onboarding.
Related reads: