Get branding tips and expert advice delivered straight to your inbox.
More and more brands are turning to 3D assets to revamp their websites and digital presence as consumers flock to online shopping. You can tour apartments, visualize furniture inside of your home and get a better feel for apparel all with online 3D rendering.
But working with 3D assets requires complex optimization and CDN URLs to host throughout the web. So if you want to delve into the world of 3D assets, you need the right software to utilize them — and that's digital asset management software (a.k.a. DAM software).
Our digital asset management system, Brandfolder, is more advanced than regular cloud storage drives like GDrive or Dropbox because it acts as a translation layer and gives you tools to re-render your 3D files before hosting them on different online mediums. So you can store your 3D models (and all of the relevant metadata and information about them) in Brandfolder, search to find the right file when you need it, modify the asset however you want and then publish it online with the CDN link.
In this post, we cover everything you need to know about 3D asset management in Brandfolder, from uploading, storing and organizing 3D assets, to optimizing and publishing them online. We'll also talk about a few other ways Brandfolder makes working with 3D brand assets easier.
Want to demo Brandfolder's 3D asset management software? See how our DAM system helps you organize all of your 3D models and supports your brand's online publishing efforts by grabbing a free consultation with our team.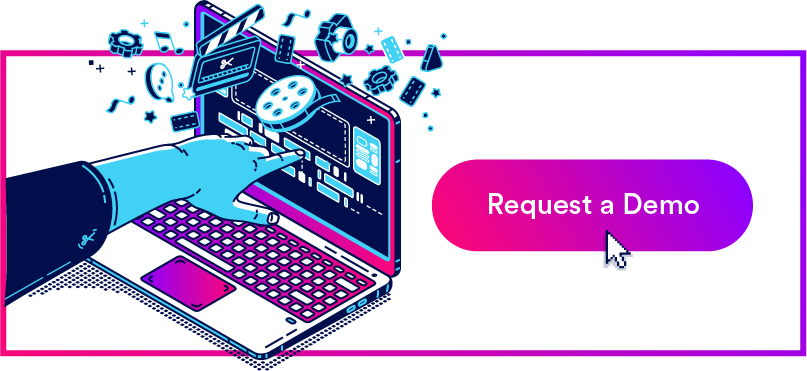 ---
How to Store 3D Assets in Brandfolder
Uploading 3D assets into our digital asset management platform is as easy as storing any other digital content in Brandfolder: You can drag and drop files from your computer, import files from another storage drive, or push files over from native apps via integrations. Our platform accepts virtually all file formats, so you can import GLB, USDZ, OBJ, and other 3D asset file types in Brandfolder without converting them first.
Then, all of your 3D models can be found in one central location but can be organized in Brandfolders, Collections, and Brand Portals for other users to access and host online.
For tips on organizing digital files in Brandfolder, read our other guide: How to Organize Digital Assets for Easy Sharing, Search & Use
When you upload an asset in Brandfolder, our AI, Brand Intelligence, analyzes assets and automatically adds metadata and tags to provide more details about the asset; you can include any additional information end-users may need to know about the asset in the description.
You can also create custom fields for 3D assets to store more specific data or modify the type of metadata you keep. This is helpful for creative teams that design the assets and need to provide information like polygon count and instructions on how to optimize 3D models for different online channels. Custom fields let you extract and store that data in a way that supports your digital asset management taxonomy and is accessible for other users.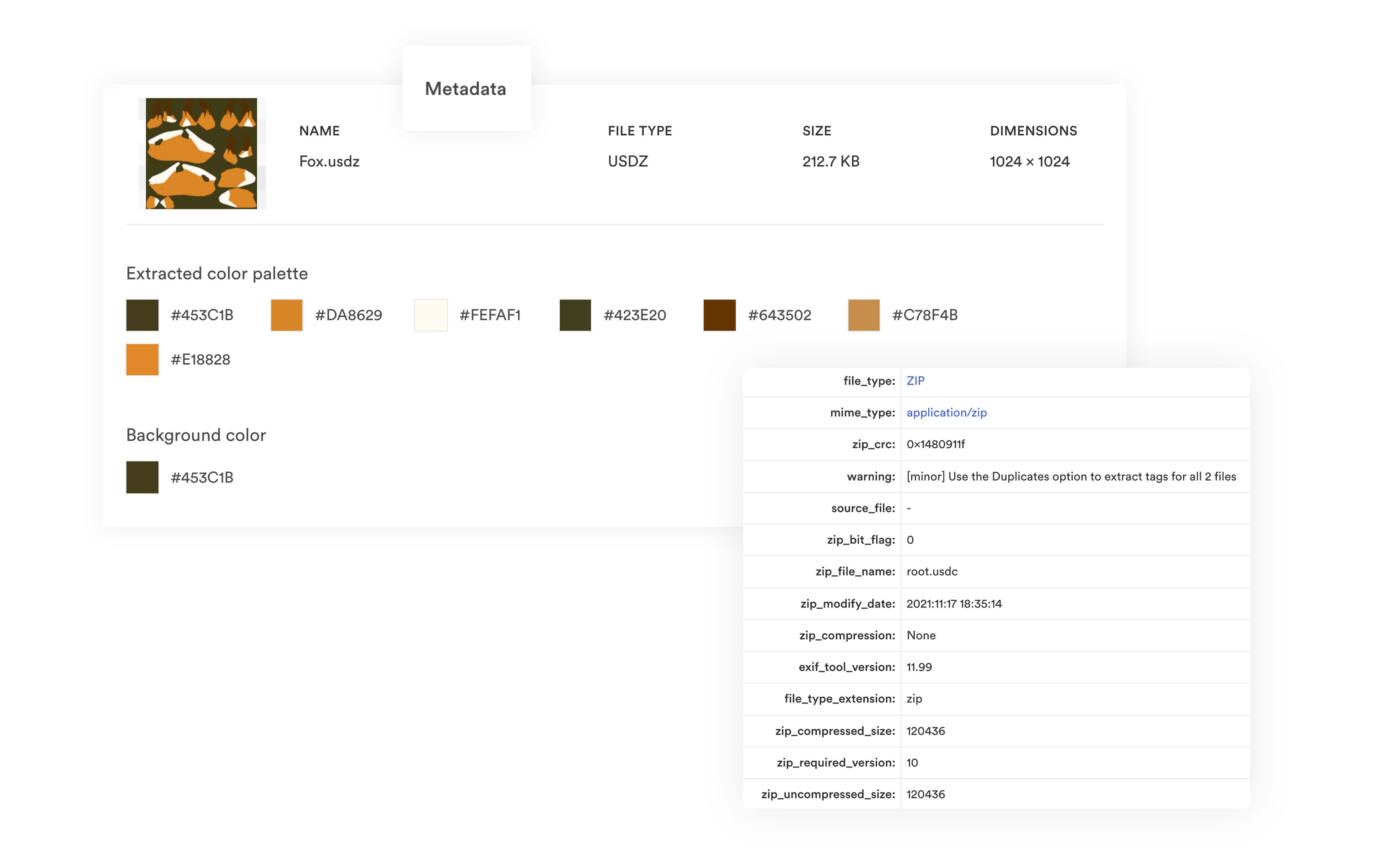 We should also mention: It's not uncommon for brands that don't have an internal design team or are just beginning to work with 3D assets to source 3D models from outside creatives. In these cases, you can receive assets from people outside of your team by sending them a Guest Upload Link.
You can choose exactly where you want the asset to live in Brandfolder prior to sending the link. Then, once the uploader submits the 3D file, you'll receive a notification and the 3D model will automatically populate in your Brandfolder as "Pending Review." After it's approved, it'll become available for your teams to use. (We provide free unlimited sharing so you can send and receive assets as much as you need without extra fees.)
You won't have to worry about confusing duplicate files in Brandfolder, either. Not only does Brand Intelligence detect duplicate assets during upload — so you can delete the upload or merge the file with the original — but our DAM also lets you store assets in multiple locations. That means you don't have to create copies of 3D files to store them in separate Collections or Portals. This improves brand consistency — since everybody is always working with the same 3D models — and it prevents clutter in your Brandfolder library.
Read more about digital asset management version control here.
Searching & Sharing 3D Assets in Brandfolder
We organize assets in a flat taxonomy, which means that assets can live in multiple places and are easy to search. After assets are uploaded in Brandfolder, you can quickly find what you need and send 3D models to others.
As you scroll through your Brandfolder library, you can preview large thumbnails of assets so you don't need to click into every file that catches your eye. We also have an interactive 3D viewer so when you do click into a 3D asset, you can preview the entire 3D model.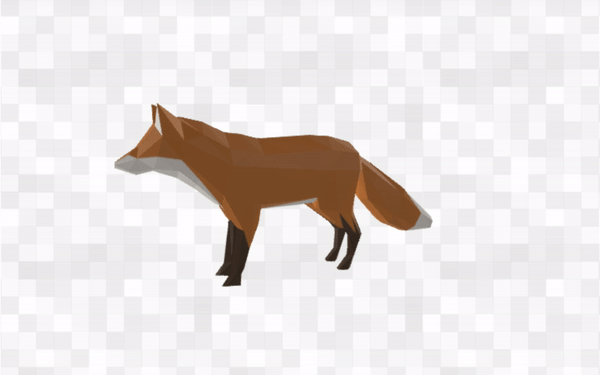 You can also use Brandfolder's advanced search feature to quickly dig through your asset library and find digital files. Our search functionality analyzes the content of your assets and scans metadata to pull all of the collateral that is relevant to your query. Rather than limit search to exact terms, Brandfolder searches by theme; that way, you can find 3D models related to your query that you might not have known were available. This also helps you get a better idea of the 3D collateral your team has (and doesn't have) so you know what you need to create.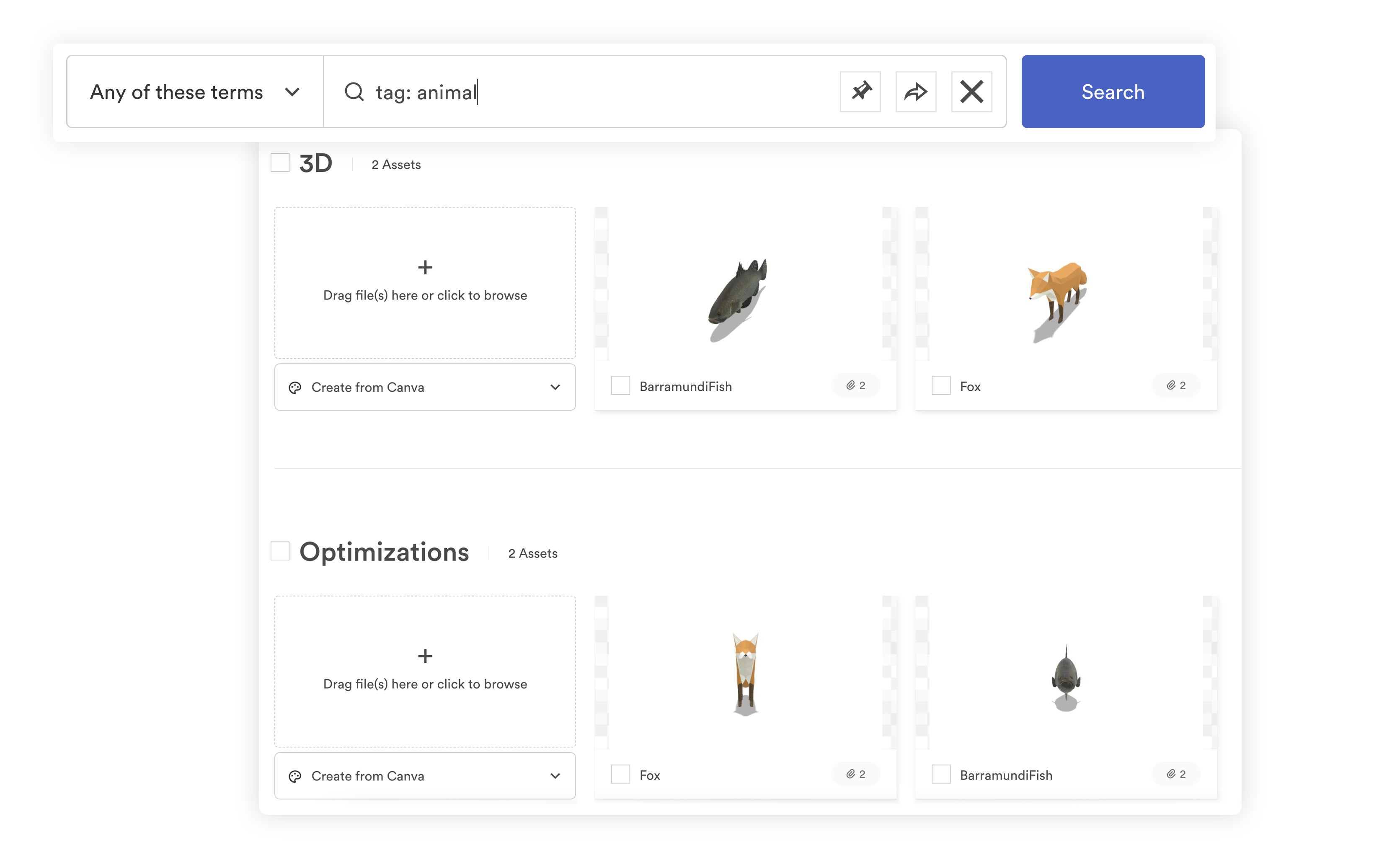 Once you've found the 3D models you need for your projects, you can use Brandfolder's optimization features to rerender and host assets across online channels.
Or, if you want to share files and 3D models with team members or external stakeholders, you can use permissions or custom share links.
- User permissions: Add other Brandfolder users to Brandfolders, Collections, Portals or individual assets, and control exactly how they can engage with your asset library and use the content within. - Custom share links: Send assets to anybody and monitor which assets are shared with whom. Our custom share links are highly editable: not only can you change the name of and add or remove content from these links, but you can also disable downloading for end-users, require end-users to submit an email address before downloading assets, watermark assets and expire share links.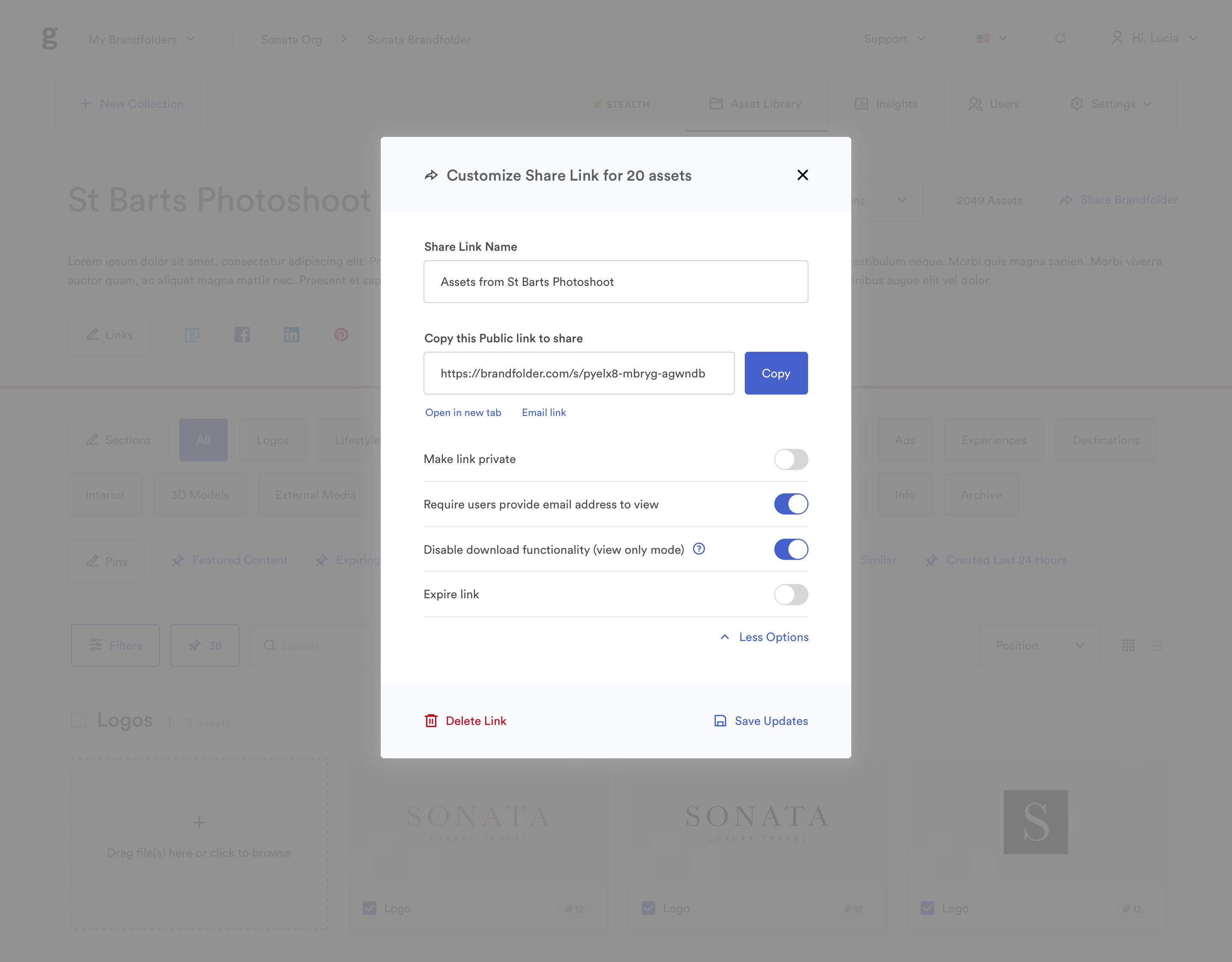 Read More: The #1 Way to Share Digital Assets
Remember, we allow free unlimited guest seats, making Brandfolder a cost-effective DAM for bigger companies that need enterprise digital asset management software to share 3D models and other brand collateral.
---
Brandfolder's Features to Leverage 3D Assets for Digital Projects
Brandfolder has features to enable optimization and transformation so you can modify 3D models for any use case or online platform. Then, our built-in content delivery network (CDN) lets you easily publish digital assets online and track where they live on the web.
Let's talk about converting and resizing 3D assets, first.
Brandfolder lets you quickly change a 3D model's file format or resolution upon download. Say you have a GLD file and want to pivot to USD. You could convert the file as you download and it won't impact the original version of the model you have in your Brandfolder.
With these features available, designers only need to create one version of a 3D model and users can optimize it as they need. So if an e-Commerce retail brand has 3D product images they want to host on their website and share in their online marketing materials, managers and marketing teams can:
Log into Brandfolder
Search and find the 3D files they need
Optimize them for Shopify, WordPress and other websites they use to promote their products and interface with customers
Embed 3D models online for publishing
Related Reads: Digital Asset Management for Retail & 10 Reasons You Need Digital Asset Management for eCommerce
You can embed 3D assets online with CDN links: Every 3D file is assigned a unique URL that you can access in the Asset Overview. These links work on any website you use to publish.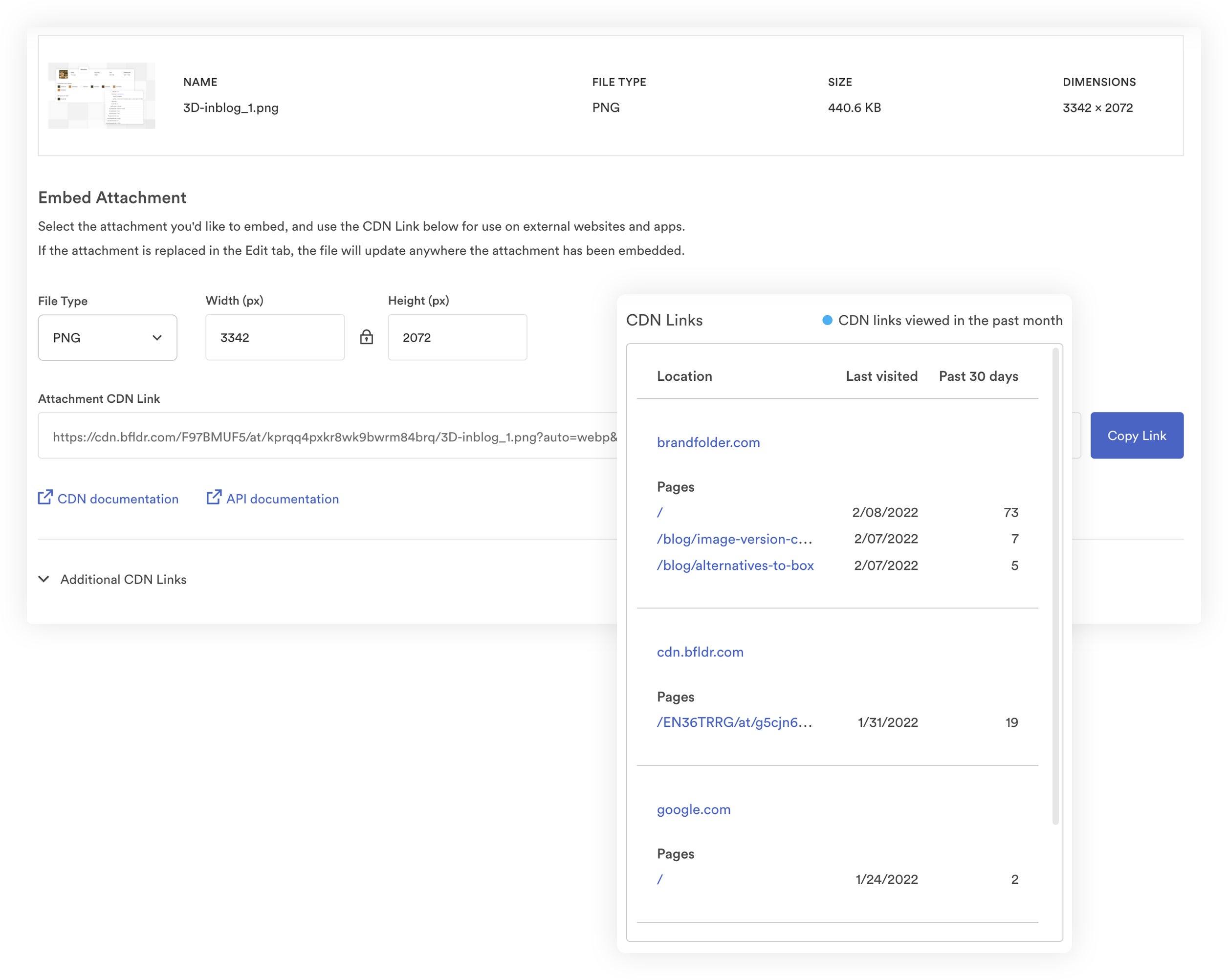 One benefit of using Brandfolder to publish online is automatic asset updates: Any time you edit an asset in Brandfolder, those changes automatically reflect anywhere the file is embedded online. This makes brand management easier and prevents the need to update your website every time you tweak a product image.
Brandfolder's reporting dashboard lets you check where 3D models are published online, monitor how teams are using these assets and gauge how they perform with your target audience.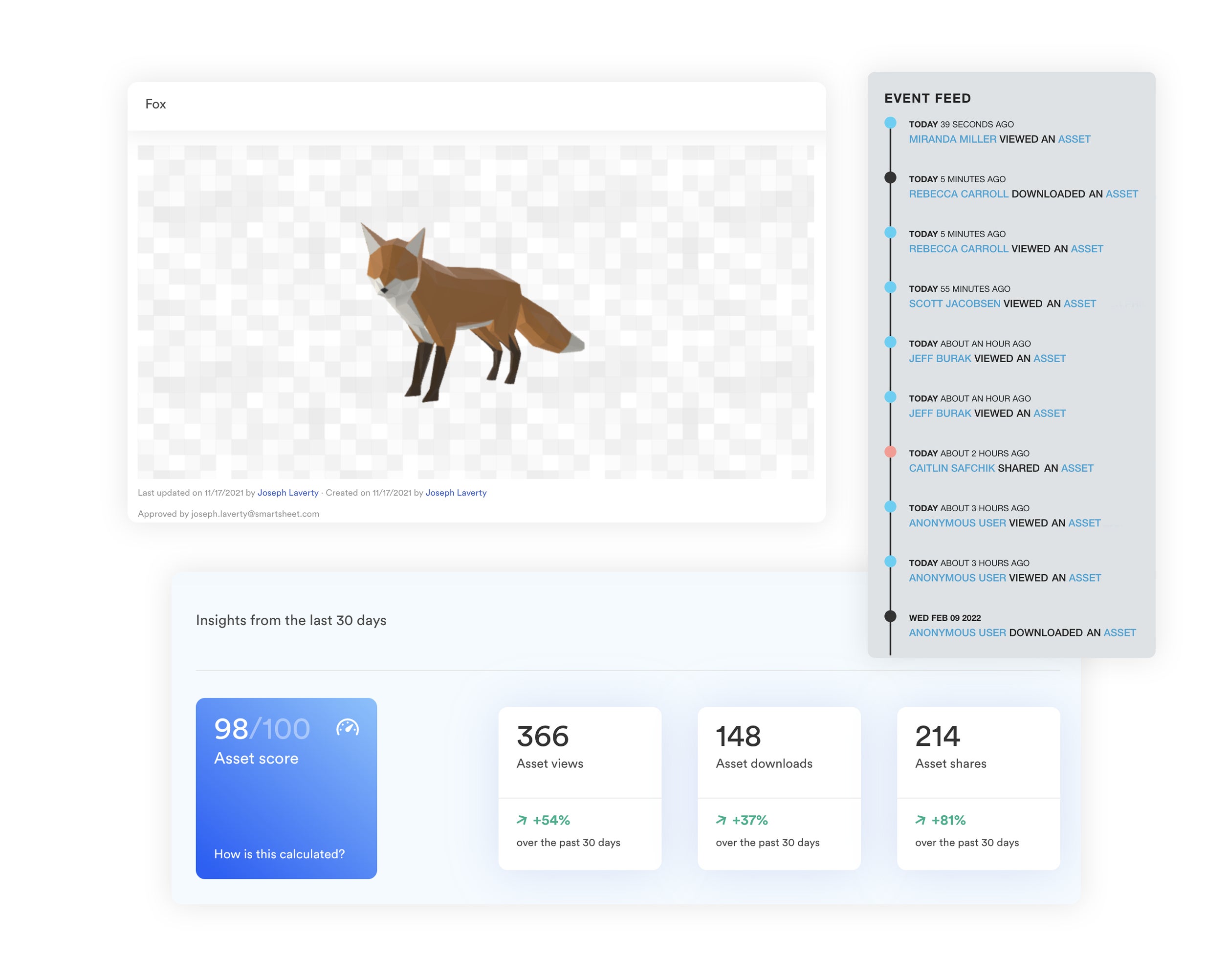 You can also use the reporting feature to look at other metrics, such as top-performing assets and most active users, and see how many times each asset has been viewed, downloaded and shared. Reports are completely customizable, too, so you can change timeframes and dig into data as you go.
You can learn more about how to use these reporting tools in our digital asset management best practices guide.
---
Brandfolder's Integrations for Designers & 3D Asset Managers
All 3D optimization in our digital asset management tool is supported by our partner, DGG, and their software, Rapid Compact.
Our digital asset management solution is built with an open-source API so we can accommodate custom integrations, meaning you can connect any tool in your workflow to Brandfolder and streamline your processes.
In addition, we offer dozens of out-of-the-box integrations. You can connect Brandfolder with:
Project management tools like Smartsheet that let you oversee digital projects in Brandfolder
Daily workspace tools like GSuite and Microsoft 365 so you can access your asset library within these tools
Content management systems like WordPress so you can drop high-quality media files on other sites
Marketing tools like Hootsuite so you can publish social media assets and schedule posts on different platforms
eCommerce sites like Shopify so you can pull product images and information from your DAM to your website
Adobe Creative Cloud so you can push other creative files over with ease
---
Organize & Optimize 3D Assets For All of Your Digital Projects in Brandfolder
Digital asset management software like Brandfolder is the best solution for teams that want to strategically use 3D models because it not only stores all of your digital files in a clean repository, but it enables you (and all of your other teams) to easily transform those assets for online use.
Without a DAM system, you can't easily store assets online — you have to find a cloud solution that's specific to 3D files — and then use other tools to optimize your 3D models before you can upload them to another tool and publish them online. It's all a very cumbersome process and requires specific software and knowledge to pull off…unless you have a DAM that encompasses it all.
Brandfolder is a powerful and advanced DAM solution that's designed for simplicity: While we provide dozens of features to publish 3D models online, our platform is easy to learn and navigate. You don't have to be an IT pro to use Brandfolder and reap the benefits of 3D assets.
Plus, our customer experience team is one of the best in the DAM industry: We walk you through the entire onboarding process, help you tailor Brandfolder for your specific teams and answer questions as you get accustomed to our platform.
To learn more about pricing and customization, and see how Brandfolder can help you manage all of your brand assets, request a free consultation and demo with our team.