10 Reasons You Need Digital Asset Management for eCommerce
One of the most valuable tools for eCommerce brands is digital asset management (DAM) software. Why? DAMs are not only far better at storing and organizing assets than basic tools like GDrive and DropBox, but they're also packed with features to support the efficiency of your teams and operations. (So not only can you keep track of your digital content, but a DAM helps you find and use that content to get your job done more quickly.)
Picture this. You manage an online retail brand and fall is right around the corner; that means it's time to update your website with fall merchandise and move your summer offerings to the sale page. With a simple storage drive, you're left:
Searching through your asset library for product images (oftentimes weeding through old or outdated asset versions and checking with somebody else on which asset to use)
Downloading them from your storage drive and uploading them to your website
Navigating back and forth between tools for product information to use for posting
Assigning tasks to others and checking on their status via email, messenger, or workspace collaboration tools
Making sure everybody across your organization has access to the materials and information they need for the fall products and promotions
Double-checking all of the updates to ensure everything looks good
In a digital asset management platform, this process is way smoother. You can:
Power all of your website content directly from your asset library so updates are automatic
Use permissions and share links to distribute digital files, so everybody who needs to access your assets can find and use the content they need when they need it
Share brand guidelines, product information, and asset details with marketers, sales teams, retailers, or anybody else who uses your assets
Connect your asset library with project management tools (and all of the other software you work in) so you can assign tasks, push assets directly into your projects, and communicate on task status within one platform
In this post, we talk more about the different ways eCommerce brands can leverage our digital asset management solution, Brandfolder, to 1) keep all of their teams and employees on the same page, 2) boost productivity and make crossing tasks off the to-do list easier, and 3) maintain brand consistency amongst everybody who's using your assets. Throughout, we'll also cover some of the additional features within our DAM system that let you manage the entire asset lifecycle, from content creation to updating to publishing.
Brandfolder is one of the most popular digital asset management software on the market; we've helped eCommerce businesses across all different industries and verticals better manage their digital content and presence across the web. To learn more about the benefits of digital asset management software and how Brandfolder can support your teams, get in touch with us for a free demo.
1. Brandfolder Lets You Power All of Your Website Content from Our Platform & Automate Brand Management Tasks
Brandfolder connects with a content delivery network (CDN) system so you can use our platform as a single source of truth. Meaning, you can power your website content and email marketing campaigns directly from Brandfolder by pushing product images, marketing materials, and other brand assets from your asset library to the web.
To do this, embed the asset's unique CDN link on your eCommerce site (and anywhere else you want to host the asset). The asset will automatically populate any place the link lives. Then, when assets expire or are updated in Brandfolder — more on expirations and updates below — they automatically expire or update on your website (and every other place where the asset is hosted). This ensures that your content is always up-to-date and prevents the burden of combing through your website and other online platforms to manually swap assets.
2. Brandfolder Lets You Organize Assets in a Way that Makes Sense for Your Teams
Brandfolder's organizational structure is especially beneficial for eCommerce businesses because it lets you easily organize assets by brand and group subsets of assets together (i.e., assets for different product categories, services, projects, use cases, end users, etc.).
In Brandfolder, you can organize assets by:
Brandfolders: The central repository for all assets related to a specific brand. If you manage multiple eCommerce sites or sell products/services under different brand names, you can create dedicated Brandfolders of assets for each website or brand.
Collections: Groups of related assets that live within Brandfolders. You can create Collections of assets for different products or product lines; promotions and sales; marketing and social media campaigns; branded content like logos, colors, and fonts; and more. Collections allow you to better organize your brand assets for easier search and sharing.
Brand Portals: Groups of assets for specific end users. You can create Brand Portals for different departments, such as your design or marketing teams, or you can set up Brand Portals for retailers or other partners. Then, users can login to these portals and see only the assets that are relevant to their projects or roles.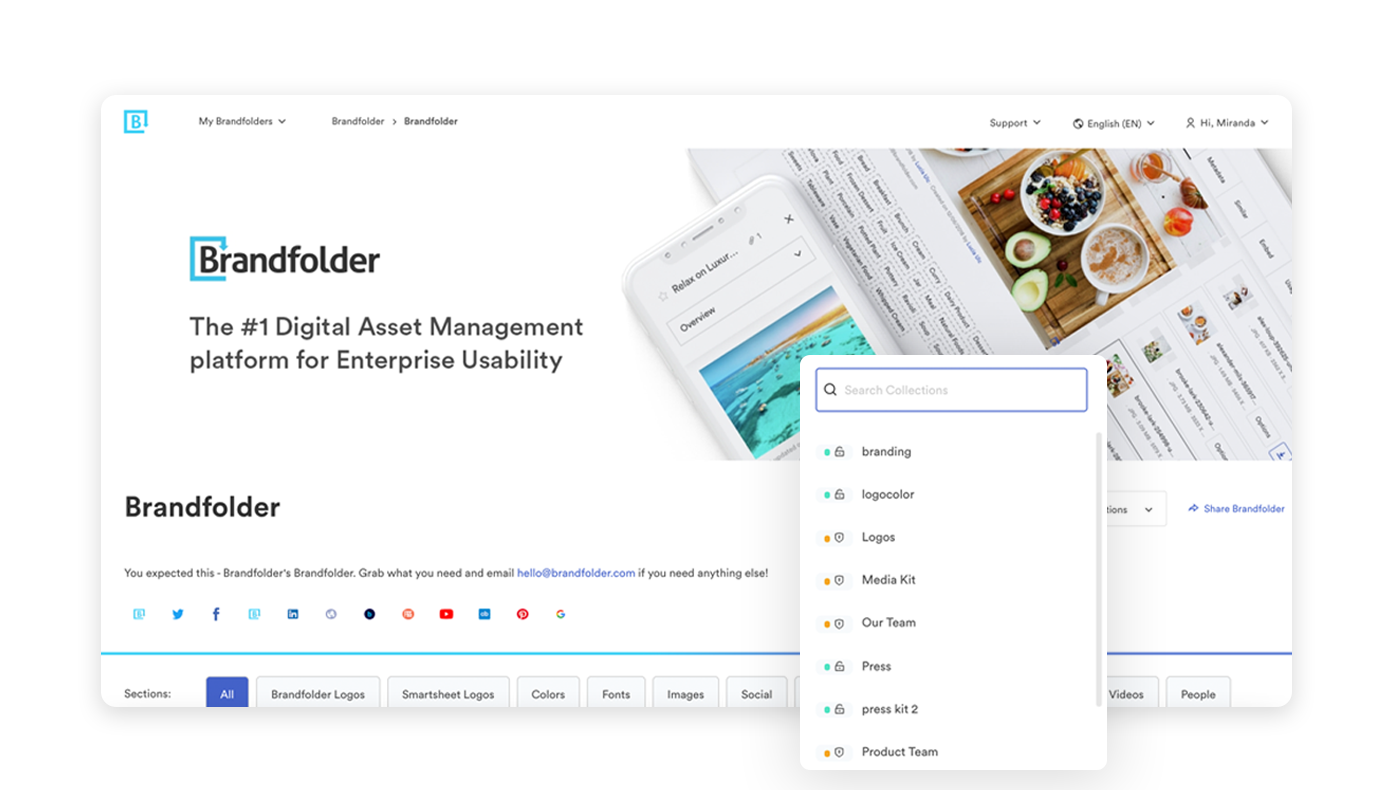 You can also create asset containers within Brandfolder to consolidate similar assets; this is useful if you have several variations of product images for one product.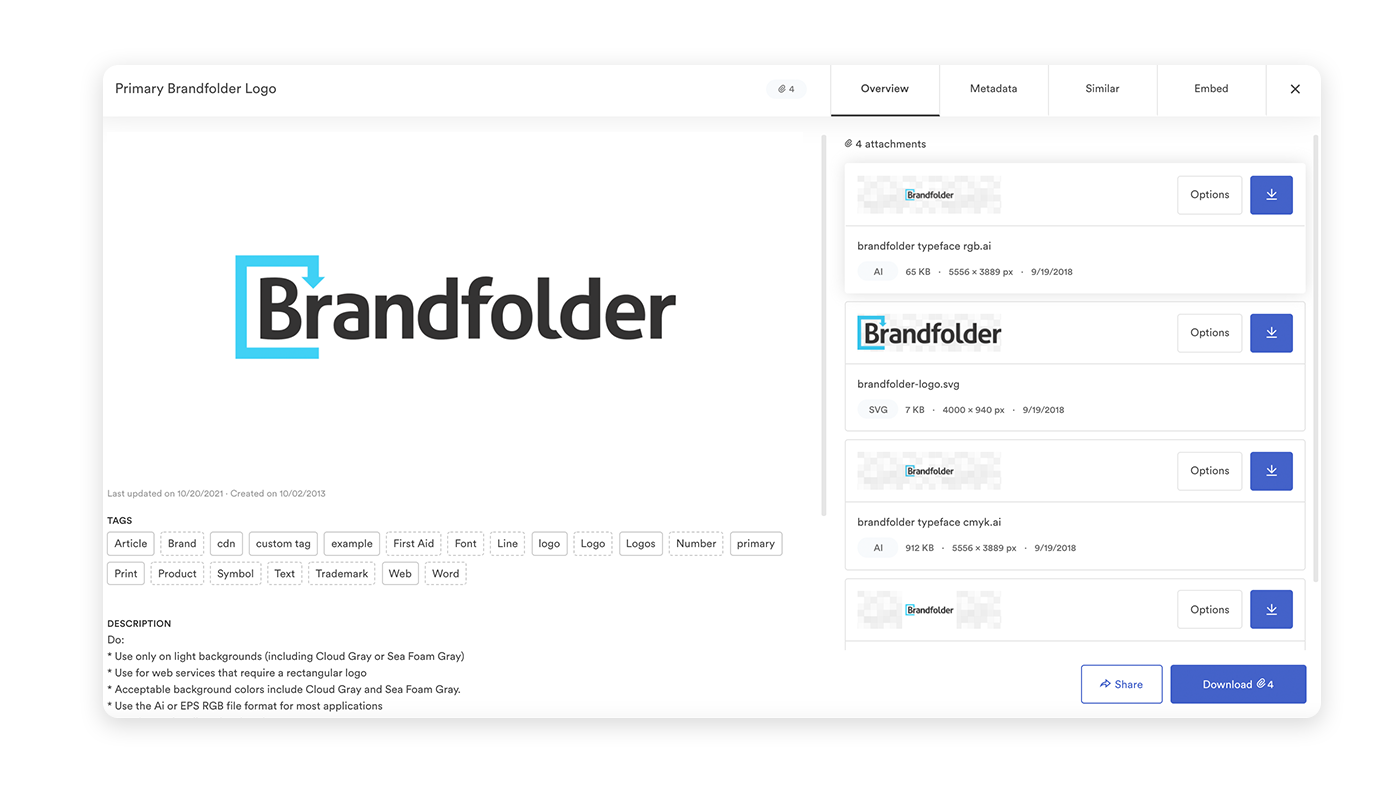 For example, say you carry a specific brand of snow boot, but you sell the boot in over a dozen different colors: You can save one product image of the boot within Brandfolder, and then store all of the photos of that boot in different colors under the main product image. By merging assets into a container, you won't have a dozen boot images to scroll through in your asset library.
We've also seen brands use asset containers to merge product images and product documentation together; this makes it so all of the relevant product information is stored in one place. One of our clients, FINIS (a global swim product and swimwear brand), uses asset containers to organize all product information like spec sheets, sales materials, and imagery at the asset level.
*Note: Before transitioning to Brandfolder, our team will help you map out how to organize your asset library in the best way for your teams/users. When it comes time to move all of your digital content over to Brandfolder, assets will automatically organize to match the structure you set. *
3. Brandfolder's Robust Search Makes Finding Assets Quick and Easy
No matter how you store your assets, our search functionality can find the files you're looking for without requiring you to dig through folders or remember exact file names.
Brandfolder's flat search feature analyzes your entire asset library — at least all of the assets you have access to — when you type a word or phrase into the search bar. Then, when searching your library, our search functionality uses image recognition to scan the actual content of your assets and pull all of the files that are relevant to your search.
4. DAMs Let You Maintain an Updated Asset Library
One of the most convenient things about Brandfolder's DAM software is that it's designed with features like duplicate asset detection and built-in collaboration tools so you can effortlessly maintain an up-to-date asset library.
You can update product images, sales materials, marketing collateral, etc. from year-to-year or season-to-season and your asset library won't be cluttered with dupe assets or old content. As a result, anybody accessing your asset library can easily find the right versions of your brand assets. (So you and your teams can begin using assets as soon as you find them — no more waiting on creative teams for approvals!)
Plus, DAMs track the specific changes that were made during updates and keep a detailed record of each asset's version history. That way, you and your team members can come back into Brandfolder, click into an asset, and look at how it has been changed over time. Brandfolder lets you click to download old versions of assets or automatically revert an asset back to a previous version.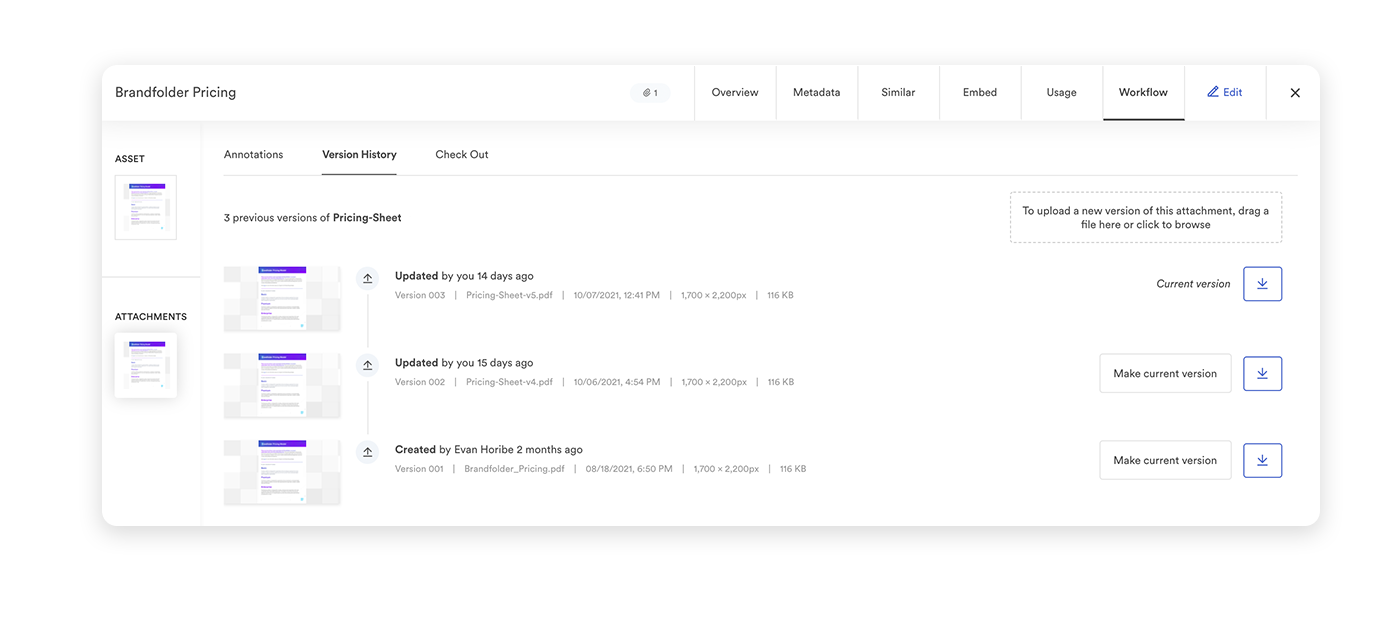 Brandfolder also lets users set assets to expire when they're no longer needed. Expired assets don't delete completely, so they'll still live in Brandfolder but they'll be labeled as "Expired" and unavailable for download. eCommerce brands who release seasonal products or run limited-time marketing campaigns can benefit from expirations because they make it easier to let everybody who accesses your assets know which ones are outdated and which ones are new and approved to use. Expirations can also help automate certain brand management tasks so you can always keep your website current (more on those below).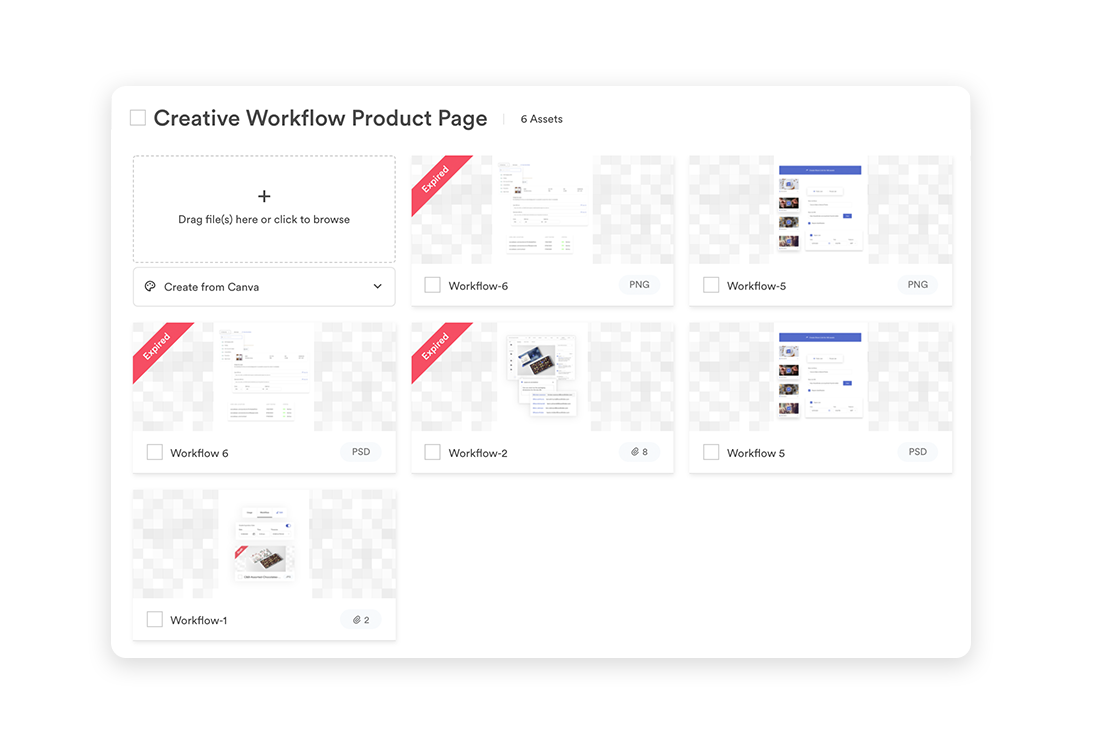 Note: Since you can customize user permissions, you can choose which users have the ability to upload new assets. We also allow you to set up a review and approval process for all asset uploads. This lets you control which assets are added to your library and prevents users from going rogue with uploads.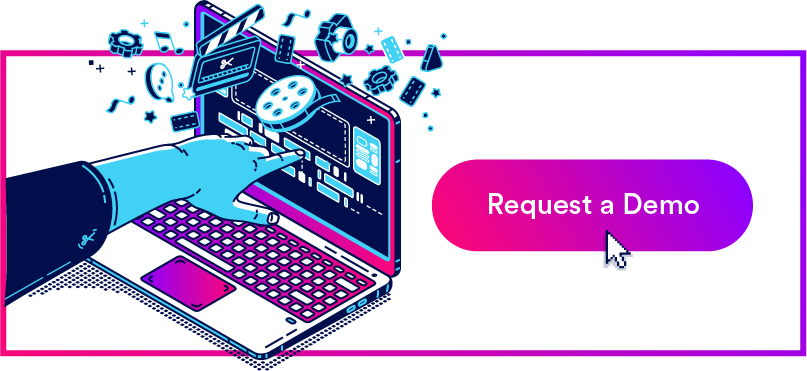 5. Brandfolder Gives Teams Freedom to Create New & Unique Digital Content
In addition to needing easier ways to manage existing brand assets, many eCommerce teams also need easy ways to create fresh, unique (high-quality) collateral so they can put together marketing assets to reflect new promotions or products and share brochures or sales decks with retailers on the fly. Brandfolder's solution? Dynamic templates.
With our templating feature, the creative team can push templates over from InDesign and control exactly how they're customized in Brandfolder. By allowing designers to choose what can and can't be customized within each template, it's easy for other users to create on-brand and polished content (that doesn't require a review before it can be used). That way, even users with no design experience can find a template that matches what they need, fill it in, and download it for use.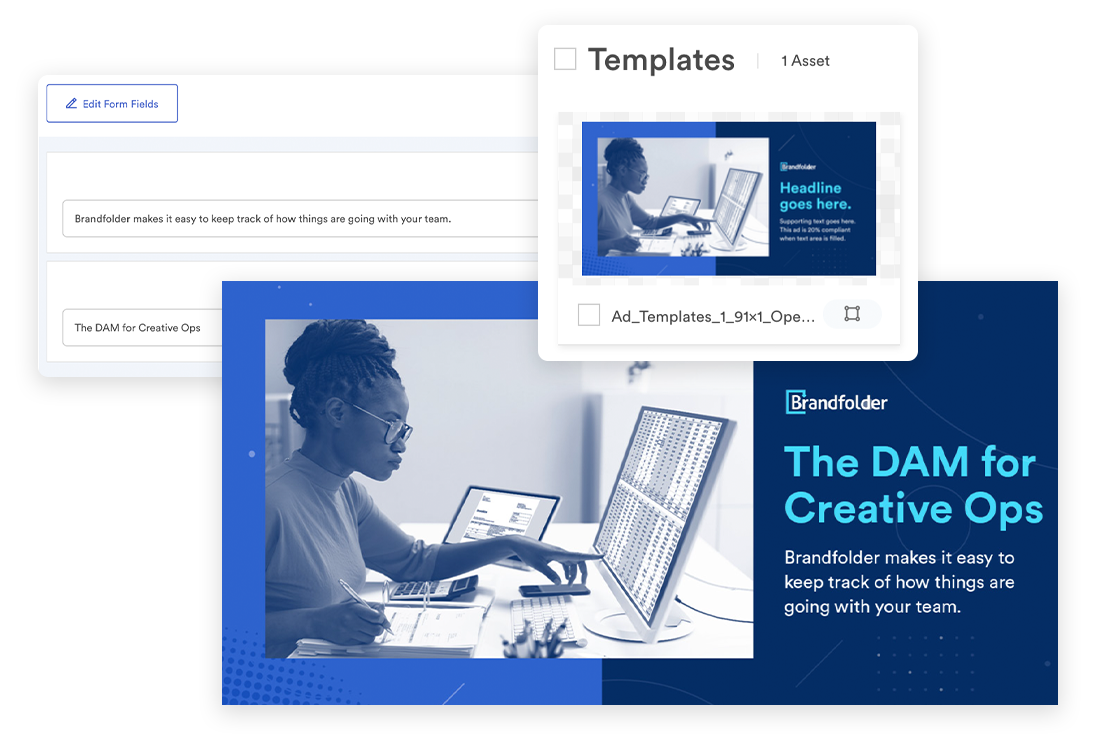 Brandfolder automatically refreshes templates between users, too, so your users always have a clean slate to get started.
Note: Even though our templating feature is designed so users can customize, download, and go, you can also put a review and approvals process in place for all new assets from templates. Then, you can review all of your new brand assets before they're published or printed.
6. Sharing & Receiving Assets (From Both Internal Teams & Outside Agencies) is Way Smoother
Brandfolder simplifies file sharing while also giving you extra options to control how assets are shared. Let's elaborate.
In Brandfolder, there are only two ways to share digital assets:
If you're sharing assets with other Brandfolder users (a.k.a. Your co-workers or other teams within your organization), you can add them to the Brandfolder, Collection, Portal, or specific asset you'd like to share using permissions. You can read more about how permissions work here.
If you're sharing assets with non-Brandfolder users (a.k.a. People outside of your organization), you can send assets via a share link. All share links in Brandfolder are customizable, you can:
Give the share link a name
Require users to enter an email address to view assets, so you can track who's opening your share links
Set the link to expire so your assets are only available to view/download for a specific timeframe
Block asset downloads or add watermarks to assets to prevent others from using the assets you're sharing
Add (or remove) assets to links you've already shared
Monitor when shared assets are viewed or downloaded
View which assets are currently being shared (and with whom)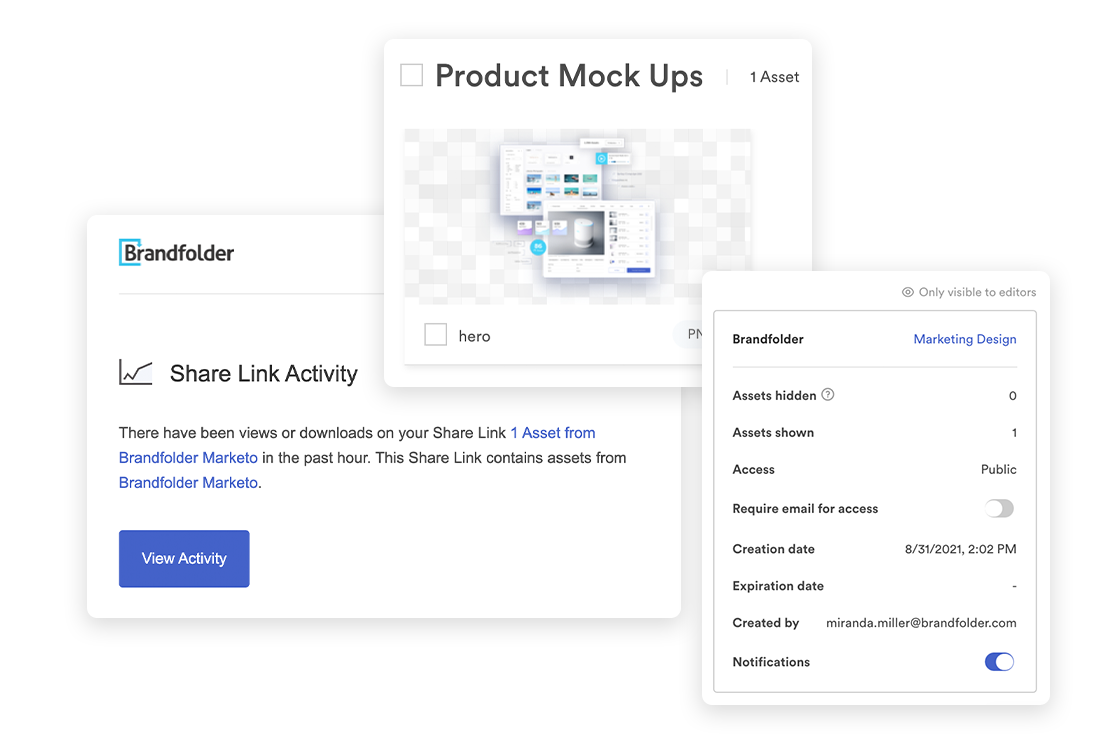 We also let you customize asset portals with your brand's colors, logos, and fonts so anybody you share your assets with (via share link) are directed to a clean, polished web page to view your digital media assets.
You can use Guest Upload Links to receive assets from third parties like photographers or creative agencies and stakeholders who are non-Brandfolder users. When creating a Guest Upload link, you can choose where you want the asset uploaded, so after the end user uploads their digital file(s), you can review and approve the asset without doing any extra organization after. Brandfolder allows free unlimited guest users, so you can share and receive assets without any restrictions or extra fees.
7. DAMs Let You Control Asset Usage, Share Brand Guidelines, & Store Info at the Asset Level for Quick Reference
Aside from granting you greater control over asset sharing (i.e., user-based permissions, expirations, watermarks, the ability to block asset downloads, tools to manage share links), our Brandguide feature also lets you create brand guidelines within Brandfolder to better control asset usage. This is especially beneficial for eCommerce brands who sell their products in different retailers and want to make sure their messaging, product information, and brand experience is consistent for all potential customers.
Within these brand guidelines, you can include everything from your brand mission, tone, and personality to info on where your company's digital assets can be posted and how they should be used — we've seen brands go as far as including specifics about how to sell certain products and adding instructions for deploying omnichannel marketing strategies slash publishing on different social media channels.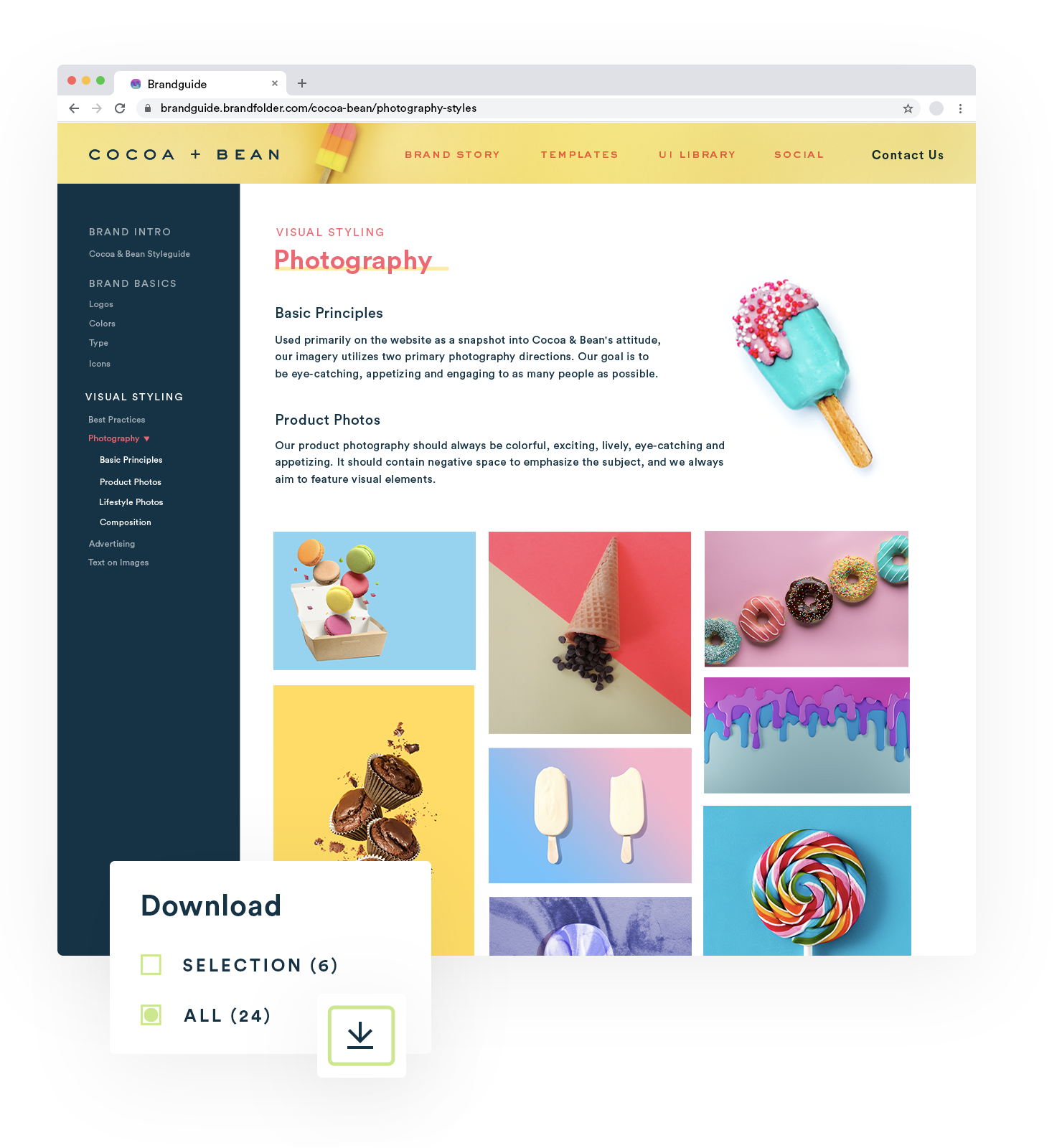 In addition to setting up brand guidelines, you can also include information about asset usage in the Asset Overview (a.k.a. The asset description) to improve brand consistency.
Within each Asset Overview, you can view the asset preview, description, metadata, tags, version history, user comments, usage analytics, and more — you can even set up custom fields or use integrations to store product data at the asset level.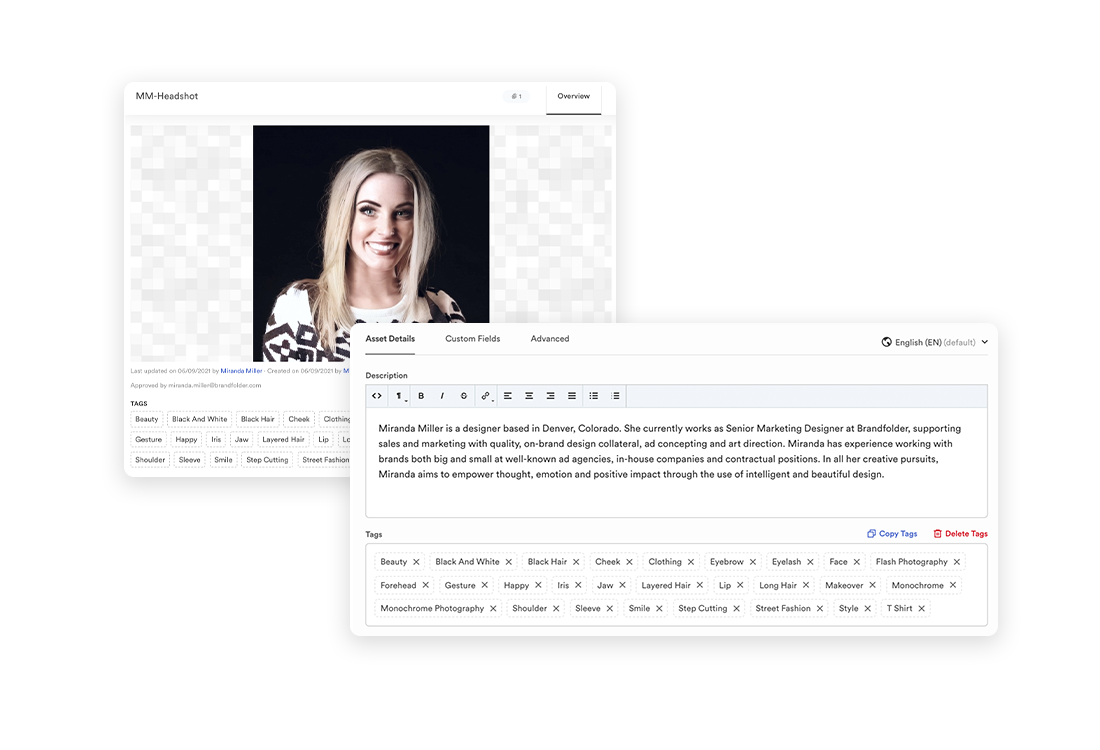 We've also seen many eComm brands include instructions — or "Dos and Don'ts" — for promoting specific products, services, sales, etc. within the asset overview, as well. But you can use this asset overview to include any information that you want about an asset.
Note: The Asset Overview is also where you can view asset containers and similar assets, so you can find related assets without doing another search.
8. Brandfolder's Collaborative Tools Streamline Asset Updates
Brandfolder also lets teams collaborate at the asset level and better manage asset updates. In the same Asset Overview we discussed in the last section, users can access a Workflow tab that lets them:
Comment on assets and tag other users in for feedback
Read back through the asset's comment thread to review past notes and team communications
Check out assets for updating
Push assets back to Brandfolder for approval once updates are complete
Review the asset's version history to see how it has changed since the initial upload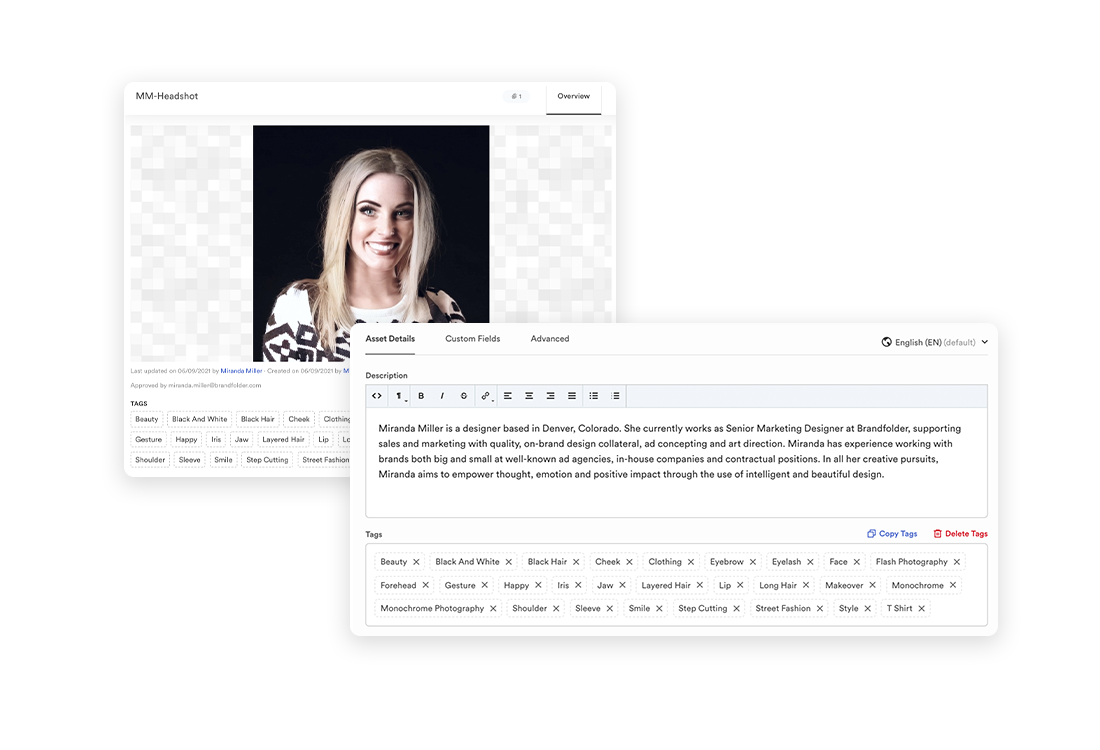 Brandfolder also makes collaborating on assets easy for your entire organization by blocking downloads on "checked out" assets and displaying a banner to let other users know when an asset is undergoing updates.
Then, once an asset is checked back in and approved, it's automatically updated in Brandfolder (so users are viewing the most recent version of the asset) and it becomes available for download again.
9. Data & Analytics Give You Detailed Info On Asset Usage & Performance
Many eCommerce brands also like the fact that DAMs, like Brandfolder, provide data and analytics around asset usage and engagement, so they can track which assets are viewed/downloaded/used most often, where assets are embedded on the web, how users engage with assets online, and more.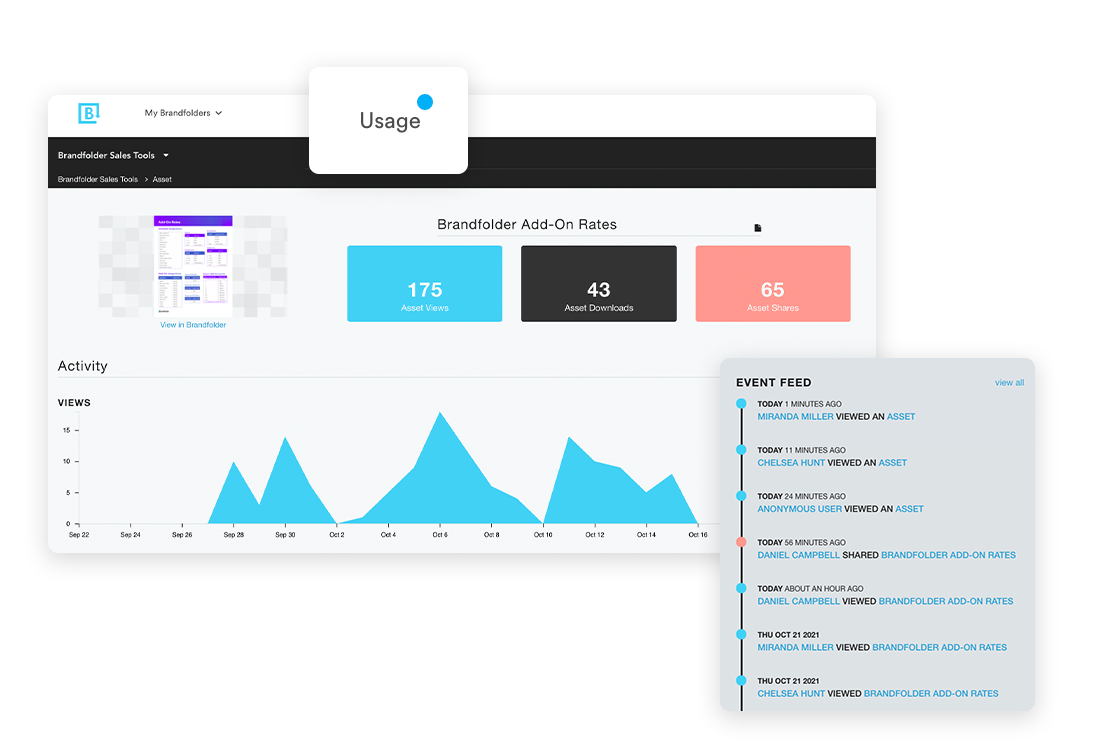 These insights help eCommerce brands monitor how and where assets are used, and they also provide better insight about what assets resonate with customers (and which ones don't) so brands can tweak their promotional strategies and refine marketing content.
10. Brandfolder Syncs With All of Your Other Tools to Support All of Your Teams
Brandfolder is built with dozens of out-of-the-box integrations so you can easily sync it with your eCommerce platform (like Shopify) and the other tools you use in your daily operations. Some of the tools we integrate with include:
Content creation tools like Adobe Creative Cloud
Collaborative productivity software like GSuite and Microsoft Office
Content management systems (CMS) like Wordpress
Customer relationship management (CRM) systems like HubSpot
Project management and workflow tools like SmartSheet and Trello
You can view our full list of Brandfolder integrations here.
Give Your eCommerce Operations a Boost with Brandfolder
Want to give our digital asset management tool a try? Brandfolder is one of the easiest DAMs to use and adopt because our features are intuitive and our customer experience team is hands-on during the entire onboarding process. (We have a 98% retention rate because of our dedicated support through the transition.)
Plus, Brandfolder accepts all assets and file types, including rich media files like audio and video assets, images, documents, business cards, sales brochures, templates and Adobe files, etc. so you can use our software to house all of your branded content in one central spot, instead of storing different types of assets in different locations.
To learn more about Brandfolder's different features and how our platform can be tailored for your eCommerce business, get in touch with our team for a free demo.