How to Conduct a Content Audit: A Step-by-Step Guide
It's easy to lose yourself in the process of creating and publishing content. But have you ever taken a step back to examine if your content creation efforts are paying off?
Have you ever performed a content audit?
If the very idea makes you want to run for the hills, I can't blame you. Doing a content audit is tedious and time-consuming, especially if you have a ton of content already out in the wild. There are too many variables, too many moving pieces involved. Where do you even begin? What should you be looking for?
No wonder 37 percent of content marketers never finish a content audit.
But you're not going to make that same mistake.
You know why?
Because you know that it will do your business a LOT of good. Content, after all, is an investment. If you want better returns on thatinvestment, you need to maximize the value of your content resources.
Second, doing a content audit might be hard, but it's not that hard, especially if you know the proper steps to take and which tools to use.
Speaking of steps (and tools), we've got that part covered.
But before we get to the good stuff, let's get something out of the way.
What is a content audit and why should you do it?
A content audit is a process that helps you perform a systematic analysis of all your content. A piece of content can be a blog post, a white paper, an infographic, a brochure, or a social media post—any asset that your brand created for the purpose of distribution.
Think of it as a way to get the lay of the land, so to speak. A content audit helps you identify patterns and gaps in your content, as well as spot flaws and opportunities for improvement. It can also provide you with actionable insights on how to improve your content creation and marketing efforts going forward.
Put another way, a content audit can help you weed out or improve bad content that's holding your business back.
A content audit can help find answers and solutions to the following considerations:
Which pieces of content are not performing well?
How do you improve them?
What assets and content pieces are your prospects and customers responding to or engaging with?
Are there any content gaps in your content marketing strategy that need to be filled?
Do you have duplicate content issues?
Which buyer personas and buying stages are you neglecting?
Are you meeting the needs of your target audience?
Are you distributing your content on the right channels?
What types of content should you focus on publishing going forward?
What kind of content should you stop creating?
And so on.
You don't have to answer the above questions all at once when doing a content audit. Remember, a content audit is not a one-time thing, but an ongoing process that ensures your content catalog is in good shape and heading in the right direction.
As already mentioned, performing a content audit is hard work. If you've never done this before, the best course of action is to start small and focus on the most glaring issues in your content.
Are you ready to give your content marketing strategy the revamp it needs to turn your business around?
As promised, here are step-by-step directions for completing a content audit.
1. Take an inventory of your content
Before you can do a systematic review, you need to put all your pieces of content into a location where you can easily see them.
You can do this by gathering your site's URLs (as well as the URLs of content assets existing outside your domain) and putting them in a spreadsheet. You can do this manually if your site is small. But if your company has a ton of content already, you're better off using a web crawler tool like Screaming Frog.
Here's the crawler tool in action: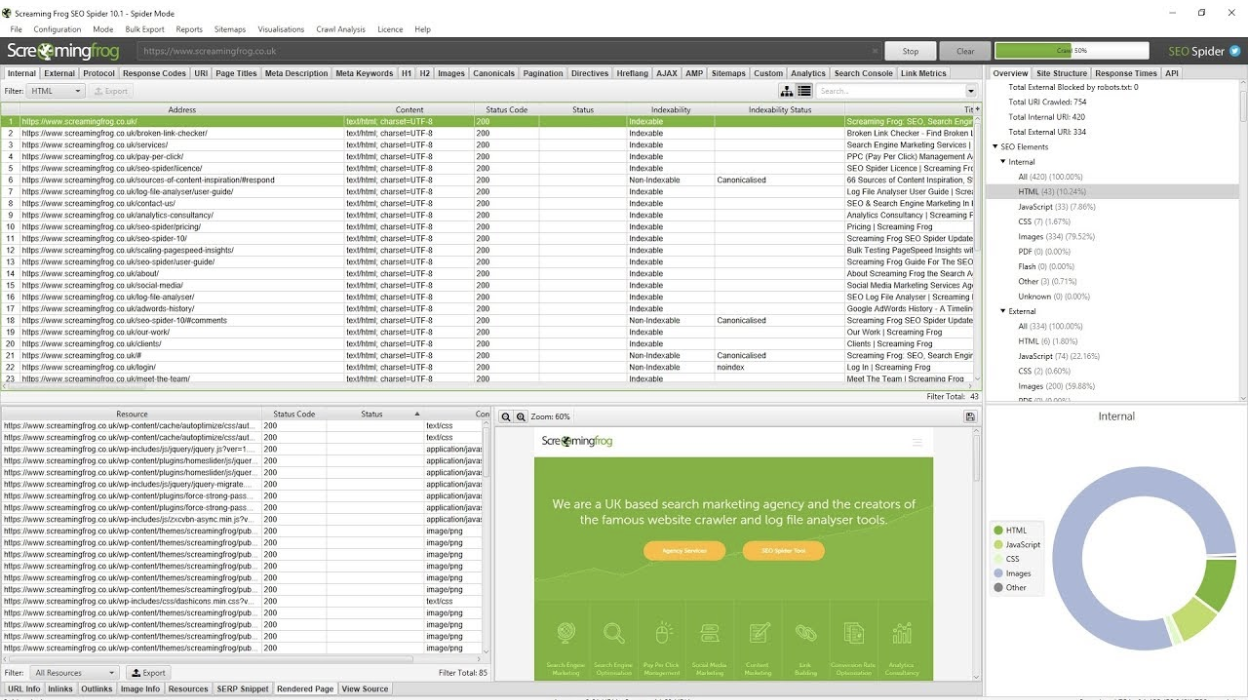 Once the tool is finished crawling, export the data into a CSV file and then import it into a Google spreadsheet or an Excel spreadsheet.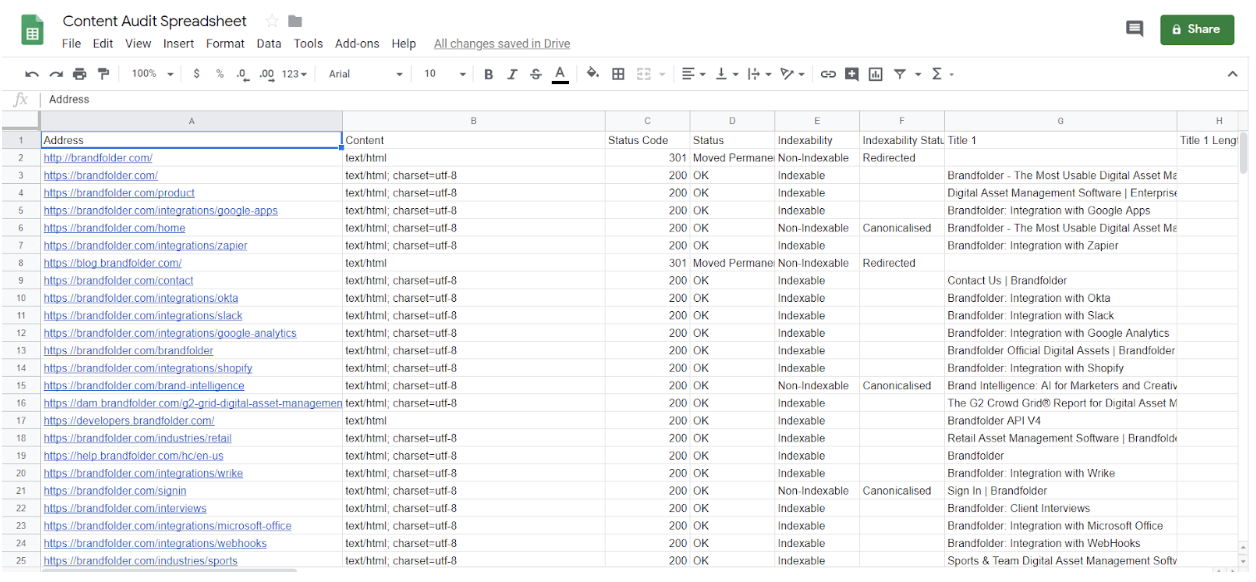 Now that you have all your site's URLs in one place, you can add categories you feel will help you sort and compare your content assets.
Here are the categories you can add:
Content title
Content description
Content format
Buyer's journey stage
Target keywords
Targeted buyer persona
Date of publication
Word count
Any other information that provides additional context
2. Collect relevant data
You've got your content all in one place? Great!
But how do you identify pieces of content that are underperforming? How would you know which ones should be outright removed and which ones should be updated?
That's right. You look at the data.
If you used a web crawler tool, you probably have data already in your CSV file (most crawler tools pull data from Google Analytics).
If not, you have to go to the places where your content data is stored. Google Analytics is one such place. You can also pull content data from your CRM (Customer Relationship Management), CMS (Content Management System), or DAM (Digital Asset Management), among other tools.
Pro-tip: Doing a content audit will be a breeze if you access content data from many places using one dedicated system. A DAM like Brandfolder, for instance, has integration capabilities that allow you to pull data from Google Analytics, Wordpress, and Hubspot (to name a few) via one centralized location. This gives you better visibility on how your assets are being used and distributed in your creative workflows, from ideation to publication to promotion.
3. Evaluate your content
You got all the data you need to review your content assets? Great job!
But it bears noting: Data is useless without proper context.
Your 'Video Marketing' blog post may be getting 3,000 page views per month, but that doesn't necessarily mean those views will translate to conversions or sales.
So, how do you identify which content assets are worth keeping and which ones you need to update? How do you identify potential areas for improvement?
First, you need to identify the right key performance indicators (KPIs). Once you have those, you can rest assured that you're measuring elements in your content that are relevant to your content creation and marketing goals.
Here are some points to consider as you evaluate each content piece or asset:
Brand identity. Is the content asset consistent with your brand identity? Does it reflect your core brand values? Does it comply with your brand style guide?
Findability/SEO. Can your target audience find your content easily? Essential SEO metrics include bounce rate, page views, dwell time, targeted keywords, page speed, etc.
Usefulness. Does the content provide utility and value to your audience?
Relevance. Is the content effectively engaging your target audience? Are you generating enough qualified leads?
Clarity. Is the content easy to read? Does it convey to your audience clearly where you want to take them in their buyer's journey?
Business value. Is the content aligned with your business goals?
Keep in mind that the above considerations are merely suggestions so feel free to draw up your own criteria. One good approach is to create a grading scale from 1 to 5 (with 5 being the highest score) and then assign a corresponding action for each grade. This helps you create a uniform and consistent framework for evaluating each piece of content and assigning action plans.
Next, add a Score column and an Action column in your spreadsheet so that you can grade each asset and then assign a corresponding action plan.
Here are the 4 action plans you can implement:
Keep. This is the recommended action for high-performing assets
Update. For assets that serve your content marketing efforts but have room for improvement
Remove. For low-performing assets that don't have any redeeming value
Consolidate. Assets that are too thin on content or too short to be of any use can be merged with other pieces of content
You can add a few notes for each recommended action to provide additional context that may be useful to your editors, designers, managers, etc.
One important aside: Some content pieces will fall into gray areas in terms of the value they provide to your business. Usually, these are the ones where you need to decide whether to update or delete. For example, if a blog post is generating a ton of traffic from unqualified leads, what do you do? Will it damage your SEO if you remove it? Or do you edit the post so it brings in more qualified traffic? In these instances, it's best to confer with your team (or teams) to ensure that the right steps are taken.
4. Make final recommendations
Now that you've completed your content audit, it's time for you to make a list of final recommendations.
This is where you offer suggestions that will improve your brand's content creation efforts and address issues that could be hurting the company. Of course, each recommendation must be a direct response to key findings in your content audit.
You should ideally list 5-10 recommendations, which can include:
Publishing a particular number of blog posts per month
Filling content gaps with certain underserved topics or segments of the target market
Ramping up link building campaigns to strengthen the brand's online presence
Creating buyer personas to improve audience targeting
Rebranding your company to clarify your brand message and improve connection with the target market
5. Implement action plans
You've conducted the audit and made your recommendations. Now it's time to put them into action. Gather your team of writers, editors, content managers, and graphic designers and make sure that all hands are on deck.
Remember, a successful content audit is useless if the implementation is flawed. You need to clearly communicate the objectives of the audit to your team and hold everyone accountable for their roles and responsibilities in executing the action plan. Explain clearly the specific steps to be taken and provide a time frame for their completion. Regular meetings must also be held so that teams can talk about their progress and help each other stay on track.
What's next?
There's no single perfect method for performing a content audit, but you can use this blog post as a guide to developing a method that works best for your company. As already mentioned, a content audit is not a one-time thing. If you want your content marketing efforts to strengthen your brand, serve your audience better, and boost your ROI, content audits must be ongoing. Then, things can only get better.