How to Improve Marketing Team Collaboration and Increase Efficiency
Have there been instances where a section of people in your marketing team wasn't aware of what the other team members were working on? That's a sign of poor collaboration.
This is particularly common in large marketing teams where everyone is working on a number of projects simultaneously. Someone's running a paid social media campaign to generate new leads while someone else is working on a video for a new product.
Imagine a scenario where everyone could be aware of each other's work while using that information to be more productive and improve output quality.
Here's how you can improve marketing team collaboration, increase efficiency, and get more done with your brand.
Design Marketing Workflows
At any given time, your marketing team is sure to be working on a number of different projects and campaigns. What can help streamline the work process and improve efficiency is designing marketing workflows.
Doing this gets everyone on the same page and makes it easier to track progress while maintaining proper communication. Make sure you take into consideration factors such as the scope of work, time taken to complete the task, and the people involved.
Create workflows for common marketing tasks such as the following:
Social media marketing
SEO
Paid advertising campaigns
Brand awareness campaigns
Content production (e.g. blog posts, ebooks, guides, etc.)
Email marketing
PR campaigns
Here's an example of a project timeline template you can use to design marketing workflows.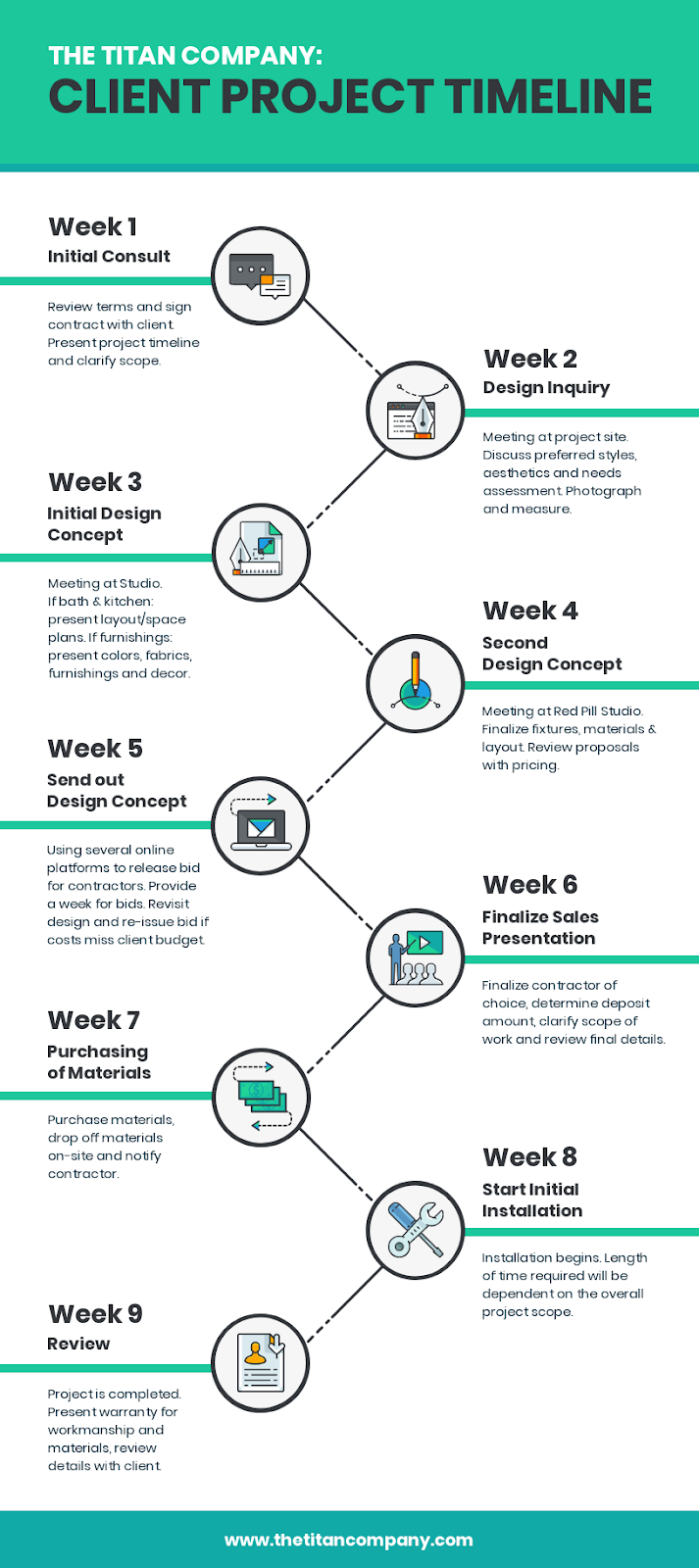 Source: Venngage
Use the Right Communication Tools
Communication is the key to team collaboration. This is especially true at a time like this when most marketing teams are still working remotely.
Use a mix of synchronous and asynchronous communication tools to effectively communicate with your team, share feedback, and provide updates. These include:
Project management tools (e.g. Smartsheet, Asana, etc.)
Voice and video conferencing tools (e.g. Zoom, LiveWebinar, etc.)
Document collaboration tools (e.g. Google Workspace, Microsoft Office 365, etc.)
File-sharing tools (e.g. WeTransfer, etc.)
Email (e.g. Gmail, Microsoft Outlook, etc.)
It's a good idea to set ground rules when it comes to the use of communication tools.
For instance, encourage your team members to use the company chat tool when they need quick feedback or want an immediate response. On the other hand, email can be used for sharing elaborate details or when an external party is involved.
Setting these rules ensures consistency and prevents communication overload.
Establish Clear Roles and Responsibilities
According to a study, employees who are clear about their roles are 53% more efficient than employees who aren't.
This isn't surprising, because when there's role clarity in the team, there's more accountability. Every team member knows what's expected of them and works toward their individual goals.
The last thing you want is missed deadlines and tasks slipping through the cracks because of ambiguity in roles.
As the team lead, it's your responsibility to ensure role clarity. Start with identifying roles and discuss responsibilities with your team. Take into consideration their strengths, experience, and interests.
Minimize overlaps to avoid confusion and make sure everyone is aware of each other's responsibilities.
Set Up A Digital Asset Library
Let's say the designer created a social media video that you want to also use in an email newsletter. But your team and you can't find the original file anywhere.
This leads to utter chaos and a waste of time.
As the marketing team, you're in charge of developing creative assets, but it can be frustrating when you've lost track of your existing digital assets. This is why it's important to set up a library using the right digital asset management software.
It helps you store and organize your digital assets, letting people access them whenever they want. This saves the team ample time, improves collaboration, and ensures everyone uses the updated version of the assets.
Some examples of digital asset formats you can store include:
Videos
Presentations
Images
Logos
PDFs
Conduct Daily Standup Meetings
While instant messaging tools and email are effective communication tools, nothing beats in-person or video conferencing meetings.
Conduct 10-15minute standup meetings at the beginning of every day. The purpose of this meeting should be to share what every team member is working on and address bottlenecks, if any.
It's a good idea to run through the project management tool dashboard and go over each of the tasks. This adds structure to the meeting and ensures it's a productive one. The takeaway: Improve marketing team collaboration
Working in silos is possibly the biggest mistake marketing teams make. Marketing is all about collaborating with different internal and external teams but to succeed, it's important to improve collaboration within the marketing team first.
These five tactics will help you organize workflow, streamline communication, and increase efficiency.
About this author: Simki Dutta is a content marketer at Venngage, a free infographic maker and design platform. She writes about all things marketing and communications. Find her on Twitter and LinkedIn.