Metadata Editing: 6 Powerful Enterprise Use Cases
Metadata can be an invaluable resource for gaining complete control of your data and digital file ecosystem.
But if you've ever tried to edit a metadata file, you'll know that it can be quite tricky and time-consuming, to say the least. And the situation only gets worse the more files you have to handle.
Thankfully, there are platforms that make it easier for businesses to extract, store, and manage metadata across digital assets of any type. In this post, we'll look at the value of document metadata, discuss eight things to consider when choosing a metadata management solution, and highlight six enterprise use cases for extracting and editing metadata.
The Value of Document Metadata
All companies use metadata in some shape or another. But it's fair to say that the larger the organization, the more it relies on metadata.
For example, say your company has 100,000 employees, then you're likely creating over a million documents a day. Without metadata, it would be impossible to track when and where those documents were going.
Thankfully, metadata allows you to manage, categorize, and use all of your documents according to your business requirements. For example:
Classification – You can use metadata to organize and classify your content, for example, if it's for internal use only or available to the public.
Information security – You can use metadata to flag a security setting, validate access and editorial rights, and control distribution.
Customer experience – You can use metadata to capture users' ratings of content, such as "valuable", "useless", or "outdated".
Information "findability" – You can use metadata to narrow down a search by specifying a particular field such as author, topic, or date.
In short, metadata can be used throughout the content lifecycle, from capture to creation, distribution, and retention, to help organizations manage assets efficiently and effectively.
---
Want to find out how to best tag your images, or extract existing metadata from a file?
Workbench provides a free toolkit for businesses, including two metadata tools that allow you to auto-tag images with AI and extract metadata.
Extract Image Metadata Tool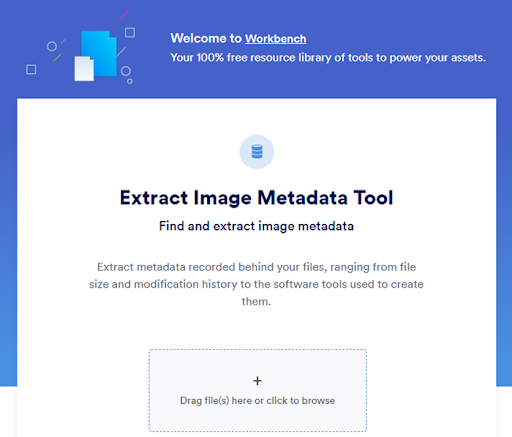 Extract metadata recorded behind your files, ranging from file size and modification history to the software tools used to create them.
Try it: Extract Metadata
Auto-tag images with AI Technology Tool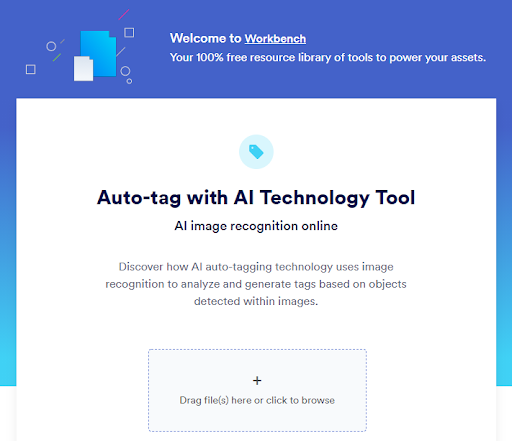 Discover how AI auto-tagging technology uses image recognition to analyze and generate tags based on objects detected within images.
Try it: Auto-tag Images
Metadata Extraction and Editing: 6 Enterprise Use Cases
Let's take a look at six ways enterprise brands can use metadata extraction and editing to improve digital asset management.
Extracting and editing metadata can improve asset "findability"
Without metadata, finding the right documents or files would be virtually impossible. But metadata adds structure to a file and assigns values, such as a case ID, classification, or keywords, that make it easier to find.

Image: using advanced filters to search by tags, asset status and metadata fields.
Brandfolder lets you quickly search across various asset metadata, save popular search terms, and use intelligent tools like filtering and automatic discovery to locate exactly what you need.
Plus, extracting metadata makes it easier for enterprises with huge repositories of digital assets to find the documents they need, whether that's for marketing, sales, support, or legal.
Extracting and editing metadata to improve campaign collaboration
Metadata can be used to tag and filter assets, allowing you to find the content you need for your use case. For example:
Tagging assets by campaign
Tagging assets by sales cycle/funnel
Tagging assets by industry/audience
Metadata not only improves findability. It extends beyond search to help improve campaign collaboration, especially when you're working with external stakeholders.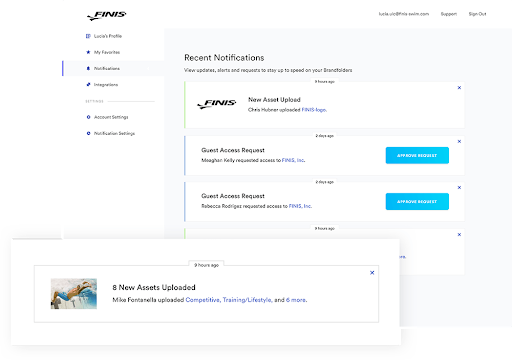 Extracting and editing metadata can increase document security
You can use metadata to control document access across the organization. For example, you can use it to label the sensitivity of documents, such as classified, internal-use only, or public. Furthermore, you can specify what actions are attached to each classification level.
Extracting and editing metadata can improve data governance
One of the most common uses of metadata management is data governance, where you can protect quality and accessibility. To enable data access across the enterprise, you need to oversee data correctly using industry best practices.
Metadata ensures that data definitions, usage, production, and storage align with regulatory, security, and quality standards.
Extracting and editing metadata can improve digital rights management
Metadata tags often correspond to the asset's content, such as colors, products, people, and background objects. But you can also use metadata tags to indicate asset ownership or usage.
For example, you could add tags to credit the asset's creator, author, or photographer. Or you could tag an asset "By request only" to show that users must seek and gain approval before they can use it.
Extracting and editing metadata can aid regulatory compliance
Increasing federal and industry regulations mean organizations have to process and store data in a particular way, especially those that store sensitive customer data. Companies also have to produce the data, as well as its location, for audit purposes.
In order to comply with regulations, companies have to identify and map data, assess data processing, evaluate risks, and analyze data impact.
Metadata can aid regulatory compliance by explaining what the data represents, why it's there, when it got there, and how it conforms to the rules.
Things to Consider When Choosing a Metadata Editor
Here are eight key things you need to consider when evaluating a metadata editor for your business.
Use cases
Start by deciding what you want to use the metadata editor for. For instance, do you only need it for editing a small set of metadata tags? Or do you need to bulk update metadata tags, or store and organize assets for different team members and external stakeholders?
It's essential to understand all the use cases, as some tools only allow editing of metadata, whereas others provide extra functionality vital to enterprise brands.
Metadata fields
There are many types of metadata fields, so you need to decide which type of metadata you'll want to edit, such as:
Title, author, and date of a publication
Subject keywords
Access permissions
Security classification
Setting these fields also comes in handy when building a content taxonomy streategy. Some tools and platforms will give you more granular editing capabilities than others, so check that they fit your requirements.
Ease of use
You need to weigh up how long it will take to learn the software. This usually boils down to how intuitive the user interface (UI) is and how well-documented the help files are.
Batch extraction
One of the key considerations is that the metadata editor can scale according to the volume of files it needs to handle. While some businesses may only need to update the metadata in a couple of files, other enterprises may need to update hundreds or thousands of files at a time. Be sure the editor is capable of updating metadata at scale.
For example, Brandfolder Metasheets allow users to download assets, and then updated tags, custom fields, asset names and descriptions before reuploading into the platform:

Number of file types supported
Next, you need to check if the editor supports all major file types and match those capabilities to the needs of your digital asset library. For example, it may only allow for video metadata editing.
Available automations
The final feature you'll want to consider in your metadata editor is automations.
For instance, if you're an enterprise or large brand working across huge repositories or multiple file types, you'll need to check if the software can automatically extract the metadata, or add tags based on different rules.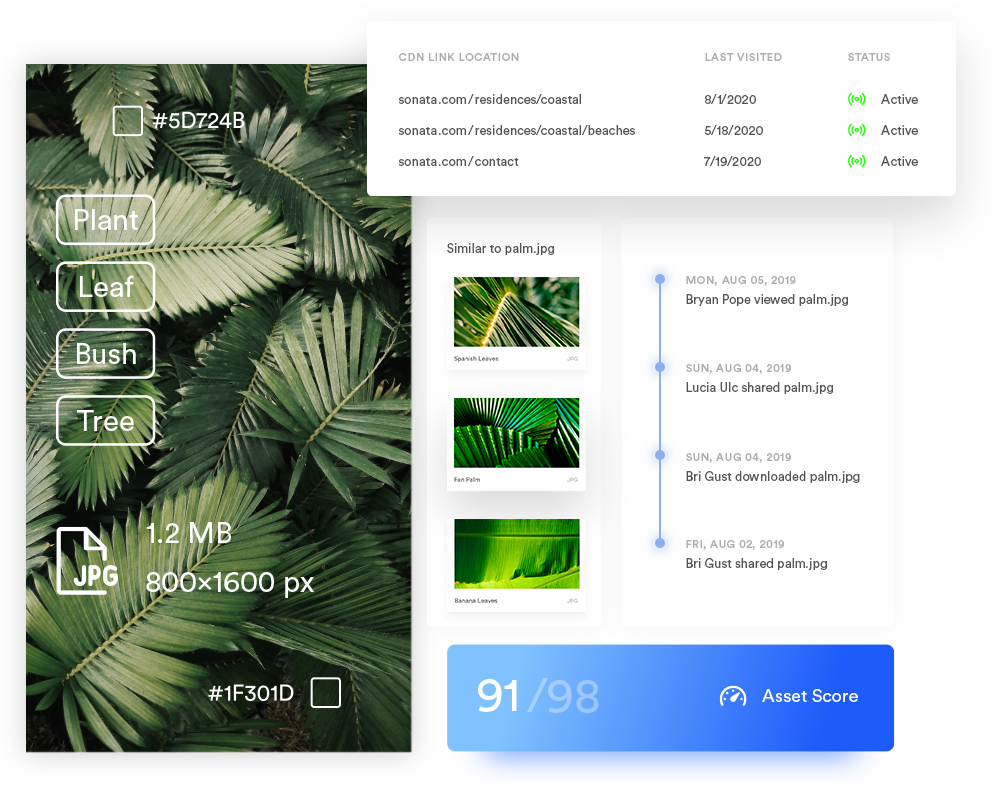 For example, Brandfolder uses AI image recognition to automatically extract metadata and add logical tags, which users can then edit and update if needed.
In addition to the extraction of metadata, Brandfolder is able to automatically convert the embedded metadata into tags or custom fields that can make the ongoing management of digital assets much easier for larger enterprise brands.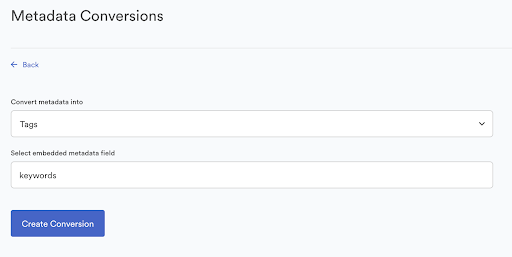 Image: setting up metadata conversions in Brandfolder.
Operating systems supported
You'll also want to check which operating systems are supported. This is especially important to know for creatives. For example, if the software only works on Windows, it wouldn't suit designers using a Mac. So check if the editor works on Mac and/or Windows before buying or downloading.
Ability to edit video metadata
Video metadata editing is becoming more of a requirement as video marketing explodes. So make sure you check that the metadata editor supports different video file types.
Digital Asset Management Can Streamline Metadata Management
While there are loads of standalone metadata editors on the market, not all of them are a good fit for every organization.
Although digital asset management (DAM) system isn't geared specifically toward individuals who want to manage the metadata on their photo and video collection it is one function of Brandfolder.
DAM really is designed for enterprise companies with vast digital asset libraries that are accessed by cross-functional teams and who are often subject to stringent regulations.
Having a DAM like Brandfolder that provides a more efficient way to store, organize, access and share assets securely is essential for companies looking to streamline their metadata management.