For enterprise-sized businesses, evaluating digital asset management platforms involves more than just looking at available features. You also need to consider how every DAM scales internationally/amongst regions, accommodates a diverse set of users, integrates with other tools, and most importantly, how easy the DAM is to implement and use throughout the organization.
But that doesn't mean the extra effort isn't worth it. Digital asset management software is beneficial for global and enterprise-sized companies in a number of ways; it:
Saves teams time by compiling and organizing all digital assets in one single source of truth
Streamlines the entire content lifecycle from creation to distribution
Automates workflows and tedious tasks like metadata tagging for easier team collaboration and asset findability
Improves brand consistency across all channels and platforms
Keeps assets secure and in the hands of the right people at the right time
In this post, we discuss the key criteria to evaluate when comparing digital asset management solutions, including:
The time it takes to upload assets and adopt the software
The ability to maintain brand integrity globally and amongst franchise partners
Data security features to keep brand assets private
How it stacks product images, information, and promotional materials
The integration options and the pace of innovations
At Brandfolder, we designed our digital asset management software with an intuitive interface that requires little or no end-user training, multi-language functionality, asset security, and the ability to handle complicated permissions with low admin burden. Enterprise users can store, find, and distribute assets quickly and easily. To learn more about how our digital asset management solution caters to enterprise businesses, schedule a demo with our team.
#1: Ingestion and Implementation Time
One of the biggest concerns with enterprise digital asset management software is the adoption of the DAM within the company. Ingesting digital files and training users on the software's ins and outs takes time and resources — even more so when your company has thousands of media assets and hundreds of employees. This time can go to waste if assets aren't uploaded in an organized format or employees don't use the DAM once you're up and running.
When comparing DAM solutions, we recommend asking questions about the ingestion and implementation process.
Is the customer experience team able to assist with ingestion?
How long does uploading assets usually take?
How long, on average, does it take employees to learn and start using the software?
How much training will employees need to understand and use the DAM efficiently?
Can the DAM accommodate global users with different permission levels accessing your digital assets?
How Brandfolder Approaches DAM Implementation
At Brandfolder, we offer a range of onboarding and support options so users can choose the level of help they need from our team. We're available to assist through the entire ingestion process so assets are uploaded in an organized fashion. With our team's assistance, ingesting all of your brand's digital media files typically takes less than two months. In addition, we use machine learning to streamline ingestion and organization further by detecting and merging duplicate files and optimizing asset metadata tagging.
Another benefit to our digital asset management system is its intuitive interface. Assets are organized in a flat structure (no folders within folders within folders that you have to navigate by memory). Searching for assets takes only seconds, thanks to our smart search functionality and advanced filters. Using Brandfolder requires little to no training, but our team offers onboarding and support options to ensure that each user can get the most out of Brandfolder.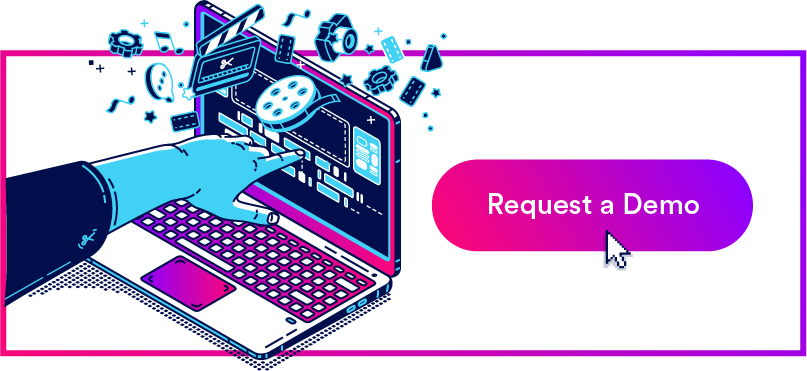 #2: Ability to Maintain Brand Integrity Amongst Multinational Orgs & Franchisees
Ensuring all parties have the right assets at the right time is key. Outdated assets, duplicate files, and incorrect or off-brand marketing assets pose a threat to your brand's reputation and tarnish the user experience. We suggest choosing a DAM platform with features to drive brand consistency, such as:
Brand Guidelines - Establish rules for how, when, and where assets can be used, so marketers, sales teams, franchisees, and all relevant stakeholders use branded assets correctly.
Rights Management - Control who views and downloads your digital content through advanced permissions, brand portals, asset availability and expiration dates, watermarking, and asset download requests.
Version Control - View version history and collaborate on asset updates in real-time to ensure users have access to the most up-to-date versions of your files.
Templating Tools - Templates allow users around the globe to repurpose localized content (in a variety of languages) with locked design elements to ensure brand integrity.
If your brand spans internationally, it's also important to know your digital asset management system can perform at a global level. Multi-language accessibility, fast uploading and downloading speeds, and smooth, consistent software performance are necessary for multinational teams to leverage their DAMs efficiently.
How Brandfolder Preserves Brand Integrity
Brandfolder comes with all of these capabilities and more, including multi-language enabled UI, regional portals, collaborative workflow capabilities, and international templates. That way, teams can maintain brand consistency regardless of the number of users accessing and using their branded content. Plus, Brandfolder uses multi-protocol label switching so users can stay securely connected to our software and enjoy fast upload and downloading speeds no matter where they're located.
#3: Data Security
Data and asset security should also stay top of mind when comparing digital asset management solutions. Data breaches and compromised accounts happen, and trusting cloud-based SaaS solutions to keep all of your brand's digital files secure and private can, understandably, feel risky. Fortunately, many DAM providers have stringent security and confidentiality protocols in place to prevent outsiders from accessing and stealing your digital files.
When judging the security of different DAM solutions, gather more details around their procedures for keeping assets secure and preventing data loss. If a brand is not SOC 2 Type 2 compliant or does not conduct regular security audits, you may want to consider another digital asset management tool.
How Brandfolder Handles Security
Brandfolder is built with multiple levels of security to protect and back up your digital files. Our software is SOC 2 Type 2 compliant, meaning our security practices have been verified trustworthy by a third party. Brandfolder is also secured with SHA256 with RSA signed certificates and encrypted using HTTPS for further protection from data leaks.
Between built-in intrusion protection, user permissions, SAML 2.0 SSO, and Stealth Mode settings, account hijacking is virtually a non-issue, and we have disaster recovery procedures in place if your assets ever are compromised.
#4: Features to Store Product Images & Information for Large Retailers
Companies with numerous franchisees, eCommerce brands with various distributors, and large retailers with expansive social media, sales, and marketing teams understand the challenge that comes with organizing all relevant product information — including photos, videos, and brochures — in one accessible place. Storing information in individual folders can get messy, and as a result, outdated marketing materials and product information can end up in your customers' hands.
Digital asset management software that stores all pertinent product information in one place mitigates these concerns, as it guarantees users searching one asset for a particular product or service can also access all other related assets and information.
Storing Assets in Brandfolder
Brandfolder offers multiple ways to stack related assets. For starters, users can attach product assets in an Asset Container. This feature allows users to merge all related product images, documents, videos, brochures, etc. When one asset is selected, users can also view and download any complementary assets within the overview window. These Asset Containers also allow users to include "dos and don'ts" on how to use the assets so all parties are selling your products and services in the same way.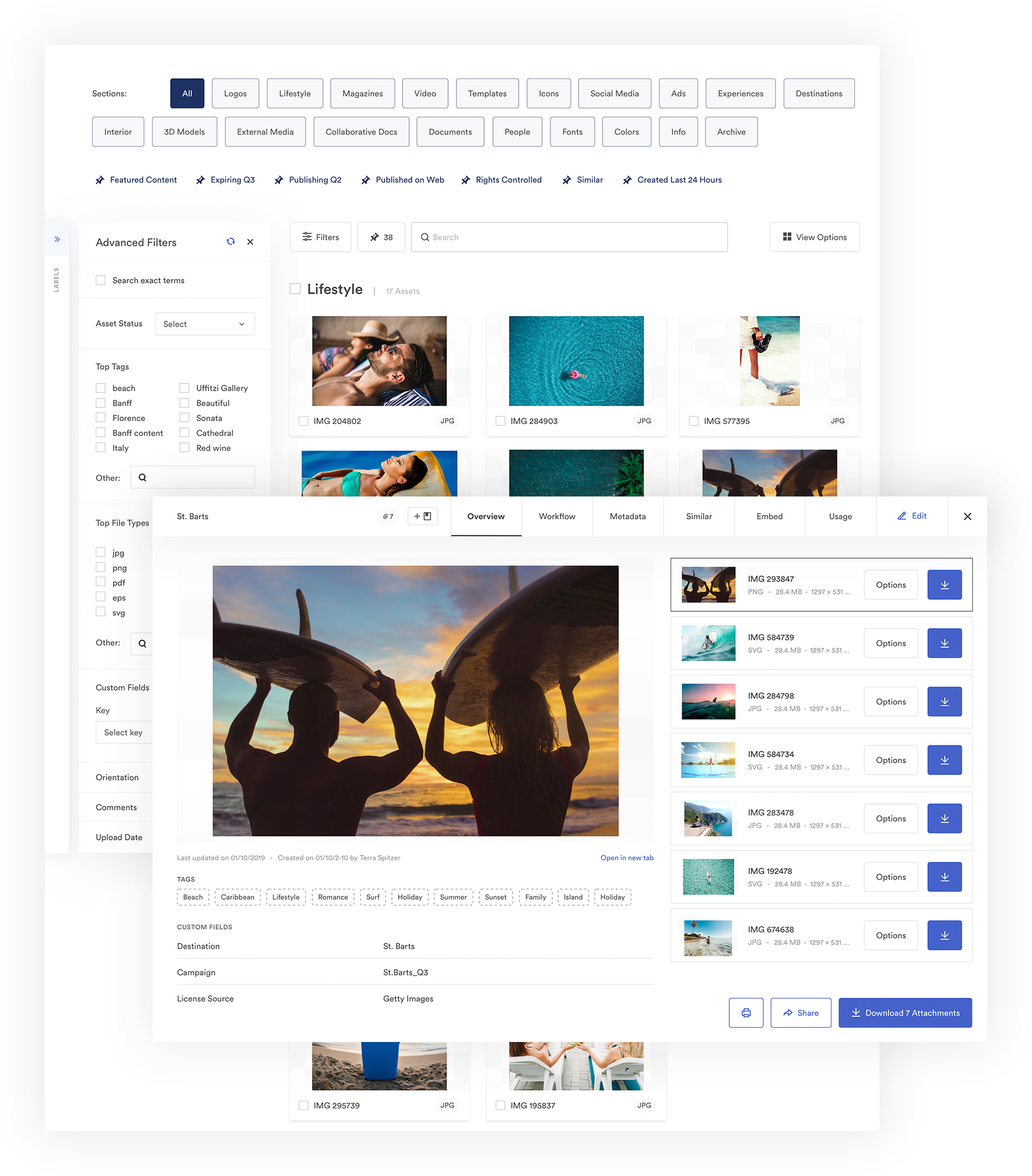 Users can also create customizable asset collections and portals to store all branded content in one central location. Collections are groups of related assets, and portals allow teams to organize assets and information for a particular group of users in a DAM subset. Using advanced permissions, admins can control who has access to these collections and portals so assets are always shared with the appropriate users.
#5: Robust Integrations & Innovations
When talking with enterprise clients, we've found that many users want a DAM that does more than just manage digital assets. Users want a DAM that serves as an overall "brand management tool" by integrating with project management and content management systems, content creation tools like Adobe Creative Cloud, and other martech and media management systems.
Usually, you can view every digital asset management tools' pre-built integration options right on their website, so you can easily compare integration options from DAM to DAM. Most DAMs integrate with 50+ other applications, but the applications they integrate with can vary, so we recommend making a list of the tools you want your DAM to sync with to reference while weighing your options. It's also worth noting that many DAMs are built with open APIs, so users can connect any software they choose to sync with their digital asset management solution.
Additionally, enterprise-sized businesses should think about how they expect their digital asset management system to evolve as their company grows and needs change. Are software updates released often? Are new features and functionality on the horizon? How easy is it to update software versions?
Stagnant software that's never improved upon won't adapt to larger companies' needs and software that's difficult to update leads to "tech debt" and IT burden. When shopping, check to see how often software updates are released and ask questions about the updating process.
Brandfolder Integrations
We offer dozens of integrations and a public API. We're constantly updating our software to make organizing, managing, and distributing assets easier. Our DAM system runs on one version, meaning as updates are made there is no confusion as to when and how improvements will impact your teams.
Evaluating Enterprise DAM Software Options
Beyond a DAM's core features, storage space, number of users, and pricing, enterprise users need to consider the above criteria to ensure they're choosing a digital asset management solution that can work for their specific needs.
When you're searching for solutions, remember to look for options that…
Are rated as "user-friendly" and easy to use
Allow for global scalability and accommodate users from all over the world
Are built with features to improve brand consistency
Are SOC 2 Type 2 compliant
Integrate with numerous other brand management tools to streamline all DAM processes
Many of our clients say they chose Brandfolder over other enterprise DAM software options because of their overall experience with our brand. Our customer experience team is one of the best in the digital asset management industry; we're hands-on during the onboarding process and available 24/7 to answer questions and offer support when needed.
Another perk enterprise users love? Our free guest seats. Adding guest seats can quickly increase the price of a DAM, but we keep our prices lower by allowing enterprise businesses to add as many guest seats as they need with no extra charge.
Many enterprise brands also like how customizable our software is — during onboarding, users can pick and choose the integrations and add-ons they need and forego the features they don't. To see a demo of our software and determine if it's the right DAM for your enterprise business, get in touch with our team here.