You can use cloud storage tools like Google Drive and DropBox to organize digital files for a time, but as your asset library and digital activity grow, you'll eventually:
End up with assets stored in different places
Find duplicate and outdated digital assets cluttering your library
Spend way too much time searching for assets (if you ever find them)
Have trouble keeping track of how/where files are being used
You can try to cobble together a process to keep your digital asset library better organized, but realistically, that only works for a little while before your library is a mess again and teams are going rogue.
Once you've accumulated so many files that you need to search Google for tips on how to organize them, your best bet is to move your assets to a more advanced file storage solution with features that automatically keep your asset library organized, up-to-date, and accessible to your teams — a.k.a. digital asset management system.
True digital asset management (DAM) softwares house all of your brand assets regardless of how many assets you have to manage. On top of organization, DAMs make updating, sharing, and publishing your digital content easier and help your teams work more efficiently.
Despite the many benefits of DAMs, some teams can have reservations about abandoning their old storage solution and updating to something new. We get it: When you have 30 years of digital files stored away, moving everything to a whole new system can feel like an impossible task.
So we built Brandfolder and our digital asset management solution to help you with the entire process: Our team walks you through mapping out asset organization, cleaning up your current library, and preparing to make the transition, then Brandfolder keeps your asset library updated and clean as it continues to grow. Brandfolder accepts all file types, including video and audio files, so you can house all of your brand's content in one place and don't have to use multiple storage solutions.
Since there's no standard or "one size fits all" approach to file organization and digital asset management, we put together this post explaining the process of organizing digital assets in Brandfolder and how we help you tailor your DAM to your (and your team members') unique needs.
Specifically, we'll talk about:
Prioritizing the assets you want to migrate over
Mapping out your new asset library and cleaning up your old one
Kicking off the onboarding and ingestion process
Keeping your asset library organized and updated as you acquire more digital assets
Sharing assets and making sure all of your users can access the assets they need
Digital asset management systems have features to keep assets organized so all of your teams and stakeholders can find and use the files they need. Plus, Brandfolder takes organization a step further by automatically updating your asset library so it's always current. To get a whole tour of our DAM system, contact our team for a free demo!
But first, we'll define what are digital assets.
---
What are Digital Assets?
An example of a digital asset is an image, audio file, presentation, video, and any other branded content or media that often have usage rights or licensing requirements. These files may be in several formats, such as PNGs or JPGs for images; WAVs and BWFs for audio files; PSDs and TIFFs for design files; PDFs and Word docs; and more. In any case, these files increase exponentially over time, so a DAM platform should be able to support a wide range of media file types (although not all of them do).
---
1. Prioritize the Assets Your Teams Need in the DAM
Before you can start the transition to digital asset management software and regain some organization within your asset library, you first have to assess its condition. This could be a simple task, or it might seem overwhelming.
If you have the time, then answering the questions below is a helpful exercise (and if you don't, we have a shortcut we'll talk about in a moment):
How many assets do you have?
Are your assets spread across multiple storage drives/locations?
How many of your assets do your teams actually use and need?
What assets are shared on your site and across the web?
Do you spot a lot of duplicate or outdated assets cluttering your library?
You'll also want to think about the content lifecycle: Who creates, approves, distributes, and uses your assets?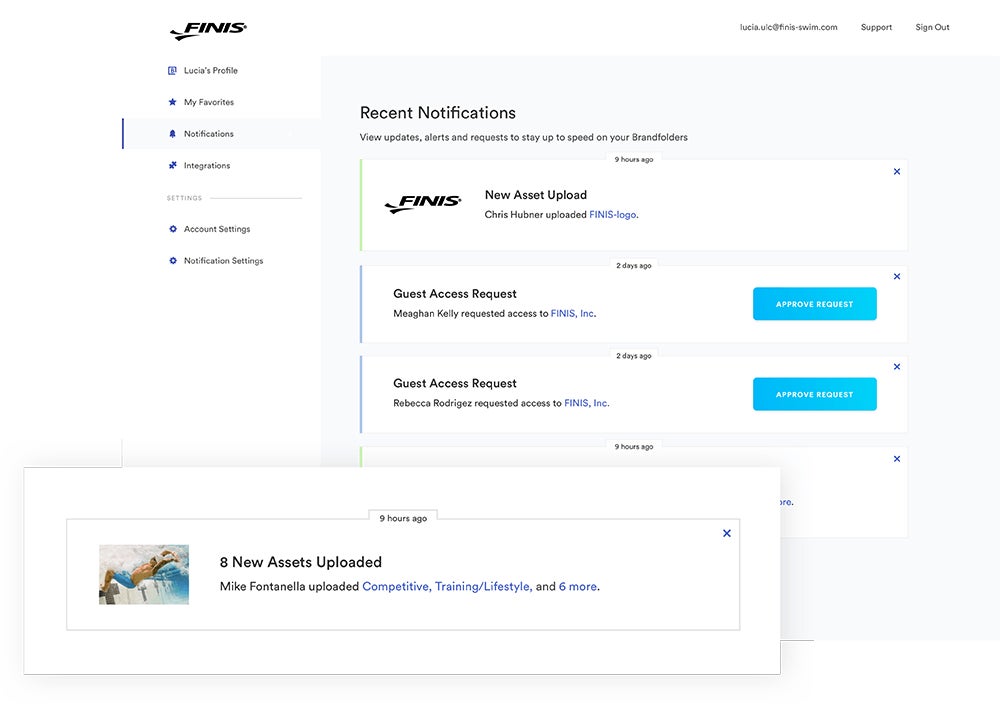 If you have an overwhelming amount of content that needs moved over into your DAM, prioritize the assets that are most relevant to your business for clean up and upload. We recommend starting with your current:
Sales decks
Marketing materials
Product images
Product documentation like spec sheets and brochures
Website images and other website content
Business cards
Email and newsletter headers
Adjust the list above based on your own teams and the materials they use most frequently. Don't use business cards? Don't include them on your list.
Then, put together a plan to work through the rest of your library over time. Most teams break their asset library into small, workable batches so they only have to focus on tackling one batch of assets at a time.
There's no set time frame for how quickly you need to get assets moved over, so you can work at your own pace. That said, we aim for an average migration period of two months and provide guidance along the way to get your assets moved efficiently.
---
2. Map Out How You Want to Organize Assets & Clean Up Your Asset Library
After determining your priority assets — or which assets you want to move to Brandfolder during the first round of uploading — it's time to start the clean up process.
This step has three parts:
Put together an asset taxonomy outline, or a high-level structure of how you want to organize your assets. This step comes first because the rest of the clean up efforts should align with the outline you complete at this stage.
Comb through your assets and delete everything you no longer need and are OK parting with (i.e., old or outdated assets, duplicate assets)
Add file names to folders and assets since those get pushed into Brandfolder as metadata tags and improve searchability
Note: If you don't want to necessarily delete old assets during this step, you can leave them in your library and merge them with the current versions of those assets during ingestion. This makes it so these "extra" assets are still in your library and accessible (in the event that you ever need them), but they're not causing clutter or confusion.
Since steps two and three in this list are mostly self explanatory, we'll focus here on step one: Mapping your asset library in a DAM platform.
Even though this task might seem really daunting — especially if your library is a mess — remember that your library didn't start cluttered: Most teams start with some sort of organization to their asset library. So in some cases, most of the pre-ingestion work is just organizing assets to reflect the folder structure that was mapped out in the past.
However, if you're aiming for an entire overhaul and want to completely reorganize your digital assets, evaluate your current brand/business and try recategorizing your assets in a few buckets (i.e., types of campaigns, products, teams, asset type, funnel stage, etc.) that make sense for your teams/end users moving forward.
For example, many retail or ecommerce brands will organize their asset library by product category: A kitchenware brand may create one main folder for "Dishware" and subfolders for "Glassware," "Plates," "Bowls," "Cutlery," "Serving Platters," so on and so forth. Service businesses often organize assets by the services they offer or the places they service.
Don't stress over this step: It's part of our process to meet with clients ahead of ingestion and strategize mapping their content. That way, they aren't left to tackle this on their own, clean up goes smoothly, and assets are moved into Brandfolder in the most organized way possible. During this pre-ingestion meeting, we:
Cover best practices for organizing assets
Provide recommendations based on your specific use case
Assist with translating your mapped out structure in Brandfolder
Set up automation rules so Brandfolder can sort your assets as they're pushed into the DAM platform
Map out your metadata taxonomy so Brandfolder can add metadata and tags to your assets for you
The clean up process can take a little as one week or as long as a couple of weeks, depending on how much content you're working with and how many teammates you have available to assist. Doing this clean up right pays off in the long run because it shaves weeks off the onboarding process and allows our platform to organize assets automatically once they're uploaded into Brandfolder.
---
3. Move All of Your Digital Content to Brandfolder
Once assets are mapped and your library is looking a little bit more put together, we're ready to start moving assets into Brandfolder.
At this point, we'll help you connect your old storage drive with our DAM solution so Brandfolder can pull all of your assets over. (If you're not already using a storage drive, you can import assets from your computer or use one of our other uploading options.)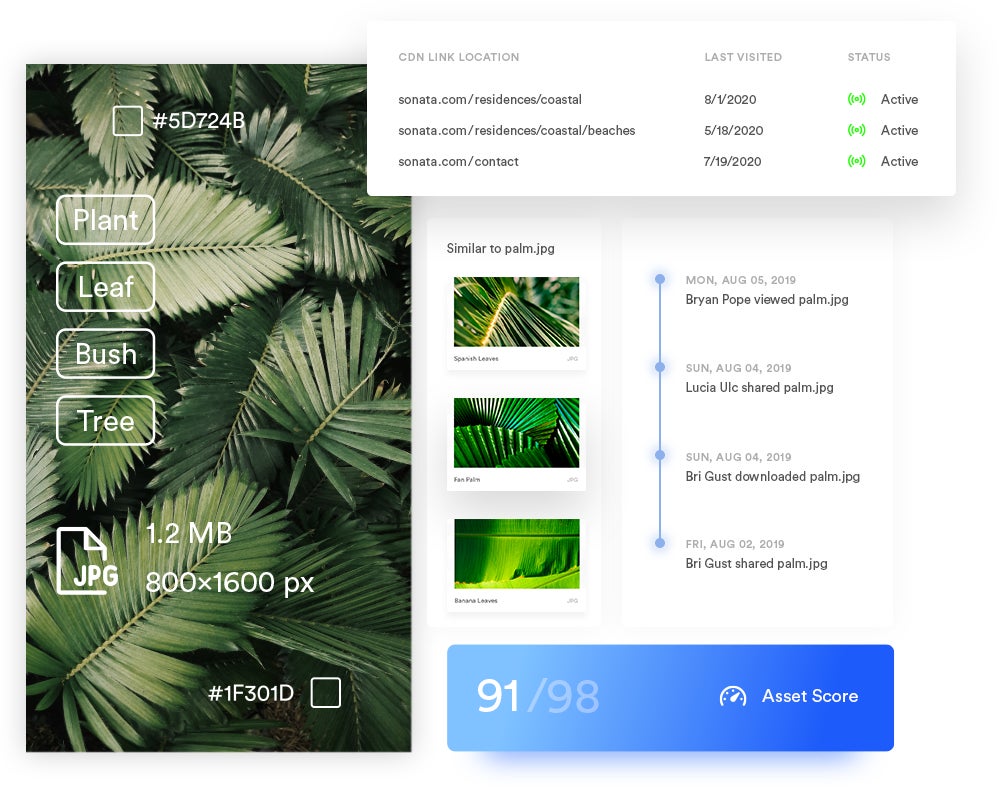 As Brandfolder pulls your assets, it auto-sorts them and assigns metadata and tags based on the asset structure and metadata taxonomy you set during the pre-ingestion meeting. No extra organization needed.
After assets are moved to Brandfolder, they're organized in Brandfolders and Collections.
Brandfolders hold all of the assets related to a particular brand. They act as your brand's main folder of assets. If you manage assets for more than one brand, you'll make more than one Brandfolder.
Collections live within Brandfolders and allow users to organize groups of related assets together. These would be the folders within folders, or subfolders.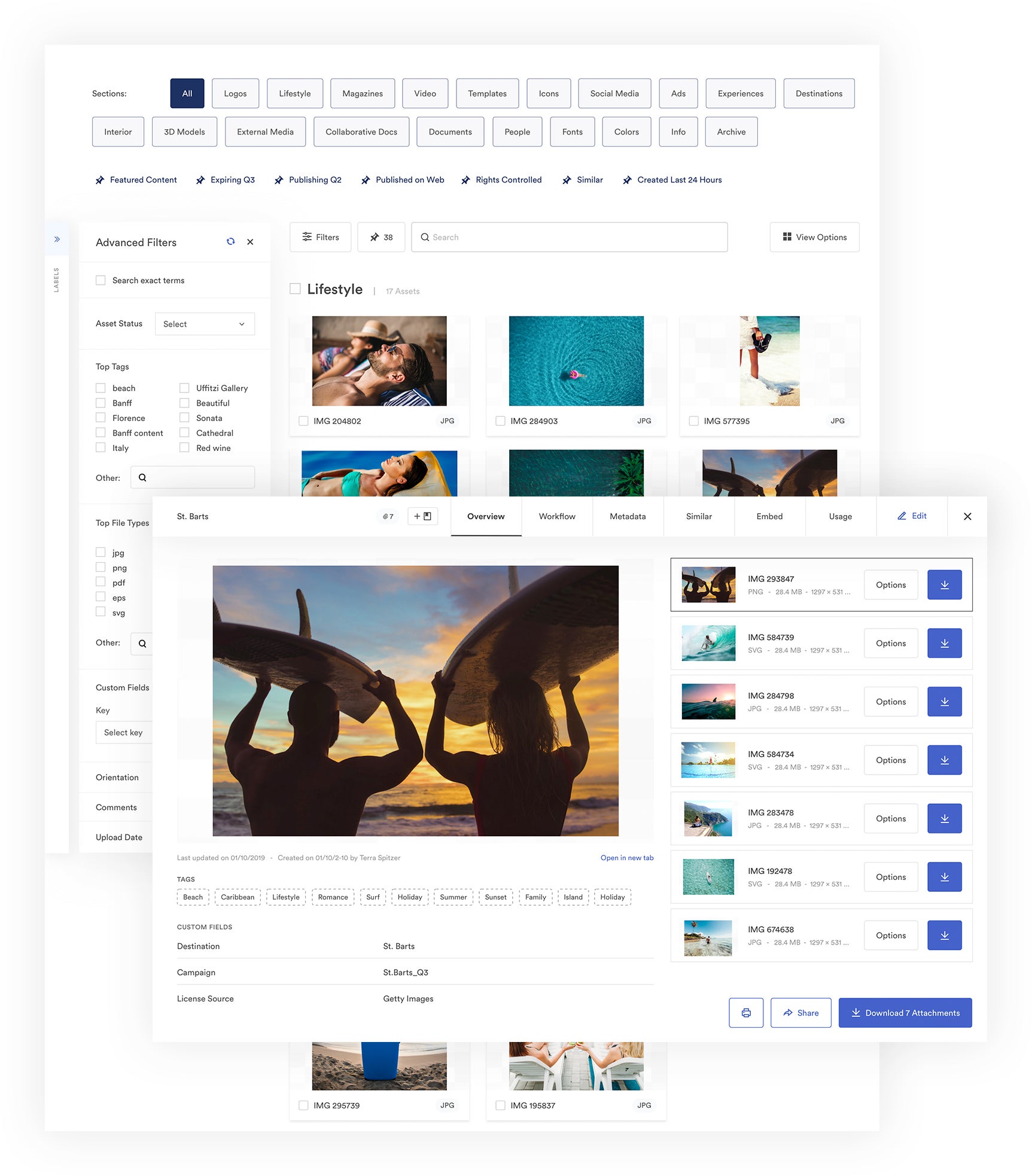 Note: One of the biggest benefits of using a DAM is faster search. So regardless of how you organize assets, the search functionality can find what you need quickly and easily. Instead of requiring you to go digging through Collections — like the typical folder/subfolder search experience — our search scans through your entire asset library, analyzing the content of your assets, to pull everything relevant to your search.
Moving your priority assets over to Brandfolder shouldn't take any longer than a week or so. Our team is hands-on not only during the initial upload, but also while you move the rest of your assets (otherwise known as "bulk migration") and throughout adoption.
We even let you build your own implementation plan with our customer experience team, so you can choose exactly how much help you need from us throughout adoption (and you can adjust this plan at any time).
Take a look at this breakdown of our onboarding and support packages.
Our support packages and customer experience are designed with long-term retention in mind — we know transitioning to a DAM is no simple feat. Challenges with both asset organization and widespread adoption are why many teams fail to fully transition to a DAM, but we have a 98% retention rate because we double-down on our support during the onboarding process and never leave our customers hanging.
---
4. Maintain an Organized File Library as You Acquire New Assets
After you move all of your files into your digital asset management system, Brandfolder has several features to keep your asset library organized as time passes, such as:
Review and approval processes for new asset uploads
You can control who has the ability to upload new assets and require approvals for new assets before they can be downloaded or used. We let you decide when you want to put these review processes in place (i.e., for new asset uploads, for template reviews, for asset updates).
Duplicate file detection
To prevent duplicate digital files from creeping back into your asset library, Brandfolder is built with duplicate asset detection, meaning it scans all new assets to see if they match any asset that currently lives in Brandfolder. If a dupe is detected, Brandfolder will prompt the uploader to either delete the dupe or merge it with the current file.
Branded templates
Facilitate new content creation with pre-approved branded templates. Create the templates in Adobe's InDesign, push them directly to Brandfolder, and control exactly how they're customized. Then, your users can use and reuse these templates to make fresh collateral that's on-brand and ready for publishing. (You can choose to review or not review these based on your preference.)
Guest upload links
Receive assets from freelancers and external creative teams via share link. Choose exactly where in Brandfolder you want the asset(s) stored, and the asset will automatically upload to the right Brandfolder or Collection when that link is used to share.
Note: These features also improve brand consistency and version control since they ensure your users are always accessing and using the right versions of your assets.
---
5. Make Sure All of Your Teams Can Find and Use the Assets They Need
DAMs improve the accessibility of your assets (with whom you share your assets), and Brandfolder streamlines asset sharing (with both internal teams and external collaborators).
You can share digital assets with other co-workers or team members (a.k.a. Other Brandfolder users) with user-based permissions. Just add them to the Brandfolder, Collection, or specific assets you want to share, and they'll be able to access them whenever they need.
Another convenient way to share assets in Brandfolder? Brand Portals.
Brand Portals are groups of assets for specific end users. They act as a subset of your asset library and let your different teams view only the assets that are most relevant to their roles/tasks.
When creating Brand Portals, we've seen businesses make portals for:
Internal teams — Sales teams, marketers, HR
Regional groups — Global brands who have teams in different parts of the world
Both internal and external teams — Brands who work with external collaborators like distributors and retailers and need separate portals for guests
Different collateral types such as logos and colors, product images, social media and marketing assets, video assets, etc.
However, you can design Brand Portals for whoever you want since they're completely customizable.
We should also mention: Although Portals allow you to group relevant assets for end users in one spot, your users can also choose to "view all assets they have access to" while browsing their Portal. With a click, they're directed back to the main asset library where they can view all of the files you've shared with them.
If you want to share assets with other stakeholders or non-Brandfolder users, you can send a custom share link. When distributing assets via share link, you 1) have better control over how assets are shared, and 2) can monitor asset sharing.
For example, with share links you have a number of options:
See which assets are currently being shared (and with whom)
Receive a notification when shared assets are viewed or downloaded
Add watermarks to assets or disable asset downloading, so end users can view your assets but not use them
Give the link an expiration date so assets are only accessible to guest users for a specific time
Require an email address to open the share link and view assets (this lets you track who's actually receiving your assets)
You can also give share links a custom name and add or remove assets to share links once they've been sent.
Note: We provide free unlimited guest seats, so you can send (and receive) assets with guest users without share limits or extra fees. This is especially beneficial for teams who frequently work with external collaborators or businesses who need an enterprise digital asset management system.
---
Try Brandfolder to Organize Your Asset Library and Manage All of Your Team's Digital Content
Transitioning to a digital asset management tool that's tailored for your teams is the best way to maintain long-term asset organization and regulate asset usage since they have features to control how assets are organized, shared, viewed, downloaded, updated, and more. DAMs also connect with the other tools your teams use so they can support everybody who's accessing your assets.
To learn more about digital asset management and see whether or not a DAM is right for you, get in touch with our team for a free demo of Brandfolder.