6 Best Alternatives to Widen Collective: Buyer's Guide
Widen Collective is a digital asset management (DAM) and product information management (PIM) software designed specifically for medium and large businesses. Widen is often given consideration because it allows businesses to store all of their brand assets and product information in one central location — all of their different teams can find and access the information they need, any time they need it. Through its robust suite of tools, Widen also serves as a brand management and marketing resource management SaaS solution, too.
But for many organizations, it doesn't really make sense to pay the big bucks for a software that's as intricate as Widen's. Most of the teams we talk to who are transitioning to a DAM system from another cloud storage solution, like Google Drive or DropBox, don't need all of the extras Widen provides — and nobody wants to pay for features they don't need or use.
So we put together this buying guide with the pros and cons of Widen, as well as reviews of six other digital asset management software, so you can decide if Widen is the best software solution for your needs (or if there's a better option). In our post, we also take a closer look at Brandfolder and how our digital asset management solution stacks up against Widen.
Ready to do some comparison shopping? Read on or feel free to skip ahead to the section you're most interested in:
Pros and Cons of Widen's Software Solution
Brandfolder's Digital Asset Management System
Other Widen Collective Alternatives

If you want to learn more about how we keep your digital assets organized, easily searchable, and easily shareable, get in touch with our team for a free demo of Brandfolder.
Pros and Cons of Widen Collective
Throughout the years, we've spoken with many customers who transitioned from Widen to Brandfolder. We also spent hours catching up on the most recent customer reviews of Widen to understand what Widen's users like and dislike about the software.
Here are the pros and cons that stood out to us:
Pros
Customer reviews of Widen are mostly positive. Widen has a 4.4 star rating on Capterra.
Widen's customer support team is helpful and responsive — you can go to them with just about anything and they'll do their best to find a resolution for you. Many reviewers enjoy that Widen has a self-service portal for support queries and that they can reach out to Widen over email and chat instead of sitting on the phone.
Widen offers a very robust built-in feature set.
Widen is highly customizable through the use of integrations and Widen's open source API. Their customer service team will set up integrations for you, too.
Widen offers a "Widen University" knowledge base full of training videos to help teams learn how to use the software.
Cons:
Widen charges an extra annual fee if you want to use integrations and customize their software. They also charge a one-time fee to set up those integrations.
Despite the available "Widen University" training videos, users still say that watching through those videos and learning how to use the software is time-consuming and challenging. There are a lot of different features to learn and relatively little information on how to use those features. Learning the software will be a heavy burden on your team.
Reviewers have reported that setting up admin features is confusing and not user-friendly.
Widen's search functionality is described as "rigid" and reviewers say it can take a long time to find the assets or product information that you need.
Widen's reporting features are not very easy to use.
Sharing assets is cumbersome because Widen doesn't offer users the ability to create custom share links.
Why Do Users Switch From Widen?
When customers come to us after using Widen, it's typically because they're having a hard time with adoption: Though some of Widen's interface is intuitive, it's been described by customers as clunky. Some users have also told us that Widen's software can take awhile to load, so not everybody enjoys Widen's user experience. Couple that with how complex the software is to learn, and it's a perfect combination for problems with adoption, especially for a large enterprise.
One customer review of Widen noted: "It really takes a dedicated professional or team of professionals within an organization to make the most of the Widen platform, but there is so much potential with this tool that it is well worth it."
But troubles with adoption aren't uncommon. In fact, the number one reason teams experience "failure to launch" with DAM software is challenges with adoption — if you don't have the time or resources to train people on how to make the most of Widen, you'll need to find something that's easier to navigate.
That's why we designed all of Brandfolder's features to be extremely easy to use and provide customers with different onboarding support packages to assist during the adoption process. Because of our dedicated involvement during onboarding and training, we have a 99% retention rate amongst our customers.
In the next sections, we'll talk more about what you can accomplish with Brandfolder.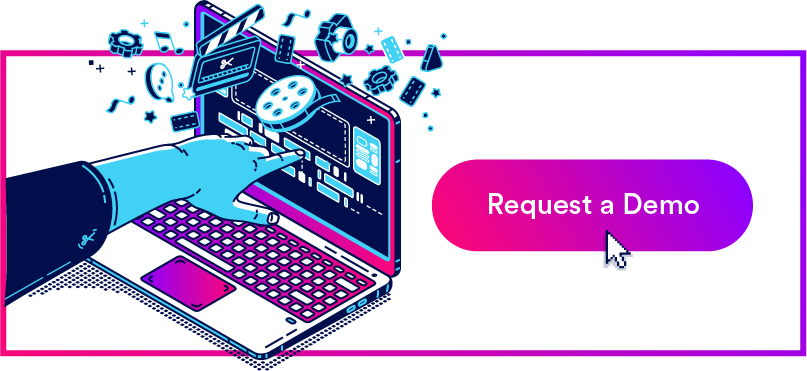 Brandfolder's Digital Asset Management Solution
Brandfolder is a versatile digital asset management solution built to adapt to your team's needs. While we offer a variety of features to appeal to enterprise teams, such as different Brand Portals for global team use and unlimited free guest seats, our software is also flexible enough to attract smaller businesses which don't have a huge budget for a DAM. We're rated 4.7 stars on Capterra and receive great customer reviews from businesses small and large.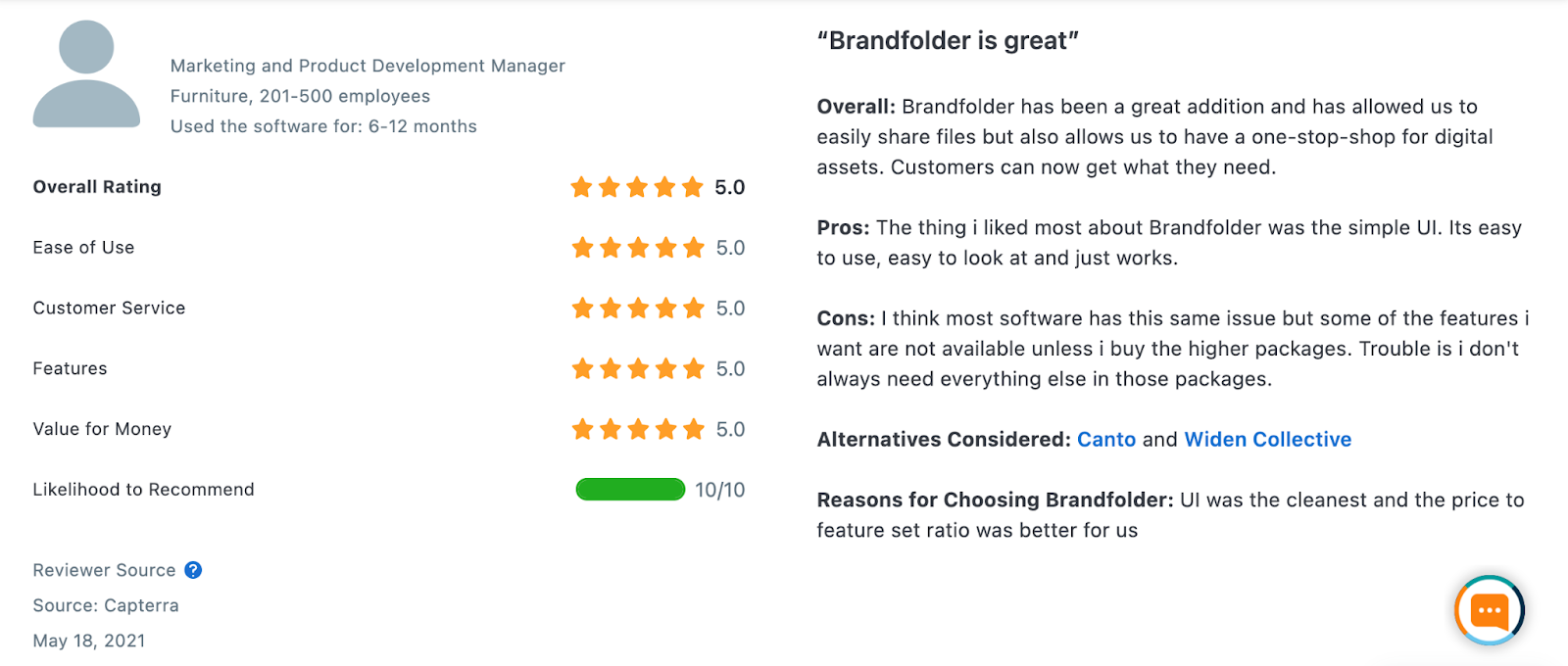 Here's what sets us apart from other DAM systems:
Adoption & Ease of Use
Brandfolder's customer service team has been voted one of the best in the DAM industry because we do the heavy lifting during the transition process — helping with everything from uploading and organizing assets to training teams to use our software — and offer round-the-clock support.
Our tiered support packages are perfect for teams who don't have the internal resources to allocate towards DAM training. We also allow teams to change up their support packages at any time. This way they can take advantage of our more hands-on support options while they're getting set up in our software, and then downgrade when they don't need as much help.
But perhaps the best thing about Brandfolder is that once everything is set up, the software isn't hard to learn. It can be rolled out to some users, like your sales teams, with minimal training. Admins and creatives may experience some learning curve with the software, but even in those cases, training takes a couple of hours vs. a couple of days.
Organizing & Searching Assets
Brandfolder has a clean interface. We neatly display asset thumbnails so users can easily scroll through their libraries (if scrolling is your preference… but it's super easy to search and find what you need; more on that later). We even auto-organize assets by asset type so you can view similar groups of assets while browsing.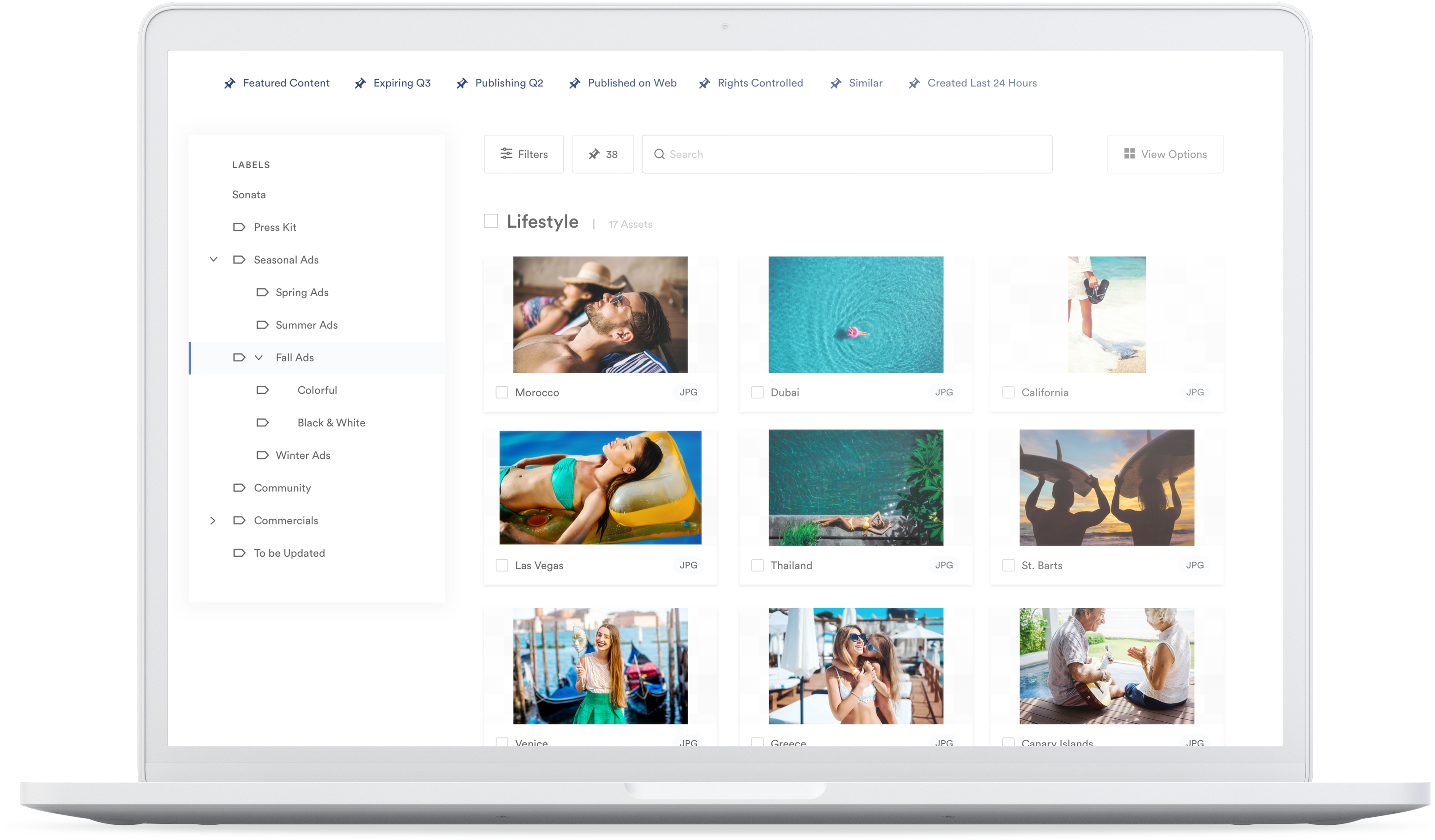 Let's talk more about how we organize assets for easier searching.
Brandfolders: Teams can store all assets related to a specific brand in one central repository. If you manage assets for more than one brand, you can create multiple Brandfolders to keep those assets separate. This is beneficial for marketers at an agency, for example, who have multiple clients and need to keep marketing content for each of those clients independently housed.
Collections: Collections live within Brandfolders and allow you to organize groups of related assets in one folder. For example, you can create Collections to organize brand logos, fonts, and colors, or create Collections to curate social media collateral for different platforms and campaigns.
Brand Portals: Brand Portals allow you to organize subsets of relevant assets for specific end user groups. Multinational brands really enjoy this feature because they can set up portals for their regional teams across the globe.
Even though users have different ways of organizing their assets in Brandfolder, our search is still quick and efficient because it operates on a flat structure. When you type a word or phrase into the search bar, our search feature analyzes your entire asset library so you don't have to go digging through a bunch of different folders and subfolders.
Our search also uses AI to analyze the actual content of your assets (i.e., product names, colors in photos, dialogue in videos) and pull all relevant results so you don't have to remember exact file names.
Asset Descriptions & Product Information
When uploading and organizing assets, admins can add detailed asset information, usage guidelines, and metadata for other users. (Our AI will even fill in metadata information with automated tagging for you to save you time.)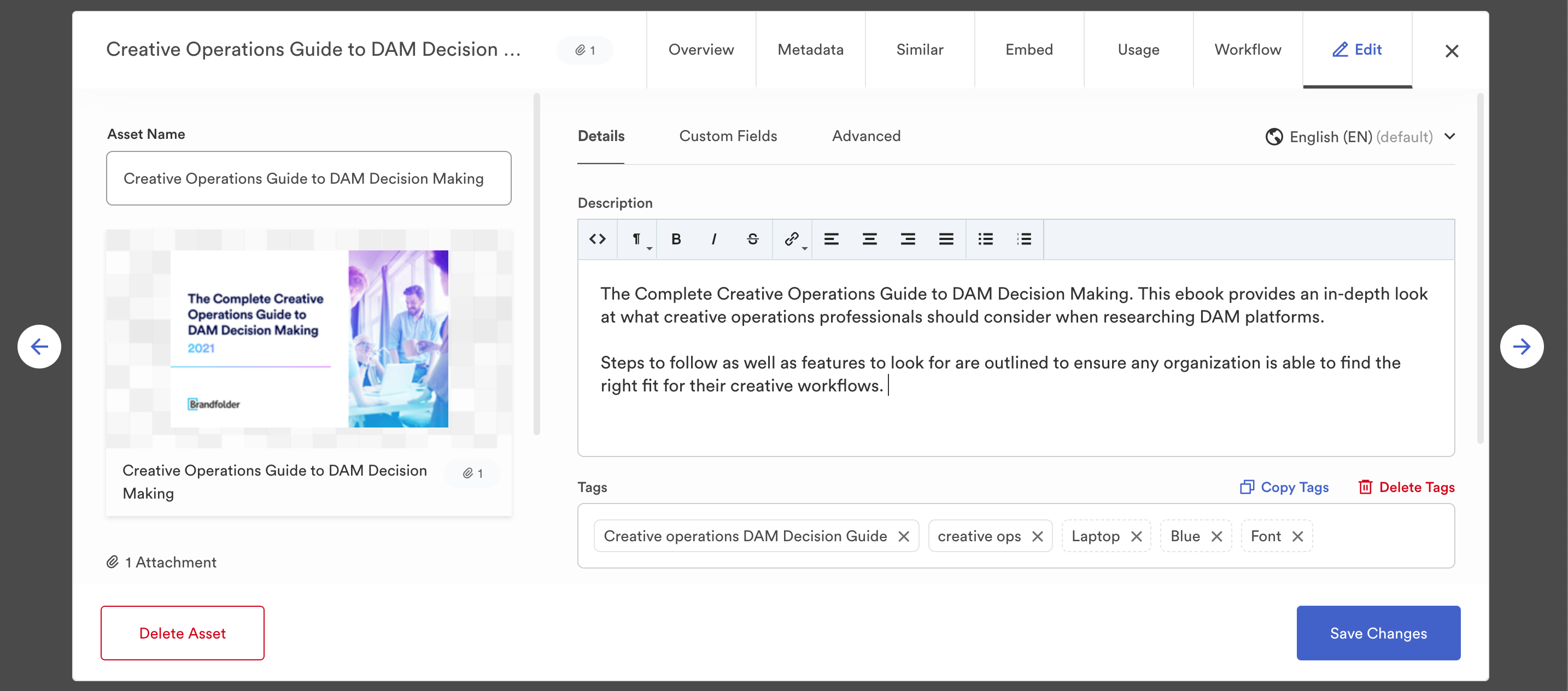 Adding descriptions and details about your assets has two benefits: 1) it helps our search discover assets, and 2) it is useful for end users who need to know more about the asset and how/where it can be used.
If you want to use Brandfolder as a product information solution, you can add all relevant product information — like product descriptions for eCommerce sites and SKU numbers — in the asset's description, and that information will follow the asset when it's shared with both internal or external users.
Asset Sharing
To improve collaboration, we give our users with a few options to share and receive digital assets:
Use permissions to add other team members to Brandfolders, Collections, and Portals
Create custom share links to share assets with external users
Send asset request links to freelancers or outside creatives to consolidate all new assets in Brandfolder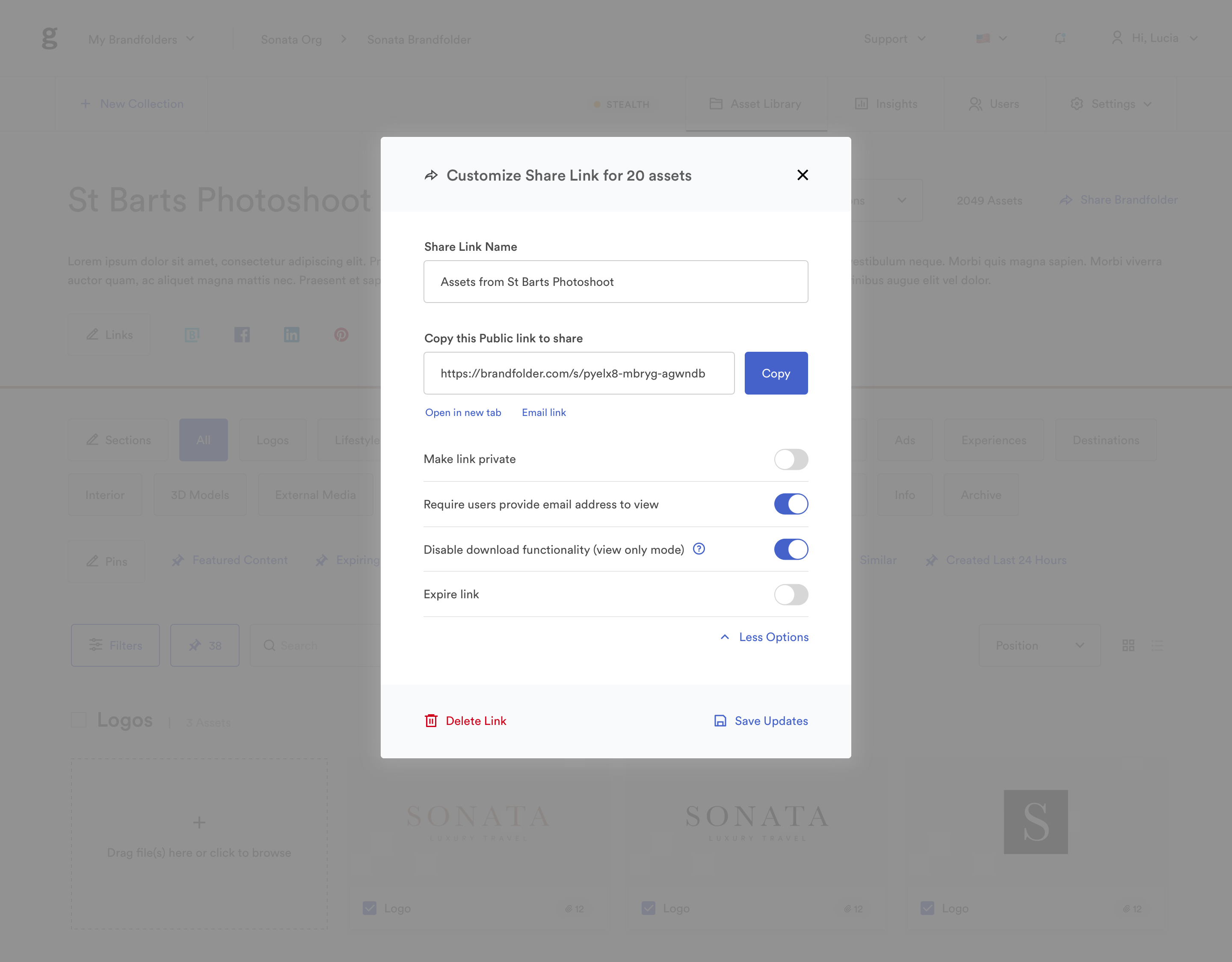 We also provide users with unlimited free guest seats, so you can send and receive assets with non-Brandfolder users and not worry about extra fees.
Collaborative Workflow Features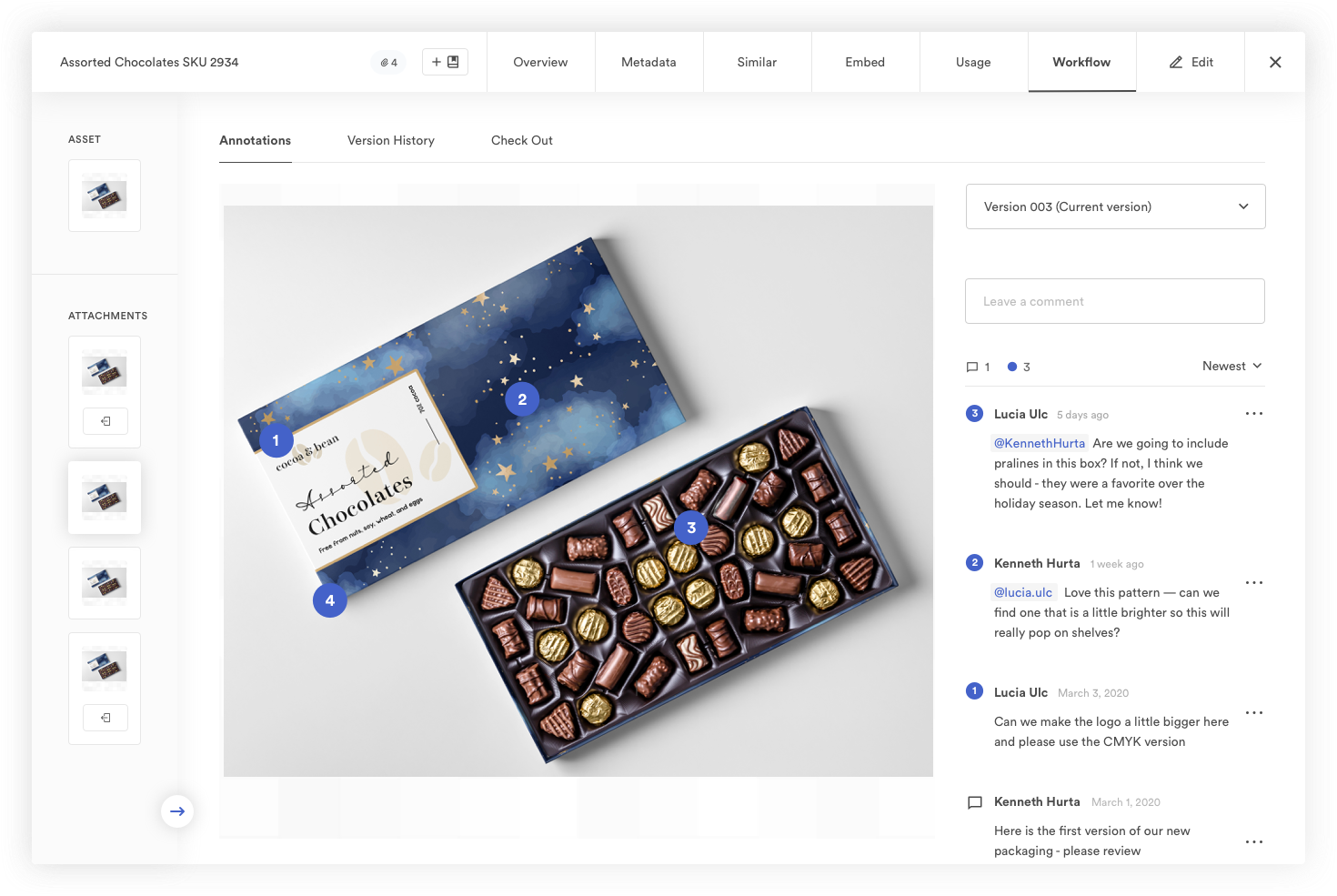 We also allow users to collaborate with other team members right in Brandfolder. Within each asset is a dedicated Workflow tab. Within this tab, users are able to move projects along in a number of ways:
Comment back and forth with other users in real-time
Check assets out for updating and push them back into Brandfolder when edits are complete
View comment history and version history to improve version control and keep everybody on the same page
Integrations
Brandfolder integrates with a variety of tools so teams in different industries can tailor our software to fit their needs. Brandfolder has an open source API so developers can customize our software even more.
Some of the tools we integrate with include:
CRM Systems — Salesforce
Workflow Management Systems — SmartSheet and Wrike
Creative Tools — Adobe's Photoshop, InDesign, and Premiere Pro
Content Management Systems — WordPress and Contentful
Email Marketing Software — MailChimp
Project Management Tools — SmartSheet and Asana
Google Workspace Applications
Microsoft Office & Microsoft 365
Pricing
Brandfolder's pricing structure is what makes us so flexible for different business sizes. While Widen's pricing is influenced by storage space and number of users, their software reportedly starts at 20K, with integrations and guest users as added costs. Reviews about Widen's pricing say that the long-term cost of using Widen is higher than just investing in a customizable DAM that doesn't have all of Widen's out-of-the-box advanced functionality.
Brandfolder's pricing is entirely dependent on storage space, number of admins, and support packages. We do offer some add-ons — like CDN links to automate brand management tasks and templating tools for easier content creation — if you want to dabble with extra features. However, we don't charge extra for integrations and we offer unlimited free guest seats.
To learn more about Brandfolder's features, customization, and pricing, sign up for a free demo with our team.
5 Other Widen Collective Competitors
Brandfolder isn't the only other digital asset management tool customers consider when switching from Widen. Here are some other competitors our customers have mentioned before choosing Brandfolder:
Image Relay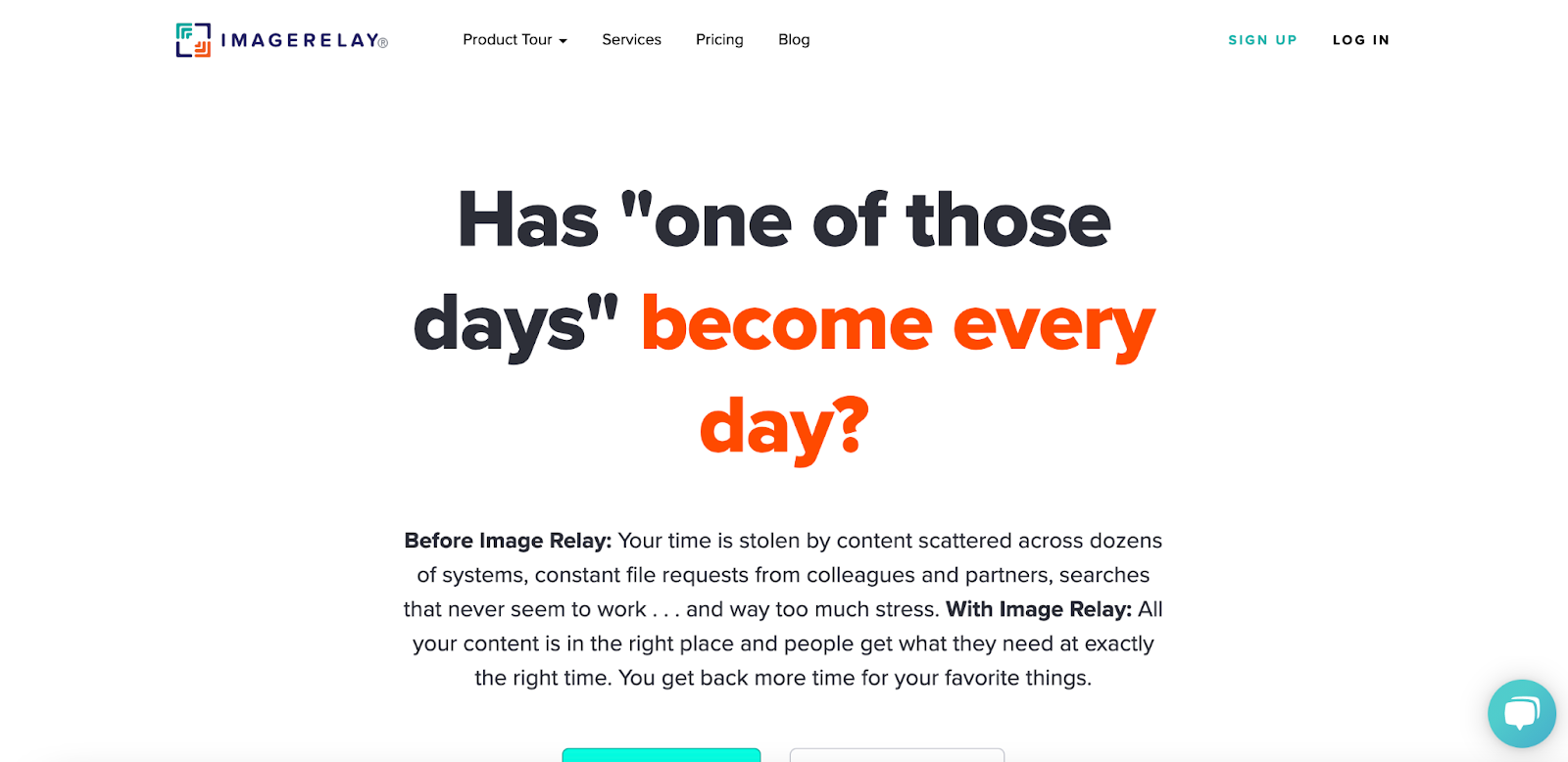 Pros: Image Relay is a DAM solution that's both easy to use and affordable, so it works for most team sizes. They offer a variety of tools to keep branded assets organized, and many reviewers say it has a clean, modern, and user-friendly interface.
Cons: Image Relay offers the basics in terms of asset management. It's easy to organize assets, but some reviewers have said it's difficult to search your entire asset library at once. Reviewers have also voiced concerns about sharing assets with non-Image Relay users and the software's lack of integrations/customization.
Bynder WebDAM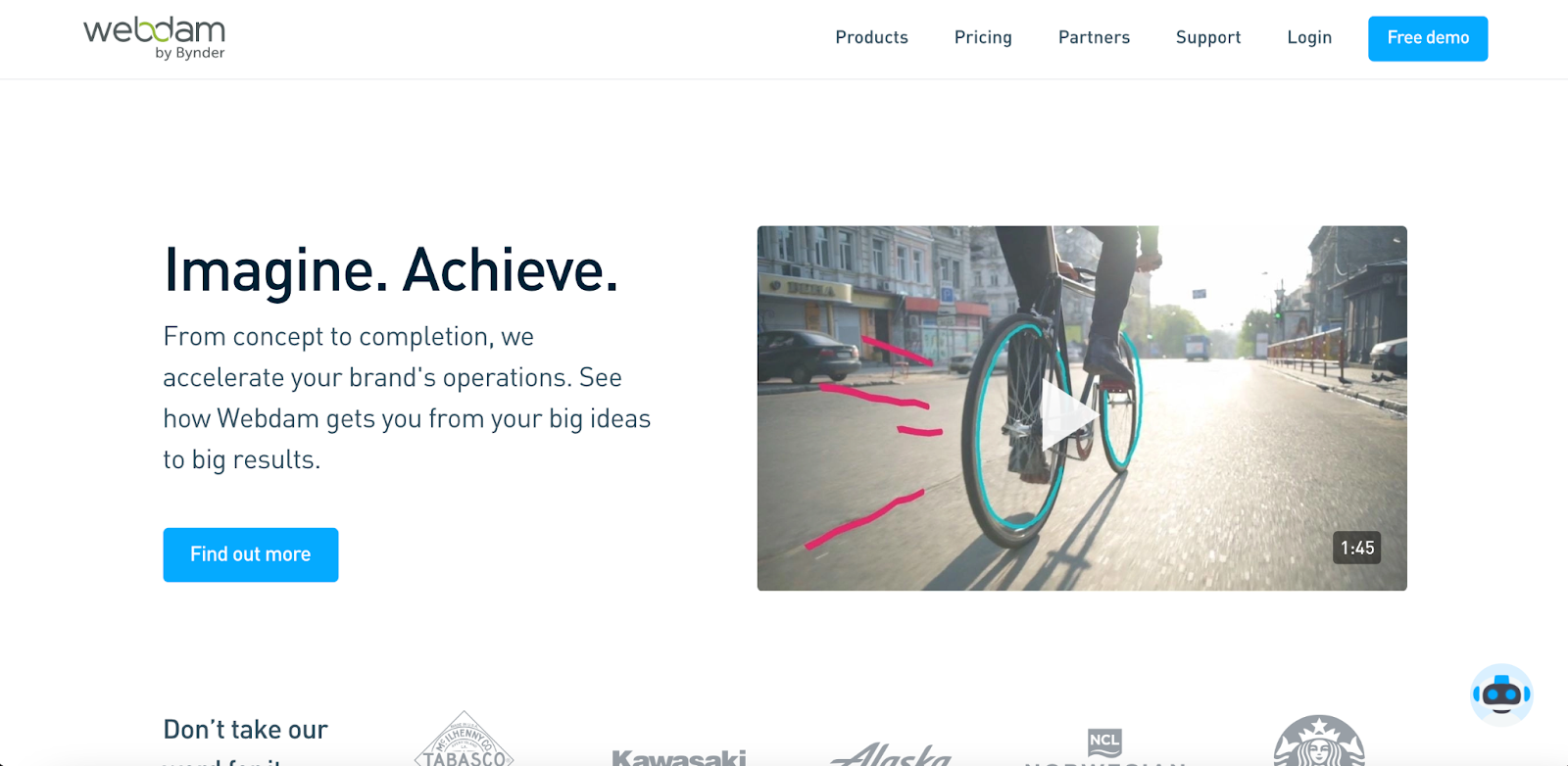 Pros: WebDAM is a popular DAM software that was recently acquired by Bynder (a leading digital asset management brand). Bynder's WebDAM is designed to help creatives and marketers in enterprise businesses work in sync. It's packed with features to organize assets and automate processes like adding metadata and tags, and it also has numerous collaborative tools to improve workflows.
Cons: WebDAM works best when paired with Workstream and Brand Connect — its complementary software solutions — and investing in all three software can be costly. It also gets a lot of mixed reviews. Some reviewers love the software, while others aren't very satisfied with it. Some cons reviewers mentioned were slow load times, confusing features, and trouble with adoption.
Canto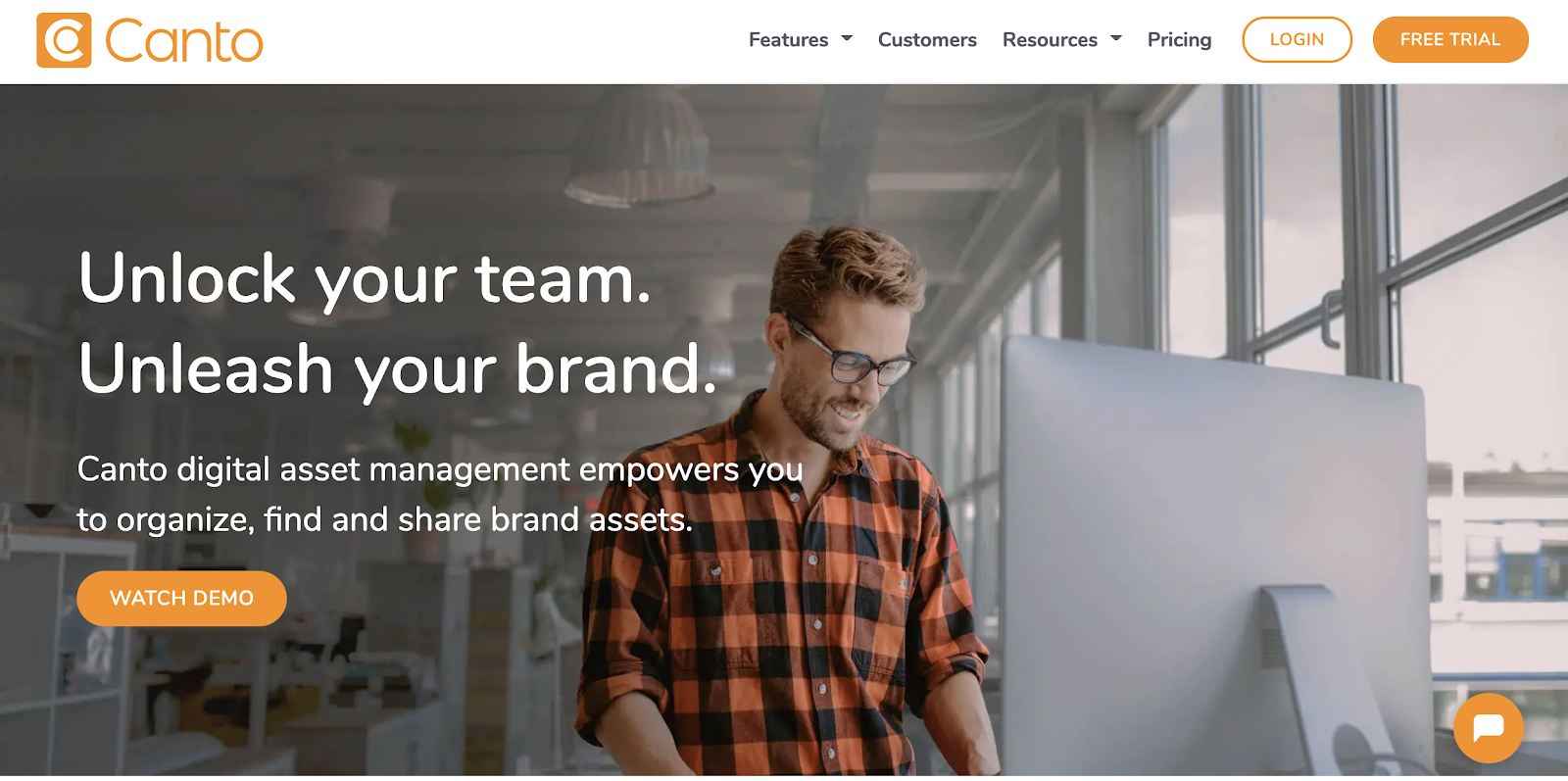 Pros: Canto is one of the only digital asset management brands to offer cloud-based, on-premise, and hybrid software solutions, so it's a good option for teams who need self-hosted digital asset management software. It's been described as an "entry-level" DAM because the software is pretty budget-friendly and its feature set isn't overly robust, but Canto has added more features for enterprise users.
Cons: Canto was one of the first DAM software options to hit the market, and although they've made strides with updating their software, their interface is still described as outdated and clunky. It's also worth mentioning that Canto has an affordable sticker price, but they charge extra for every guest seat. So if you intend on using Canto to share assets with external users, the cost of using Canto can get pricey.
Nuxeo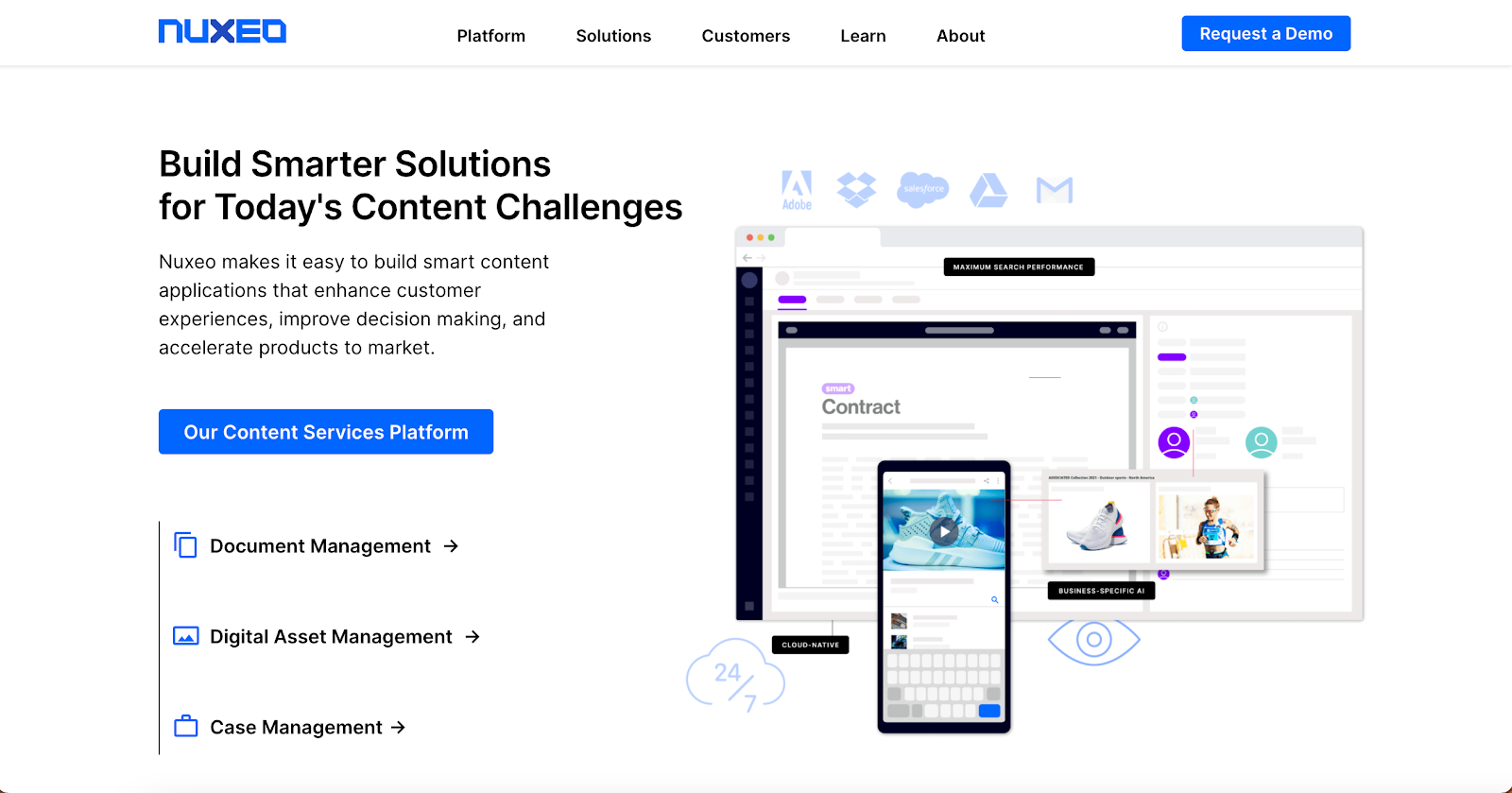 Pros: Nuxeo's Content Services Platform is an all-in-one document management, digital asset management, and claims management software; so it's a great solution if you need all three of these software solutions. It's also highly customizable so you can connect it with the other software you use on a daily basis. Nuxeo's comprehensive software has a modern interface and is built with a ton of advanced features to power each sector of their platform and improve the user experience. Since Nuxeo's software is so comprehensive, it's no surprise this option appeals mostly to enterprise businesses.
Cons: Nuxeo is not an easy software to learn, and the adoption process takes time. Nuxeo reviewers also say that many basic features are not offered out of the box, so you have to pay extra to add those basic features to your package. Apart from difficulty with adoption and upcharges, reviewers also say that Nuxeo's platform can be slow and sometimes "feels janky."
Extensis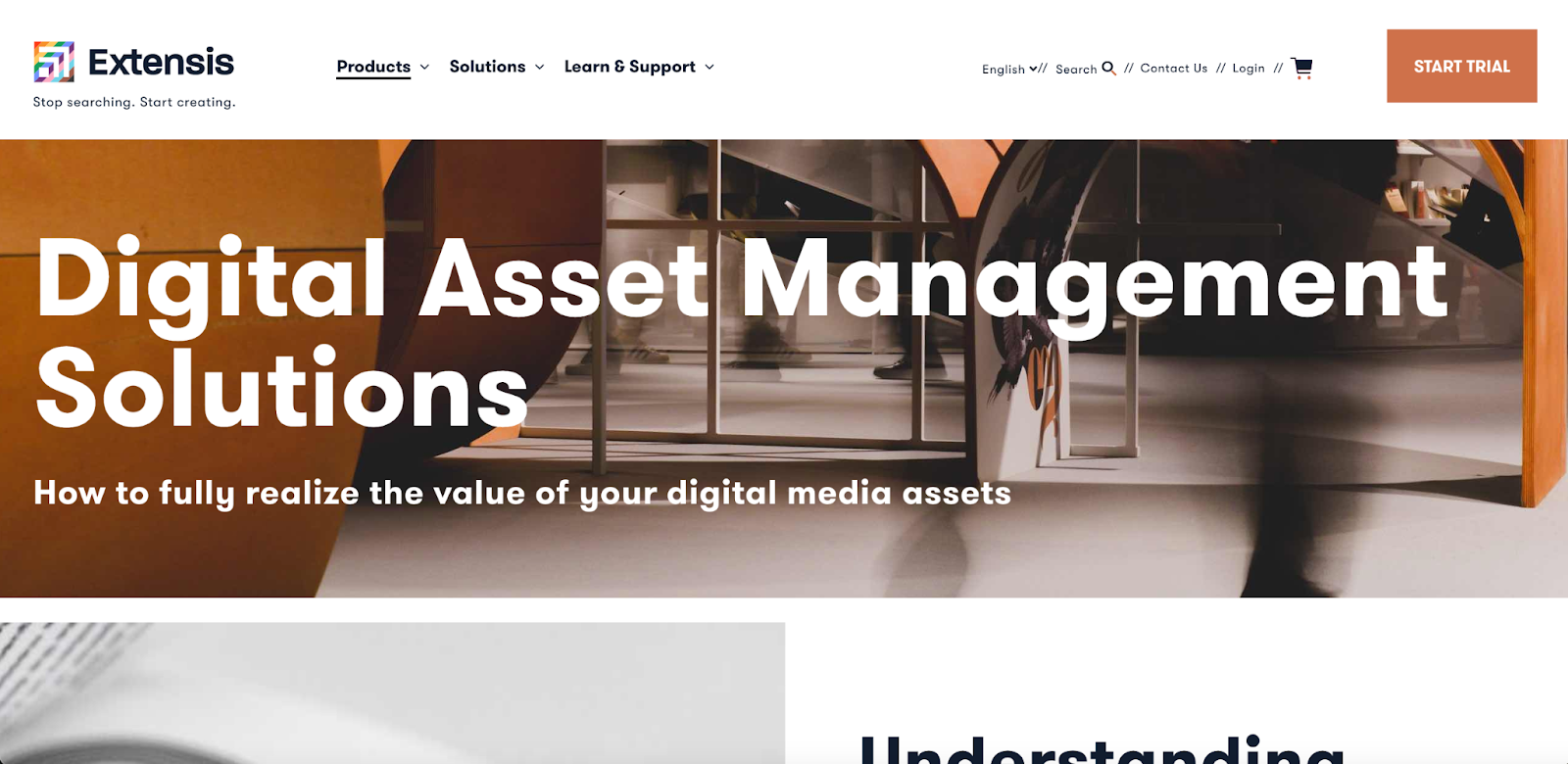 Pros: Extensis offers two digital asset management solutions: Extensis Connect for small businesses who need entry-level DAM software, and Extensis Portfolio for teams of all sizes who need an on-premise DAM solution. Their software is also marketed as "font management software" because it has many features to install, view, and organize fonts. Both Extensis Connect and Extensis Portfolio provide users with easy ways to organize, search, and share assets. However, Extensis Portfolio is a bit more robust — with Extensis Portfolio, users can easily watermark assets, streamline workflows with smart automation features, and customize Extensis with a flexible API.
Cons: Reviewers say that it can be difficult to install Extensis Portfolio, and even after the software is up and running, the software can be slow and users experience glitches and crashes. With both Extensis Connect and Portfolio, adoption can be overwhelming and challenging because the features in both software are pretty advanced. Since a large part of Extensis's platform is font management, reviewers say that you should have a need for that specific function or else you'll end up paying for features you don't use.
Which Digital Asset Management System is Right For You?
Each digital asset management system is different in its own way: some DAMs are built with dozens of features so they can serve as "all-in-one" solutions and replace other software types, while others are designed for specific business sizes, teams, or industries. When evaluating the different DAM options available, think about how you intend to use your DAM platform and the features your teams will need.
Then, before investing in a digital asset management tool, take the time to read customer reviews and take advantage of free demos. Doing this extra research will help you weed out options that won't work for your team, and find the best DAM software that will.
If Brandfolder sounds like the right digital asset management tool for your teams, we encourage you to get in touch with our team for a free demo. We're available to answer questions, talk customizations, and provide a custom quote.