Brand Intelligence: AI for Marketers and Creatives
Since our successful launch in 2012, Brandfolder has become a leading Digital Asset Management (DAM) platform, helping manage millions of brand assets for customers including Slack, JetBlue, Lyft, Papa John's, Under Armour, and Hotels.com—among many others. From images and videos to GIFs and 3D assets, Brandfolder has helped marketers and creatives organize, manipulate, analyze, personalize, integrate and distribute their growing libraries of digital content in an intuitive, cost-effective way. DAM users have already named Brandfolder the number-one, top-tier DAM platform in terms of enterprise usability, lowest implementation time, fastest ROI and highest customer satisfaction.
Now, we're taking a giant leap further.
Brandfolder is rolling out a new Artificial Intelligence-driven product: Brand Intelligence. It transforms our DAM offering from a lineup that enables brands to take control of their assets to an evolving universe where brands can revolutionize how they use their creative resources, all while making their creative teams' workflow smoother and more efficient.
Brand Intelligence is a collection of proprietary, patent-pending technologies that powers a variety of features within Brandfolder and applies active machine learning in a way that goes far beyond the generalized AI/ML models currently being deployed in the rest of the DAM space.
The specialized models Brandfolder can build to cater to each customer's unique needs—combined with round-the-clock learning from the way assets are categorized as well as used—will give customers across a wide range of industries a competitive edge in real-life use of their digital content. Brand Intelligence helps our customers realize significant cost savings in the process.
The Evolution of DAM
Today's DAM platforms need to go far beyond mere centralized storage of assets: the proliferation of marketing channels and the tremendous growth in the volume of digital assets has led to increasing demands on organizations to manage their digital content in a cost-effective, streamlined process. The growing consumer demand for personalization, meanwhile, means that teams must be able to deploy ever-more tailored experiences — the right message, at the right time, on the right channel.
Active AI and machine learning provide the building blocks for manipulating the 175 zettabytes the world is expected to reach by 2025, according to IDC.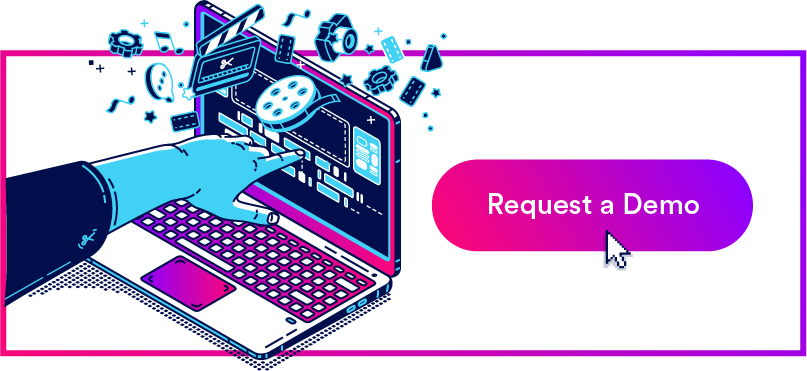 The Brand Intelligence Differentiator
In the past, AI has struggled to deliver on promises to marketers. With Brand Intelligence, however, the model is optimized specifically to cut down on busywork and improve the experts' ability to concentrate on high-level creative operations and strategic tasks.
In short, we've built machine learning for marketers as opposed to data scientists. Unlike many AI/ML models available elsewhere, Brand Intelligence is designed to match the workflow that the customer's team is already used to. There's no supervised training of the model to make it work — the model adapts to the user and is actively working behind the scenes.
While the AI/ML models offered by legacy DAM solutions generally have two standardized layers of technological capability, Brand Intelligence offers four, advancing logistics and insights into a new realm beyond the scope of legacy DAM solutions.
Below, we break down those distinctive layers:
The Fourth Layer: Brand Intelligence Looks to the Future
Brand Intelligence's unique evolution will be driven in large part by its customers—particularly given our ability to build ad-hoc models that are not just brand-specific but case-specific. In just one use case, for example, an AI/ML model built for a marketing team getting ready for a variety of campaigns will be able to learn the difference between an interior shot and an exterior one, a person and a tree, a seascape and a landscape, and any variation therein. The customer can set the parameters and let the ML engine do the rest—in most cases, in a matter of mere hours. The model can also suggest how the customer should deploy the various assets across different campaigns, as well as how the assets perform, informing campaigns and strategies moving forward.
The Third Layer: Brand Intelligence Is Distinguished From the Rest
This is the stage where Brand Intelligence becomes brand-specific and in turn distinct from its competitors. The model begins round-the-clock analysis of all the assets for a specific customer, including all the tags used on the assets. From this data, we build a basic ML model solely around each customer's assets, using our patent-pending proprietary machine learning algorithms for brand and asset scoring.
At its most basic level, the model will learn to distinguish between a road bicycle and a mountain bike, for example. In a more complex case, an ML model for a stereo equipment manufacturer will quickly learn to distinguish between amplifiers, microphones, speakers and turntables and tag them accordingly.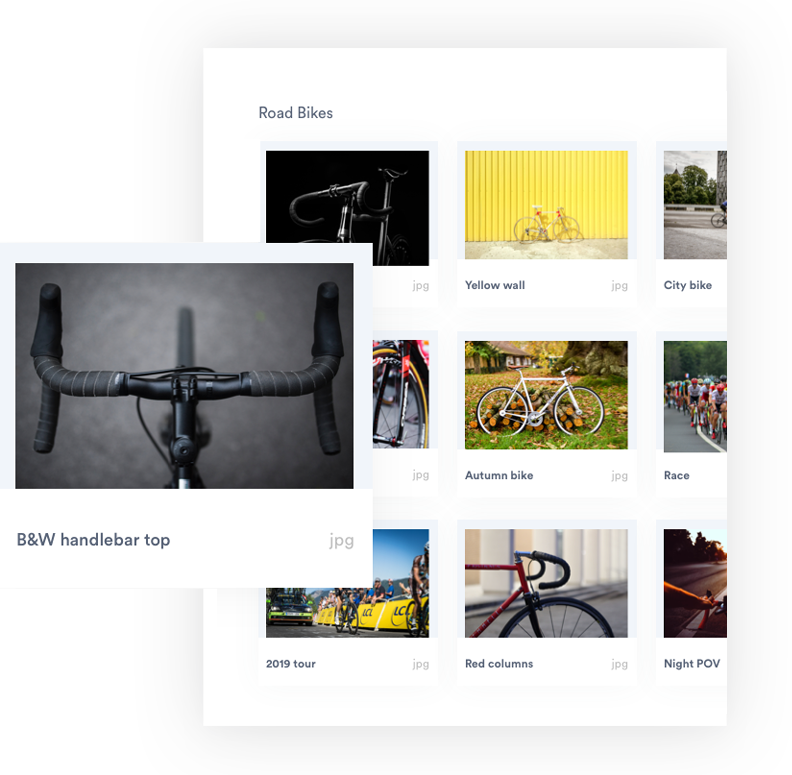 The ML model will then synchronize the brand-specific tag to each new asset and automatically add it to the collections in which it belongs. The customer can be prompted with a tag suggestion based on previous tags for existing assets, which already results in significant time-saving when it comes to organization and taxonomy. But the customer is also able to enable auto-tagging when the model has a high enough degree of confidence, reducing the work even further.
What's more, Brand Intelligence continues working in real time, learning not just from the way new assets are tagged, but from how and when suggested tags are selected by the customer, in an ongoing feedback loop.
Going one step further, the model can take cues from who uses certain assets, how often, and in what capacity, to make better tag recommendations for each subsequent use of all existing assets as well as those that get added in the future. An auto manufacturer, to take one example, could get all its models tagged according to where they are sold, so retailers will be able to access a library of only those models that are available in their geographic location, both for the existing assets and anything else that gets added into the library. Every interaction thus results in continuous improvement and fine-tuning of the model. Brand Intelligence can thus enable teams by offering actionable next steps, suggesting how to organize and use the brand's creative assets and alerting users to the differences between various products.
The First Two Layers: Brand Intelligence Basics
Brandfolder's data science team is primarily focused on delivering our customers intelligence and insights such as creative asset scoring algorithms, asset prediction formulas, uniqueness analysis, and asset collection and classification tools.
Brand Intelligence's AI/ML model starts with ingesting digital assets and basic-level extraction of data, such as the metadata, the colors identified by the AI, and thumbnails of almost any type of file, be it an image, a document, or a layered Adobe PhotoShop PSD file. The model is also able to employ optical character recognition to extract text from images.
Brand Intelligence's first layer is essentially a generalized machine learning model. Using models created by third-party vendors, such as Google Vision and Amazon Rekognition, along with generalized modeling systems we've built internally, Brand Intelligence is able to identify whether an image, for example, has a tree or a person in it. This is the first step that the AI/ML model can become useful to marketers: in the early stage of a campaign, the marketing team can already put the generalized model to use to retrieve all the assets that have a tree or a person in them.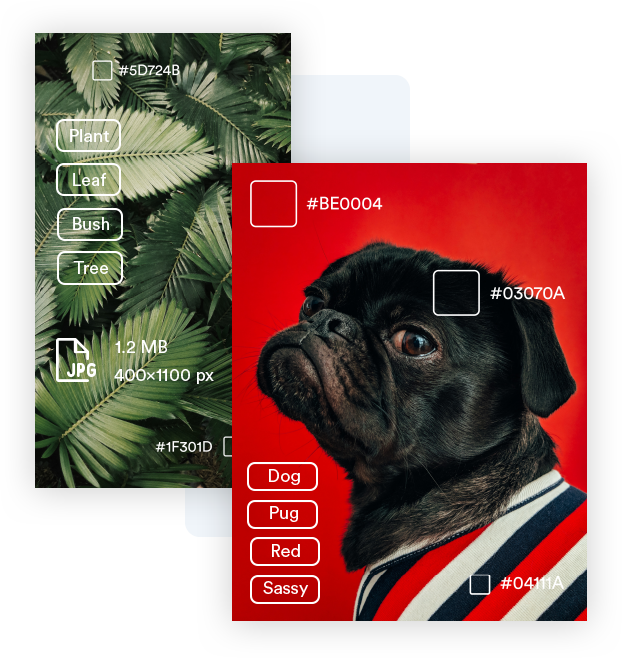 Brand Intelligence also has the capability to integrate additional AI/ML models to meet the specific needs of our customers. The model's second layer allows Brand Intelligence — unlike most of our competitors — to source models from multiple vendors. In addition to models from Google and Amazon, Brand Intelligence can build additional AI/ML layers that integrate visual AI models from Donde Search, Clarifai, and Syte.ai, among many others. In essence, Brandfolder's open-platform strategy ensures that we can integrate any vendor for our customers' particular use cases. But Brand Intelligence doesn't stop there.
Keeping It Simple — And Private
Since Brand Intelligence is designed to build on basic AI/ML and deliver on promises to marketers, Brand Intelligence's model applies to a much broader customer base. In addition to marketing teams, brand-specific models can be applied to digital assets of retailers, consumer packaged goods companies, manufacturers, cloud-based collaboration tool providers—the list goes on and on.
At the same time, Brandfolder's AI/ML models ensure customer privacy. On the one hand, our models derive substantial benefit from transfer-learning, enabling improvements in one model to be anonymously transferred to all others. But the customer's data always remain in their sole possession. Each model is essentially built using only each specific customer's data and feedback suggestions, remaining both on-brand and secure.
Real-World Implications
Applying the AI/ML models in an actual business scenario can take many forms. At its core, Brand Intelligence helps to combat one of the most challenging problems facing brands today: serving the ever increasing demand for content without being overwhelmed by it.
With suggested tagging and automated taxonomy, our brand-specific models help make sure that all available assets are instantly at the customer's disposal, searchable in an intuitive way that's consistently being improved. For a marketing team, for example, the model will eliminate the need to rephotograph a certain product because the photos from a previous shoot cannot be located. Given the tremendous volume of images alone that most marketing teams have to work with today, the cost savings can be enormous.
In addition, Brand Intelligence's brand-specific models can free up time and resources that were previously spent on organizing, sorting, categorizing, retrieving and managing digital assets. Customers will thus be able to assign their talent to more meaningful, higher-level—and certainly more exciting— tasks, helping generate far more brand growth and ROI.
Brand-specific AI/ML models can also give customers a particularly competitive edge when it comes to deploying their digital assets. For instance, gear or sport-specific clothing manufacturers that sell to online retailers rather than consumers are often at the mercy of the retailer's internal teams when it comes to how their products are marketed to the end consumer. Brand Intelligence's models ensure that they'll be able to react on the spot to any requests for a promotional campaign by the retailer. When asked for an image of an athlete outdoors, in motion, during the winter, wearing or using a particular product that's within a certain price range, the manufacturer will be able to provide the perfect image in a matter of minutes, ensuring top billing on the retailer's website and beating out the competition.
The Next Level
While the user interface of Brand Intelligence's models is simple, its design is capable of incredibly complex operations. In a world where consumers increasingly expect brands to speak directly to them, Brandfolder can, therefore, offer a truly differentiating proposition — particularly given the variety of channels through which consumers now reach brands.
Customers who are heavily reliant on social media, for example, don't need to limit Brand Intelligence's specialized models to their own digital assets and their use by their teams and partners. The AI/ML models can also be applied to social media performance metrics to gain precision with their potential customers by zeroing in on which digital assets appeal the most to specific demographics. That information can then be combined with our proprietary brand-specific models as well as ad-hoc models to design a truly customized campaign, taking DAM to the next level that lets brands move beyond logistics of managing assets and into custom-designed actionable insights.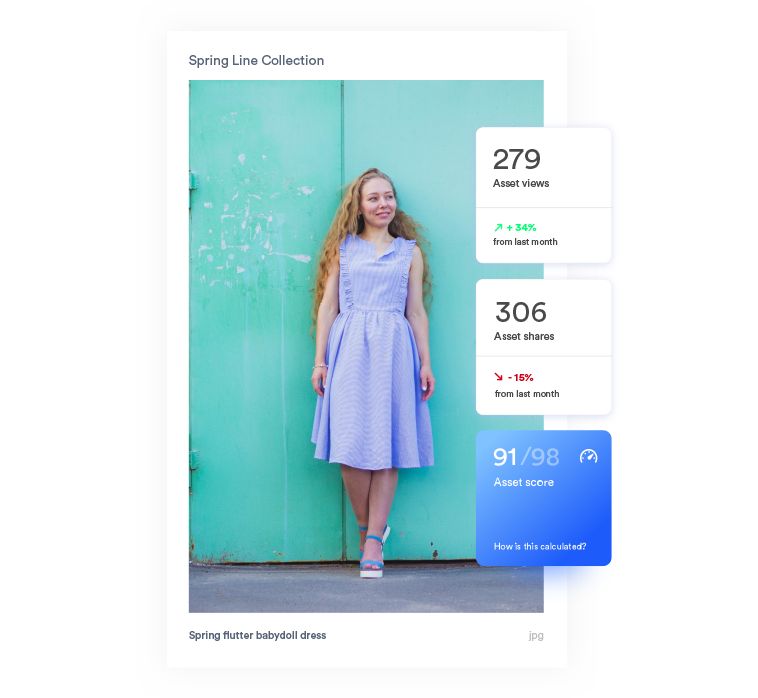 A rock climbing gear manufacturer, for example, will be able to determine the model and color of a rock climbing shoe, the type of mountain environment in the background, the season and the amount of other specialized gear in the photo that would appeal specifically to a man in his mid-20s living in Colorado vs. a woman in her 30s traveling in Thailand. And they'll be able to deploy that campaign far faster than ever before. In other words, with Brand Intelligence's custom modeling and granular understanding of the customer's assets and how they're used, brands can use our DAM platforms to transform how their creative teams work.
Click here to learn more about Brand Intelligence's active AI/ML models.