Over the past few years, Enterprise Content Management (ECM) has become more prominent across the workplace landscape.
In 2017, the global enterprise content management market was estimated to be worth 31.66 billion U.S. dollars. By 2020, that figure had soared to 50 billion USD, and is expected to pass 67 billion in 2022: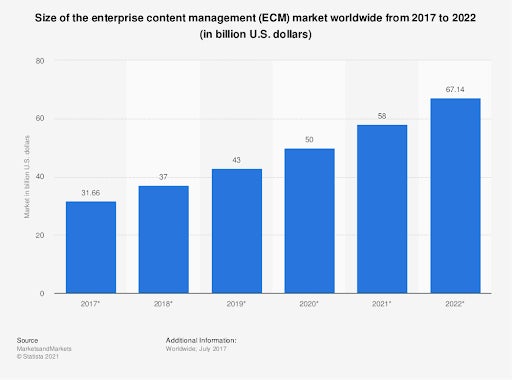 As business processes and documents become digitized and more digital forms of content evolve, organizations are becoming more reliant on ECM software to manage their vast amounts of digital assets.
In this guide, we'll explore ECM in detail, considering the benefits, key functionality, and use cases of enterprise content management software designed for the digital age.
---
What is Enterprise Content Management?
Enterprise content management (ECM) is a dynamic combination of strategies, methods, and tools used to capture, manage, store, preserve, and deliver a company's information. It supports critical organizational processes and business goals, ensuring information is easily accessible at any point throughout the content lifecycle.
According to the Association for Information and Image Management (AIIM), Enterprise Content Management (ECM) consists of five major components:
An ECM system helps companies automate processes, increase productivity and encourage team collaboration across the organization.
---
Why is Enterprise Content Management Important?
Enterprise Content Management (ECM) brings several benefits to your business. Some of the primary ECM benefits include:
Offers a more cost-effective and efficient method of document management and control by retiring content that's no longer required, such as duplicate files and outdated or sensitive information.

Helps reduce costs by decreasing the amount of storage space, paper, and postal requirements that companies traditionally have to allocate resources toward.

Tightens ad-hoc processes so that your organization meets government and industry regulatory compliance risks, seizes revenue opportunities, and improves productivity.

Removes information bottlenecks so that you, and teams across the organization, can communicate more clearly.

Provides peace of mind by positioning organizations to filter sensitive data so that individuals can share documents without compromising their identity or other confidential data.

Reduces the burden on your IT resources if deployed as Software-as-a-Service.
---
Different Types of Enterprise Content Management
There are three main types of enterprise content management sofware:
Web
Web Content Management (WCM) places control over the look-and-feel of a website in the hands of designated staff. It enables them to easily update, modify, and publish content for the site while following strict brand guidelines.
Collaborative
Collaborative Content Management (CCM) lets multiple people access and modify a single piece of content, such as a financial or legal document. It's perfect for organizations that manage projects involving various stakeholders as it's easier to work together while monitoring and updating the latest version of the content.
Transactional
Transactional Content Management (TCM) is ideal for organizations that continually use various types of content, such as records, paper documents, and digital files.
TCM software captures content from the various channels, classifies it, stores it, and creates an automated workflow to ensure users receive the content at the right time. It also integrates with other apps and databases to make sure all of the content is available throughout the organization and then deletes the content when it's no longer required.
---
Which Industries and Departments Benefit Most From ECM Software?
Let's take a look at the different industries and departments that can benefit from ECM.
Industries
Finance: Improves the speed of various manual processes and paper documents, such as loan composition and payment processing systems, through digitization and automation.

Manufacturing: Streamline the way countless collections of product assets and information are found, updated and distributed. Keep all teams on the same page, in a single source of truth, from production to delivery.

Technology: Seamlessly scale growing brand asset and business document libraries to maximize findability, use and overall value.

Healthcare: Integrates seamlessly with the medical information systems so that electronic medical records and information can be shared quickly among medical staff without problems.

Government: Improves administration services and workflows by digitizing various paper documents used by government organizations and integrating them with the core applications used throughout the organization.
Departments
Marketing: improves the organization, efficiency and security of marketing campaigns, especially in enterprise companies running lots of campaigns (including many internal and external teams) across many different channels, by safely storing digital assets that are on-brand and compliant.

Sales: Improves the sales enablement efficiency of campaigns by digitally storing and sharing the latest versions of customer information, proposals, contracts, and more among designated staff.

Procurement: Increases the efficiency of the procurement operation with automatic storage and management of purchasing information, such as the final contract, pricing schedule, and up-to-date supplier details, in individual files per supplier.

Human Resources: Improves and simplifies the management of employee information by allowing authorized HR staff to quickly locate, retrieve, and process relevant records and documents.

Contract Management: Improves and optimizes contracts via digitization, for example by using digital signature software, creating managed access control along with alert notifications to prevent them expiring.

Accounting and Finance: Streamlines and accelerates processing and approvals between inter-departments by removing paper documents, digitizing invoices, and implementing optimized workflows.
---
What is Enterprise Content Management (ECM) Software?
Enterprise Content Management (ECM) software is used to store, track, edit and collaborate on content creation, distribute data, build and manage workflows, facilitate team collaboration, and integrate with other enterprise systems, such as ERP systems.
It helps companies organize, manage, and distribute unstructured content such as documents (DOC, XLS, OCF), images (JPEG, TIFF, PNG), health records, contracts, surveys, product information, emails, and web pages (XML, HTML). Employees can access content and exchange information according to their user privileges and security permissions.
---
How Does Enterprise Content Management Software Work?
The typical lifecycle of content in the ECM software follows these steps:
Information is captured.
Content is published on a company portal or intranet.
Content is backed up in a secure repository to ensure it's never lost.
Old content versions are archived, replaced or deleted to create more storage space for relevant information.
ECM software identifies duplicate and near-duplicate content when capturing information so the organization can reduce the volume of data.
The content and document metadata are organized and stored in folders in a central repository so that the right people can access it at the right time.
Approved users can find specific documents in the ECM software using full-text searches. Once it's located, they can read, edit or print a copy of the information, regardless of their location or device. The software also allows users to search for specific words or phrases within the stored documents, thus reducing the time spent scanning content and increasing their productivity.
When using ECM software, users typically have the same goals:
Eliminate the dependency on paper.
Streamline all business processes.
Reduce organizational risk.
Optimize productivity.
Improve customer service.
The ECM software provides everyone in the organization with easy access to all the information they need to make business decisions, complete projects, and collaborate efficiently.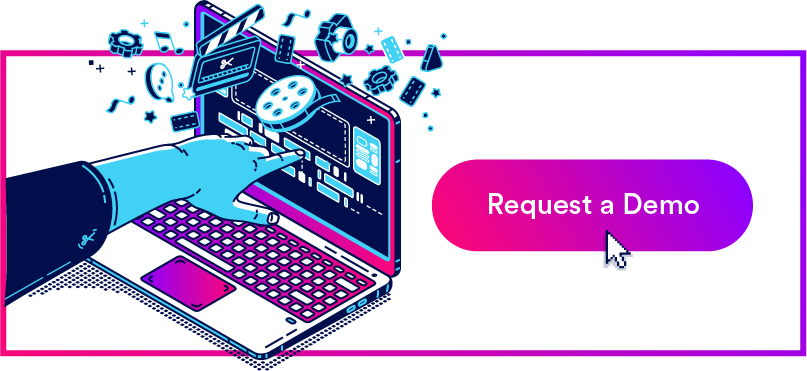 ---
Overarching Benefits of an ECM System
An ECM system provides a centralized platform where you can manage your organization's critical content, conserve precious resources and streamline your workflow operations.
Let's take a look at some of the other benefits:
Create a single source of truth
An ECM system can provide organizations with a single source of truth (SSOT) by storing all departmental documents from marketing, sales, IT, HR, legal, and more in a secure, digital content repository.
ECM software can sift through large amounts of data and identify duplicate, incomplete, or incorrectly filed records.
By structuring information so that it's only stored once, companies reduce the risk of duplication and ensure everyone has access to a single, approved, and authoritative piece of information.
Save time and eliminate redundancies
The more information you possess, the more time consuming it is to manage it all. And poorly organized data only compounds the problem.
But with an ECM system, you can quickly filter across the central repository to find content for different campaigns or operational needs. This saves time and reduces redundant work that can arise when people struggle to find what they are looking for and end up needlessly re-creating assets.
Gain document version control
An ECM system helps you gain document version control, so you don't have to worry about losing track of updates to critical documents. Team members can work on a document simultaneously, recording their notes and comments on it.
Plus, you can always revert to a previous version as the ECM software automatically saves time-stamped versions in the background.
With an ECM system, your team can collaborate seamlessly and maintain control of all your documents.
Minimize security and compliance risks
An ECM system can enforce security policies and keep an audit trail of all documents accessed and the activities occurring on them. The increased security features can restrict access to files and folders to specific departments. For instance, you can limit human resources information to HR personnel.
Furthermore, the software's record retention policies eliminate any previous ad-hoc processes that may have exposed you to government and industry regulatory compliance risks.
---
Key Functionality to Look for in an Enterprise Content Management System
There are a number of methods and tools that can be used to enact enterprise content management in a way that suits your business best..
In this section, we'll examine the key functionality and features you should look for when selecting an Enterprise Content Management system.
Capture
The Capture functionality of an ECM system lets you convert and import data into a secure digital repository. The information can be any kind of document that is created, captured, stored, shared, or archived, including:
Invoices from vendors
Resumes from job applicants
Contracts
Correspondence
Research reports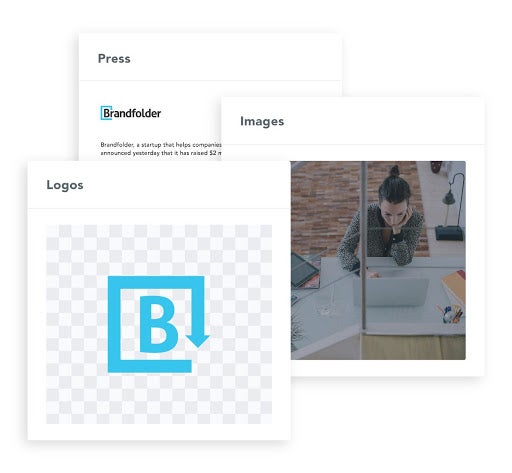 With Brandfolder's Ingesting and Storing features for instance, you can:
Upload, store, organize and share unlimited files from one secure location.
Create a portal for external partners to quickly and conveniently upload files without having to give them access.
Use all file formats, including image management, video, audio, and documents in multiple file types.
Ingest large file sizes and quantities of assets from an FTP server directly into your repository.
Manage
The Manage functionality of an ECM system includes document management, collaboration management, web content management, and transactional records management.
Users can view or make edits (based on access rights) to any document in the single repository, check a document's metadata, and organize documents within a flexible folder structure.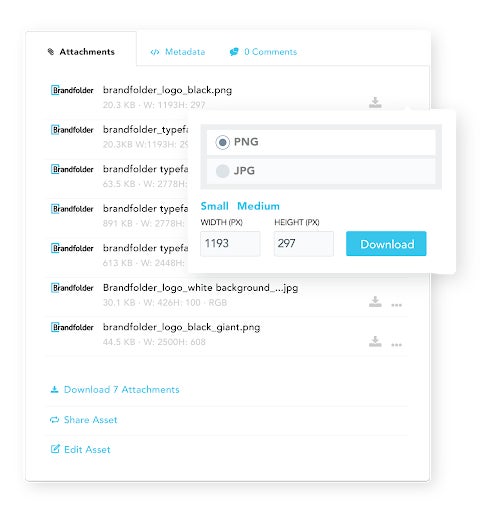 With Brandfolder's asset management power tools for instance, you can:
Save time editing with the bulk editing tools, such as tagging, moving, and merging.
Make informed decisions about assets with tools like Versioning that let you track an asset's version history in the dashboard.
Control the types of information required for assets, such as product name, type, and SKU.
Configure the metadata and information embedded in assets.
Store
The Store feature temporarily backs up frequently changing information within flexible short-term folder structures to allow users to view or edit information.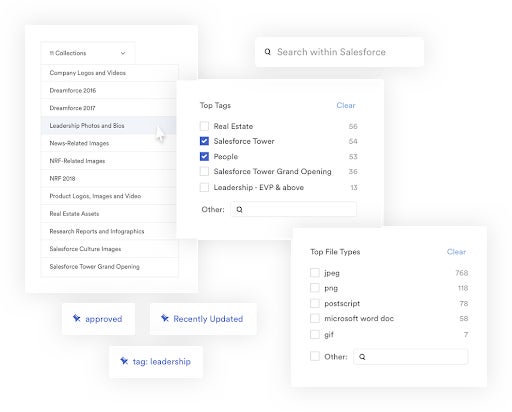 Brandfolder allows you to organize, curate, and store digital assets in easily accessible folders so you can:
Inspire users to search and find relevant material quickly.
Streamline workflows across teams with automatic organization and curation.
Reduce requests from teams and partners looking for your brand assets.
Save valuable time searching for assets.
Retrieve
The Retrieve functionality helps you find your securely-stored records. The software saves time spent searching for information so that you can answer information requests from clients and auditors immediately. You can:
Find any document using a full-text search.
Identify specific words or phrases within document text, metadata, annotations, and entry names.
Use preset search options to search by document creation date, the names of users who checked out documents, and other metadata.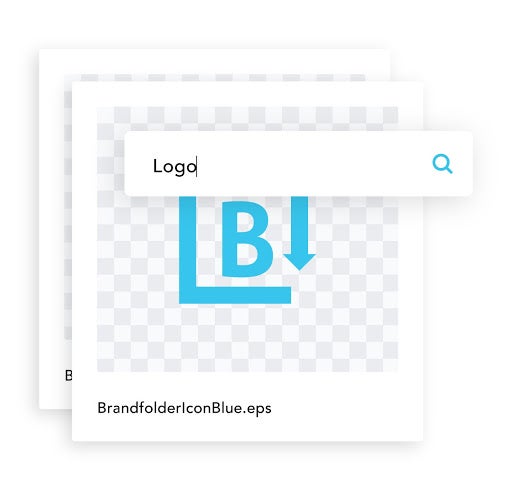 Brandfolder's smart search and discovery functionality allows you to find exactly what you're looking for. You can:
Search across various asset metadata and taxonomy quickly.
Use intelligent search tools like filtering to discover assets for your use case quickly.
Save frequently-used search terms for future use.
Save time as the Suggested Search automatically recommends popular searches when you enter your query.
Preserve
The Preserve functionality backs up infrequently changing information in the medium and long-term as record archives. Organizations use the records management features to help comply with government and other regulations.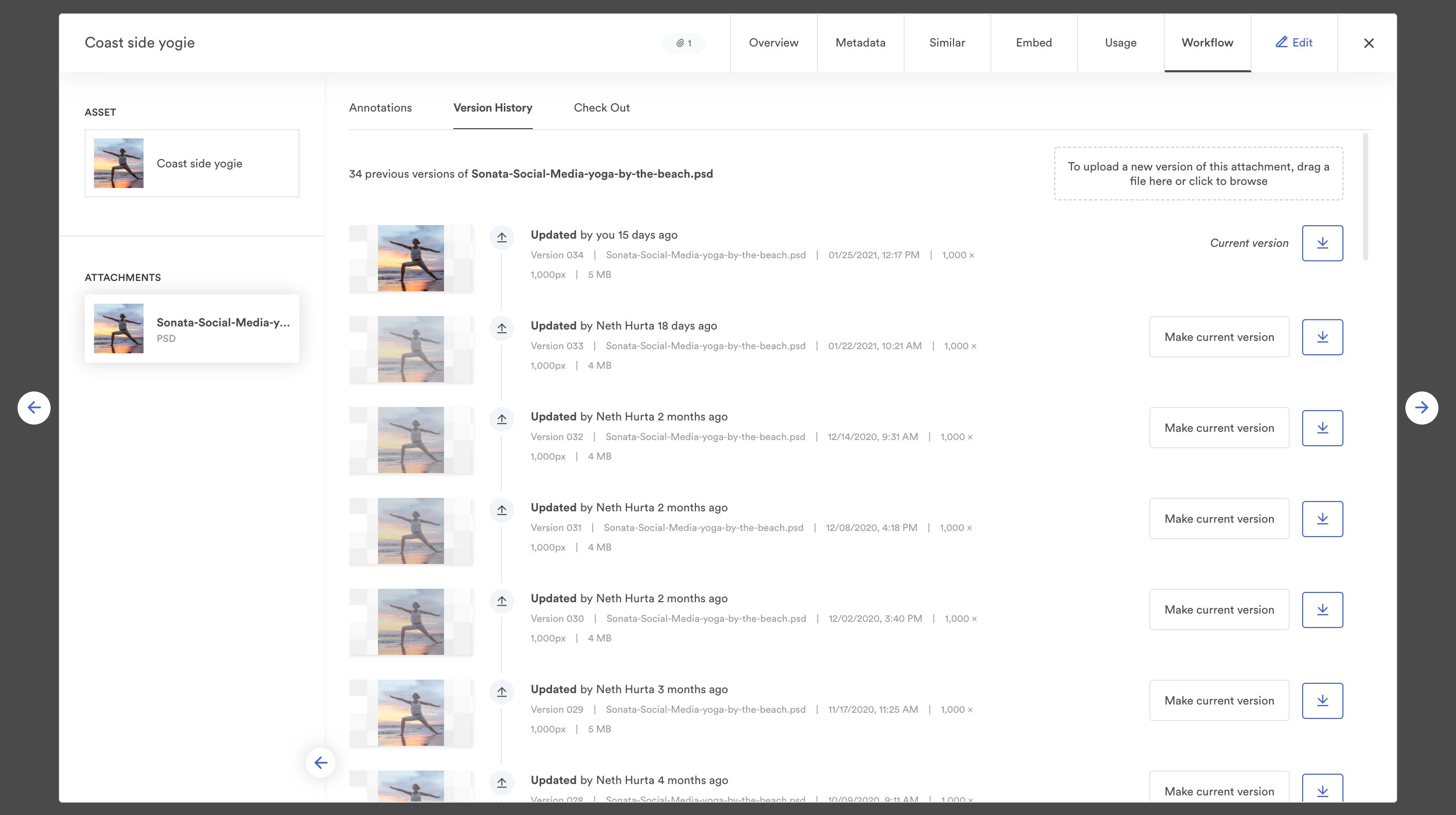 Brandfolder's management tools aid regulatory compliance by allowing you to:
Check each attachment's version history in a dashboard and ensure files are never permanently deleted.
Reduce the occurrence of duplicate assets.
Create rules that automatically convert embedded metadata into tags or custom fields for easier ongoing management.
Collaborate
The Collaborate functionality is a key component of an ECM system. Teams can collaborate on content creation throughout various workflows while managers keep overall creative control.
Brandfolder's workflow and collaboration features allow teams to keep assets on-brand. You can:
Use process tools to grow your brand.
Add comments on an asset to facilitate collaboration along the review process.
Pin annotations directly on an asset and notify the appropriate parties to review and address it.
Check assets with a historical timeline view.
Integrate with existing workflows on other platforms such as Jira and InMotion Now.
Give your teams the ability to customize assets while retaining creative control and keeping your assets on-brand.
Secure
The Secure functionality allows organizations to protect information from unauthorized access or modification. An ECM system's customizable security settings let organizations restrict access to sensitive HR information and private financial information.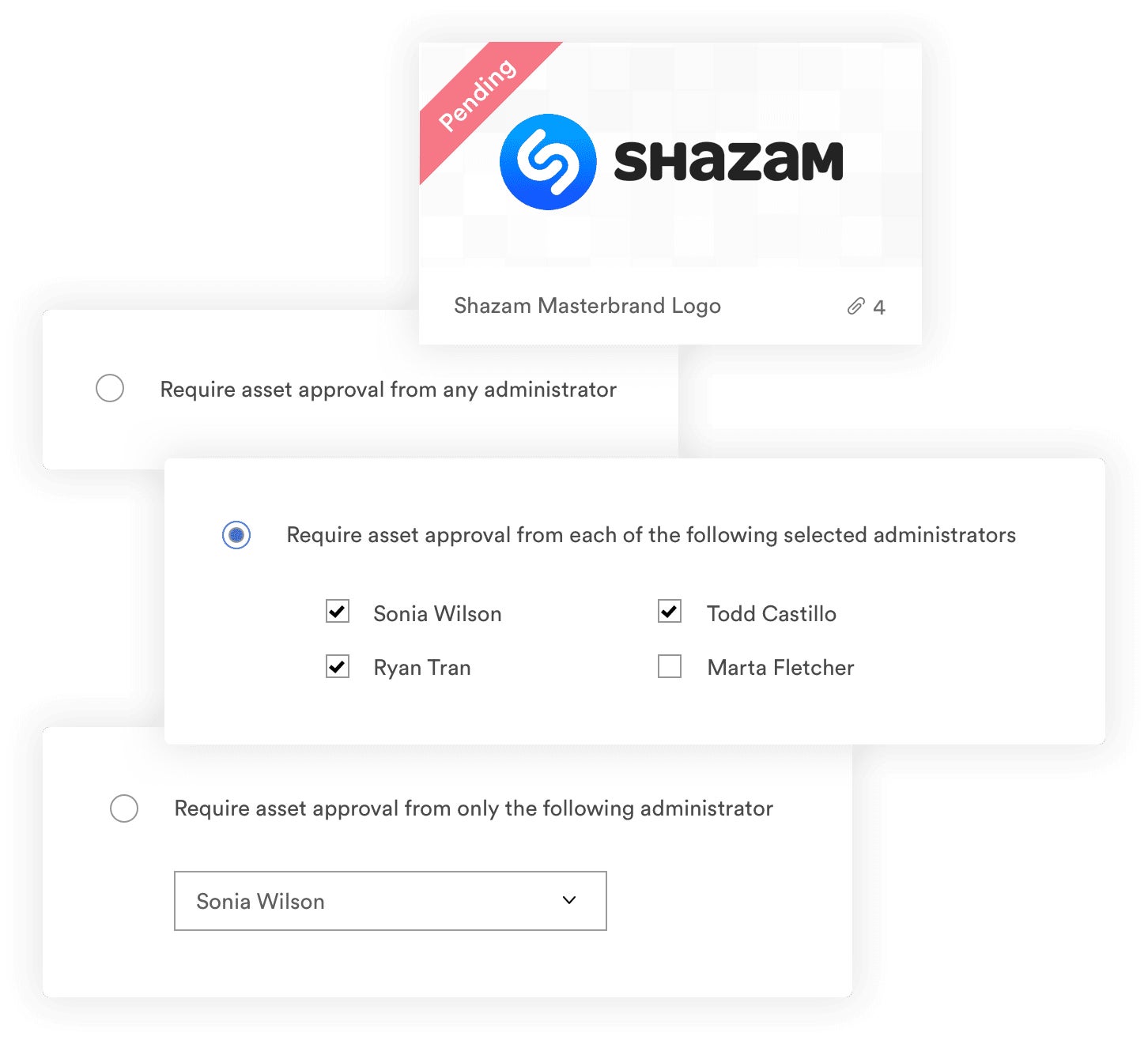 Brandfolder's rights management feature gives you complete control over who sees what and when. You can:
Set publish and expiration dates for your assets to correspond with campaign and license deadlines.
Nominate one or more administrators who can approve assets before they become visible to others.
Automate the viewability of draft and expired assets in and outside of your organization.
Set an expiration date on a group of assets that make them unavailable after a timeframe.
Get alerted when rights expire so that you can take action immediately.
Automate
Automation and machine learning are key parts of an ECM system, helping organizations eliminate manual tasks, such as photocopying and delivering documents by hand, and improving productivity.
Some typical automation features include:
Automatically routing documents to the right people at the right time.
Alerting staff members when documents require their attention, such as approvals or compliance renewals.
Recognizing errors before any unnecessary work starts.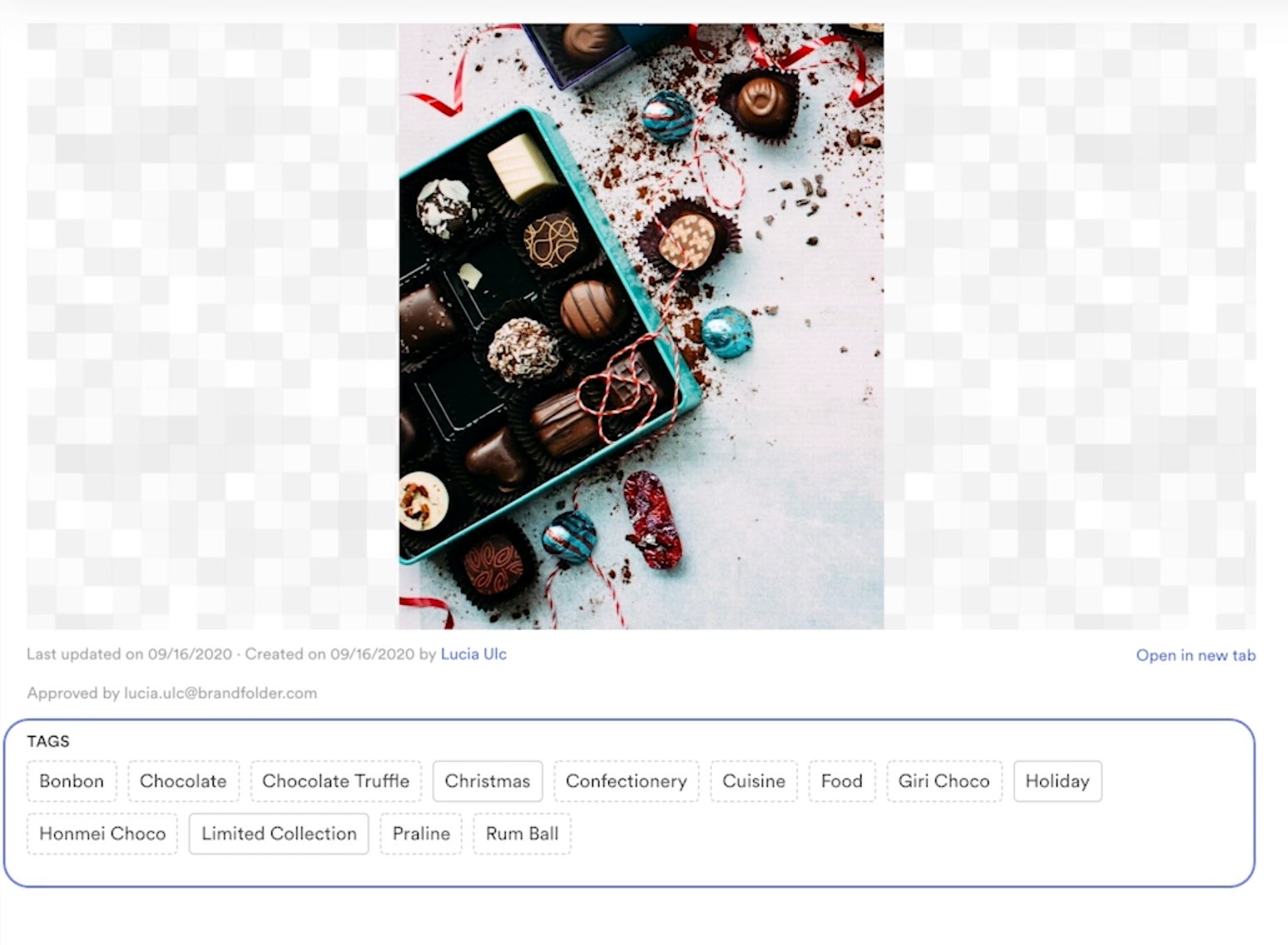 Brandfolder uses smart automation features throughout its system. For instance:
The AI Image Recognition and Auto-Tagging automatically tag assets on import so that users can search for images with specific criteria faster.
The Automatic Metadata Extraction automatically extracts metadata and image text from assets on import, so users can quickly discover assets when searching on metadata fields.
The AI Duplicate Detection automatically detects and alerts users to files with similar attributes.
Integrate
ECM systems integrate with other apps and software to save you time switching from one tool to another. You can quickly access all your on-brand assets directly from software such as Adobe, Microsoft Office, and Salesforce.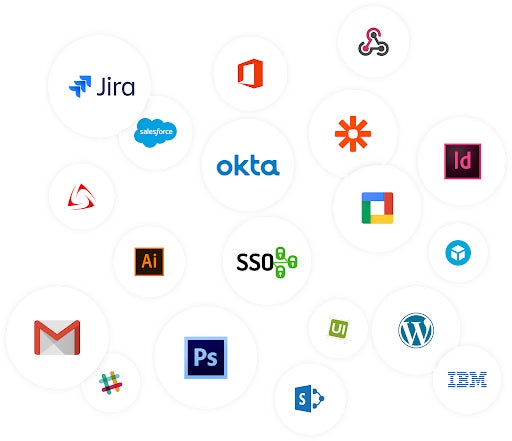 Brandfolder has a long roster of integrations and plugins that create a seamless workflow. For instance, you can:
Save time creating assets with creative design tool integrations, like Adobe Creative Suite.
Quickly find sell sheets, contracts, and sales decks right from the Salesforce interface.
Access and embed your Brandfolder assets directly from Microsoft PowerPoint and Word.
Improve efficiency by integrating with expert workflow platforms, such as Jira and InMotion Now.
---
The Future of Enterprise Content Management
In many ways, the future is now with enterprise content management. As more and more digital assets spread across departments creating the dreaded asset sprawl syndrome, it's becoming essential for organizations to become more efficient and secure.
Enterprise content management systems are adapting to the demands of organizations looking for more agility and integration. As technology evolves, particularly with automation and machine learning, ECM platforms will be able to reduce manual processing time and ensure the right people can access the right content.