How to Generate Image URLs (Professional and Personal Use Cases)
Remember when "sharing" digital photos meant emailing files individually? It's a practice that – at best – is no longer ideal and – at worst – can be a major problem. In this modern era of far too many emails and a chronic shortage of time — no one wants to wait for a 3MB photo to load on their smartphone. Thankfully, there's a better way to share photos: Copy (or create) the URL.
In this post, we'll cover how to get the URL of an image, and how to create new URLs for images. We'll also explain the tools that help enterprise-level companies curate images, manage permissions, and set expiration dates for assets.
Simple creative tasks (including with images) building up? Try Workbench for a free taste of DAM tools that can help clear your calendar.
How to Get the URL of an Image Online
On a desktop or laptop, to copy the URL of an image that's online, just right-click the photo to launch a drop-down selection of actions. Choose "Copy image address," and you've got the URL.
On an iPhone, you can right-click to copy the URL if you're using the Safari browser, and you can also right-click to save an image on Android using the Chrome browser.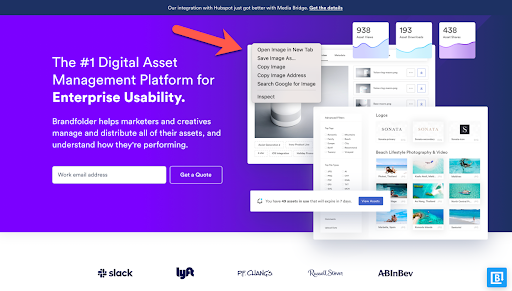 The menu that appears when right-clicking an image on a MacBook Air.
Source
Now, let's move on to a topic that's a bit more complicated: How to create URLs for images.
Points to Consider Before Investing in a Solution
Creating a URL is just the first step — most people and businesses also need a way to store, locate, and manage their image assets. While a free image URL-maker may be adequate for sharing images on social media, photographers and agencies will need a tool that allows them to generate URLs and keep track of thousands of assets.
Consider the following features when choosing a method of generating URLs:
Tagging
When you have a large inventory of images, adding tags will help people within your organization quickly find the assets they're looking for. Tags can describe the image itself, as well as the corresponding client, photographer, project, and other details.
Branding
Do you want to customize your image URLs to be brand-specific? Will you need to customize the URLs for folders and collections? If so, look for an asset management solution that includes branding capabilities.
Rights management
If you're working with external stakeholders, you'll probably want to restrict access to certain assets, or set access expiration dates. Enterprise-level asset management platforms include this type of digital rights management functionality.
Security
Do you need to protect assets from potential threats? Top-tier asset management platforms include features such as single sign-on (SSO) permissions and SAML authentication.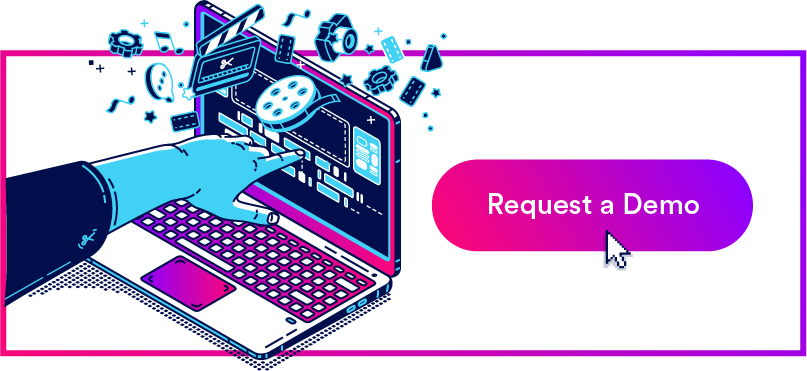 How to Create an Image URL (Business Use Case)
Wondering how to get the URL of an image saved on your computer? All you need is the right tool. That could be a website that generates image URLs for personal use or a cloud-based platform that helps professional creatives manage their photos, graphics, and vector images.
Let's take a look at some solutions for generating image URLs.
For Creative Agencies and Professional Use
Agencies and professional photographers and designers can't rely on email to share assets, especially when working with hundreds or thousands of files. The following solutions help professional users share, organize, and collaborate on assets.
Digital Asset Management Platforms
Digital asset management (DAM) platforms store all assets in the cloud and are accessible from anywhere, as long as you have an internet connection. That means you don't have to worry about files overloading your server or being slow to load on your laptop. A DAM platform automatically generates image URLs.
DAM platforms also include permission controls, so you can limit access to assets, image collections, and folders. And you can sort and search for files by collection, brand, files types, and tags.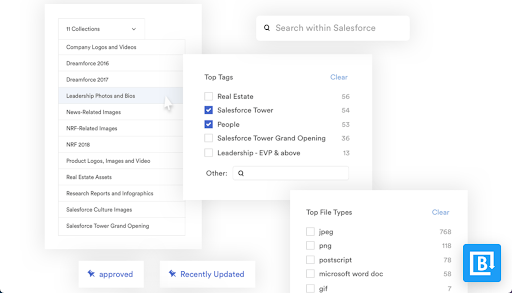 An example of how DAM platform Brandfolder lets users sort and search cloud-based image libraries.
Source
How to Create an Image URL (Personal Use Case)
If you're not a professional photographer or working in a creative agency, you might want a simple way to create a URL for an image. The following tools allow users to easily create image URLs that can be shared via email, messaging apps, or on social media.
SmugMug
SmugMug is a photo-management platform specifically for independent photographers. With the tools SmugMug offers, photographers can build and manage portfolios, share galleries, and store an unlimited number of photo files.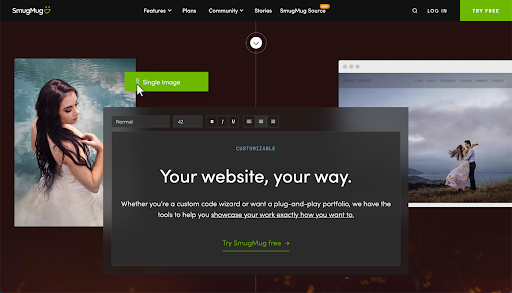 An example of SmugMug's gallery features.
Source
Imgur
Imgur is a social platform where users can share and react to photos, GIFs, and video snippets, and filter images by categories When you upload a file to Imgur, it creates a URL that you can share outside of the platform.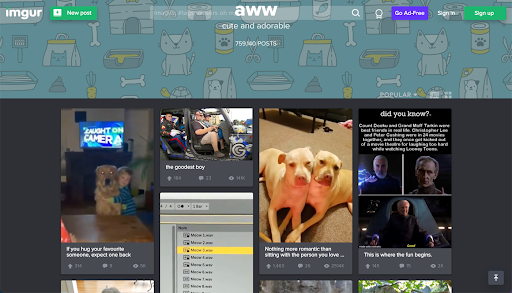 Images in Imgur's "aww" category.
Source
Photobucket
Photobucket offers a desktop interface, along with apps for Android and iOS, and allows users to easily share images on social media. This platform is perhaps best known for its product integrations — you can order canvas prints, greeting cards, photo books and other items that showcase your own images.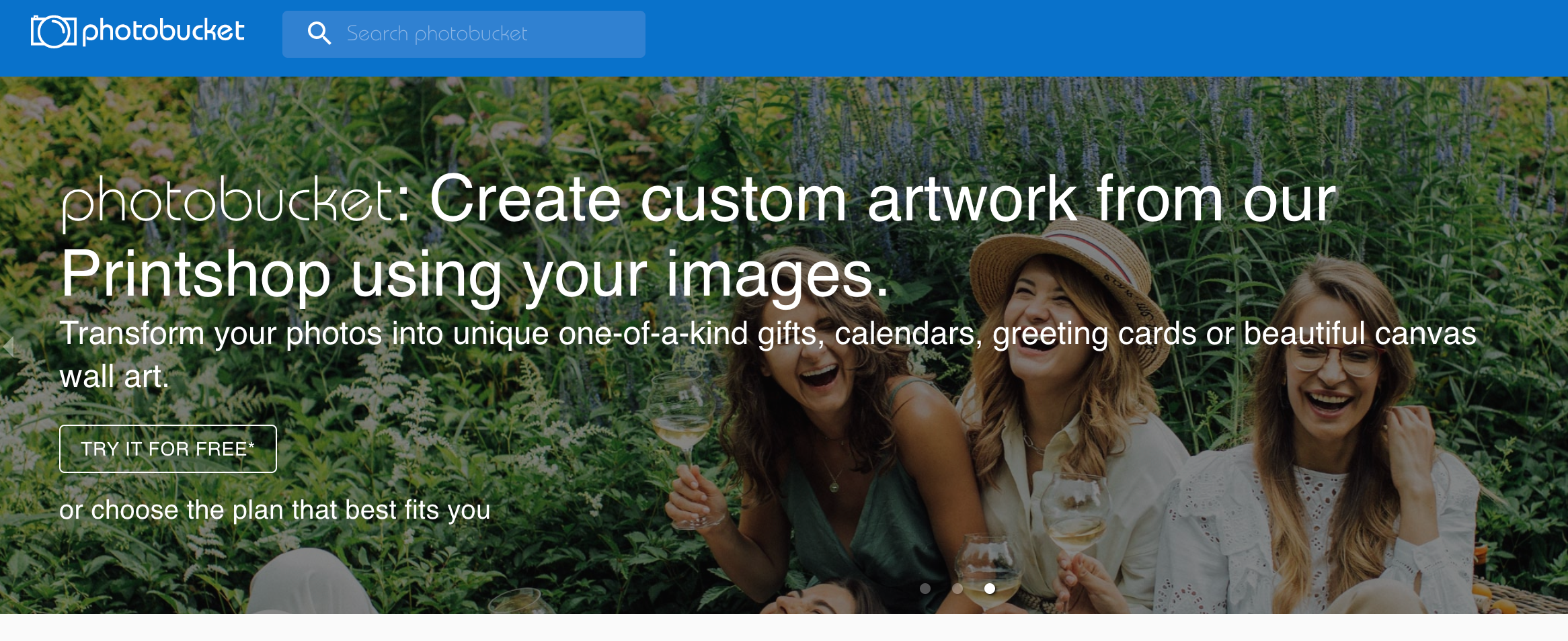 Photobucket homepage.
Source
Flickr
Flickr offers a free version (with account creation), and a paid version for professional photographers. With either version, you can easily generate URLs for images and video, order prints, and search, comment on, or add to public image galleries.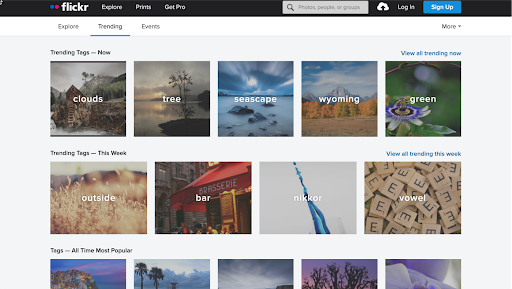 Flickr galleries, grouped by image tags.
Source
Which URL Tool Is Right for You?
So, now you know how to get the URL of an image, and how to create one. You also know that creating a URL is a small — but important — part of a much larger process. Businesses need features that a personal image-hosting site can't provide, such as advanced tagging, rights management functionality, and asset engagement analytics.
If you're interested in a DAM platform that can help enterprise brands, creative teams and agencies manage assets more efficiently — and can increase your ROI by 260% — take a closer look at DAM during a free demo with a Brandfolder expert.