At most companies, the process for making and using marketing collateral templates looks like this:
Creatives mock up a template in Adobe InDesign and save it as an InDesign template. Sales teams, marketers, or anybody else who needs to access these templates have to: (1) request them from creatives, (2) use the template to create a finished product, and (3) send it back to a designer for review and approval.
This is inefficient for two reasons:
1.Creatives waste time routing files: Instead of spending time designing, they spend a lot of time just routing files to their coworkers.
2.Non-creatives can't easily use Indesign templates: Marketers and other non-creatives aren't great at "filling out" or using InDesign templates. Filing it in may be slow for them, they may edit the files in non-approved ways, and they end up having to ask for review and final approval from creative teams at the end, which eats up more of creatives' time.
All of this puts a heavy burden on creative teams.
We designed Brandfolder to fix both of these problems:
Templates stored in one place: Creatives put together templates in InDesign and store them in a central location so they don't have to spend their time responding to template requests and can focus on actual design projects.
Creatives control customization: In Brandfolder, creatives can specify exactly how Indesign templates can be filled in; for example, dictating which graphics can be used, font sizes, text, colors, etc. This makes it so teammates customizing the template don't mess it up or have to ask for reviews. This feature is unique to Brandfolder and can be a game changer for creatives and marketing teams working with Indesign templates.
In this post, we'll explore our solution in more detail and show how it makes storing and using marketing collateral templates (in particular those made in Indesign) efficient for the whole company.
Want to see our templating tool in action? Request a free demo with our team to learn more about Brandfolder and our features to improve digital asset management.
How Templating in Brandfolder Works
Since Brandfolder is digital asset management (DAM) software, the core functionality of our software solves the first pain creative teams face when marketers and other teams need templates: responding to asset requests.
In Brandfolder, all of your teams — including your creatives and graphic design team — can store and organize all of their branded assets in one place — such as templates, photos, videos, colors, fonts, logos, etc. — so other teams and external stakeholders can quickly access them at any time.
Storing all of your brand's digital assets in Brandfolder, rather than a cloud storage system like Google Drive or DropBox, makes it much easier for others to find the assets they need without having to ask somebody else where they're located or how to access them. How? Our advanced search functionality will actually analyze the contents of your assets and combs through your entire asset library (no more searching through folders and sub-folders!) to pull what the searcher is looking for in a matter of seconds.
That way, members of other teams — sales, marketers, distributors, retailers, and external stakeholders — can come into your Brandfolder, search virtually anything about a specific asset (i.e., file names, image components like colors or scenery, product names, metadata, tags, etc.), and find the files they need.
But our actual templating tool that allows creatives to define how templates are customized (and makes it easy for others to customize them) while remaining on-brand is what's so unique and convenient about working with templates in Brandfolder.
Let's walk through the process of working with InDesign and marketing collateral templates in Brandfolder to see how it helps both creative teams and marketers.
For Creatives:
While in InDesign, creatives start by:
Building a template
Selecting which layers they want to keep customizable
Locking certain design elements so that they're embedded in the template
Because Brandfolder fully integrates with InDesign, designers can easily pull photos, logos, and other digital assets into the template's design and lock those options into place.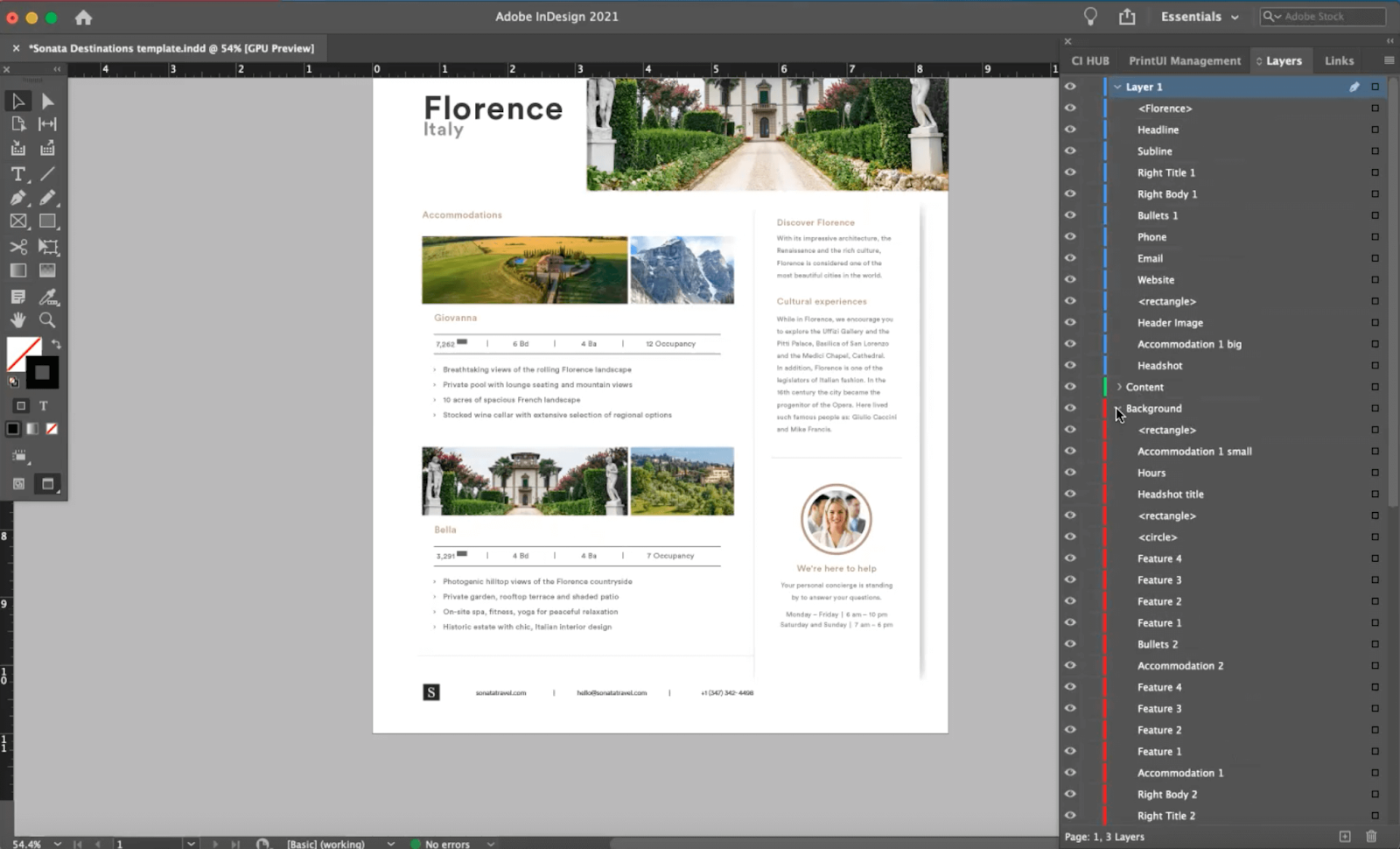 Tip: We suggest giving all customizable layers a name so you know which fields you're working with in Brandfolder.
After you're done tweaking the template in InDesign, you can prepare the InDesign file for uploading — this gives graphic designers more template options, lets them upload specific fonts for templates, and allows them to assign file names to templates — and push it directly to Brandfolder. (Our Adobe plug-in walks you through the process so everything is straightforward and easy to follow).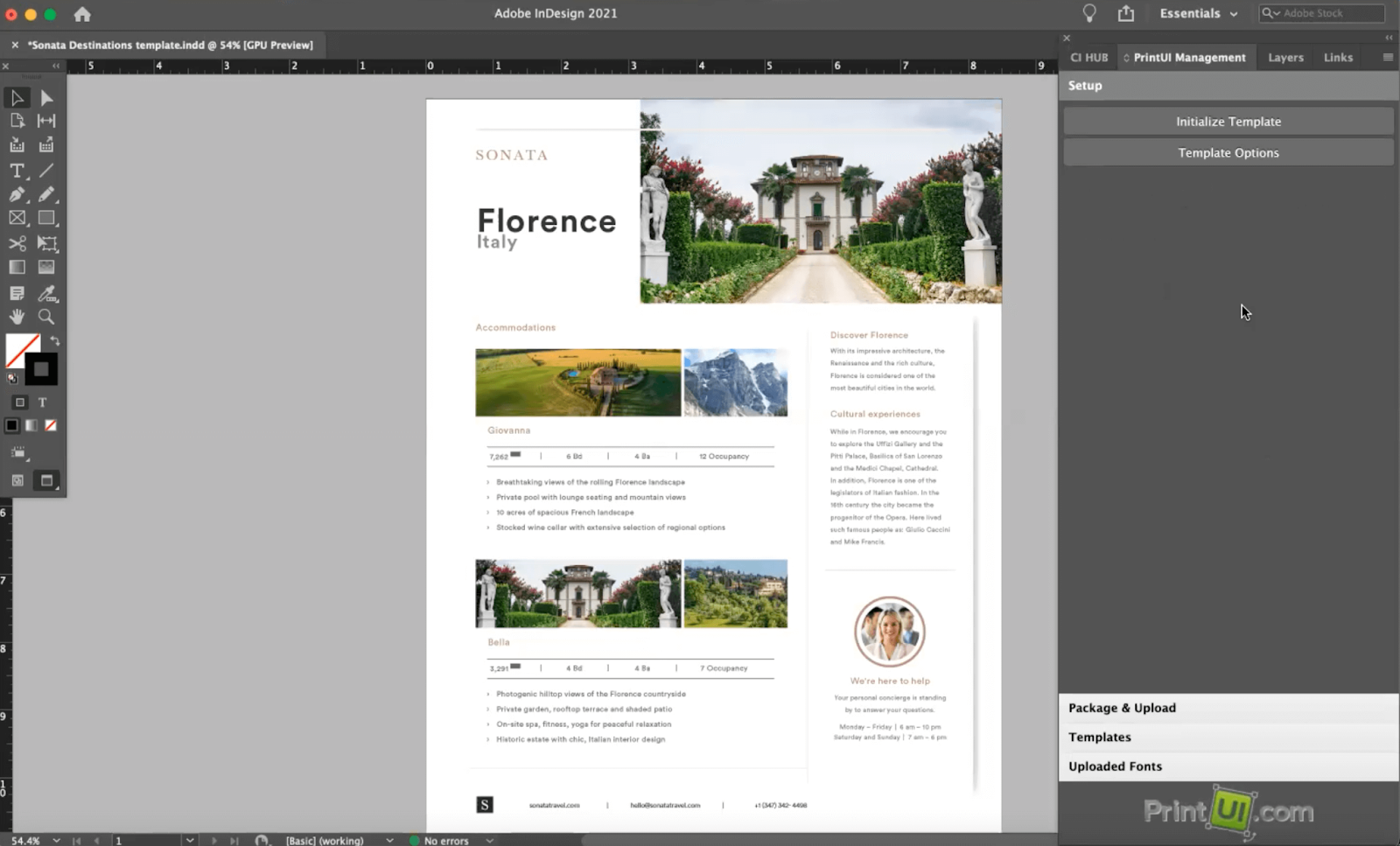 Once your template is stored in Brandfolder, the next step is to define how each of the template's customizable layers can be personalized: Insert text boxes or create drop down menus depending on exactly how much you want users to be able to edit the content. Creatives can even set limitations on which graphics can be added to their templates by creating drop down menus with asset options or including "how-to-use" guidelines within the template's description.
Note that with InDesign alone, it's not possible to have this much control over how fields can be customized. The marketer or end user customizing an InDesign template as is (without Brandfolder) could change the customizable fields any way they want, which could lead to a variety of problems.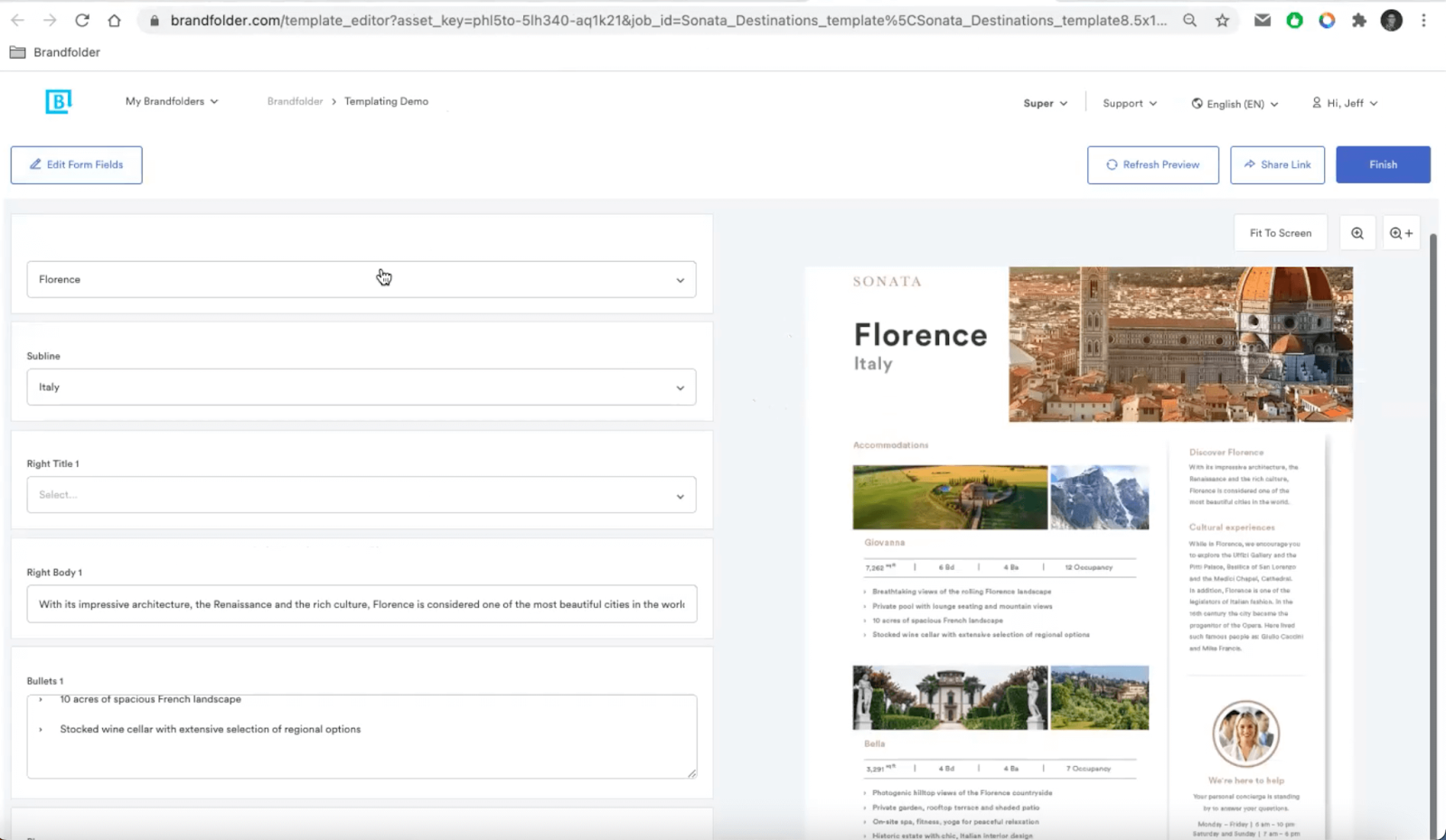 Take the flyer template above for example: Creatives locked the Sonata logo in place, created drop-down menus with preset options to change the geographic location and the images that coincide, and included freely-customizable text boxes so marketers can change the content for different marketing campaigns and add their personal contact information.
Reduces Approval and Review Needs
This control allows creatives and admins to improve brand consistency across digital marketing campaigns and print collateral, so nothing needs a review and all of the marketing collateral your teams are using is on-brand, accurate, and high-quality.
That said, admins and creatives can set up an approval workflow that requires all new collateral to be reviewed and approved before download. When this is set up, it sends new assets to admins to review and sends a notification to the end user when the asset has been approved and is available for download.
Once templates are finished and ready to share, creatives can store them in Brandfolder, and organize them for different users within collections and portals, so other teams can access all of your brand's templates at any time.
For Marketers, Sales Teams, and External Collaborators:
As we mentioned above, other teams can access your brand's templates right in Brandfolder; they can find design templates in collections or portals, but they can also use our advanced search functionality to locate the template they need quickly and easily.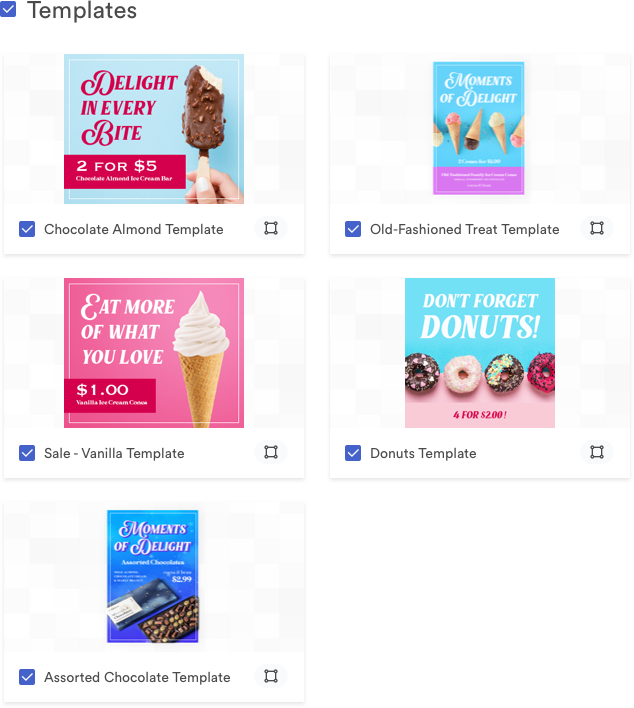 Once they find the template they need, they can customize it with the options they have available to fulfill different needs and appeal to different target audiences.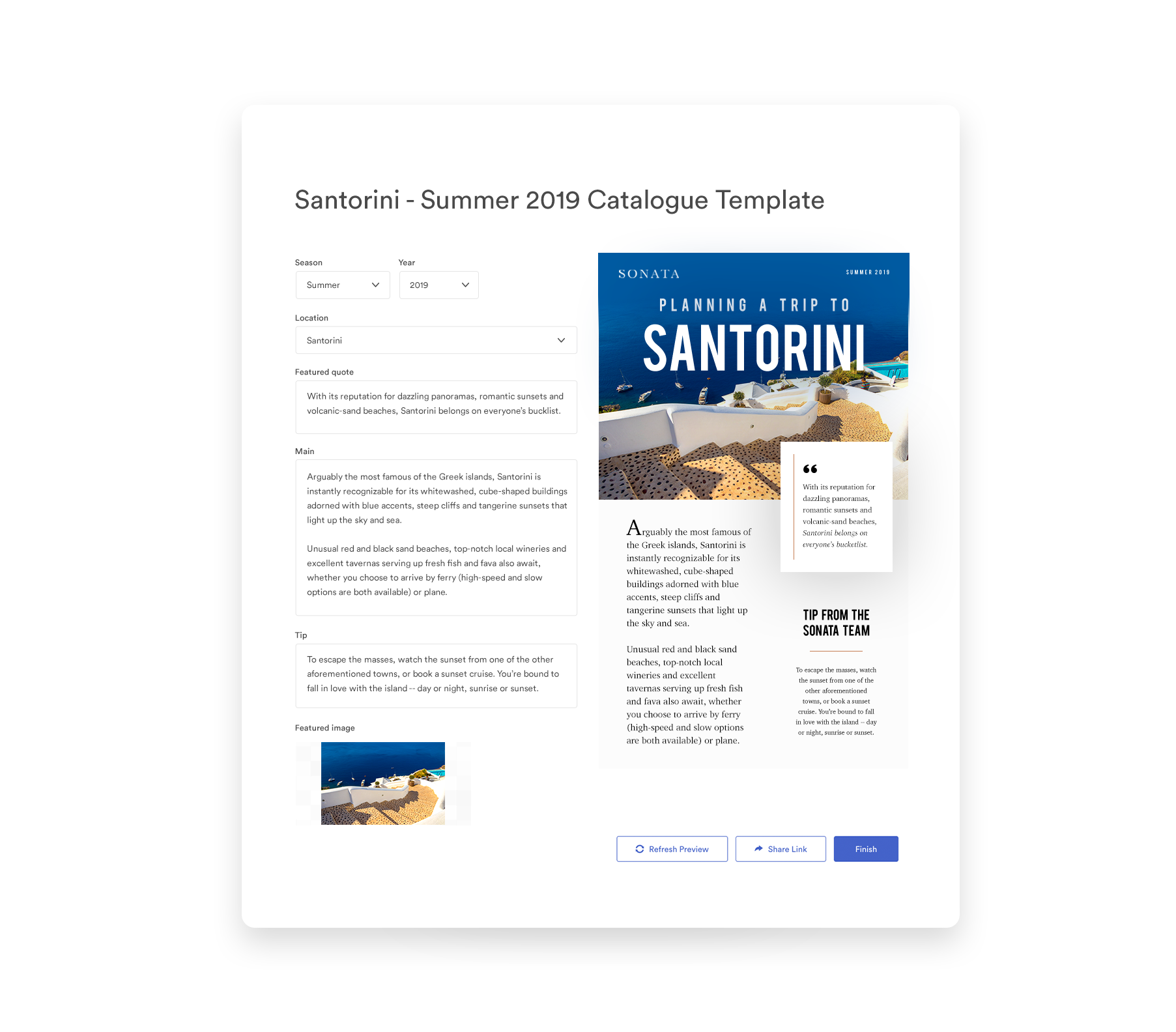 After making changes, they can refresh the template in Brandfolder and review the final product before downloading or sharing.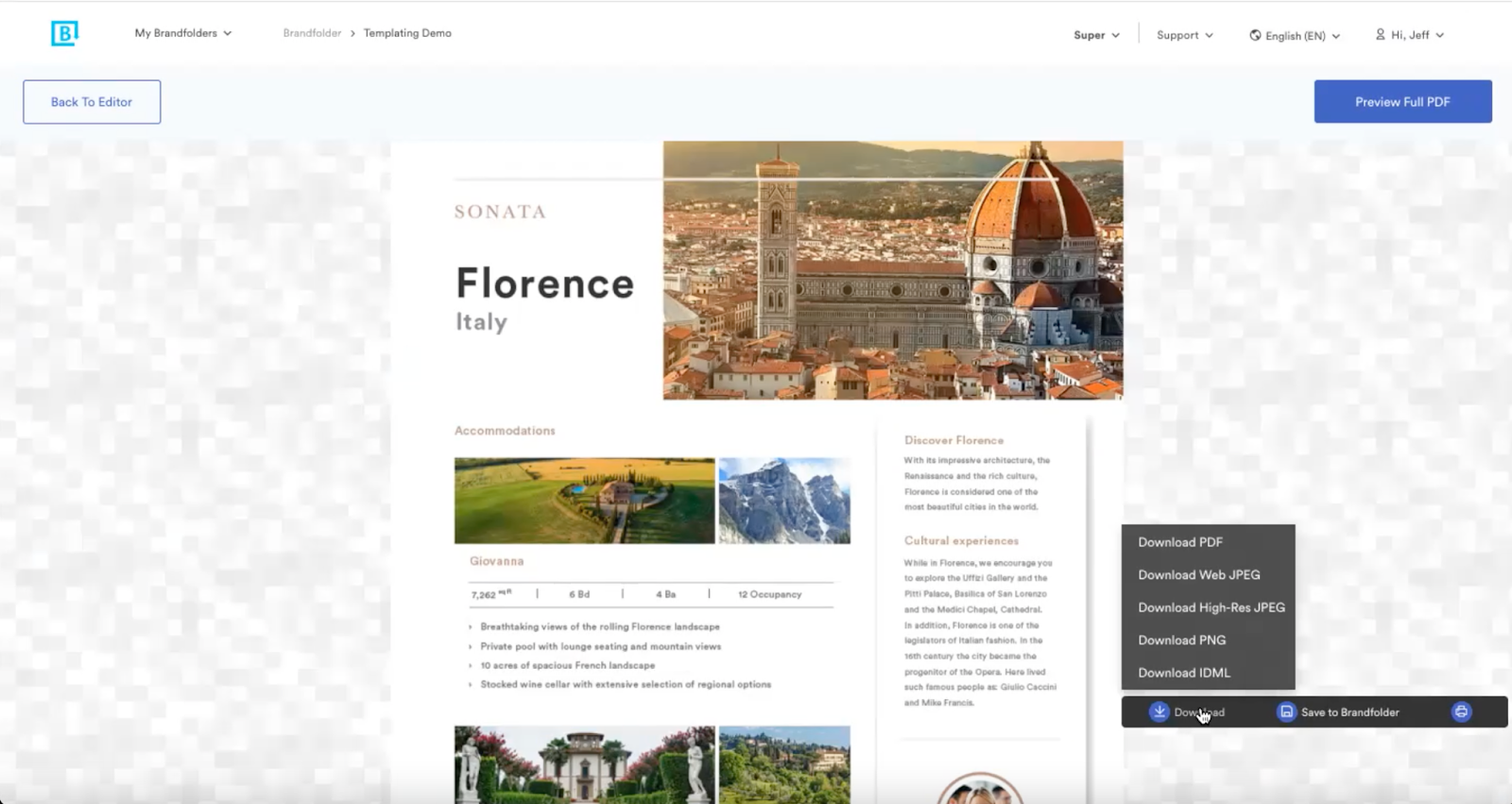 After confirming the template looks good, users can send the asset to a printer or download their finished product right from Brandfolder. Our platform allows for convenient file conversions so users can download the asset for different online channels, including email campaigns and social media platforms.
Improves Organization, Collaboration, and Shareability
When admins or other collaborators customize templates in Brandfolder, they have the option of saving the finished product directly to Brandfolder. However, any of your users can choose to download and re-upload their finished product to store in Brandfolder. This allows marketers to consolidate collateral for various marketing campaigns in dedicated collections or portals, collaborate on assets, and keep track of their marketing content.
Of course, as we mentioned above, storing marketing collateral in Brandfolder has the added benefit of more efficient shareability. Instead of uploading files and sending them over email, teams can use permissions to grant other users access to their content. Or, they can create custom share links to share their assets with anybody (including other users or external parties).
These custom share links also give teams greater control on how assets are shared. With custom share links, users can set expirations to control how long others can access and use certain assets; attach brand guidelines so it's clear on how, where, and when assets can be used; even track who's viewing and interacting with collateral by requiring an email address to access assets.
Types of Marketing Collateral You Can Make with Brandfolder
Team members with access to your creative teams' marketing templates can create collateral for any target audience or use case. Examples of marketing collateral you can create in Brandfolder include:
Newsletters
Campaign header images
Press releases
Sales presentations
eBooks
Landing pages
Infographics
Testimonials
Case studies
White papers
Business cards
Menus
Product catalogs
Direct mail advertisements
Brochures
Flyers
One-pagers
Other Benefits of Investing in Brandfolder to Lessen the Load on Creative Teams & Improve Marketing Efforts
We've already covered some of the benefits of using Brandfolder to manage marketing collateral, such as easier team collaboration and asset sharing, but let's review some of the other benefits of using Brandfolder to house your digital content.
For Creative Teams:
Thanks to our integration with Adobe Creative Cloud, designers can also easily update all of the assets they have stored in Brandfolder. Instead of communicating about asset changes via email or Slack, our Workflow features allow users to communicate on asset updates by simply leaving comments for other users on the file itself. Then, once the asset is ready for updating, they can push the asset to the native editing tool to make changes and push it back to Brandfolder once the edits are complete. This completely replaces the annoying download/upload/download/upload rigamarole most teams follow with basic cloud storage and editing tools.
Brandfolder merges all duplicate files, provides version history for all assets, and pulls the most updated version of your digital files so users don't have to wade through file versions and ask designers about which version of an asset to use.
For Marketers, Sales Teams, and External Collaborators:
Teams can use Brandfolder as a single source of truth and power online content, such as website pages and email marketing campaigns, using Smart CDN links. Every asset is assigned a unique URL so it can be embedded across the web. That means images for your site or in email campaigns can be hosted in Brandfolder instead of downloaded and then uploaded to a web server. The advantage of this is that, any time an asset is updated within Brandfolder, it updates globally. This ensures all of your online content is up-to-date and saves teams the effort of combing back through their digital content and manually making updates when things change. For example, if the company updates their logo, they can do it once in Brandfolder and it will update across all web properties that are pointing to that logo.
Brandfolder also tracks usage metrics — such as where assets are hosted online and how potential customers interact with them, and how often they're being viewed or downloaded by other users and stakeholders. This helps marketers gauge the effectiveness of their marketing materials and refine their marketing strategies.
Get Started With a Free Demo of Brandfolder
With Brandfolder, creatives can store all of their InDesign templates in one place so that all of your users can log into their Brandfolder account, access dynamic marketing collateral templates from designers, personalize them to fit their use case, and then share them with whoever they need… all in one software.
To review the ins and outs of our templating tool, take a tour of our software's other features, learn more about pricing, and see how Brandfolder can help all of your teams manage their digital assets, contact our team for a free demo.