Digital asset management (DAM) software is a go-to solution for brands with a high volume of digital content because it offers flexible ways to store content, design content libraries, share files across different user groups, and track brand collateral. They're like cloud storage drives but on another level, and you can fully tailor them to your users and business requirements.
But digital asset "management" also encompasses the creation and distribution of content — and many teams overlook (and miss out on) the benefits DAMs can offer in this realm. Not only can DAMs help you organize, share, and make the best use of existing brand collateral, but they also have features to:
Manage new creative requests and track the progress of content creation.
Transform and edit brand collateral for different platforms.
Create content from controlled templates.
Share brand guidelines with teams and partners.
Streamline content distribution strategies with partners and retailers.
Push content and metadata to other applications in your workflows.
Send and monitor print orders.
Publish digital media across the web.
This guide explains how to leverage DAM software to optimize content creation and distribution strategies — streamline design workflows, use DAM as a single source of truth, and monitor content everywhere it lives.
You see the best ROI from DAM by configuring it around user workflows and carefully building your digital asset management taxonomy — and that's where our team comes in. We customize every Brandfolder per client and guide you through onboarding so you can reap all the benefits of DAM. Schedule a free consultation and demo to see how Brandfolder can work for your teams.
---
Establish clear organization in your content library (so you know what you have and what you need to create)
Brandfolder features let you make the best use of existing content — you can see what lives in your content library, find files when needed, and repurpose brand assets for new use cases.
DAMs let you centralize brand content because they accept hundreds of file types — you can manage everything (and all users) in one place.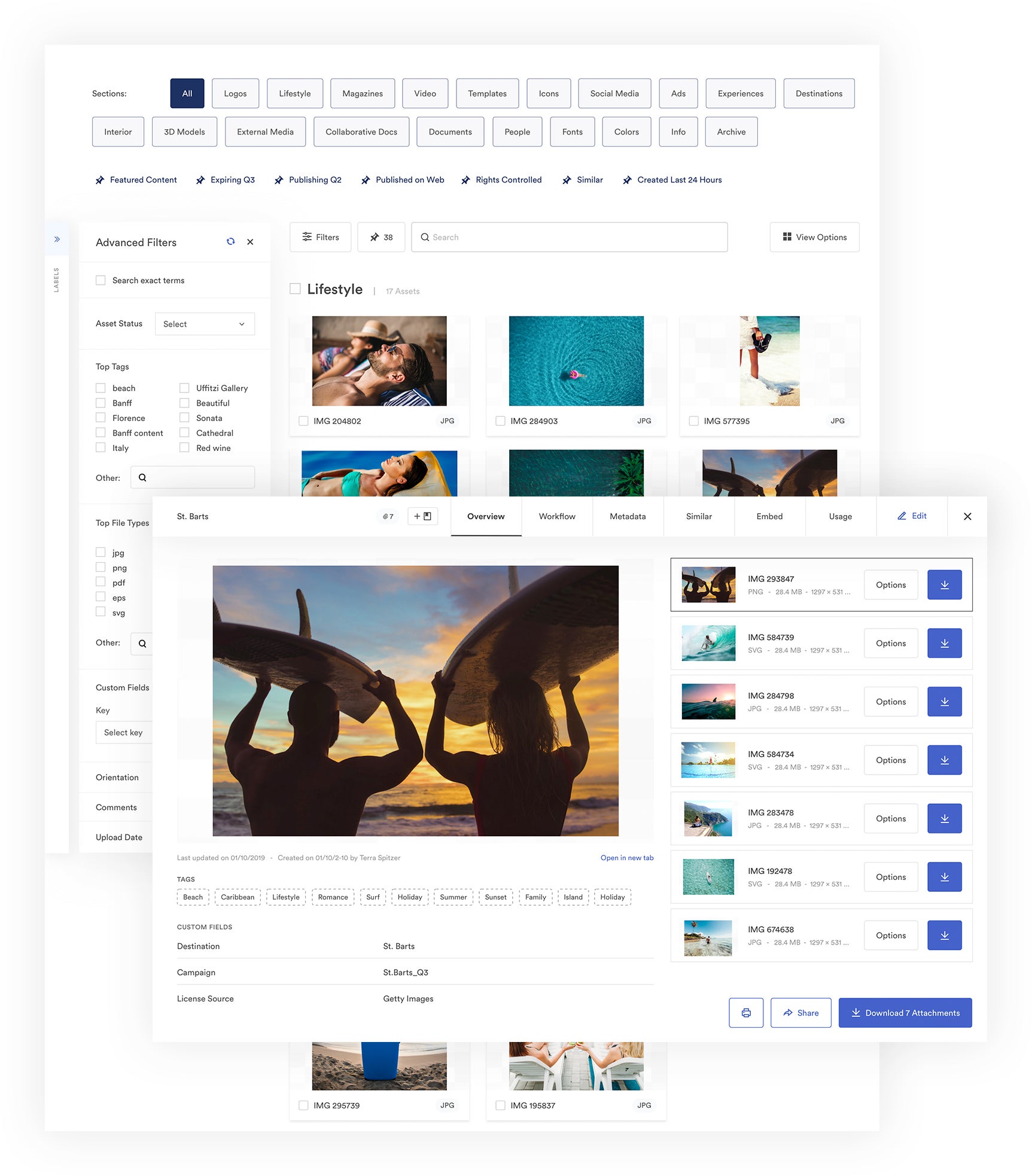 You have full control over the structure and layout of your asset libraries — you can even customize the appearance of your Brandfolders — so you can organize files to best suit your users. Plus, Brandfolder displays clear thumbnails of each asset so users can preview files as they browse.
Our onboarding team helps you build your DAM taxonomy and organize digital assets during migration so you can get up and running easily.
Upgrading from messy cloud storage drives and getting better control over your brand content offers several advantages:
You can actually see what content you have and keep everything in one place. You don't have last year's sales materials on Suzy's hard drive, product renders in your design team's Dropbox, and video content saved in an Adobe Premiere account. DAMs give you better visibility over all your brand assets.

You can avoid wasting resources creating new content when it already exists. It's not uncommon for files to get lost or buried in messy storage drives. You recall creating that infographic but just can't find it. DAMs prevent this issue.

You can reference and repurpose archived content. Expired last year's sales decks but want to freshen up the design and re-use them? That's no problem. You can access all of your content (new and old) in DAM, un-expire and update assets, and re-share them with team members.
Most of all, you can strategically plan new content creation and allocate design resources responsibly.
Read more: 8 Ways DAMs Streamline Digital Asset Production | Brandfolder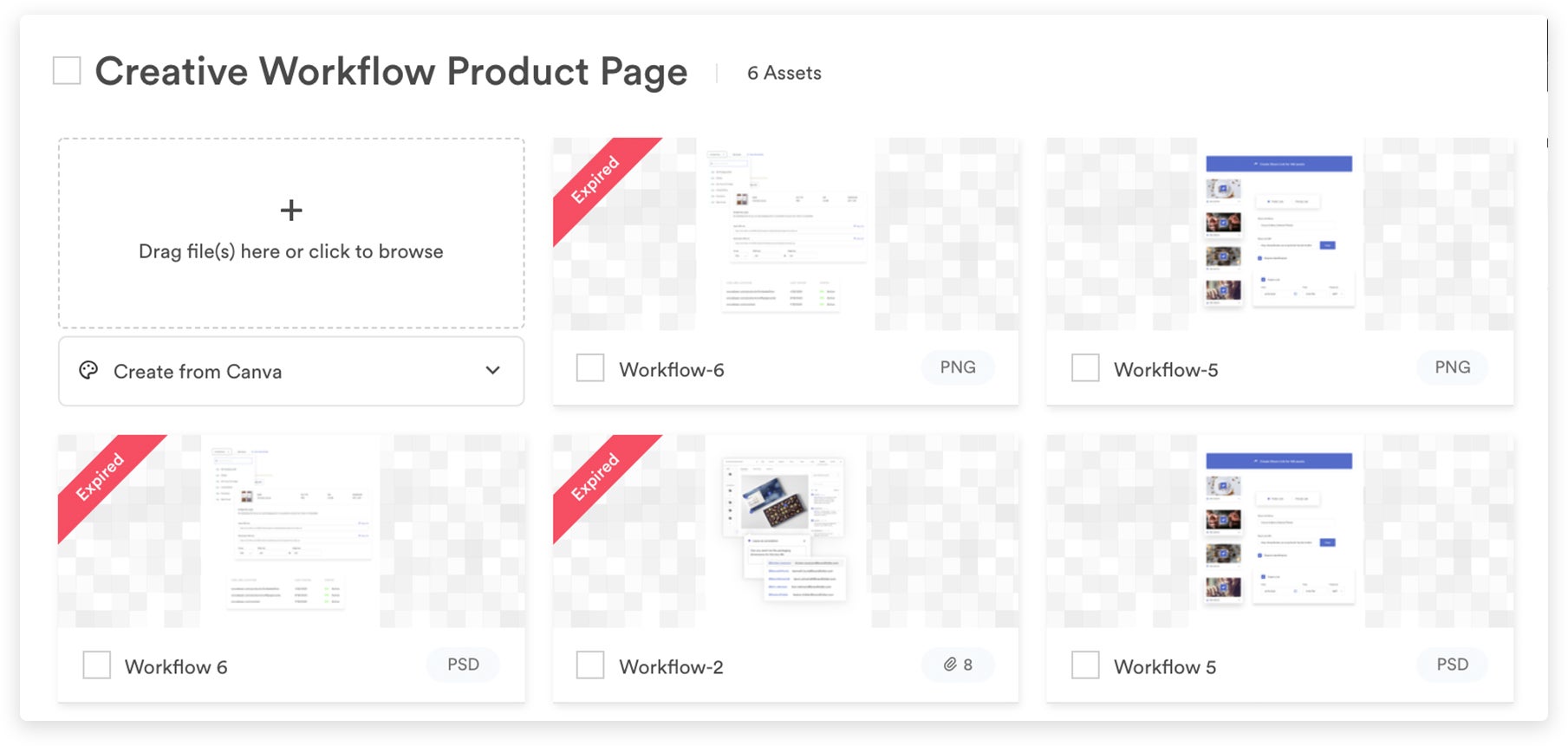 When importing new content to the DAM, Brand Intelligence AI analyzes files to automatically add the correct metadata and tags. (Metadata is configurable and editable, so you can store the necessary details with assets.) Brandfolder stores metadata at the asset level, so all users who have access to content can also access metadata.
Learn more here: DAM Metadata: Background, Benefits & Best Practices
Once content is in the DAM, Brandfolder offers fully-trackable online sharing features to add team members to content and send files to external recipients. You can always see who has access to content and make adjustments to permissions or share link settings.
More on distributing content to partners later.
---
Manage new content creation in the DAM with Workspace
Brandfolder's native project management suite, Workspace, lets you collaborate on design requests and content creation in the DAM. The dashboard is modern, user-friendly, and operates like traditional PM software:
Create projects and add team members to project boards.
Split projects into tasks and assign team members based on their roles.
Communicate on task cards about what's expected and provide feedback.
Track everyone's progress and oversee each of the moving parts.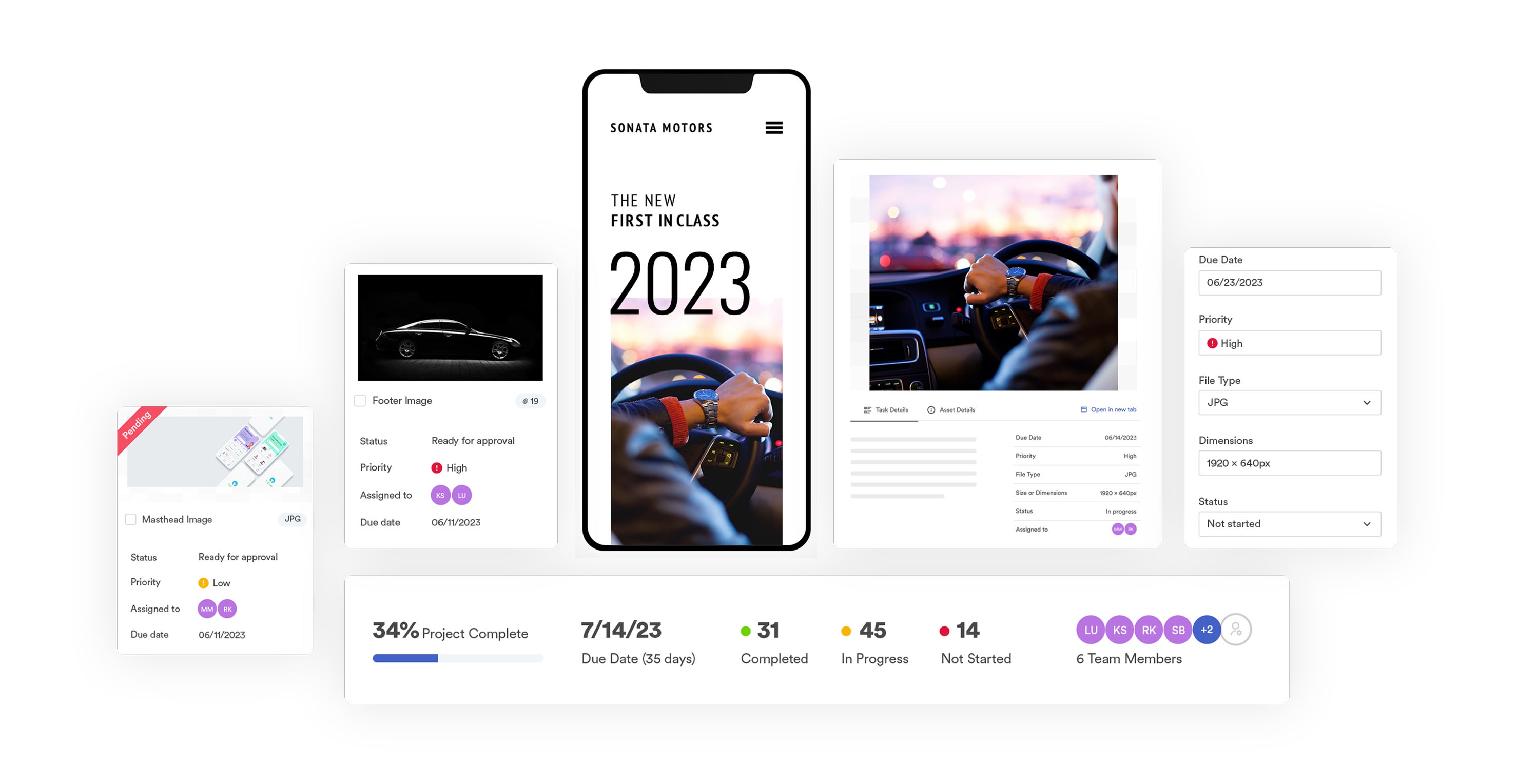 We also integrate with Smartsheet for broader PM functionality.
Workspace is handy for teams that need to communicate with designers about new content for projects. It unifies digital marketers, sales teams, and even retail partners (with access) and provides a simple way to request creative collateral, check the design team's status, preview in-progress content, stage landing pages, and retrieve new assets once available.
You can see how it works in our quick demo:
Read more: The Best DAM Project Management Solution: Brandfolder
---
Use transformation tools to give new life to existing content
Brandfolder has built-in transformation tools so you can effortlessly optimize content for different content distribution channels (e.g., social media platforms like Facebook or LinkedIn, eCommerce sites and blogs, email newsletters, and print mediums like flyers and brochures).
We offer:
Advanced Video to make video clips and GIFs, trim video files, and add watermarks to content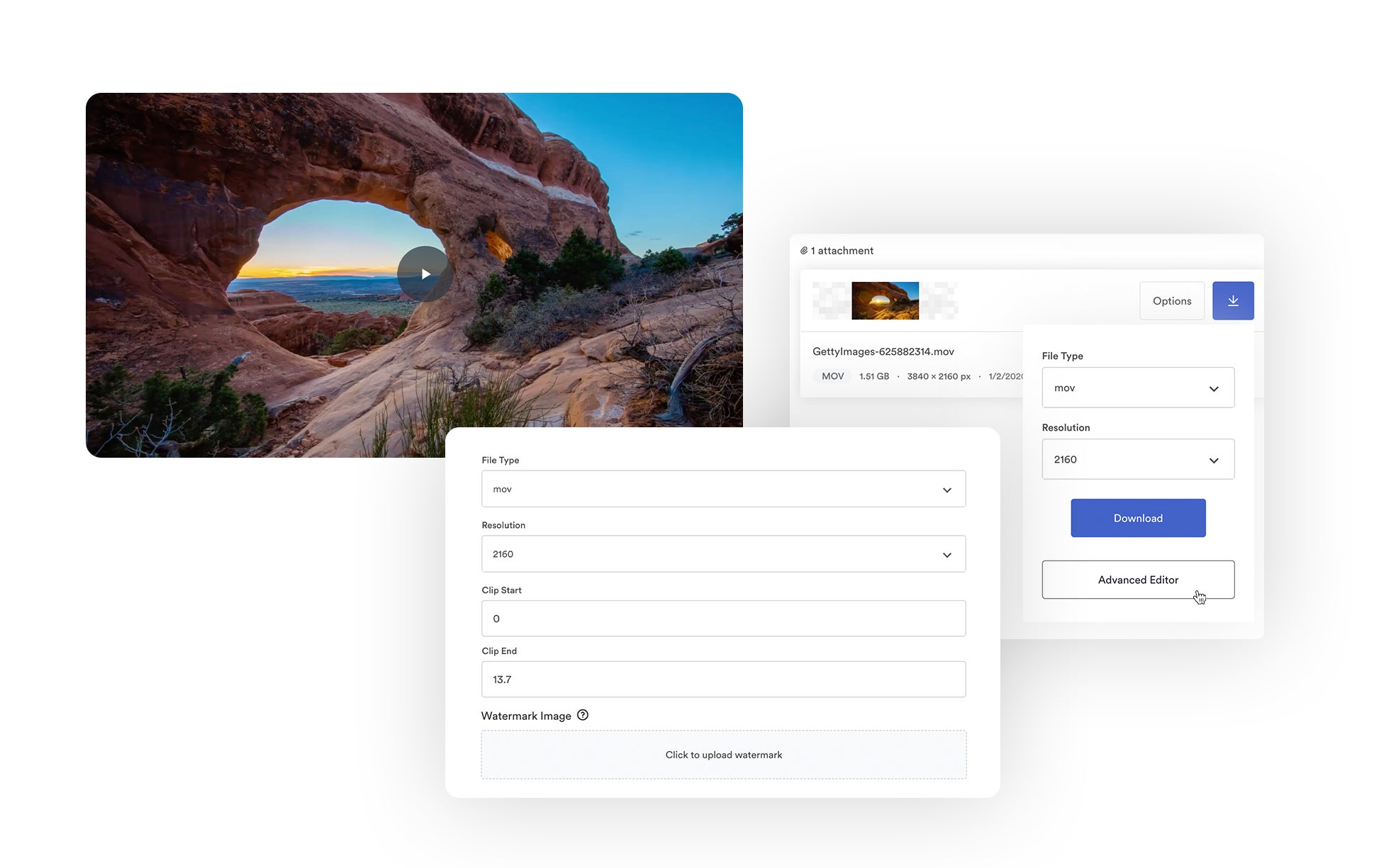 Users don't have to use an outside editor — and potentially distort or impact content quality — and they can share the "new version" of content directly from DAM without creating a duplicate file. Brandfolder tracks asset analytics and user activity so you can see which content is used most frequently and understand how/where teams utilize content.
Brandfolder also has collaborative tools within the asset Workflow tab so designers can make more in-depth edits to existing content. Here's a quick rundown of how it works:
Designers (or other approved users) can comment on assets explaining the requested changes.
The user assigned to update content can push the file directly from Brandfolder to the native editing tool and make changes.
Once changes are complete, users can push files back into Brandfolder for review.
If the new version of content is approved, it updates across the DAM (and everywhere it's shared or published), and changes are recorded in the version history.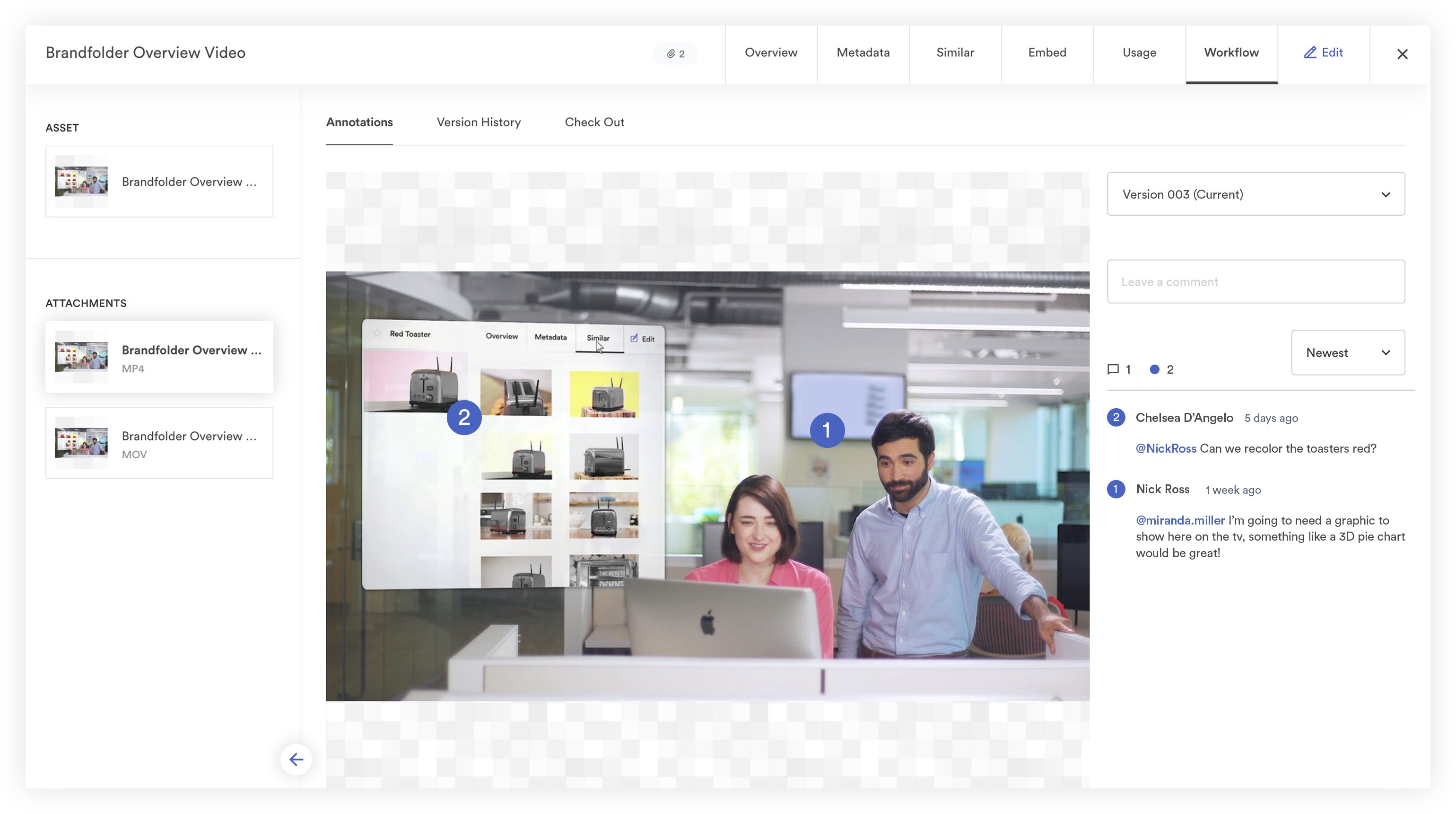 Read more: Digital Asset Management for Designers: The #1 DAM for Creatives
---
Content Automation empowers users to create new branded collateral
Use advanced templates (via Content Automation) to generate new collateral on demand. Users can easily create new marketing materials, brochures, flyers, and more.
Content Automation is one of our most time-saving features because:
It offers user-friendly tools that enable non-creatives to "design" content for new use cases (different target audiences, locations, seasons, promotional campaigns, etc.).
It offloads repetitive design requests to the users who need content, so it grants designers the time and freedom to focus on more significant projects and create new (unique) collateral.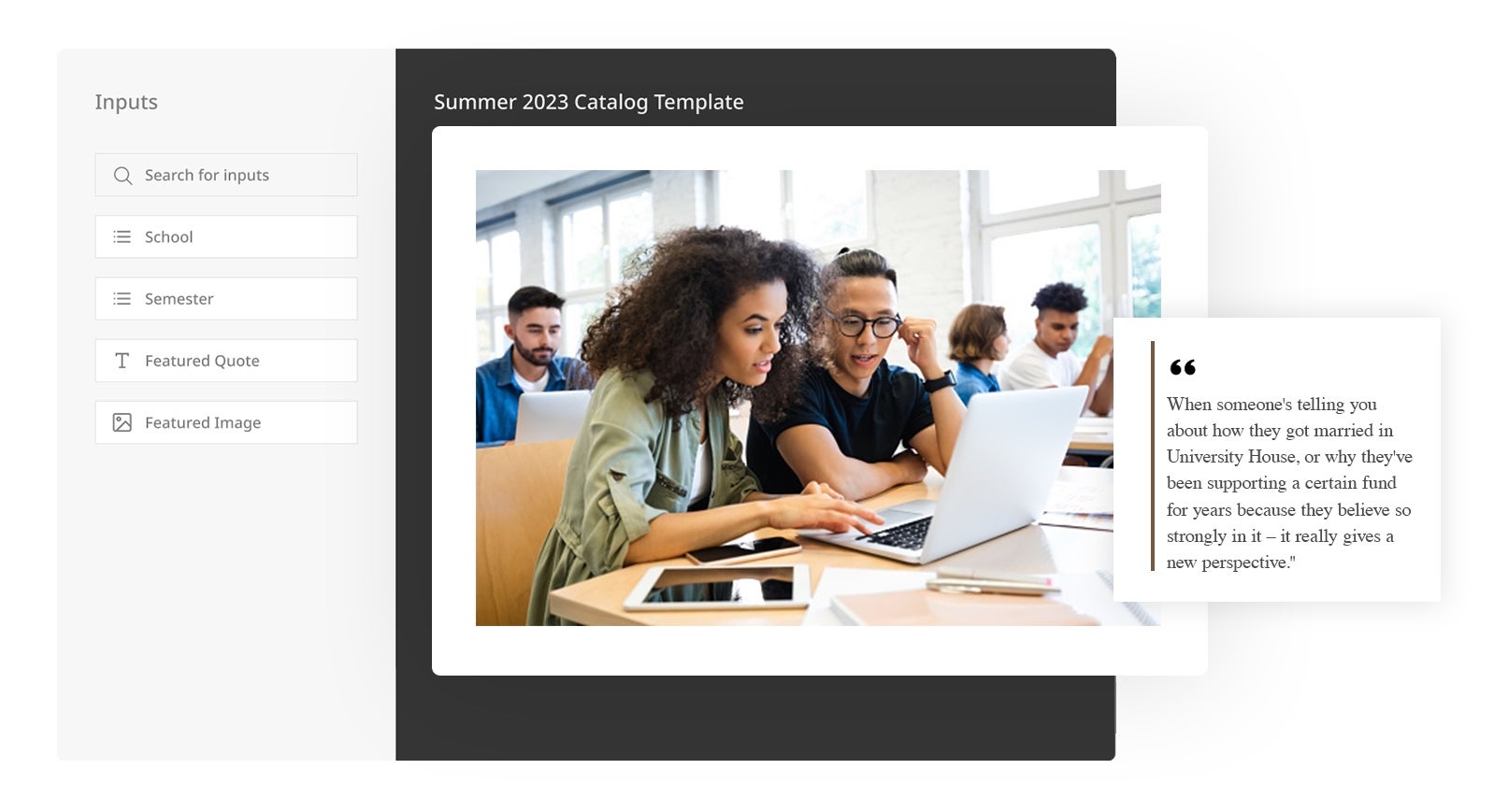 You can drastically cut back on new creative requests, empower users to create content on the fly, speed up time-to-market for digital campaigns, and improve operational efficiencies.
Here's how Content Automation works:
The design team creates and uploads templates for different types of content — you can store templates for retail flyers, marketing newsletters, product guides, and so on and so forth…
Designers lock critical design elements and restrict how end-users can "design" templates — you can control what images or media users can include, create color palettes, lock font sizes, add suggested text fields, etc.
Designers can distribute templates to the user groups who need them (via permissions, share links, or Brand Portals). Then, users can open, personalize, and download templates; feel confident they're working with on-brand, high-quality content; complete projects independently.
Note: Templates automatically reset between users, but users (with access; or Admins) can save the new content in the DAM for future use.
Users can create content within the confines of brand guidelines — all the right safeguards are in place before users can access templates, then your teams can confidently create collateral without going off-brand. Designers can also implement a review process before content is available (as an extra control layer).
Content Automation offers bulk functionality to streamline content creation even further: designers can make and apply edits across selected templates, and users can create multiple iterations of content pieces at once.
For example, say you recently hosted a webinar and want to send a thank you to attendees — you could find the template to create a personalized email newsletter and import the contact sheet with attendee information, then Brandfolder can automatically add each person's name and auto-populate other selected fields.
See how Content Automation works in our demo below:
Read more: Creative Asset Management in Brandfolder: Reclaim Your Time
---
Create & share style guides to reinforce brand consistency
Brandfolder's creative tools give you a lot of control over asset usage,but you can also support brand management strategies with Brandguide — a customizable, shareable style guide.
Design the look and feel of your style guide.
Add instructions on how to access, use, and re-use brand content.
Share templates and their intended use cases.
Include rights management information.
List the goals of your content distribution plan.
Add any extra details you feel relevant to the teams using your brand content.

Read more: The Brand Consistency Checklist: How to Build Loyalty & Recognition
---
Portals help distribute content to all of your partners
Portals offer straightforward ways to package and share collections of content with end-user groups — for example, specific divisions of your organization, retailers, media agencies (or any other groups you partner with).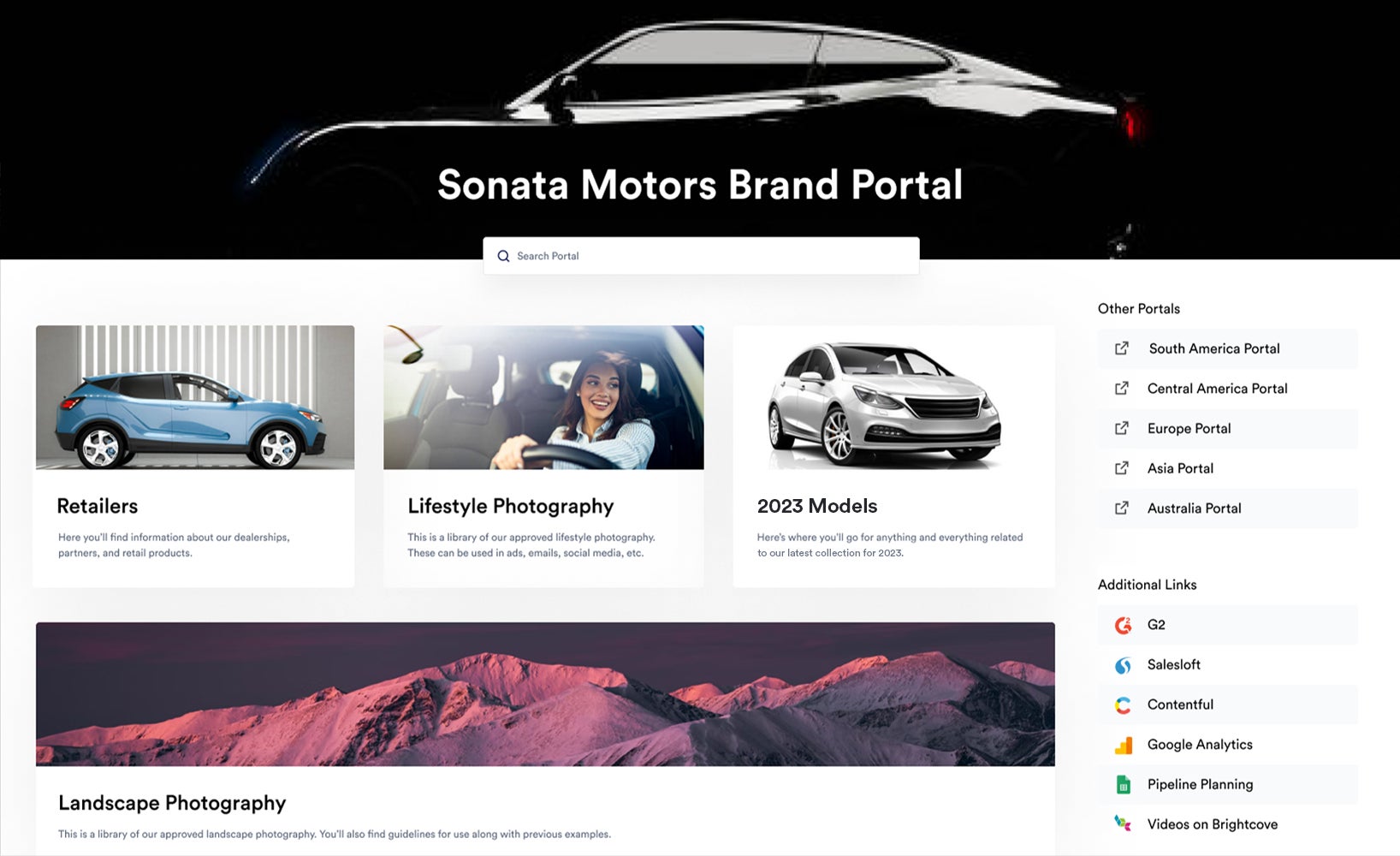 Brand Portals are easily customizable for different user groups: we give you complete freedom over the design of Portals — add branded media, logos, font styles, and colors; choose portal objects like search bars, navigational tiles, and widgets; even add custom CSS. This gives you greater control of brand representation when collaborating with partners.
Then, you can add the brand assets and resources users need for their roles — all in one fell swoop. For example:
Product documentation and technical spec sheets
Imagery
Approved media for website and blog content
Templates
Style guides
Promotional materials and sales collateral
Information about the brand history, buyer personas, and business goals
Links to other websites and Portals
When set-up is all said and done, you can grant access to Portals by adding users or sending a share link. Then, end-users can access content as needed; they don't have to rely on your team to send files or answer questions about new content. Plus, any new content you drop into Portals is automatically shared with authorized users (we even notify users when you add content, so you don't have to).

Check out our other case studies.
---
DAM integrations let you share content between systems & streamline online publishing
Brandfolder also supports user workflows and brand management by working with the other tools in your operations to receive and distribute content.
Our platform offers integrations with popular applications — design software, content management systems, eCommerce sites, PIM solutions, CRMs, and more. We also have web-to-print capabilities (via Ciloo), so users can send and manage custom print orders from the DAM.
With Brandfolder integrations, you can connect the DAM with Hootsuite to plan email marketing campaigns or social media posts, link your Shopify account to build product pages, and integrate with your CMS to add media to your website. You can also link content creation tools and send new collateral to the DAM.
We help you connect integrations during onboarding, then you can easily push content between systems.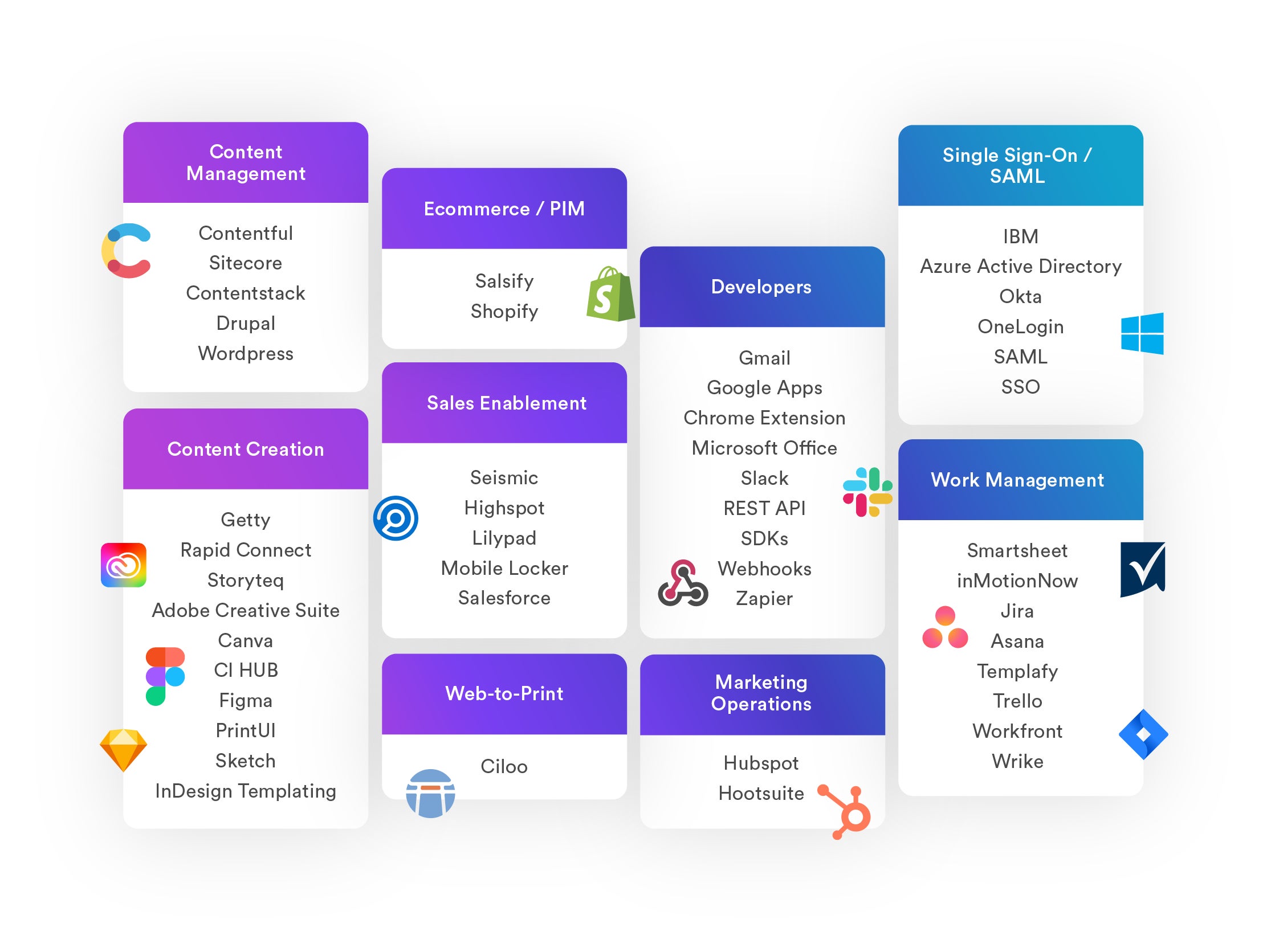 Brandfolder API offers extra flexibility to create custom integrations (if your teams use other applications not listed above).
Read more: Top 8 Must-Have Digital Asset Management Integrations
In addition, Brandfolder offers native content distribution tools, SmartCDN, to quickly publish media across different sites and track where content lives. You can access a file's CDN link in the Embed tab — then copy the embed code (we offer HLS stream links for video content) and paste it where you want to publish it. It's that easy.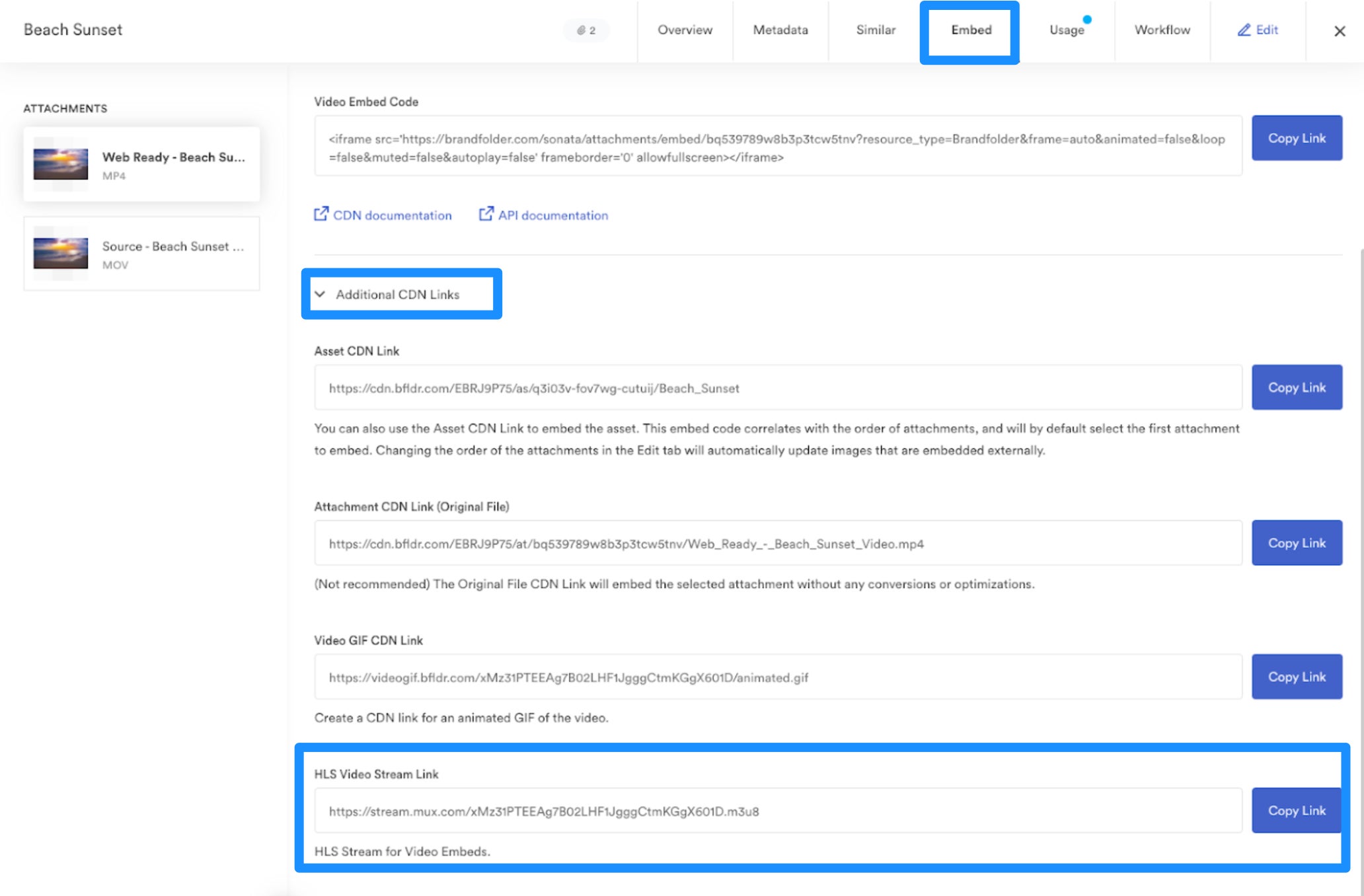 Leveraging Brandfolder to distribute content has a few benefits:
Brand managers can guarantee users publish approved content because they pull files right from the DAM system.
Updates to content are automatic — if you edit content in Brandfolder, the edits automatically reflect where content is published — because Brandfolder remains the source of the published file.
Brandfolder gathers usage analytics to track published content (and address issues if content is misused).
---
Bonus: Brandfolder reporting lets you track digital assets & refine content marketing strategies
As we've mentioned throughout this post, DAM is valuable to brand managers and content creators because it gathers insights on asset usage and user activity, so you can:
Track content through its lifecycle — see when each piece of content was created, review the version history, hone in on individual usage metrics, and check expirations.
Monitor how content is used — who it's shared with, and where it's published online.
Pinpoint your most successful content — see how often content is viewed, downloaded, and shared to determine which types of content users prefer to use in projects.
Uncover buried content (and employ strategies to improve discoverability).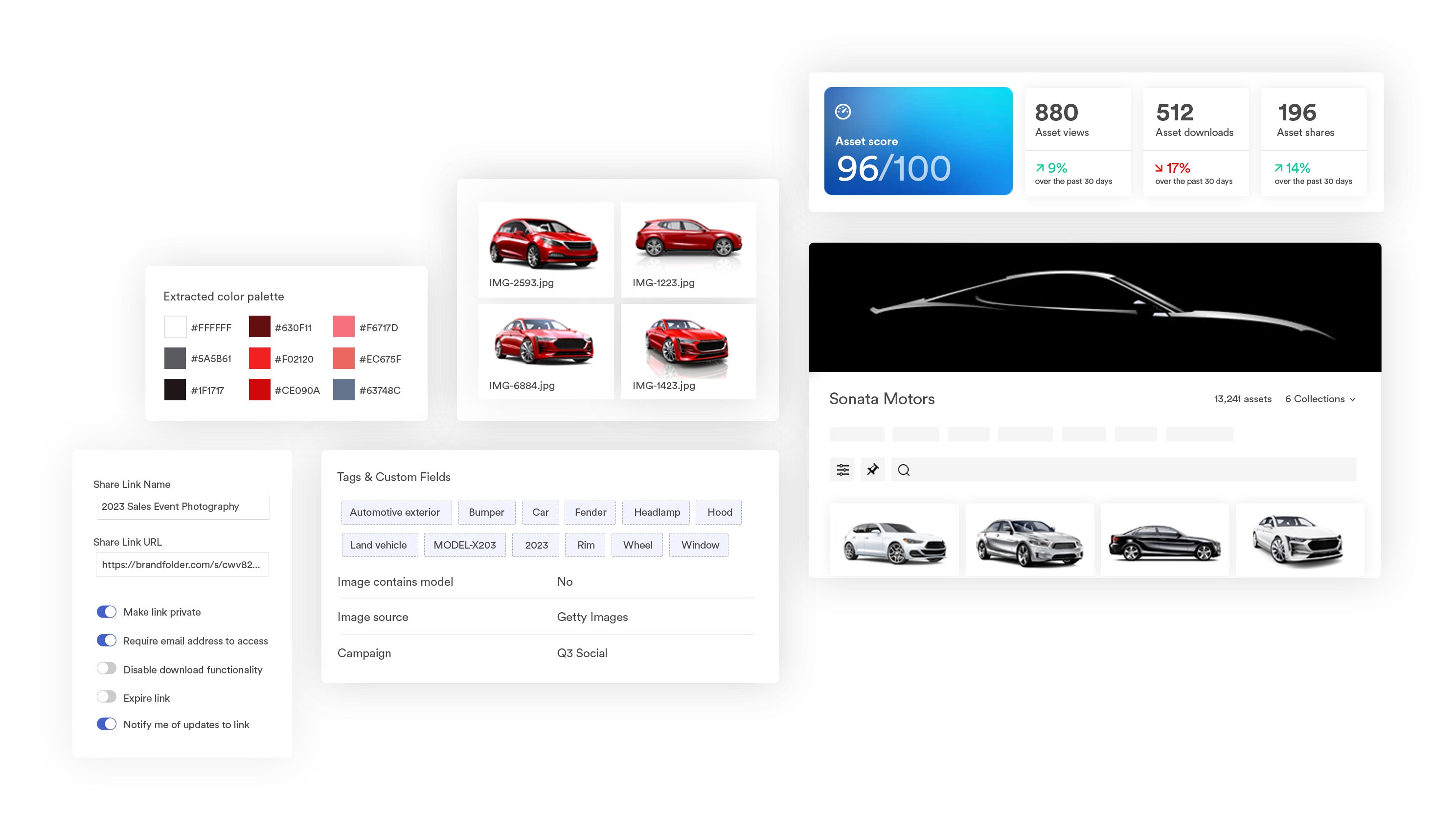 Brandfolder Insights lets you report on all your brand's content, and the results of digital projects, to make more strategic decisions in future content creation.
---
Brandfolder DAM: Custom solutions & fast, simple onboarding
Brandfolder features offer easier but more powerful ways to:
Manage existing content (and make that content work better for you).
Optimize asset usage and empower teams to use content without a designer's help.
Plan, manage, and support new content creation.
Distribute content — to teams, partners, and retailers; across your tech stack; online mediums; in digital projects.
Keep tabs on content inside and outside the DAM.
But the key to seeing great results from DAM is to tailor it to your requirements: you need to organize user-friendly file libraries, set up the right features and integrations, make content accessible to users, and provide tools that enable teams to (correctly) use brand content.
That's why our solution is designed to offer this flexibility. You can customize Brandfolder to support specific workflows, content types, and overarching goals — and we guide each step of the process. Most teams can make the switch in less than two months.
In addition, Brandfolder is one of the most scalable DAMs, so we can optimize and adjust our solution as your needs change. (We offer custom pricing based on what you require.)
We work with designers, media agencies, marketing and sales teams, professional photographers, enterprise brands, and more — schedule a demo to see how Brandfolder can work for you.
Related reads: