Digital Asset Management (DAM) is a central source of truth that allows organizations to easily store, organize, find, manage, distribute, and analyze their digital content.
Is your company having a hard time keeping up with your digital assets?
Stop me if you've heard any of these before:
Your video editor sends you a promotional video for a product launch slated for next month. You take the weekend off. On Monday morning, you look for the file. But you can't remember the file name, much less the folder you put it in.

Your marketing team prepares a ton of marketing collateral to help your sales team achieve their goals, but you see little to no improvement because your sales reps keep using outdated content.

You're a design manager, and you're up to your neck in project briefs and deadlines. Instead of focusing on content creation, you're wasting time responding to requests for creative files from your design team and other departments.

You're working with a bunch of partners, distributors, sales teams, and retailers. But they're either constantly bugging you for assets they can use in different formats, or they are using outdated or unapproved creative.
The list goes on.
All of these are solvable problems. A missing file can be sent and downloaded again. An image can be reformatted and resized in Photoshop in a matter of minutes. If something's not clear, all you need to do is ask, right?
The problem? Doing all of this requires more back and forth than your organization can afford. Minutes add up to hours and hours add up to days. The old adage still rings true: "Time is money!"
While you might think that cloud storage tools like Dropbox could help solve this issue, in many cases, they create a new set of problems. Duplicate files abound. Complicated folder structures become the norm.
Ask yourself this: If a new person joined your company today, how long would it take them to find a specific asset for a marketing campaign? Would they have to ask someone? Is there a complicated naming structure they would have to understand to be able to effectively search for an asset?
There has to be a better way to manage your entire digital asset library.
Well, how's this for a solution? Invest in a digital asset management (DAM) software!
Since you're reading this post, chances are you've at least heard of it. Still, you might be wondering: Why is digital asset management important?
The concept of digital asset management might sound complicated at first. But it shouldn't be. After all, it's designed to make life easier for you in part by being easy to use.
In this blog post, you're going to learn what DAM is, what it entails, and the many ways it can benefit your business.
Read along, or skip ahead as we cover:
What is a digital asset?
Benefits of digital asset management
Who uses digital asset management?
How does digital asset management software work?
Top digital asset management use cases
Frequently asked questions
What is a digital asset?
Digital assets and rich media are everywhere. Logos, product photos, brochures, images, videos, datasheets, newsletters — you name it. They're all around us.
Digital assets are the lifeblood of every business. They are critical for effective marketing, branding, and advertising.
In a world where digital media is constantly evolving, keeping up with the latest trends and innovations can be a challenge for any digital asset managers. It's one thing to have a continually growing library of digital media, but it's another when you have to take into account multiple formats, channels, media files, and product lines.
Content chaos can easily overwhelm any organization that is ill-prepared to handle such a deluge of information.
As a marketer, creative, or business owner, it's in your best interest to maximize the value of your digital content. To do that, you need to remove all the clutter and inefficiencies that get in the way.
A digital asset management (DAM) tool can help you do that.
What are the benefits of Digital Asset Management?
It's important to think of digital asset management software not only as a platform, but also as a process. After all, how can you organize and manage digital assets of different file types without a system to store and process all that information, including the metadata attached to them?
DAM software is a solution that provides a secure central system for simplifying the storage, creation, management, production, deployment, and tracking of digital assets.
Put another way, a DAM system is like an enhanced digital media library that streamlines everything. It eliminates bottlenecks in the creative workflow and boosts productivity.

The 11 Benefits of Digital Asset Management
One of the most appealing benefits of a digital asset management platform is that it helps your business stay on brand. Whether your company has ten employees or ten thousand, digital asset management software will keep teams organized within a single source of truth.
Brands today generate a lot more creative assets than they did 10 years ago. Without a system to store, share, manage, and collaborate, you're likely to experience asset sprawl and digital clutter.
A DAM platform guarantees that you're getting the most from your assets, and ensures you can quickly access relevant files forward when you chat with the media, potential clients, or other external partners and key stakeholders.
Here are 11 more in-depth benefits of digital asset management:
Finds digital assets fast without any training
Makes asset navigation simple and intuitive
Helps prevent re-creating digital content that already exists
Ensures digital assets are never unused
Enables you to access and share files anytime, anywhere, on any device
Helps you create and collaborate on digital assets in one place
Makes it easy to distribute company content across multiple channels, including social media, third-party marketplaces, content management systems, and more
Maintains brand consistency
Identifies opportunities for repurposing digital assets
Analyzes how assets are performing, where they're being used, and who is using them
Enhances knowledge management strategy and ability to turn tacit knowledge into explicit knowledge
How does Duo Security save their creative team more than 10 hours per week with Brandfolder? Click here to watch the video.
Who Uses Digital Asset Management?
There are two types of DAM users: Internal and external. Below are a few example use cases:
Internal Users
Creatives
In-house creatives such as graphic designers and photographers can use a DAM system to access branded assets and upload new creative files for review and distribution. These users will appreicate the built-in integrations for tools they regularly use such as Adobe Creative Suite and project management software.
Sales & Marketing
DAM software can help sales and marketing teams collaborate on branded collateral for use in sales pitches and presentations.
IT & Legal
IT professionals will benefit from DAM due to its ability to add metadata to assets and create custom configurations using API. Legal teams also find DAM systems useful as expiration dates can be added to assets, which minimizes the risk of them being misused, and reduces compliance issues.
External Users
Agencies
DAM systems enable agencies to easily store, access, edit and share assets needed for campaigns among team members. They can also quickly submit files for client review and approval.
Contractors & Partners
Companies need to make assets easily available to external contractors and partners when trying to sell services, create products or build any type of marketing campaigns. DAM software ensures everything stays secure, compliant and on-brand across all channels.
Easy Integration with Digital Asset Management
A DAM system can be integrated with a host of other tools and cloud-based platforms, including social media networks, content management systems, video solutions, and more.
DAM integrations centralize your core processes, allowing you to work with digital assets seamlessly, regardless of type, format, medium, storage location, or method of delivery.
Want to share your Adobe files with your development team? Simply drag and drop the files to the appropriate folder. Want to receive real-time notifications every time an asset gets updated? A good DAM software has an integration for that, too.
You don't need to waste time switching from one platform to another to find the right asset, or waste precious minutes downloading or uploading a single creative file in five different places. Moving files from one place to another is as quick and easy as adding a song to your favorite playlist.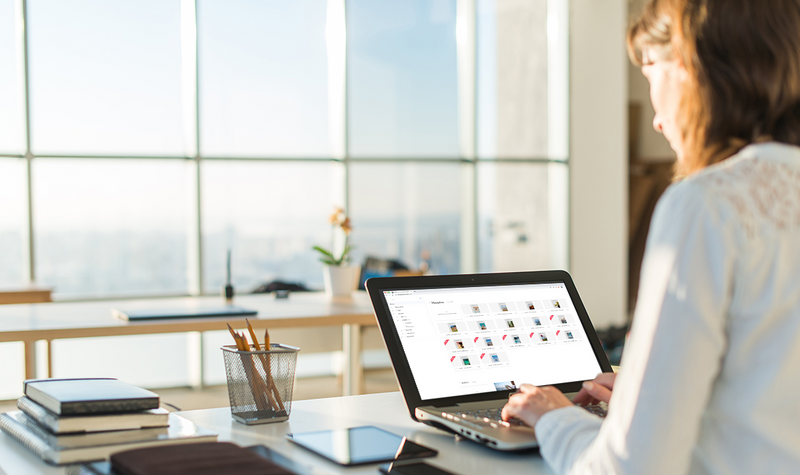 How Does Digital Asset Management Software Work?
There are six core functions – create, manage, collaborate, distribute, store, and measure – of DAM software:
Create
DAM software provides integrated tools that help bridge the gap between creative and marketing teams.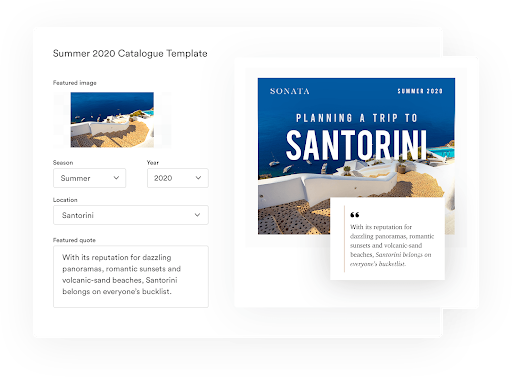 Teams can scale content creation, editing, and reviews by leveraging integrations with Adobe Creative Suite, native video editors, and project management tools like Jira. Approved assets can be quickly converted into editable templates, which are stored and organized by tags and collections.
Manage
The more assets you have, the harder they are to manage effectively.
DAM software acts as a central database where digital content can be neatly organized and tracked.
You can use tags, filters, and advanced search capabilities – such as in-document search and image recognition – to quickly retrieve files from asset libraries of any size.
Platforms such as Brandfolder will also allow users to tag any file type with metadata, track version history, assign access levels and permissions, set collection expiration dates, and use AI to detect duplicate asset uploads.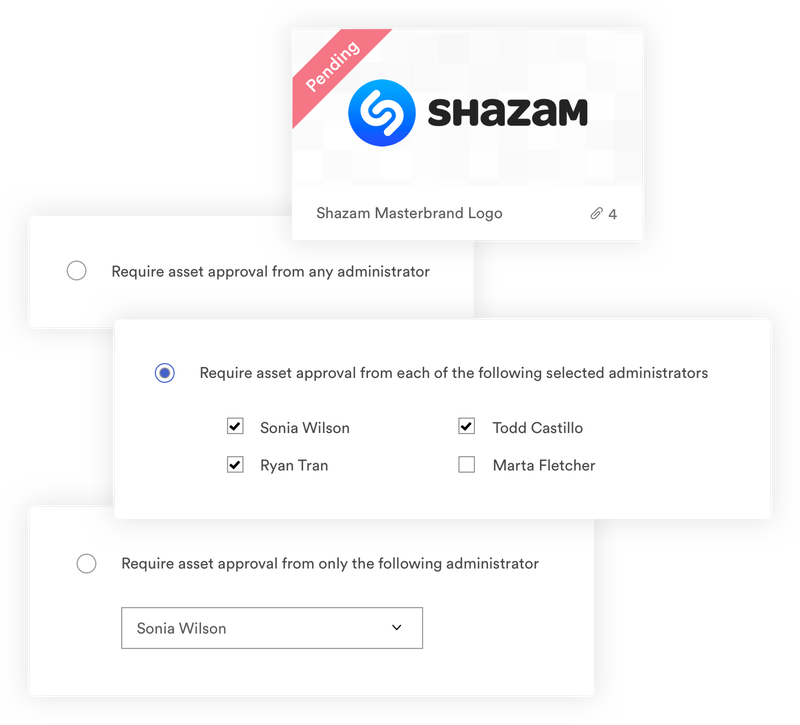 These DAM features not only help keep things organized and secure, but also reduce the redundancies that come with unnecessary re-creation of misplaced assets.
CASE STUDY: See how the global marketing team at PF Changs is able to bulk-manage their digital assets with Brandfolder and save hours of time each month.
Collaborate
After uploading assets, users can comment, pin annotations, make edits, and in the process streamline the entire review and approval process.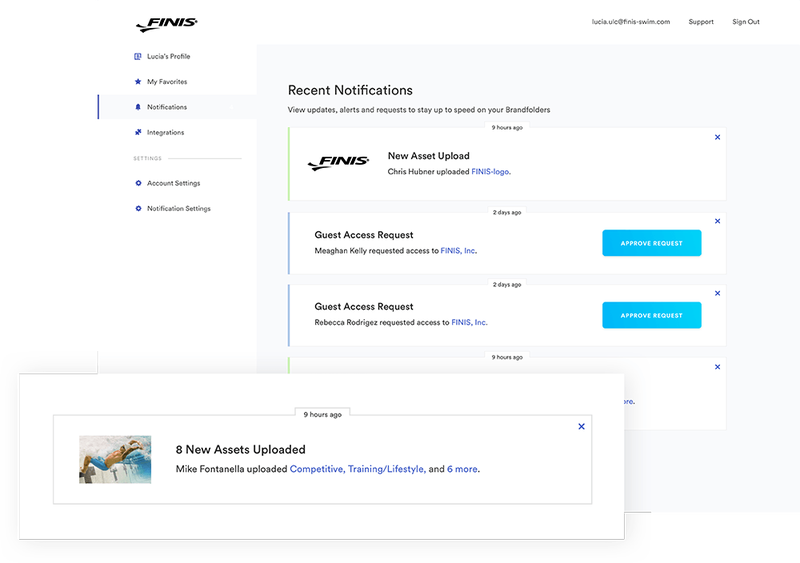 Collaboration extends to any asset type or media content, from PDF documents to design files and videos. Creatives can access and update files from anywhere, so your team can collaborate with the right people no matter where they're located.
Distribute
A DAM system enables assets to be published anywhere, while living in one location.
Distribute assets directly from your DAM using public or private links, and even attach an expiration date for security.
Embed assets directly into your website, so visitors and media outlets can access the most up-to-date logos, bios and brand imagery. Every time an asset is edited, or a new one added, it's automatically updated at the point of distribution.
CASE STUDY: See how Spyderco, a global leader in cutlery, streamlined management of brand assets for their worldwide manufacturing and distribution network.
Store
On-premise servers and pure cloud-based storage solutions are limited.
With on-premise solutions, teams are restricted to using files that they can access locally. With cloud-based storage solutions like Dropbox and Google Drive, storage limits may be inadequate for a library of rich media files.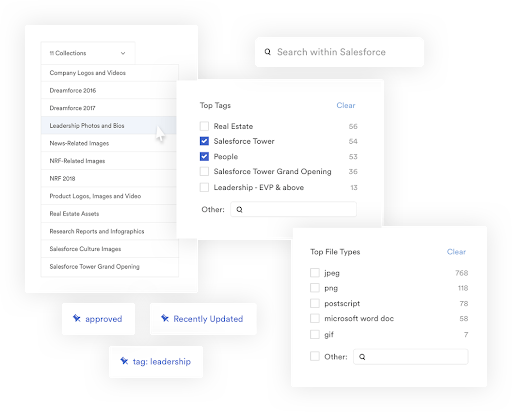 A DAM gives agencies and brands true digital asset storage for unlimited files, of any size, in one secure location. This is critical when storing larger assets such as high-res imagery, video and audio files.
File backups, user permissions and rights management ensure all assets are stored securely.
Measure
On-premise and cloud-based storage systems are limited in what they can tell you about asset usage.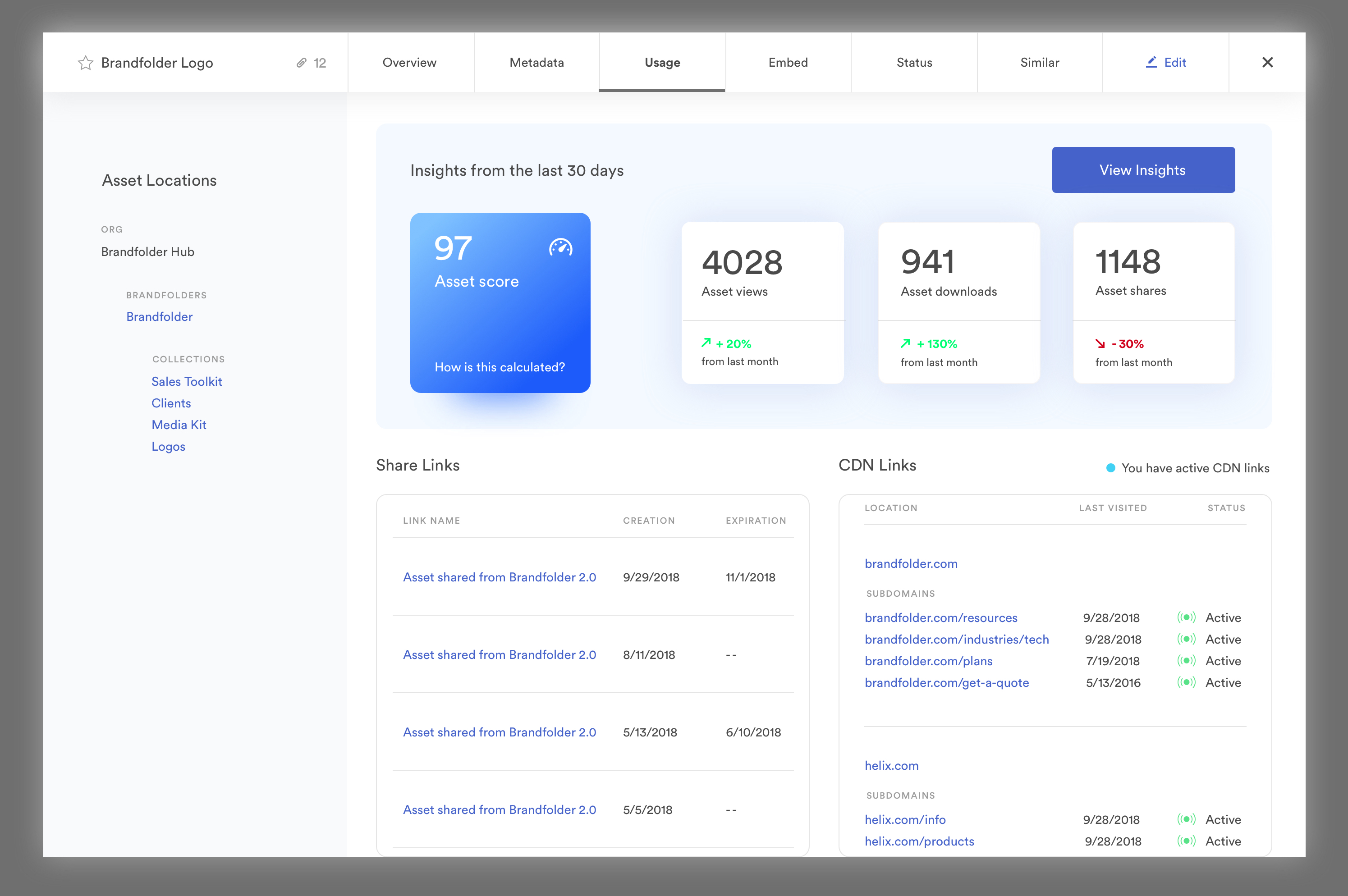 A digital asset management solution can provide detailed analytics and insights about which assets are viewed, used and interacted with the most. You'll also be able to see how this activity has trended over time.
This level of insight is critical in determining the ROI of brand assets.
Top Digital Asset Management Use Cases
Now that you have a general knowledge of what digital asset management is and the benefits, it's time to get a little more in-depth about popular use cases.
Digital asset management helps maintain brand consistency
Did you know that customers are more likely to purchase from a brand they recognize? Because of this, Fortune 500 companies make a proactive effort to maintain brand consistency in their marketing and advertising campaigns.
As evidence, 87% of buyers prefer brands that provide consistent customer experience across all channels.
Is it any wonder why Nike's "Just Do It" campaign was so successful over the past few decades? They killed the competition not only because of their simple but powerful slogan, but also because of their remarkable consistency. Every ad, every poster, every piece of marketing collateral screams "Just Do It." Today, Nike remains one of the most recognizable brands in the world.
When the assets you bring into the world are anchored by your brand's core values and identity, your target audience is more likely to pay attention. A sudden shift in color motif, or a tagline or slogan that slightly deviates from your brand's core principles, is more than enough to compel potential customers to look somewhere else.
Brand management is simplified when you have a DAM solution that serves as a central repository for your digital content. Relevant and up-to-date digital or media files become readily accessible, making it easier for users to create, manage, share, and collaborate on assets and rich media without deviating from your brand guidelines.
Digital asset management improves analytics and delivers insights
Thanks to a DAM software's integration capabilities, you can see how your digital assets are performing.
Whether you're tracking response rates, conversion rates, engagement rates, number of shares, or other metrics, a central repository for all your platforms and analytics tools can give you a more accurate picture of your ROI as it relates to your assets.
A DAM solution makes it easier to gather, manage, and interpret data from multiple sources, giving you valuable insights on how to maximize the use of your digital assets to support your business goals.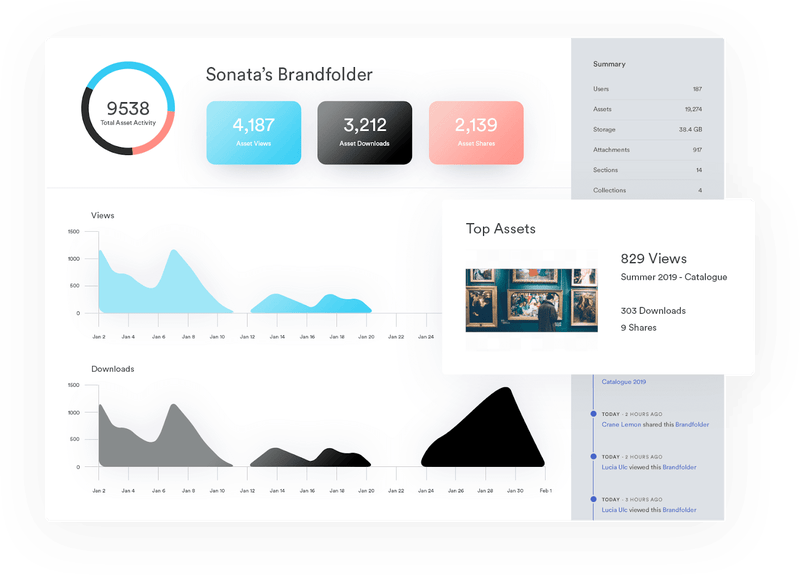 Digital asset management keeps content secure, and more
You need to keep your assets secure at all times. Files can be corrupted, servers can crash and fail, and files can become lost due to mismanagement. DAM software eliminates all these risks because it stores and secures all your digital assets in the cloud.
Cloud-based DAM systems come with features like versioning control, rights management, artificial intelligence (AI), data rendering, and more.
In other words, a DAM platform goes beyond the basics of cloud storage.
Digital asset management improves collaboration
A digital asset management solution creates an environment built for collaboration. When your creative teams use a file sharing platform that serves as a "central source of truth," it's easy for everyone to be on the same page, regardless of their location, time zone, language, or the department.
Because digital asset management solutions allow you to define role hierarchies and user permissions across all workflows, each user is able to better understand their role, helping them focus on assigned tasks.
Digital asset management enables users to find assets faster
Finding a specific digital asset can be even more time-consuming – not to mention frustrating – when you have files stored across different platforms and folders.
In fact, employees without access to a DAM system spend five times longer looking for the right assets.
DAM software uses metadata to quickly find a "lost" digital file or media asset with minimal effort. Even tangential search terms can help you find what you're looking for if the asset has in-depth metadata.
Digital asset management speeds up time-to-market
As marketing technologies evolve, businesses must find new ways to meet and exceed customer expectations. A digital asset management system allows businesses to dp that.
Thanks to its integration capabilities, intuitive interface, collaborative environment, and streamlined processes, DAM software can help you thrive in a multi-channel environment. It speeds up your organization's ability to execute campaigns, from ideation to development to execution.
Digital asset management eliminates risk of license non-compliance
Most digital or media assets can be obtained for free, but the best ones have licensing agreements attached to them. It gets difficult to keep tabs with these agreements when you have a massive database of photos, audio files, videos, and logos.
Non-compliance to such agreements not only make you liable to pay fines, but it can also tarnish your brand's reputation. Many organizations have closed up shop due to negative press and you don't want your organization to suffer the same fate.
Keeping track of your compliance obligations is critical to your organization's survival, but it requires a lot of time and effort that could otherwise be spent on core business activities.
Digital Asset Management systems come with a digital rights management (DRM) feature that ensures all copyright information is up-to-date and that all licensing agreements are upheld all the time. Thanks to DAM, staying compliant to licensing agreements requires little to no effort.
See how P.F. Chang's global marketing team is able to manage their digital assets at scale and save hours of work each month. Click here to watch the video.
Frequently asked questions
What is a digital asset management system?
A digital asset management (DAM) system allows businesses to organize, distribute, measure and securely implement digital files that make up a digital asset library, as a part of streamlining creative and marketing campaign workflows.
What are examples of digital assets?
Digital asset examples include any digital files used as part of a business' brand presence. They are often creative and marketing materials, commonly consisting of images, video, word documents, PDFs, graphics and design files.
How do I choose the right digital asset management solution?
5 Things to consider when choosing the right digital asset management solution for your business:
Look for unlimited internal and external user access.
Test search intuitiveness and ease of use.
Review integrations for compatibility with current creative project workflows.
Address security and rights management concerns with permissions settings.
Consider platform customization and personalization for brand consistency.
What is the difference between a CMS and a DAM?
A content management system (CMS) is used to build, display and publish content on your brand's website, whereas digital asset management (DAM) is designed to store, manage, manipulate and monitor all brand assets individually.
When should I invest in a DAM?
Any brand or business with a growing digital asset library stands to benefit from the efficiencies a single source of truth with digital asset management (DAM) provides creative and marketing teams, in the storage and distribution of those digital assets.
What does a digital asset manager do?
The role of digital asset manager is responsible for the taxonomy, metadata, measurement, storage and secure distribution of an organization's digital assets. Brands often have a digital asset management (DAM) system in place for the digital asset manager to administer and accomplish those goals.
Are you ready for a Digital Asset Management solution?
Now that you've reached this far into the article, it should be pretty clear to you whether your organization can benefit from a DAM solution or not.
If you value your digital assets and believe they are essential to the success of your business, then the answer should be obvious.
Are you ready to take control of your assets?