Digital asset management (DAM) software and a content management system (CMS) are not one and the same. Though they have distinct functions, they complement each other to improve online publishing and help you maintain a consistent brand image.
In this guide, we'll explain the differences between a CMS vs. DAM, their key features, and how to tell if you need both.
---
CMS vs. DAM: What's the Difference?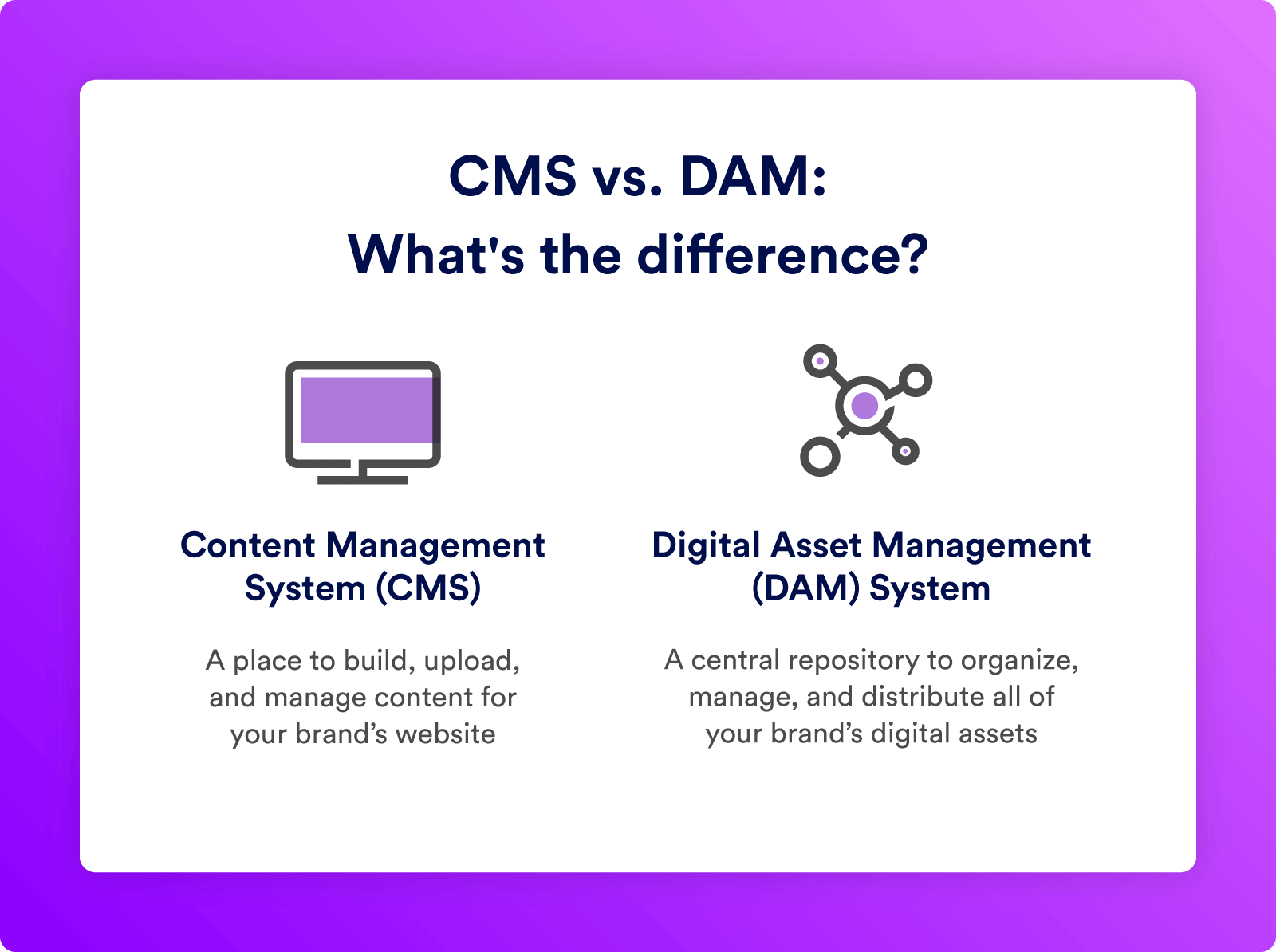 The main difference between a CMS and a DAM is that a CMS manages content for your website, while a DAM provides a system to manage your organization's entire library of digital assets. They share similar features with distinct applications.
CMS: A CMS platform lets you build a website, and then upload and manage published content on that website.
DAM: DAM software supports the organization and storage of all your digital files — including essential brand collateral — in one centralized location. The digital assets in your DAM comprise more than just website media, but documents, logos, 3D models, videos, templates, design files, and more.
Key Features of a CMS
A CMS enables you to build a website from the ground up, regardless of your technical knowledge. With tools for content creation and storage, it's a platform for an organization to manage and modify everything that lives on its website.
Key features of a content management system include:
Content Publishing: You have the ability to write, edit, and publish all website content within the platform.
Templates: Built-in templates and page builders make it easy to build your website's content — without knowing how to code.
Searchable Storage: The searchable content library allows you to find specific text, images, or other media files stored in your CMS.
Access Permissions: Simple permissions allow you to control who has the ability to edit and view web content.
Optimization and Reporting Features: Built-in tools and plug-ins allow you to optimize your web content for search engines and track how your content is performing.
Key Features of a DAM System
A DAM is a one-stop shop for your organization's digital assets. Beyond providing a system for asset storage and organization, a DAM gives your team a place to collaborate during the entire asset lifecycle — from ideation and production to distribution.
Key features of a digital asset management system include:
Central Repository: A DAM is a single source of truth for all of your organization's digital assets — documents, images, videos, etc. — that's always organized and current.
Version Control: The ability to view changes to assets and version history helps your digital asset manager and team edit assets collaboratively, while guaranteeing that everyone has access to approved, up-to-date content. Duplicate content detection and asset expiration features also ensure only current assets are distributed.
Search Functions: Advanced metadata and tagging features make it quick and easy for users to find the content they're looking for.
User Permissions: Specific access controls and permissions that align with each user's role keep your assets secure. Only approved users can view, edit, and distribute content.
Automated Workflows: The ability to automate manual tasks — like adding tags or notifying team members once assets have been approved — can streamline workflows and improve efficiency during the content lifecycle.
Performance Analytics: Monitor how your content is performing to gain insight into future content production and campaign ideas.
Built-In Collaboration: Collaboration features make it easy to communicate with team members in one place, so no conversations are lost via email or other communication channels.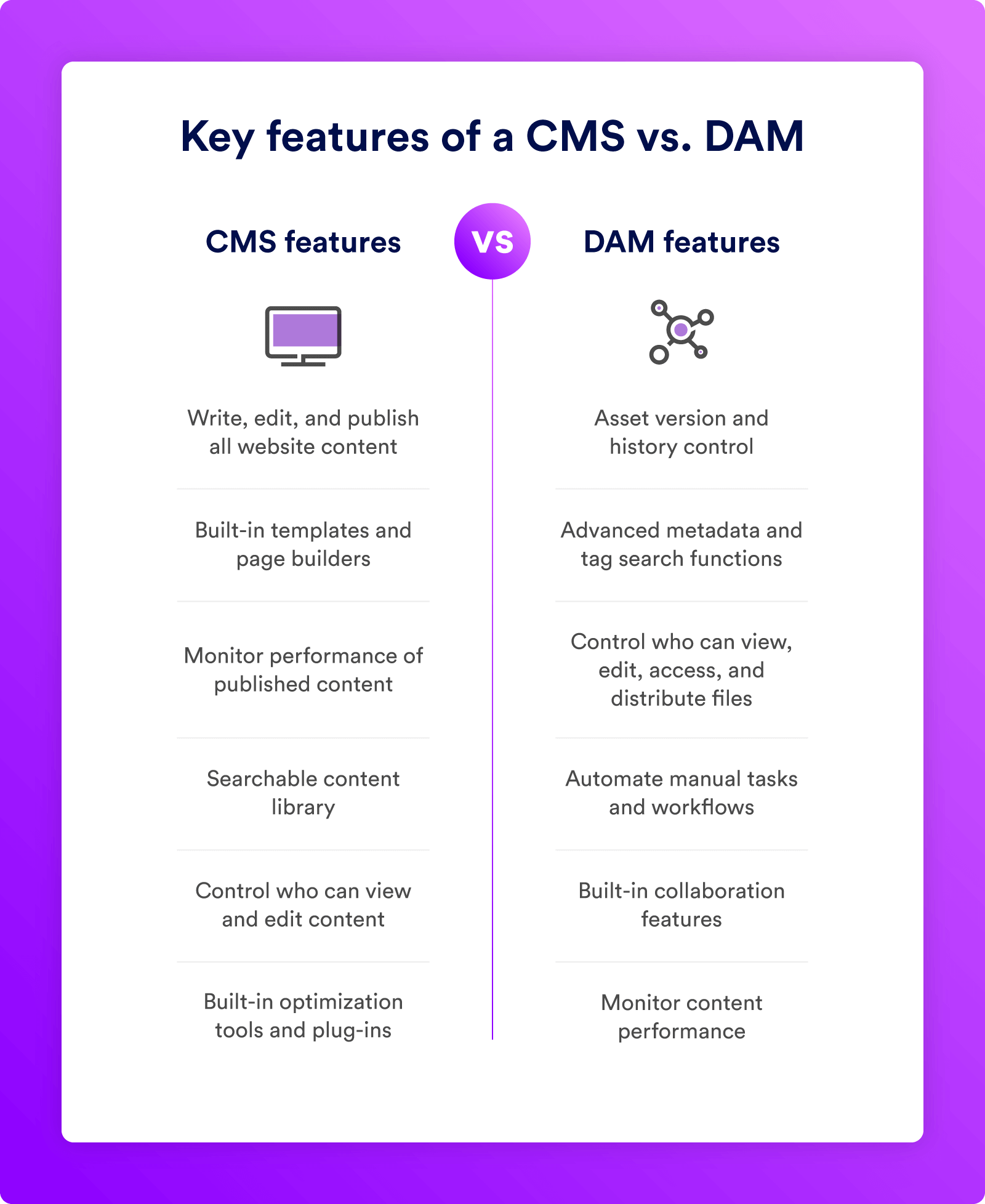 ---
CMS vs. DAM: Do You Need Both?
Generally speaking, digital asset management software has more widespread applications than a content management system. Surpassing cloud storage systems like Google Drive and Dropbox, DAM systems organize digital content and offer advanced tools to share, transform, distribute, and report on assets.
In contrast, content management systems like WordPress, Drupal, and Contentful let you create a website and publish web content. Although most teams use DAM and CMS software in combination to improve online publishing, you may not need both.
When to Use a CMS
CMS templates make it easy to create and host content on your website, but the software has limited asset management capabilities. Teams with minimal digital assets that often repurpose the same content may be fine using a CMS media library.
For example, if you only have a dozen or so media files that you publish on your website or blog, you can store and access them from your CMS media library. Businesses that can get away with just using a CMS typically have small publishing teams, manage one or two websites, and reuse a modest set of digital assets.
When to Use a DAM
A digital asset management system is essential if you have a larger library of content. With a DAM, you can organize a high volume of media files, maintain security with advanced user permissions, and track updates to your assets.
Connect your DAM with your CMS, since the media library in most CMS lacks features like organizational hierarchies, image version control, asset expiration, and more. Teams often outgrow these pretty quickly. So, if you anticipate having more than a handful of files to manage, it's easier to keep your content in a DAM and push approved collateral over as you need it.
When you have a large volume of assets, security is key. Advanced user permissions within a DAM ensure your content is being viewed and distributed by the right members of your team — and not getting into the wrong hands. A large volume of digital files also means there are likely multiple people who touch a single asset. Version history within a DAM makes it easy to see who's made changes to assets and what file is the most up to date.
Why You Need Both: Benefits of Integrating DAM and CMS Software
Instead of deciding between CMS and. DAM software, consider leveraging both solutions to improve your team's digital content management. If you have a high volume of digital assets and frequently publish online, you can use both tools and connect them via integrations.
When integrating both solutions, you don't have to jump back and forth between your in-progress post and the CMS media library, or deal with the challenge of finding and posting the right images. You're always accessing the most recent versions of files and maintaining the quality of your content as you transfer files between systems.
Here are a few key DAM benefits when integrating the software with CMS platforms:
Single Source of Truth: Since content isn't living in multiple places, you can find all approved brand collateral in one place and easily access the files you need right from your CMS.
Consistency: Content can automatically update if you make edits within the DAM, so you can maintain brand consistency when it's time to upload. DAM software has features to ensure all digital assets adhere to your brand guidelines, preserving consistency across all mediums.
Organization: Metadata and advanced tagging features make it easy to find the content you're looking for and confirm you're using the most up-to-date assets when searching for files from your CMS. If you manage multiple websites, you can create a dedicated folder for each site.
Reformatting Content: Teams can resize and reformat collateral for different purposes without having to download and re-upload files. This also prevents duplicate files from floating around and causing confusion.
Monitoring and Reporting: You can track where content is published online, see how many times assets have been used, and report on the success of digital campaigns.
---
Support Your CMS with Brandfolder's DAM Solution
A CMS and DAM can work in harmony to provide a single source of truth for all of your organization's digital assets while improving productivity and collaboration. A DAM solution — like Brandfolder by Smartsheet — complements CMS and online publishing because we have customizable integrations, a built-in CDN system, and a variety of tools to transform collateral before hosting it online.
You can store and organize all of your approved media content in Brandfolder, then access content from your CMS when you need it. It's as easy as opening the Brandfolder integrations panel and selecting the files you want to publish. Then, you can leverage our editing and reporting tools to re-use content and track projects — making the content creation process seamless from start to finish.
Still contemplating a CMS vs. DAM? Schedule a demo with our team to talk about what you're looking for in an online storage solution and see if Brandfolder is the right DAM to support your CMS.