Digital asset management (DAM) software and content management systems (CMS) are not one and the same. They complement each other to improve online publishing and help you maintain a consistent brand image. Here's a short explanation of what they do:
DAM software works as a central repository for all of your digital files and brand collateral — not just website media, but documents, logos, 3D models, videos, templates, design files, and more. They have advanced features to keep assets organized and make sure everybody is only accessing approved content. They facilitate distribution across many channels and give you better control over asset sharing.

A CMS platform lets you build a website, then upload and publish content on that website.
A digital asset management system comes with powerful features to manage thousands (if not tens of thousands) of digital assets. But the best DAMs are also flexible enough to support different business sizes and needs.
A CMS, on the other hand, has a very specific purpose: to enable online publishing.
Teams with a high volume of digital assets who frequently publish online use both tools and connect them via integrations.
In this post, we explain the differences between digital asset management and content management, plus provide tips on how to tell if you need both. In the latter half of this post, we'll explain how our DAM system, Brandfolder, connects with content management systems and review our features to facilitate online publishing.
Brandfolder is a robust and customizable digital asset management solution: We have dozens of features to use and repurpose media assets and you can connect our DAM with any software in your tech stack to speed up workflows. Schedule a free demo of Brandfolder to see if we're the right solution for your business.
---
DAM vs. CMS: Do You Need Both?
As we described, digital asset management software has a broader use case than content management systems.
You can think of DAM software as a step up from cloud storage systems like Google Drive and Dropbox — they house all of your digital content (even rich media), keep assets organized, and have more advanced tools to share, transform, distribute, and report on assets.
In contrast, content management systems like WordPress, Drupal, and Contentful let you create a website and publish web content.
Although most teams use both software to improve online publishing, not everybody needs both.
For example, if you only have a dozen or so media files that you publish on your website or blog, you can store and access them from your CMS media library.
If you have a larger library of content, though, it's best to store your files in a digital asset management system and connect your DAM with your CMS. That's because the media library in most CMS are pretty basic — you can't organize files in any clear order, there are no features to expire assets, no image version control, and the search can be clunky. Teams often outgrow these (and the basic cloud storage drives we mentioned above) pretty quickly.
So, if you anticipate having more than a handful of files to manage, it's easier to keep your content in a DAM and push approved collateral over as you need it. The only businesses that can get away with just using a CMS typically have small publishing teams, manage one or two websites, and reuse the same roughly one dozen media files.
---
How Brandfolder's DAM Supports Content Management Software & Online Publishing
Brandfolder is a highly-customizable DAM: You choose storage space, seats, integrations, and add-on features during onboarding, then adjust as your needs change.
This flexibility allows us to accommodate smaller businesses that want to ramp up online publishing efforts and support enterprise companies that have a messy media library, poor brand management, and need to get publishing back on track.
Note: Our team works with you through the entire onboarding process to help you organize files and configure Brandfolder for your specifications. We're always available to answer questions as you get adjusted to the platform, and we can help you make changes to your DAM set up in the future.
Learn more about moving to DAM software in our guide: 10 Digital Asset Management Best Practices From DAM Experts
Brandfolder acts as a central repository for all of your brand assets: We accept hundreds of file types and formats, including images, GIFs, videos, templates, Adobe Photoshop, InDesign files, and more. That way, you can manage all of your digital assets in one place instead of keeping different types of collateral in separate drives.
We also have advanced features to keep content organized and current as you add new files and update existing assets. (More on those below.)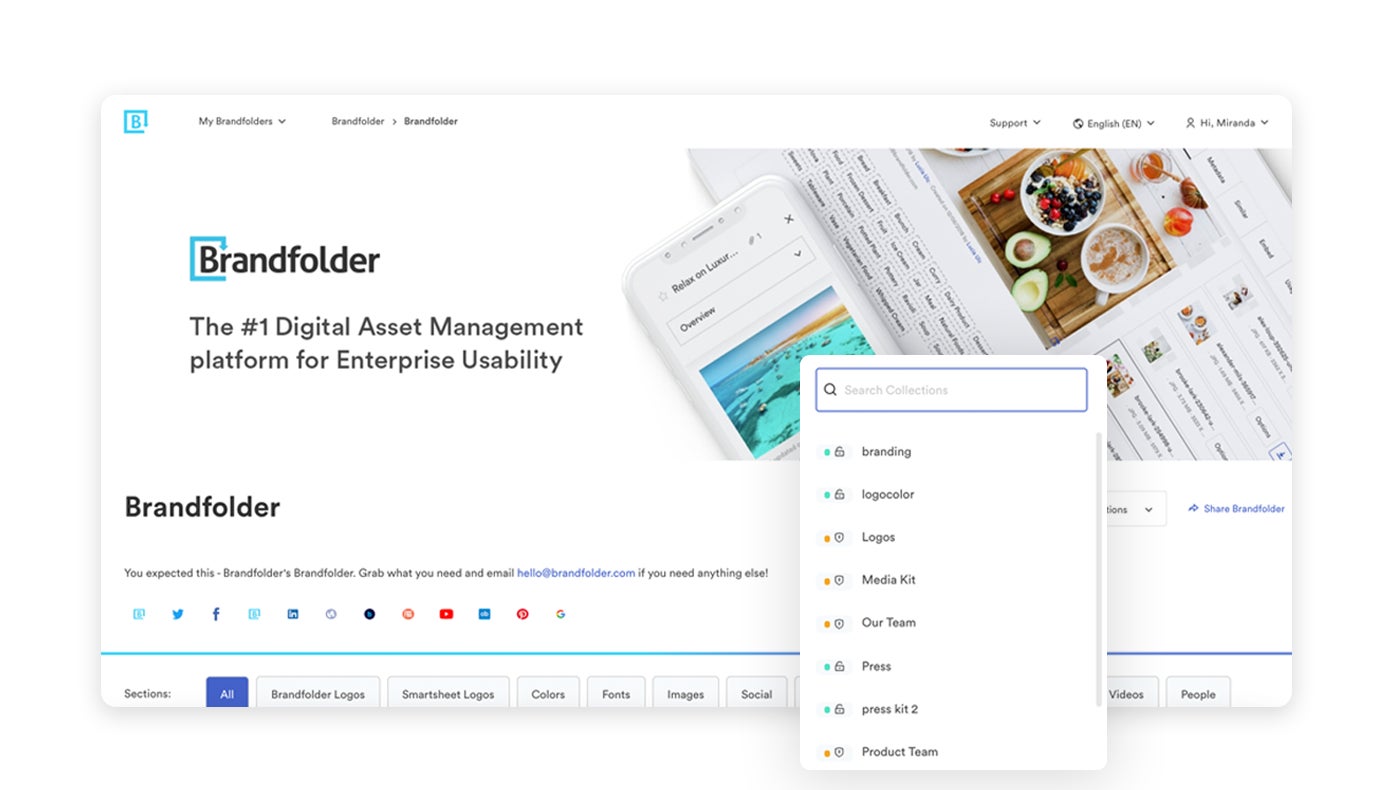 As you upload content into Brandfolder, Brand Intelligence scans each file to automatically organize digital assets based on the taxonomy rules you set and assign metadata and tags.
Brand Intelligence improves asset search and discovery, so you can quickly find the content you need — even when accessing DAM content in your CMS — and see new approved collateral that's related to your search.
Plus, you can extract asset metadata to use as alt-text when publishing content online; this improves search engine optimization (SEO) and allows your content to be found online more easily.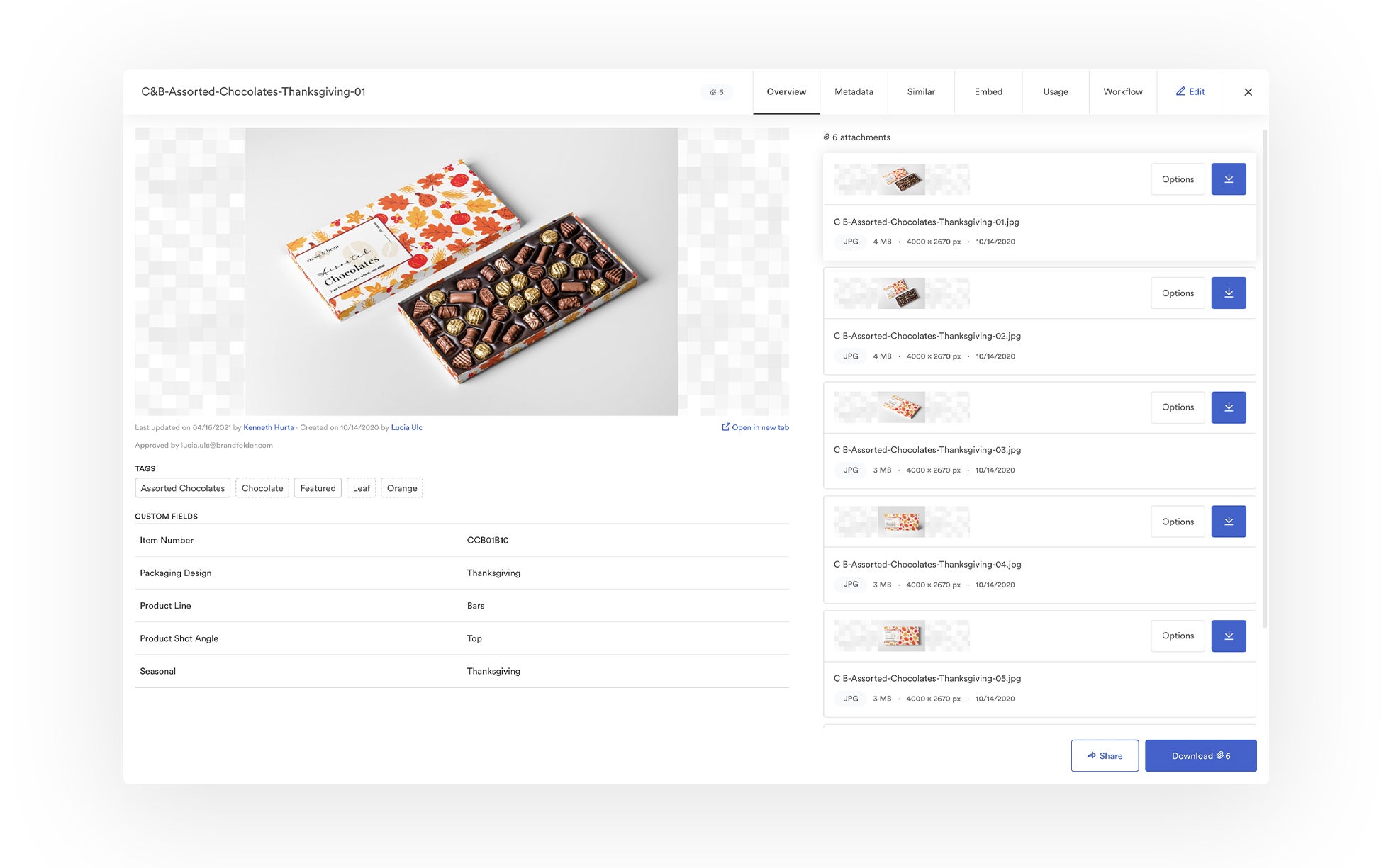 You can connect Brandfolder with any content management system you use. We have native integrations with WordPress, Drupal, Contentful, Contentstack, and Sitecore.
Our DAM also has an open-source API so you can create custom integrations with other tools. (The integrations panel is very user-friendly, but our team is also available to help you connect Brandfolder with other software.) Not to mention, we have an integration with Google Chrome, so you can use that to access DAM content from any web page.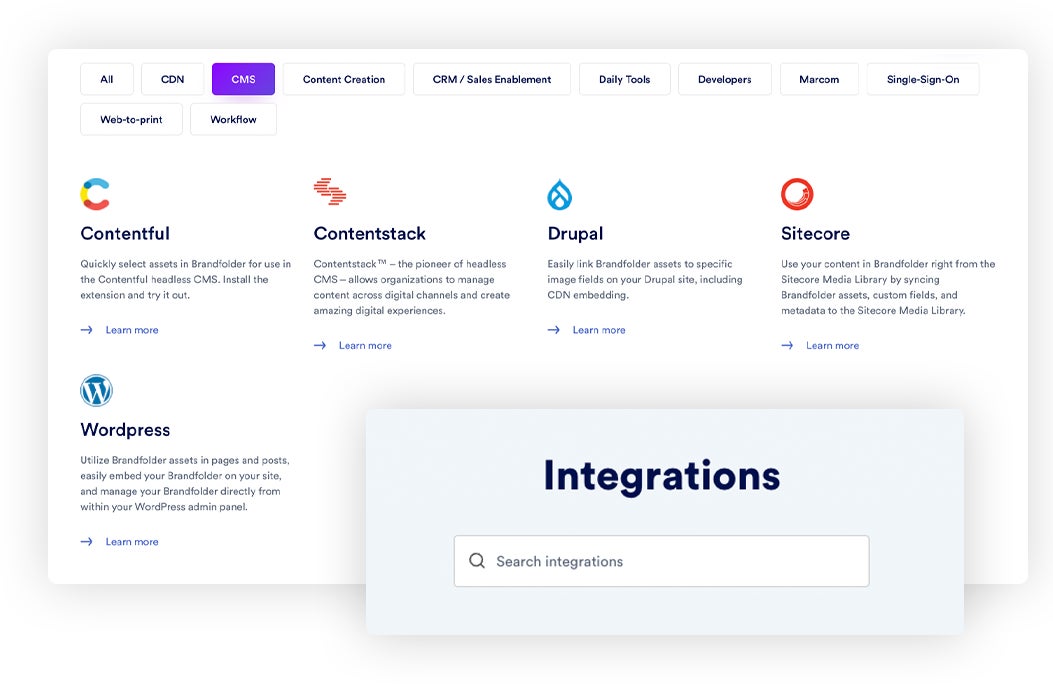 Once you've connected the two systems, you can access your Brandfolder library from within your CMS. Then, you can drop approved content into your CMS as you create new posts and pages.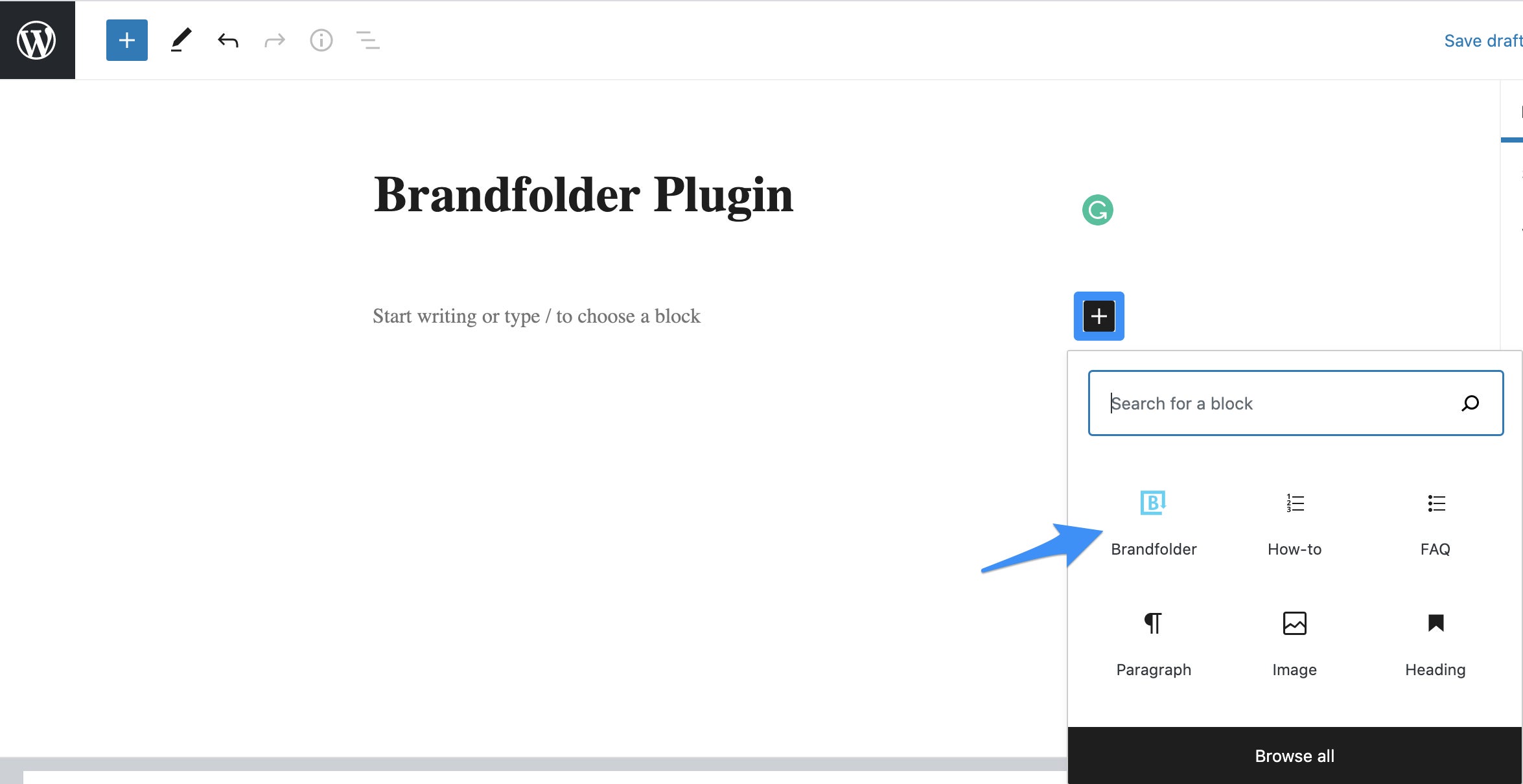 You don't have to jump back and forth between your in-progress post and the CMS media library, or deal with the challenge of finding and posting the right images. You're always accessing the most recent versions of files, and we maintain the quality of your content as you transfer files between systems.
Using DAM software with CMS has several benefits:
Everybody can be sure they're using approved collateral.

Content automatically updates if you make edits at the Brandfolder level so you can maintain brand consistency.

All of your teams can work in the software they're used to; for example, content marketers can access DAM content without jumping out of the CMS.

Teams can resize and reformat collateral for different purposes without having to download and re-upload files. This also prevents duplicate files from floating around and causing confusion.

You don't have content living in multiple places — you can find all approved brand collateral in one single source of truth.

You can track where content is published online, see how many times assets have been used, and report on the success of digital campaigns.
All of Brandfolder's integrations are powered by the built-in content delivery network (CDN); this is what enables the automation and clear tracking we mentioned above.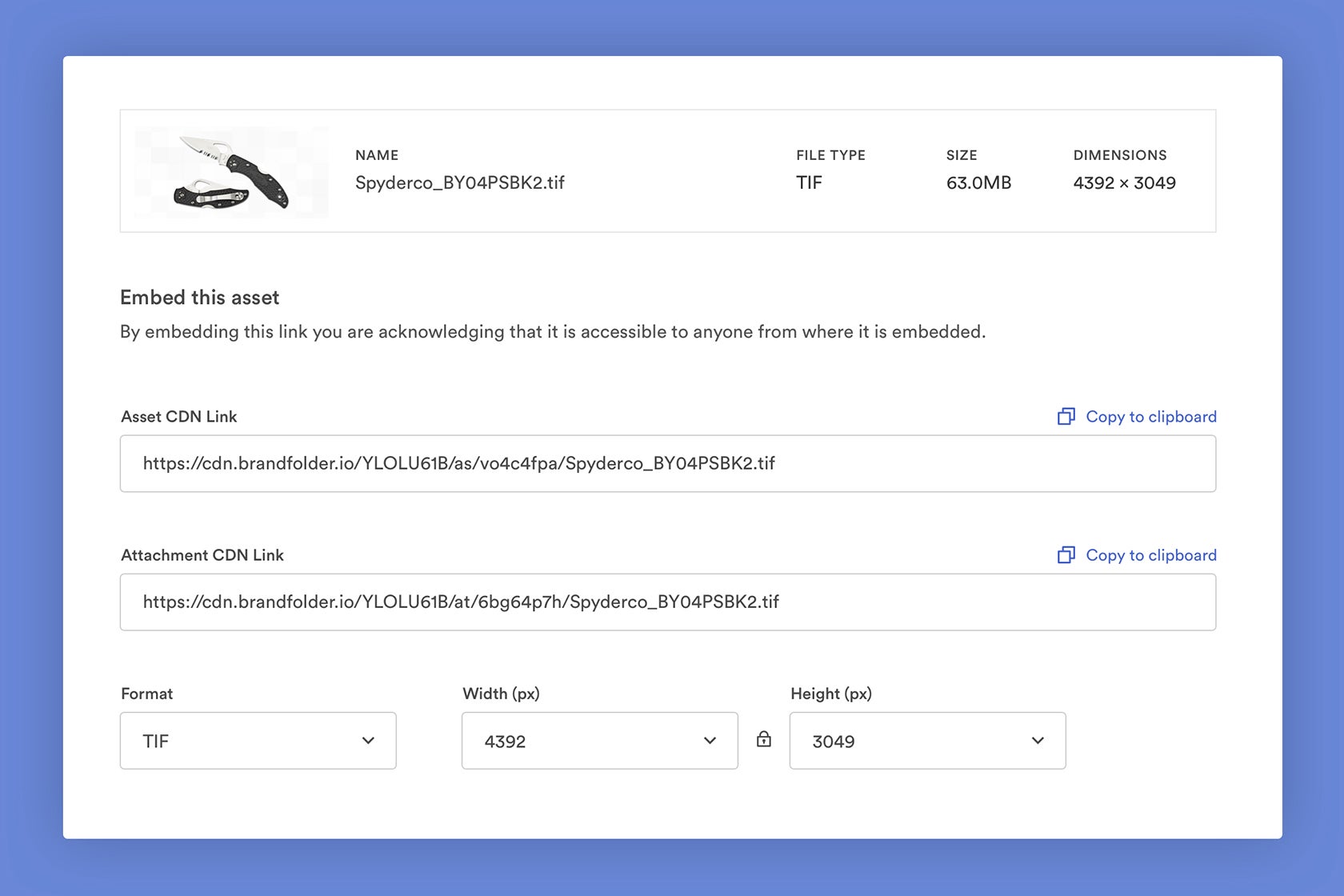 Another perk of this built-in system is accessible CDN links: You can copy an asset's CDN link and post it anywhere online that you want to publish, even if you don't have a direct integration. Then you can see everywhere that assets are published in the reporting dashboard.
Read More: Need Digital Asset Management for Publishing? Try Brandfolder
Again, our customer experience team will guide you through setting up integrations during onboarding, but you can modify integrations at any time either through the developer panel UI or with our team's help.
---
Brandfolder's Core Digital Asset Management Features
Brandfolder is more than just software to store content. We expand upon the capabilities of cloud storage drives with our advanced features to:
Maintain organization in your asset library.

Share approved assets with the right users.

Help you strategically use and re-use content without going off-brand.

Streamline digital projects and monitor online campaigns.
Tools to Keep Content Organized
Our DAMs organizational structure is similar to the folder/subfolder structure we're all familiar with:
You can organize assets by brand in Brandfolders — if you manage multiple websites, you can create a dedicated Brandfolder for each site.

Then, you can create Collections within Brandfolder to organize related groups of assets — for example, if you have a website and blog, you can create Collections for website graphics and another for blog imagery. Teams that regularly publish on social media create Collections for social media content, too.

Separately, you can create Brand Portals to house relevant assets for end-user groups — if you work with other creative or marketing teams to produce website content, you can create Brand Portals for each partner and drop in all of the brand files they need to fulfill their roles.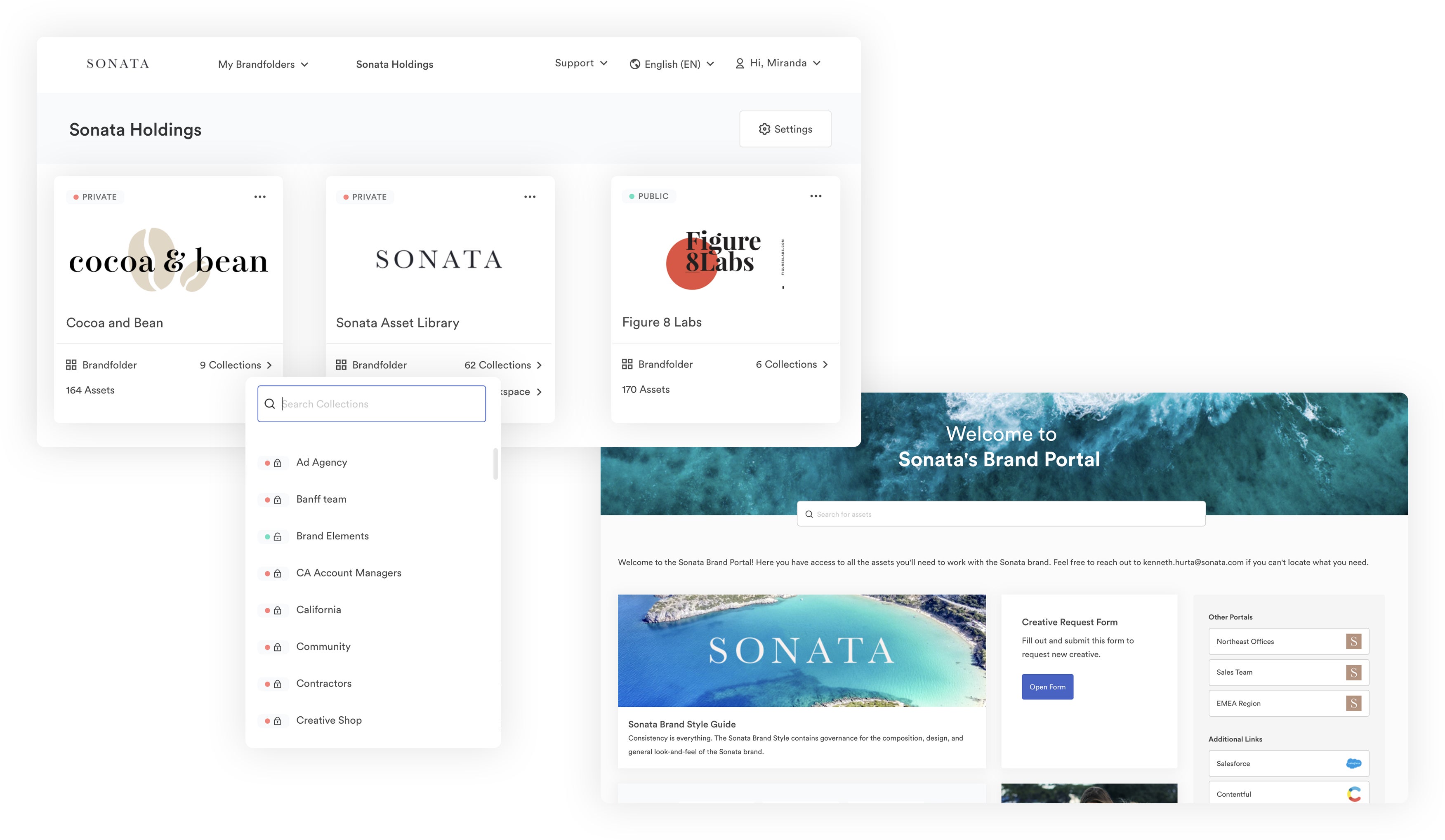 Because Brandfolder has a flat digital asset management taxonomy, you have the ability to store files in multiple locations (without creating duplicates). Regardless of where you store files, our search functionality lets you find what you need quickly by analyzing your entire library for files that relate to your query. It works the same way when you're browsing content via integrations.
This setup makes sharing content with different end-users easier, prevents you from having to create duplicate files and waste storage space, and lets teams easily retrieve the right collateral for online projects.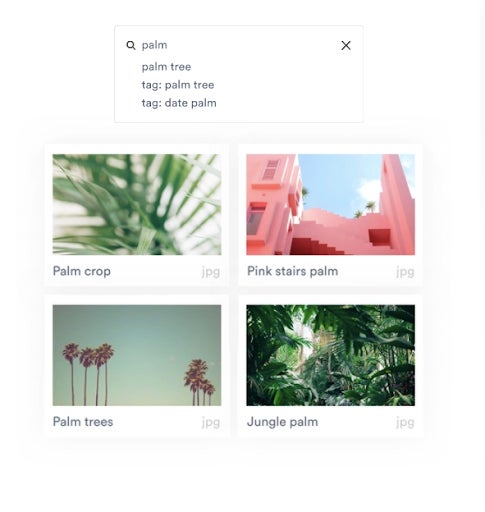 Then, we maintain organization and make sure everybody is working off of the same versions of assets with duplicate asset detection (to eliminate multiple versions of files), expirations (to help you manage the entire lifecycle of your content, from upload to retirement), and permissions (to control who can upload, remove, or edit content in your library).
We also have a collaborative workflow feature where teams can work together on asset updates, reference past edits, and view the asset's version history.
Remember: When assets are updated at the Brandfolder level, the changes are automatically reflected anywhere the asset is published online, so you don't have to manually swap out collateral with each edit.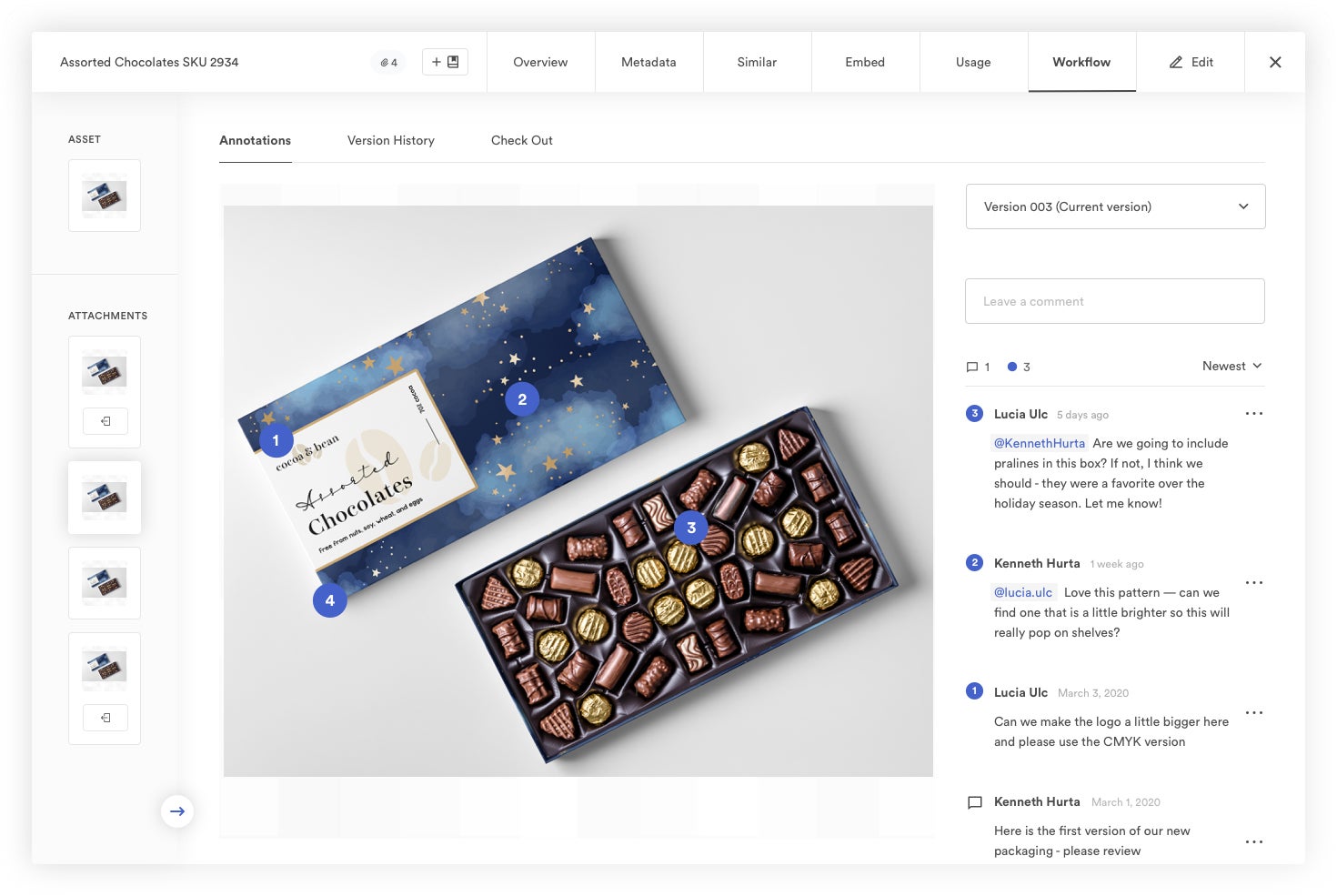 Tools to Send Assets to Any Person or Platform
Brandfolder's integrations and open-source API let you connect your DAM with other software (like CMS) and push assets between systems. However, we also have simple sharing features so you can send digital assets to teammates and other stakeholders.
User permissions let you share select assets or groups of assets, like Collections or Brand Portals, with other team members and control how they can engage with your digital content. Just select the assets you want to share, the users you want to share them with, and assign each person a user role.
There are three popular user roles: Admins, Collaborators, and Guests. You can read more about them below: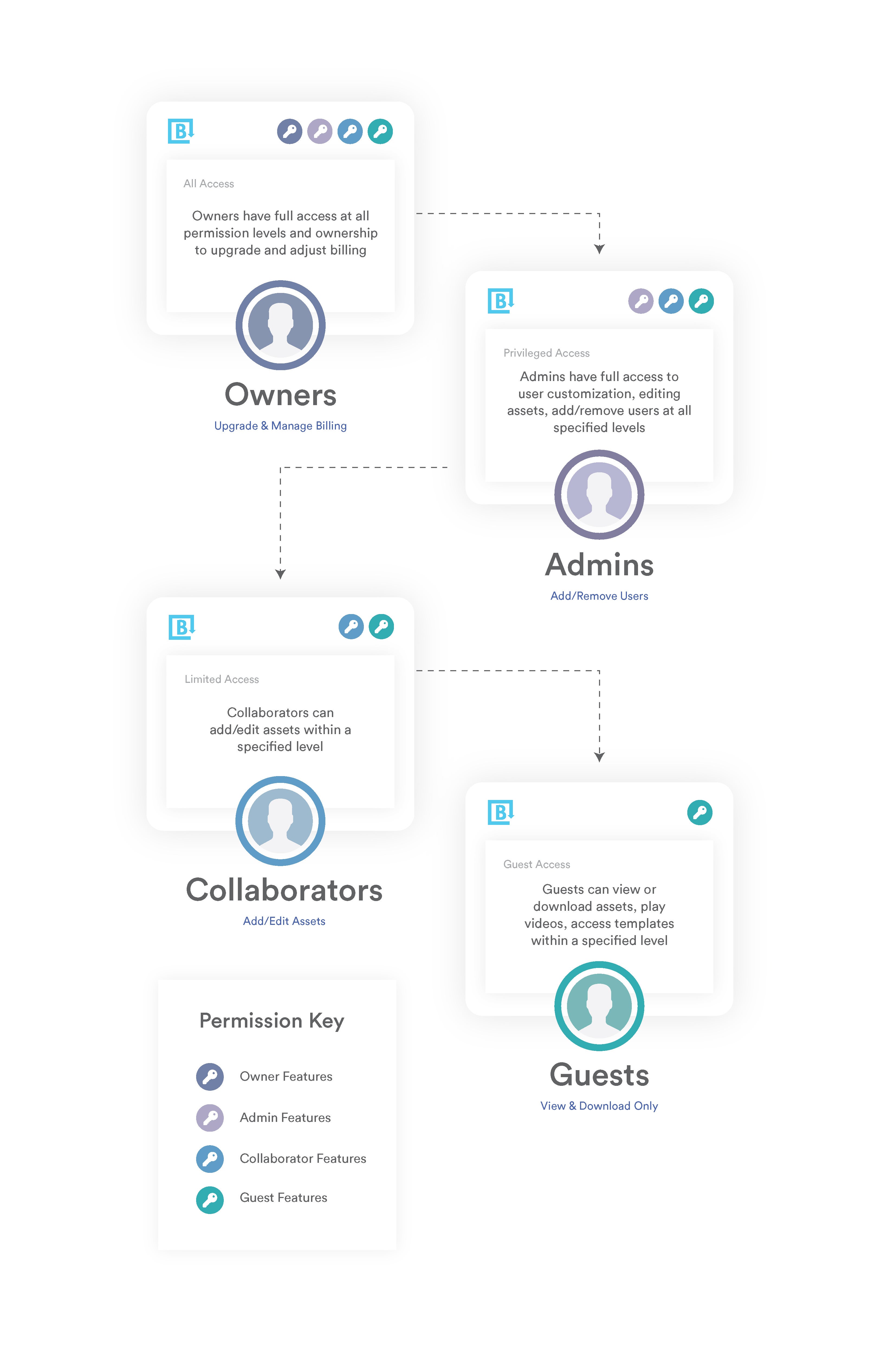 Brandfolder's custom share links let you send assets to non-Brandfolder users: Choose the asset(s) you want to share and create a share link. We provide free unlimited guest seats and you can monitor all external sharing in the reporting dashboard.
Custom share links give you better control over sharing because you can:
Set links as public or private

Add or remove assets

Expire share links

Watermark assets or disable downloading

Require an email address to open or download files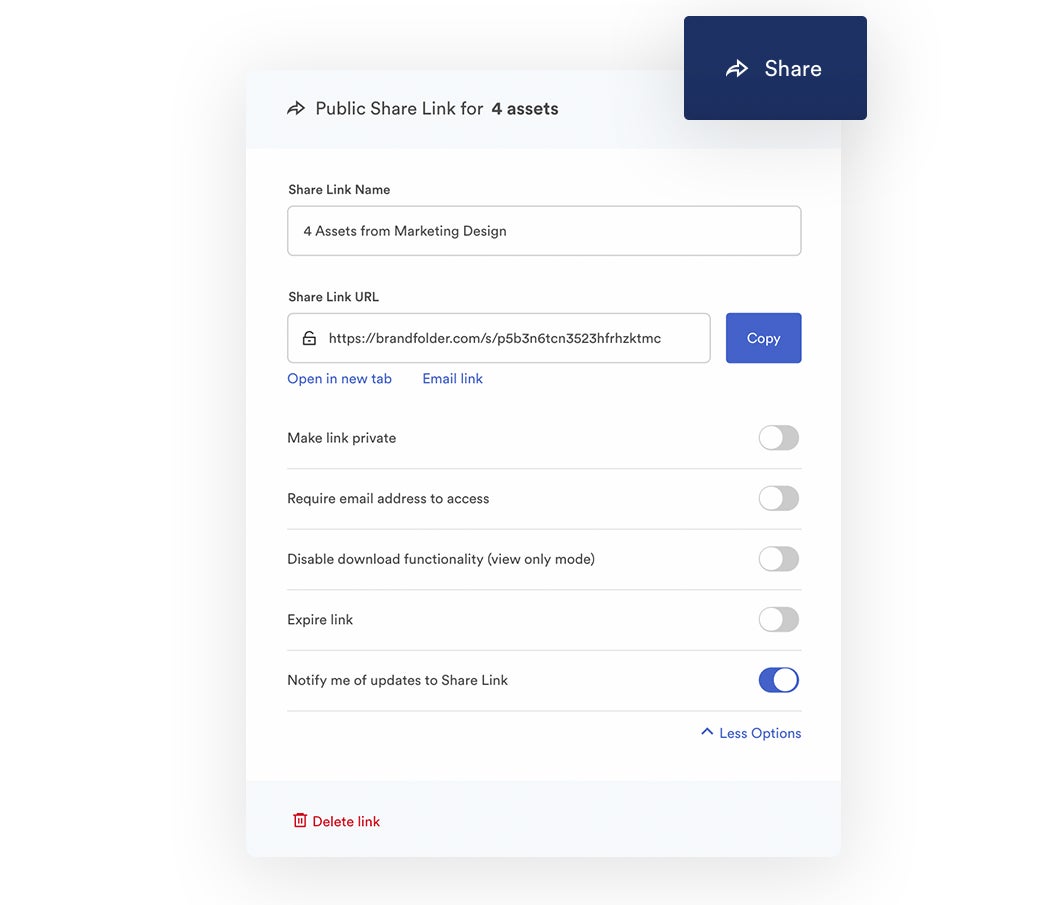 Share links also auto-update if you make changes to assets in Brandfolder, so you don't have to reshare links if you make edits — everybody is always viewing the most current asset versions.
Between our integrations and sharing methods, you can push assets anywhere you need and keep everybody working off the same versions of files.
Tools to Maintain Brand Consistency
In addition to our CDN system that automatically updates files and supports a cohesive brand image, we also have templates and light editing tools so teams can repurpose approved collateral for new projects. These features improve speed to market and ease the burden on creatives since everyone can transform collateral on the fly without needing an extra review and approval process.
With Brandfolder's templating feature, creatives can upload approved templates from InDesign and control how they can be customized. Creatives can pre-select supporting images, videos, fonts, logos, colors, and more. Then, other team members can find these templates, personalize them, and immediately download them to use in their projects.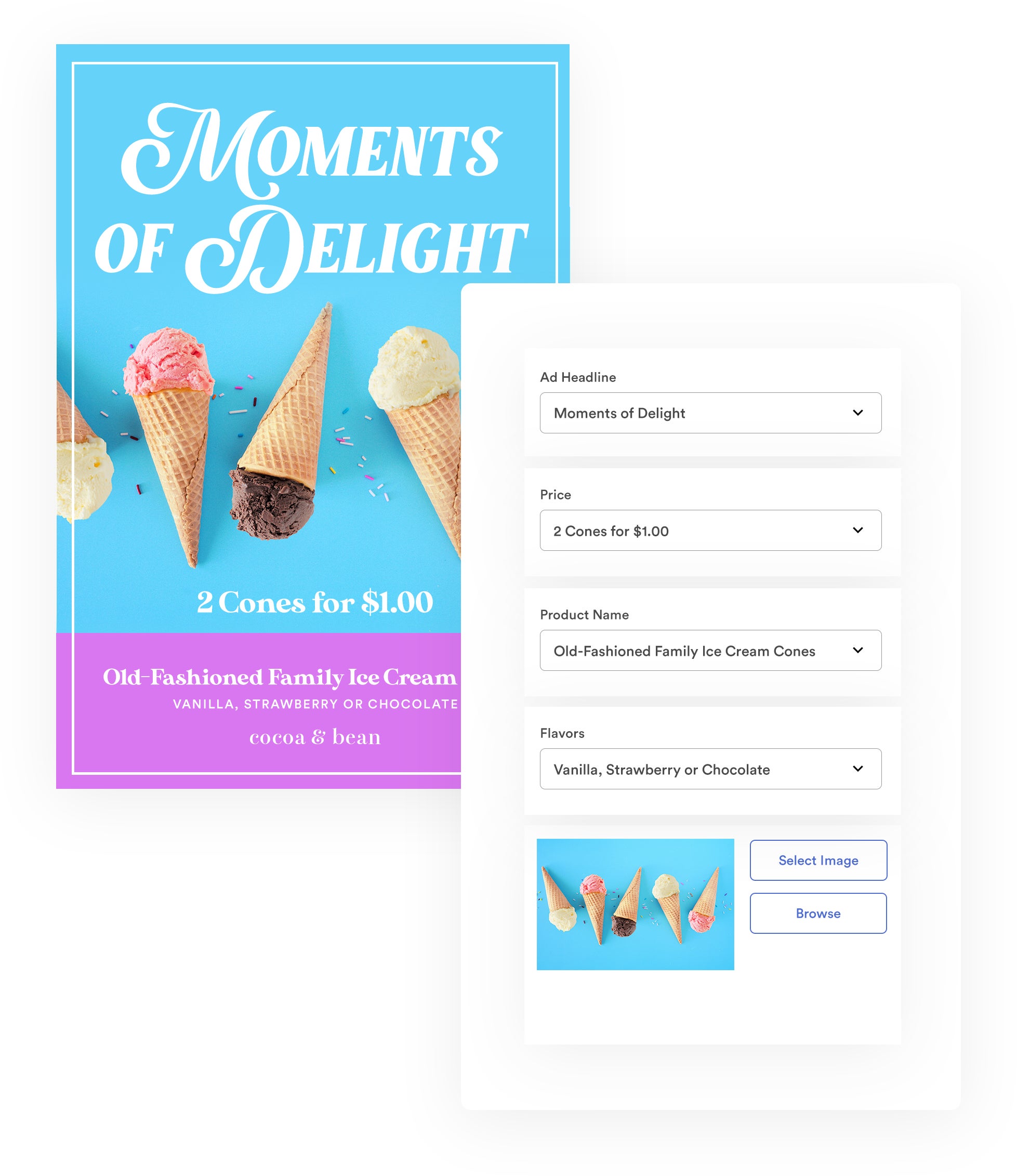 Brandfolder also has a convert and resize functionality that lets you change file format or resolution before downloading. Then, our custom and preset crop feature allows you to instantly crop images for different online channels. We have preset crops for popular social media sites like Facebook, but you can also create custom crops to quickly optimize content for your website and blog.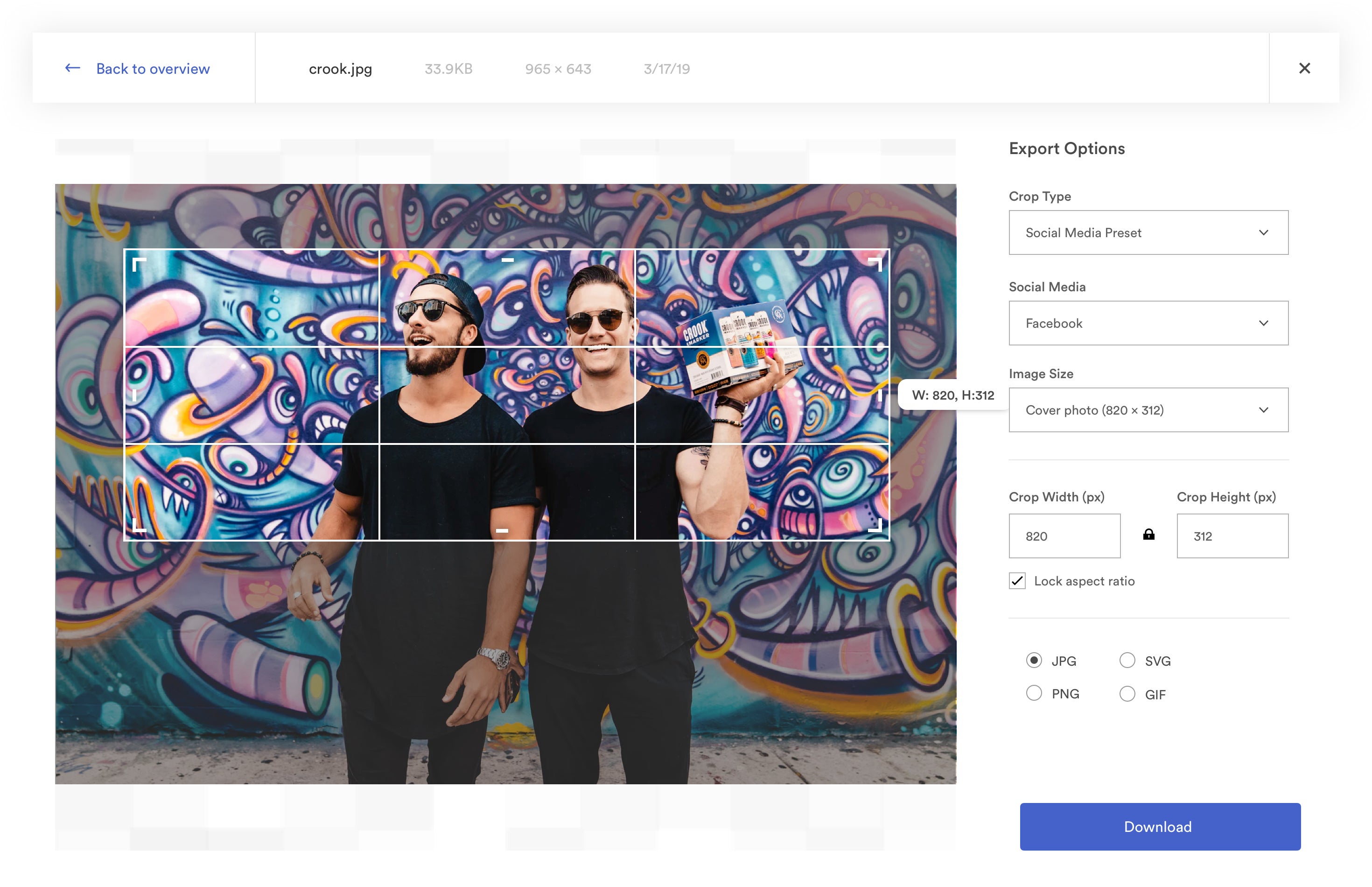 With the Brandguide feature, you can publish detailed brand guidelines for all of the teams that use your brand content.
You can also add "Do's and Don'ts" for specific assets in the overview information, but Brandguide is the place to write out all of the important rules for using content.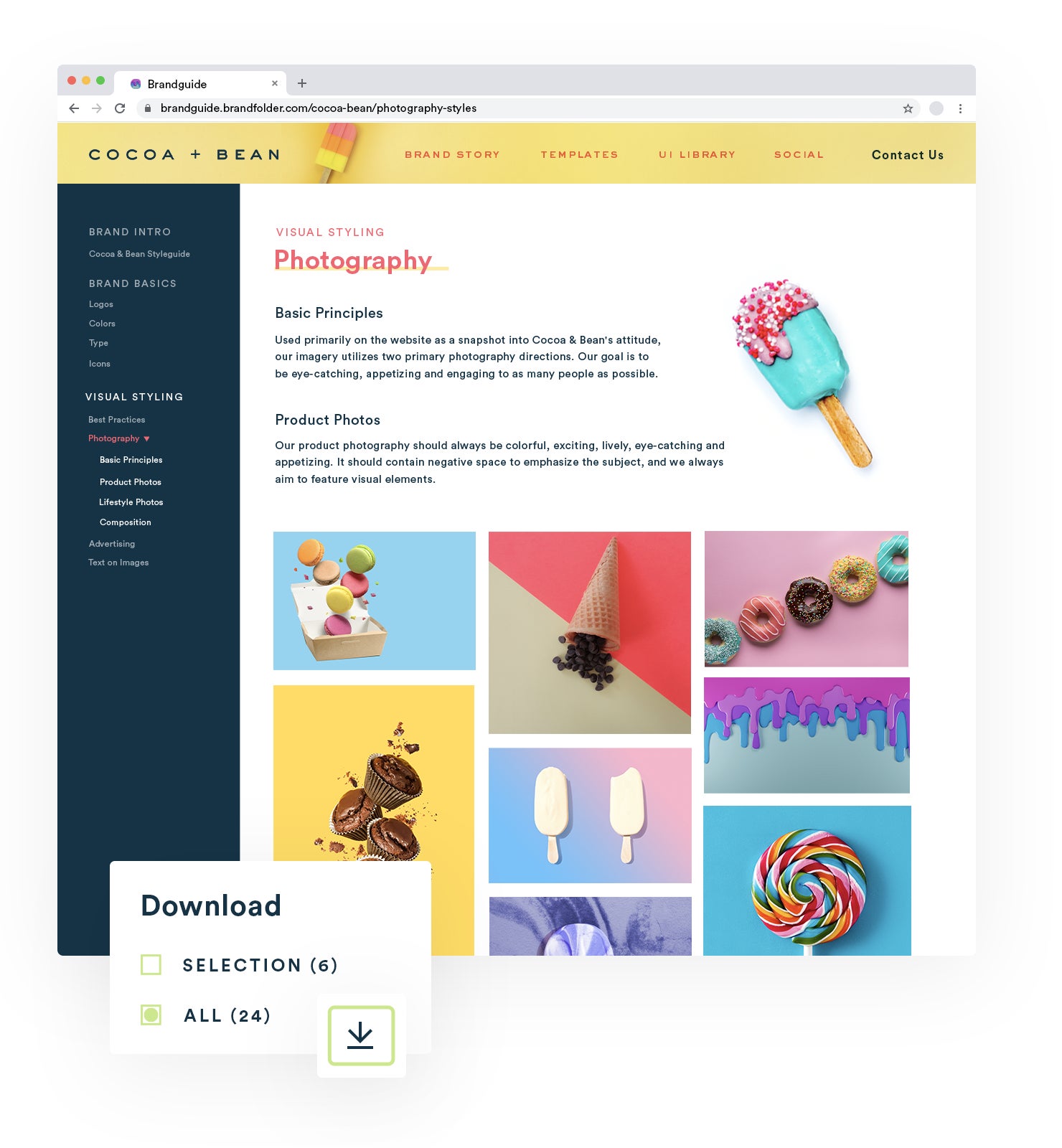 Some brand managers use Brandguide to provide notes on the brand history (i.e., mission, personality, tone) and spell out instructions for publishing content across different online channels (i.e., how to post content on the website vs. how and where to post on social media). This way, everybody has the resources to correctly represent your brand online and with target audiences. And brand managers don't have to answer a million questions or constantly check published content to make sure it's on-brand.
Read More: The Brand Consistency Checklist: How to Build Loyalty & Recognition
Tools to Track Publishing & Report On Projects
Brandfolder's reporting dashboard lets you track online publishing, share links, and key metrics on asset usage and performance. You can quickly see important data like:
Top-performing assets

Top users

How many times an asset has been viewed, shared, or downloaded

Asset health score

Active share links

CDN link locations and how often links have been viewed in the past 30 days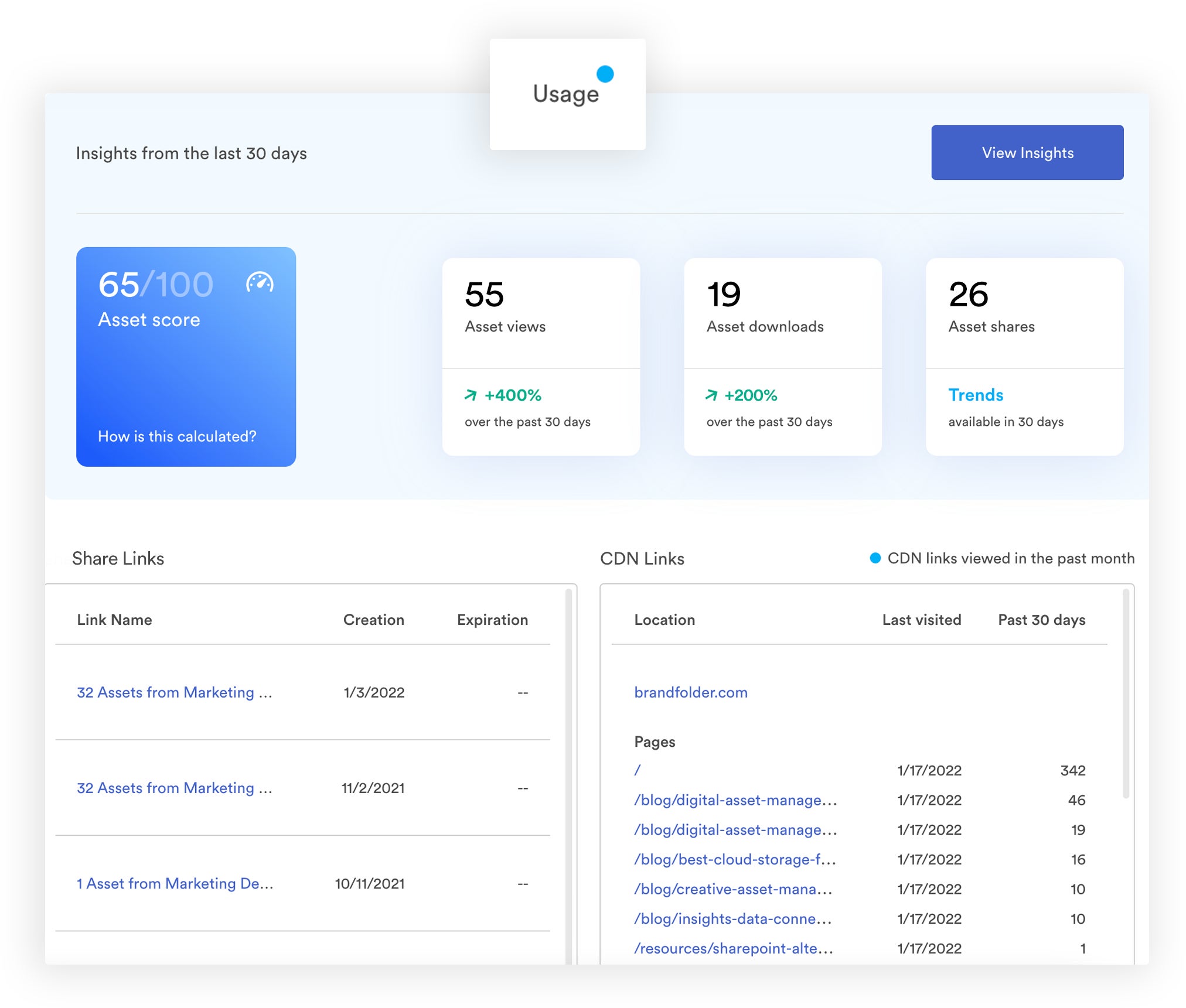 Reports are customizable so you can look at data over different time frames or dig into compelling insights. Brandfolder's reporting features let brand managers and digital marketing teams track how/where brand content is used online and look at the success of their digital campaigns.
This information can then be used to gameplan content creation for future campaigns and strategically improve publishing efforts.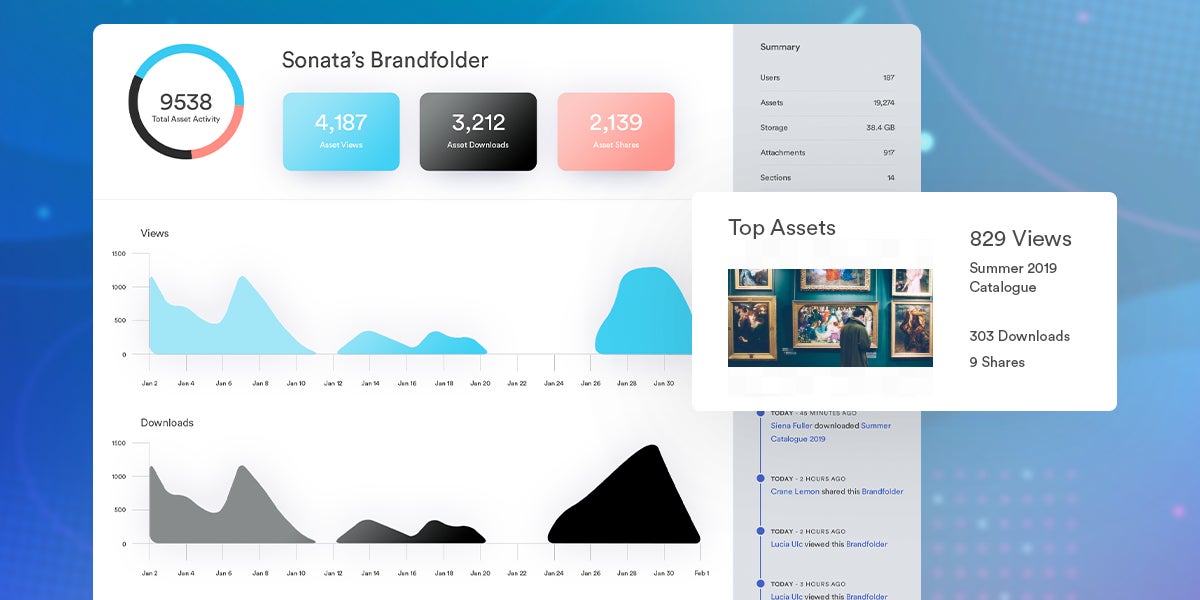 Plus, we even show a live activity feed so you can monitor what's happening in your DAM in real-time. You can always see what users are up to and keep an eye on asset usage.
---
Demo Brandfolder's DAM Solution
Brandfolder's DAM complements CMS and online publishing because we have customizable integrations, a built-in CDN system, and a variety of tools to transform collateral before hosting it online. You can store and organize all of your approved media content in Brandfolder, then access content from your CMS when you need it.
It's as easy as opening the Brandfolder integrations panel and selecting the files you want to publish. Then, you can leverage our editing and reporting tools to re-use content and track projects.
Our DAM is designed to grow with you: We can tailor our platform to teams small and large by specifying storage space, seats, and features. That's what enables us to support and scale with any business that wants to refine its online publishing efforts. Plus, our customer experience team helps you through the entire onboarding process so you can get moved to our DAM system without hiccups.
Schedule a demo with our team to talk about what you're looking for in an online storage solution and see if Brandfolder is the right DAM to support your CMS.