Professional photographers should consider digital asset management software when they've "outgrown" cloud storage software like Dropbox or Box and need more robust features to:
Organize digital photography in a way that makes sense for you, your team, and your clients.

Search through your photo library and find files more easily.

Improve file sharing and monitor photos and other files once they're sent.

Edit and repurpose photos to create unique collateral.

Track how your photos are used in digital projects and where your photography lives online.
But some professional photographers will put DAM software off because it's expensive and DAMs are often complex to use and learn. Not to mention, the thought of moving and reorganizing all of your files can feel like a nightmare.
That's why it's important for photographers who are ready to switch to DAM software to choose a brand that offers 1) flexible set-up, so you can adjust storage space and seats for your needs, 2) integrations with other software and photo editing applications to easily push files between systems, and 3) hands-on customer service to handle migration and assist with onboarding.
In this post, we talk about Brandfolder, our digital asset management software for photography, which is a customizable DAM system that checks all of those boxes, has advanced features to strategically repurpose digital photography, and provides reporting to monitor your photos and brand assets. Then at the end, we'll review nine other DAM software for professional photographers.
But first, let's dive into two unique features Brandfolder offers, starting with our Brandguide and then Content Automation.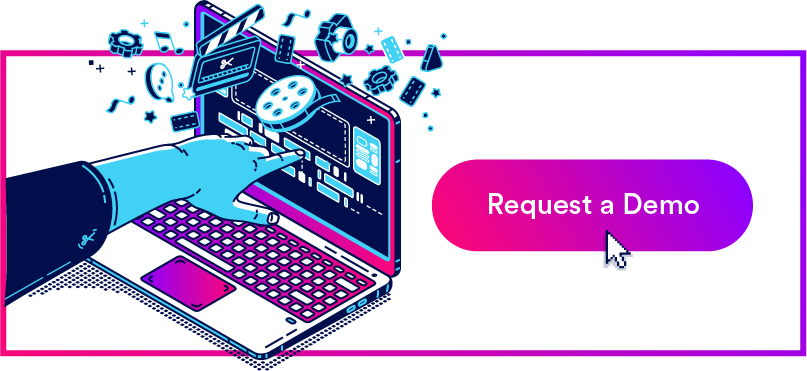 ---
Using Brandguide as a Photographer
Brandfolder's Brandguide keeps all your brand-related elements in one place. It goes beyond branding by organizing and sharing identity materials for more than just your core brand elements like extensions or partnerships of your brand.
Creating a guide like this only takes a few minutes. Brandguide pulls information directly from Brandfolder, so you don't have to add new materials manually.
A photographer can create numerous Brandguides for many purposes. The most common uses are:
Communicating creative direction pre-event: As a photographer, it's important to collect and communicate the creative direction for an event before it starts. This allows you to capture the essence of the event and showcase your photography skills in the best light possible. It's also crucial to maintain your brand continuity while staying true to the event organizers' brand direction. After the event is over, showcasing a quick collection of assets publicly is a great way to keep the momentum going and generate excitement for future events. Using Brandguide ensures that your photography work is always at its absolute best, both during and after the event.
Brand consistency as your team grows: As your team grows, you want your work to remain consistent so you can build customer loyalty and brand recognition. Creating a Brandguide gives your team members a powerful tool for designing new materials and telling your brand story. This way, youcan use it to showcase different types of photography or creative philosophies, to give clear direction to your post-production team. This would not only be helpful for your team but also for potential clients who want to see examples of your work. Up-to-date, digital brand guidelines that are available 24/7 can help speed up your work, preventing errors and eliminating unnecessary manual efforts.
Like all other Brandfolder tools, Brandguide allows you to manage users easily. You can provide limited access to third parties and full access to team members according to your current needs.
With a Brandguide, you ensure brand consistency for your internal team members and anyone who wants to use your materials for business purposes (clients, partners). It improves team collaboration and is a digital brand ecosystem that can scale with your business.
---
Content Automation for Photographers and Their Teams
As a photographer, you produce a significant amount of content. Besides photos, marketing materials, texts, videos, and educating guides, other types of content require optimization, updates, and repurposing.
That's where Content Automation comes in.
Brandfolder's Content Automation tool allows you to create various templates to automate your content creation process. For example, you can create templates for Instagram and Facebook posts, so you don't have to worry about image sizing or word count. That way, you can repurpose content for different marketing platforms with ease.
Aside from social media, you also get these advantages:
Templates: Create a library of approved brand templates your team can use to promote different aspects of your photography business, including marketing and branding.
Brand system: Manage, codify, and publish your brand's visual language in one place and deploy it throughout your templates to ensure accuracy.
Reports: Develop valuable reports that give you insights into how your team uses the templates you produce so you can create more valuable content.
Permissions: You can set user permissions to ensure that only authorized users can view content and change certain elements.
With Content Automation, you can produce materials in bulk without wasting time on adjusting each piece manually. You can lock branded materials (logos, colors, fonts) on each content piece so your branding efforts remain consistent.
When implementing these options, all team members can create branded content without design experience. This reduces time to market and allows you to cater to numerous clients simultaneously.
Content automation is an essential part of ensuring the success of DAM for small businesses. Brandfolder's DAM system and Content Automation help you manage and distribute visual and textual assets.
This tandem allows you to focus on the creative part of photography. At the same time, your team uses the available content for marketing your business, improving brand awareness, building client relationships, and much more.
---
Brandfolder: Digital Asset Management for Photographers
Brandfolder serves as a central repository for all of your digital assets: Images and product photography, website graphics, print collateral, brand elements like logos, PDF files and documents, videos, 3D renders, design files, and more. We accept hundreds of file types and formats, even RAW images, so you can upload and store virtually all of your digital files in Brandfolder.
Unlike other DAMs that are advertised for photographers, Brandfolder is not a DAM plus photo editing service. We act as the storage solution and integrate with photo editing applications so you can push files between systems; this allows you to work in the editing tools you're already familiar with while leveraging our DAM as a collaborative hub to store, share, and track files.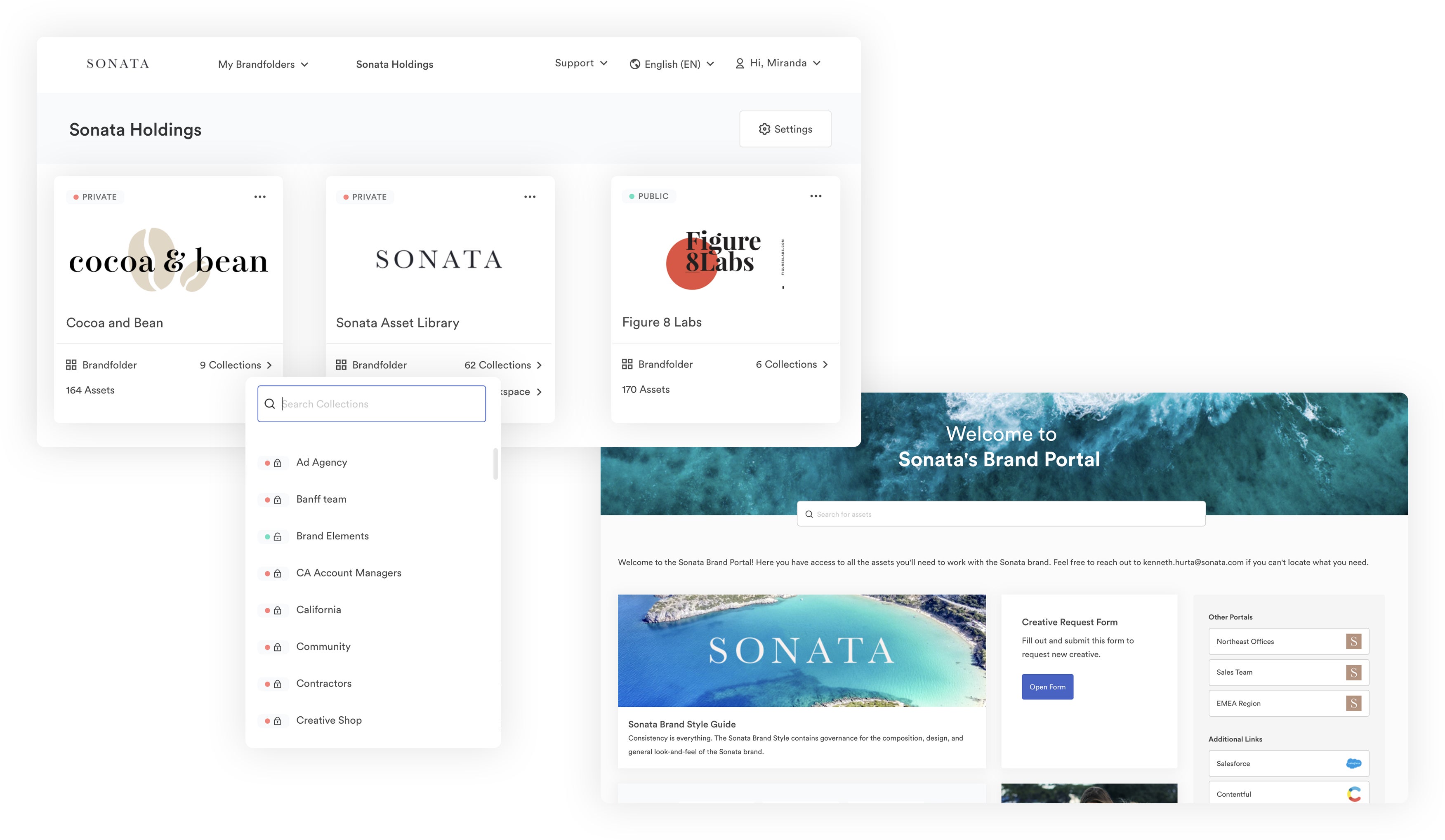 We tailor our digital asset management tool to unique user needs. You can choose storage space and user seats — we provide free unlimited guest seats so you can collaborate and send assets with people outside of your immediate team without adding them as a user.
As we mentioned, you can also set up integrations with any other software you use in your workflows. We have native integrations with dozens of popular software — think Adobe Creative Cloud, CMS systems like WordPress, and marketing tools like HubSpot. However, we also have an open-source API so we can create custom integrations.
For example, if you use an editing app like Camtasia that doesn't directly integrate with Brandfolder, we can still connect the two platforms through the developer panel. We'll even help you set up integrations during onboarding so you can make sure Brandfolder is connected with the tools you need.
Then, you can modify the platform as you go.
For the most part, we work with professional photography businesses and enterprise studios that have thousands upon thousands of images to keep track of and need a better way of managing digital files. We don't put a limit on storage space and provide features like dynamic viewing (that can optimize images and adjust languages for the end user's device and region) to support global brands with teams and customers around the world.
However, since Brandfolder has a customizable set-up and is built to scale, we can also grow with small photography teams that can no longer effectively manage files in cloud storage drives. We guide you through onboarding to make sure Brandfolder is optimized for your workflows, and we can even assist during migration with moving and organizing assets and getting team members onboarded.
In the next sections, we talk about Brandfolder's features to help you organize, search, share, use, and monitor all of your images and brand assets.
Connect Brandfolder with Adobe Creative Cloud & Other Photo Editing Software
But first, let's touch on some of our integrations and how they work. You can connect Brandfolder with content creation tools like:
Adobe Photoshop, InDesign, & Illustrator (We also have a CI Hub integration so you can access Brandfolder files in Premiere.)

Canva

Figma

Sketch

RapidCompact 3D
Integrating Brandfolder with your editing tools allows you to push edited images (and other digital assets like spin images and 3D models) directly from the editor into Brandfolder. You don't have to download files to your device and re-upload them. You can also access Brandfolder files within your editor so the flow works both ways. Then, in cases where you want to update a photo, create new versions of your photos, or do quick retouching, you can instantly push files between systems without clunky downloads and unwanted duplicates.
We also have a stock photo integration and a Google Chrome plugin so you can easily pull authorized images from Getty (or any stock photo site you use) and access your Brandfolder content from your internet browser.
We should also mention: Brandfolder has collaborative features so photography teams can communicate with each other on updates and edits in the DAM before pushing images and other digital content to their native editors. Within the Workflow tab, you can comment back and forth with other team members, view the note and version history, and finally "check out" assets for updates.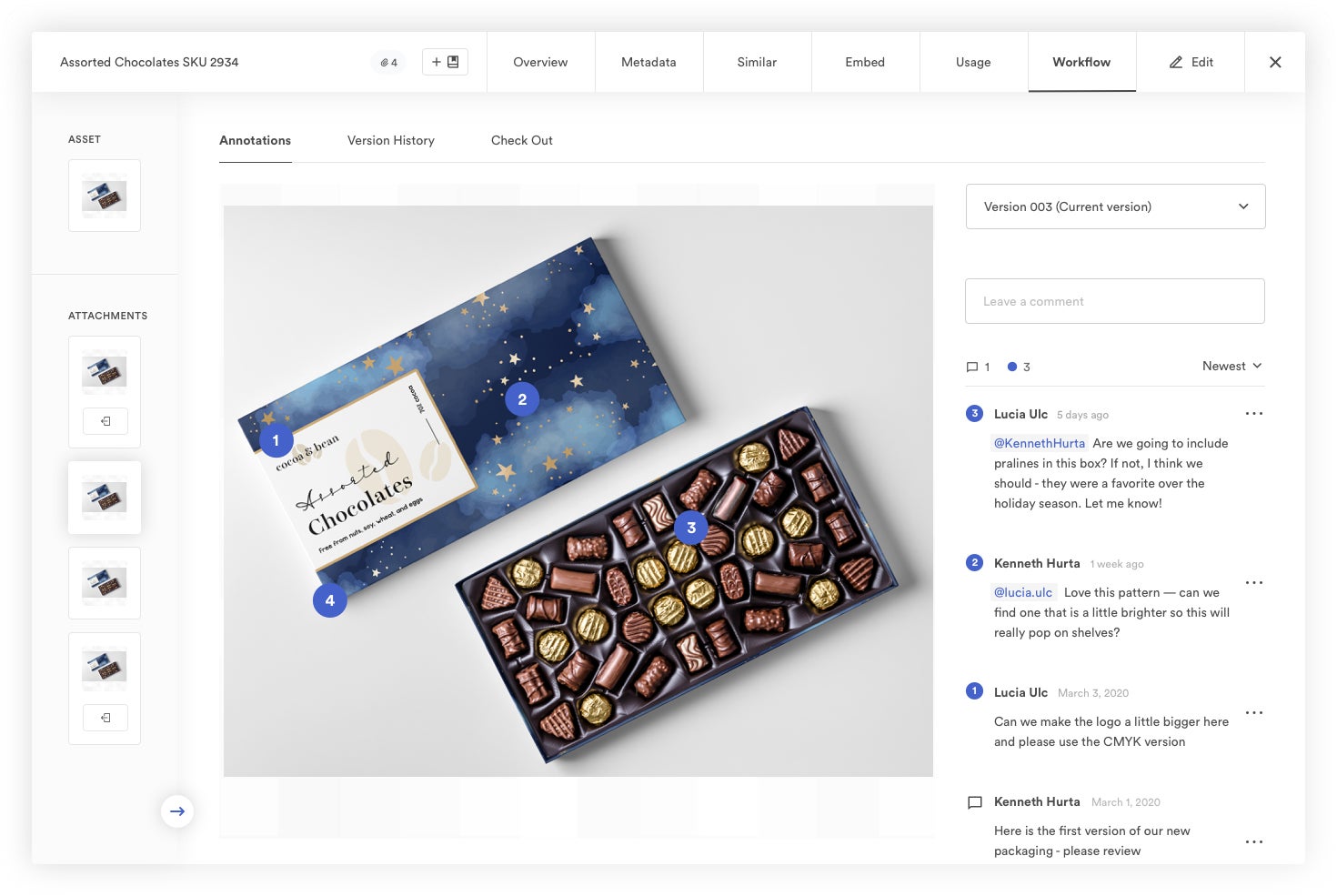 Then, once you wrap up edits and push your files back to Brandfolder, they reappear in the DAM as pending review and approval. Once an admin or approved collaborator gives the edits the green light, the asset automatically updates in Brandfolder (every place it is stored or shared, and everywhere it is published online). We keep track of past versions by assigning each file a unique version number, and you can revert images or download past versions of files from the version history.
Read More: Need Better Image Version Control? Use a DAM
Store Your Photos (and Other Digital Assets)
When working with professional photographers in the past, a few things they've really enjoyed about Brandfolder are:
There are several ways you can store and group files in Brandfolder:
First, you can organize assets by brand in Brandfolders. Within Brandfolders, you can create Collections and Brand Portals.
Brandfolders and Collections are similar to folders and subfolders; you have Collections within Brandfolders to organize groups of related content. For example, if you manage product photography for a retail brand, you could have unique Collections for different products or product lines. There are no rules or limitations to how you structure Collections or organize assets, but our team will help you map all of that out during onboarding.
Brand Portals allow you to organize assets for end-user groups. You can store images in Collections and also drop them into Brand Portals to share with other users. Enterprise studios could create Portals to house approved photography and digital collateral for each partner they work with so these users can access relevant files when they need them instead of requesting content as they go.
Then, you can store similar versions of files together in the asset overview. For example, if you have images saved with different effects or edits, you can group them together with the "parent" asset instead of having a dozen versions of the same image cluttering up your library.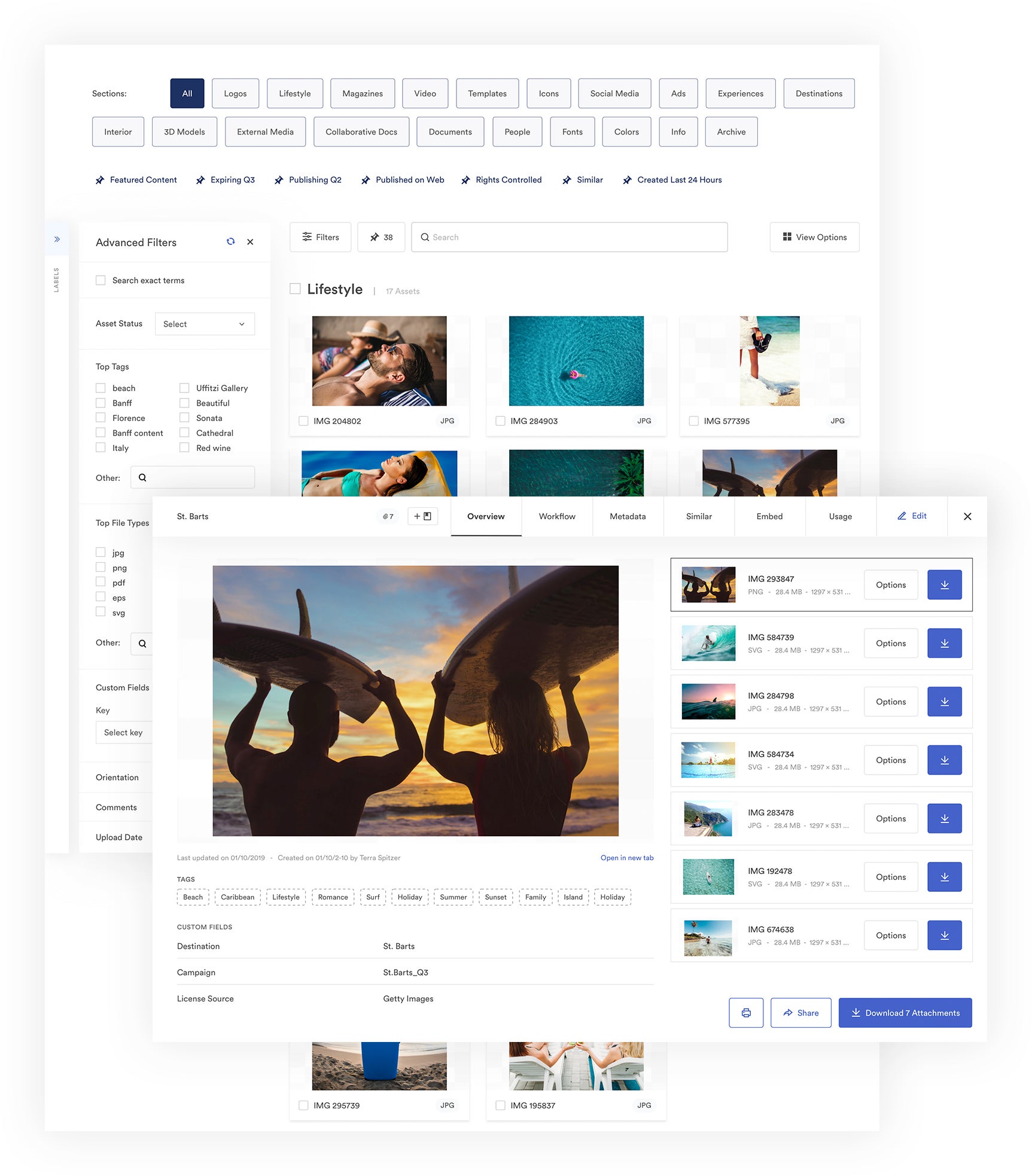 As you upload assets, Brand Intelligence automatically assigns metadata and scans your image to add all appropriate tags. Our AI uses object and product recognition to add brand-specific tags, but tags are entirely customizable so you can tweak them however you like. Our AI learns from your tagging habits to add more accurate and relevant info in the future.
Read More: Creative Asset Management in Brandfolder: Reclaim Your Time
Then, you can add digital rights or copyright information and create custom fields to store specific data with images. All of the information you store with assets improves search and discovery, plus Brand Intelligence can use this data to automatically organize assets as you ingest files.
Brandfolder also provides Guest Upload Links for photography teams that work with freelancers or outside collaborators. After you generate the Guest Upload link, you can choose where you want the file to live in Brandfolder so content is uploaded to the right place. Once the end-user submits their files, you can review and approve them in Brandfolder. Once approved, they become available for other team members to access and use. (You can also comment back and forth with collaborators if you want to request updates or edits to files before approving them in the DAM.)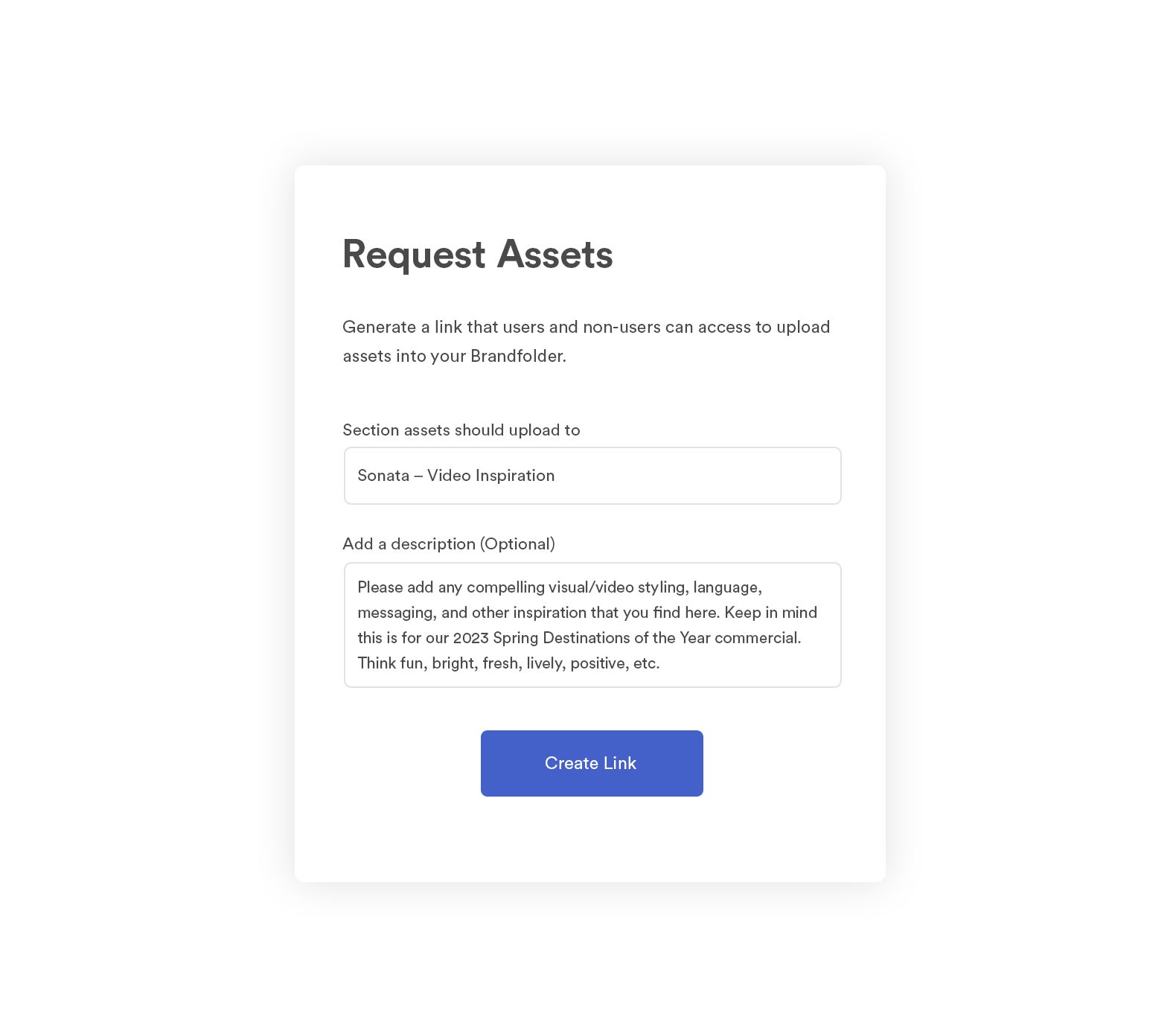 Then, we also have features like duplicate asset detection, asset expirations, and user permissions to keep your library organized and under control. These features:
Prevent users from uploading or storing duplicate files.

Let you manage the entire asset lifecycle and set assets to automatically expire.

Give you control over who can upload, delete, edit, and download content from your library.
All of Brandfolder's features work in tandem to maintain a clean and current asset library and guarantee that everybody is viewing and using the same (right) versions of files.
Create Public Collections & Brand Portals for End Users
Now that we've talked about storing assets in Brandfolder, let's explain our features to share your images and digital content.
As we mentioned above, you can create Collections to organize groups of related content and Brand Portals to house relevant assets for end-user groups. You can make public Collections and Portals and share the URL if you want to make that content easily accessible to others — this is beneficial if you want to make and share a public portfolio. You can also add custom branding elements to your Brandfolder dashboard so these pages have a more professional and personal touch.
Or, for better control, you can share content with users who request it via permissions and custom share links.
User permissions let you share content with other team members (a.k.a. Brandfolder users) and control how they can engage with your files. You can use permissions to share Brandfolders, Collections, Portals, and selected assets. When you share entire Brandfolders or groups of assets, end-users will have access to any new content you add in the future.
After you choose the assets you want to share, select the users you want to share with and assign them a role. Here's a breakdown of Brandfolder's user roles: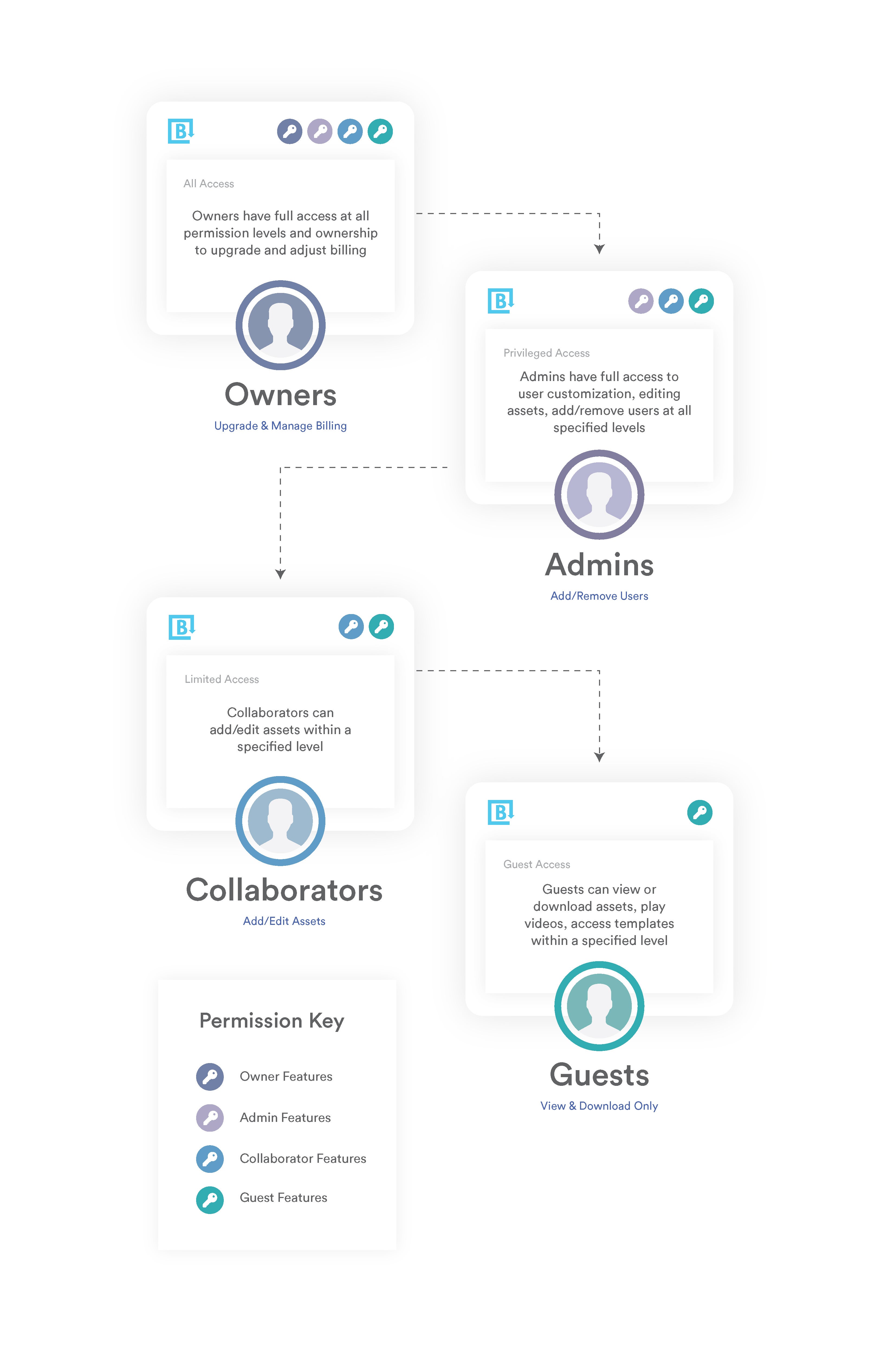 Custom share links let you send assets to people outside of your team, like customers and stakeholders. Choose the asset or group of assets you want to share, generate a new share link, adjust the sharing settings, and send the link. Remember, we provide free unlimited guest seats so you can share images as often as you need. These share links also auto-update if you make changes to assets within Brandfolder, so end-users always see the most recent versions of your content.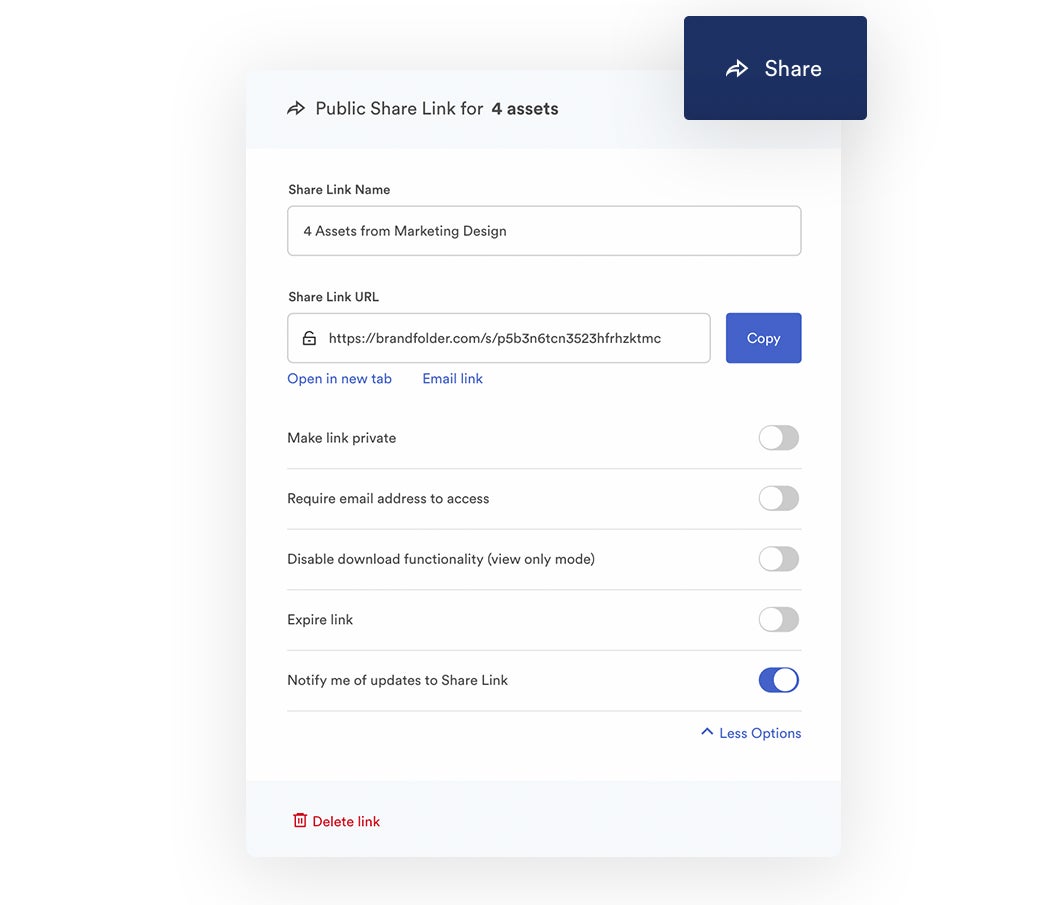 Our share links have extra settings to give you control over content once it's been shared. For example, you can watermark assets or disable downloading if you want to prevent others from actually using your content — helpful when sending proofs or previews for customers to browse before they place an order.
You can also add or remove files from links, set links to expire after a specified date, or require end-users to submit an email to open links or download content. You can monitor all share links in the reporting dashboard and delete links if you need. Speaking of the reporting dashboard, you can also gather data on asset usage, monitor how often assets are shared, and see the most popular files end-users engage with and download. (More on that below.)
Retrieve Any File or Photo You Need with Ease
Brandfolder has a user-friendly, robust search feature so you can find any file you need with one quick search. You don't have to remember exact file names or go digging through Collections to pull what you need: Just type any word or phrase into the search bar and Brand Intelligence will scan your entire library (even the content of files like background imagery and objects) to pull everything relevant to your search. As we said earlier, all of the metadata and asset overview information helps Brand Intelligence source the right files, too.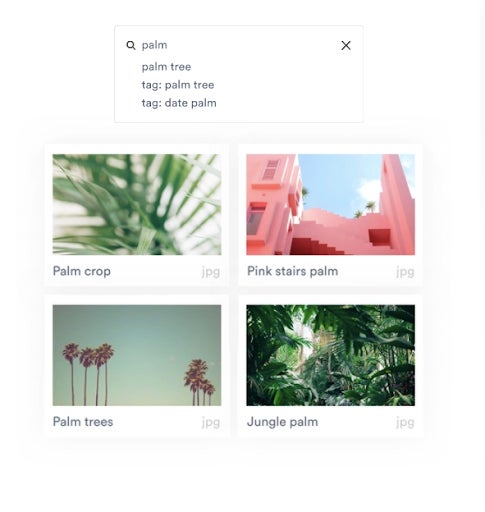 We also provide a variety of ways to sort and segment assets as you browse your DAM library:
Sections let you categorize and bucket assets by any classification - you can customize sections based on any criteria. Some photography teams keep it simple and bucket by file type, so they can easily sort by RAW photos, Photoshop files, JPG images, GIFs, videos, 3D models, and more.

Labels let you add information about the asset's use case and filter by project. So if you have certain images you want to use in marketing collateral, you can add labels to represent the campaign, season, or year, and then end-users will know how to use the content.

Pins let you filter assets by tag. We auto-generate Pins by looking at popular and commonly-used tags, but you can also create new Pins for more custom filtering.

Advanced Filters let you filter by metadata information and custom fields. We also have some standard filters so you can sort assets by file type or upload date.
Everybody you share files with has access to all of the same search features and filtering options, so they can easily browse your content and find the images that interest them.
Then, as you scroll through your library and browse search results, we display clear thumbnails so you can see what's available without having to click on each result.
Repurpose Your Photographs in Digital Projects
Brandfolder also has several editing tools so you can transform images and repurpose content without leaving the platform. For starters, we provide basics like a convert and resize feature so you can modify a file's format or resolution before downloading.
We also have a preset and custom crop feature so you can quickly crop images and other media for different online channels or mediums. For example, we have preset crops for Facebook so you can make cover photos on the fly. But some eCommerce teams create custom crops for different pages of their site so they can optimize digital photography and other website media before publishing online.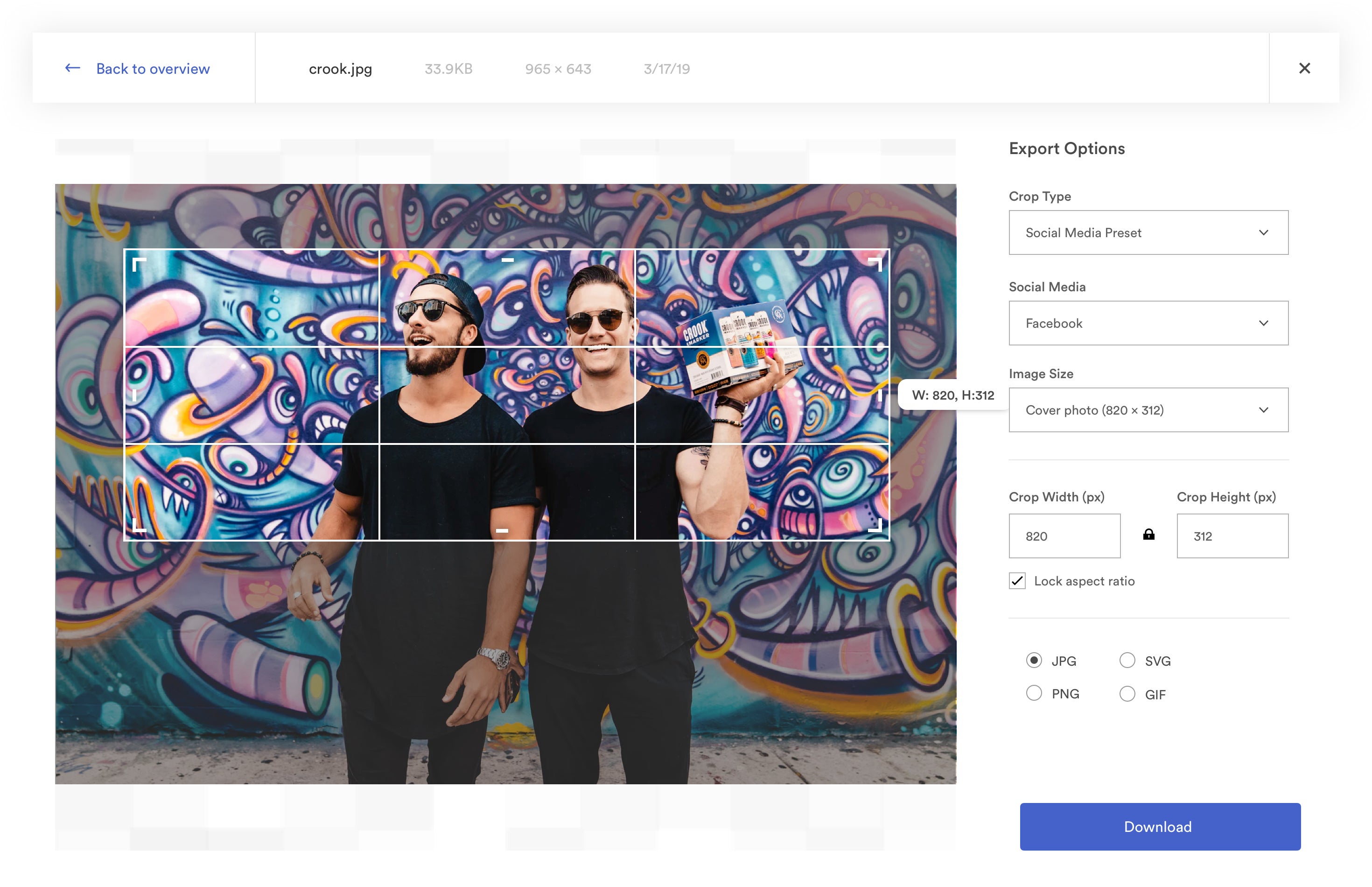 Brandfolder also has a templating feature so you can upload pre-approved templates from InDesign and other users can add images or supporting text to repurpose photos and brand collateral for new projects. Going back to our eCommerce example, eComm and retail teams can use templates to create newsletters, print collateral, sales brochures, and marketing content with your brand's approved images and media.
Read More: How to Customize & Share InDesign Marketing Collateral Templates
In addition, Brandfolder has an Advanced Video Studio for photography teams that also manage video content. We automatically transcribe your video when you upload it to Brandfolder so you can search footage by dialogue, and we have light video editing functionality so you can quickly make video clips, create GIFs from recordings, trim videos, or watermark video content. You can also use videos in templates to strategically leverage video in digital campaigns and projects.
Publish or Print Photos Directly From Brandfolder
Brandfolder has web-to-print functionalities so you can send print orders directly from the DAM. Our Gelato integration is perfect for professionals and studios that not only send prints and make photo books, but also use their images to create customized merchandise like apparel, business stationery, mugs, and more.
We also have a built-in content delivery network (CDN) so you can instantly publish digital assets online and use Brandfolder as a single source of truth.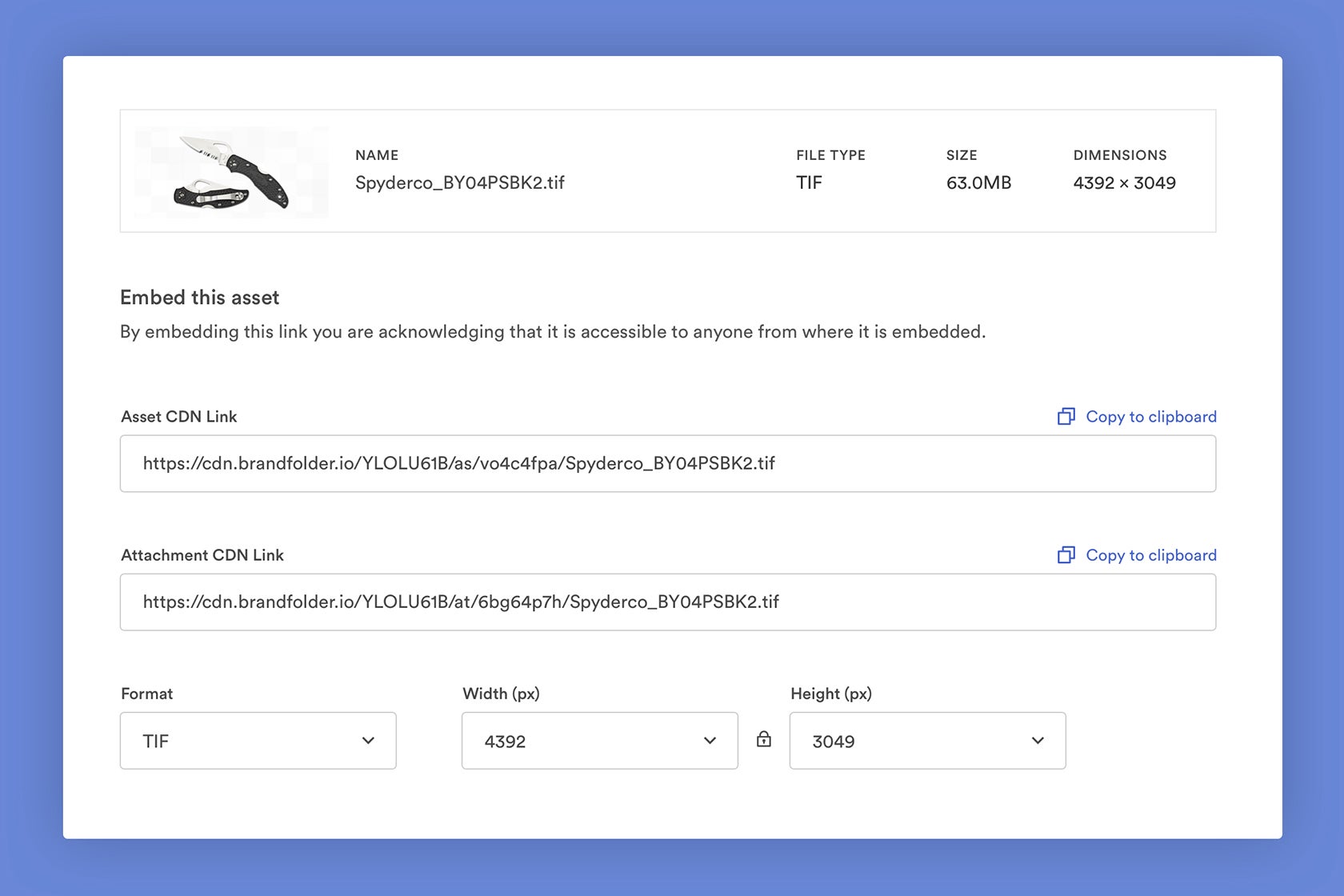 Using the CDN system to publish online makes it easier to monitor where your photography lives on the web and it improves brand consistency since all updates in Brandfolder reflect globally. So for example, say you publish your photography on more than one portfolio site, all of those websites will automatically display the most current versions of your photos when you update them in the DAM, as Brandfolder is the image source.
Monitor How & Where Your Photos Are Used Online
Brandfolder really sets itself apart from the cloud storage drives many photography teams are used to with its in-depth reporting features. In the DAM reporting dashboard, you can:
View the live activity feed so you can monitor what users are doing in your DAM in real-time.

Access at-a-glance reports like top-performing photos and most active users.

See how many times each of your images has been viewed, downloaded, and shared.

Track CDN links and see where your images are published online.

Monitor file sharing and expire share links when necessary.

View each file's "asset health score" to see which images users view and download and which ones they skip.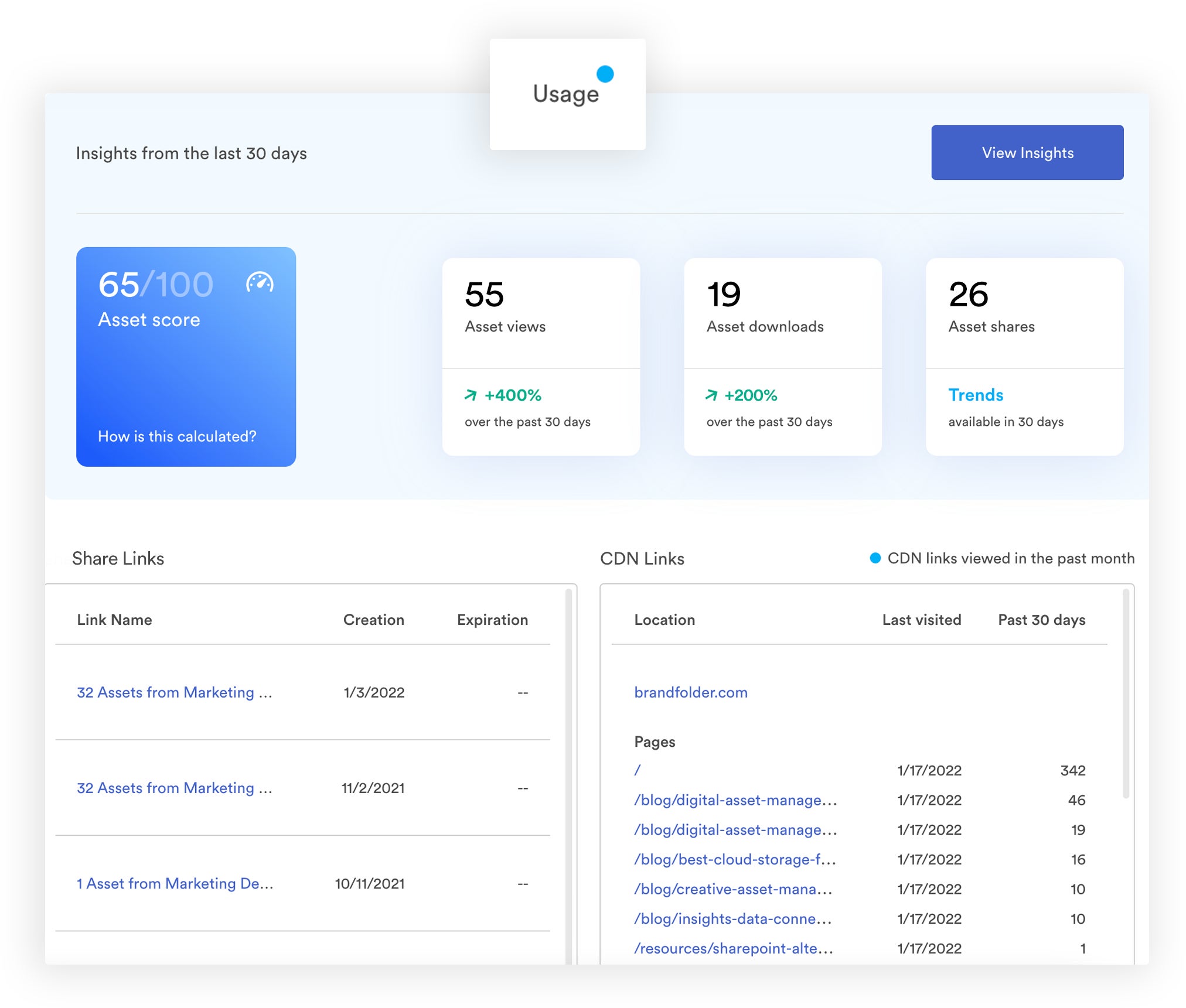 All of these reports are customizable so you can look at data over different timeframes or dig into insights that grab your attention. Then you can use all of these findings to brainstorm future photoshoot ideas and gameplan content creation for your website, marketing collateral, and other digital projects.
Brandfolder has advanced DAM features to 1) store and organize assets, 2) keep content up-to-date, 3) improve file sharing, 4) help you repurpose images and brand collateral, and 5) streamline workflows to leverage content more efficiently. Schedule a demo of Brandfolder to see how we can tailor our DAM to support your current needs.
---
9 Other DAM Solutions for Professional Photographers
In addition to Brandfolder, many online review sites mention other digital asset management software for professional photographers. Some of these are more "lightweight" than Brandfolder, appealing to smaller teams and individual photographers, while others (like Adobe Experience Manager) are designed for big teams and enterprise users. Let's talk about some of the other names you might see while shopping.
Alternatively, you can check out these shopping guides to find a DAM for your team size:
1. Adobe: Adobe Experience Manager & Bridge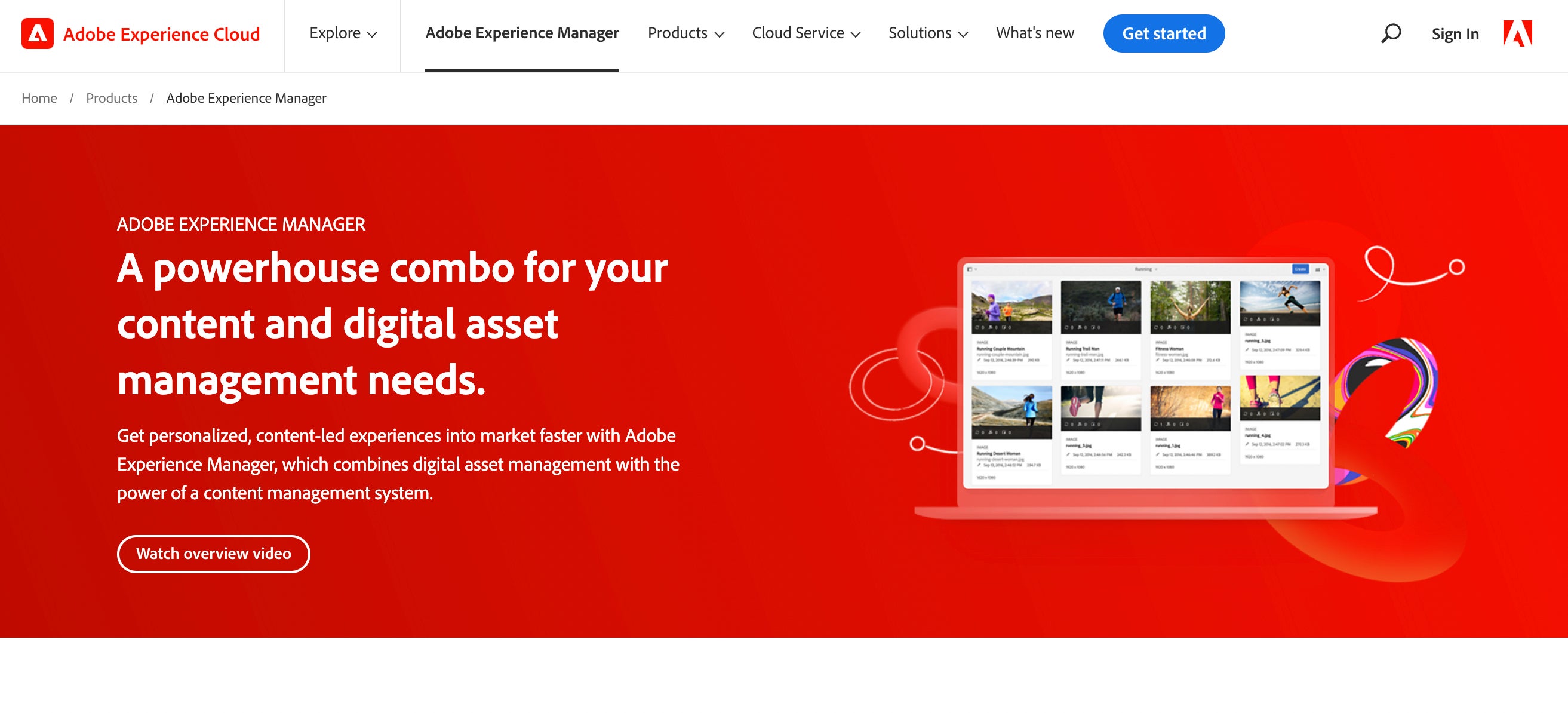 Adobe offers two digital asset management solutions — a free DAM called Adobe Bridge and the full-fledged Adobe Experience Manager. Adobe Bridge appeals mostly to individuals who don't have a large budget. However, this tool is pretty basic in terms of features and functionality — you can store, organize, and categorize images but there aren't a lot of tools to keep your content library clean and current as you go. Sharing and distributing content can pose challenges, as well. In short, teams experience many of the same issues with Bridge as they do Dropbox and other cloud storage drives.
The paid product, Adobe Experience Manager, is the upgraded solution. However, AEM is a very robust and expensive DAM that is primarily suited for enterprise businesses. Most small teams and beginner photographers cannot afford AEM and choose something that has a more customizable set-up and pricing structure.
Adobe Experience Manager is most popular with teams that are already using Adobe Creative Cloud (Adobe Lightroom Classic, Photoshop, InDesign, etc.) because the DAM integrates with all of those solutions. That said, small and mid-size teams can find customizable DAMs and integrate them with their tech stack to achieve the same benefit.
Read More: Free Digital Asset Management Software: 5 Top-Rated DAMs
2. MediaValet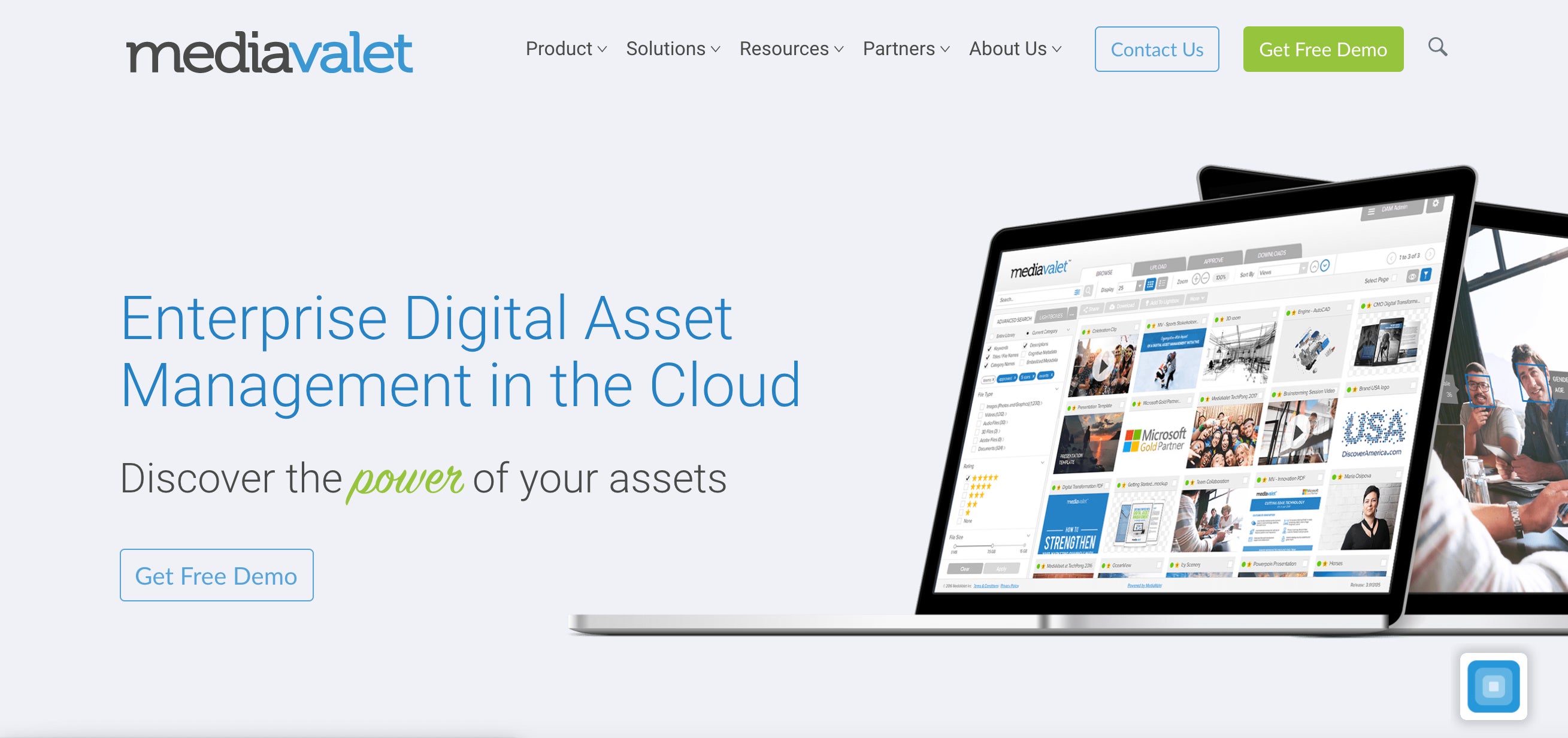 MediaValet is another digital asset management software for enterprise studios and large photography teams. They do offer flexible pricing packages, but it's still not a great choice for small businesses because the platform can get costly as you add integrations, guest seats, and other extras.
Teams like MediaValet because it accepts most file formats, so photographers can upload RAW images and design files, and it has a video studio so you can store and repurpose video files. Overall, it has a modern interface and features, and reviewers say MediaValet offers support as you get onboarded and adjusted.
Negative reviews of MediaValet say the platform can be glitchy and note high costs for individuals and small teams. MediaValet users also mention challenges with maintaining organization in their DAM library as MV doesn't have as many features to keep content organized after it is uploaded.
3. Filecamp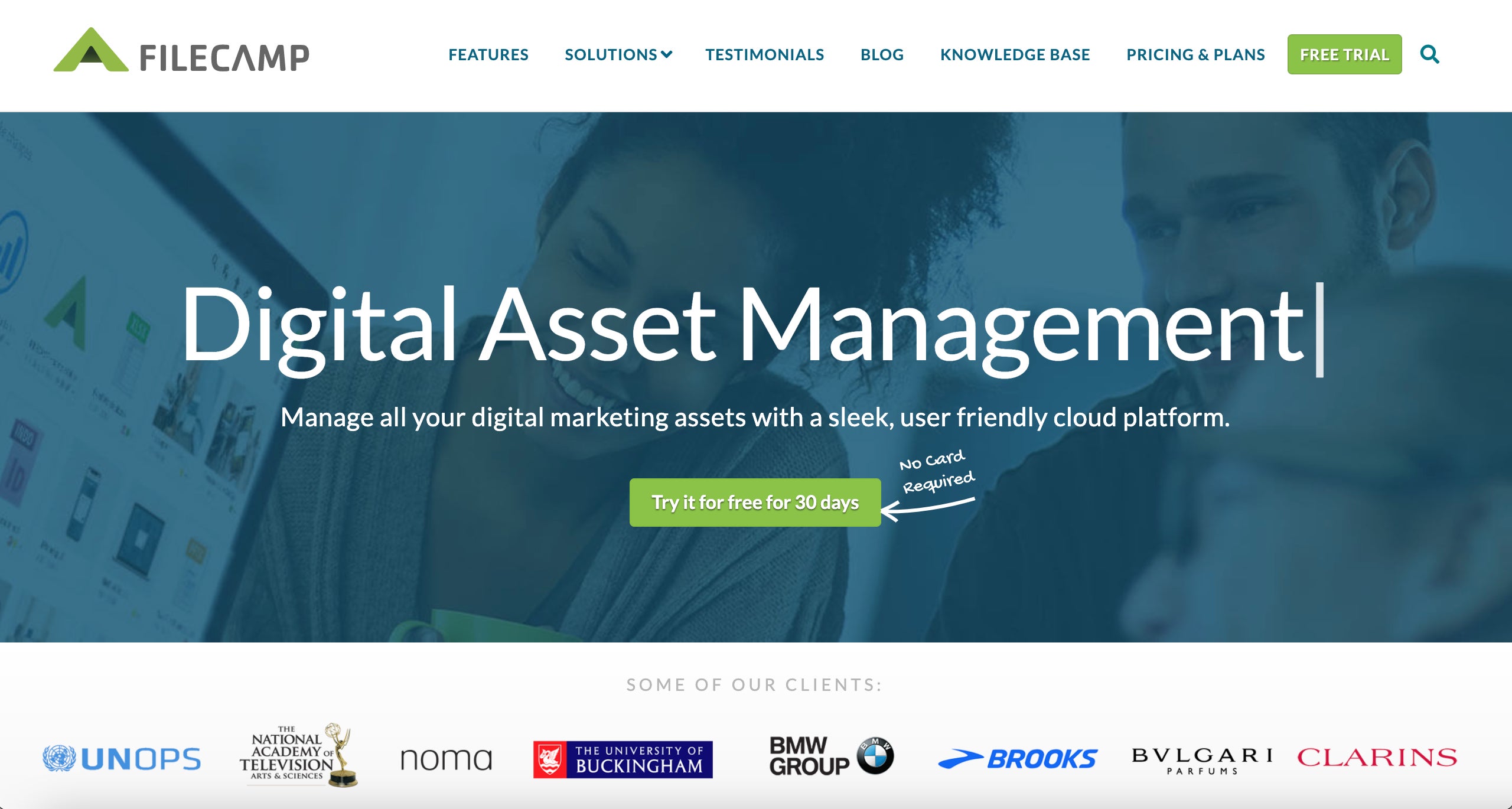 Filecamp is an affordable "entry-level" DAM that offers basic features to store, share, and distribute digital assets. It appeals mostly to creative and graphic design organizations because it has features to work on digital projects and online proofing with other team members.
Despite its tools to facilitate team collaboration, Filecamp does lack external sharing features — there aren't many tools to monitor assets once they've been shared from the platform and reviewers note that receiving files from outside collaborators can get clunky and expensive.
Filecamp works well for small teams that just need light DAM functionality to store and organize content, however, it isn't the best choice for mid-size or larger teams or businesses that need a scalable DAM platform.
4. Canto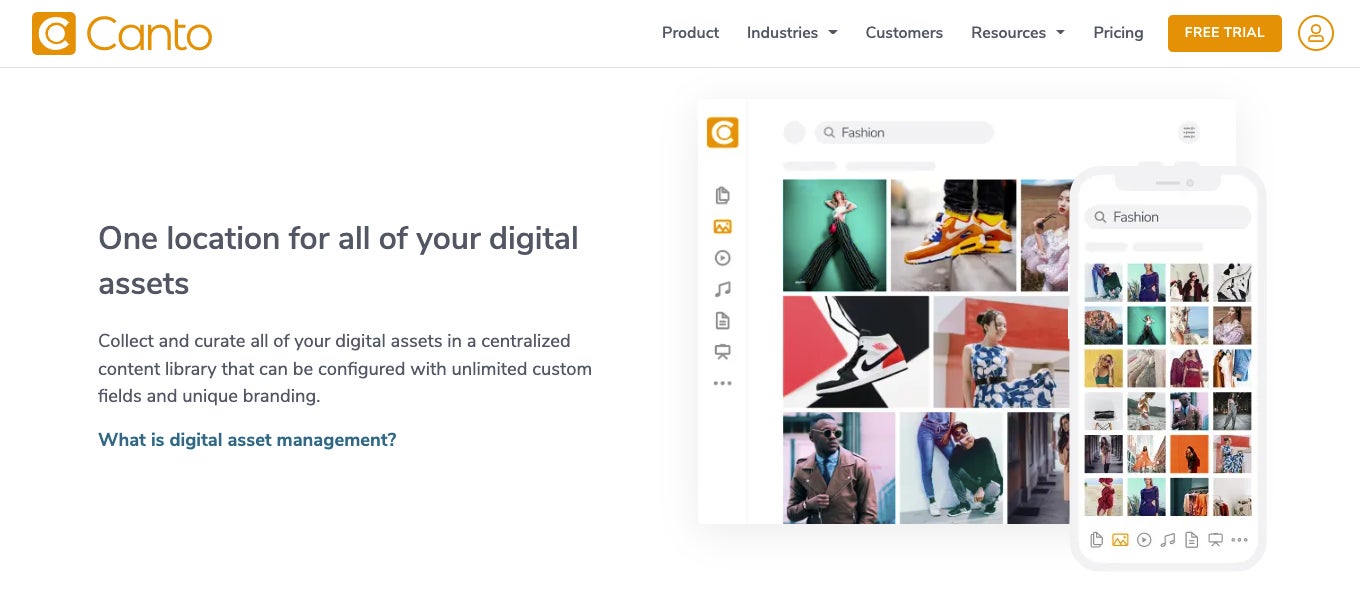 Canto is another DAM that is traditionally recommended for professional photographers that don't need a super robust digital asset management product. It has a user-friendly dashboard and features that don't take long to learn. Canto also has options for enterprise studios, however, these extras can add up (for example, Canto charges for each guest seat) and the cost of using Canto can become too much for those large teams that need greater flexibility.
Canto has the basic features to store assets in folders and subfolders, search and sort assets with advanced filters, share assets with Canto users and external collaborators, and repurpose assets in digital projects. Many photographers also like Canto because it uses facial recognition to identify people in images and videos, and as a result, searching is easier than other cloud storage tools.
Negative reviews of Canto say that the interface can be a little overwhelming and that they pack a lot into one dashboard. Other reviewers note challenges with duplicate and outdated files causing confusion in the DAM library. Plus, many teams eventually outgrow Canto as their business needs change.
You can also read more about Canto in our comparison guide: Canto Software vs. Brandfolder: Compare Two Top-Rated DAMs
5. PhotoShelter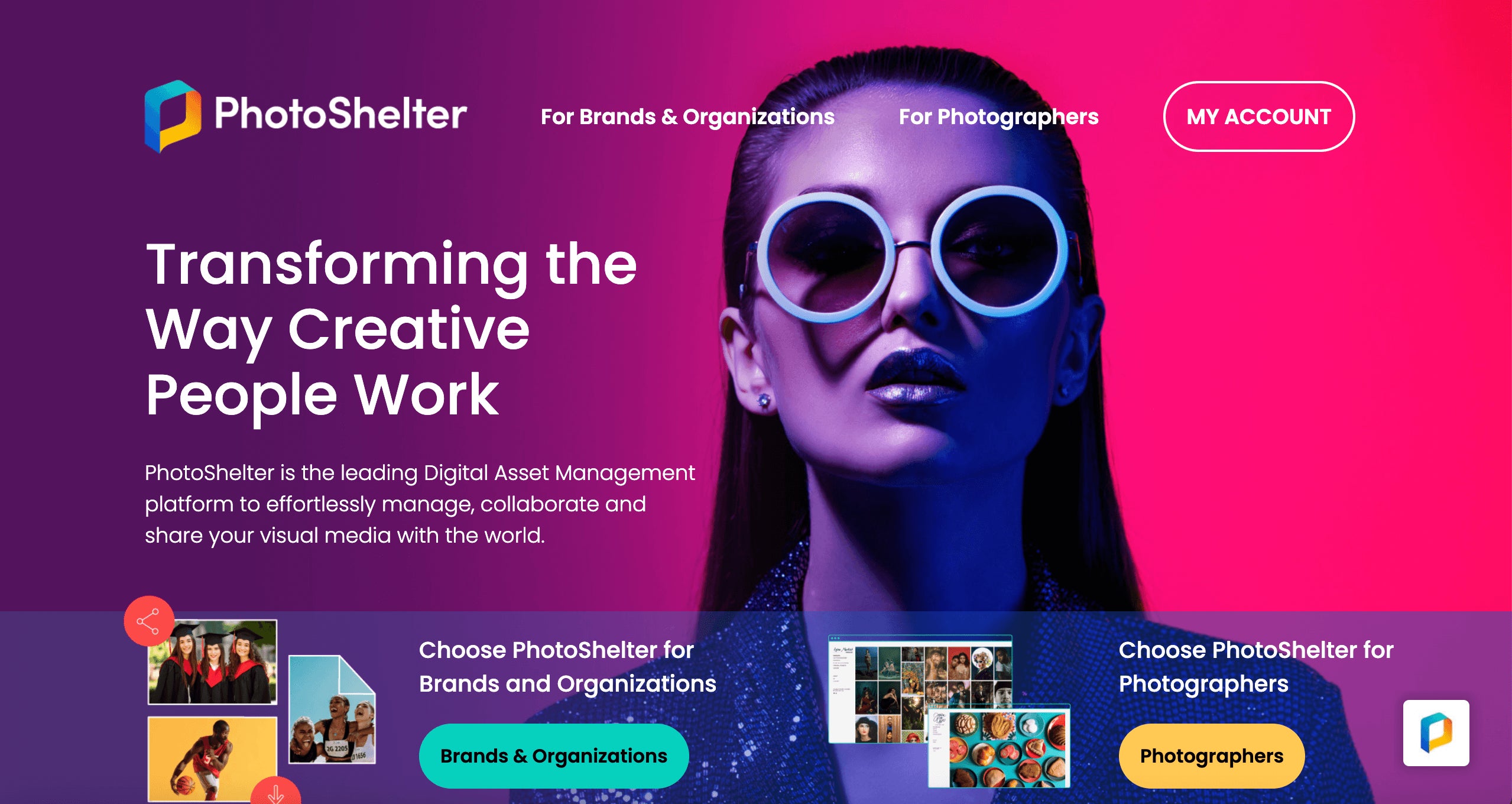 PhotoShelter is a digital asset management platform designed specifically for photographers, graphic designers, and other creatives. They have packages to appeal to both professional photographers and brands/organizations.
PhotoShelter is a robust DAM that has native integrations with a variety of creative software and real-time collaboration tools so teams can work together on projects. They also have features so photographers can create websites and sell photos from their DAM system.
Despite its many advanced features, some reviewers say that PhotoShelter has slow upload times and that it doesn't accept all file types. Negative reviews also mention that it can be hard to search files unless you remember the exact folder or file name.
Even though PhotoShelter has packages for different users, their pricing still falls on the expensive side, so it's not the best choice for small teams and businesses. Some brands find the cost worth it, but if you just need better photo management without extras like the built-in CMS and eCommerce tools, you can opt for a different DAM option.
6. ACDSee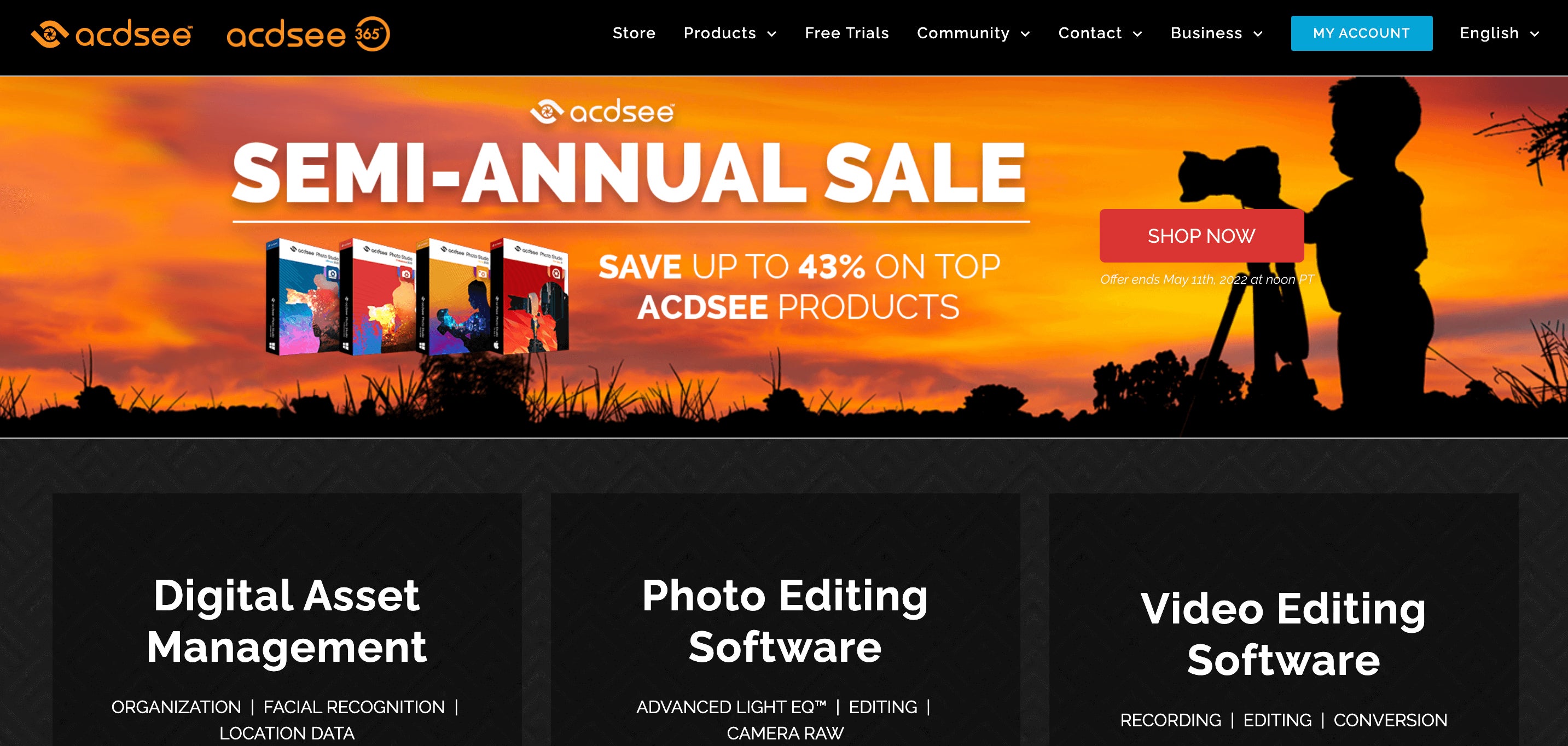 ACDSee is a digital asset management plus photo editing software and offers various packages to suit different end-users. Unlike the DAMs above, ACDSee is fully on-premise, so you purchase their software and download it to your computer; therefore, this option is best for individual photographers that don't need collaboration tools or cloud-based capabilities.
ACDSee offers DAM features to organize content; detect duplicate files and improve version control; batch upload, rename, or transform photos; quickly search files; assign metadata and tags. It also has advanced photo editing features so teams can access files and edit them all in one platform.
This DAM solution works on Windows or macOS operating systems and ACDSee offers mobile apps for iOS and Android. They also sell separate video editing software for teams that have video content.
ACDSee is mostly recommended for teams who need an on-premise solution and want both the DAM and photo editing features. However, if you already have a photo editing tool, the switch to ACDSee isn't worth the challenge of learning a new editor — you're better off choosing a DAM that integrates with the editing software you're already using.
7. Capture One Pro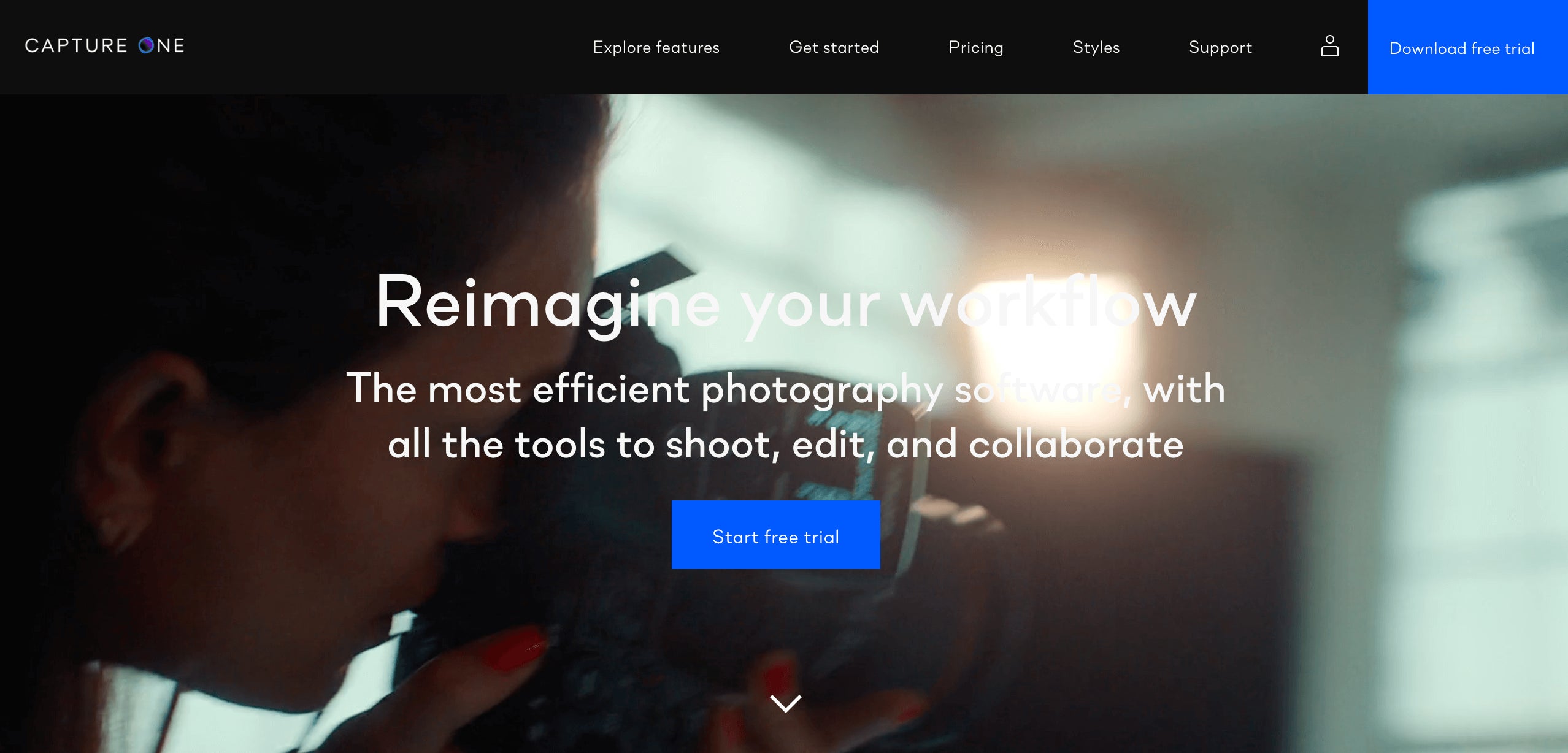 Capture One is another DAM plus photo editing solution. It is a full photography software where teams can upload files (even capture images from photoshoots in real-time), share and collaborate on files with other users, and do RAW photo editing and advanced retouching — the features to store, organize, and categorize images are just extra. Therefore, this solution is best for teams that are shopping for a better editing solution and need light photo management features.
Capture One is a robust software that requires some training and photo editing background to learn and use. They have different packages and pricing options, but none of the packages are overly expensive so this solution can work for small businesses and enterprises. However, just remember that it's not really the best option for teams that are shopping specifically for DAM software — it's a photography software to help teams with everything from photoshoots to collaborative editing.
8. Photo Mechanic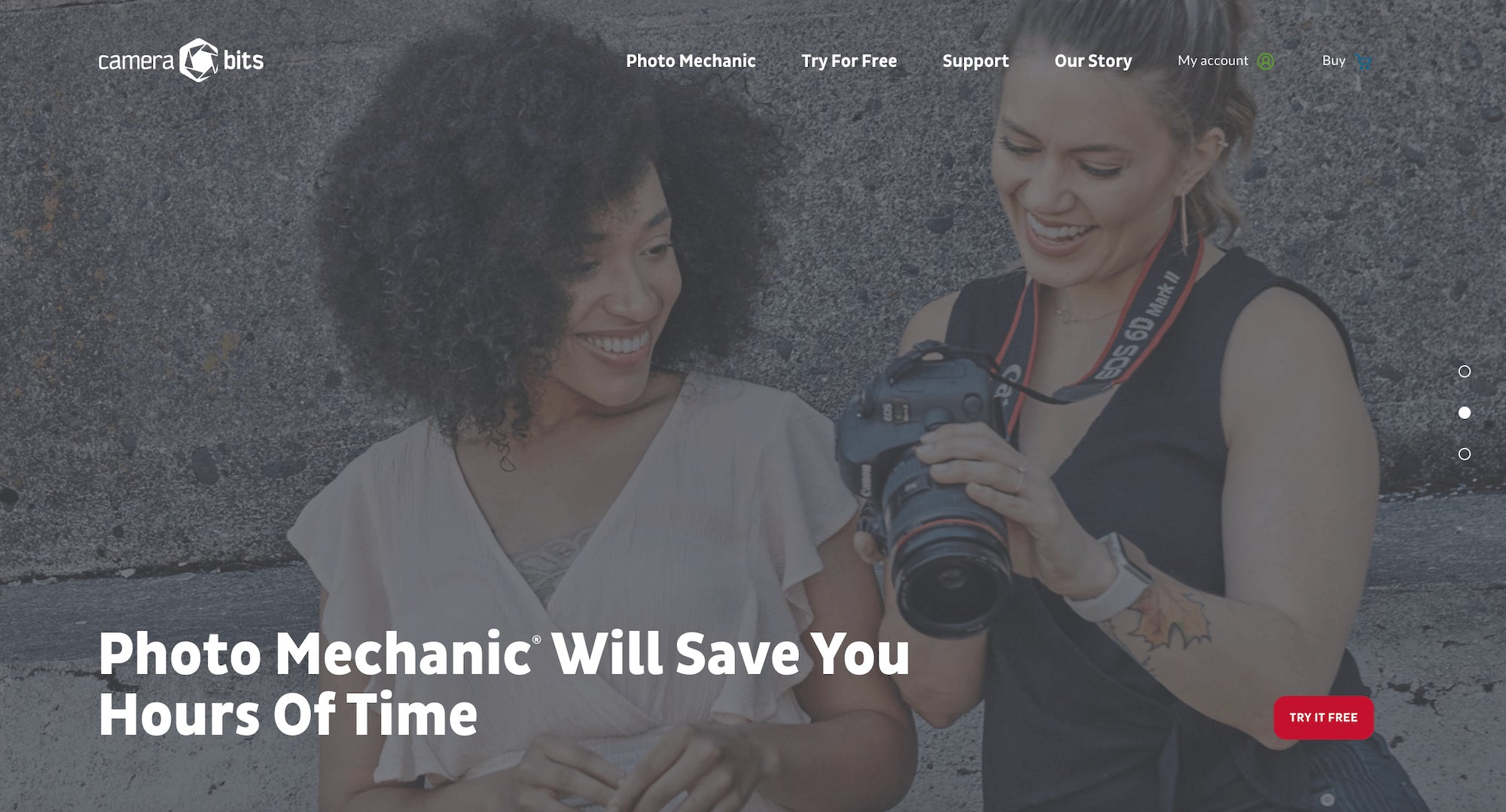 Photo Mechanic is not advertised as a full DAM solution, but rather a photo management platform with tools to organize, manage, and export digital photos. You can import photos straight from your memory card; assign metadata, tags, copyright, or digital rights information; and distribute photos right from the platform. They have advanced tools to help you keep content organized and recover files quickly, and reviewers note fast upload speeds and enjoy the batch functionalities.
Photo Mechanic is an on-premise solution with options for Windows and Mac users, and prices for packages range between $89 to $250, so it can work for individuals and small teams. We don't recommend this option for enterprise companies since cloud-based tools are easier when sharing and receiving content from contractors and stakeholders. Plus, Photo Mechanic doesn't have a lot of tools to monitor files once they're shared, so it can be harder to track your images and digital assets as time passes.
Photo Mechanic works best for individual photographers who need a place to import files and apply appropriate metadata and copyright information before pushing content out to other tools.
9. iMatch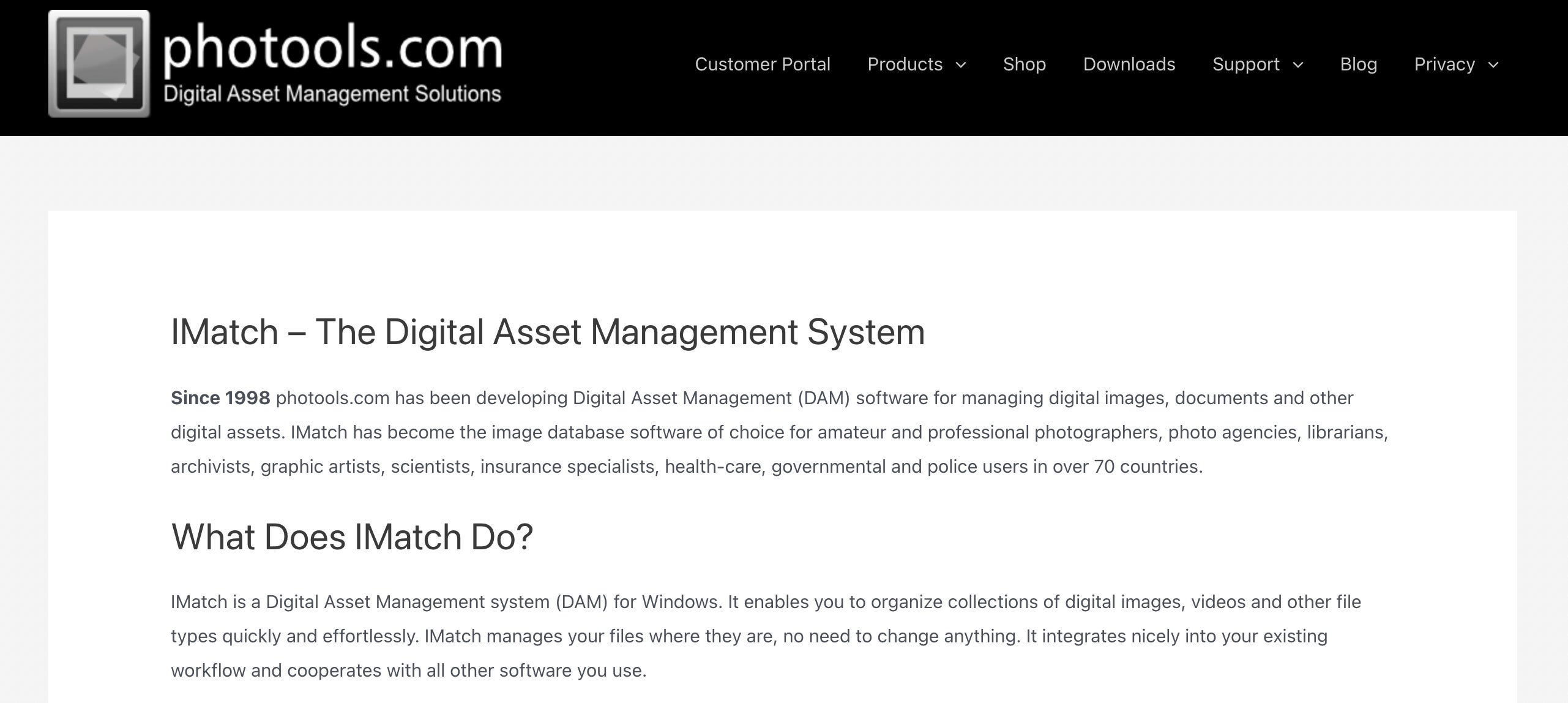 The last option on our list, iMatch, is an on-premise digital asset management software for Windows, and it's designed for amateur and professional photographers, agencies, and creatives. iMatch works as both a DAM and a photo editing solution, but the software is a little outdated and clunky to use. They have tools to store and organize photos, but they use a traditional folder and subfolder structure so searching content isn't easy. Plus you have to manually import and organize each of your files so onboarding isn't the smoothest.
This DAM does offer some advanced features like batch processing and editing, artificial intelligence and facial recognition, and automatic tagging. It also integrates with other tools in your tech stack to help you push files between systems and work faster.
If you require an on-premise solution, iMatch may check the boxes and work with your existing tools. However, teams that don't need an on-premise solution are better off finding a cloud-based option with more user-friendly features and collaborative options.
---
Demo Brandfolder's DAM Software for Photography
Brandfolder's DAM supports photographers and agencies by connecting with your existing photography software and providing more advanced ways to manage and distribute your digital content.
With digital asset management software, you don't have to deal with messy folders; old, outdated, or incorrect versions of files floating around; users going rogue with your files; clunky sharing; or any of the other headaches photographers experience with cloud storage drives. You can find all of your content in one collaborative repository, easily search files, improve version control, share files, and monitor all of your media and digital projects.
Our DAM can support photography teams in different stages of growth since we have customizable setup, pricing, and onboarding options, and you can adjust our platform as you go to scale with your business. Plus, since we work with your existing tech stack, you don't have to abandon your current editing applications or learn new photography software. You can integrate our solution with your preferred tools to improve upon your current processes.
Schedule a free demo of Brandfolder to talk with our team about what you're looking for in a DAM system and see if we're the right solution for you.