Is your company having a hard time keeping up with your digital assets? A digital asset management software could be the solution your team needs to find, store, organize, retrieve and distribute your entire digital content repository from one central source of truth.
In this post we'll go into depth about DAM software and how it helps teams get organized and stay on schedule.
---
What is DAM?
Digital asset management (DAM) is a software system designed to centrally store and manage digital content. It's easy to use and quick to setup, a centralized DAM solution provides internal and external stakeholders controlled access to all their digital assets including photographs, images, creative files, video, audio, presentation decks, document and much, much more. Most importantly, DAM systems provide a way to increase campaign productivity and ensure brand consistency.
Ultimately, the best DAM systems organize your digital assets in a way that maximizes their value for your brand. Its features help you do things like automate workflows, set expiration dates for asset licensing, and set varying levels of user access for files, folders, projects and entire campaigns. With in-app analytics, DAM software can also show you how creative assets are performing.
When files are stored across multiple devices and platforms, the unfortunate truth is they often go to waste. A cloud-based DAM centrally stores all of a brand's assets, giving users the ability to securely collaborate on content from wherever they're located.
As workflows take place within the platform, feedback is attached directly to in-progress projects, meaning communication is never lost in translation or buried in email.
Know how much asset distribution disrupts your team? Find out in The DAM Maturity Guide and see where your brand has the most room to grow.
---
What Does a Digital Asset Management Software Do?
DAM software enhances seven essential aspects of a brand's operational efficiency with digital assets: creation, organization, collaboration, distribution, storage, and performance measurement.
Let's take a closer look at how DAM improves each of these areas.
Creation
Teams with DAM can scale projects by leveraging integrations with creative tools like Adobe Creative Suite, native video editors, and project management applications such as Smartsheet, so teams can create new assets without toggling between platforms.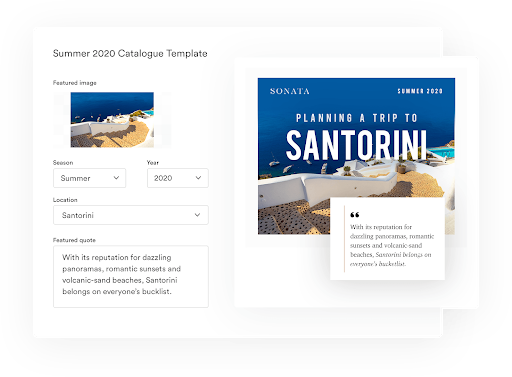 Organization
Brands are producing exponentially more assets than ever before. DAM software acts as a central source of truth for organizing and tracking that digital content.
You can use tags, filters, and advanced search capabilities – such as in-document search and image recognition – to quickly retrieve files from asset libraries of any size.
DAM platforms such as Brandfolder also allow users to add metadata tags to any file type, track version history, assign access levels and permissions, set collection expiration dates, and use AI to detect duplicate asset uploads.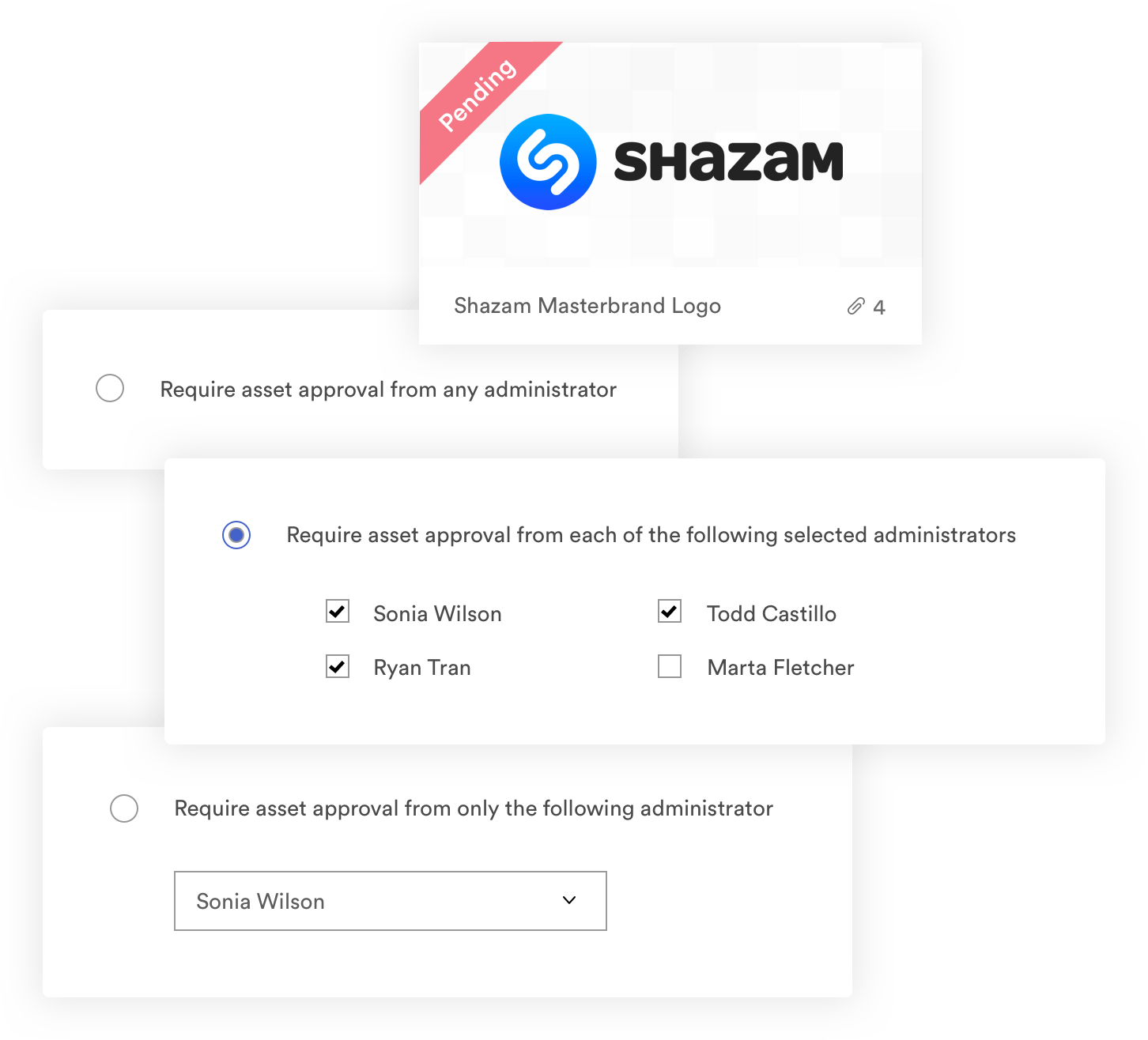 Brandfolder's custom approval rules maintain the integrity of assets.
With custom approval settings, you can reduce the risk of redundancies and ensure that assets are never distributed erroneously.
CASE STUDY: See how the global marketing team at P.F. Chang's is able to bulk-manage their digital assets with Brandfolder and save hours of time each month.
Collaboration
After uploading assets, users can comment, pin annotations, make edits, and in the process, streamline the entire review and approval process.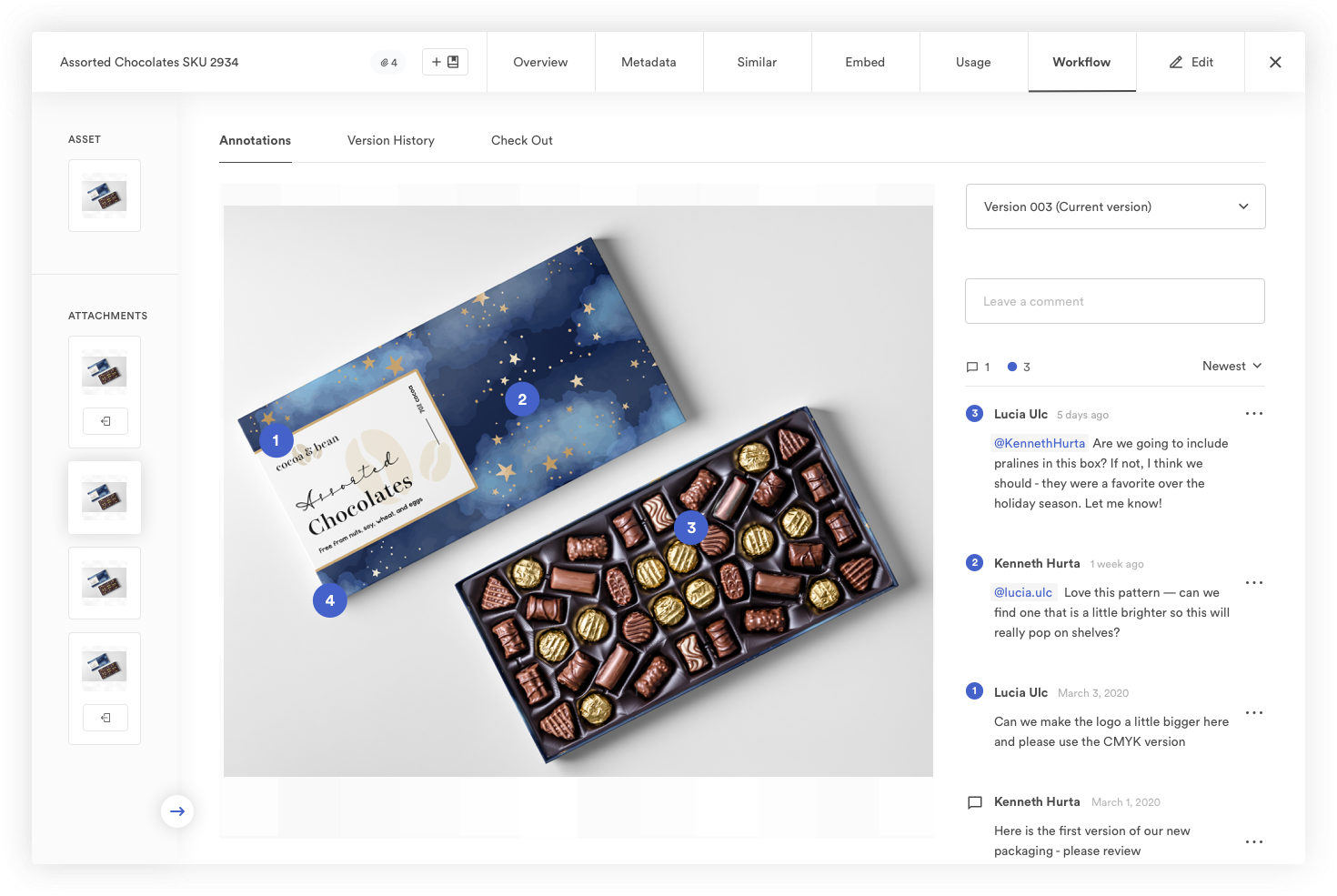 Team members and clients can comment on files and communicate within the platform.
Collaboration extends to any asset type or media content, from PDF documents to design files and videos. Organizations can access and update files from anywhere, so teams can collaborate with the right people no matter where they're located.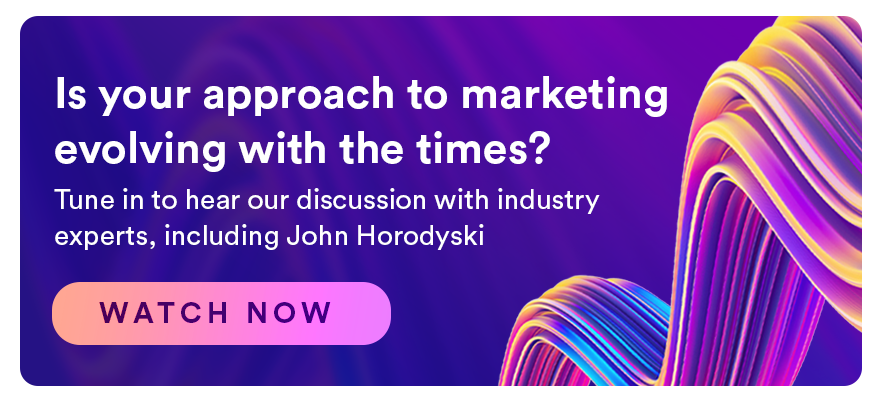 Distribution
A DAM system enables assets to be published anywhere, from one cloud-based location.
Distribute assets directly from your DAM using public or private links, and for added security, you can set expiration dates for links.
Embed assets directly into your website, so visitors and media outlets can access the most up-to-date logos, bios, and brand imagery. Every time an asset is edited, or a new one added, it's automatically updated at the point of distribution.
CASE STUDY: See how Spyderco, a global leader in cutlery, streamlined management of brand assets for their worldwide manufacturing and distribution network.
Storage
A DAM gives agencies and brands true digital asset storage for unlimited files, of any size, in one secure, cloud-based location. This is critical when storing larger assets such as high-res imagery, video, and audio files.
File backups, custom user permissions, and rights management features enhance the security of stored assets. While storage is unlimited, users can set asset expiration dates, to reduce unnecessary virtual clutter.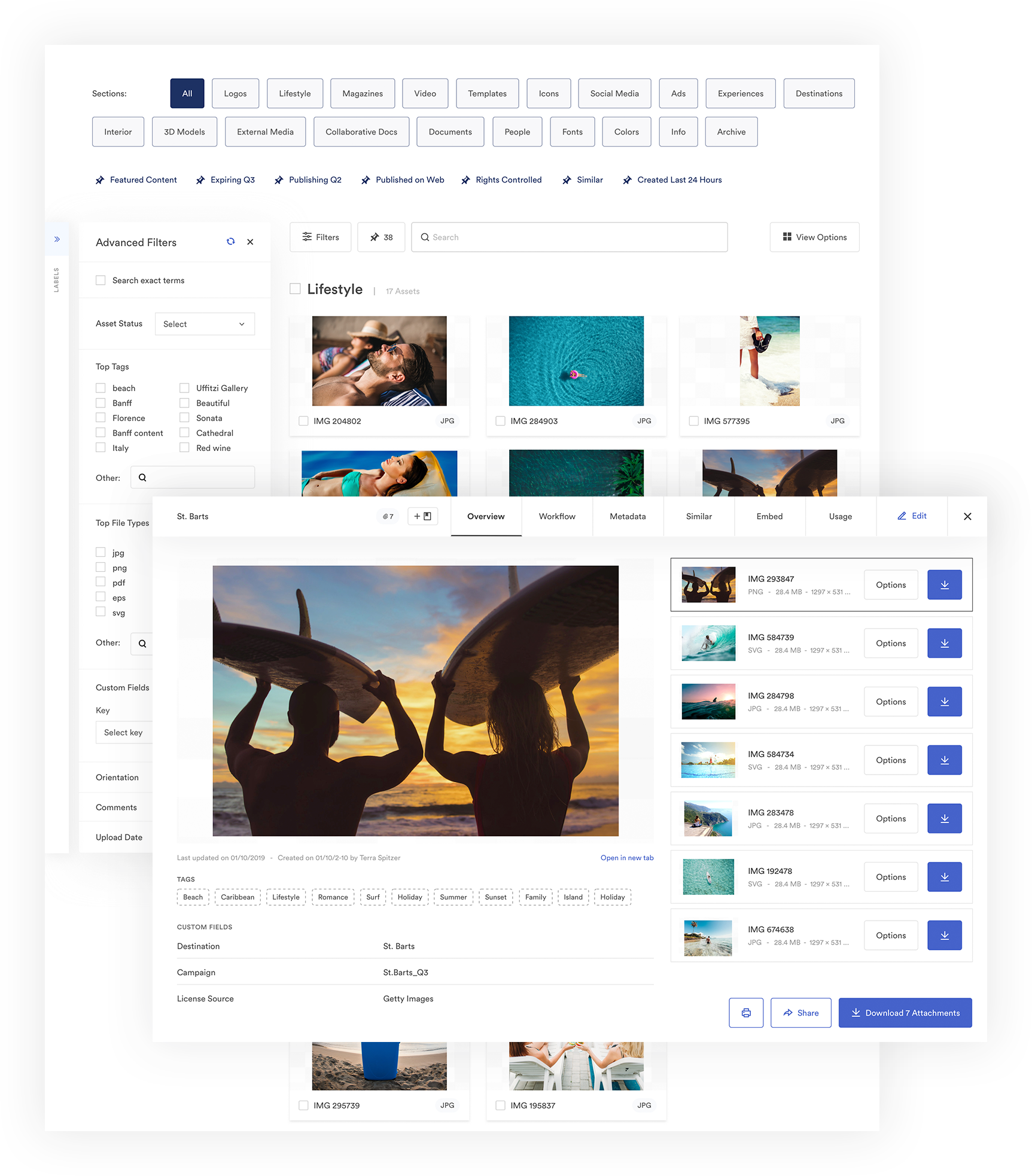 Assets stored in Brandfolder
A DAM gives agencies and brands true digital asset storage for unlimited files, of any size, in one secure location. This is critical when storing larger assets such as high-res imagery, video and audio files.
File backups, user permissions and rights management ensure all assets are stored securely.
Performance & Measurement
On-premise and traditional cloud-based storage systems are limited in what they can tell you about asset usage.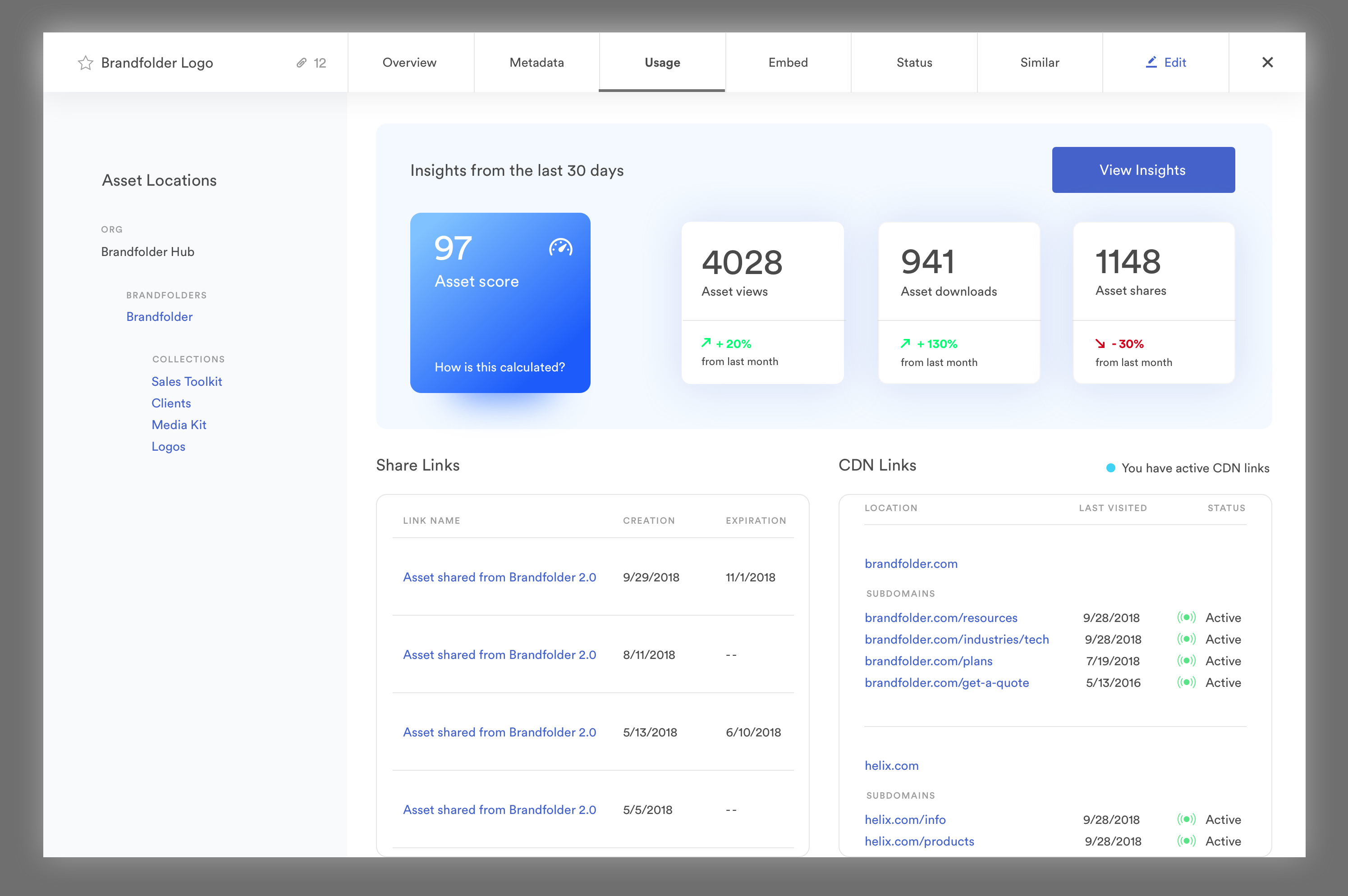 Brandfolder's asset usage insights.
A digital asset management solution can provide detailed analytics and insights about asset views, placements, and engagements. You'll be able to see how activity has trended over time and use that information to more accurately assess the ROI of brand assets.
Easy Integration
A DAM system can be integrated with other tools and cloud-based platforms, such as project management software, content management systems, and image editing software.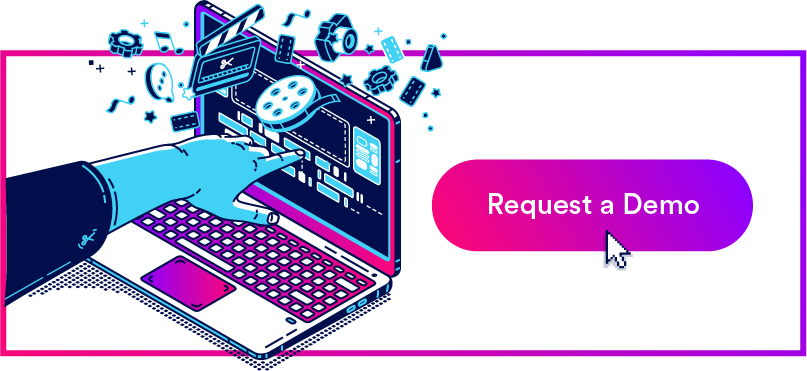 ---
Top Digital Asset Management Business Use Cases
Now that you have a general knowledge of what digital asset management is and its benefits, let's take a look at the business case behind DAM software.
Use digital asset management software to maintain brand consistency
Did you know that customers are more likely to purchase from a brand they recognize? Because of this, Fortune 500 companies make a proactive effort to maintain brand consistency in their marketing and advertising campaigns. And small businesses may maintain consistency through their relationships with customers, which results in increasing sales and providing opportunities for them to scale.
87% of buyers prefer brands that provide consistent customer experience across all channels. (Source: Zendesk)
Maintaining a brand identity and standards is easier when you have a DAM platform. You can restrict access to legacy files and ensure that only the most up-to-date assets are accessible, so users can create, manage, share, and collaborate on assets and rich media without deviating from your brand guidelines. Once creatives have finished designing an asset, they can streamline production on simple tasks by saving the layout as a template so that approved users can quickly repurpose the design.
Use digital asset management software to gauge asset ROI and insights
A DAM solution makes it easier to gather, manage, and interpret data from multiple sources, giving you valuable insights on how to maximize the use of your digital assets to support your business goals.
Brandfolder offers insights such as views, downloads, and shares — by user, by asset collection, or by organization.
An example of Brandfolder's analytics dashboard.
Use digital asset management software to keep your content secure
Keeping your assets secure at all times is as important as it can be difficult to manage. Files can be corrupted, servers can crash and fail, and files can become lost due to mismanagement. DAM software eliminates all these risks because it stores and secures all your digital assets in the cloud.
Cloud-based DAM systems come with features like version control, rights management, and data encryption for file transfers and storage. Additional security enhancements include SAML & SSO identity management, and routine application and infrastructure testing to detect any security vulnerabilities that could compromise customer files.
Use digital asset management to improve campaign collaboration
A digital asset management solution creates an environment built for collaboration. When your creative teams use a file sharing platform that serves as a "central source of truth," it's easy for everyone to be on the same page, regardless of their location, time zone, or department.
Digital asset management solutions allow you to define role hierarchies and user permissions across all workflows. You can ensure each user has access only to the files or tasks that are most relevant to them, and you can automate alerts that tell your team and external stakeholders when action is required.
Use digital asset management software to accelerate asset access
Finding a specific digital asset can be time-consuming and frustrating when files are stored across multiple platforms and folders.
In fact, employees without access to a DAM system spend five times longer looking for the right assets.
DAM software uses AI to attach relevant metadata tags to assets, based on what it "sees" when you import assets. The platform also reads and stores any existing metadata, and users can edit, add, or delete tags to improve asset search results.
Digital asset management speeds up time-to-market
When scaling your digital presence, time is of the essence. You can't afford to lose minutes or hours to inefficient processes. Yet, 46% of marketers report wasting time due to downloading and uploading assets using multiple tools, and 51% say they have wasted money on campaign assets that they can't locate.
As discussed, a DAM platform allows you to store, organize, and retrieve assets quickly. Within the context of any campaign or creative workflow, this helps move steps along while minimizing redundant and costly rework. You can also keep all feedback within the platform to eliminate the delays that typically come with lengthy email-based feedback chains.
The result: faster launch of compliant and on-brand marketing campaigns
Use digital asset management software to mitigate compliance risks
Keeping track of licensing agreements and expiration dates is a challenge when you have a massive database of photos, audio files, videos, and logos. Non-compliance with such agreements can result in fines and tarnish your brand's reputation.
Digital asset management systems come with a digital rights management (DRM) feature that ensures all copyright information is up-to-date and that all licensing agreements are upheld. With the ability to set access permissions, licensing expiration dates, and automated licensing expiration alerts, you don't have to track licensing and permissions outside of your DAM system.
See how Duo Security is able to scale their asset creation and usage while saving hours of work each month. Click here to watch the story.
Frequently asked questions
What is a digital asset management system?
A digital asset management (DAM) system is software that allows businesses to organize, distribute, collaborate on, and securely store digital files that make up a digital asset library. DAM platforms contain features such as permission controls, rights management, and asset performance analytics.
What are examples of digital assets?
Digital asset examples include any digital files used as part of a business's brand presence. They are often creative and marketing materials, such as images, video, word documents, PDFs, graphics, and design files.
How do I choose the right digital asset management solution?
Five things to consider when choosing the right digital asset management solution for your business:
Look for unlimited internal and external user access.
Test search intuitiveness and ease of use.
Review integrations for compatibility with current creative project workflows.
Address security and rights management concerns with permissions settings.
Consider platform customization and personalization for brand consistency.
What is the difference between a CMS and a DAM?
A content management system (CMS) is used to build, display and publish content on your brand's website, whereas a digital asset management (DAM) system is designed to store, manage, manipulate, and monitor all brand assets individually. Learn more on the differences and how CMS and DAM work together.
When should I invest in a DAM?
Any brand or business with a growing digital asset library should consider investing in digital asset management software (DAM), in order to increase efficiency, improve asset performance, strengthen security, and accelerate production timelines.
What does a digital asset manager do?
A digital asset manager is responsible for the taxonomy, metadata, performance measurement, storage, and secure distribution of an organization's digital assets. Brands often have a digital asset management (DAM) system in place before hiring a digital asset manager.
---
Who Uses Digital Asset Management?
There are two types of DAM users: Internal and external. Below are a few example use cases:
Internal Users
Creatives
In-house creatives such as graphic designers and photographers can use a DAM system to access branded assets and upload new creative files for review and distribution. These users will appreciate the built-in integrations for tools they regularly use such as Adobe Creative Suite and project management software.
Sales & Marketing
DAM software can help sales and marketing teams collaborate on branded collateral for use in sales pitches and presentations as part of streamlining entire campaigns.
IT & Legal
IT professionals can benefit from DAM by easing the burden on resources needed for managing permissions and system maintenance. It also has the ability to streamline metadata management and the creation of custom configurations through API connection and seamless integrations.
Legal teams also find DAM systems useful, as expiration dates can be added to assets to minimize the risks of compliance and misuse.
External Users
Agencies
DAM systems allow agencies to easily share assets with external clients, relay client feedback, and take projects from pending to approved.
Contractors & Partners
Companies can easily make assets available to external contractors and partners as part of joint campaigns to sell services or collaborate on products.
---
12 Benefits of a Digital Asset Management System
Digital asset management software will keep internal and external teams organized within a single source of truth. It allows for quick access to relevant files, automated workflows, and the ability to manage permissions for individual pieces or entire asset collections.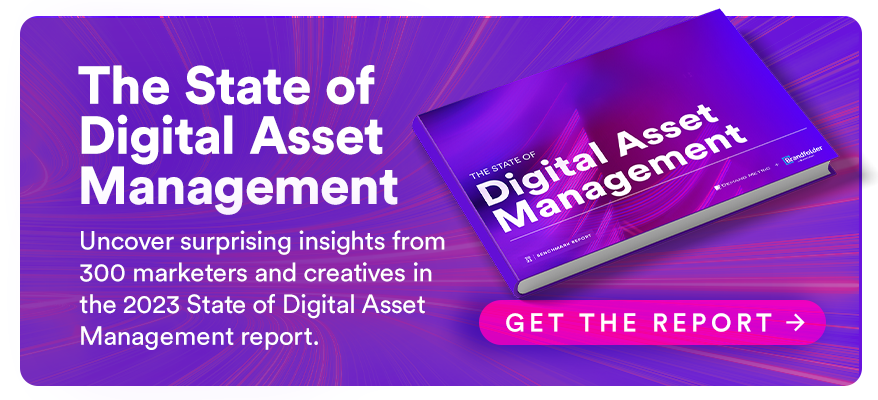 The list of DAM benefits that brands find as a result is wide ranging for organizations inside and out, but there are a number of common themes.
Find digital assets fast with little to no training
Customize asset organization
Keep all asset-related collaboration within a single platform
Prevent duplication of digital content
Ensure digital assets are never unused
Access and share files with anyone, anytime, anywhere, and on any device
Create and collaborate on digital assets in one place
Easily distribute company content across digital channels - CMS, social media and more
Maintain brand consistency
Set expiration dates for licensed assets
Identify opportunities for repurposing digital assets
Analyze how assets are performing, where they're being used, and who is using them
How does Duo Security save their creative team more than 10 hours per week with Brandfolder? Click here to watch the video.
---
How customers are using Brandfolder's digital asset management solution
Getty Images
Getty Images and its 750,000 customers from almost every country leverage Brandfolder's DAM to organize and distribute millions of digital assets.
"Working with Brandfolder's product, sales, engineering and customer support has proven to be very collaborative. We appreciate their willingness to incorporate features into their platform that are critical to our customers. We love the ongoing ability we have to serve our customers with a best-in-class DAM knowing we are backed up by a partner who understands our business and our customers' needs." Peter Orlowsky, Senior VP of Partnerships explains.
Getty Images and Brandfolder partnered to create Getty Images Media Manager Powered by Brandfolder to empower Getty's customers to easily organize, manage, control, distribute and measure all of the digital assets in one safe and secure place. The result: The world's best visual content with Brandfolder's #1 ranked DAM features to serve customers of all sizes around the globe.
Read the full Getty Images + Brandfolder story.
Water For People
Prior to Brandfolder, the Water For People team worked with a notoriously unreliable shared drive to organize their digital assets. Over time, accessing it became an issue for their global team. Since onboarding Brandfolder, the team has been able to consistently ensure that on-brand materials are available and accessible to the entire global team.
"The biggest benefit of Brandfolder is having one resource that our external partners can go to to find things. It's a link they've had for years, one that never changes. And we can easily update information when needed." Julie Kauffman, Business Development Manager explains.
Read the full Water For People + Brandfolder story.
DUO Security
Having Brandfolder means that their clients don't have to wait to get the most up-to-date images and templates when they need when they need it. That's essential when you're working with customers all across the globe at all hours of the day.
"Brandfolder has saved us each about 10 hours of production time across the world with the ability to confidently redirect folks to the assets in an intuitive way." Brandon Nalband, Creative Operations Manager tells us.
Read the full DUO Security + Brandfolder story.
For more testimonials from organizations large, small adn across a wide variety of industries, check out our DAM client stories page.
---
Are you ready for a digital asset management solution?
If you need a better way to manage digital assets, track publishing rights, and maintain brand consistency, it's time to consider a DAM solution.
Are you ready to take control of your assets? Contact Brandfolder today.